February, 18, 2012
2/18/12
4:55
PM ET
[+] Enlarge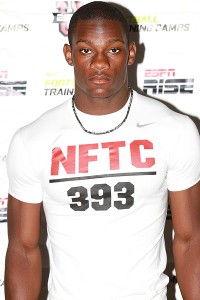 Tom Hauck for ESPN.comFive-star DB Nick Washington is Florida's seventh 2013 commit and third of the day.
GAINESVILLE, Fla. -- The Florida Gators continued their hot streak in recruiting on Saturday, as five-star safety prospect
Nick Washington
(Jacksonville, Fla./Trinity Christian) committed to the Gators while on an unofficial visit to Florida for its junior day.
The 6-foot, 185-pound ESPNU 150 Watch List prospect said that after visiting Alabama, Auburn, South Carolina, Clemson, Florida State, Georgia and Georgia Tech this offseason he realized Florida is where he wants to be.
"Florida has always been the school I wanted to play for," Washington said. "I always watched them when I was young, and I just feel like this is the place for me. I've visited every school that I had in my top schools, and I definitely feel like Florida is the one for me."
Washington said his relationship with Florida defensive backs coach Travaris Robinson also played a role in his decision to commit to the Gators.
"I have a great relationship with coach T-Rob, and they have a good atmosphere, and they have a family-based team," Washington said. "They play a lot of DBs. They have a good campus. It's just everything about them."
February, 18, 2012
2/18/12
2:57
PM ET
By
Mike DiRocco
| ESPN.com
[+] Enlarge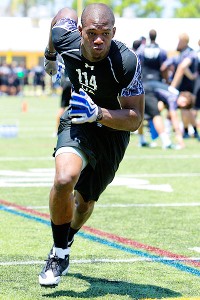 Davide De Pas for ESPN.comQuinton Powell is one of four linebackers committed to Florida's class of 2013.
GAINESVILLE, Fla. -- Florida picked up commitment No. 3 on the day when ESPNU 150 Watch List linebacker
Quinton Powell
(Daytona Beach, Fla./Mainland) committed to the Gators during junior day on Saturday.
At 6-foot-2 and 205 pounds, Powell is being recruited to play outside linebacker for the Gators. He chose the Gators after considering offers from Clemson, Miami and South Carolina.
"It was a good experience out here," Powell said. "I actually verbally committed to the Gators. It was a great experience. I saw a lot of different things I had questions for and it was good. I wanted to see how their academic process is, and I saw that it was good. They've got their act together with that, so I liked it."
Powell, who does not plan to take any other visits, said that he also liked the family atmosphere at UF.
"They feel like they're my brothers," he said. "They're already showing me love, and I like that. Looking forward to another family when I get here."
February, 18, 2012
2/18/12
1:25
PM ET
GAINESVILLE, Fla. -- Florida may have had several top juniors on campus for junior day on Saturday, but that didn't stop them from extending another offer to a player who wasn't able to attend.
Columbus (Ga.) Carver wide receiver
Marqui Hawkins
said Florida head coach Will Muschamp called to offer him a scholarship Saturday morning.
The 6-foot-2, 190-pound receiver said Florida is the first school to offer him.
To continue reading this article you must be an Insider
February, 18, 2012
2/18/12
11:55
AM ET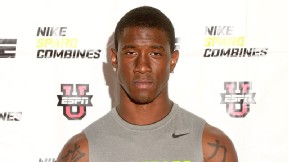 Tom Hauck for ESPN.comRodney Adams is the first receiver commitment in Florida's 2013 class.
GAINESVILLE, Fla. -- The Florida Gators received a verbal commitment from wide receiver
Rodney Adams
(St. Petersberg, Fla./Lakewood) on Saturday.
The 6-foot-1, 173-pound athlete chose Florida over USF, FSU, Oklahoma and Vanderbilt. Adams said the family atmosphere is what won him over on the Florida program.
"I committed to Florida," Adams said. "It just feels like a family down there, I love the people there. I fit in to the offense, and I love the coaches. It just feels like home there."
Adam's teammate last season
Dante Fowler Jr.
, made a surprising switch on signing day when he signed with Florida after being committed to Florida State for more than a year. Adams said that helped solidify his decision, but his mind was made up before Fowler switched.
"It does help, because now I have someone there with me from my hometown," Adams said. "I kind of chose Florida before he did, but it is great that he went there also."
February, 18, 2012
2/18/12
11:46
AM ET
GAINESVILLE, Fla. -- Five-star
Kelvin Taylor
(Belle Glade, Fla./Glades Day) appears to be the star running back the Gators have long been searching for.
Florida has struggled in recent years on the field and in recruiting top-ranked running backs. The Gators haven't had a 1,000-yard rusher since Ciatrick Fason in 2004. Last year, Florida had commitments from four-star backs
Matt Jones
and
Mike Davis
at this point in the recruiting cycle. Davis, however, decommitted from Florida late in the process and eventually signed with South Carolina.
For its 2013 class, Florida also has a commitment from four-star running back
Adam Lane
(Winter Haven, Fla./Winter Haven), but Lane missed his entire junior season with a broken lower leg.
To continue reading this article you must be an Insider
February, 18, 2012
2/18/12
11:07
AM ET
The start of spring practice is less than a month away for Florida, and it can't get here soon enough for Will Muschamp.
His first season as Florida's coach is in the books, and it wasn't what anybody in the Gator Nation wanted -- and that includes the Head Gator.
Florida was forced to play a pair of true freshman quarterbacks during the teeth of the schedule, and there was very little depth to speak of in the line of scrimmage. Muschamp has also conceded that the chemistry on the team was poor and that players were pulling in different directions.
[+] Enlarge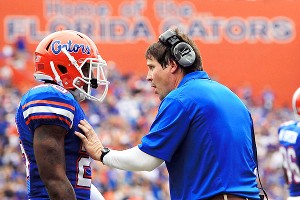 Kim Klement/US PresswireWill Muschamp's Gators will have to create more turnovers and improve their rushing offense.
The result was a 7-6 finish, including an 0-6 record against teams that finished the season with a winning record, not to mention losses to Eastern Division rivals Georgia and South Carolina in the same season for the first time since the Gamecocks joined the league in 1992.
If that's not enough, it was only the second time in the past 30-plus years that Florida had lost six games in a season. They finished 6-6 in 1987.
So forgive Muschamp if his focus is on the future, although that doesn't mean he's oblivious to what went wrong in Year 1.
He knows exactly what has to change if the Gators are going to go from a 7-6 team to a team that has a chance to be in Atlanta playing for the SEC championship in 2012.
"The No. 1 thing defensively is that we have to create some turnovers," Muschamp said. "We were probably the worst in the country for whatever reason. I've been the worst and the best, so I've got to figure out what we did that year we were the best at Texas. That's the first thing."
February, 18, 2012
2/18/12
8:58
AM ET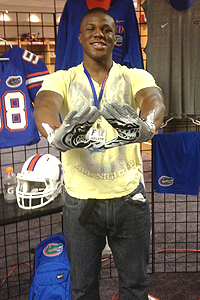 Courtesy of Kelvin TaylorKelvin Taylor gave Florida his verbal commitment during a junior day visit on Saturday.
GAINESVILLE, Fla. -- Florida's junior day got
started with an early bang on Saturday
, as the Gators secured a verbal commitment from five-star running back and Florida legacy
Kelvin Taylor
(Belle Glades, Fla./Glades Day).
Taylor, who surpassed Emmit Smith as the all-time leading rusher in the state of Florida this past season with 9,698 yards, said Florida is where he feels best.
"They just have a great program and great coaching staff. I feel so comfortable around their coaching staff," Taylor said. "It's closer to home and they have great tradition."
Originally, Taylor was planning to wait until national signing day to make his decision, but after careful consideration he decided to end the process early.
"I just wanted to go ahead and get it out of the way," Taylor said. "I felt more comfortable at Florida, and I wanted to focus more on my high school career, so I just wanted to get it done with. I also want to enroll in January, so that's another reason I decided to make the decision early."
Taylor said he plans to enroll early in January 2013.
February, 18, 2012
2/18/12
12:18
AM ET
GAINESVILLE, Fla. -- Florida's baseball team is loaded with veteran players who made it to the College World Series final last season. But coach Kevin O'Sullivan still wasn't sure what to expect on the field against Cal State Fullerton Friday night.

And when the top-ranked Gators were locked in a 3-3 tie entering the bottom of the seventh inning in front of a McKethan Stadium opening day-record crowd of 5,356, O'Sullivan really got nervous.

Three singles, two walks, a hit batter, a sacrifice fly, and 15 minutes later, O'Sullivan felt much better. The Gators scored four runs and went on to beat the 16th-ranked Titans 7-3.

"I think there was a lot of anxiousness to get the season started, but I did not sense any panic in the dugout, and it was kind of neat to see because I really didn't know how they would respond [in a] 3-3 ballgame through six," O'Sullivan said. "But they stayed calm. They stayed cool under pressure."


February, 17, 2012
2/17/12
5:08
PM ET
North Marion (Citra, Fla.) defensive back
Reggie Wilkerson
will be taking the short trip to Florida for the third time in the last eight months this weekend.
"I went to UF for Friday Night Lights, and I also went to a game this past season with Latroy [Pittman]," Wilkerson said.
The 6-foot, 170-pound athlete has said that he is a Miami Hurricanes fan and likes the Gators as well. Despite that he plans to look around.
To continue reading this article you must be an Insider
February, 17, 2012
2/17/12
4:50
PM ET
Lakewood (St. Petersburg, Fla.) wide receiver
Rodney Adams
was admittedly upset that it took hometown team South Florida a while to extend an offer to him but the 6-foot-1, 180-pound junior has moved past that.
"I was pretty upset at first," Adams said while at USF's junior day Sunday. "But I didn't totally understand the process and now that I see they are pretty interested in me.
"And getting a chance to come here and see everything, it was better than I expected."
To continue reading this article you must be an Insider
February, 17, 2012
2/17/12
4:22
PM ET
GAINESVILLE, Fla. -- Florida may have its best rebounder back just in time for Saturday's game at one of the toughest places to play in the Southeastern Conference.
UF coach Billy Donovan said forward
Will Yeguete
was cleared to return to practice on Friday for the first time since suffering a concussion against Tennessee last Saturday. If Yeguete doesn't have a setback during practice, handles Friday's chartered flight to Arkansas well and feels well on Saturday morning, Donovan said he could be cleared to play against the Razorbacks.
"How he feels tonight, tomorrow morning is going to have a large impact on whether or not we can play him," Donovan said. "If it continues on this path, he could be OK."
February, 17, 2012
2/17/12
4:16
PM ET
GAINESVILLE, Fla. -- We like to keep track of Gators in the pros. Here are some ESPN links to help you do just that. We start with two Gators in the NBA whose names have surfaced in recent trade speculation for the biggest of fish -- Orlando's Dwight Howard.
Noah for Dwight? (Insider)
Chicago Bulls center Joakim Noah is suggested as one of many trade possibilities for Howard. Another scenario would include Houston Rockets forward Chandler Parsons going back to his hometown of Orlando in
a three-way deal with the L.A. Lakers (Insider)
.
PTI: Five good minutes with Noah
Noah joins Michael Wilbon and Tony Kornheiser to discuss a variety of topics, including staying with the Bulls through the trade deadline, beating the Heat and his notorious hair.
February, 17, 2012
2/17/12
2:00
PM ET
Defensive end
Devin Washington
(Orlando, Fla./East River) received an offer from Louisville today. Earlier this week the 6-foot-3, 220-pound junior was offered by South Florida.
To continue reading this article you must be an Insider
February, 17, 2012
2/17/12
1:57
PM ET
By
GatorNation staff
| ESPN.com
[+] Enlarge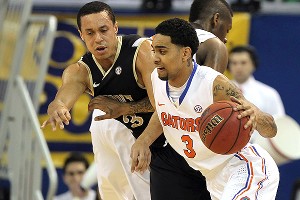 Kim Klement/US PresswireJunior guard Mike Rosario is averaging 7.9 points in his first season at Florida.
A 2010 documentary that chronicled a season with a legendary New Jersey high school basketball program will return to the spotlight this weekend. An
updated version of "The Street Stops Here"
along with a post-film roundtable with Hall of Fame coach Bob Hurley Sr., will air at 8 p.m. ET Sunday on ESPNU. That St. Anthony team featured Florida Gators shooting guard
Mike Rosario
.
Despite possessing seven Division I-bound seniors -- Rosario, Madut Bol, Jio Fontan, Tyshawn Taylor, AJ Rogers, Alberto Estwick and Travon Woodall -- the 2007-08 squad was in danger of becoming Hurley's first class to graduate without a state crown. What's more, a financial crisis threatened to shut down St. Anthony.
Much to Hurley's satisfaction, this unscripted drama ended up reinforcing the message he constantly imparts upon his players. Without discipline and goals, success in sports can be hard to come by. Without academics, everything done on the court ultimately won't matter.
Also see:
"The Street Stops Here" four years later: Where are they now?
February, 17, 2012
2/17/12
1:28
PM ET
The offensive line is a big need for Michigan in the 2013 class. Since at least four scholarship offensive linemen will be leaving the roster, the staff will most likely look to add the same amount of recruits for this class, if not more.
One offensive line prospect who recently received a Michigan offer is 6-foot-5, 290-pound
John Montelus
(Everett, Mass./Everett). The Michigan offer adds to an already hefty list including Florida, UConn, Boston College, NC State and West Virginia among others.
"Michigan (was an offer he was hoping for) because it is a really big school with good academics, good football team and great fans," he said. "I've been talking to Coach (Darrell) Funk, and I'm going to take a Michigan visit soon."
To continue reading this article you must be an Insider