March, 10, 2012
3/10/12
11:54
AM ET
By
GatorNation staff
| ESPN.com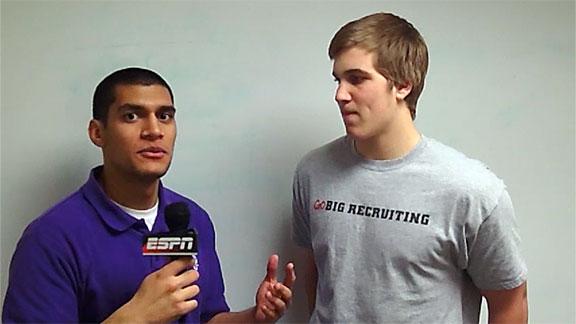 ESPNU 150 Watch List linebacker Alexander Anzalone (Wyomissing, Pa. / Wyoming Area) talks with ESPN Midwest Regional Coordinator Jared Shanker about the huge list of offers he's collected and which schools are standing out. Anzalone is planning to visit Florida next weekend and says he grew up a Florida fan after his father went to medical school at Shands.
March, 10, 2012
3/10/12
11:41
AM ET
There are a pair of newsworthy pieces of information regarding No. 1
Nerlens Noel
(Everett, Mass./Tilton).
There's been a lot of buzz about Noel's visits to Kentucky and Syracuse. At first, we thought they were official but I was quickly alerted they were not. At the time of his trips to Syracuse and subsequently to Kentucky, Noel was still officially a junior.
This weekend, however, he'll visit the Georgetown Hoyas officially. The implication there is that Noel has been deemed a senior at the Tilton School. If he had not been, then this weekend's visit to Hoyaland would have been unofficial.
To continue reading this article you must be an Insider
March, 9, 2012
3/09/12
6:00
PM ET
NEW ORLEANS -- A look at Florida's
rugged win
against Alabama:
Overview:
JaMychal Green
made quite a difference in Alabama's SEC quarterfinal rematch with Florida, but it wasn't quite enough.


Green, who missed the teams' first meeting because of a suspension, dominated to the tune of 22 points and 10 rebounds against the Gators. Unfortunately for Green, a missed free throw in the dying seconds will probably offset a fantastic performance, in his mind.
The Crimson Tide buried a 3-pointer at the first-half buzzer, cutting a five-point UF lead to 26-24. The Gators tried to pull away in the second half, building a lead that got as big as 12. But the Tide surged back behind the efforts of Green, who took 14 of the Tide's 45 shots and connected on seven.
Turning point:
Green went to the free throw line with a chance to tie the game with 21 seconds left. He was superb for Alabama all day, but he connected on only the first of his two shots, leaving the Tide at a 64-63 disadvantage.
March, 9, 2012
3/09/12
11:15
AM ET
By
GatorNation staff
| ESPN.com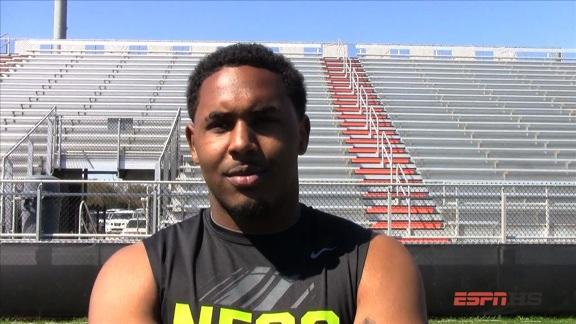 Edna Karr (New Orleans, La.) Class of 2014 defensive end Gerald Willis has a host of offers from some of the nation's most prestigious programs. He lists his top three schools as Florida, LSU and Alabama.
March, 9, 2012
3/09/12
11:01
AM ET
Jakarr Sampson
(Akron, Ohio/Brewster Academy) is in a good place. After visiting Kansas for the Jayhawks' win over Missouri, he got refocused and helped Brewster Academy put a dent in Hargrave's undefeated season. Brewster won the prep national championship, and Sampson was the MVP.
"I didn't even know they were undefeated. We just went out there and played," Sampson said.
Playing is what Sampson does best. He's a unique forward. His calling card is his ability to explode at the rim, create ways to score and play with the intensity of a bubble coach lobbying for his team come tournament time.
To continue reading this article you must be an Insider
March, 9, 2012
3/09/12
8:15
AM ET
GAINESVILLE, Fla. --With two early safety commits from Watch List players
Nick Washington
and
Keanu Neal
, Florida could realistically be done recruiting the position. But with so many talented safeties on Florida's board, the Gators are almost certain to take one or two more.
Florida junior Matt Elam had a solid season in 2011, and with another strong year he could potentially leave early for the NFL draft. Josh Evans, who saw extensive action in 2011, will be a senior. The Gators are looking to add playmakers and depth to the safety position.
Committed
: Nick Washington (Jacksonville, Fla./Trinity Christian) and Keanu Neal (Bushnell, Fla./South Sumter)
To continue reading this article you must be an Insider
March, 8, 2012
3/08/12
1:55
PM ET
GAINESVILLE, Fla. -- ESPNU Watch List offensive tackle
Kenny Lacy
(Phoenix, Ariz./Mountain Pointe) is one of the top OL prospects on the West Coast for the 2013 class, and he is starting to receive interest from some big name schools on the East Coast.
The 6-foot-5, 260-pound Lacy said he spoke with new Florida director of player personnel Jon Haskins and offensive line coach Tim Davis earlier this week.
"I called and talked to Jon Haskins and the the new offensive line coach Tim Davis," Lacy said. "They are going to be here for spring to see me. He [Davis] is very energetic. He sounded like very excited about football."
To continue reading this article you must be an Insider
March, 8, 2012
3/08/12
1:51
PM ET
GAINESVILLE, Fla. -- Watch List defensive tackle
Henry Poggi
(Baltimore, Md./Gilman) is hearing from colleges all over the country.
His older brother Sam played for Ted Roof at Duke, and his other older brother, Jim, plays at Iowa. But Henry might be the most talented of them all.
To continue reading this article you must be an Insider
March, 8, 2012
3/08/12
11:20
AM ET
[+] Enlarge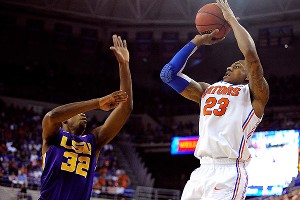 AP Photo/Phil SandlinFreshman Bradley Beal is Florida's second-leading scorer.
GAINESVILLE, Fla. --
Bradley Beal
was answering a question about why Florida's defense and rebounding has slipped from the first half of the season, but what he was saying pretty much described the Gators' biggest issue heading into the postseason.
Beal said they sometimes just forget what they're supposed to do in certain situations because their minds are caught up in other aspects of the game. They're shooting the ball poorly and worrying about that instead of focusing on playing defense and boxing out on the ensuing possession.
"We forget what our role is on the court and what our job is to do on the court," Beal said. "Sometimes we just get caught up in other things. It's not necessarily us just not wanting to do it. Sometimes it just happens."
In other words: Florida is an immature team.
March, 8, 2012
3/08/12
8:16
AM ET
GAINESVILLE, Fla. -- With depth and talent at the cornerback position, the Florida Gators will be selective with their targets for the 2013 recruiting class.
The Gators landed two cornerback prospects, Brian Poole and Willie Bailey, in their 2012 recruiting class. Bailey was a mid-term enrollee and Poole was an Under Armour All-American. Both could potentially see early playing time for the Gators.
As it currently stands, Florida has no commitments from 2013 prospects, but look for the Gators to land between two to three cornerbacks next signing day.
To continue reading this article you must be an Insider
March, 8, 2012
3/08/12
12:06
AM ET
With March Madness upon us, it's always interesting to examine who has the best football-basketball programs.

In the realm of the SEC, the pickings are slim.

In fact, Florida is the only current SEC team that has been to a bowl game and the NCAA tournament each of the past two years. The Gators played in the 2010 and 2011 NCAA tournaments and have been to 21 straight bowl games, including a 24-17 victory over Ohio State in the Gator Bowl this past season.

The only three SEC teams that played in the NCAA tournament last year and also went to a bowl game following the 2011 season were Florida, Georgia and Vanderbilt.

The 2009 NCAA tournament included just three SEC teams -- LSU, Mississippi State and Tennessee -- and they finished a combined 1-3 that year in the tournament. Of the three, LSU and Tennessee went to bowl games following the 2009 season, but they both lost.

So counting football bowl games and NCAA tournament men's basketball games that year, the SEC was a combined 1-5.

The last SEC team to go to a bowl game and the Final Four in the same season was Florida. The Gators won back-to-back national championships in basketball in 2006 and 2007 and also won the BCS national championship in football during the 2006 season.
March, 7, 2012
3/07/12
10:40
PM ET
GAINESVILLE, Fla. -- Florida is apparently in the mix to land offensive lineman
Max Garcia
, a transfer from Maryland who told the Atlanta Journal-Constitution that he was going to visit Georgia, Florida, Ole Miss and Clemson within the next month or so.
Garcia, who was a three-star offensive tackle out of Norcross (Ga.) High School, signed with Maryland in 2010. He requested his release so he could play closer to home, and will visit Ole Miss on March 20, Georgia on March 23, Florida on March 30, and Clemson at a later date,
the AJC reported.
The 6-foot-4, 310-pound Garcia, who started 12 games for the Terps last season as a sophomore, would have to sit out the 2012 season but would still have two years of eligibility remaining.
Garcia told the AJC that Georgia is the front-runner.
March, 7, 2012
3/07/12
2:09
PM ET
GAINESVILLE, Fla. -- Five-star wide receiver prospect
Ahmad Fulwood
(Jacksonville, Fla./Bishop Kenny) visited Florida last Friday with his mother, Terri Fulwood, and his good friend and Florida safety commit
Nick Washington
(Jacksonville, Fla./Trinity Christian).
The visit was a chance for Terri to meet the Florida coaching staff and get a chance to see the Florida program up close. Though Terri said she enjoyed her visit, she made it clear the Gators will have their work cut out of them to win her over.
"It was OK," Terri Fulwood said. "The school was impressive. They have a very good educational program, I just don't think the school is a good fit for my son. Florida is going through some changes with the coaches, and what's the situation with the quarterbacks? I just think Florida is not a good fit for him other than the education, because I hear the education there is fantastic."
To continue reading this article you must be an Insider
March, 7, 2012
3/07/12
2:02
PM ET
GAINESVILLE, Fla. -- On Monday night, five-star Florida defensive tackle commit
Caleb Brantley
(Crescent City, Fla./Crescent City) posted a status update on his Facebook page that said, "#UF #Bama #FSU #UGA #USC."
This led many to believe Brantley could be opening his recruitment back up. But when asked if he was still committed to Florida on Tuesday afternoon, the 6-foot-3, 307-pound tackle replied via text message with an emphatic: "Ohh yeahhh most definitely."
Brantley followed up that response on Tuesday night with the following Facebook status update: "To whom it may concern! I am not decomitting from the university of florida! #Dem GatorBoiiss"
To continue reading this article you must be an Insider
March, 6, 2012
3/06/12
10:31
PM ET
ESPNU Watch List quarterback
Kohl Stewart
(Houston, Texas/St. Pius X) verbally committed to Texas A&M in July 2011, and his commitment is still firm. However, it doesn't hurt to look at other options.
Florida is the latest to entertain Stewart, and the 6-foot-2, 195-pound quarterback described his new offer with one word in particular.
"Huge," Stewart said Tuesday.
To continue reading this article you must be an Insider