March, 16, 2012
3/16/12
10:44
PM ET
By
GatorNation staff
| ESPN.com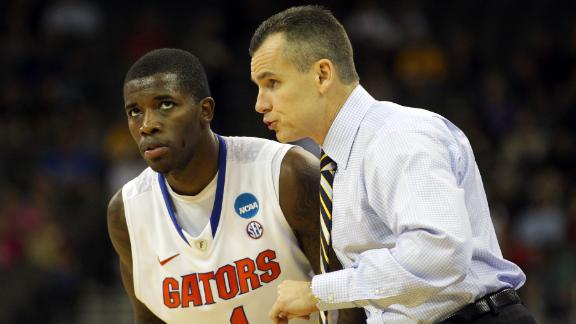 Billy Donovan breaks down Florida holding Mike Scott to just 15 points in 71-45 win over Virginia. The Gators' 26-point win is tied for the fourth-largest win in tournament history. ESPN analyst Jimmy Dykes says UF is in a very good position in its bracket
March, 16, 2012
3/16/12
10:01
PM ET
GAINESVILLE, Fla. -- Here are some observations/thoughts from Florida's open spring practice on Friday afternoon:
• Neither quarterback looked particularly impressive on Friday. Both had several good throws --
Jeff Driskel
hooked up with
Ja'Juan Story
on a deep pass,
Jacoby Brissett
and running back/tight end
Omarius Hines
combined for a long TD pass -- and both had several poor throws. Brissett did throw two interceptions, including and overthrown ball that cornerback
Jaylen Watkins
grabbed. The other was a nice play by safety
Valdez Showers
.
•
Chris Johnson
has been moved from safety to running back. He spent some time there at Ocala (Fla.) Trinity Catholic but was supposed to be a full-time safety at UF. He played mainly on special teams last season as a freshman. The move was made to create depth at the running back spot behind
Mike Gillislee
and
Mack Brown
. Hines also is working there, and he had a few nice runs Friday.
To continue reading this article you must be an Insider
March, 16, 2012
3/16/12
9:52
PM ET
OMAHA, Neb. --
Casey Prather
arrived at the CenturyLink Center Friday as a seldom-used reserve averaging 2.0 points for Florida's basketball team.
Hours later, the sophomore forward stood before national television cameras for a post-game interview while thousands of members of Gator Nation saluted him with cheers from the stands.
Prather scored a career-high 14 points on 6-of-7 shooting to vault Florida to a
71-45 victory
over Virginia in the second round of the NCAA tournament. Prather played 22 minutes -- 13 above his average -- in a win that catapulted the Gators into Sunday's third-round game against Norfolk State.
"If there is anyone on our team that deserves to have success, it's him," Florida coach Billy Donovan said of Prather. "I have been around so many young players [who] don't get a chance to play and sulk and have no resiliency to come back the next day and work.
March, 16, 2012
3/16/12
9:50
PM ET
By
ESPN Stats & Info
| ESPN.com
A closer look at today's upset winners over No. 2 seed Missouri:


First NCAA tournament appearance.
Made transition from Division II to Division I in 1997-98 season.
Three winning seasons in 15 years in Division I (Division I school-record 25 wins this year).
Five alumni have played in the NBA.
Kyle O'Quinn: 48 career double-doubles entering today, tied for third-most among active players.
March, 16, 2012
3/16/12
9:48
PM ET
By
ESPN.com staff
| ESPN.com
March, 16, 2012
3/16/12
4:44
PM ET
OMAHA -- Quick thoughts from Florida's
71-45 victory over Virginia
Friday at the CenturyLink Center.
Overview:
Florida advanced to the round of 32 of the NCAA tournament, but the Gators probably didn't throw much of a scare into their future opponent. At least not in the first half.


With the
Missouri Tigers
watching from the crowd, the Gators missed their first 15 3-point attempts before finding their groove in a 26-point dismantling of Virginia. As lackluster as Billy Donovan's squad was in the first half, Florida caught fire in the second. The Gators shot 69.6 percent after intermission in what turned out to be one of the more lopsided games in the NCAA tournament thus far.
Florida's performance was good enough to get past an injury-riddled, overmatched Cavaliers squad that hadn't defeated a high-quality team since beating Michigan on Nov. 29. But Donovan knows it will take a much better effort to get past No. 2 seed Missouri if the Tigers advance as expected by beating No. 15 Norfolk State.
Casey Prather
and
Bradley Beal
had 14 points each for No. 7 Florida while
Patric Young
added 13. Virginia senior forward
Mike Scott
, an All-ACC performer, had 15 points in his final game as a collegian.
Turning point:
Virginia opened the game on 10-2 scoring run, but not much went right for Cavaliers after that. Florida went on a 28-12 tear that resulted in a 30-22 halftime lead. It was never close in the second half.
Key player:
Beal chipped in 11 rebounds to go along with his 14 points -- an impressive total for a guard.
Key stat:
Florida and Virginia combined to miss their first 20 3-point attempts before Gators guard
Scottie Wilbekin
finally connected from beyond the arc late in the opening half. The teams were a collective 1-for-22 on 3-pointers before intermission.
Miscellaneous:
Virginia was making its first NCAA tournament appearance since 2007. ... Tony Bennett's father, Dick Bennett -- the former Wisconsin head coach -- was in the stands Friday to support his son. ... Florida is now 26-9 in NCAA tournament games under Billy Donovan. ... The Gators advanced to the Elite Eight last season. ... Florida had lost four of its past five games before Friday.
What's next:
Florida improves to 24-10 and advances to play either Missouri or Norfolk State on Sunday. Virginia ends its season 22-9.
March, 16, 2012
3/16/12
3:06
PM ET
Jon Bostic
has made the short walk from Ben Hill Griffin Stadium over to Florida's practice fields hundreds of times. But, as the rising senior linebacker takes his final spring hikes back and forth, he can't help but feel as if those first steps out there happened yesterday.
The old man on Florida's defense isn't looking to get nostalgic, but, as he enters his fourth season in Gainesville, he admits that his Gators career has flown by.
He went from immediately moving from safety to linebacker his first spring to becoming one of the captains and leaders of Florida's defense. From wide-eyed to highly regarded, Bostic will enter the 2012 season as one of the SEC's top middle linebackers.
[+] Enlarge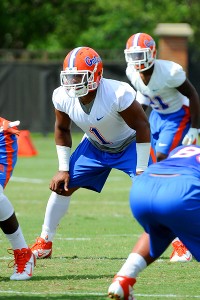 Courtesy of UF CommunicationsSenior Jon Bostic led the Gators in tackles with 94 last season.
But he wouldn't be where he is without help from one of the best to line up for Florida.
From the beginning, Bostic's first defensive coordinator, Charlie Strong, made sure Bostic clung to former star Brandon Spikes. Bostic was to be a sponge when around him.
One of the toughest activities with Spikes was watching film because of how meticulous he was.
"If there's one thing about him, he sits in the film room and, when I say he finds the little things, he finds the little things," Bostic said about Spikes' scrupulous film time.
Spikes was hard on Bostic at times when it came to dissecting film or just learning how to be the defense's quarterback, but it was something Bostic needed. The thing Spikes wanted to get across to his understudy was that he had to be the leader in his actions and his words, meaning laziness wasn't an option. Spikes didn't want his position to take a dip after he left.
So, for three years, Bostic has tried to emulate Spikes while trying to come into his own. He has gone through three defensive coordinators, taking little things from each to enhance his game. He has learned to gain weight the right way, and he enters his final spring wanting to get Florida's defense back to its ferocious ways.
Bostic knows he can't play every position at once, so he has taken it upon himself to monitor everyone. Bostic has grown from a shy, 225-pound hybrid player three years ago to a 245-pound outspoken superior. He is reaching out to younger players, getting onto older players and communicating his ideas more to coaches.
Florida returns 10 of 11 starters from the nation's eighth-ranked defense, but, Bostic said, if Florida's defense wants to progress in 2012, depth has to be stronger. Immediate help arrived in the form of three early enrollees -- juco defensive tackle Damien Jacobs and freshmen Antonio Morrison (linebacker) and Willie Bailey (defensive back) -- but Bostic said those who sat last year have to be more prepared this time.
"We're going to need all the depth we can get this year," he said. "Last year, we didn't have as much depth at any position like we would have liked it."
That led to a lot of bending in Florida's defense and even some breaking against tougher running teams such as Alabama and LSU. If the Gators want to dig themselves out of their two-year rut, Bostic said, the defense has to continue to improve. The lack of discipline from a year ago has to be changed. Consistency has to take hold. No longer can players get away with deciding when they'll go full speed, Bostic said; it has to be every day.
Bostic started to see an attitude change almost immediately after Florida's bowl win over Ohio State, as the seven-win season didn't sit well with players. In postseason drills, Bostic saw more fire and desire from players. The competition was intense as players looked to separate themselves before spring started.
A couple of days into spring practice, and Bostic said he still sees that tenacity from youngsters and vets.
"They figure it's either now or never, and that's a good thing," Bostic said.
"It's creating competition all over the place and making everybody better."
It's not just the defense that has impressed Bostic. The offense, which yet again is searching for its identity, has made strides. With help from a defense that refuses to let it get very comfortable, the offense has generated more confidence.
But it won't be an overnight transformation, Bostic said. There has been a gradual push in the right direction, but there's plenty of work to be done.
He knows the perception of Florida football isn't exactly flattering right now, but, if everyone comes together this time, Bostic expects the Gators to turn a head or two this fall.
"We've had a lot of things happen, but the talent is still there," he said. "The talent hasn't gone anywhere."
March, 16, 2012
3/16/12
7:56
AM ET
GAINESVILLE, Fla. -- Over the next few weeks GatorNation will have a series of Q&As with Florida's incoming freshmen. Next up is tight end
Colin Thompson
from Warminster (Pa.) Archbishop Wood. Thompson will enroll at Florida for Summer B in June.
GN
: What number will you wear next season?
Thompson
: Coach [Will] Muschamp and I talked on his in-house visit, and I asked if 84 was available. So I asked if I could wear it and he said sure, so that's hopefully what I'll be wearing next year.
To continue reading this article you must be an Insider
March, 15, 2012
3/15/12
11:34
PM ET
The LSU Tigers added one more player to an already solid 2012 recruiting class on Thursday, as San Mateo (Calif.) College of San Mateo offensive tackle
Fehoko Fanaika
signed his letter of intent to play for the Tigers next season.
Fanaika's defensive coordinator at San Mateo Tim Tulloch confirmed the decision late on Thursday night via text message.
"Fehoko signed with LSU," Tulloch said. "It was a very hard decision for him. He said he loved coach Muschamp and Jon Halapio, but he met with his family and somehow felt LSU was the right fit. He didn't say much more than that."
Fanaika now becomes the 24th player to sign with LSU for the 2012 class.
To continue reading this article you must be an Insider
March, 15, 2012
3/15/12
10:32
PM ET
OMAHA, Neb. -- Florida center
Patric Young
told reporters Thursday that he intends to return for his sophomore season instead of entering the NBA draft.
The 6-foot-9, 247-pound Young has been projected as a late first-round pick by most draft analysts. He's averaging 10.3 points and 6.4 rebounds in his first season as a starter.
"That's always great news," Gators coach Billy Donovan said. "I think Patric has learned a lot this year. I don't think this year was as easy for him as I thought it was going to be. I think a lot of times when you're a player that's in a role, and all of a sudden you go from a role to a primary position, your impression of what you think your role is going to be like might not match up to it.
"I think Patric ... probably realized he's here to grow, and he's much better today than he was a year ago. I think next year he would be even better than he is this season."
March, 15, 2012
3/15/12
9:19
PM ET
Two big offers came in Thursday for a Peach State prospect who possesses as much upside as any in the Southeast. He is also as big as anyone in the Southeast. University of Florida coach Will Muschamp and University of Alabama coach Nick Saban put in calls to North Gwinnett coach Bob Sphire today to extend an offer to offensive lineman
DeVondre Seymour
(Suwanee, Ga./North Gwinnett). The 6-foot-5, 315-pound tackle was glad to get the news.
"I like both schools and I hope to take a visit to both really soon," Seymour said.
Only problem is, the Gators and Crimson Tide might be too late.
To continue reading this article you must be an Insider
March, 15, 2012
3/15/12
5:23
PM ET
St. Petersburg (Fla.) Gibbs athlete
Maurice Hall
passes the eye test on first view. The 6-foot-2, 190-pound sophomore can play wide receiver, safety, corner, linebacker, running back or quarterback if necessary.
Hall, who is also a starter on the basketball team and a sprinter and high-jumper for the track team, received a verbal offer from Oklahoma in January when the Sooners were successfully recruiting former teammate
Gary Simon
.
"Oklahoma saw my film when they sat in with my coach and they liked me," Hall said. "I've gotten a lot of interest from schools and I think they will see me in the spring."
To continue reading this article you must be an Insider
March, 15, 2012
3/15/12
5:14
PM ET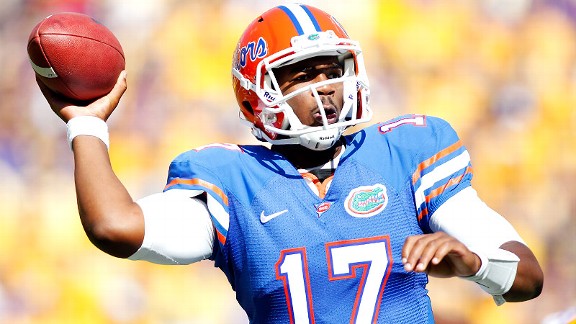 Tyler Kaufman/Icon SMIFlorida quarterback Jacoby Brissett made a light-hearted joke about his friendship with fellow QB Jeff Driskel after practice Thursday, but he was adamant that nothing this season would undermine the solid relationship.
GAINESVILLE, Fla. -- The relationship between Florida quarterbacks Jeff Driskel and Jacoby Brissett really wasn't tested last season when they were competing to be the backup to starter John Brantley.
It will be this spring, though, when the two are battling to succeed Brantley in the Gators' first quarterback competition since the 2003 season.
March, 15, 2012
3/15/12
2:00
PM ET
Marqui Hawkins
(Columbus, Ga./Carver), a 6-foot-2 and 205-pound receiver, can do it all at his position.
"I know I have offers from Clemson, Tennessee, Ole Miss, Mississippi State and Florida. I think Georgia offered but I am not sure. Teams like Alabama and Auburn are recruiting me hard and I want to check them out," he said.
At this point Hawkins has not made any unofficial visits. He's hoping that changes soon.
To continue reading this article you must be an Insider
March, 15, 2012
3/15/12
12:09
PM ET


GAINESVILLE, Fla. -- So, you're the Florida Gators and you're busy
trying to solve Virginia's vaunted pack-line defense
. The last thing you need is an executive order for failure. But that's just what President Barack Obama has
on his bracket
-- an opening-round loss to the Cavaliers. Did Mr. Obama really diss the state of Florida? In an election year?? Let's move on to the links:
West Region breakdown
Eamonn Brennan looks at how the West will be won. He says Virginia may be the most intriguing No. 10 seed in the bracket.
Top 5 NBA prospects in West Region (Insider)
Chad Ford concludes his look at the top 5 NBA prospects in each NCAA tournament region with the West. Florida's Bradley Beal and Patric Young are high on the list.
The future of West region teams (Insider)
Sixty-eight teams made the NCAA tournament, but each of them know if they want to return they need to recruit well. Here's a look at what each team is losing after this year, what kind of recruiting class they're bringing in and what it means to their hopes of making future NCAA tournaments.
Five teams that need the 3 (Insider)

Some big-name teams will live or die with their long-range accuracy and need to connect from behind the arc to advance. John Gasaway picks out the five with the greatest need. You already know Florida is on the list.
Bilas: Pick-by-pick bracket analysis (Insider)
Jay Bilas draws from a season's worth of film and live scouting to make his bracket selections, taking Insiders pick by pick to the title game in New Orleans. Find out if Jay has the Gators getting out of Omaha, Neb.