December, 16, 2014
Dec 16
9:26
AM ET
ESPN.com news services
[+] Enlarge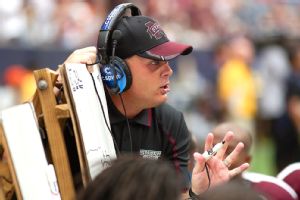 Leslie Plaza Johnson/Icon SMIGeoff Collins ran a Mississippi State defense that allowed just 19.4 points per game this season -- the 10th-best average in the FBS.
Mississippi State defensive coordinator Geoff Collins has accepted the same position at Florida, new coach Jim McElwain announced Tuesday.
Collins' deal at Florida is for three years, according to the source. He had signed a two-year extension worth $1.2 million in January and was scheduled to make $625,000 in 2015, according to the Jackson Clarion-Ledger.
Collins helped turn Mississippi State into one of the nation's top defenses. The Bulldogs rank 10th in scoring defense, allowing 19.4 points a game -- the 10th-lowest average in the FBS -- and lead the country in red-zone defense.
"His defenses have been successful everywhere he has been," McElwain said. "It was important to maintain some of the same philosophies and concepts that have made the defenses around here successful with this hire and our players will continue to progress under his direction."
Collins will replace D.J. Durkin, who will continue to coach the Gators' defense through the Birmingham Bowl against East Carolina.
The move will mark the latest in a massive coaching overhaul at Florida, which hired McElwain earlier this month to replace Will Muschamp.
McElwain, who coached Colorado State
December, 16, 2014
Dec 16
8:00
AM ET
1. Well, we know that Florida has a new head coach for the 2015 season, but what we don't know is what assistants will accompany Jim McElwain. The problem is that McElwain has to get out on the road and recruit, so he hasn't exactly had a lot of time to take care of that, but recruits also need to know who their position coaches and coordinators will be. Whether McElwain is in a hurry or not isn't really known, and it sounds like people at Florida aren't really sure what to think, either. But it sounds like defensive coordinator D.J. Durkin will have his choice of jobs, as reports are out there that
North Carolina is targeting him as its next DC
. Here's a portion of a report from
InsideCarolina.com
:
"Tar Heel head coach Larry Fedora met with Durkin on Sunday, sources confirmed, and the UNC administration has granted Fedora the ability to offer a competitive financial package."
Durkin was named the Gators' interim coach for Florida's bowl game, but his return as defensive coordinator isn't a sure thing. Surely, McElwain won't wait until after the bowl game to figure out his staff, right?
2. It truly was heartbreaking to hear about the tragic death of Auburn freshman
Jakell Mitchell
, who was
shot and killed
early Sunday morning. On Monday,
hundreds gathered to mourn and remember
Mitchell at a candlelight vigil in Opelika, Alabama. Funeral arrangements have also been made for Mitchell:
The funeral will be held at noon on Saturday at Greater Peace Baptist Church at 650 Jeter Avenue in Opelika.

The visitation will be held

from 5 p.m. to 7 p.m. on Friday night.
Former teammates also remembered Mitchell.
3. The Ole Miss Rebels have a lot going on around them, as they prepare to face No. 6 TCU in the Peach Bowl. For starters, the Rebels just lost linebackers coach Tom Allen to South Florida, where he will go to be the Bulls' new defensive coordinator.
Sources: #OleMiss LB's coach Tom Allen has been offered and accepted #USF's defensive coordinator job. Official announcement later today.

— Derek Tyson (@DerekTysonESPN) December 15, 2014
Think Tom Allen will be a great fit for #USF. Knows the Tampa area well and he's a high character guy which recruits will like.

— Derek Tyson (@DerekTysonESPN) December 15, 2014
Also, offensive guard Aaron Morris will miss the bowl game -- and then some -- with a torn ACL. That's a big blow to the Rebels' offense, and it will force Justin Bell to move to left guard, with freshman Rod Taylor now starting at right guard. Oh, and quarterback Bo Wallace is playing in his final game with the Rebels, while nursing an ankle injury. With a win over the Horned Frogs, Wallace would become the first Ole Miss quarterback to start and win three bowl games.
December, 15, 2014
Dec 15
11:00
PM ET
The addition of No. 1 2016 TE
Isaac Nauta
shows that the Florida State recruiting machine shows no signs of slowing down. Plus, Tennessee continues to impress with its 2015 defensive class.
December, 15, 2014
Dec 15
12:00
PM ET
In the 100 days leading up to signing day 2015, RecruitingNation will be looking back at our ESPN recruiting rankings from 2006 to the present and counting down the best player of the past 10 years at each ranking position, No. 100 to No. 1.
Jake Locker
, No. 53 in 2006 class
Locker picked Washington over Oregon State out of Ferndale (Wash.) in a recruitment that wasn't close due to staying close to home and having a number of friends that attended the University of Washington. Locker also had a strong relationship with then Huskies head coach Tyrone Willingham.
After a redshirt year in 2006, Locker took over as the starting quarterback for the Huskies in 2007, completing 155 of 328 passes for 2,062 yards and 14 touchdowns against 15 interceptions. He also had 987 yards rushing earning Pac-10 Freshman of the Year and honorable mention All-Pac-10 honors.
The 2008 season was one to forget for the dual-threat signal caller. He completed 50 of 93 passes for 512 yards and a TD in four games before a thumb injury against Stanford ended his season.
Locker began to realize his potential in 2009 as a redshirt junior. He hit on 230 of 395 passes for 2,800 yards and 21 touchdowns, and added 387 rushing yards picking up a second honorable mention All-Pac-10 honor following the season.
As a fifth year senior, Locker threw for 2,265 yards and 17 touchdowns, and rushed for 385 yards in 12 games earning a third honorable mention All-Pac-10 award.
Locker left Washington as the school's second all-time passing and quarterback rushing leader with 7,639 passing and 1,939 rushing yards.
Locker was selected No. 8 overall in the 2011 NFL Draft by the
Tennessee Titans
, where he is currently the backup.
Honorable mention:
Jeoffrey Pagan
, No. 53 in 2011 class, and
Demarcus Robinson
, No. 53 in 2013 class. Pagan signed with Alabama out of Asheville High (N.C.) and went on to appear in 32 games in three seasons with 12 starts. After 61 career tackles and 3.5 sacks for the Crimson Tide, Pagan chose to forgo his final year of eligibility in Tuscaloosa. Pagan was selected in the sixth round, No. 177 overall, in the 2014 NFL Draft by the Houston Texans. Robinson was a back-and-forth recruitment between Clemson and Florida before deciding on the Gators. After an underwhelming freshman season in 2013, the Peach State native became one of the top receivers in the SEC in 2014 hauling in 47 passes for 774 yards earning All-SEC honors.
December, 13, 2014
Dec 13
11:31
PM ET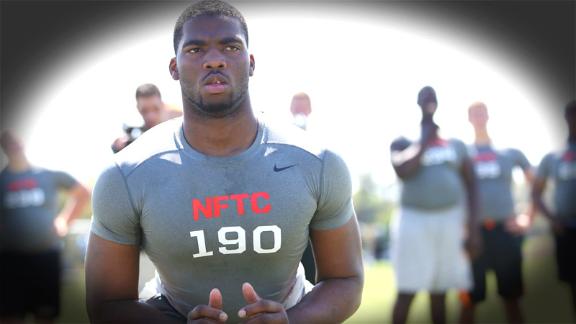 ORLANDO, Fla. -- Five-star offensive tackle
Martez Ivey
led his team, Apopka (Florida) High School, to a 30-23 win over Miami Columbus in the FHSAA 8A state championship game on Saturday.
Just hours earlier, the No. 3-ranked player in the nation talked to new Auburn defensive coordinator Will Muschamp, who had been recruiting Ivey when he was the head coach at Florida. Florida and Auburn have been Ivey's top two schools for some time so with Muschamp heading to Auburn, could the momentum have shifted in the Tigers' direction?
To continue reading this article you must be an Insider
December, 13, 2014
Dec 13
1:21
AM ET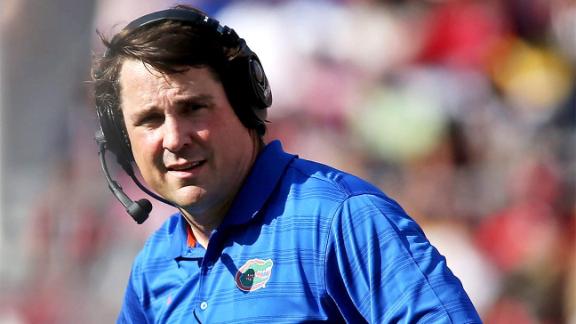 Alabama's Kirby Smart makes $1.35 million per year and, at least for now, is the second-highest-paid defensive coordinator in the state.
How is that possible?
This is how: The price for good defense in college football is skyrocketing, especially in this era of offense being played at breakneck pace and 57 FBS teams averaging more than 30 points per game this season.
It's the reason Auburn went out and made one of Smart's best friends, former Florida coach Will Muschamp, the highest-paid coordinator (offense or defense) in college football. Muschamp's blockbuster deal will pay him in excess of $1.6 million per year, which according to USA Today's recent study, is more than at least 60 FBS head coaches earned this season.
That's some serious dough to be paying a coordinator, but Auburn is serious about establishing the kind of identity on defense that it has on offense under Gus Malzahn.
What's more, there's also the business of keeping up with Alabama, which outgunned Auburn 55-44 a few weeks ago in the Iron Bowl, sending the Tigers to their fourth loss. In all four of those losses this season, Auburn gave up at least 34 points.
Less than 24 hours after the loss to Alabama, Malzahn fired veteran defensive coordinator Ellis Johnson, who has a pretty spiffy résumé of his own. But Auburn struggled to stop people most of the season, and even though the Tigers played for the national championship a year ago, Malzahn felt like he had to make a move on defense.
It was already a foregone conclusion that Muschamp was going to be one of the hottest free agents out there after getting the boot at Florida with two games remaining in the regular season, which made Malzahn's decision to part ways with Johnson only that much easier.
South Carolina and Texas A&M had also set their sights on Muschamp, who had the luxury of sitting back and seeing how everything played out. He walked away from Florida with a $6 million parting gift and his reputation as one of the top defensive minds in the game fully intact.
Few defensive coaches around the country are more respected than Muschamp, who runs the same 3-4 defense Alabama does under Nick Saban and Smart and has a keen eye for the kind of player he's looking for in his scheme.
Muschamp's problems at Florida were on offense. The Gators were a load on defense every year he was there. In fact, they're the only team in the SEC to finish in the top 10 nationally in total defense each of the past four seasons. They allowed just 4.45 yards per play this season; only four teams in the country were better (Clemson, Penn State, Stanford and UCF).
The Gators gave up 21.2 points per game this season, which was their highest average under Muschamp.
His true value goes a lot a deeper than numbers, though. His defenses play with a passion and a bloody-your-nose mindset that are infectious, and it also doesn't hurt that he knows Alabama's defensive scheme inside and out.
Saban has said the two guys who know how to run his defense exactly the way he wants it run are Smart and Muschamp.
The challenge for Muschamp will be incorporating his style of defense into Malzahn's hurry-up, no-huddle system on offense. As a rule, the two don't always go together, and one of the tricky parts is being able to find the right balance on the practice field, where, as a defensive coach, you feel like you're able to be physical enough to keep your edge.
One of the reasons Muschamp was comfortable with signing on as Malzahn's defensive coordinator was that Malzahn, for all the talk about his being a spread coach, believes deeply in running the ball. The Tigers are not one of these spread teams that's going to throw it on every down.
It's an offensive world right now in college football. Every game is on television, and the people who write the checks love points and love being entertained.
Most of the marquee head-coaching jobs are going to offensive guys right now. That's no coincidence.
But it's also no coincidence that the teams winning national championships are also playing championship defense. Only one of the past 10 BCS national champions (Auburn in 2010) has finished outside of the top 10 nationally in total defense.
The game's changing, no doubt, but not to the point where defensive coaches of Muschamp's ilk are devalued.
As Auburn showed us Friday night, people are still willing to pay top dollar to get them.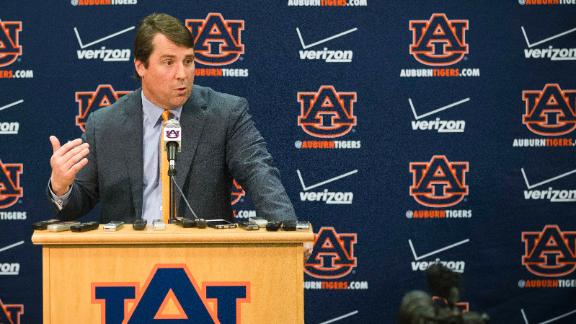 December, 12, 2014
Dec 12
10:18
PM ET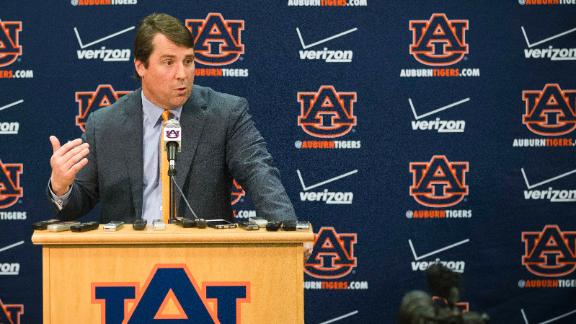 Former Florida coach Will Muschamp has agreed to become Auburn's defensive coordinator, the school announced Friday night.
Muschamp agreed to a three-year deal with the Tigers, sources close to the situation told ESPN. The deal is worth between $1.6 million and $1.8 million annually, sources said, which will make him the highest-paid defensive coordinator in FBS.
"I'm excited to welcome Will back to Auburn as our new defensive coordinator," Tigers coach Gus Malzahn said in a statement. "Will is a one of the top defensive minds in college football who has great passion and energy for the game. He is a tremendous addition to our staff."
Muschamp chose the Auburn position after interviewing for Houston's head-coaching job. He was also courted for defensive coordinator jobs at South Carolina and Texas A&M.
"My family, Carol, Jackson, Whit, and I are excited about coming back to Auburn and I look forward to working with Coach Malzahn to win championships," Muschamp said in the statement.
Muschamp will be introduced at a news conference Saturday.
Muschamp coached Florida's final two regular-season games after being fired Nov. 16. He posted a 28-21 record in four seasons during an up-and-down tenure that included an 11-2 record and SEC coach of the year honors in 2012.
The Gators' biggest struggles came on offense, not on the side of the ball that is Muschamp's specialty.
Muschamp's new salary will not affect the $6.3 million buyout Florida owes him after he was fired with three years remaining on his contract, sources said.
Before accepting the Florida job in 2011, Muschamp was the head-coach-in-waiting at Texas and was regarded as one of the top defensive coordinators in the country. His Longhorns defenses led the nation with 119 sacks from 2008 to '10.
He also guided defenses at LSU under Nick Saban from 2001-04, and worked as assistant head coach under Saban with the Miami Dolphins
December, 12, 2014
Dec 12
9:00
AM ET
Now that the Associated Press and the league coaches have spoken and cast their votes for their All-SEC teams, it's time for us to get in on the fun.
We here at the ESPN.com's SEC blog put our heads together for days trying to come up with what we thought was the perfect team, and, of course, we think we got it all right. Correction: We KNOW we got it right.
Here's what we came up with:
OFFENSE
QB: Dak Prescott, Mississippi State:
Prescott directed the Bulldogs to their first 10-win season since 1999. He led the SEC with 3,970 yards of offense and was responsible for 228 points (38 touchdowns), which ranks fifth nationally.
RB: Cameron Artis-Payne, Auburn:
Like
Tre Mason
before him, Artis-Payne finished the regular season leading the SEC in rushing. The senior rushed for 1,482 yards and 11 touchdowns.
RB: Nick Chubb, Georgia:
Only a true freshman, Chubb was second in the SEC with 1,281 rushing yards and tied for first in the league with 12 rushing touchdowns. Chubb rushed for at least 113 yards in the seven games he started.
WR: Amari Cooper, Alabama:
The record-breaking athlete and SEC Offensive Player of the Year is easily the nation's best wide receiver and led the nation with 115 receptions for 1,656 yards. He had seven 100-yard receiving games.
WR: D'haquille Williams, Auburn:
Just a freak of an athlete, Williams led the Tigers with 45 catches for 730 yards and five touchdowns despite missing two games near the end of the season.
TE: Evan Engram, Ole Miss:
Engram became the Rebels' top receiving target after
Laquon Treadwell
went down and finished second on the team with 37 receptions. His 651 receiving yards led all SEC tight ends.
OT/G: Sebastian Tretola, Arkansas:
He was one of the SEC's best linemen with his ability to play both inside and outside for the Razorbacks, and he even provided us with a touchdown pass this season.
OG: A.J. Cann, South Carolina:
The four-year starter has started 50 of the 51 games he's played in at South Carolina and is a top NFL draft guard prospect who is excellent blocking both the pass and rush.
C: Reese Dismukes, Auburn:
The two-time first-team All-SEC member has been the linchpin of the Tigers' offensive line the last two seasons and was excellent in 2014.
OG: Ben Beckwith, Mississippi State:
The burly Beckwith was the only player to be named SEC Offensive Lineman of the Week three times this season.
OT: La'el Collins, LSU:
Another top NFL draft prospect at his position, Collins was good enough to leave early last year, but got even better protecting LSU quarterbacks in 2014.
All-purpose: Pharoh Cooper, South Carolina:
Cooper finished the regular season with 1,242 all-purpose yards and was second in the SEC with 966 receiving yards.
DEFENSE
DL: Shane Ray, Missouri:
The SEC Defensive Player of the Year led the league with 14 sacks and 21 tackles for loss. Ray registered at least half a tackle for loss in 12 games this season.
DL: A'Shawn Robinson, Alabama:
He might not have had the numbers of other defensive linemen around him in this league because of a slow start, but Robinson proved to be one of the league's most disruptive defenders up front.
DL: Dante Fowler Jr., Florida:
The hybrid defender was one of the SEC's best pass-rushers this season, leading the Gators with 5.5 sacks, 12 tackles for loss and 15 quarterback hurries.
DL: Trey Flowers, Arkansas:
The Hogs' lineman faced more double-teams this season but still cranked out a productive season, leading the team with five sacks and 13.5 tackles for loss. He also totaled 63 tackles.
LB: Benardrick McKinney, Mississippi State:
Another guy who didn't put up monster stats, the possible first-round draft pick was the leader of Mississippi State's defense, the most consistent player for the Bulldogs and the unquestioned quarterback of the defense.
LB: Martrell Spaight, Arkansas:
He led the league with 123 total tackles and tied for the league lead with 60 solo stops. Spaight also forced two fumbles and recorded 8.5 tackles for loss.
LB: Kwon Alexander, LSU:
One of the SEC's most athletic linebackers, Alexander was the ultimate playmaker for the Tigers, leading LSU with 79 tackles with 32 being solo.
CB: Senquez Golson, Ole Miss:
Golson did a complete 180 in 2014, becoming one of the nation's best cover corners, as he was second nationally with nine interceptions and first in the SEC with 17 passes defensed.
S: Landon Collins, Alabama:
Another top NFL draft prospect, Collins played the role of dynamic ball hawk for the Crimson Tide and was able to make plays all over the field. He led the team with 91 tackles and three interceptions.
S: Cody Prewitt, Ole Miss:
An All-American last season, Prewitt didn't fall off. While he only registered two interceptions, Prewitt made plays all over the field for the Rebels, not shying away from combat in the box.
CB: Vernon Hargreaves III, Florida:
The youngster just keeps getting better. He grabbed just two interceptions, but was an excellent one-on-one defender, defending 15 passes.
SPECIAL TEAMS
P: JK Scott, Alabama:
There's a reason Alabama's fans joked about a potential Heisman run for Scott. He averaged 47 yards per punt with a long of 70 yards, downing 26 inside the 20-yard line and had 18 kicks go 50-plus yards.
K: Austin MacGinnis, Kentucky:
He connected on 21 of his 27 attempts and hit 8 of 12 from 40 yards and beyond, including a long of 54 yards.
KR: Marcus Murphy, Missouri:
Murphy averaged 29.9 yards per kickoff return (478 yards) and scored two touchdowns. He also had 273 punt return yards and a touchdown.
December, 11, 2014
Dec 11
2:00
PM ET
By
ESPN.com staff
| ESPN.com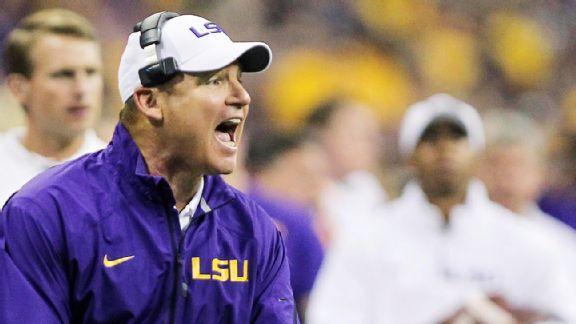 ESPN SEC reporters Alex Scarborough and Greg Ostendorf discuss which two SEC teams will benefit the most from the extra practice time and playing in a bowl game.
December, 11, 2014
Dec 11
10:10
AM ET
Jim McElwain didn't exactly give away the plans to his new operation at Florida, but his first order of business in the recruiting world has made it pretty clear: He has got to get things going on offense.
OK, that's painfully obvious in Gainesville, and McElwain has wasted no time on the recruiting front getting in front of the right people and formulating his plan for the immediate future. It sounds like losing four-star quarterback commit
Sheriron Jones
, who was never even contacted by McElwain, and three-star offensive lineman
George Brown Jr.
a few days ago hasn't fazed McElwain or derailed his plan in the least bit.
Recruiting seemed to be the first, second and third thing on McElwain's mind when he was officially introduced as the Gators' new coach, and that's very, very smart for the man picked to right one of the country's premier programs.
"We'll hit the road next week, get to as many places as humanly possible from the recruiting standpoint because it's one of those things recruit daily or die now," McElwain said at his press conference Saturday. "We've got to make sure we secure a great class."
He gets it. He has some southeastern football blood pumping through those veins, so he understands that if you get too far behind when it comes to wrangling talent in this part of the country -- no matter what school logo is on your shirt -- you're toast.
Before he could even get on the road and start recruiting face-to-face, he had ESPN 300 offensive lineman commit
Tyler Jordan
drive over from Jacksonville, Florida, to meet with him Sunday. According to Jordan's Twitter feed, things went well.
#GatorNation let's do this!! #Gators @CoachMcElwain pic.twitter.com/9z3VY6dSPH

— Tyler Jordan#71 (@tyjordan58) Dec. 7, 2014
McElwain also called fellow ESPN 300 offensive line commit
Mike Horton
before using his first day of recruiting travel to see ESPN 300 offensive linemen
Jalen Merrick
,
Christian Pellage
(South Carolina commit) and
Martez Ivey
, who is the nation's No. 1 offensive lineman.
When you return minimal depth on the offensive line, it's probably a good idea to snag some more big bodies before you really get going at your new gig, and that's exactly what McElwain is trying to do. He even took offensive line coach Mike Summers with him. While McElwain hasn't made any decisions when it comes to his staff at Florida, Summers did do a very good job in developing Florida's line and has been solid in recruiting.
Then, there's the hunt for some offensive playmakers, something the Gators have been inconsistent in getting over the past five years.
The loss of Jones looked like a big one at first, but it sounds like McElwain is looking for more of a pocket passer to bring to Gainesville. What that means for running types like
Treon Harris
and
Will Grier
who are already firmly on campus? Who knows? But McElwain stressed on Saturday that he'll play to his current roster's strengths.
And he'd like to add a little more strength before national signing day at the skill positions. Already, McElwain has been looking to upgrade Florida's running back position, offering Miami commit
Mark Walton
. The Gators are also in the mix with fellow Miami running back commits
Dexter Williams
and
Jordan Scarlett
, who are clearly looking around at other schools.
Clemson athlete commits
Ray-Ray McCloud III
, who McElwain visited this week, and
Deon Cain
will get a lot of attention from the Gators in the next two months, as will uncommitted ESPN 300 athlete
Ryan Davis
, who also met with McElwain this week. Three-star tight end prospect
Daniel Imatorbhebhe
and three-star Florida State receiver commit
Auden Tate
also got visits from McElwain.
So while McElwain's introduction to the Gator Nation has been brief, he's taken every opportunity to really introduce himself to guys he wants to build a future with at Florida.
This class won't make or break McElwain's legacy at Florida, but getting a few solid offensive pieces is a must in his first year, and McElwain knows that.
December, 11, 2014
Dec 11
8:00
AM ET
1. The race to replace senior Bo Wallace as Ole Miss' quarterback just got a bit more interesting. ESPN JC50 prospect Chad Kelly
committed to the Rebels on Wednesday
, and the former Clemson backup will have two years to play two at Ole Miss. With Wallace, a three-year starter, leaving the team after the 2014 season, the Rebels had a huge question at quarterback for 2015. DeVante Kincade, Ryan Buchanan and Kendrick Doss are all freshmen with
limited game experience at best
. Kelly adds a veteran presence to the group, having played in five games at Clemson in 2013, and he
might become an immediate frontrunner

to claim the job once he arrives on campus.
2. It probably won't come as much of a surprise that three of the five FBS assistant coaches who make more than $1 million per year reside in the SEC: Alabama's Kirby Smart and LSU's Cam Cameron and John Chavis. This according to
USA Today's assistant coach salary database
that it published on Wednesday. Not surprisingly, the SEC also had three of the top four highest-paid coaching staffs (LSU, Alabama and Auburn) and six of the top 13 (adding Texas A&M, South Carolina and Georgia). Take a look. They also have a database for
head coaches
(eight SEC coaches are in the top 20, led by Alabama's Nick Saban) and a multiple-byline feature on assistants like Dennis Erickson and Greg Robinson
who now make a comfortable living
after once serving as head coaches.
3. The Jacobs Blocking Trophy -- which goes to the player selected by the SEC's coaches as the league's top blocker -- is one of the conference's oldest awards.
LSU's La'el Collins won the award
on Wednesday, joining a list of
dozens of winners
who wound up playing in the NFL. Collins could already be doing that if he wanted. It was an option after he earned All-SEC honors as a junior, but unlike many of his teammates in recent seasons, Collins opted to play his senior season at LSU. It seems to have been a wise decision.
Several publications
have covered
this territory already, but with college football's underclassmen preparing to make their announcements on whether they will make early jumps to the pros, Collins serves as a good reminder of how players who return can sometimes help their cause. Because of an outstanding senior season, Collins will almost certainly be a much wealthier man for having waited than he would have been had he entered the 2014 draft. ESPN's
Mel Kiper Jr.

and
Todd McShay

both include Collins among their top 27 overall prospects. That leap doesn't happen for every draft prospect who stays, but it's a nice story -- and it's a valuable lesson for players who are in similar positions this year.
Around the SEC
" More all-conference honors went out on Wednesday, with the SEC's coaches naming
their individual award winners
and Athlon Sports posting
its All-SEC team
.
" With defensive coordinator D.J. Durkin preparing to coach Florida's bowl game, the Gainesville Sun's Pat Dooley examines
how interim coaches have fared
in the past with the Gators.
" The Lexington Herald-Leader's Jennifer Smith explores whether Kentucky's six-game losing streak to end the season
will hurt the Wildcats
on the recruiting trail.
" Tennessee coach Butch Jones' new contract extension
increases his buyout to $4 million
should he choose to leave before March 2016.
Tweet of the day
Pleasant surprise seeing Coach Richt in the locker room after practice today. @footballuga... http://t.co/kZqTYXhg5f

— Thomas Davis (@TD58SDTM) December 10, 2014
December, 10, 2014
Dec 10
10:00
AM ET
1. Allstate Sugar Bowl: Alabama vs. Ohio State
This game is the top one for obvious reasons, primarily, it's the one bowl game involving the SEC that has real stakes -- the winner goes to the national championship game. If the College Football Playoff semifinal wasn't strong enough for you, it matches two of the most well-known head coaches in the game right now, Nick Saban and Urban Meyer. Those two did battle before when Meyer was at Florida, so the reunion should be plenty compelling.
2. Chick-Fil-A Peach Bowl: Ole Miss vs. TCU
This is the only other SEC bowl that matches up two top-10 teams. TCU was one of the teams left at the altar by the selection committee, so it's probable that the Horned Frogs would like to stomp a highly-regarded SEC team to make a statement. Ole Miss has had an impressive season and can secure only its seventh 10-win campaign in school history and its third since 1971.
3. Belk Bowl: Georgia vs. Louisville
It's the Grantham Bowl. Defensive coordinator Todd Grantham's current team (Louisville) takes on his previous team (Georgia). It's a safe bet he'd like to have his unit excel en route to a Cardinal win. The Cardinal defense is sixth nationally in yards per game allowed (293.2) but it'll get tested by the Georgia running game, led by freshman sensation
Nick Chubb
(1,281 yards), who leads Georgia's 12th-ranked rushing attack (255 yards per game).
4. Outback Bowl: Auburn vs. Wisconsin
You have two of the nation's top rushing teams as well as two pretty good running backs in this one. There's the nation's top individual rusher, Heisman Trophy finalist
Melvin Gordon
(2,336 yards) against Auburn's
Cameron Artis-Payne
(1,482) who leads the SEC. Wisconsin averages a whopping 314 rushing yards per game, third in the nation while Auburn posts a hefty 258.5 (11th).
5. AutoZone Liberty Bowl: Texas A&M vs. West Virginia
If you like scoring, you'll enjoy this one. Both teams average more than 33 points per game and they each throw it around a lot, averaging more than 300 passing yards per game. There are familiar faces on the coaching staffs as well. West Virginia head coach Dana Holgorsen worked for Kevin Sumlin for two seasons at Houston and Texas A&M offensive coordinator Jake Spavital worked for Holgorsen at Oklahoma State and West Virginia before going to A&M. It's Air Raid everywhere.
6. Capital One Orange Bowl: Mississippi State vs. Georgia Tech
He wasn't a Heisman finalist but
Dak Prescott
was in the Heisman conversation for much of the season. It's definitely worth tuning in to see Prescott and his partner-in-crime, running back
Josh Robinson
, who is aptly nicknamed "Bowling ball." Georgia Tech is worth a watch for traditionalists, as the Yellow Jackets run the triple option well: just ask Georgia (who they beat in overtime) or Florida State (a team they stayed step-for-step with for much of the night).
7. Advocare V100 Texas Bowl: Arkansas vs. Texas
Long live the Southwest Conference. This is a throwback battle if there ever was one. These teams are both in the top 30 nationally in defense, each allowing fewer than 350 yards per game. The job Bret Bielema has done to get the Razorbacks to a bowl this season is noteworthy, while Charlie Strong seems to be laying the foundation for future success at Texas. Also, Strong has history in Arkansas -- he was born in Batesville and played for Central Arkansas. He said Tuesday this will be the first time he'll root against the Hogs.
8. Franklin American Mortgage Music City Bowl: LSU vs. Notre Dame
Considering the profile of these two programs, you wouldn't expect this game to be this far down the list. While the two teams have strong histories, this season hasn't been stellar for either. There's plenty of intrigue, though, from getting to see LSU's star freshmen (
Leonard Fournette
,
Malachi Dupre
,
Jamal Adams
, etc.) to the quarterback situation at Notre Dame, where Brian Kelly has opened up competition between
Everett Golson
and
Malik Zaire
. For what it's worth, Les Miles said bowl prep will also be an important evaluation time for his quarterbacks,
Anthony Jennings
and
Brandon Harris
.
9. Buffalo Wild Wings Citrus Bowl: Missouri vs. Minnesota
This one may not have the sizzle on the surface but it matches two quality teams, both ranked in the Top 25. Missouri features two of the league's best pass-rushers,
Shane Ray
and
Markus Golden
. Those two are worth watching alone, even if the Tigers' offense isn't always. Minnesota features one of the nation's top rushers, running back
David Cobb
, who is ninth in rushing yards this season (1,548).
10. Duck Commander Independence Bowl: South Carolina vs. Miami
This game could become a feeding frenzy for Miami running back
Duke Johnson
, who is 12th in the country in rushing yards (1,520). South Carolina allows 214.4 rushing yards per game, 107th nationally. But the Gamecocks can score plenty of points, they average 33.3. Keep an eye on
Pharoh Cooper
, a dynamic receiver and returner who can do it all, including pass, and has 1,164 yards from scrimmage and 12 touchdowns this season.
11. TaxSlayer Bowl: Tennessee vs. Iowa
Tennessee is thrilled to be in a bowl
. You might even say
they're happy
. It's the first time in a bowl since 2010 for the Volunteers. There's still a long way to go to get this proud program back to where it wants to be but they're moving in the right direction. The Vols have a ton of talented freshmen on the roster who played key roles this season and sophomore quarterback
Joshua Dobbs
, who came on strong late in the season, seems to have a bright future in Knoxville.
12. Birmingham Bowl: Florida vs. East Carolina
Any time you go into a game with an interim coach, it's not ideal. That's what the Gators have to do after firing Will Muschamp. Defensive coordinator D.J. Durkin will serve as the interim coach. For Florida fans, this is a chance to scout a future opponent -- the Gators and Pirates meet Sept. 12 next season. East Carolina brings a high-powered offense led by quarterback
Shane Carden
, who is second nationally in passing yards (4,309). That should be a good test for a talented Florida defense. The continued development of true freshman quarterback
Treon Harris
is also worth keeping an eye on.
Florida's McElwain calls in to SEC Now
SEC SCOREBOARD
Saturday, 12/27
Saturday, 12/20
Monday, 12/22
Tuesday, 12/23
Wednesday, 12/24
Friday, 12/26
Monday, 12/29
Tuesday, 12/30
Wednesday, 12/31
Thursday, 1/1
Friday, 1/2
Saturday, 1/3
Sunday, 1/4
Monday, 1/12