January, 28, 2015
Jan 28
9:00
AM ET
Official visits, unofficial visits, in home visits and everything else one can possibly think of is happening with one week until national signing day, Feb. 4. As expected, Twitter is abuzz right now with information flowing constantly all day and night.
Here is a look at some highlights from Tuesday.
Gainesville waddup?

— January 29th (@cecejeferson7) January 27, 2015
@HamiltonESPN
: ESPN300 five-star defensive end
CeCe Jefferson
headed to Florida on Tuesday afternoon for an unofficial following a trip to Ole Miss and Alabama over the weekend. In a recruitment that could go a number of different directions, the Rebels and Gators are the best bets to be standing on national signing day unless Auburn can pull the upset. Jefferson is scheduled to visit LSU this weekend, followed by a national signing day announcement live on ESPN.
Thanks to Coach Saban and @BamaCristobal for coming by this afternoon! #RollTide #SEC #CreekBoyz pic.twitter.com/Gn7lm1QMA8

— Coconut Creek FB (@CreekFootball1) January 27, 2015
@HamiltonESPN
: Nick Saban was in South Florida on Tuesday, and one of his stops was Coconut Creek High. The reason is simple -- Coconut Creek is home to a trio of ESPN Junior 300 prospects, including top cornerback
Trayvon Mullen
, who has an Alabama offer.
January, 27, 2015
Jan 27
3:00
PM ET
What he brings:
CeCe Jefferson
possesses a nice blend of size and athleticism that can allow him to be a disruptive and versatile front-seven defender. This is a prospect with very good height, bulk, and strength at this stage, and coupled with his first-step quickness and range he can create problems as both a run defender and pass-rusher. A physical player, he has the size and strength to set the edge when he stays low, and is also quick enough to shoot gaps and disrupt plays in the backfield at times. He needs to continue to develop, but has the tools to be a handful coming after the quarterback, with the ability overpower blockers or quickly work around them. When he keeps his 'foot on the gas pedal' he can be a factor in pursuit with very good redirect skills and range for his size. Jefferson moved around defensively quite a bit in high school, and a more singular focus should help aid his development in the little things, though he will likely continue to be aligned differently some at the college level to take advantage of his athleticism and create mismatches. The five-star did miss most of his senior season with a shoulder injury, but it shouldn't take long for him to shake off any rust. Once healthy and with full maximization of his ability, Jefferson can be a disruptive defensive playmaker at the college level.
To continue reading this article you must be an Insider
January, 27, 2015
Jan 27
11:00
AM ET
Unfortunately for Florida, the biggest issues on this team revolve around quarterback
and
wide receiver. That isn't exactly the best bad combination to have, especially with a new coach taking over.
But for our purposes, we have to nail it down to one position. And while both of those areas have been concerns for the better part of the last five years in Gainesville, if Florida can't get its quarterback situation on solid ground, new coach Jim McElwain is going to have an even steeper uphill climb in front of him in 2015. And trying to get it done with multiple people probably isn't going to work out.
Position to improve:
Quarterback
Why it was a problem:
Where to start? Not since Tim Tebow in 2009 have the Gators had a quarterback throw for at least 2,500 yards or 15 touchdowns. Since that time, Florida's quarterback carousel -- which has featured eight different participants -- has managed to average only 173.4 yards per game, with 67 touchdowns and 53 interceptions. Also in that span, Florida cracked the 10-win mark just once, never won the SEC East and failed to make a bowl game in 2013. Even with top high school prospects John Brantley, Jeff Driskel and
Jacoby Brissett
on the roster, Florida's passing game has been mediocre, and Driskel is now finishing his career at Louisiana Tech. Last season, freshman
Treon Harris
replaced Driskel during the last month of the season but was incredibly inconsistent, averaging just 126 yards in six starts, with six passing touchdowns and three interceptions. Florida has had plenty of offensive issues over the years, but it all goes back to the quarterback position.
How it can be fixed:
For as bad as the actual on-field play has been by the band of quarterbacks who have suited up for the Gators over the last few years, you have to open things up at times and let these guys play. Former head coach Will Muschamp just couldn't get past his own stern ideals of what he wanted -- and needed -- his offense to look like. Consequentially, the passing game was mostly limited and the offense was incredibly stagnant more often than not. So McElwain and his offensive coaches will need to open things up and give their next quarterback -- or quarterbacks -- some freedom. But development is also important here. That starts this spring, and Harris, along with redshirt freshman
Will Grier
, have a long way to go. Also, it would probably help if the Gators could stitch together a solid pass-protecting offensive line this fall and find some playmakers at receiver not named
Demarcus Robinson
.
Early 2015 outlook:
With Driskel departing, the Gators will have quite the quarterback battle on their hands (again) between Harris and Grier. Harris' passing ability didn't exactly develop as 2014 went on, and Grier watched from the sidelines. We don't know what to expect from Grier, who had an impressive high school career in North Carolina, but some feel he might be better suited for McElwain's more pro-friendly offense. Harris, more of a dual-threat QB, must improve his accuracy, and McElwain, considered a quarterback guru, will be very hands on with both players' development. As for recruiting, the Gators got an official visit from four-star Florida State commit
Deondre Francois
over the weekend and are in hot pursuit of three-star Louisville commit
Lamar Jackson
, who might officially visit Gainesville this weekend. Francois hasn't exactly budged on his FSU commitment, so as of now, Florida's only hope at landing a quarterback in the 2015 class might rest in Jackson.
January, 27, 2015
Jan 27
10:30
AM ET
You learn pretty quickly in the realm of college football to never say never.
So I won't go that far, but with the first College Football Playoff in our rear-view mirror, I will say that I have a hard time seeing two teams from the same conference ever getting in, at least as long as it remains a four-team format.
And that's bad news for the SEC.
When it became obvious that a playoff was coming, the initial thought in SEC locales was that the league would be strong enough to merit two teams in a lot of years.
[+] Enlarge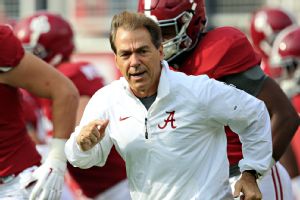 Marvin Gentry/USA TODAY SportsNick Saban and Alabama had to survive a challenging SEC schedule to earn a playoff berth.
After all, this was the big, bad SEC, which had won seven straight BCS national championships (with four different teams) and had played in eight straight BCS title games.
But the College Football Playoff is a different animal, and those of us who thought the SEC might get two seats at the table every couple of years were dead wrong.
The most iron-clad unwritten rule going is that conference champions will get first dibs every time, and I'm not necessarily saying that's a bad thing.
Ohio State was the fourth team in this season and earned its spot by destroying Wisconsin in the Big Ten championship game. I'd say the Buckeyes were a worthy participant with the way they mowed down Alabama and Oregon in a span of 12 days.
Once given the stage, they proved they were the best team in the country and did so with a team that many thought was a year away.
Now, could they have navigated their way through the SEC with just one loss and even been in position to make the playoff?
That's a story for a different day, but it brings into perspective the dilemma the SEC faces in the playoff era.
The grind of the league is what makes it so treacherous. As we saw this bowl season, particularly with regard to the Western Division teams, all bets are off in a one-game season. The West went a very humbling 2-5 and lost every one of its high-profile bowl games.
The SEC West had been hailed all season as the deepest division in the country, and some in the league speculated that it might have been the toughest division in college football history.
At the end of the day, the SEC didn't have any dominant teams this season. It did have a handful of teams capable of winning a national championship, but most of those teams beat up on each other.
Let's not forget that Alabama had to survive by one point at Arkansas, pulled out an improbable overtime win at LSU and beat Auburn at home in the regular-season finale despite giving up 630 total yards.
What you saw this season in the SEC is going to be much more indicative of what you're going to see in the league going forward. That doesn't mean Alabama is going anywhere, and it also doesn't mean that Mississippi State is going to win 10 games every year.
What it does mean is that the SEC is going to continue to cannibalize itself, and that's not good for business in a four-team playoff system.
The East is going to bounce back at some point, and maybe its 5-0 record in bowl games this season is a sign that it may occur sooner rather than later. When it does, the pathway to a national championship will become an even steeper mountain to climb for the SEC.
With that kind of balance on both sides, simply making it through the regular season in the SEC will be harrowing enough. Then comes the SEC championship game and two playoff games.
I remember vividly coaches in the league grumbling when the SEC championship game was created in 1992. A lot of them said then that having to win an extra game would severely hurt their chances of winning a national championship.
They were proved wrong. From 1992 to 2013, the SEC won 11 of the 22 national titles.
Maybe this will be a similar deal, and if (or when) the playoff moves to eight teams in the coming years, the landscape is sure to change again.
The mere fact that a national championship game was played this year without an SEC representative was surreal. And yes, refreshing, too, for all those coaches, players and fans who grew weary over the last decade of hearing about the SEC's perceived dominance.
Georgia Tech coach Paul Johnson might as well have been speaking for everybody outside the SEC's footprint when he chortled, "At least we don't have to hear about the SEC for a while," following the Yellow Jackets' win over Mississippi State in the Orange Bowl.
Nobody's suggesting that the SEC's party is over. It's still the best conference in college football, and privately, those who've coached in the SEC in the past and moved elsewhere will confirm as much.
But now that we've had a taste of the playoff, seen how it works and processed it all, it's not necessarily a party the SEC is going to host every year.
And in some years, the SEC (gasp) might not even get an invite.
January, 27, 2015
Jan 27
10:00
AM ET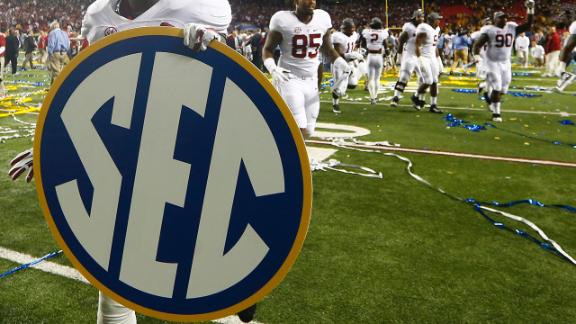 This was one of two remaining weekends for recruits to take visits until national signing day. The weekend was full of news including over 10 commitments in the SEC. Here's a closer look at some of the top news from around the conference this weekend.
To continue reading this article you must be an Insider
January, 26, 2015
Jan 26
11:12
AM ET
On Friday, we rolled out the top 10 breakout players to watch in 2015. But we have 15 more, including two more Big 12 quarterbacks (for a total of four), the next great defender at Michigan State and, like our No. 1 breakout choice, USC's Adoree Jackson, a return game ace.
Check out the
first 10 players
, then read about the next 15:
11. Baker Mayfield, Oklahoma QB
Trevor Knight
was a buzzy Heisman candidate last spring, yet rival coaches were talking about whether Mayfield, if he were eligible in 2014, would overtake him. It was made moot because the Texas Tech transfer didn't get his waiver to play, but Knight's up-and-down season has certainly opened the door for competition.
With an Air Raid-based offensive coordinator in Lincoln Riley coming in, Mayfield is perfectly suited to take over -- and flourish -- as QB1 in Norman.
To continue reading this article you must be an Insider
January, 26, 2015
Jan 26
9:30
AM ET
In the 100 days leading up to signing day 2015, RecruitingNation will be looking back at our ESPN recruiting rankings from 2006 to the present and counting down the best player of the past 10 years at each ranking position, No. 100 to No. 1.
Golden Tate, No. 11 in 2007 class
Tate came out of John Paul II in Hendersonville, Tennessee, as a gifted athlete who projected to wide receiver, but he didn't receive the gaudy number of offers as many other Top-10 level prospects. With that said, he committed to Notre Dame over Alabama, South Carolina and Ole Miss in December of 2006 in a recruitment that was expected to go the way of the Fighting Irish as long as he made the SAT/ACT test score needed. Tate was a member of the Notre Dame 2007 class that included
Jimmy Clausen
,
Harrison Smith
, Armando Allen, and others.
Tate was a role player as a freshman for the Fighting Irish. He saw action in 12 games, making two starts. He had six receptions for 131 yards, and returned 15 kickoffs for a 21.7-yard average.
As a sophomore in 2008, Tate became one of college football's most dangerous receivers. In 13 starts for the Fighting Irish, he caught 58 passes for 1,080 yards and 10 touchdowns. He also finished the season with 1,754 all-purpose yards and 11 total touchdowns.
Tate's junior season would be his best in South Bend. The 5-foot-11, 195-pound playmaker had 93 catches for 1,496 yards and 15 TDs, rushed for 186 yards and two scores, and returned a punt for a TD. He totaled 1,915 all-purpose yards and 18 TDs, earning First-team All-America honors and winning the Biletnikoff Award.
Tate decided to forgo his final year of eligibility and enter the 2010 NFL draft. He was selected in the second round (No. 60 overall) by the Seattle Seahawks. He was selected to the 2015 NFL Pro Bowl.
Honorable mention:
Jeff Luc
, No. 11 in 2010 class. Luc signed with Florida State and played sparingly for two seasons before transferring to Cincinnati. He had 134 tackles and 6.5 sacks in 2014 as a senior, placing him on the map of NFL teams headed into the 2015 NFL draft.
Eli Apple
, No. 11 in 2013 class, and
Jalen Tabor
No. 11 in 2014 class. Both cornerbacks have the look of future NFL draft prospects at Ohio State and Florida, respectively.
January, 25, 2015
Jan 25
10:30
AM ET
This is the second to last weekend before signing day and there was a ton of big visitors around the Southeastern Conference. Here is a closer look at some of the top social media posts by prospects who visited SEC schools over the weekend.
Three-star defensive tackle
Tyrell Jacobs
gave his verbal commitment to Missouri over the weekend. He tweeted out a few photos of himself posing in a Missouri game jersey.
You think they ready ? <╚=¬ pic.twitter.com/O4bLhtuul9

— Tyrell Jacobs (@tyrelljacobs98) January 25, 2015
Georgia safety
Rashad Roundtree
posted a photo of himself and Georgia head coach Mark Richt during his visit to Athens over the weekend.
Future Coach pic.twitter.com/G5cs2yX6Ve

— Tree (@Rashad_Tr33) January 25, 2015
Five-star defensive end
CeCe Jefferson
and ESPN 300 outside linebacker
Jeffery Holland
took a visit to Ole Miss over the weekend and tweeted out a photo.
Me and @holland_jeffery @hollwalking through! pic.twitter.com/EQ2gUIaQnr

— January 29th (@cecejeferson7) January 24, 2015
ESPN 300 wide receiver
DaMarkus Lodge
tweeted out a photo of one of the most impressive cakes you will ever see. Lodge took a visit to Ole Miss and had this impressive culinary masterpiece waiting for him upon his arrival.
January 24, 2015
Auburn linebacker commit
Richard McBryde
posted a photo of himself with head coach Gus Malzhan and another two photos of himself with new defensive coordinator Will Muschamp.
=== pic.twitter.com/aQNZjR7pUI

— RICHARD MCBRYDE (@R_Mcbryde15) January 25, 2015
Georgia athlete commit
Terry Godwin
posed a for a picture with his family during his Alabama visit.
@TerryGodwin_4 and family on Bama official. pic.twitter.com/clsTHulN4g

— olivia (@libby141) January 25, 2015
Miami running back commit
Jordan Scarlett
and uncommitted running back Jordan Cronkite both visited Florida this weekend and posed together for a photo in Florida's locker room.
January 25, 2015
Five-star defensive back
Iman Marshall
tweeted a photo of himself and LSU defensive line coach Ed Orgeron during his visit to LSU over the weekend.
LEGENDARY =/ pic.twitter.com/eYpTEDBzbm

— Biggie (@iman_marshall8) January 25, 2015
South Carolina commit
Jalen Christian
tweeted a photo of himself and head coach Steve Spurrier during his visit to Columbia.
HBC and I ===L=» pic.twitter.com/rhDxAe0uVk

— Jalen Christian4Ń (@Thatblasiankidd) January 24, 2015
ESPN 300 wide receiver
Brandon Martin
confused some people on Saturday when he tweeted that he was not committed to Missouri despite several reports. He quickly corrected the tweet and meant to say "I am now committed to Missouri." The error gave Missouri fans a scare for a few minutes.
I'm not committed to the university of Missouri #Tigersfamily #MizzouMade #Mizzoufootball

— Brandon Martin (@5_go_live_5) January 24, 2015
I meant now I'm now committed

— Brandon Martin (@5_go_live_5) January 24, 2015
Miami running back commit
Mark Walton
had maybe the most interesting wardrobe on his weekend visit to Georgia.
Georgia Life Chilling =6=6=6 Dawg pic.twitter.com/Ec26lTisGQ

— Mark Deuce Walton Jr (@F5_DEUCE) January 22, 2015
January, 24, 2015
Jan 24
12:06
PM ET
January, 23, 2015
Jan 23
9:00
AM ET
By
RecruitingNation
| ESPN Insider
Thursday saw activity on social media throughout the country, with coaches on the road, schools collecting commitments and No. 9 overall prospect
CeCe Jefferson
receiving a visit from one of his finalists.
To continue reading this article you must be an Insider
January, 23, 2015
Jan 23
9:00
AM ET
1. The offseason coaching carousel is spinning at full speed, and SEC schools figured into a couple of Thursday's headlines. Perhaps the biggest story was that Central Michigan head coach -- let me type that again … HEAD COACH -- Dan Enos was
leaving his post to replace Jim Chaney as Arkansas' offensive coordinator
. Don't see that kind of move too often, but multiple writers were quick to point out on Thursday that Enos will actually make more money even with a lesser job title. He made $360,000 at Central Michigan, but ESPN's Brett McMurphy reported that Arkansas will pay him $550,000 per year. In other SEC coordinator news, Tennessee offensive coordinator Mike Bajakian has left the Volunteers to become
quarterbacks coach for the Tampa Bay Buccaneers
. That's a big opening for Butch Jones to fill with less than two weeks left until national signing day. One other move worth mentioning:
Texas A&M officially announced
that Virginia Tech receivers coach -- and former NFL receiver -- Aaron Moorehead had accepted the same job with the Aggies.
2. Speaking of national signing day, two SEC programs learned on Thursday that they're still in the running for ESPN's No. 1 overall prospect for 2015, Byron Cowart (Seffner, Fla./Armwood). Cowart revealed that
his decision will come down to Auburn and Florida
-- both programs that could use his pass-rushing presence at defensive end. Cowart
received visiting coaches from Florida State only Wednesday and had a visit scheduled with the Seminoles
(Insider) next weekend. Certainly there are no guarantees in the recruiting game, but it appears as though the five-star prospect will be in the SEC come fall.
3. Dak Prescott made a wise decision by returning to Mississippi State for his senior season.
So says Greg Gabriel,
who served as an NFL scout for decades and now writes for the National Football Post. The Bulldogs star "wasn't even close to being ready," Gabriel told the Jackson Clarion-Ledger, noting that another college season will help the raw quarterback prospect refine his skills. Prescott likely would have been drafted -- passing for 3,449 yards and rushing for 986 in the SEC certainly proves that Prescott possesses exceptional athleticism -- but Gabriel points out that the passing windows in the NFL are much smaller. Prescott needs to improve his passing accuracy if he is to become an impact player in the pros.
Around the SEC
" Athlon is
grading each of the new FBS head coaching hires
thus far, including Florida's Jim McElwain (he got an A-minus) and several former SEC assistants.
" Ole Miss' Trae Elston and Damore'ea Stringfellow were
arrested and charged with disorderly conduct
early Thursday.
" All-star game season has given several former Georgia players the
opportunity to improve their draft stock
.
" A Louisiana family is
suing their son's former powerlifting coach
Curtis Tsuruda -- who once worked on the strength and conditioning staffs at Tulane and LSU -- for allegedly tricking the teen into using steroids and disguising the doses as protein pills.
Tweet of the day
Welcome to the Hog Family Coach Enos! #WPS pic.twitter.com/oTwbd0VrvV

— Mark (@MarkTaurisani) January 22, 2015
January, 23, 2015
Jan 23
12:02
AM ET
January, 22, 2015
Jan 22
3:00
PM ET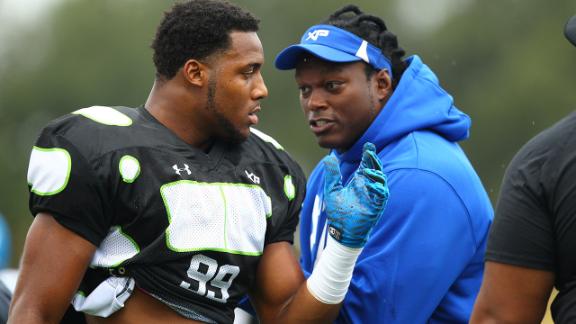 There are less than two weeks until national signing day, and five-star defensive end
Byron Cowart
is closing on his college decision. The No. 1-ranked player in the ESPN 300 had a top three of Auburn, Florida, and Florida State just last week, and now the 6-foot-3, 258-pound defensive end has dwindled his choices to two.
"I would have to say, just to be honest, Auburn and Florida are my top two schools," Cowart said. "I have to keep it professional -- I have to. Who knows, you see coaches and they go into the league, and when it's time for you to get drafted you don't want to have a bad name.
"A lot of guys say things that they back away from, and yeah I probably said 'yeah I like this school and I might end up coming here' but that's probably how I was feeling at the time, but a lot of things happen and I just want people to know that I'm man enough to say 'thank you for recruiting me, but I might not go to your school.' But right now, truly, it will come down to Auburn and Florida. That's just being honest."
That is somewhat of a surprise considering FSU coaches visited Cowart at his school on Wednesday afternoon and Cowart was scheduled to take his last visit to Florida State next weekend.
"The visit was good. It was different," Cowart said. "I haven't had the heat put to me like that before. It's crunch time, so they want me to come up for this last visit, but it's like I already know what they can bring to the table, I already know what I can I get from Florida State the school. It's just crazy, I just want to relax and get away, think and get my thoughts together, and that's why I was like 'I don't know if I'm going to do my last visit -- I don't know if I'm going to go anywhere on my last visit.'
"I don't want to make a mistake. Like my mom said, when you are rushing and you're moving too fast sometimes you can make a mistake and go somewhere that you never even thought you would go. So I want to be in the right mind and be focused, and to know that this is the school I want to go to."
To continue reading this article you must be an Insider
Ranking the new SEC defensive coordinators