September, 14, 2014
Sep 14
2:57
AM ET
GAINESVILLE, Fla. -- Florida came into Saturday night's game a heavy favorite against a Kentucky program that hadn't won in Gainesville since 1979. The Gators exited with a win by slimmest of margins.
Don't let
36-30
score fool you. Kentucky took Florida to the brink time after time.
Here were the three biggest plays in overtime:
1. Buzzer beater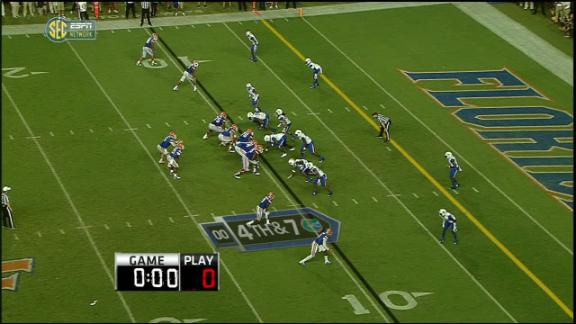 In the first overtime it was do or die for the Gators after Kentucky's
Stanley Williams
got the Wildcats a seven-point lead with
his brilliant reverse-the-field TD
. Facing a fourth-and-7 at the UK 9-yard line and without a timeout, Florida quarterback
Jeff Driskel
frantically got the offense lined up as the play clock dwindled to single digits. Did Florida get the ball off before the clock struck zero? UK coach Mark Stoops didn't think so, but the officials allowed the play, which saw Driskel float a perfect pass over
Demarcus Robinson
's left shoulder for the touchdown that gave new life to the Gators.
Driskel:
"First of all, I wanted to make sure we were aligned, not aligned properly but aligned legally. We've been though situations like that where there's not enough time to really get organized. You've got to call it at the line and make sure everybody's on the same page. I think we did a good job of getting legal, and obviously D-Rob making a play. I think the offensive line did a good job when they heard me really clapping and saying, 'Let's go. Let's go.' And Max [Garcia] did a good job of getting the ball to me quick. ... It was exciting. That's the kind of plays that you live for, especially when you make them. Obviously easy to say that now. But you can't let the situation be too big. You've got to just go out and play football, and we were lucky enough to get the ball off and execute."
UF coach Will Muschamp:
"I certainly know that our officials would have blown that dead on us if it had not gotten it off in time. Jeff took the ball to the right spot and Demarcus went up and made a nice play."
Robinson:
"Aw man, I was kind of expecting the ball but I just wanted Driskel to give me a chance to make a play. ... I definitely was nervous."
2. Missed opportunity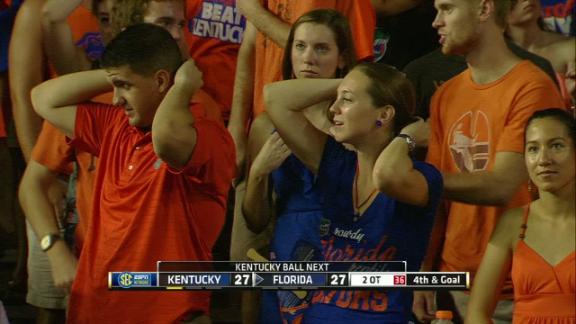 Florida started the second overtime period on offense and called the right play on third-and-goal from the UK 3. Driskel had Robinson wide open on a drag route but pulled the trigger too late. A touchdown might have been the game-winner, but instead Florida settled for a field goal. The Gators defense had to hold the Wildcats to three points to force a third overtime.
Driskel:
"I just thought that we were getting a different coverage than we did. I should have taken the flat early. I got my eyes back inside, and when I got back out to Demarcus it was a little too late. I gave him a shot. You know, I missed that one. But we lived to play the next play."
Robinson:
"I did get a little frustrated because I saw I got open. He looked at me, so I thought he was going to throw it to me off the bat. But he hesitated a little bit."
Muschamp:
"He should have hit him earlier in the down. There's no question. Absolutely. A lot of times on that sort of route combination, sometimes the picker comes free. I don't know, I haven't talked to Jeff specifically about the play other than I just told him, 'Hey, we had the guy open earlier, let's go put the ball in.' and we should have."
3. Defense saves the day
Kentucky started the third overtime on offense and had to pass on third-and-9 from the Florida 24. Cats quarterback
Patrick Towles
lofted a pass into the end zone for 6-foot-3
Dorian Baker
, who was being blanketed by Florida corner
Brian Poole
, who stands 5-10. Poole and Baker went up and got their hands on the ball at the same time. Baker stayed with it and the ball fell to his left shoulder pad but slipped away as he fell to the turf. Kentucky missed a 41-yard field goal, which set up the Gators' game-winning touchdown.
Muschamp:
"Brian made a huge play on the third down in the third overtime to knock the ball off the guy. I mean, that's a 50-50 ball. I know from the stands that looks easy. That's a really hard thing."
Poole:
"I feel like I had an opportunity to make a play and I just made the play. It was just do or die. I just had to make a play for my team. I was calm the whole time. We practice those situations every day in practice, so when the game comes it's easy."
September, 14, 2014
Sep 14
1:35
AM ET
Triple overtime in the Swamp? An upset in Columbia that was literally decided by inches? What more could you ask for? And it was only Week 3 in the SEC.
[+] Enlarge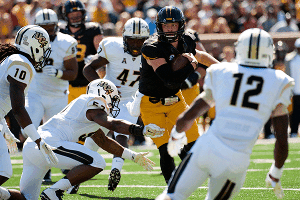 AP Photo/L.G. PattersonQuarterback Maty Mauk showed his mettle in Missouri's win over Central Florida on Saturday.
1. The SEC East race is wide-open:
Had the ball been spotted an inch the other way, Georgia would've had good field position and one last chance to tie or win its game against South Carolina. It wasn't meant to be. With the
38-35
loss, the Bulldogs are no longer the top team in the SEC. They're not even the top team in their division right now. Technically, that spot belongs to Florida. The Gators are 1-0 in conference play after Saturday's thrilling win over Kentucky, but they didn't play like the East's top team. Maybe it's Missouri, which rolled over Central Florida at home. The Tigers are 3-0, and
Maty Mauk
might be the SEC's best quarterback. Or maybe South Carolina is back after that much-needed win over Georgia. What happens if the Gamecocks run the table? At this point, nobody knows what's going to happen. That's why you play the games.
2. Gurley is still a beast and a Heisman front-runner:
All week, everybody talked about
Todd Gurley
and how he's the favorite to win the Heisman Trophy and how he was going to run all over South Carolina. Well, he delivered. The junior rushed for 131 yards and a touchdown, averaging 6.6 yards per carry in the loss. Those numbers might seem pedestrian for Gurley's standards, but it was the broken tackles and yards after contact that were so impressive. Although Georgia lost the game, Gurley is the SEC's top candidate to win the Heisman. The real head-scratcher came in the fourth quarter, when Georgia had the ball on first-and-goal from the South Carolina 4-yard line and tried to pass. Why not give it to Gurley? The star back should pad his stats in a favorable matchup at home against Troy next week.
3. Either Kentucky is much-improved or Florida is in trouble:
The game wasn't even over, and there were people already calling for Will Muschamp's head. Florida obviously hung on for a
36-30
win, saving Muschamp's job for now. But what does the outcome say about the two teams? For starters, Kentucky is not the same team it was a season ago. The Wildcats came in confident, their defense played lights-out in the first half, and they were a play or two away from snapping their 27-game losing streak to the Gators. Don't be surprised if Mark Stoops' bunch ends up in a bowl game this season. With that said, it still didn't look pretty for Florida. The Gators survived against Kentucky, but what happens when they travel to Alabama next week or when they have to play LSU and Missouri in back-to-back weeks in October?
4. Bielema isn't going to change, nor does he have to:
It was classic ground-and-pound football for Arkansas on Saturday, and Bret Bielema loved it. The Razorbacks flat-out dominated Texas Tech up front while
Alex Collins
and
Jonathan Williams
proved why they might be the best running back tandem in the SEC. Collins rushed for 212 yards and two touchdowns, Williams had 145 yards and four touchdowns, and as a team, Arkansas racked up 439 yards on the ground in its
49-28
victory. That's a lot of yards regardless of the opponent. And no, Texas Tech is not an SEC defense, but Arkansas did the same thing in the first half against Auburn before falling behind by two touchdowns in the third quarter. This is Bielema's identity. He's going to run the ball until it works or until he gets fired.
5. Don't sleep on the two Mississippi schools:
Quietly, Ole Miss and Mississippi State keep winning games, and still nobody is talking about them. It was easy pickings Saturday against Louisiana-Lafayette and South Alabama, respectively, but both Magnolia State schools handled their business. Rebels quarterback
Bo Wallace
threw for 316 yards and four touchdowns in Ole Miss'
56-15
victory, and since the first half against Boise State, he is now 58-of-72 for 857 yards and eight touchdowns. Mississippi State's
Dak Prescott
threw for 201 yards, rushed for 139 yards and scored twice in Saturday's
35-3
win. Don't worry, we'll find out soon about these two teams. The Bulldogs travel to LSU next weekend, and Ole Miss hosts Alabama in three weeks.
September, 14, 2014
Sep 14
12:43
AM ET
By
ESPN.com staff
| ESPN.com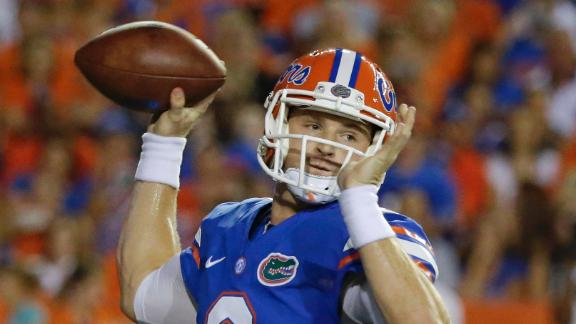 Jeff Driskel
threw for 295 yards and three touchdowns as Florida defeated Kentucky in triple overtime 36-30.
September, 14, 2014
Sep 14
12:07
AM ET
ESPN.com news services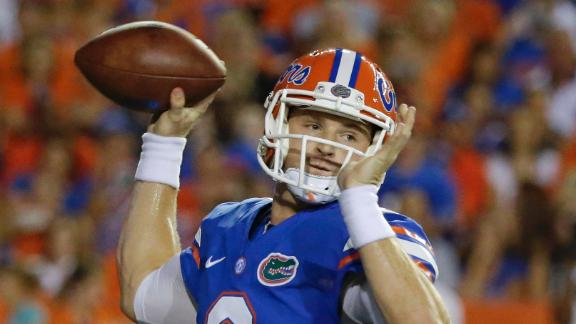 GAINESVILLE, Fla. -- Matt Jones' 1-yard plunge in triple overtime gave Florida a 36-30 victory over Kentucky on Saturday night, extending the Gators' winning streak in the Southeastern Conference series to 28 games.
Kentucky's Austin MacGinnis, who hit a 51-yarder to tie the game late in the fourth quarter, missed a 41-yarder to start the third extra frame.
Jones had consecutive big runs that put Florida at the 1 and then slammed through the line on second down for the game-winner.
The play of the game was Florida's fourth-and-7 conversion in the first overtime. Jeff Driskel floated a ball to the back corner of the end zone and found Demarcus Robinson for a 9-yard score.
Robinson finished with 15 receptions for 216 yards and two scores. He tied Carlos Alvarez's school record for catches in a single game.
The team handled adversity well