Florida Gators:

Toledo Rockets
May, 15, 2014
5/15/14
9:00
AM ET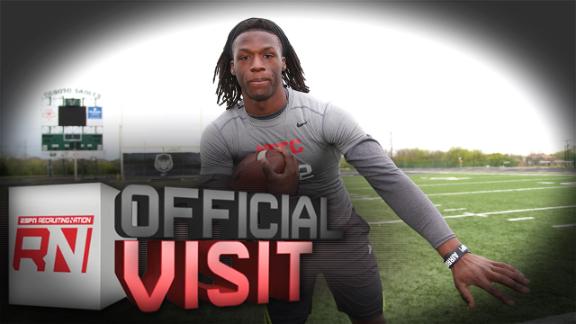 When it comes to running backs, the state of Texas is loaded. Ten running backs represent the Lone Star State in the ESPN 300. Of those 10, five are committed. A total of seven running backs in the state have reported FBS commitments.
ESPN 300 RBs from the state
:
No. 50
Ronald Jones II:
Ranked the nation's No. 3 running back, Jones is an explosive, game-changing back who -- as scary as it might sound -- will only get better. Jones committed to Oklahoma State on April 6 and finished his junior season with more than 2,400 rushing yards and 39 touchdowns.
August, 31, 2013
8/31/13
7:45
PM ET
GAINESVILLE, Fla. -- Throughout the offseason, Florida knew its program depth would be tested.
The Gators lost seven starters from last year's defense and knew Week 1 would mean a match up against a veteran Toledo offense that averaged more than 445 yards of total offense in 2012.
In fall camp Florida lost three starters on offense to injury. And Saturday saw five players suspended, including two starters on defense.
Throw in a head coach who believes in playing his best freshmen, and there were so many new faces on Florida Field it's a wonder there were any game programs left unsold.
"We're taught by our coaches, especially [head coach Will] Muschamp, when there's a man down to man up," linebacker
Neiron Ball
said. "If there's a man down, the next player's got to be ready."
Muschamp, who expects this year's defense to be just as good as last year despite all the new starters, is standing by the motto. He expects injuries and he doles out discipline knowing he can weather a suspension to an important player.
"We're not going to make excuses at Florida, regardless of injury, sickness, whatever the situation may be," he said. "We're just going to move forward. That's why you have a deep roster and that's why you recruit guys who don't ask you about the depth chart 400 times. You recruit guys who want to come in here and compete.
"A lot of young guys, they were a little big-eyed walking out of the locker room. But [it was good] for them to get that experience. I think we played 15 freshmen, eight or nine true and then seven redshirt guys. So that's good to get those young guys playing. The way it is in college football now, you've got a bunch of guys coming out early, you might as well play the [young] guys."
Leading the way, however, was running back
Mack Brown
. Not a new face, but maybe an anonymous one. Brown has toiled in orange and blue for more than three years, amassing just 40 career carries, despite once having four-star recruiting status. Still, Muschamp said he wasn't at all surprised at Brown's performance.
The redshirt junior was Florida's workhorse on Saturday, rushing for 25 times for 112 mostly tough yards and two first-half touchdowns. He drew the starting assignment because sophomore
Matt Jones
is still recovering from a viral infection.
Brown's reaction to possibly losing the starting nod next week against the in-state rival Miami Hurricanes?
"You know what, we need [Jones] back, man," Brown said. "We've got about four to five backs. You need a lot of backs in a season. Can't wait to see Matt Jones back. Really can't wait to see him."
Sharing the starting backfield duties with Brown on Saturday was fullback
Gideon Ajagbe
, another forgotten redshirt junior who credits an offseason switch from linebacker with providing his first chance at playing time. He cashed in with his first career touchdown, a wide-open 4-yard pass from
Jeff Driskel
.
To hear Ajagbe tell it, he was simply the next man up, as Florida limited the playing time of incumbent starter
Hunter Joyer
, who is dealing with a pulled hamstring.
"It was fun. It was cool," Ajagbe said of the pregame locker-room scene where so many new players were slated for more prominent roles. "I know everybody was jacked up for it."
When the players line up to come out of the tunnel during Florida's pregame introductions, the starters get to lead the way. Of all the new faces at the front of the line, Brown might have been the most emotional.
"You lose a lot of confidence over the years, not playing," he said. "The last time I started was my senior year of high school.
"I had tears in my eyes. I felt like I was useless the last couple of years."
Not Saturday. With a man down, Jones and other Gators manned up.
August, 31, 2013
8/31/13
3:45
PM ET
GAINESVILLE, Fla. -- After suspending five players, including two starters on defense, the No. 10 Gators were forced to use their depth against Toledo on Saturday. Several backup players came through, as Florida showed off an improved offense to go with its usually stingy defense in a
24-6 victory
.
Florida has won 24 consecutive season openers, the second-longest streak in the nation.


It was over when:
Florida freshman cornerback
Vernon Hargreaves III
, ESPN's No. 3-ranked prospect overall in the Class of 2013, stepped in front of a third-quarter
Terrance Owens
pass and returned the interception to the Toledo 23-yard line, which set up the Gators' offense for its third touchdown drive and a 24-6 lead.
Game ball goes to:
Florida junior running back
Mack Brown
might be the understudy to sophomore
Matt Jones
, who was out with a viral infection, but he carried the Gators' offense all day. Brown paced Florida in the first half with 97 yards on 17 carries with two touchdowns. He finished with 112 yards on 25 carries.
Stat of the game:
It might be unfair to highlight time of possession when Toledo runs an uptempo offense that likes to get up and down the field quickly, but with a 39:48-to-20:12 advantage on the time clock, Florida was able to control the game from start to finish. The Gators took advantage of a big mismatch coming into this game -- Florida's grinding running attack against Toledo's suspect young defense up the middle.
What the Gators learned:
Gainesville, you have an offense. The passing game might still lack a downfield threat, and the statistics don't show dominance, but there were far fewer miscues, far more open receivers and overall more creativity than at any point in the past few seasons. The Gators will still be an offense that is defined by downhill running, but with its variety of plays and role players, Florida can move the ball in more ways than before.
What the Rockets learned:
Playing an SEC opponent for the first time in program history, Toledo got a taste of an SEC atmosphere with a vocal fan base on a very hot Southern day. The Rockets' uptempo offense put pressure on Florida and was at times effective in the heat, but Toledo's inability to turn scoring drives into touchdowns cost it any chance of staying in the game.
August, 31, 2013
8/31/13
11:38
AM ET
GAINESVILLE, Fla. -- Season openers are usually met with tremendous enthusiasm. It's the day fans have waited months for.
As the No. 10 Gators are set to host Toledo, however, some of that excitement has been tempered by a slew of suspensions that will cost UF two defensive starters and a handful of depth players.


The Gators lost seven starters from a 2012 defense that ranked among the top five in the nation in total defense. Add the suspensions of starting middle linebacker
Antonio Morrison
(after two offseason arrests) and starting cornerback
Loucheiz Purifoy
(for an undisclosed violation of team rules), and Florida will have nine new starters on defense against an up-tempo, senior-laden Rockets offense.
The other suspensions are to defensive tackle
Darious Cummings
, wide receiver
Latroy Pittman
, and offensive lineman
Quinteze Williams
.
Another damper? The weather.
One of the iconic signs painted on the corners of Ben Hill Griffin Stadium says "This is The Swamp". Today that could be taken literally. It's very hot, very humid, and the forecast calls for scattered showers.
While the weather could dash Florida's hopes of showing off an improved passing game, a bigger issue is the running game, where in the Gators will be without starting tailback
Matt Jones
(viral infection) and two starting offensive linemen --
Jon Halapio
(out for the first two games with a partially torn pectoral muscle) and
Chaz Green
(out for the season with a torn labrum).
Depth will key if the Gators are to add to their streak of 23 straight wins in season openers, the second-longest run in the country.
August, 30, 2013
8/30/13
11:00
AM ET
On Saturday, No. 10 Florida will host a Toledo team that went went 9-4 last season and knows how to move the ball at a fast pace.
The Gators are looking to prove that last year's 11-win season wasn't a fluke, but they'll start the year with a beat-up offense, as key players like running back Matt Jones and offensive linemen Chaz Green and Jon Halapio are out.
The defense will be down top linebacker Antonio Morrison, who is out due to suspension, and will have some younger blood on the field Saturday.
Here are five things to watch in the Gators season opener against the Rockets:
[+] Enlarge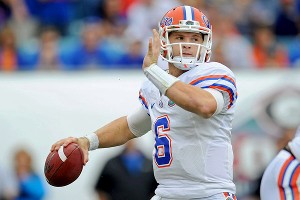 Kevin Liles/US PRESSWIREAs usual, the biggest question mark for Florida's offense is centered on Jeff Driskel and the passing game.
1. Life in the passing lane?
There's no denying that the biggest question resides in Florida's passing game. The Gators were last in the SEC in passing (146.3 yards per game) last season, and no one outside of Florida's football facility really knows what to expect from this unit again. Quarterback Jeff Driskel is a year older, maturing and more confident, but just how comfortable is he with his receivers? Who will be
the guy(s)
out wide? Well, Quinton Dunbar could be the best deep-play option to start the year, and it sounds like he's been more consistent in practice. Solomon Patton will be used more all over the field and has the speed to break off a few big plays. And Trey Burton proved to be a consistent weapon during fall camp. Keep an eye on freshman Demarcus Robinson, who has the talent to be a special player this year. Regardless, if this passing game wants to generate some confidence, Saturday would be a good time to start.
2. Return of the Mack:
Coming out of high school, Mack Brown was considered one of the South's top running backs. But the redshirt junior has just 167 career yards and no touchdown on 40 carries. Brown has a chance to get half as many as his career carries on Saturday when he makes his first start at running back. With Jones out, Brown is now the center of Florida's running back stable. He's had an issue with fumbles in the past, but appeared to clean that up this fall. He's a tough runner, who has the ability to break a few. Last year, the Rockets ranked 82nd nationally in run defense (182.3).
3. Stopping the uptempo offense:
This will be Toledo's first game ever against an SEC opponent. That means the Rockets will get a taste of what it's like to play what should yet again be one of the nation's top defensive units. But Toledo will have that exhausting uptempo offense on its side. The Gators did well against the uptempo last year, but right out of the gate, it's bothersome. Just look at how tired South Carolina's defense looked Thursday night against North Carolina. The Gators are working in some new parts on defense, and we all know how jacked up players get for openers. Toledo's trio of quarterback Terrence Owens, running back David Fluellen and receiver Bernard Reedy return a combined 6,033 offensive yards and 38 touchdowns from 2012 and will try to wear this defense down. One way to stop the uptempo is to disrupt things up front, where the Gators have harped on generating more pressure this year.
4. Safety zone:
The Gators are replacing two starters -- Matt Elam and Josh Evans -- at safety. Heading into preseason camp, coach Will Muschamp wasn't exactly thrilled with the play at the position. But that changed with the emergence of veteran Cody Riggs, who moved to safety after spending most of his football career at cornerback. Riggs has really embraced his new role and will play both safety spots on Saturday. Redshirt freshman Marcus Maye will start alongside Riggs. Maye flew around the field during fall camp to earn his starting spot, but this will be the first action Maye sees in a Gators uniform. Riggs has tons of experience and started playing safety before his season-ending foot injury early last year. Maye will have some wide eyes Saturday, so expect Toledo to try and test him early.
5. Place-kicker:
With record-setting kicker Caleb Strugis gone, the Gators have major questions at place-kicker. Redshirt freshman Austin Hardin beat out senior Brad Phillips this fall and will see his first collegiate action Saturday. This is the first of many tests for Hardin. With the offense still a relative unknown, Hardin's foot could be called upon a lot this year. That's a lot of pressure to put on a young kicker. Getting some of those nerves out of the way on Saturday will go a long way.
August, 22, 2013
8/22/13
8:00
AM ET
GAINESVILLE, Fla. -- Florida's current situation at running back is nothing that anyone -- not even coach Will Muschamp -- would have ever imagined.
As the Gators begin preparations today for the Aug. 31 season opener against Toledo, the depth chart looks like this:
Projected starter
Matt Jones
has yet to practice because of a viral infection.
[+] Enlarge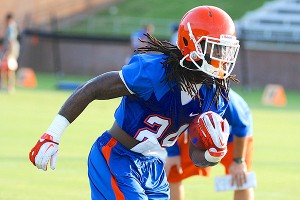 UF CommunicationsMatt Jones had an outstanding spring, but has yet to practice this fall.
The player who has been working with the first team is redshirt junior
Mack Brown
, who has just 40 career carries after signing with UF in 2010 as the nation's No. 4 running back.
The next player in line is sophomore
Mark Herndon
, a former walk-on special teams player who was awarded a scholarship on Tuesday.
Behind Herndon is redshirt sophomore
Valdez Showers
, who was a safety until last week.
Then you finally find
Kelvin Taylor
, the nation's No. 1 running back recruit and the son of former UF standout Fred Taylor, and fellow freshman
Adam Lane
.
It's that last part that's the most surprising considering there was some thought that Taylor, who enrolled in January, was going to beat out Jones for the starting job during the spring. Instead, he and Lane will get just scraps of playing time because they have yet to prove their reliability.
"No. 1 is ball security," Muschamp said. "You've got to take care of the football. That's the number one thing. They're very talented runners [but] so much more goes into it other than just running the football. … We like to make sure the quarterback is protected.
"They've got to take a step. Very pleased with both guys. They're going to help us this year. How much, their role, will depend on how they continue to develop. It's a long season."
Obviously the Gators want the 6-foot-2, 226-pound Jones back as soon as possible. He underwent blood work on Monday and was out on the practice field for 10-15 minutes on Tuesday but still has not been cleared to practice. Muschamp said UF is preparing to play the Rockets without Jones, who had a fantastic spring and was named a preseason All-SEC third-team selection.
"All I know is he is progressing very well," said Muschamp, who is scheduled to meet with the media on Friday and provide another update. "I get a daily update. He feels good. He's doing more and more every day from a workout standpoint, and that's all I know. We're playing it by ear and every day we have a staff meeting, we have an injury report and he [the trainer] gives me an update."
Brown has been a disappointment since he signed, mainly because he was hobbled by a hamstring injury and a broken ankle. His biggest contribution came in last season's game against Texas A&M when he carried the ball four times for 11 yards to help the Gators run out the final 3:13 and preserve a 20-17 victory.
Herndon is the surprise considering he has played in just six games (all last season) on special teams. He ran for 1,600 yards and 19 touchdowns as a high school senior and Muschamp mentioned him as a standout in the spring, but to be the No. 2 back heading into the season opener is not something for which Muschamp would have hoped.
"Coach Muschamp always talks about 'man down, man up' and I just felt like it was an opportunity," Herndon said. "It (Jones' viral infection) was really unfortunate. Me and Matt are teammates, so we talk and hang out. I was sad, but if he's down, I've got to step up because the team needs me.
"That's what I did. I tried to push Mack Brown. He's the No. 1, so I tried to push him and keep him on his toes. I didn't want anybody slacking."
Showers fell behind junior
Jabari Gorman
and redshirt freshman
Marcus Maye
in the battle for playing time at safety and was moved to running back last week. It's not unfamiliar territory because he was a running back and cornerback at Detroit Madison, where he rushed for 3,596 yards and 49 touchdowns in his final two seasons.
Showers was heavily involved with the first-team offense, especially in the passing game, during UF's open practices and Muschamp said the move is permanent.
"He's got great top-end speed. He's got really good ball skills," Muschamp said. "He can do a lot of different things for us as far as lining up at receiver, lining up in the backfield. A tough guy to account for a defensive coordinator. Been very pleased with what he's added for us offensively."
Muschamp will be more pleased when Jones returns. If that doesn't happen within the next day or so, it might be too late for Jones to be prepared to play against Toledo. His season debut might then have to come against Miami on Sept. 7.
"Any time you have something like this and you're in uncharted waters and you're uncertain of it, you always plan without the player," Muschamp said. "If the player's there, it's great. That's gravy for everybody."
August, 13, 2013
8/13/13
9:00
AM ET
GAINESVILLE, Fla. -- The time for tinkering has begun.
Now that Florida nears the end of the second week of preseason practices, coach Will Muschamp and offensive coordinator Brent Pease have begun making adjustments to the offense.
[+] Enlarge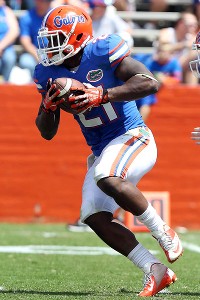 Kim Klement/USA TODAY SportsFreshmen Kelvin Taylor (above) and Adam Lane are getting extra work with Matt Jones sidelined.
Freshman running backs
Kelvin Taylor
and
Adam Lane
have gotten more work in
Matt Jones
' absence, safety
Valdez Showers
has spent time on offense, and cornerback
Loucheiz Purifoy
will work at receiver again this week.
The Purifoy move has been planned, but the others are partly because there's still no word on when Jones (viral infection) will be cleared to resume practicing.
"We met Saturday night after the scrimmage, as a staff, [and] we kind of talked about our roster," Muschamp said. "My question to our staff is, 'Who can you count on? Who can we win with? Who do you have confidence in?' It's not always necessarily Aug. 31 [for the season opener]. It's throughout the entire season and understanding that maybe some of the younger guys don't know what to do right now, but athletically, they are guys we need to be coaching and developing for the season."
Two of those guys are the 5-foot-11, 215-pound Taylor and the 5-7, 222-pound Lane. Redshirt junior
Mack Brown
is working as UF's No. 1 tailback, but Taylor and Lane are getting additional reps. It's especially beneficial for Lane, who would have been fourth on the depth chart had Jones been healthy. Instead, he's getting the work that likely would have fallen to Taylor as the No. 3 back.
"[Taylor] put it on the ground last night, and that's something we can't have happen," Muschamp said. "But, again, very pleased with his progress. He's very quick in his lower body, gets it north and south, and he runs the way we want it to be run at Florida.
"Adam's done some nice things. He's a guy that's really a tough guy to tackle. There's not a lot of soft spots on him."
The Gators are also taking a look at the 5-11, 190-pound Showers, who wasn't making much headway at safety. He was a running back and cornerback at Detroit Madison, where he rushed for 3,596 yards and 49 touchdowns in his final two seasons.
Muschamp said he envisions Showers filling the same role that Omarius Hines did the past two seasons.
"We experimented with it on the scrimmage, and I thought he did some nice things carrying the ball," Muschamp said. "Vertically he can do some good things in the run game, and we're going to look at that over the next three, four days and sort of see where that takes us."
That's additional insurance should Jones not be ready for the Aug. 31 season opener against Toledo. Muschamp said Jones has begun some cardio work but added there's still no timetable for Jones' return to practice. He didn't rule out the possibility of Jones missing more than one game.
[+] Enlarge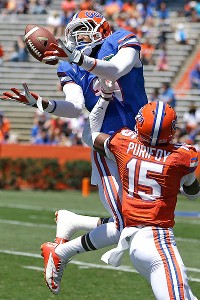 AP Photo/John RaouxThe development of young receivers like Demarcus Robinson might mean Louchiez Purifoy remains on defense.
"That may be a reality, but I don't know that," he said. "I talked to one of the doctors at [UF Health] Shands, and he said when you're dealing with the human body you never know. You don't know how he's going to respond and how quickly. He said the great thing is he's young, and he was in great shape. It knocked him down a little bit, but he's a guy who's going to respond very quickly."
Purifoy's move to offense was planned before preseason practices began. He was to spend the first 12 practices on defense so the staff could get a look at the young receivers and see if the veterans had improved. Muschamp said they have, particularly redshirt junior
Quinton Dunbar
, senior
Trey Burton
and senior
Solomon Patton
.
In addition, he said he's pleased with the development of freshmen
Demarcus Robinson
, who enrolled early and participated in spring practice, and
Ahmad Fulwood
, who at 6-4 gives the Gators a big downfield target.
The 6-1, 185-pound Purifoy spent half of spring practice at receiver. The move was done to take advantage of his athleticism and ball skills, but he's limited in what he can do, because he's still learning the offense and route adjustments. He saw spot duty at receiver late last season but pretty much just ran fly routes.
If Muschamp's praise for the receivers is warranted, then Purifoy might not spend much time on offense this fall.
August, 6, 2013
8/06/13
9:00
AM ET
GAINESVILLE, Fla. -- Versatile defensive backs
Jaylen Watkins
and
Cody Riggs
starting at safety would be best for Florida's defense.
For the season opener against Toledo, anyway.
[+] Enlarge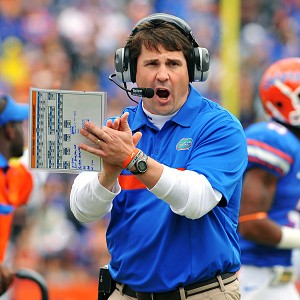 Al Messerschmidt/Getty ImagesFlorida coach Will Muschamp is giving several players a chance to prove themselves in the early going.
But UF coach Will Muschamp is concerned about October and November, which is why he's giving several other players a chance to prove they should be a starter at either safety spot. Developing depth at a position that has struggled to replace Matt Elam and Josh Evans means he can't go with the solution.
To continue reading this article you must be an Insider
June, 15, 2012
6/15/12
7:55
PM ET
SOUTHFIELD, Mich. -- Five offers are in for two-way lineman
Poet Thomas
(Beverley Hills, Mich./Country Day). It is a team yet to offer that joins one of those five programs at the top of Thomas' list.
"Michigan state and Florida," Thomas said are his co-leaders. The Gators have offered while Michigan State is still evaluating the 6-foot-5, 290-pound junior.
On Friday, Thomas checked out Michigan State.
To continue reading this article you must be an Insider
February, 28, 2012
2/28/12
2:49
PM ET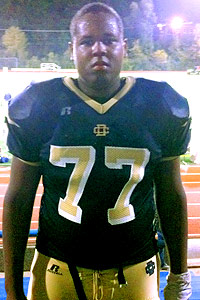 Courtesy Thomas FamilyPoet Thomas is a 6-foot-5, 290-pound offensive lineman from Beverly Hills, Mich./Country Day.
Poet Thomas
(Beverly Hills, Mich./Country Day) sent his highlight tape to schools with plays almost exclusively along the defensive line. He now has four offers, but all of them are to play on offense.
Colorado, Eastern Michigan, Florida and Toledo have all offered Thomas, who stands 6-foot-5 and weighs 290 pounds. A number of teams across the Big Ten and Atlantic Coast are also showing interest in Thomas.
The Gators are clearly the "name brand" offer among Thomas' four, and he remembers watching Florida during the Tim Tebow years. Gators assistant Bryant Young is recruiting Thomas, and even a defensive line coach like Young can appreciate talent on the offensive line when he sees it.
To continue reading this article you must be an Insider
College Teams Most Needing A Big Spring
SEC SCOREBOARD
Thursday, 9/3
Saturday, 9/5