Florida Gators:

Florida State
May, 20, 2014
5/20/14
9:00
AM ET
Orlando used to be a player in neutral-site college football games, until its stadium turned into a dilapidated mess.
[+] Enlarge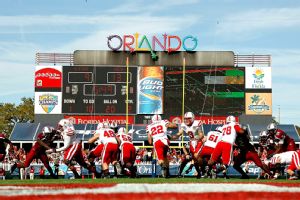 Mike Ehrmann/Getty ImagesThe Citrus Bowl, shown in 2012 game, is in the middle of a $210-million reconstruction.
But now that extensive renovations
have gotten underway
, Orlando could be the next "en vogue" town in the neutral-site business. Not only has Florida State said it is in talks
to play in Orlando
, Miami athletic director Blake James also hinted at getting Florida back on the schedule in
a neutral-site game
in Orlando.
James told The Miami Herald that Florida athletic director Jeremy Foley was receptive about a neutral-site game. "I would have to think Orlando," he told the newspaper. Nothing is imminent, and no substantive talks have been held between Miami, Florida and Florida Citrus Sports on the topic. But Florida Citrus Sports CEO Steve Hogan has not made it a secret that he wants to get back into the neutral-site business beginning in 2015 or 2016.
Florida State, Miami and Florida would be among the most attractive options, for obvious reasons.
The Citrus Bowl is in the middle of a
$210-million reconstruction
that should make it more attractive as not only a bowl and neutral-site spot but potentially a College Football Playoff venue. Florida State, Notre Dame and Florida all have played neutral-site games at the stadium in the past, but that was years ago. The last marquee regular-season game to be played there was in 2000, when Notre Dame faced Navy.
Miami would love to play Florida more frequently. The two used to be yearly rivals, but the series has been sporadic in recent years because the Gators already play Florida State annually. Miami beat Florida last season in their last scheduled game. In the past, Foley has not had much interest in
scheduling the Hurricanes
. But neutral-site games are a good draw. Florida, not known for taking nonconference scheduling risks outside Florida State, has a neutral-site game on the docket against Michigan in 2017 in Arlington, Texas.
Plus, Florida State, Miami and Florida all have drawn well when playing bowl games in Orlando, posting some of the highest attendance figures in both Russell Athletic Bowl and Capital One Bowl history. And neutral-site games are lucrative for programs these days, dishing out million-dollar payouts. Just last week at the ACC spring meetings in Amelia Island, Fla., James talked about the general possibility of playing a regular-season game outside South Florida.
"They make sense in certain situations," James said. "You have to look at where is your team at and what does your schedule look like and how do you incorporate those games into years that make sense for your program. That's the challenge you have. It's picking the right years to be a part of those games because those games are big games that are going to obviously have an impact on your program for a variety of reasons. There's big paydays associated with them, there's wear and tear on your team associated with them, there is travel associated with it and it's looking at all those factors and picking the ones that are best for your institution and best for your program at that time."
November, 29, 2013
11/29/13
11:30
AM ET
TALLAHASSEE, Fla. — For the past two weeks, all the rumors and accusations and lawyers and headlines disappeared as soon as
Jameis Winston
trotted through the tunnel and bursted onto the field at Doak Campbell Stadium, as 70,000 of his most ardent supporters roared their approval.
On the field, life is still normal, and that's provided some solace as the Florida State quarterback deals with the ongoing legal drama of a sexual assault case in which he's been named a suspect but has not been charged.
[+] Enlarge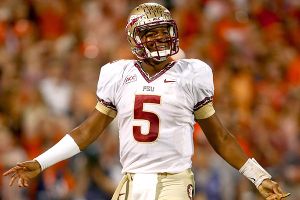 Streeter Lecka/Getty ImagesJameis Winston knows he's likely to be a focal point of taunts from Florida Gators fans.
"The football field is our sanctuary," Winston said.
But as the field in Tallahassee offered shelter on each of the past two Saturdays, it's more likely to be the eye of the storm this week when Florida State travels to Gainesville to take on rival Florida.
The Gators (4-7) have little left to play for, but that doesn't mean their fans are likely to be any more forgiving when Winston leads the Seminoles onto the field. Gone will be the rousing ovations Winston received against Syracuse and Idaho the past two weeks. For vocal Florida fans, he'll be a lightning rod for taunts.
"Florida fans? Of course they're going to be tough," Winston said. "But when we get on the football field, clear the mechanism, we're locked and loaded, and we're ready to play football."
Part of Winston's legend this season was built on his resolve in the face of a vociferous opposition. In his debut at Pittsburgh, he was nearly flawless. Amid the overwhelming noise at Clemson, he told his teammates to soak in the atmosphere before they silenced the crowd with a dominant performance.
So far, at least, Winston has enjoyed the taunts as much as the cheers.
"We block all that out," tailback
Devonta Freeman
said. "He's heard some of the worst things before, and none of that matters when you're on the battlefield. When we're warming up, we just don't pay attention to them."
Still, this week is different. Against Pitt and Clemson, Winston's sin was simply the color of his jersey. When he takes the field at Ben Hill Griffin Stadium on Saturday, the dark cloud of this legal morass offers far more stinging ammunition.
Jimbo Fisher doesn't expect his quarterback to be rattled by the barbs, though. In fact, Fisher's quite certain Winston will handle The Swamp with the same confidence he used to tame Death Valley. But staying quiet in the face of such potentially damaging criticism is far from ideal, and that's been the continued stance of Fisher, Winston and the rest of the Florida State football program.
As the accusations were made and the news stories followed, and Florida State has made just one unremarkable statement of support for Winston before closing ranks around him.
"We'll let the facts come out," Fisher said. "I don't want to comment on it too much. Let's just wait and see how things turn out."
And yet, while Winston and the Seminoles remain quiet about the investigation off the field, they've provided emphatic statements on it. Since the news of the case broke two weeks ago, Florida State has won its games over Syracuse and Idaho by a combined 139-17.
It might not be quite as easy this week, but all season Winston has shown that the field is his playground, regardless of the chaos that surrounds it.
"I think he understands the whole circumstances when you go on the road," Fisher said. "When you become the guy, one of the faces of the organization, people are always going to get on you. That's part of it."
November, 29, 2013
11/29/13
9:00
AM ET
The SEC has come to dominate its annual rivalry showdowns against the ACC, but that may not be the case this year. Florida State is a heavy favorite to blow out downtrodden Florida; No.6 Clemson has a great shot at knocking off inconsistent No. 10 South Carolina; and Georgia Tech could have an edge on injury-depleted Georgia. Indeed, the ACC has a real shot to sweep these three games for the first time since 2000. ACC reporter Andrea Adelson and SEC reporter Chris Low debate whether that will happen.
[+] Enlarge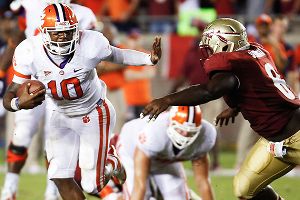 AP Photo/Don Juan MooreTajh Boyd and Clemson, derailed by Florida State, look to end their losing streak against South Carolina.
AA:
Chris, we are on a collision course for an epic SEC-ACC headliner in the BCS national championship game if Florida State and Alabama can win out to get there. But this weekend is extremely important for the ACC, which continues to play in the shadows of its conference rival. The league got off to a great start earlier this year, when Clemson beat Georgia and Miami beat Florida. But these three games have much bigger stakes. I think we can all agree Florida State is almost a guarantee to beat Florida. To me, the spotlight shines brightest on the Clemson-South Carolina game. The Tigers have lost four straight in the series, and this is
Tajh Boyd
's last chance to beat his team's bitter rival. In July, South Carolina defensive end
Jadeveon Clowney
made headlines when he said he saw fear in Boyd's eyes last year. To be sure, Boyd didn't play his best game against the Gamecocks last season, nor did he play well against Florida State in an embarrassing 51-14 loss earlier this year. Something tells me he is going to be ready in this one. Do you think Clemson and Dabo Swinney have what it takes to beat South Carolina and Steve Spurrier?
CL:
Andrea, you know I love you, but the ACC sweeping the SEC? In football? There's a better chance of soccer supplanting football as the sport of choice in the SEC. Let me start, though, by saying Florida State is legit, perhaps the most talented roster I've seen from top to bottom this season in college football. So you'll get no argument from me about the Seminoles. But since you asked about Clemson and South Carolina, that's a tough one to call. The Gamecocks have been tough to figure this season. Here they are with nine wins and a chance to win 10 in the regular season for a third straight year, and it's true they have some quality wins. But they've also sort of played just well enough to win at times. That's not going to cut it against Clemson. The Gamecocks should be healthy, including Clowney and
Mike Davis
. Backup running back
Brandon Wilds
also looks like he's ready to go, which will give even more punch to South Carolina's running game. At the end of the day, I'm not sure Clemson will be able to block South Carolina's front or stop the Gamecocks' running game. And there's just something about the Head Ball Coach in these kind of rivalry games. Gotta see it to believe it before I pick Clemson again in this game. I've learned my lesson after picking the Tigers the last few years.
[+] Enlarge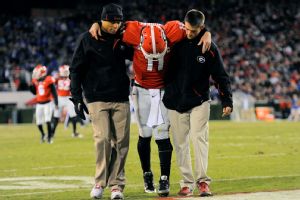 Dale Zanine/USA TODAY SportsGeorgia will play rival Georgia Tech in its first outing without starting QB Aaron Murray.
AA:
It is easy to understand the trepidation. It is true Clemson has not done much to inspire confidence in this series, especially when you consider the Tigers have not scored more than 17 points in any of the last four losses. But I was at the South Carolina-UCF game earlier this year. I watched much of the Florida game a few weeks ago. South Carolina lost to a 4-7 Tennessee team, right? And Spurrier NEVER loses to Tennessee. Nor does he EVER lose to Georgia. He did both this year. This could be the year he hits the losing trifecta against some of his bitter rivals. Now let's shift over to the other rivalry game that could go the ACC's way: Georgia Tech at Georgia. The Bulldogs are so banged up right now, I have to think the Jackets have a really great opportunity to steal this one. Losing
Aaron Murray
has got to be such a tremendous blow not just from an on-the-field standpoint but from a leadership standpoint. The one constant over the last four seasons has been Murray. How on earth does Georgia respond without the heart of the team?
CL:
More than anything, there's a profound sadness around that Georgia program that Murray won't be able to finish his senior season. He has meant so much to the Bulldogs both on and off the field and has been a rock this season through all the adversity. It just doesn't seem fair. You're right, though. Murray is one of those players you can't just all of a sudden replace. But the good news for Georgia is that
Todd Gurley
appears to be healthier, and I think the whole team will be eager to go out and get this done for Murray. A bigger question for me is how Georgia will fare defensively against Georgia Tech's option offense, although the Bulldogs have been better against the run than the pass this season. They're third in the SEC in rushing defense.
AA:
Another great point. As for the actual picks in the game, our colleague, Heather Dinich,
predicted an ACC sweep
. I did not go that far, but I did pick two close games in the Clemson-South Carolina and Georgia-Georgia Tech games. So did you. If the games are indeed as close as anticipated, well, anything can happen.
November, 26, 2013
11/26/13
10:00
AM ET
The most obvious sign their paths would diverge appeared in the first week of September. Jameis Winston announced himself as a future Heisman candidate with a near perfect performance in Pittsburgh, setting Florida State on its way from afterthought to contender.
Five days later, Jeff Driskel and his teammates bumbled their way to five turnovers in yet another avert-your-eyes performance at Miami. A string of team-crushing injuries ensued, setting Florida on its way from contender to catastrophe.
[+] Enlarge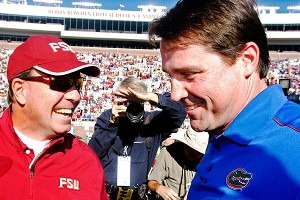 AP Photo/Phil SearsFSU's Jimbo Fisher (left) and Florida's Will Muschamp are good friends and have a lot in common, but this year they have seen their programs head in opposite directions.
The two best friends could not have more contradictory fortunes. Jimbo Fisher and Will Muschamp -- groomed in the same coaching tree and working their first head coaching jobs -- have had seasons for the ages but for opposite reasons.
Muschamp has had to watch his Florida team come apart so spectacularly, his job security has been a daily topic for weeks. Meanwhile, his close pal has brought Florida State together so completely, the gap between the two programs is as wide as the 150 miles that separate Gainesville and Tallahassee.
That dichotomy must be hard to swallow for Muschamp, especially when you consider how his team thoroughly beat the Seminoles physically and on the scoreboard just one year ago. How must Muschamp feel watching Fisher enjoy so much success, knowing it further amplifies his own problems?
"I worry about Florida," Muschamp said Monday. "I worry about what we need to do and where we are and what we need to improve. That's what all my concentration is on. Obviously the game each week, you focus on the other team and prepare for that team -- and they've got a heck of a football team and they are having a heck of a year. That's how I view things."
A look at the Florida roster reveals little in the way of the offensive talent or overall depth Florida State has this season. It is true the Gators have sustained more injuries to starters than just about any team in America. Of the 22 players who started against Louisville in the Allstate Sugar Bowl in January, only six were available last week in a horrendous loss to Georgia Southern.
But injuries cannot be the only excuse. Questions about the offense and depth have followed Muschamp since he arrived in Gainesville. Florida did win 11 games a season ago, but the Gators had one of the worst offenses in the country and their defense was exposed in the loss to Louisville.
Quarterback has been a consistent issue since Tim Tebow left. Driskel came in as the No. 10 player on the ESPN 150 in the class of 2011 but has yet to live up to his advance billing.
Contrast that with Winston, who was actually rated lower on the ESPN 150 in the class of 2012 at No. 14 overall. Fisher could end up with a third quarterback taken in the first round in his Florida State tenure, and has some of the best talent and depth at receiver in the country. Incredibly, his team in 2013 is better after losing a record 11 picks to the NFL draft in April.
Most impressive is how the Noles have performed despite a staff full of new coaches, hired to replace assistants who went on to bigger, better jobs this past offseason. And yet the one constant on offense remains Fisher, who works without an offensive coordinator and has called the plays since his arrival. Contrast that to Florida, which is likely to make offensive staff changes for the third time under Muschamp.
What seems clear now is that Fisher benefited from serving as coach-in-waiting under Bobby Bowden. As maligned as the idea was not only at Florida State but elsewhere, Fisher had the necessary preparation for his first head-coaching job. In Year 3, he won 12 games, an ACC championship and a BCS game. Not only has Florida State put together top recruiting classes over the last several years, Fisher has maximized the talent he has brought on campus and built a two-deep that rivals Alabama.
Muschamp also served as a coach-in-waiting, but under Texas coach Mack Brown. He got his first head coaching job at Florida, a surprise hire to many, and has seemed in over his head throughout his tenure. Now in Year 3, Muschamp has never won an SEC title or a BCS game and will post the first losing season at Florida since 1979.
After the loss to Georgia Southern, the calls for his job grew more intense. Muschamp was SEC coach of the year a season ago but right now, that feels like 100 years ago.
"We have no patience in this world anymore," Fisher said Monday. "Everything is what have you done for me lately. It's just the way things go. I don't think it's right. I think that's some of the things as far as when you look at the history of organizations, ones that have had patience seem to be the ones that really have the best true teams over longevity than ones that don't come to rash decisions very quickly."
Fisher offered words of support, saying he was confident Muschamp would get through the trying times. "He's a great guy and a heck of a football coach. Will knows this business, he'll handle it very well," Fisher said.
Indeed, it was not long ago Florida ruled the state, winning six straight in the series between 2004-2009. That, of course, was before Fisher and Muschamp started down their own head coaching paths. Where Fisher has succeeded, Muschamp has been left alone, trying to find the right way out.
November, 25, 2013
11/25/13
10:00
AM ET
The ACC has a great chance this week to make history, to do something it hasn't done in over a decade -- sweep its big three SEC rivals.
Georgia is down. Florida is out. And South Carolina is beatable.
[+] Enlarge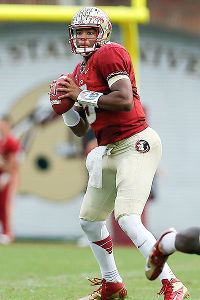 Don Juan Moore/Getty ImagesQB Jameis Winston and the Seminoles are a win over Florida away from heading to the ACC title game.
Not since 2000 has the ACC gone 3-0 in those games, and the conference hasn't had a winning record against the SEC since 2003, when it finished 5-4. The ACC started the season with gusto, as Clemson beat Georgia in a matchup of two top-10 teams, and Miami beat Florida, giving coach Al Golden his first true marquee win with the Canes. The perception of those wins -- and those opponents --
has since been tarnished
, thanks to the decline of both SEC teams this fall, but the value of wins over those programs still far outweighs the negativity that would surround the ACC should it lose those games this week.
Every season, pressure is on the ACC -- and every other BCS conference -- to close the gap with the SEC. The difference between the ACC and the rest of the college football world, though, is that the SEC's shadow overlaps with ACC country like no other, and nobody lines up against the nation's best conference more than the ACC. The comparisons are inevitable not only because of the close proximity and the shared recruiting turf, but also because of the built-in rivalries that highlight every November.
The difference this year is that not only
can
the ACC win these games, but it should be
expected
to.
Georgia, which dropped out of the rankings in Week 9, has lost starting quarterback
Aaron Murray
for the rest of the season with a torn ACL -- a devastating blow to a team already riddled with injuries. The senior injured his left knee in Saturday's 59-17 win against Kentucky. For the first time since 2009, the Bulldogs will line up with a different quarterback under center.
Hutson Mason
, who redshirted last year, will face a much-improved Georgia Tech defense. The Jackets have won four of their past five games, the lone loss coming to Clemson. The bigger issue in Atlanta, though, has been the lopsided results in the series. Last season's 42-10 drubbing in Athens was the 11th time in 12 years that Georgia had won. The exception was in 2008, Paul Johnson's first season, when Georgia Tech pulled off a stunning 45-42 upset of No. 11-ranked Georgia.
This season, it wouldn't be so stunning. And it wouldn't exactly be an upset. In fact, of the ranked teams playing this week, the ACC has the upper hand.
For both No. 6 Clemson and No. 2 Florida State, BCS bowls are at stake, though many would agree that Clemson could actually afford to lose to South Carolina and still be a top pick for the Discover Orange Bowl. Those within the program, though, would obviously prefer not to lose to the Gamecocks for a fifth straight time. That losing streak, coupled with the fact that it is senior quarterback
Tajh Boyd
's final shot at beating his rival, are distinct motivating factors. For the Seminoles, a win against the Gators would get them one step closer to playing for the national title.
Florida, though, is a mere formality.
The Gators were just embarrassed royally at home in a 26-20 loss to Georgia Southern, Florida's first loss to an FCS program. It was the worst loss in school history, and a new low for coach Will Muschamp, whose job security is hanging by a thread. Florida, which is in the midst of its first losing season since 1979, will face a Florida State team that has outscored its past three opponents 198-20.
The tables have turned for those rivals.
They could turn for the entire ACC this weekend, too.
McElwain discusses new Florida football
SEC SCOREBOARD
Thursday, 9/3
Saturday, 9/5