Florida Gators:

2013 NCAA tournament
March, 31, 2013
3/31/13
6:16
PM ET
ARLINGTON, Texas -- Michigan is headed to the Final Four for the first time in nearly 20 years following
Sunday's 79-59 annihilation of Florida
in the Elite Eight at Cowboys Stadium.


Freshman
Nik Stauskas
scored 19 of his game-high 22 points in the first half to spark the Wolverines, the No. 4 seed in the South Region.
Trey Burke
added 15 points and seven assists.
Will Yeguete
and
Kenny Boynton
led Florida with 13 points each.
Michigan hardly looked fatigued from Friday's 87-85 overtime win against No. 1 seed Kansas in the Sweet 16. John Beilein's squad rallied from a 14-point deficit to win that game, but it certainly didn't need any second-half heroics to get by the Gators.
The Wolverines led by as many as 24 points before taking a 47-30 lead into intermission. Stauskas made all six of his field goal attempts in the opening stanza. Five of them were from 3-point range. It'd be inaccurate to say that Michigan caught Florida on an off night or that it built its big lead mainly because its opponent played poorly.
The Gators were simply out-classed in terms of talent.
By losing, No. 3 seed Florida became the first team in NCAA tournament history to fall in the Elite Eight three consecutive seasons. Michigan, meanwhile, advances to play Syracuse in the national semifinals Saturday in Atlanta.
Turning point
: Florida, which trailed by scores of 23-5 and 41-17 in the opening half, put a bit of a scare into Michigan after intermission. A jump shot by Boynton shaved the Wolverines' lead to 50-38, but Michigan was quick to respond with a layup from
Mitch McGary
. Seconds after McGary's basket,
Spike Albrecht
stole Florida's inbounds pass and scored on a hanging layup to make it 54-38. It was never a game after that.
Key player
: Stauskas was the main reason Michigan was able to separate itself from Florida in the first half. But freshman forward McGary was the player who set the tone early by scoring eight of his team's first 11 points in game-opening 11-0 run. McGary finished with 11 points and nine rebounds. Burke had 15 points, 8 rebounds, 7 assists and 3 steals.
Key stat
: Michigan went 10-of-19 from 3-point range.
March, 30, 2013
3/30/13
9:00
AM ET
GAINESVILLE, Fla. – Another week of spring football practice is in the books and the basketball team rolled through the second and third rounds of the NCAA tournament, so there's a lot to recap.
On the football front, the Gators got some bad news early in the week when reserve offensive lineman
Trip Thurman
suffered a shoulder injury that UF coach Will Muschamp said appeared to be severe. Thurman's injury left the Gators with only
five healthy scholarship offensive linemen
, and that is forcing them to alter their plans for the spring game.
[+] Enlarge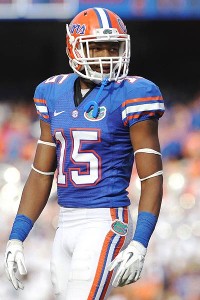 Kim Klement/USA TODAY SportsLoucheiz Purifoy has moved back to defense for now, but he's not done with offense for good.
Instead of a true game, the Gators essentially will have a glorified open practice and will spend time in 7-on-7 and situational drills.
Cornerback
Loucheiz Purifoy
finished his time at receiver and moved back to defense. The decision to
try him out on offense
was made because of the lack of production from the position since the 2009 season. And with freshman early enrollee
Demarcus Robinson
sidelined for a week with a sprained ankle, it doesn't appear likely the Gators will get any answers at the position this spring.
SEC blogger Chris Low took a look back at some of the most
memorable upsets in SEC play
over the past 35 years. Ole Miss' victory over Florida in 2008 -- which spawned Tim Tebow's promise and was the catalyst to the Gators' national championship run -- made the list.
On the recruiting trail ...
On the recruiting front, Derek Tyson put together his weekly
mailbag
, which included information about offensive tackle
David Sharpe
(Jacksonville, Fla./Providence), ESPN Watch List safety
Quincy Wilson
(Fort Lauderdale, Fla./University School of Nova South) and ESPN Watch List linebacker
Raekwon McMillan
(Hinesville, Ga./Liberty County).
March, 24, 2013
3/24/13
10:48
PM ET
AUSTIN, Texas --
Mike Rosario
, he of the broken finger, bum ankle, tender back, nagging hip pointer and bad first NCAA tournament game, decided to put the hurt on someone else Sunday.
And, yes, there were tears involved. That's usually the case at this one-and-done point of the season. But third-seeded Florida and Rosario were feeling no pain as they wide-tooth grinned their way into the Sweet 16 after a
78-64
win over No. 11 seed Minnesota in the Frank Erwin Center.
Florida, which is in its third straight Sweet 16 for the first time in school history, will play 15th-seeded Florida Gulf Coast in Arlington, Texas, on Friday.
"I told myself, 'I can't let my guys down,'" Rosario said. "I was beating myself up that I didn't bring the full Mike Rosario in the first game and I felt like had to come out the second game."
[+] Enlarge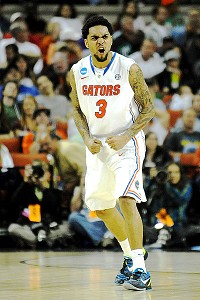 Brendan Maloney/USA TODAY SportsAfter struggling in Florida's NCAA tournament opener, senior Mike Rosario shined against Minnesota.
He came out and stayed out. The senior guard scored 25 points on 8-of-12 shooting, with 17 of those points coming in the first half as Florida staked itself to a 23-point lead over the Gophers.
"When you shoot 6-of-9 [from behind the arc], even if you are by yourself that is pretty impressive," Minnesota coach Tubby Smith said. "Those were really tough shots."
It wouldn't be Rosario if they weren't. He is a player more apt to struggle down the rocky road than stroll down the smooth path. A transfer from Rutgers, Rosario has been a player and personality who has not exactly been at odds with Florida coach Billy Donovan in his Florida career but has not exactly been on the same wavelength, either. As a junior Donovan was pushing him through the injuries, letting him know what it meant to be a big-time player every night in a big-time program. And even in this, Rosario's senior season, Donovan has twice limited his minutes in the final weeks because of Rosario's failure to do the lithe, and essential, things on the court.
"There are times with Mike when he can come not focused and not be accountable and not be responsible in terms of doing the things he needs to do," Donovan said. "The reason our relationship is sometimes rocky is that I have held him to a higher standard."
Donovan, and everyone else, held Rosario in high esteem Sunday. Really there was no other place to put him. Even after the 17-point first half, Rosario, who has what is surely an infuriating ability to check out, stayed focused and nailed a 3-pointer that quelled a Minnesota run midway through the second half.
"I felt that every time I have an open look at it I'm going to take it," Rosario said. "And they were falling tonight."
That wasn't the case against Northwestern State on Friday. Rosario failed to box out on a play and because of that found himself on the bench for the majority of the game. Ditto with a few weeks ago against Kentucky when his carelessness pushed Donovan to the brink and Rosario right back to the bench.
But Rosario doesn't go to the bench to sulk.
"Mike will assume responsibility," Donovan said. "He is not a finger pointer and is not blaming other people. The best thing about Mike is that Mike lets me coach him. I am on him all the time a lot because I want him to be the best he can be on and off the floor."
Sunday Rosario was just that.
March, 24, 2013
3/24/13
9:10
PM ET
AUSTIN, Texas -- The Minnesota Golden Gophers couldn't handle the pressure of the NCAA tournament, thanks in large part to the pressure applied by the Florida Gators as third-seeded Florida extended its defense and, as a direct result, its run in the NCAAs with a
78-64 win
over the No. 11 Gophers at the Erwin Center Sunday.


Overview:
Florida built a 23-point first-half lead behind its defense and prolific shooting, weathered a flurry of 3-pointers from Minnesota's
Andre Hollins
, and moved into the next round. The Gators were led by guard
Mike Rosario
(25 points) and forward
Erik Murphy
(15). That pair combined to score 24 of Florida's first 30 points and hit eight of their first nine shots. Hollins, who had 25 points, made a run midway through the second half to help the Gophers get within single digits a couple of times. But Florida and Rosario had the answer each and every time.
Turning point:
Florida opted for a full-court defense early in the game and was able to not only fluster Minnesota's offense but also kick-start its own scorers. The Gators hit their first four shots and didn't cool off much from there as they went on to shoot 65 percent in the first half. Murphy and Rosario proved to be a prolific duo from beyond the arc as they combined to hit 10 of 14 3-pointers in the first half.
Key player:
Rosario, who was benched during the Northwestern State game Friday because of a failure to block out, made sure he wouldn't be taken off the floor Sunday. The guard, who has averaged 12.2 points, had a game-high 17 in the first half on 71 percent shooting. He was a 44 percent shooter coming into the game.
Key stat:
Minnesota had been dominating teams on the boards and finished the Big Ten season tied for first in rebounding margin with a 7.8 differential. Against Florida, the Gophers were unable to consistently get to the glass. The Gators had a 16-8 rebound margin in the first half. The Gators limited the Gophers to no second chance points while Florida had six in the first 20 minutes.
Next up:
Florida advances to play the winner of the San Diego State-Florida Gulf Coast game in Arlington, Texas, on Friday.
McElwain discusses new Florida football
SEC SCOREBOARD
Thursday, 9/3
Saturday, 9/5