Auburn Tigers:

Todd Grantham
January, 17, 2014
1/17/14
12:00
PM ET
January, 5, 2014
1/05/14
9:40
AM ET
When last seen on a football field, Auburn's offense looked unstoppable.
The Tigers mowed through Missouri for an SEC championship game record 677 total yards to pull away for a 59-42 victory. Missouri had a hard enough time finding the ball that day in Atlanta, much less slowing down Auburn's running game.
Auburn piled up 545 rushing yards in that contest and enters Monday's Vizio BCS National Championship with an astonishing 1,608 rushing yards in its past four games.
Several of the defensive coordinators who faced Auburn's offense this season told ESPN.com that clamping down on quarterback
Nick Marshall
's ability to run the football was a must if you're going to keep Auburn from revving up that offensive machine.
[+] Enlarge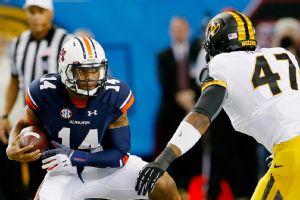 Kevin C. Cox/Getty ImagesLimiting QB Nick Marshall's ability to run is a key to containing Auburn's offense. But that's easier said than done.
Of course, that's easier said than done, especially when the Tigers are playing at breakneck pace and Marshall is averaging 9 yards per carry on zone-read plays.
"You've got to account for Marshall, which means you better have athletic safeties who can tackle him," Tennessee defensive coordinator John Jancek said. "That's where we got exposed because he's exceptional at taking off and making athletic plays in space."
Jancek saw Marshall toward the latter part of the season, when he was playing his best football. So did Georgia, and Bulldogs defensive coordinator Todd Grantham said Marshall was much improved as a passer.
"Nick has really grown into the position and is much better now than he was at the start of the season," Grantham said. "He's got a cannon for an arm and can make plays. He's really an NFL cornerback. That's what he is, but he can throw the deep ball, and he's really good in that offense and gives them another dimension because it truly is 11-on-11 with his ability to run the football."
Marshall and junior running back
Tre Mason
both rushed for more than 1,000 yards this season, a telltale sign that the Tigers were doing something right up front.
Both Grantham and LSU defensive coordinator John Chavis said Auburn's offensive line was the best one they faced all season.
"You've got to be ready to play the tempo game and tackle well, but don't let anybody kid you," Chavis said. "They've got a lot of really good football players in the offensive line. We didn't play against a better offensive line this year, and I don't think people are giving that offensive line enough credit."
LSU was the only team to beat Auburn this season after jumping out to a 21-0 halftime lead and then holding on for a 35-21 rain-soaked win back in September.
"You have to be able to handle all their different looks on the perimeter," Chavis said. "It will look like the same run, and they'll end up throwing it. They're not going to let you cheat and get an extra guy in there. They're going to put you in a lot of one-on-one situations, and you have to be able to tackle. If not, you're going to have a hard time with them."
Ole Miss defensive coordinator Dave Wommack said one of the things Auburn coach Gus Malzahn does best is disguising what he's doing.
"He'll use motion and shifts and those types of things, and it doesn't give the players enough time in their heads to recognize it," Wommack said. "He'll create the same play over and over again, but it won't necessarily look the same on the field.
"I'm anxious to see this game. Gus is going to run his offense, but it won't look the same to Florida State. That's why Gus is so good. He'll have some special things."
Grantham could see Florida State being more multiple in its defensive line and using some three-man fronts.
"An odd front gives Auburn more trouble than an even front," Grantham said. "I think they're much better at blocking an even front than they are an odd front. But Auburn is multiple enough to find something it likes and sticking with it.
"Their tempo didn't bother us. I think that's a little bit overrated. It's more their formations, movement, skill of their players and that offensive line. Florida State will have more things in [its] arsenal to stop them and may be able to create more negative plays and get them into third-and-6 or more, and that's when you've got them."
Even though Auburn doesn't throw it much, Grantham said sophomore receiver
Sammie Coates
can change the game in a hurry. Coates averages 22.1 yards per catch and has seven touchdown receptions.
"He's going to be a steal in the NFL draft," Grantham said. "With Marshall, you've got to commit extra people to get to the quarterback, which leaves you one-on-one outside with Coates. He's got the physical skill set to win most of those battles."
December, 6, 2013
12/06/13
3:00
PM ET
On Saturday, Auburn and Missouri will meet in the SEC championship game. To preview the game, we spoke with Texas A&M defensive coordinator Mark Snyder, who knows the teams as well as anybody. The Aggies were one of four teams to face both division winners at some point during the season.
Snyder breaks down the game from his vantage point, looks back at Texas A&M's season and explains why he thinks the SEC will be more defensive next year:
It was Texas A&M's second year in the SEC. How'd you feel like it went?
Mark Snyder:
Obviously, we had some big standards going into the season, but we were so young defensively. We had some injuries, like a lot of teams in the SEC, but I thought as the year went, I saw our defense getting better each and every week. We played pretty decent and had our opportunities against Missouri. Give credit to those guys; they're good and they got us.
[+] Enlarge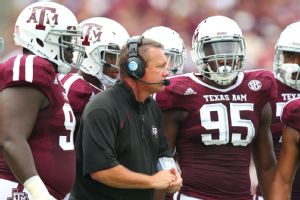 Matthew Emmons/USA TODAY SportsMark Snyder sees better times ahead for Texas A&M's young defense.
What's the mindset now heading into the bowl game?
Snyder:
Just get better. Get our younger guys better on my side of the ball. It's huge getting to a bowl game and having this extra practice time because typically you get into bowl practice and the first week or so you work your young guys to get them ready for next year. For us, those kids are all playing for us. They're starting. We're going to have to be careful about how much we do with them, but we're getting the chance to continue to get better on defense.
Auburn and Missouri will play for the SEC title Saturday. What stands out to you about both of those teams?
Snyder:
They got us at different times. Auburn got us earlier than Missouri did. Both have got really good quarterbacks. Nick's playing well. Obviously, Missouri's quarterback has played a lot. The difference in the teams I think is Missouri, they're a very veteran offense -- veteran offensive line, big, tall wide receivers, a quarterback that's played a lot, a running back that's back. It's a very veteran team where Auburn is very, very athletic. They're just speed across the board from the receiver [
Sammie
]
Coates
to
Nick Marshall
to -- I really like their tailback (
Tre Mason
), I think he's really good. If you look at the teams, one's probably a little bit more experienced, been in the system longer. The other team has tremendous athleticism.
What are your thoughts on Auburn coach Gus Malzahn?
Snyder:
He's done a good job of instilling some beliefs, him and Coach [Gary] Pinkel both. If you look at both of these teams, right now they're playing with a lot of confidence, so they're doing a great job instilling some beliefs in their system. For Coach Pinkel, it was a little easier because those guys had been with him for four years. The trick with Gus is this is his first year with some of these guys, and he's got them to buy in. You need to make a play here or there in those special seasons, and that's what they've done.
Are you surprised with Missouri's run this early in the SEC?
Snyder:
Not really. Coach Pinkel has had a culture of success everywhere he's been. They were pretty beat up last year. You look at a team like Florida, they're going through it this year, Georgia a little bit, us a little bit. You go through those. The teams with those magical seasons are staying healthy. We were able to do that last year. We didn't have much depth, but we stayed healthy. That's half the battle, and that's hard in this league. There's got to be some luck involved in there, especially on our side. If you look at the West, it's every week.
This season was all about the offense in the SEC. A lot of good quarterbacks, a lot of good offenses. Do you see the power shifting back to the defense next season?
Snyder:
I would think so. Things are cyclical, there's no doubt. LSU lost a lot of people on defense. We lost some people, and we were already young, playing with a bunch of freshmen -- Todd [Grantham] was playing with a bunch of freshmen at Georgia -- against some really good quarterbacks. A lot of those guys are moving on now, and it's not just the quarterbacks. There are going to be some tailbacks, some offensive linemen, just offense in general. And then you're going to see some of the teams I just mentioned not lose anybody (on defense) and continue to grow up. I will be surprised if you didn't see better defensive numbers come next year from a bunch of us.
November, 18, 2013
11/18/13
12:00
PM ET
Another wild weekend of SEC football is in the books. Let's take a look at what's being talked about around the league on Monday:
October, 16, 2013
10/16/13
12:00
PM ET
No, I'm not going to stand up here and scream, "Hump Day!" like that lazy camel. Instead, I'll simply point out that since it is Wednesday we're only some 24 merciful hours away from a quality college football game between No. 10 Miami and North Carolina. And I think we can all agree that watching football is much more enjoyable than watching an animal sell us insurance.
September, 3, 2013
9/03/13
9:00
AM ET

The first week of college football is in the books, and it's time to see where we think all 14 SEC teams stack up in our weekly power rankings:
1. Alabama (1-0; LW: 1):
OK, Alabama isn't perfect. Contrary to what
AJ McCarron
said, the offensive line looked ugly for most of the night in Alabama's win over Virginia Tech. It has to get better in a hurry. But when your defense and special teams are clicking like they were on Saturday, who needs offense?
2. South Carolina (1-0; LW: 4):
Two players I've been saying to keep an eye on since the spring:
Mike Davis
and
Shaq Roland
. Both looked pretty good, especially Davis, in that opening win, and both will be fun to watch this weekend. The defensive front looked great, but can someone please give
Jadeveon Clowney
some vitamin C and an extra Gatorade?
3. LSU (1-0; LW: 6):
Don't sleep on these Tigers. They're undervalued, but were very impressive in their 37-27 victory over a ranked TCU team in their own backyard. The defense still looks fast, and the offense racked up nearly 450 yards behind some explosive plays. The return of running back
Jeremy Hill
should make this team even better.
4. Texas A&M (1-0; LW: 2):
Johnny Manziel
looked good when he was actually playing football Saturday. He went through his progressions and didn't think "run" first. But his antics have to stop (just ask Kevin Sumlin), and that defense has to get much, much, MUCH better before Alabama rolls into town in two weeks.
5. Florida (1-0; LW: 5):
It doesn't look like the Gators will miss much of a beat defensively after they suffocated Toledo and that uptempo offense. The offense? Well, it did look more polished and the passing game actually moved down the field, but the Gators were very vanilla. Expect that to change against Miami.
6. Georgia (0-1; LW: 3):
We knew the defense would struggle against Clemson's high-octane offense, but the Bulldogs looked really bad in the tackling department. This group has to go back to the basics, and that isn't a good thing with physical South Carolina coming to town this weekend. Also, that offensive line has to protect
Aaron Murray
better because
Todd Gurley
can't do it all himself on offense.
7. Ole Miss (1-0; LW: 8):
The future certainly looks bright in Oxford, Miss., but this program is hoping the present is just as bright. The Rebels kicked off the college football season with an electric, back-and-forth win over Vanderbilt. This offense looks built to go the distance, but depth is still a major concern. Health is key.
8. Vanderbilt (0-1; LW: 7):
The Commodores lost a heartbreaker to the Rebels at home, but this team still looks as explosive as it was last year. The defense has some things to clean up, but defensive coordinator Bob Shoop should make sure that happens.
Jordan Matthews
has star status, but not having
Chris Boyd
on the other side of him hurts the offense.
9. Auburn (1-0; LW: 9):
The Tigers had quite a fun opener. Both the offense and defense were up and down, but it had to be nice for Gus Malzahn to see his running game put up 295 yards on Washington State. The pass defense has some work to do and injuries won't help.
10. Missouri (1-0; LW: 11):
The 58-point, 694-yard performance from the Tigers' offense looked more like what people in Columbia, Mo., expected to see more often last year. Granted, it was against Murray State, but that sort of outing will build some confidence within this group. It was good to see
James Franklin
and
Henry Josey
on the field and healthy again.
11. Arkansas (1-0; LW: 13):
By looking at the box score, you'd think Bobby Petrino's offense was back in Fayetteville, Ark., after the Hogs put up 522 yards on Louisiana-Lafayette. The Hogs could run and pass, and the defense held the Ragin' Cajuns to just 274 yards. The Hogs still have a couple of cupcakes to face before things get interesting at Rutgers.
12. Tennessee (1-0; LW: 12):
We really don't know what to take from Tennessee's thumping of a very overmatched Austin Peay team, but the Vols looked to have some real legs in the running game. How long that will last is a mystery, but it was a good start. Things get tougher this weekend when Western Kentucky and Bobby Petrino visit Rocky Top.
13. Mississippi State (0-1; LW: 10):
That was a bad offensive performance by the Bulldogs in their 21-3 loss to Oklahoma State. Mississippi State was 2-for-16 on third downs and
Tyler Russell
threw for only 133 yards against a defense that ranked 113th nationally in pass defense last year. The Bulldogs held the Cowboys to just 146 passing yards, but allowed nearly 286 rushing yards.
14. Kentucky (0-1; LW: 14):
That was not the opener Mark Stoops wanted or needed. The Wildcats looked overmatched against Western Kentucky and are still struggling mightily to find playmakers in the passing game. What had to really upset Stoops was that his defensive line, which was supposed to be this team's best unit, didn't get enough pressure up front and allowed the Hilltoppers to rush for more than 200 yards.
Peach State: Top Tier Recruiting Ground?
SEC SCOREBOARD
Thursday, 9/3
Saturday, 9/5