Auburn Tigers:

Ryan White
February, 17, 2014
2/17/14
3:30
PM ET
Editor's note: This is the first part in a weeklong series looking at Auburn's top five position groups with room to improve.
AUBURN, Ala. -- The SEC is typically known as a defensive league, but offenses that dominated play last year. The conference featured the likes of
Johnny Manziel
,
AJ McCarron
,
Zach Mettenberger
,
Aaron Murray
and
James Franklin
at quarterback, and defenses paid the price.
[+] Enlarge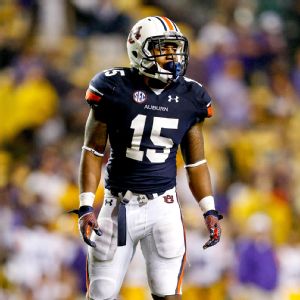 Derick E. Hingle/USA TODAY SportsA healthy return by Joshua Holsey from a mid-October ACL tear would bolster the secondary.
Auburn had to face all of the quarterbacks above and allowed 7.3 yards per game in those contests. The season stats don't do any favors to the Tigers' defense, especially the secondary, but they made enough plays on the back end to win 12 games and play for a BCS title.
"The [secondary] is really a picture of what our defense has been," defensive coordinator Ellis Johnson said before the Florida State game. "They've been inconsistent, given up cheap plays, [but] they have made some unbelievable plays. When they make the kind of plays that they made at critical times, you have to trust them."
The good news for SEC defenses is that all five of those quarterbacks have moved on. In fact, six of the eight league games on Auburn's 2014 schedule will feature teams with a first-year starter at quarterback. However, the Tigers will be without top cornerback
Chris Davis
next season, as well as safeties
Ryan Smith
and
Ryan White
.
The balance of power in the SEC is expected to shift back to the defenses, and if Auburn hopes to follow suit, it must have better play in the secondary. Who will step up?
Battling for No. 1:
With Davis no longer in the picture,
Jonathon Mincy
is expected to slide over and take his role as the No. 1 cornerback. The senior to be finished with 56 tackles last year and has started 28 games in his Auburn career. The other cornerback spot is up for grabs, and the early favorite to win the job is
Jonathan Jones
. He has made three starts in his first two seasons, and when healthy, he's one of the better defensive backs on the team. At safety, the Tigers get
Jermaine Whitehead
back, and they hope to have
Joshua Holsey
back from injury. Holsey tore his ACL in practice just days before the Texas A&M game, but he was the glue that held the secondary together before he went down. A combination of Whitehead and Holsey could make safety a strength heading into next season.
Strength in numbers:
Depth in the secondary was an issue for Auburn last year, and it could be again this year. Freshman
Johnathan Ford
came to Auburn as a running back but moved to cornerback in fall camp because of the lack of players at the position. There has been no word yet on which side of the ball Ford will be on this spring. If Holsey is still out, the team's next best option at safety is senior
Trent Fisher
. He has played in 32 games, starting two, and should get plenty of first-team reps this spring. Another candidate could be
Robenson Therezie
, who started every game at Star this past season. If the coaches go a different direction at the Star position, Therezie could make an impact in the secondary, at cornerback and/or safety. Therezie's backup,
Mackenro Alexander
, also could provide help at safety if needed.
New on the scene:
With depth a concern, Gus Malzahn and his staff made defensive back a priority in the 2014 recruiting class. They added three ESPN 300 cornerbacks, a late bloomer in
Markell Boston
and the nation's No. 1 junior college outside linebacker
Derrick Moncrief
, who could help at both the Star and safety positions. The most intriguing player of the group is
Stephen Roberts
, a former Alabama commitment. The in-state product is listed as a cornerback, but Auburn plans to use him at safety where he can contribute immediately. On signing day, Malzahn tabbed Roberts, along with fellow ESPN 300 cornerbacks Kalvarez Bessent and
Nicholas Ruffin
, as guys who have a chance to come in and contribute early.
January, 22, 2014
1/22/14
3:30
PM ET
Editor's note: This is Part III in a weeklong series looking at the five most pressing concerns Auburn faces this offseason.
AUBURN, Ala. -- Ellis Johnson is known for turning around SEC defenses quickly. He did it at Mississippi State in 2004. He did it at South Carolina in 2008. And it was no different this season at Auburn, his first as defensive coordinator.
[+] Enlarge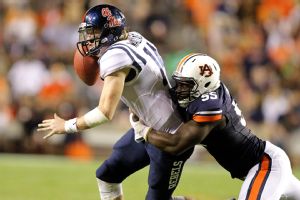 John Reed/USA TODAY SportsCarl Lawson will be called upon to step up as a pass-rusher in 2014.
Through the first 12 games, the Tigers were ranked No. 31 nationally in scoring defense, allowing 22.5 points per game. That was up 35 spots from a year ago when they gave up 28.3 points per game. The improvement can be attributed to a number of things, but the numbers don't tell the whole story.
Auburn's defense did a good job of keeping teams out of the end zone, but it wasn't keeping them off the field. It wasn't preventing the big plays, or "trash plays" as Johnson calls them. In reality, it wasn't stopping anybody.
"We have really given up way too much yardage to think that we have played extremely well this year, but we have played extremely well in some key situations," Johnson said prior to the VIZIO BCS National Championship Game.
Heading into its matchup with Florida State, Auburn was ranked No. 94 in yards per play (5.96) and against the likes of
Johnny Manziel
,
AJ McCarron
,
Aaron Murray
,
Zach Mettenberger
and
James Franklin
, the Tigers were allowing 7.3 yards per play. Based on yards per play, they had the worst defense of the 144 teams that had ever participated in a BCS game.
When it came time for the BCS title game, Johnson had his team ready, though. Auburn came out prepared and shut down Florida State through the first three quarters. It was arguably the Tigers' most impressive performance of the season.
However, the fourth quarter belonged to the Seminoles, and it was a 'trash play' on the final drive -- a quick slant to
Rashad Greene
that went for 49 yards -- that set up the game-winning touchdown.
One stop and Auburn would've been national champions. Now it's a distant memory that can be used as motivation going forward.
When the Tigers return to practice this spring, it's safe to assume that Johnson will put a point on emphasis on the yardage problem and specifically the trash plays. It won't be easy, however, with five starters gone from last year's team including its top pass-rusher
Dee Ford
and its top cover corner
Chris Davis
.
How do you replace a player like Ford who led the SEC in sacks per game?
The answer is you can't, but it helps to have a pair of former ESPN 300 prospects like
Carl Lawson
and
Elijah Daniel
coming up behind him. They both showed potential as freshmen, but they will have to be more consistent next season.
The secondary will be an even bigger challenge. The staff has to not only replace Davis but also safeties
Ryan Smith
and
Ryan White
.
If Auburn wants to get back to Atlanta for the SEC championship game, it's up to the defense. The offense, despite losing two key pieces in
Tre Mason
and
Greg Robinson
, returns eight starters and should be among the SEC's best next year. But the defense has to take another step forward, and it starts with taking out the trash.
January, 9, 2014
1/09/14
10:00
AM ET
Dee Ford
has seen it all during his time at Auburn -- the highs and the lows.
As a freshman, he won a BCS national championship. Two years later, he endured a 3-9 season and the coaching change that ensued. But the senior defensive end stuck around and finished his career as a part of this year's Auburn team that came a play or two away from winning a second national championship in the last four years.
[+] Enlarge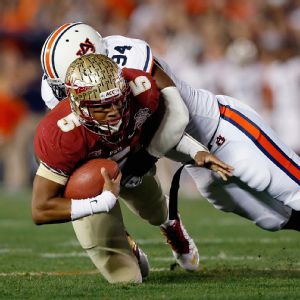 Kevin C. Cox/Getty ImagesNosa Eguae ended his senior season in the same way he ended his freshman season in 2010 -- starting for Auburn in a BCS championship game.
"It's been a big roller coaster," Ford said prior to Monday's title game. "There's a message behind it. Things aren't going to work out when you expect it to. It's really revealed who we are as individuals and who we are as a team."
Things didn't work out for the Tigers in Pasadena. They ultimately fell short of the ultimate goal, losing to Florida State in the national championship, but it was still a season to remember for Ford and the rest of that senior class. After everything, they went out on top.
"It means a lot for me to go out (like this) my last year," Ford said after the game. "In the entire time, we set a goal to have the biggest turnaround in college football history, and it was an amazing journey for me. I'm definitely proud to be an Auburn Tiger right now. We didn't win, but at the end of the day, I'm still proud of my team."
It was the same sentiment shared by all 15 seniors. The majority of them were there for the 2010 national championship. They all went through last year's difficult season and finished this season on top, despite the loss to the Seminoles.
It was a journey that brought them closer together.
Ford's partner on the defensive line,
Nosa Eguae
, is also a senior. In fact, he was the only starter from the 2010 team still on the roster. On Tuesday, Eguae addressed his fellow seniors in an open letter to the fans that he shared with multiple media outlets.
"This is the last time my brothers and I will get to spend a day with each other," Eguae said. "For tomorrow, we will go our separate ways and pass the torch to the next group of seniors that will lead and fight for the greater good of the family. From tragedy to triumph, I could not ask for a better group of men to ride off into the sunset with."
In addition to Eguae and Ford, the senior class that has grown so close together includes the likes of
Steven Clark
,
Chris Davis
,
Jake Holland
,
Cody Parkey
,
Jay Prosch
,
Ryan Smith
and
Ryan White
-- all who started or made an impact at some point during the season.
It's a group that could have won two national championships during their time at Auburn but will still leave behind a legacy that will affect the program for years to come.
"There will be a lot of great things and great memories that our seniors have led us to be," Auburn coach Gus Malzahn said. "We were just on the brink of making it one of those magical seasons, but there's so many great things that we'll take. I just told the seniors they laid the groundwork for our program moving forward, and our program is very bright right now."
With nine starters returning on offense, pending
Tre Mason
's decision, and seven starters returning on defense, the Tigers should be among the nation's elite teams again next season. They're ranked No. 5 in ESPN's
Way-Too-Early Top 25
for 2014. But it will be up to the seniors-to-be to provide the leadership.
Center
Reese Dismukes
, a three-year starter, knows he'll be counted on as a leader again next season, but he showed his appreciation to the departing seniors after Monday's game.
"Proud of my teammates and coaches," the Auburn captain tweeted. "We fight and fight til the end. Thanks seniors for all you've done for this program."
The torch has been passed.
November, 6, 2013
11/06/13
10:00
AM ET
AUBURN, Ala. -- The biggest turnaround in college football is happening on the Plains right now as Auburn, who started 2-7 a year ago, is sitting at 8-1, No. 9 in the BCS standings and in control of its own destiny in the SEC West.
[+] Enlarge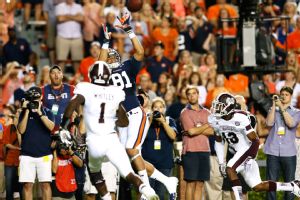 Kevin C. Cox/Getty ImagesC.J. Uzomah's TD catch against Mississippi State gave Auburn its first SEC win in more than a year.
But none of it would have been possible if not for what took place on Sept. 14.
The Tigers started the season 2-0 but were trailing Mississippi State 20-14 with less than two minutes to play. Gus Malzahn had come in and preached to the team that it was a new day at Auburn University, but how could the team buy in if they lost their 11th straight SEC game?
Quarterback
Nick Marshall
led the Tigers on a 12-play, 88-yard drive that was capped off by an 11-yard touchdown pass from Marshall to
C.J. Uzomah
with just 10 seconds left. The 24-20 victory was Auburn's first in the SEC in nearly two years, and it set the tone for the rest of the season.
"That was a huge win," Malzahn said. "Like I've said before, it's kind of the way we won that game. We were able to come back. There was a lot of pressure on our kids at home, and I think our crowd was still trying to figure out who we were as a team. I think that gave everybody a good shot in the arm moving forward."
One drive and these Tigers had reason to believe their new head coach.
In the past decade, Auburn and Mississippi State have opened conference play against each other every year, and the game tends to be a barometer of how the season is going to play out. In all three of Auburn's 10-win seasons since 2004, the Tigers opened with a win over Mississippi State. Last year, the season fell apart after a loss to the Bulldogs.
So when Marshall threw the game-winning touchdown pass, the rest of the team knew just how important that moment was.
"Statistically, if you go back, if we lose to them we always have a terrible year," center
Reese Dismukes
said. "If they lose to us, they have a terrible year. That's always a big one to win. That was really the starting point, the foundation for our season -- that win right there."
Said defensive back
Ryan White
: "It's a huge confidence boost. That's all we talked about -- this game could make us or break us -- sort of like it did last year."
It's safe to say this year's game has made the Tigers. Although they lost to LSU the following week, the Tigers have since run off five straight victories. The team's confidence seems to grow with every game, and it will be needed as the Tigers prepare for their final three games, starting with a trip to Tennessee this weekend.
And while the Tigers feel good about where they are going, Malzahn says the mentality hasn't changed.
"… I really feel like this team's grounded," Malzahn said. "They bought into taking it one game at a time. I don't hear anybody talking about anything looking forward. That's a lot of maturity from our older guys as far as leadership. They've done a very good job in that area."
But the excitement around the program is back. As Malzahn noted, the fans didn't know what to make of this Auburn team in that SEC opener against Mississippi State. Even the players were a little unsure of how good this team really was. Now, six wins later, there's a belief that the Tigers can beat anybody.
"When you start winning games, that brings more and more people to believe in what's going on here," Dismukes said. "Everybody has joined in together and really taken a part. Everybody is getting better each week."
Funny what a game-winning touchdown drive in September can do for you.
November, 2, 2013
11/02/13
7:00
AM ET
Auburn is currently riding a four-game winning streak, and the Tigers have gained at least 600 yards in their last three games. The only other teams to have a similar streak this season are Baylor and Oregon, two of college football's most prolific offenses. Auburn hopes to continue the streak this weekend when it visits Arkansas.
Here are five things to watch from Saturday's matchup with the Razorbacks:


Nick Marshall's status:
The Auburn quarterback injured his shoulder in the first half of last week's win over Florida Atlantic. He's been able to practice this week but remains questionable for Saturday's game. Auburn coach Gus Malzahn said it would likely be a game-time decision between Marshall and freshman signal-caller
Jeremy Johnson
. The staff pulled the redshirt off Johnson last month against Western Carolina, and he responded. He's played significantly in two games, throwing for 393 yards and six touchdowns. Still, if Marshall can play, Malzahn will likely go with his starter. He's the better runner of the two.
The Batman formation:
There was a lot of controversy this week between Malzahn, Arkansas coach Bret Bielema and the game tape. The play in question was out of a formation Auburn lines up in during extra points, called the "Batman" formation. Holder
Ryan White
, who was a quarterback in high school, starts in the shotgun, and he makes the call whether or not they go for two or kick the extra point. On the season, Auburn is 2 for 4 on 2-point conversions. It will be interesting to see what the Tigers do when they score their first touchdown Saturday.
A quarterback's nightmare:
If there's one thing both Auburn and Arkansas do well, it's get to the quarterback. Both teams have 20 sacks this season, tied for second in the SEC behind Missouri. The Tigers' pass rush has greatly improved with the return of senior defensive end
Dee Ford
. After missing the first two games due to injury, Ford has recorded six sacks in his six games back. He's among the top 10 in sacks per game. Meanwhile, the Razorbacks have two of the league's top pass rushers. Senior defensive end
Chris Smith
leads the team with six sacks, while his counterpart
Trey Flowers
has four. The quarterbacks will have to watch their back.
Freshman phenom:
Through the first five games, Arkansas running back
Alex Collins
led the SEC in rushing. He's tapered off some in the last three games, but he's still one of the more dangerous backs in the league. Auburn struggled against LSU's pro-style, power offense back in September, and the Razorbacks will try and emulate the same game plan come Saturday. Expect a heavy dose of Collins and fellow running back
Jonathan Williams
. The Hogs' duo has totaled 1,409 yards rushing and eight touchdowns this season.
Clutch Tigers:
Auburn would rather not have to come back or play a close game into the fourth quarter, but it's not out of the question when you play on the road in the SEC. If the situation were to present itself on Saturday against Arkansas, the Tigers have proven they're more than capable of coming through in the clutch. Auburn is 4-0 this season in games decided by eight points or less, including come-from-behind wins against Washington State, Mississippi State and Texas A&M. The most notable was the Mississippi State game, when Marshall led the Tigers on a game-winning drive in the final two minutes.
October, 28, 2013
10/28/13
4:30
PM ET
AUBURN, Ala. -- It was late in the first quarter. Auburn had already jumped out to a 21-0 lead over Florida Atlantic and looked well on its way to a rout. The Owls had just taken over at their own 9-yard line when
Jonathan Jones
blew up a screen and tackled the wide receiver behind the line of scrimmage on the first play.
[+] Enlarge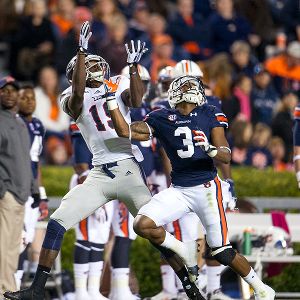 Michael Chang/Getty ImagesGetting sophomore cornerback Jonathan Jones back from injury gives Auburn another man to play in a thin secondary.
Looking back it was just another tackle for loss in Auburn's 45-10 victory, but for Jones, it was much more than that. It his first tackle in what has been a season plagued by injury.
"It felt good to get back in the groove of things, to get the rust off," he said. "Once I made that play, I was in it for the rest of the game and was able to help contribute."
The sophomore cornerback missed the first four games with a broken bone in his ankle, an injury he suffered when he slipped on some wet steps during fall camp. He returned against Ole Miss but played sparingly. He sat out the next game with a separate injury to his leg, and although he made the trip to Texas A&M, he hardly played against the Aggies.
"I was definitely frustrated," Jones said. "But I've got good teammates and good coaches that helped me stay positive, look forward and know that I'll be back soon. I just prayed with my mom, prayed through it and tried to stay positive -- motivate the teammates, try to stay involved as much as I could even though I was hurt."
Now, Jones is back and a major part of this Auburn defense.
"It's exciting," he said. "I've been waiting for the opportunity to get back out there with my teammates, just have fun and contribute."
The excitement spilled over to the field Saturday. After making the tackle for loss, Jones broke up a pass on the very next play. He later energized both his teammates and the crowd with a bone-jarring hit on a kick return.
"He's been getting a lot of reps in practice," fellow defensive back
Jermaine Whitehead
said. "They finally worked him in the rotation in the game, and he do what he always do. I expected that from him -- to be a big-time player, small guy that plays really big."
For Auburn, Jones' return couldn't have come at a better time. The Tigers recently lost starting safety
Joshua Holsey
for the season with a torn ACL. The staff moved cornerback
Ryan White
to safety to make up for the loss, but that left very little depth behind
Chris Davis
and
Jonathon Mincy
at the cornerback position.
"We're very thin back there," defensive coordinator Ellis Johnson said. "Getting [Jones] back was very important. We had to move Ryan White inside with the loss of Holsey. We lost our leading returning tackler at the beginning of the season -- never played a down.
"We keep moving guys inside, so it's very important that Rudy (
Johnathan Ford
) and Jonathan [Jones] come along and give us some quality depth at corner."
In addition to losing Holsey, the Tigers also lost starting safety Demetruce McNeal, who was dismissed from the team during fall camp. They have been without at least four other defensive backs -- Jones, Chris Davis,
T.J. Davis
and
Kamryn Melton
-- at one point or another through the first eight games. Still, the unit is holding it together.
"We're growing on it," Whitehead said. "We lost a couple of key players, but guys stepped in and made remarkable moves. It's been a great turnaround."
October, 27, 2013
10/27/13
10:00
AM ET
AUBURN, Ala. -- There was no hangover from Auburn's win over Texas A&M last weekend. The Tigers jumped out to a 21-0 lead in the first eight minutes and cruised to a
45-10 win
over Florida Atlantic on Saturday. Here's what we learned from the game:

Johnson better be ready:
It might not be Saturday against Arkansas, but freshman quarterback
Jeremy Johnson
needs to be prepared, because there is a strong possibility his number will be called in a meaningful situation down the stretch. Starter
Nick Marshall
left Saturday's game in the second quarter with a shoulder injury, and it was up to Johnson to take the reigns. The game already was getting out of hand, but based on Marshall's track record and his desire to run the football, it wouldn't be shocking to see him go down again at some point this season. Also, depending on the severity of Marshall's injury, Johnson still very well could get the start when the team travels to Fayetteville next weekend.
Running wild:
Auburn entered the week as the SEC's top rushing offense, and after 422 yards on the ground against Florida Atlantic, it's safe to say the Tigers still will be on top heading into next weekend. It was Auburn's third straight game with more than 300 yards rushing and the fourth of the season.
Cameron Artis-Payne
led the way with 93 yards on 13 carries, but 10 different players got a carry Saturday. Although nobody reached the century mark, the team averaged 7.2 yards per carry, and four players had runs of more than 30 yards. Artis-Payne, Marshall,
Corey Grant
and
Tre Mason
all scored touchdowns for the Tigers.
Secondary gets a boost:
It has been just more than a week since Auburn lost starting safety
Joshua Holsey
for the season with a knee injury, but the Tigers welcomed back sophomore cornerback
Jonathan Jones
on Saturday against Florida Atlantic. Jones had played in only one game this season due to various injuries, but he looked healthy against the Owls. On his first series, Jones made a tackle for loss and broke up a pass on the very next play. He also energized the crowd with a huge hit on special teams later in the game. When healthy, Jones will serve as the third cornerback behind
Chris Davis
and
Jonathon Mincy
. His presence makes it easier for Auburn to keep
Ryan White
at safety for the foreseeable future.
October, 26, 2013
10/26/13
7:00
AM ET
Auburn will play its fourth and final non-conference game this Saturday against Florida Atlantic, and based on recent history, the Tigers should feel pretty good going in. They have won 22 straight and 29 of their last 30 non-conference home games. All but four of those wins came by double figures.
Here are five things to watch during Saturday's clash with the Owls:


Avoiding the hangover:
Auburn is the far superior team Saturday. Even if the Tigers were sitting at 3-4 right now, they would still be heavy favorites against Florida Atlantic. But they're not. They're 6-1 and coming off a road win against a top-10 team. They're ranked No. 11 in a season where most thought they'd be lucky to crack the top 25. How will they approach this game now? Gus Malzahn and his staff have done a good job of staying the course and not looking too far ahead, but don't be surprised if Auburn overlooks the Owls and comes out a little flat.
Secondary shift:
Starting safety
Joshua Holsey
missed the Texas A&M game due to injury, and it was announced Sunday that he would be out the remainder of the season with a torn ACL. Auburn shifted some players around in the secondary, moving
Ryan White
into the starting lineup, and it paid off against the Aggies. White made his first career interception, and fellow safety
Ryan Smith
also added a pick. But how will that alignment work for the rest of the season? There's also a chance that cornerback
Jonathan Jones
will return to the lineup Saturday, adding yet another piece to the revolving puzzle the secondary has become.
Dueling quarterbacks:
There's no quarterback controversy on the Plains, but the staff didn't take the redshirt off freshman signal caller
Jeremy Johnson
for no reason. He was 0 for 2 passing against Texas A&M, but he's expected to play a bigger role in the future. Saturday's game is the perfect opportunity for the former ESPN 300 recruit to gain some more experience.
Nick Marshall
showed why he's still the starter against the Aggies and he'll likely play the majority of this game, but if the Tigers get up big, they could turn the reigns over to Johnson in the second half, if not sooner.
Ford focus:
If all goes well, there should be plenty of newcomers who see the field for Auburn on Saturday, not just Johnson. The one to keep an eye on is
Johnathan Ford
. He was a running back in high school but converted to cornerback when he arrived on campus. He played sparingly through the first six games and even scored a touchdown -- as a running back -- against Western Carolina two weeks ago. He'd love to get a chance to get in the end zone again, but the audition that matters will come on the defensive side of the ball, where he could earn more playing time in a depleted secondary.
Atmosphere at Jordan-Hare:
Toomer's Corner hadn't seen a rolling like last Saturday since the 2010 season when Auburn won the national championship. The excitement around the program is back. Before the season, not many people circled this game on the calendar, but don't be surprised if the atmosphere is better than expected because the fans want to support their team now more than ever. That's what winning will do. The Tigers have yet to lose at home, and they would love nothing more to finish that way. They still have Alabama and Georgia coming to town, but it starts Saturday with Florida Atlantic.
October, 22, 2013
10/22/13
5:30
PM ET
As expected, Auburn coach Gus Malzahn confirmed Tuesday that starting safety
Joshua Holsey
would miss the remainder of the season due to injury. Holsey tore his ACL during practice last Thursday and missed the Texas A&M game.
"That is a tough blow for our defense," Malzahn said. "It was a freak injury on Thursday towards the end of practice."
However, when one man goes down, it creates an opportunity for another. That was the case for
Ryan White
. The senior cornerback was asked to move to safety to help make up for the loss of Holsey. He had no prior experience at the position and no practice time to speak of.

"We brought him in that morning," defensive coordinator Ellis Johnson said. "Coach [Charlie] Harbison spent a few hours with him and he had a walk-through that afternoon with the unit. He knew the position mentally -- just being a defensive back, he knows what that guy does.
"The adjustments and the alignments and being in the right place and coverage leverage. I thought he did a magnificent job with no practice."
Against Texas A&M, White finished with five tackles and an interception, the first of his career. On Tuesday, Malzahn said he plans to move the 5-foot-11, 196-pound defensive back into that role -- the boundary or deep safety -- for the foreseeable future.
The move allows for
Ryan Smith
and
Jermaine Whitehead
to rotate between the other safety spot and the dime, the position filled by Holsey before the injury.
"Ryan White did a magnificent job of picking up how to play the boundary safety," Johnson said. "We moved Whitehead and Ryan Smith down to the dime and rotated them a little bit. We felt like that was the best thing to do because Whitehead and [Smith] had been working at the dime, backing up Josh, and they knew the position."
Smith also recorded an interception against
Johnny Manziel
and the Aggies on Saturday.
September, 20, 2013
9/20/13
9:00
AM ET
AUBURN, Ala. -- It didn't take long for
Robenson Therezie
to make his impact felt at the new Star position for Auburn. He started the first game, filling in for an injured
Justin Garrett
, and finished with seven tackles and two interceptions. He earned SEC Defensive Player of the Week honors with the performance.
The coaching staff kept him in the starting lineup even after Garret returned, and he kept making plays. Now, Garrett has moved over to the weakside linebacker spot, and Therezie has solidified his spot at Star for the foreseeable future.
[+] Enlarge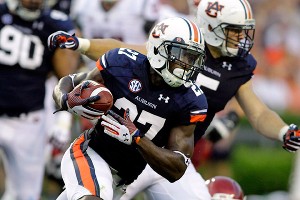 John Reed/USA TODAY SportsWith his speed and the way he hits, Robenson Therezie is a natural fit for Auburn's Star position.
"He's at Star and doing a good job," defensive coordinator Ellis Johnson said after the Mississippi State game. "I think he played better the week before. He certainly played better the first game, but he had a good, solid game."
Therezie started his Auburn career at cornerback, which is where most schools liked him, but it was actually Nick Saban who first saw his potential at the Star position. The Alabama head coach saw Therezie, a four-star propsect, at one of the Crimson Tide's summer camps and was blown away.
"Coach Saban was in love with that young man," Therezie's high school coach Nigel Dunn said. "He really wanted that young man. They really recruited him hard. His highlight tape was -- for a defensive guy, if you're a DB coach like [Saban] is, you want to have that that type of kid. And you don't want to put him at corner. His impact wasn't necessarily covering, even though he could cover, it's what he does when he comes up to hit you."
As a junior at Miami (Fla.) Jackson High School, Therezie had 81 tackles, four interceptions and two forced fumbles. It was his first season playing defense full time.
Before that, Therezie, or Cadillac as they called him, was primarily a running back. However, Dunn took over prior to Therezie's junior season, and all it took was one play on film of Cadillac playing defense, and the former Jackson High coach was sold.
"I saw him make a move, and I was like okay," Dunn said. "I had some guys that made those plays, and all those guys are in the NFL."
The move to defense paid off. Therezie became one of the top safeties in the country. He had offers from the likes of Alabama, Florida, Florida State, Miami and Tennessee, but when it came time to make a decision, he committed to Auburn -- the defending national champions.
When he got to the Plains, he failed to carve out a role on the defense for the first two years he was on campus. He played some cornerback, some safety, but he never found a home.
Then Johnson arrived at Auburn. The new defensive coordinator brought his famous 4-2-5 defense to the Tigers during the offseason, and it didn't long for him to put Therezie at the Star position, the position he was born to play.
"On the field, he's an impact player," Dunn said. "One of the things that I was trying to tell people -- the only person who agreed with me was Nick Saban believe it or not -- that the position that he should have been playing is the position that he's playing right now.
"In my years of coaching -- 25, 26 years of coaching -- I've never met a person that tackled with so much impact. The way the young man tackled scared me. A lot of people said we'll put him at corner, and I was like, 'You guys are crazy.' He's fast and he can cover, but I want a kid like that who can tackle."
Through the first three games in 2013, Therezie already leads the team with 17 tackles including two for a loss. The coaches haven't been able to take him off the field, and his fellow teammates love having him out there.
"Therezie is crazy, man," cornerback
Ryan White
said. "He's a football player. He has been everywhere -- corner, safety, Star. It's just good to have him on the field with his energy. I figured they would find a spot for him somewhere. The Star position was a good spot for him."
On Saturday, Therezie will once again start for this Auburn defense at the Star and could be the key as the Tigers face their toughest test yet -- a trip to Death Valley and No. 6 LSU.
September, 16, 2013
9/16/13
4:00
PM ET
AUBURN, Ala. -- Mississippi State was a make-or-break game for Auburn. Despite two wins to start the season, nobody knew what to expect from the Tigers. They still hadn't won an SEC game since 2011, but were they ready to put that streak behind them? Had they recovered from last year? Was it really a new day?
The players responded.
Auburn rallied to win Saturday
, 24-20, ending its 10-game conference losing streak. A loss could've been crippling, but instead the Tigers have taken another step to restoring the program for both the fans and the players.
"It's like a chip off our shoulder," cornerback
Ryan White
said. "We haven't made it yet, but it feels good to get that notch down. We're already at the amount of wins we had last year, and it just feels good to be on the right track and 3-0."
"I think some people weren't buying into Auburn, but I think after (Saturday), people are taking notice," added defensive end
Dee Ford
.
Through three games, there's an uncanny resemblance to the 2010 season. With a junior college quarterback leading the way, Auburn blew out Arkansas State early in the year and followed it up with a close victory over Mississippi State the very next week. Sound familiar?
In 2010, the Tigers won their first three games en route to an undefeated season and a national championship, but coach Gus Malzahn was quick to point out that this year's team still has a long ways to go to before it can be compared to that team.
"You know, that team was a special veteran group and we're not anywhere close to being veteran," he said. "We're still a work in the progress, but it's a good progress. I really like where were as a team. We're going to have the chance to improve each game, and I think our young guys will grow up and get better."
The younger players will have to grow up quickly this weekend with a trip to Baton Rouge, La., a place where Auburn hasn't won since 1999. The players know it will take a near-perfect performance if they expect to knock off No. 6 LSU on the road.
"LSU has a pretty awesome stadium to play in," kicker
Cody Parkey
said. "They get real loud. I'm a senior, so I've played there before. We're just going to have to execute. There isn't any room for mistakes."
Win or lose Saturday, it's clear the Auburn football program has still taken a step forward from last year. When dealt with adversity against Mississippi State, the team responded. They didn't give up late in the game. They fought back and won.
Malzahn understands how important a victory like that can be moving forward.
"We beat a good team tonight," he said after the game. "I think it does something for our whole team. I think it gives you a shot in the arm. They know they can do it, and they found a way to do it at home. I thought that was huge."
This team might not be the 2010 team, but it proved it's also not last season's team.
September, 15, 2013
9/15/13
9:00
AM ET
AUBURN, Ala. -- It wasn't easy, but Auburn found a way to win Saturday. The Tigers rallied in the final minutes to beat Mississippi State 24-20 and win its SEC opener. Now let's hand out some helmet stickers from the game.

QB Nick Marshall:
He deserves a helmet sticker for his performance on the last drive alone. He led Auburn on a 12-play, 88-yard drive in the final minutes and threw the game-winning touchdown pass to tight end
C.J. Uzomah
with 10 seconds left. He didn't look like a quarterback who was playing in his first SEC game -- he looked like a seasoned veteran. For the game, he finished 24 of 32 for 339 yards with two touchdowns and two interceptions. He's the first Auburn signal caller to throw for over 300 yards in a game since Cam Newton did it against South Carolina in the 2010 SEC Championship game.
WR Marcus Davis:
It was Uzomah who caught the last touchdown, but the Tigers would've never been in that position had it not been for Davis. The freshman wide receiver caught four passes for 38 yards on that final drive. Auburn had been looking for a go-to player at the position, and Davis stepped up against Mississippi State. If nothing else, he proved he was reliable. He finished the game with six total catches, tripling the amount he had through the first two games combined. More importantly, when the game was on the line, Marshall trusted the freshman to make plays, and Davis delivered.
DE Dee Ford:
It was his first game back from injury, but Ford made a significant impact down the stretch. He recorded five of his six tackles in the fourth quarter when Mississippi State was trying to put the game away. He and
Robenson Therezie
combined to tackle quarterback
Dak Prescott
short of a first down on a critical 3rd-and-4 play late in the contest. If the Bulldogs convert there, the game is likely over. It was also a boost for the defense just to have the senior defensive end back on the field. The unit also welcomed back linebacker
Justin Garrett
, who played for the first time all season.
Honorable mention:
CB
Ryan White
Peach State: Top Tier Recruiting Ground?
SEC SCOREBOARD
Thursday, 9/3
Saturday, 9/5