Auburn Tigers:

Rodney Garner
June, 27, 2014
6/27/14
12:00
PM ET
Strange seeing legions of soccer fans
cheering about losses
and ties, but that's World Cup group play for you. Next up in the knockout rounds, they'll settle any ties with a penalty-kick shootout. Seems only slightly more fair. At least college football has the Kansas tiebreaker and not some kind of punt, pass and catch exhibition.
June, 17, 2014
6/17/14
12:00
PM ET
Recuperated from yesterday's U.S.-Ghana match at the World Cup yet? Check out this
snippet of video
that one of my media cohorts in Baton Rouge, Ross Dellenger, shot at the Varsity Theatre shortly after the Americans scored the winning goal. LSU folks know how to celebrate ... that's for sure.
Here are today's SEC links:
June, 9, 2014
6/09/14
8:00
AM ET
It's next to impossible to limit the list of top recruiters in the SEC to just five, but that was the assignment here. It's no surprise to see an Alabama assistant at the top of the list with the recent run the Crimson Tide have been on, but those who follow it closely enough also know there's some tremendous recruiters across the state at Auburn.


April, 9, 2014
4/09/14
9:00
AM ET
AUBURN, Ala. --
Gabe Wright
isn't a defensive end. At 6-foot-3 and 284 pounds, he simply doesn't fit the bill. He's too big, too valuable a space-eater inside at defensive tackle. Moving him to end would be like chasing a sports car with a tank. Some things just don't make sense. Some players just aren't built to play in space.
Yet there he is during practice this spring, lining up on the edge of the defensive line, pinning his ears back and rushing the passer. In doing his best
Carl Lawson
impression, Wright has gotten some fans on The Plains excited. But, as defensive coordinator Ellis Johnson cautions everyone: "I don't foresee that being permanent."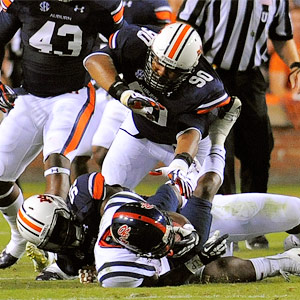 Shanna Lockwood/USA TODAY SportsAuburn's Gabe Wright believes he'd be an effective defensive end in certain situations after getting reps there this spring.
Sorry, folks. The so-called "Rhino Package" won't be an every down occurrence this fall, though the imagery in itself is something to root for -- plumes of dust, the screech of fans in the distance, the target of the hunt a helpless SEC quarterback named
Brandon Allen
or
Dak Prescott
or
Dylan Thompson
.
Wright and fellow tackle
Montravius Adams
aren't the new wave of roughly 300-pound ends, though. They're tackles through and through. Their time spent at end this spring has been only by necessity, making up for a shortened rotation of ends as
Dee Ford
and
Craig Sanders
were lost to graduation. Auburn took another hit when
LaDarius Owens
broke his foot,
Keymiya Harrell
went down with an unspecified injury and
Elijah Daniel
hurt his groin, leading to one of the more perplexing out-of-context quotes of all time from Johnson: "Groins can be funny."
When asked if Auburn was thin at end, head coach Gus Malzahn responded, "We definitely are."
On the bright side, it's making things interesting for the rest of the defensive line.
"It's a blessing for me to get on the edge," said Wright, who played some end in high school. "We had some guys go down, some depth issues this spring. So guys had to step up."
The blessing, for someone like Wright, is obvious.
"Let's see: End, you get maybe 30 percent of a double team," he explained. "When I'm inside, I get 90 percent of a double team."
Wright, who finished second on the team with 8.5 tackles for loss and third with three sacks a year ago, said that spending time at end has helped him work on his pass-rushing skills. No longer struggling for space to move in a double team, he can get off the line and either rush the edge, swim inside or go one-on-one and bull-rush an offensive lineman.
Versatility, though, might the biggest benefit to having both Wright and Adams at end this spring. When opposing offenses go into jumbo packages, expect to see a few more big bodies along the defensive line this season.
"I think it does nothing but help us moving forward," Malzahn said.
Said Wright: "The fact that we can maybe go four D-tackles at one point, that just amazes me. It's like, What do you do? We can bull-rush the tackles and we can bull-rush the ends."
When asked point blank whether he genuinely expected to play outside, Wright hedged his bets.
"When we do have teams like Arkansas, Alabama, LSU -- and this is not what coaches have told me -- I just believe it will be a factor," he said. "You've got two-, three-tight-end sets. Why not be able to put a D-tackle out there?"
Whether he's at end or tackle, one thing will remain the same: Defensive line coach Rodney Garner will be there in his ear shouting words of, say, encouragement.
"All the same," Wright said of Garner's colorful vocabulary. "It's all 'exciting', 'exquisite' and 'extraordinary.' "
And expletive?
"Expletive," he said. "Very expletive."
March, 11, 2014
3/11/14
10:00
AM ET
This is Part II of a weeklong series predicting what changes are ahead for Auburn this spring.
AUBURN, Ala. -- There have been plenty of questions surrounding Auburn's defensive line this offseason. How do you replace a guy like
Dee Ford
? Who will be the leaders now that Ford and
Nosa Eguae
are both gone? What should be expected of the rising sophomores? Will any of the newcomers make an impact?
Here's a bold prediction for the spring: The defensive line will be better in 2014 than it was in 2013.
How can that be when Auburn is losing a combined 20 tackles for loss and 12.5 sacks from Eguae and Ford? Three reasons -- star power, experience and depth. The line was the strength of the defense a year ago, and it's expected be the strength again this season.
The key will be that trio of rising sophomores --
Montravius Adams
,
Elijah Daniel
and
Carl Lawson
-- who should evolve from promising young rookies to the dominant defensive linemen that Auburn fans have grown accustomed to seeing over the years.
[+] Enlarge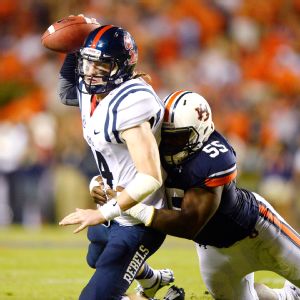 AP Photo/Todd J. Van EmstCarl Lawson showed he could be Auburn's next defensive star after a solid freshman season.
All three came to Auburn as highly ranked recruits, and though they had their moments last fall, it was clear they were still raw. As spring practice approaches, they have had a chance to play in the SEC, and they've been able to work out in a major college weight room. They're ready, both physically and mentally, to take the next step.
Lawson, in particular, could be in line for a huge spring as he looks to replace Ford at one of the defensive end spots.
"That guy is going to be a mammoth player by the time he leaves here," Eguae said of Lawson, a former five-star recruit.
The talent and star power might be in the sophomore class, but experience cannot be taught, and Auburn has plenty of it. With defensive tackle
Jeff Whitaker
expected to return for a fifth season, the Tigers will feature five scholarship seniors on their defensive line.
It's a group that includes
LaDarius Owens
and
Gabe Wright
, two starters from the BCS title game. They might not be as good as Eguae and Ford just yet, but the duo still combined for 13.5 tackles for loss and 5.5 sacks last season. Former junior college transfer
Ben Bradley
is another senior to watch. He played well early in the season but faded late.
Auburn also signed six defensive linemen in 2014 to add even more depth to an already deep unit. The three most likely to contribute next year are juco teammates
DaVonte Lambert
and
Devaroe Lawrence
and ESPN 300 defensive end
Andrew Williams
, who waited until signing day before choosing the Tigers.
"That was a strength of ours last year," head coach Gus Malzahn said of the defensive line. "We lost some seniors, but we really feel like we filled our needs there. We got some outstanding impact players that coach [Rodney] Garner is very excited about."
All four starting spots on the defensive line will be up for grabs, but Garner proved last season that just because a player isn't in the starting lineup doesn't mean he's not going to play. Early in the year, Auburn was rotating eight or nine bodies up front. Garner and defensive coordinator Ellis Johnson will have plenty of options to choose from as they put together the rotation for the season opener. It's a pool of players that's talented, experienced and deep.
February, 10, 2014
2/10/14
12:00
PM ET
What a historic moment from former Missouri defensive end Michael Sam. Hats off to one of the SEC's best players in 2013.
November, 15, 2013
11/15/13
1:30
PM ET
AUBURN, Ala. --
Aaron Murray
isn't about to face his former team. He didn't rush for 214 yards and two touchdowns last week, earning SEC player of the week honors. He's not
Nick Marshall
.


But amidst all the injuries, Murray has remained the one constant for this Georgia football team.
Despite losing multiple weapons on offense, Murray is still third in the SEC with 2,477 yards passing and tied for second with 20 touchdowns. On Saturday, the senior threw his 115th career touchdown pass to become the league's all-time leader.
"He's good at everything does," Auburn coach Gus Malzahn said. "He can hurt you in the pass game. He's a veteran guy. He's pretty fast when he takes off, and he knows how to run an offense. He's one of the better quarterback to ever play in this league, and I think that says it all."
But Auburn has an ace up its sleeve when Murray comes to town this weekend. First-year defensive coordinator Ellis Johnson has been around the SEC, and he faced the Georgia quarterback twice while he was running the defense for South Carolina.
As a freshman, Murray finished 14-of-21 for 192 yards against the Gamecocks with no touchdowns and no interceptions. He was sacked three times. The next year, he fared better, throwing for 248 yards and four touchdowns, but Georgia still lost. He's won a lot of games in his career, but he's yet to beat Johnson.
[+] Enlarge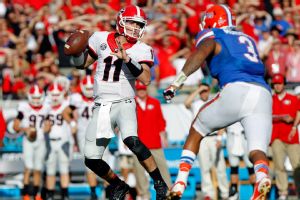 Kim Klement/USA TODAY SportsAaron Murray's experience will help against Auburn, but he'll face a defense that can lean on its defensive coordinator's experience.
"He's gotten better each year," Johnson said. "You could tell he was a winner and he was a playmaker in his early years, but I've noticed how much better he feels when he needs to move in the pocket. He knows when he can extend the play, and he's doing some things that a veteran, if you will, knows how to do."
Johnson will have his unit prepared and Auburn has improved dramatically under Johnson.
The Tigers are up 44 spots from last year in scoring defense (66th to 22nd). They have allowed 204 points through the first 10 games, the fewest points Auburn has allowed through 10 games since 2008. They're also second in the SEC in red zone defense.
"He's outstanding," Georgia coach Mark Richt said. "There's a reason why Auburn is playing so much better on defense. He's got a long history of going to different places, and within the very first season, turning that thing around statistically in a big way. He's done it again here at Auburn.
"As much as running the football has been big for Auburn and Nick Marshall playing great has been big, the defense has been a big part of this turnaround as well."
Johnson isn't the only one who knows the Bulldogs well. First-year defensive line coach Rodney Garner spent 15 seasons in Athens, Ga., before accepting the same role with Auburn in the offseason. He knows this Georgia team inside and out.
But familiarity with a team only goes so far.
"I think people know what we're going to do," Richt said. "So can they out-execute us? Same thing with us, can we out-execute them? After a while, there's really not many secrets. The reality is we all get each other's film. We get every single game film that we want, so you can't really hide what you do."
There's a lot at stake for both teams Saturday. Murray is hoping to keep Georgia alive in the SEC East, but it's up to Johnson and this Auburn defense to stop him. The Tigers are just two wins away from a trip to Atlanta for the conference title game.
Spears to cover Auburn Pro Day
SEC SCOREBOARD
Thursday, 9/3
Saturday, 9/5