April, 4, 2014
Apr 4
9:00
AM ET
AUBURN, Ala. -- When asked about newcomer
D'haquille Williams
, the nation's top junior college player,
Nick Marshall
said he has been very impressive to this point, but the senior quarterback was quick to point out that
Auburn
has a number of other great wide receivers this season, too.
[+] Enlarge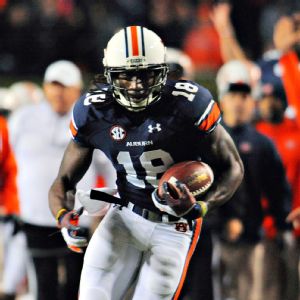 Shanna Lockwood/USA TODAY SportsTop wideout Sammie Coates and the rest of the Tigers' receiving corps from 2013 return this season.
That's because with the exception of
Trovon Reed
, who moved to cornerback this spring, the Tigers have their entire receiving corps back from last season.
Sammie Coates
, the team leader in receptions, yards and touchdowns, is back for his junior season.
Ricardo Louis
, the hero from the Georgia game, has returned this spring with an added chip on his shoulder.
Quan Bray
and
Marcus Davis
, two reliable slot receivers from a year ago, are both back to solidify the position again in 2014.
Throw in former ESPN 300 stars
Tony Stevens
and
Dominic Walker
, who are both coming off their first seasons on the Plains, and what's not to like if you're Marshall?
"I think the biggest thing is the depth," Auburn coach Gus Malzahn said. "That is the biggest difference [from last spring]. We've got two, sometimes three at each position that at least have a good idea of what is going on. We're trying to give those guys all a chance to show what they can do. That's a good thing moving forward."
Last spring, Bray was Auburn's top returning wide receiver after catching only 14 passes in 2012. Nobody else on the roster had more than 10 catches the season before. Needless to say, the position was a huge question mark.
That's no longer the case. There still might be questions as to who the go-to target will be -- though Coates filled that role admirably in 2013 -- but for the first time since the Tigers won the BCS title in 2010, there's depth and experience at receiver.
"This year, I think it'll be more like everybody eats," Stevens said. "Right now, we've got so many weapons on offense from the running back position to the offensive line to the skills. If you stop one of us, then you've got plenty more receivers in the slot, or at running back with
Cam [Artis-Payne]
,
Peyton [Barber]
and
Corey [Grant]
."
The surplus at wide receiver has also led to more competition this spring, and more competition only makes the position better.
"Coach [Dameyune] Craig is really working hard to make us become the best receiving corps in the nation," Louis said. "We do a lot of drills on and off the field. Times we don't have practice, we'll be out together doing drills."
The orchestrator of the extra workouts has been Marshall. The dual-threat QB wants to improve as a passer, so he has made it a point to spend time with his receivers this offseason. Whether it's after practice or in study hall, he's taking them out to the field, working on specific routes and coaching them on what he wants them to do.
"We know to have a good season between quarterback and receiver you have to have a good relationship off the field and on the field," Louis said.
The extra time has brought them closer to Marshall, but it's also brought them closer to each other. Despite the fact that they're all battling for playing time this spring, they still want to see each other do well.
"It's a brotherhood for us," Davis said. "Everybody's together. Everybody wants to see each other do good, so we just correct each other and make plays. Everybody feels good when their brother makes a play."
And the more plays made, the better Auburn will be this fall.
March, 28, 2014
Mar 28
10:30
AM ET
AUBURN, Ala. -- When Auburn's five early enrollees arrived in January, their heads were spinning. They were balancing school and studying with workouts, meetings and everything else that comes with playing football. They went from high school, or junior college in some cases, to the daily grind at an SEC program.
It was a difficult adjustment and one that's even harder now that spring practice has started, but each of them has a unique opportunity in front of him. Everybody gets a chance in the spring, and it's no different for the newcomers.
[+] Enlarge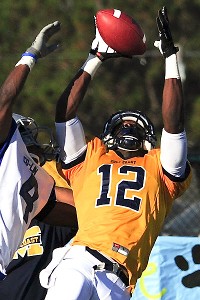 Courtesy of Mississippi Gulf Coast C.C.Juco WR transfer D'haquille Williams has made a big first impression as an early enrollee at Auburn.
"Each guy is a little bit different that came in," coach Gus Malzahn said. "There will be a few of them that will rotate with the first group or with the second group. The great thing about it is everybody's getting reps. Everybody's learning -- the offense, defense and special teams -- really at the same pace."
The headliner of the group is wide receiver
D'haquille Williams
. He was the nation's top junior college player a season ago and one of the more anticipated recruits ever to sign with Auburn. It was hard to miss his 6-foot-2, 216-pound frame the first day of practice, and he's certainly impressed the coaches through the first week.
"You can tell why we needed him and why we wanted him," offensive coordinator Rhett Lashlee said. "He's got God-given abilities that are really good, and I think he'll really add value to our receiving corps."
Williams has been one of the players who has rotated in with the first group early on, and he also has worked some with the kick and punt returners. His addition plus the return of
Sammie Coates
,
Ricardo Louis
,
Quan Bray
and
Marcus Davis
gives the Tigers a talented and deep group of wide receivers for quarterback
Nick Marshall
to throw to.
"[Williams] is very impressive," Marshall said. "He's a guy who will make a play for you when the ball is in the air. We've got great receivers this year. It's going to be sick watching them."
Although it's Williams who has grabbed most of the attention, his junior college teammate
Derrick Moncrief
has been every bit as impressive through the first part of spring. The former Prattville (Ala.) star has played the lion's share at boundary safety with
Joshua Holsey
still on the mend, and he has made the most of his opportunity.
"Moncrief has been an extremely pleasant surprise," defensive coordinator Ellis Johnson said Thursday. "When you get a junior college player who's not played in your system, you always wonder how long it's going to take him to transition. He's making some mistakes out there, as you would expect, but I think at this point, he is way beyond all the new safeties."
The problem will be what to do with Moncrief when Holsey returns, but that's a good problem to have, especially considering the lack of depth back there last year.
The only other junior college player to enroll early was offensive lineman
Xavier Dampeer
, and he, too, has drawn praise from the coaching staff. He's currently backing up
Reese Dismukes
at center, a position that's critical to the offense.
"He's getting reps," Malzahn said. "His snaps have been good. I thought his communication has been good the first few days. He seems like a really football-savvy guy. I think he likes to compete, so he'll have a chance."
For
Chris Laye
and
Stanton Truitt
, the two younger enrollees, the adjustment has been a little more difficult. It has been a little over two months since they finished their high school careers, and now they're in college, practicing with the defending SEC champs.
Still, they're getting an opportunity this spring and have an advantage over the rest of the 2014 signees who won't arrive until the summer.
At the end of the day, the rookies are always going to make a mistake here or there. It's that way at every school. But through the first week, Auburn's early enrollees have not only shown potential. They've shown that they belong.
March, 27, 2014
Mar 27
10:00
AM ET
AUBURN, Ala. -- When
Nick Marshall
sat in the film room and watched last year's tape with offensive coordinator Rhett Lashlee, he saw all of his flaws. He wasn't making the right reads. He was handing the ball off when he should've kept it. He was overthrowing his wide receivers or throwing it behind them. He was tentative at times, afraid to make a mistake.
He didn't look ready.
[+] Enlarge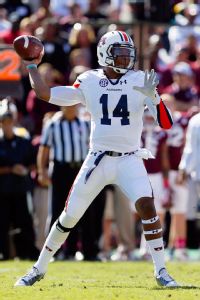 Soobum Im/USA TODAY SportsAuburn's coaches are looking for significant improvement in Nick Marshall's completion percentage.
To his defense, Marshall showed up at Auburn over the summer and had very little time to learn the offense. He had his natural abilities, but playing for Gus Malzahn in the SEC was a far cry from his days of playing in junior college.
"If somebody could go out there and try to play quarterback for us I think it would blow their mind," Malzahn said. "Just pre-snap what they have to do, communication, get everything straight before they even look at the defense. There's a lot to it."
After watching tape from earlier games against LSU and Texas A&M, Lashlee fast forwarded to the Tennessee game. It was like night and day. Marshall completed his first two passes, and midway through the first quarter, he dropped back, went through his progressions, looked off a safety and threw a gorgeous touchdown pass to
C.J. Uzomah
.
Those turned out to be his only three completions in the game, but you could see the poise, the moxie. He was confident again and in control of the offense.
Two months later, Marshall had maybe his best game passing of the season when Auburn played Florida State in the BCS title game. He went 14-of-27 for 217 yards with two touchdowns and one interception in a 34-31 loss to Seminoles. The quarterback who showed up that game looked completely different than the one who was missing throws early in the season.
Fast forward again. Spring practice has started for the Tigers, and the quarterback who sits in the film room with Lashlee is even further along than the one who lost in Pasadena. It's only been a week, but Marshall already looks like he's in midseason form.
"It's just the way he's carrying himself," Malzahn said. "You can tell he's getting more comfortable, and the game's a lot slower for him. He's had a solid first week."
As the game slows down, Marshall's passing picks up. He missed his fair share of deep balls last season, but according to his receivers, he's been putting them on the money this spring. He's also been crisper on the short routes and looks more comfortable in the pocket.
"I'm seeing an NFL-caliber quarterback right now, and it's just the spring," senior receiver
Quan Bray
said. "He's making throws that he wasn't making last year."
"Nick's throwing the ball real good," fellow target
Sammie Coates
added. "It's going to be a shock to the world what he's going to do when he puts it all together."
It's not like running the ball didn't work for Auburn last year. The Tigers led the nation in rushing, and their offense carried them all the way to the national championship game. However, with an experienced Marshall and a talented group of skill players around him, Malzahn expects his quarterback to throw it more this fall.
"Nick's a very talented player, not just running, he can really throw it," Malzahn said. "I know I said that a lot during the fall, but now that he's got a spring, he'll be more comfortable, more reactive and we feel very good about him throwing the football."
Just because Marshall was known more for his rushing abilities last season doesn't mean he doesn't enjoy throwing it. He threw for 3,142 yards the year before while in junior college.
But the goal is not just to have Marshall throw it more. The goal is to have him throw it more and throw it at a higher completion rate. Last week, Lashlee said he wants his quarterback to complete between 65 and 70 percent of his throws. That would be a significant improvement from a year ago when Marshall had a 59.4 completion percentage.
"It's a goal," Marshall said. "It should be a goal. The expectations for us are high this year. I'm just going to do what the [coaches] tell me and complete the passes like they want me to. I'll go through all my progressions and not turn the ball over."
The expectations are high for Auburn this year, and its success rides on both the legs and the arm of its quarterback. The Tigers will go where Marshall takes them.
February, 20, 2014
Feb 20
10:00
AM ET
Editor's note: This is part four in a weeklong series looking at Auburn's top five position groups with room to improve.
AUBURN, Ala. -- With
Nick Marshall
back,
Jeremy Johnson
waiting in the wings and four-star QB
Sean White
expected to arrive this summer, quarterback is one position that Auburn doesn't have to worry about. If anything, it will be improved from last season as Marshall will have a chance to go through spring practice for the first time.
The key will be his development as a passer, though. He led all SEC quarterbacks in rushing last year, but if there's an area where he can improve, it's throwing the football.
"We will see where we're at with the talents around him," coach Gus Malzahn said. "We really feel like we can be effective in the passing game and we can be more balanced, but at the same time, we're going to play to our strengths."
The strengths last year included
Tre Mason
and a dominant offensive line. It didn't include a consistent crop of wide receivers. If Marshall wants to take the next step as a quarterback, it's on the receivers, old and new, to step up and play better.
[+] Enlarge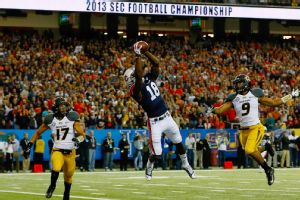 Kevin C. Cox/Getty ImagesAuburn's Sammie Coates might not be a prototypical go-to wideout, but he will likely be Nick Marshall's top target this fall.
Battling for No. 1:
It was a breakout year for
Sammie Coates
. The sophomore had 42 catches for 902 yards and seven touchdowns after catching just six passes the season before. He might not be your typical go-to wide receiver, but he had a connection with Marshall that can't be taught. He'll be leaned on heavily again this season. After Coates, there are a handful of receivers who have potential but have yet to play to their abilities.
Ricardo Louis
is the perfect example. He showed what he can do against Georgia, catching four passes for 131 yards and a touchdown, but the next week he had just two catches for negative yards. The talent is there, but can he put it together? The biggest surprise last year was the play of freshman
Marcus Davis
. He wasn't highly touted coming out of high school, but he made some clutch catches during the season and finished third on the team in receptions (23).
Strength in numbers:
With
Quan Bray
,
Trovon Reed
and
Melvin Ray
all back along with the three players mentioned above, there isn't a lack of options at wide receiver for Auburn. Bray was second on the team with three touchdown receptions, and Ray caught his first touchdown on the biggest stage, the VIZIO BCS National Championship Game. The Tigers also have a pair of talented freshmen --
Tony Stevens
and
Dominic Walker
-- who hope to improve from Year 1 to Year 2. They were both ranked in the ESPN 300 when they signed last February. The biggest boost could come from the return of
Jaylon Denson
. The junior was starting for the Tigers until he tore his ACL in game four against LSU. Denson wasn't known as a pass-catcher, but he was as good a downfield blocker as they had on the team.
New on the scene:
It's fair to say that Auburn's best wide receiver hasn't even been mentioned yet. He hasn't played a down for the Tigers, but
D'haquille Williams
has the size, skill and potential to emerge as the go-to guy in a crowded group of receivers. He was the top junior college player in the country, he enrolled in January, and assistant coach Dameyune Craig tabbed him as a player who could make a
Jameis Winston
-like impact when he gets to the Plains. High praise for a kid who has yet to catch a pass yet, but he's not the only newcomer who could make an early impact. ESPN 300 athlete
Stanton Truitt
is thought to be the fastest player in Auburn's 2014 class, and even if he doesn't break the rotation at wide receiver his first year, he could help the Tigers in the return game.
January, 23, 2014
Jan 23
3:30
PM ET
Editor's note: This is Part IV in a weeklong series looking at the five most pressing concerns Auburn faces this offseason.
AUBURN, Ala. --
Sammie Coates
served as the "go-to" wide receiver for Auburn this past season, and though he exceeded expectations at times, he'd be the first to tell you the Tigers didn't have a true No. 1 receiver.
"It's one thing I like about our team," Coates said. "We really don't have that go-to guy. We have so much talent that you can't really depend on one guy."
Coates led the Tigers with 42 catches for 902 yards and seven touchdowns, but he had five or more catches in just two games and his season-high was only six catches. He could be better described as the team's deep threat, its home run hitter. Coates was an integral part of the offense and arguably the most important pass-catcher on Auburn's team, but a go-to wide receiver? Not so much.
Nobody ever emerged in that role for the Tigers.
[+] Enlarge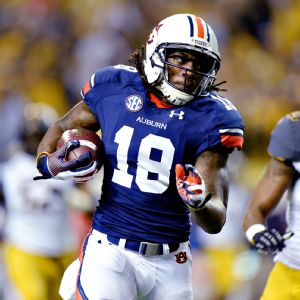 Kevin Liles/USA TODAY SportsSammie Coates emerged as a deep threat as a sophomore and will likely assume a larger role in the Auburn offense next season.
An argument can be made that because Auburn had the nation's No. 1 rushing offense, there was never a need for a true No. 1 receiver. Quarterback
Nick Marshall
was busy running all over teams, therefore he didn't have to pass.
However, the 2014 team won't have
Tre Mason
, the SEC's leading rusher. It won't have
Jay Prosch
, the league's best blocking fullback. And it won't have left tackle
Greg Robinson
, a potential top-10 draft pick who was as good a run-blocker as there was in the conference.
In Gus Malzahn's first season, Auburn ran it on more than 70 percent of its plays, the highest percentage for any non-triple-option offense in the FBS. But that hasn't always been the case in Malzahn's offense, and it likely won't going forward.
"Well, this year [Auburn ran the ball more], but if you look back, we've had years where we've thrown it a lot, and we are going to get more and more balanced next year," Malzahn said.
If Auburn plans to throw it more, the Tigers need to find a true No. 1 receiver.
Coates is better suited as a deep threat, but he could still be the guy. He went from six catches as a freshman to 42 as a sophomore. He blossomed under his position coach, Dameyune Craig, and the chemistry between Coates and Marshall seemed to grow with every game.
"Sammie can really run," Malzahn said before the BCS title game. "Coach Craig has done a wonderful job with him. He's improved each game. Obviously, he gives us a deep threat. Any time you've got a guy who can run as tall as him and can jump, that's a threat. When his time has come and when his number has been called, he's delivered this year."
Another option is
Ricardo Louis
. He had his moments, including a four-catch, 131-yard performance against Georgia, but there was never any consistency. Still, he might be the top true playmaker on the roster.
Freshman
Marcus Davis
, who played beyond his years, is also a candidate, along with senior-to-be
Quan Bray
. Each finished with 23 catches.
Another name to watch is junior college transfer
D'haquille Williams
, the No. 1 player in the
ESPN JC 50 rankings
. He's 6-foot-3, 210 pounds, and he gives Auburn a combination of size and talent that it lacked last year.
"He is a dynamic player that can run, catch and do all of the things it takes to be a great receiver," Malzahn said.
Williams is already on campus as an early enrollee, and the nation will get its first glimpse of him in an Auburn jersey when spring practice begins in March. There's no telling if he'll live up to the hype and become a go-to wide receiver, but the Tigers need to find that guy if Marshall wants to take the next step as a passer.
December, 4, 2013
12/04/13
10:00
AM ET
After losing 16 games combined last season, Missouri and Auburn have come a long ways as they prepare to face off Saturday in the SEC championship game. How, exactly, did both of these schools get here?
Their success on the field this season -- just two losses combined -- is more impressive considering Auburn is in Gus Malzahn's first season as coach and Missouri moved over from the Big 12 to the SEC before last season. Recruiting is tough enough as it is, but going through such a major transition for both programs can be detrimental to a school's recruiting class.
[+] Enlarge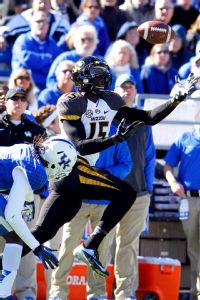 Mark Zerof/USA TODAY SportsFormer No. 1 overall recruit Dorial Green-Beckham has caught 49 passes for 686 yards and 10 touchdowns this season.
If games were determined by recruiting rankings, Missouri would be at a big disadvantage. Over the past five years, Missouri has never finished inside the top 25 in the team recruiting rankings. In that same time period, the Tigers have landed only five recruits ranked in the ESPN 300.
To continue reading this article you must be an Insider
November, 16, 2013
11/16/13
7:00
AM ET
AUBURN, Ala. -- It's called the Deep South's Oldest Rivalry for a reason. When Auburn and Georgia play Saturday, it will be the 117th meeting between the two bitter rivals. That's tied for the fourth most-played current series in the nation, six games behind Minnesota and Wisconsin, which have played a record 122 times.
The winner of Saturday's game will break a 54-54-8 tie in the all-time series. Here are five things to watch for:


Marshall check:
It's a big game for both teams, but even more so for Auburn quarterback
Nick Marshall
. It's been well documented this week that Marshall began his career at Georgia but was dismissed after his freshman season for a violation of team rules. After playing in junior college for a year, he's now on the other side of this heated rivalry. The Peach State native has always been considered calm and cool going back to his high school days, but there's no telling what to expect Saturday. It's critical for him to keep his emotions in check because he's the team leader. The Tigers go as Marshall goes.
Run or pass:
Auburn would love to finish with less than 10 pass attempts Saturday. That means the offense did what it's been doing all season and ran over the opponent. The Tigers are tops in the SEC (3rd nationally) with 320 rushing yards per game. They put up 444 yards last week at Tennessee and only threw the ball seven times. It starts with Marshall, who leads all SEC quarterbacks with 734 rushing yards. He's averaging more yards per attempt and has a higher Total QBR than Cam Newton the year Newton won the Heisman Trophy. However, it's a strong possibility that Marshall will be asked to use his arm more against a stout Georgia run defense.
Gurley man:
Georgia running back
Todd Gurley
might not be 100 percent, but he's back and that could spell trouble for Auburn. The Tigers have struggled against bigger, more physical running backs such as LSU's
Jeremy Hill
or Tennessee's
Rajion Neal
. The latter rushed for 124 yards and a touchdown last week. Gurley is the best of the bunch when healthy. Auburn defensive coordinator Ellis Johnson called him the most physical back in the SEC. He finished with 116 yards and a touchdown last season in Georgia's 38-0 rout over the Tigers.
Out for revenge:
The all-time series might be tied, but Georgia has won six of the last seven meetings between these two, including last year's lopsided affair. The seniors are the only class to know what it feels like to beat the Bulldogs. They did it back in 2010 when Newton was still the quarterback. The game is extra personal for the 26 Georgia natives on the roster. Marshall is the most well known, but starters
Quan Bray
,
Jonathon Mincy
,
C.J. Uzomah
and
Gabe Wright
also hail from the Peach State.
Iron Bowl implications:
It's hard to look ahead, but if the Tigers wins Saturday, it turns the Iron Bowl into a virtual SEC championship play-in game between in-state rivals Alabama and Auburn. Both teams still control their own destiny with just two conference games left for each. It would be the first time since 1994 that both the Crimson Tide and the Tigers entered the game with one or fewer losses in SEC play. However, Auburn knows it can't look past Georgia. The Bulldogs still have a chance to win the SEC East and make a return trip to Atlanta. They need to win Saturday and hope that Missouri loses its last two remaining conference games.
September, 25, 2013
9/25/13
4:00
PM ET
Auburn's search for a go-to wide receiver took a hit on Wednesday when it learned that starter
Jaylon Denson
will miss the remainder of the season. Denson had three catches for 45 yards prior to injuring his knee in the first half against LSU last week.
The 6-foot-3 junior was the team's best downfield blocker and an integral part of the run game. The coaching staff will now have to find a replacement as they continue to look for playmakers to emerge at receiver.
"It's going to have to be by committee from here on out," head coach Gus Malzahn said of the wide receiver group. "It's good that we have an off week that we can working some guys, and right now, we're rotating a whole bunch of guys. After this week, we'll kind of settle in on our plan moving forward."
The primary targets through four games have been
Quan Bray
,
Sammie Coates
,
Marcus Davis
and
Ricardo Louis
. Coates leads the team with 11 catches for 306 yards and finished with a team-best 139 yards against LSU.
With Denson out, former Alabama signee
Melvin Ray
and true freshman
Tony Stevens
could also be in line for more work. Stevens, an ESPN 300 recruit coming out of high school, caught his first two career passes on Saturday.
(
Read the full post here
)
September, 17, 2013
9/17/13
10:00
AM ET
AUBURN, Ala. -- Freshman wide receiver
Marcus Davis
might have dropped a pass in Saturday's win over Mississippi State -- a typical freshman mistake -- but quarterback
Nick Marshall
wasn't concerned about it. He knew he was going to look his way again, and with the game on the line, he did.
On the last drive, Davis caught four passes for 38 yards to help Auburn move down the field and score the game-winning touchdown.
[+] Enlarge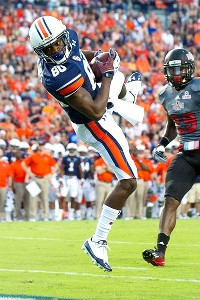 Michael Chang/Getty ImagesThrough three games, Auburn freshman Marcus Davis has 8 catches for 66 yards and a score.
"He developed well tonight because he came through on some of those catches," Marshall said. "I know he had dropped one, but I told him don't worry about it. I was going to come back to him."
For the game, Davis led all Auburn receivers with six catches, but it was his impact on the final drive that drew rave reviews from the coaching staff.
"I was really proud of him," offensive coordinator Rhett Lashlee said. "For a freshman, he came in, he made a lot of big catches, and he was smart. He caught it and got out of bounds, or he caught it and got the first down. … He responded the same way the whole offense did, 'Hey, this is just another drive. The moment's not too big for us.'"
Through the first two games this season, he only had two catches, but when his number was called, he delivered. Nerves were never part of the equation for the young man, even with the game on the line.
"To be honest, I wasn't even looking at it that way," Davis said. "I was just out there playing football."
That's been his way since high school where he was a 5-foot-9, 175-pound quarterback as a senior. When he committed to Auburn, he knew he was going to have to switch positions, but he still had every expectation to play early and to play often. In his same recruiting class, the Tigers landed a trio of ESPN 300 wide receivers, all of whom were ranked higher than he was, but he didn't care. He was going to play as a freshman.
"I just play with a chip on my shoulder," Davis said. "I don't even look into the politics or anything like that. I just play football."
Through the first three games, two of the aforementioned receivers have yet to record a catch while the other failed to qualify academically and landed in junior college.
More importantly, Davis is emerging as the potential go-to wide receiver in Gus Malzahn's offense. Veteran targets
Quan Bray
and
Sammie Coates
have each have hauled in a long touchdown reception early in the season, but it was Davis who looked to be Marshall's No. 1 target down the stretch.
Part of that is what the defense gave Marshall on the last drive, but part too is the developing chemistry between the first-year quarterback and the first-year wide receiver. The two hooked up for a touchdown the week before, the first for both players.
"Each and every week, we're growing up," Davis said. "I just feel like it's going to continue. We're going to continue to grow together."
It's still too early to tell if Davis becomes that go-to wide receiver for Auburn, but he will have plenty of opportunities to claim the role after his performance against Mississippi State.
"Marcus is a guy that, he's a freshman, but he's not playing like a freshman," Malzahn said. "He's really stepped up and you'll see him on the field more."
September, 2, 2013
9/02/13
10:00
AM ET
AUBURN, Ala. -- When Mike Leach was asked about Auburn quarterback
Nick Marshall
after Saturday's game, he said he was curious to see the junior college transfer once he has a couple games under his belt.
That's the best way to assess Marshall's debut with the Tigers. The numbers aren't great -
- 10
0 of 19 for 99 yards through the air with 27 yards on the ground -- but it was his first game. Sure, Cam Newton scored five touchdowns in his Auburn debut, but Marshall isn't Newton, at least not through one game.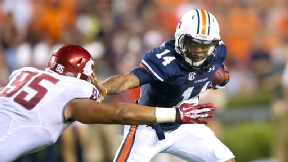 Michael Chang/Getty ImagesNick Marshall didn't dazzle on the stat sheet in his Auburn debut, but the juco transfer avoided turning the ball over.
The fact is that Marshall was nervous. Unlike Newton, he didn't participate in the spring. He showed up on campus just two months ago, and he had jitters in his first game.
"That's to be expected," Auburn coach Gus Malzahn said. "I think a lot of our guys had jitters starting out. He calmed down after the first series or two. I think we had some drops early that probably didn't help either, but he settled down and I think the game slowed down for him."
Marshall was pressing in the first quarter. He bobbled the snap on the first play from scrimmage, and when he tried to make a play, he was tackled for a 4-yard loss. He showed off his arm strength with his first throw, but the ball sailed 10 yards over the head of his intended receiver. It wasn't until Auburn's third drive before he completed his first pass.
"I was playing nervous," Marshall admitted.
In the second quarter, Malzahn opted to play it safe. He turned to his trio of running backs to carry the offense, and Marshall attempted just two passes during the 15-minute period. It was not the first half Marshall was hoping for, but he didn't let it get him down.
"We had a game plan coming in, so at halftime, we didn't make very many adjustments," Marshall said. "[Malzahn] told us to stick to our game plan and keep doing what we've been doing. I wasn't really worried about throwing the ball much. I just stuck to the game plan."
The game plan might not have changed at halftime, but Marshall did. The early nerves seemed to disappear and he found a groove in the second half.
He completed his first three passes, including a 34-yard strike to
Sammie Coates
in which he placed the pass just over Coates' back shoulder where only his receiver could get it. From there, it started to look natural. He found
Jaylon Denson
on the right flat for 11 yards. He connected with
Quan Bray
on the same side for 10 yards. He looked comfortable for the first time.
The strong-armed Marshall still missed on a couple of deep balls, overthrowing his receivers, but even those throws showed more touch in the second half.
"Sometimes it takes awhile," Malzahn said. "We've had our quarterback here for four weeks, and trying to get timing with everything, that should get better as we come. I know there was one (overthrow) that was close. I didn't really get a great look at it, but the one in the end zone was close. We'll just keep working."
At the end of the day, Auburn won the game, and more importantly for Marshall, he didn't turn the ball over. He executed the game plan and protected the football.
"We had a plan coming in, a specific plan, and we tried to stick to it," Malzahn said. "We didn't want to put [Marshall] in a bad situation."
But the first impression still left a lot of question marks. The real assessment won't come until Malzahn removes the leash from his first-year quarterback and lets Marshall make a play, good or bad.
August, 30, 2013
8/30/13
8:00
AM ET
There will be a sense of comfort and familiarity for the Auburn players having Gus Malzahn back on the sidelines for Saturday's opener against Washington State. He's only a year removed from his stint as the AU offensive coordinator from which he already knows most of the team, but it won't be the same. The players are still trying to move on from last year.
"They definitely had a very tough year last year," Malzahn said. "They went through a storm. When you come into the program, there's a lot of things that we had to deal with regarding those things."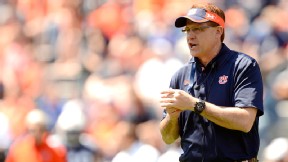 John David Mercer/USA TODAY SportsGus Malzahn is back at Auburn, but everything is different this time around.
But Malzahn wasn't around last year when Auburn finished 3-9 and failed to win an SEC game. He understands the circumstances, but he didn't experience it. All he can do now is try and change the culture back to what it was, but it's up to the players to buy in.
"There is some comfort in knowing what to expect seeing these guys in a game, but everything is different," he said. "It's completely different than it was when I was here before. It's just kind of a new day. I just give everybody a chance to start over and show what they can do."
The first audition for this new-look Auburn team will be Saturday. How will the offense look with new quarterback
Nick Marshall
under center? Will the defense bounce back under new coordinator Ellis Johnson? It should be a good barometer to see how far the Tigers have come since last year's disappointment.
Storylines
What to expect from Marshall at quarterback?
Marshall played just one season at junior college, but the numbers he put up were ridiculous and he was even more impressive on his highlight tape. He's
back at quarterback
where he belongs, and at Auburn he's in a system that looks like a perfect fit. But, it's his first game. He's only been on campus for two months, and growing pains are expected to come with inexperience. Malzahn wants to take it slow at first, easing Marshall into the offense, but he might have to take the reins off Saturday if it turns into a shootout.
Who will emerge as the go-to wide receiver?
When Malzahn took over as Auburn's offensive coordinator in 2009, he asked the same question. Enter Darvin Adams. The junior receiver hauled in a school-record 60 catches for 997 yards and 10 touchdowns. Who will be that guy this year for the Tigers? The likely candidates are junior
Quan Bray
and sophomores
Sammie Coates
and
Ricardo Louis
. Bray is the team's returning leader in receptions with 13, but Coates had more yards and touchdowns. Auburn hopes that one of the three will emerge and become a go-to option for Marshall.
How will the secondary handle Washington State's offense?
It's no secret. Washington State likes to throw the football. Auburn was No. 47 last year against the pass, but they had no answers for the likes of
Johnny Manziel
,
AJ McCarron
and
Aaron Murray
down the stretch. The Cougars don't a quarterback of that caliber, but the AU secondary better come ready to play. It's a secondary that returns four starters, but
Joshua Holsey
will move to safety and former linebacker
Justin Garrett
will debut at the Star position.
Players to watch
Auburn: RB Tre Mason
All eyes will be on Marshall in Auburn's first game, but don't be surprised if Mason has a huge game for the Tigers. Malzahn will want to lean on Mason and his stable of running backs early in the season to take some pressure off his new signal caller.
Washington State: WR Gabe Marks
Washington State played 17 freshmen last year in Mike Leach's debut with the Cougars. The most notable might have been Marks who finished with 49 receptions for 560 yards and two touchdowns. He leads a talented receiving corps, key to the WSU offense.
Quotable
"We're excited about the chance to play Auburn. They're a great team, great tradition and of course, they've got great players. They've had several great recruiting classes on the heels of the national championship. Any time you get to play in a stadium like that, it's a great experience." -- Washington State coach Mike Leach
August, 29, 2013
8/29/13
8:00
AM ET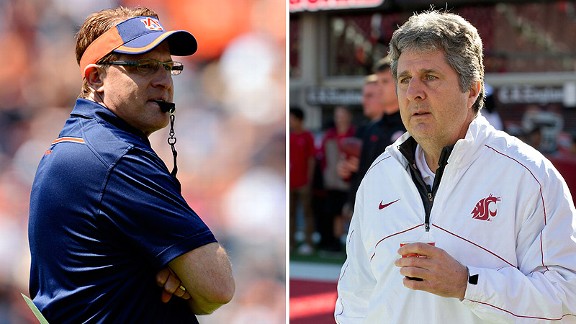 USA TODAY SportsFirst-year Auburn coach Gus Malzahn and second-year Washington State coach Mike Leach are two of the most renowned offensive innovators out of the spread.
AUBURN, Ala. -- It's no surprise that many experts are predicting a shootout between Auburn and Washington State on Saturday. The game features Gus Malzahn and Mike Leach, two of the more innovative offensive minds in college football.
"It's exciting," Auburn wide receiver
Quan Bray
said. "That's what we're looking forward to. Hopefully, it won't be a shootout. On our part it will be a shootout. We're trying to put up 70."
Bray's prediction of 70 points might be a bit of a stretch, but the game should feature plenty of points scored between Auburn's Malzahn and Washington State's Leach.
At first glance, the two teams might look very similar on offense. They both like to spread it out, and they both want to get it in the hands of their playmakers. However, each team runs a very different style out of their spread formation.
"We're a run the football to open up the pass with play-action, and I know they're a pass to open up the run," Malzahn said. "But they've been very successful doing what they do."
As for Auburn?
"A lot of misdirection," Leach said. "They try to spread the field. They like a dual-threat quarterback who can run a little bit for them. A lot of screens, a lot of fake screens. We spread it out to throw it, they spread it out to run it, but both of us can do either one."
The two coaches have never actually met. The closest thing Malzahn has ever seen to a Mike Leach-run offense came when he was co-offensive coordinator at Tulsa and the Golden Hurricane faced a pass-happy Houston squad.
The majority of Auburn's team has not faced an offense like Washington State either. It's quite a bit different than the typical SEC offense.
"I don't really feel like we have faced anybody who is pass-first," cornerback
Jonathon Mincy
said. "In the SEC, every week you have a team that has an outstanding running back. It's a great task at hand that we have, and we're ready for it. We're definitely going to play a lot more man, get in their face and interrupt their routes."
A year ago, Washington State finished just 3-9 in Leach's debut with the Cougars but ranked No. 9 in the country with 330 passing yards per game. In all, the WSU quarterbacks threw for close to 4,000 yards and 23 touchdowns.
"We're playing an opponent that I feel like is going to be much improved," Malzahn said. "They finished the year beating their rival Washington, which is a very big win. They've got the majority of their guys offensively and defensively back. That is definitely a concern.
"And then the fact it's the second year in their system. They've got a proven head coach who's won just about everywhere he's been, so we're expecting those guys to be much improved and a very good opponent for us in the first game."
The expectations are high for Auburn's offense as well, but the Tigers are having to break in a brand new starting quarterback. Junior college transfer
Nick Marshall
put up gaudy numbers last season at Garden City Community College, but he's never directed an SEC offense.
Malzahn plans to play it safe with his new quarterback, but that doesn't mean he wants to slow down the tempo.
"We never plan on starting out slowing things down because pace is one of our advantages," he said. "We're always going to do what gives our team the best chance of winning."
So will Saturday's clash between high-powered offenses turn into a shootout inside Jordan-Hare Stadium? Leach isn't so sure.
"It's tough to say," the Washington State coach said. "First games are always funny that way. First games seldom unfold the way you expect. Both have quality defensive coaches on each team, so I think they'll be well-coached and we'll just have to see what happens."
Scene and Heard: Top 10 Predictions
SEC SCOREBOARD
Thursday, 8/28
Saturday, 8/30
Sunday, 8/31