Auburn Tigers:

Montravius Adams
December, 4, 2013
Dec 4
10:00
AM ET
After losing 16 games combined last season, Missouri and Auburn have come a long ways as they prepare to face off Saturday in the SEC championship game. How, exactly, did both of these schools get here?
Their success on the field this season -- just two losses combined -- is more impressive considering Auburn is in Gus Malzahn's first season as coach and Missouri moved over from the Big 12 to the SEC before last season. Recruiting is tough enough as it is, but going through such a major transition for both programs can be detrimental to a school's recruiting class.
[+] Enlarge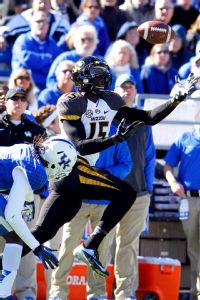 Mark Zerof/USA TODAY SportsFormer No. 1 overall recruit Dorial Green-Beckham has caught 49 passes for 686 yards and 10 touchdowns this season.
If games were determined by recruiting rankings, Missouri would be at a big disadvantage. Over the past five years, Missouri has never finished inside the top 25 in the team recruiting rankings. In that same time period, the Tigers have landed only five recruits ranked in the ESPN 300.
To continue reading this article you must be an Insider
October, 11, 2013
Oct 11
2:30
PM ET
AUBURN, Ala. -- Every year it seems more and more freshmen are playing in college football. It's no different in the SEC. Top programs like Alabama, Florida, Georgia and LSU have started or played first-year players in critical games this season.
The same holds true for Auburn, which signed the No. 11 recruiting class this past February. Head coach Gus Malzahn has said he's not afraid to play freshmen right off the bat as long as they're talented enough.
So what's the secret behind the freshmen impact in the college football?
[+] Enlarge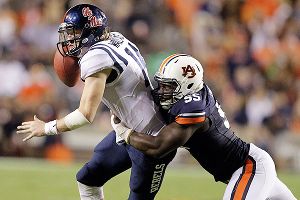 John Reed/USA TODAY SportsFreshman defensive end Carl Lawson had two sacks against Ole Miss.
"Physically, kids are coming out of programs -- they've got better strength programs -- they're bigger, faster and stronger, naturally," AU defensive coordinator Ellis Johnson said. "They're probably coached as good or better than they were, and I just think a lot of them are ready to play at that level, and we're able to find a role for them to play.
"Some of them don't have the competitiveness, some of them don't have the temperament, some of them don't have the fundaments, but heck, the physical talent -- you can look at some in high school and tell, these guys can play with us."
Through the first five games, Auburn has already seen a number of freshmen contributions.
Defensive end
Carl Lawson
earned SEC freshmen of the week honors with his performance against Ole Miss last weekend. The five-star recruit finished with six tackles, including 3.5 for loss and two sacks.
Marcus Davis
emerged as the go-to wide receiver when the Tigers trailed Mississippi State in the final minutes. He caught four passes for 38 yards on the game-winning drive and helped Auburn put an end to their SEC losing streak.
In the season opener, it was defensive tackle
Montravius Adams
who provided a much-needed spark for the defense when he entered the game and sacked the quarterback on his first play.
The Tigers are not yet to the halfway point of the season, but there are still plenty of freshmen waiting for their opportunity. If all goes well Saturday, there's a strong possibility some of them might receive that chance against Western Carolina.
"First and foremost, we've got to go win the football game," offensive coordinator Rhett Lashlee said. "And we've got to play well. But there are some guys like a
Tony Stevens
that you'd like to get more action. Marcus Davis is already playing more. I think a guy like an
Avery Young
, maybe try to get him more meaningful reps, too."
On defense, the freshmen players who are most likely to see more action include the trio up front -- Adams, Lawson and
Elijah Daniel
-- cornerbacks
Johnathan Ford
and
Kamryn Melton
, and possibly
Mackenro Alexander
, a defensive back who recently moved to the Star position and played against Ole Miss.
"Mackenro got about nine reps to sub [
Robenson Therezie
], and I bet those reps, down the line, are going to help him," Johnson said. "That's the first time he's had any true game experience. He did some good things. We hope in the future we can give him some rotation a little bit out there."
But the freshmen who has received the most attention this week is quarterback
Jeremy Johnson
. The ESPN 300 recruit has yet to play a snap this season, but with starter
Nick Marshall
still questionable with a knee injury, there's a chance the staff turns to Johnson on Saturday. He battled for the starting job during fall camp.
"We have not played him yet, and I know obviously it is getting to a point now where you have to do what is best for him and what is best for your team," Malzahn said. "But he is still getting a lot of reps in practice and he is improving, there is no doubt."
October, 10, 2013
Oct 10
8:00
AM ET
AUBURN, Ala. -- It's Homecoming week which means a lesser opponent for Auburn on Saturday, but that doesn't change anything for the Tigers. They're treating Western Carolina like any other team, even with Texas A&M looming.
"There's a lot of different philosophies," offensive coordinator Rhett Lashlee said. "Some people want to spend a week and just work on the next opponent and some people don't.
[+] Enlarge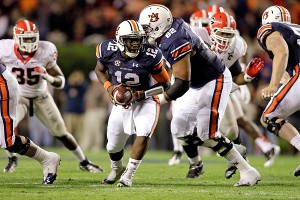 John Reed/US PRESSWIRECould backup quarterback Jonathan Wallace see some action for the Tigers vs. Western Carolina?
"We're more of the mind-set that we want to treat it (like a regular game). We want to try to keep things consistent for our guys. So for the most part, it's going to be a normal game week. We're preparing for one opponent, and we're not really going to work ahead at all."
Auburn is 2-0 against Western Carolina, including a 56-0 win over the Catamounts in 2002, their most recent meeting.
What Auburn needs to do to win:
It's safe to say Auburn will likely win the game, but it's not as much about the outcome or the final score as it is about the team playing well and improving. The Tigers are currently riding a wave of momentum, and they want to continue that through this weekend and into the Texas A&M game. Western Carolina has given up more than 40 points in four games this season, so the offense should have no trouble moving the ball. It would be a victory for the defense, which has given up their fair share of yards, to keep the Catamounts out of the end zone or off the scoreboard altogether.
Players to watch
Auburn QB Jonathan Wallace:
Starting quarterback
Nick Marshall
suffered a minor knee injury against Ole Miss, and although it's likely he'll play, Auburn coach Gus Malzahn hasn't ruled one way or the other yet. If Marshall can't go, Wallace is next in line to get the start. He started four games for the Tigers a year ago.
Auburn DT Montravius Adams:
How much will he play? Adams suffered a leg bruise which kept him out of the second half against Ole Miss. The coaches say he's fine, but it will be interesting to see how much he actually plays Saturday. If he does suit up, he'll be hungry to match the performance fellow freshman
Carl Lawson
had last weekend.
Quotable
"Whenever you have one of your players carted off, that is one of the worse feelings you can have as a coach. I looked up and saw him back on the sidelines standing up and moving with a smile on his face. That gave me a lift, and I am sure it gave the rest of our coaches and players a lift, too." -- Gus Malzahn on
Cassanova McKinzy
's neck injury from Saturday
October, 8, 2013
Oct 8
8:32
PM ET
Auburn defensive tackle
Jeffrey Whitaker
will not return to the field this season and will receive a medical redshirt, Auburn coach Gus Malzahn said on Tuesday.
Whitaker started the last two seasons for the Tigers and was expected to be an anchor on the defensive line this year before he underwent surgery on his right knee during fall camp. The senior was working his way back but will now wait and return in 2014.
"Jeff has been playing banged up the last year or so anyway," Malzahn said. "I think it will be good for him to be healthy. That is our goal -- to get him healthy for next year and have a chance to have his best season."
In 35 appearances with Auburn, Whitaker had 44 tackles, three for a loss, and a forced fumble.
The staff recently moved
Nosa Eguae
from defensive end to defensive tackle, and he joins a rotation that includes two-year starter
Gabe Wright
, junior college transfer
Ben Bradley
and true freshman
Montravius Adams
.
Malzahn also announced on Tuesday that linebacker
Justin Garrett
will not play this weekend because of a foot injury. He has already missed three games this season, and the Auburn coach said Garrett will be "week-to-week" going forward.
On a more positive note, linebacker
Cassanova McKinzy
returned to practice Tuesday after suffering a neck injury over the weekend. He had to be carted off the field.
"That was a scary deal, and it looks like it is going to turn out good," Malzahn said.
The Tigers will host Western Carolina on Saturday at 1 p.m. CT.
October, 1, 2013
Oct 1
8:00
AM ET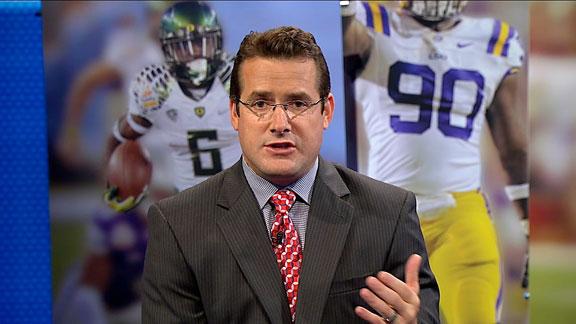 From year-to-year the Southeastern Conference is full of recruiting battles. This year it appears that Alabama and LSU could have some of the best recruiting battles we've seen in a while. Here's a closer look at the five top recruiting rivalries in the SEC.
To continue reading this article you must be an Insider
September, 6, 2013
Sep 6
3:30
PM ET
AUBURN, Ala. -- It will be a strange feeling for Auburn head coach Gus Malzahn when he looks across the field Saturday and sees his former team. Malzahn coached at Arkansas State last year, and this weekend, the Red Wolves will visit the Plains for a nonconference showdown with the Tigers.


In his one year at Arkansas State, his first as a college head coach, Malzahn finished 9-3 and started their current nine-game winning streak. But when the ball kicks off Saturday, the nostalgia will wear off and the Auburn coach will want nothing more than to put an end to the streak.
"Personally, I care greatly for a lot of their players," Malzahn said. "Their administration was great to me while I was there. It was a very good experience. I am very grateful for the opportunity they gave me.
"Professionally, you have got to flip the switch once the game starts, and you have to do everything in your power to help your team win. We will definitely do that."
It won't be an easy task. Arkansas State hired another bright, young offensive mind in Bryan Harsin, and the expectations are once again high for the Red Wolves. The game plan has likely changed, but the personnel remains very much the same.

Malzahn
"I was very impressed with Bryan," Malzahn said. "We shared ideas. He's one of the best in the business, one of the better offensive minds in all of college football.
"It's going to be a different offensive system. You know about personnel and you know quite a bit about the personnel, but the scheme is going to be different. You don't know what to expect. They have a lot of good football players. That's the thing I know most about it."
Storylines
What to expect from Nick Marshall, part two?
The first game was well documented. Marshall played conservatively, didn't turn the ball over, but turned in a subpar performance overall. Will he take a step forward in his second game? Malzahn hopes so. The Auburn head coach plans to open up the playbook more and more each game for Marshall, and he wants to try and pick up the pace on offense. However, he still wants to keep his quarterback out of potentially precarious situations. With the SEC schedule beginning next week, this would be the ideal time for Marshall to have a breakout game.
Will Auburn's linebackers step up to the challenge?
In the season opener against Washington State, the secondary was tested. Auburn had just one linebacker on the field for the majority of the game. That won't be the case Saturday. Starting Will linebacker
Cassanova McKinzy
will see a lot more snaps as they try to defend Arkansas State's potent rushing attack. The Red Wolves rushed for over 500 yards in the season opener against Arkansas-Pine Bluff. Auburn's middle linebacker combination of
Jake Holland
and
Kris Frost
struggled at times in the first game, but they will have to play better on Saturday.
Who will be the playmaker for the Tigers?
Last week, it was
Corey Grant
on offense and
Robenson Therezie
on defense. Both players came up huge for Auburn in the Week 1 victory. Who will it be this week? There are plenty of candidates, including any one of the three-headed monster in AU's backfield or maybe one of the freshman defensive linemen, but the Tigers need somebody to emerge this weekend. The coaches are also hopeful to find a go-to wide receiver for Marshall to throw the ball to.
Players to Watch
Auburn player to watch: DT Montravius Adams
Stopping the run will start up the middle, and it will be a team effort among Adams,
Angelo Blackson
,
Gabe Wright
and
Ben Bradley
. However, it was Adams who provided the spark last week. He energizes both the crowd and his teammates.
Arkansas State player to watch: RB David Oku
Oku started his career in the SEC with Tennessee. He transferred to Arkansas State after his freshman year, and this is his chance to prove he can still play well against teams in the nation's top conference. The Red Wolves had four different players rush for more than 100 yards last week, but Oku is the most talented of the group.
Quotable
"They've got a lot of weapons back on offense, and I know they've got some really good players back on defense. It's going to take a much better effort from us this week. We're going to have to see that Week 1-to-Week 2 improvement if we want to win the game." -- Auburn offensive coordinator Rhett Lashlee, on Arkansas State
September, 3, 2013
Sep 3
2:30
PM ET
AUBURN, Ala. -- In 2012, the Auburn defense gave up 35 or more points in four of their last five SEC games. The Tigers were in the bottom half of the conference in most statistical categories, including total defense, sacks and interceptions. There was clearly a need for change, and the Tigers turned to some new faces, including renowned defensive coordinator Ellis Johnson, to fix it.
Through two quarters Saturday, however, it looked as if Auburn's defense still had its issues. Washington State racked up 264 yards through the air and 21 points.
[+] Enlarge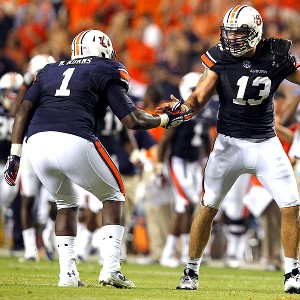 AP Photo/Butch DillFreshman Montravius Adams (right) provided a spark for Auburn's defense against Washington State.
But after halftime, the AU defense clamped down. They still gave up yards to the Cougars, but they made stops when they had to, including a late interception from
Robenson Therezie
, and they held the potent air-raid offense to just three points. The end result was a much-needed victory, specifically for the players who were on the team last year.
"It felt great," defensive end
LaDarius Owens
said. "It's been feeling great ever since the new coaching staff came in. It kind of gave us a new spirit, a new life. It felt good to see that produce us a win. It made us feel like, 'Alright, we're going at it the right way." It is something that we needed."
Johnson knows as much as anybody how important a win like that can be to start the season. He was 0-12 last year as head coach at Southern Miss. What if Auburn had made a mistake here or there and lost the game? Would this defense revert back to old form?
"That was the most important thing that happened, in my opinion the whole night, is that when we had a chance to slip, we didn't," Johnson said. "They stood right in there, played hard, finished the game and got it done. Obviously, they've had a problem doing that in the past."
On Monday, Therezie was named the SEC Defensive Player of the Week, an honor he earned with an outstanding performance, but when the Tigers needed a spark in the second quarter, they turned to true freshman
Montravius Adams
, the No. 2 defensive tackle in the country coming out of high school.
On the first play of his college career, Adams burst into the backfield and sacked the quarterback.
"I was very excited," Adams said. "I wanted to get the team together, so me making that big play helped the team. We all came together, and I think we started clicking a lot better."
Before the sack, Washington State had scored touchdowns on back-to-back drives, but after the play, they never reached the end zone again.
Adams wasn't the only freshman to make an impact for Auburn's defense on Saturday. Johnson said there were times where he saw five freshmen on the field at the same time. The most notable were the three on the defensive line -- Adams,
Elijah Daniel
and
Carl Lawson
-- who rotated in throughout the game.
The trio struggled at times with various assignments, but physically looked the part.
"When they get on the field, they look like they belong on the field," Johnson said. "They're 18-year-old freshmen playing in the SEC, but they look like they fit right in. As time goes on, they get more comfortable in our scheme and start eliminating the mental errors, I think they'll really be a lot better and be more of a contribution."
One of the keys for the freshmen is that they weren't at Auburn last year. They didn't have to go through a difficult and trying season without an SEC victory. They're all used to winning games at the high school level, so it was no different when they won this past Saturday.
"We sang the fight song when all got to the locker room," Adams said. "Everybody was just happy. It was a great way to kick off the season and set the tone for next week."
But for the players who were on last year's team, the win meant even more. The freshman might have been the spark, but now the rest of the unit has more confidence going into the rest of the season.
"A win, regardless of when it comes or how you get it, it always gives you confidence and faith for the future," Owens said.
September, 1, 2013
Sep 1
3:30
PM ET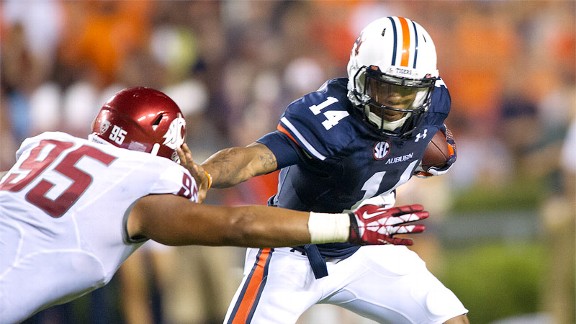 Michael Chang/Getty ImagesAuburn quarterback Nick Marshall improved in the second half and didn't turn the ball over.
After every Auburn game this season, we'll take a look at three trends going up and three trends going down for the Tigers. On Saturday, the Tigers opened the season with a 31-24 victory over Washington State, a game that featured plenty of highs but also some lows.
Three up
1. The running backs:
Nick Marshall
didn't blow anybody away in his debut at quarterback, but fortunately for Auburn, he didn't have to. The trio of running backs carried the Tigers' offense throughout most of the game and made big plays when they needed to.
Tre Mason
was solid with 15 carries for 73 yards, not to mention his 100-yard kickoff return for a touchdown. Junior college transfer
Cameron Artis-Payne
was the bruiser of the group, but he also looked nimble for his size. He finished with 52 yards rushing. And the breakout star was
Corey Grant
, who led the team with 146 yards, including a 75-yard touchdown run in the second quarter. All three look like they're going to play a major roles.
2. Special teams:
It's often overlooked, but Auburn's play on special teams was a big reason why they won. The highlight came on Mason's kickoff return, but both kicker
Cody Parkey
and punter
Steven Clarke
earned their All-SEC nominations with Saturday's performance. Parkey missed a 50-yard field goal early in the game, but he drilled his last three attempts, which turned out to be the difference in the final score. Meanwhile, Clarke punted the ball five times for an average of 41.6 yards and put three of his kicks inside the opponent's 20-yard kube.
Chris Davis
looked impressive on his lone punt return, picking up 19 yards.
3. The newcomers:
Head coach Gus Malzahn said he expected the majority of the 2013 recruiting class to play against Washington State, and while that might have been a little generous, the newcomers still made their presence felt, in particular on defense. When defensive tackle
Montravius Adams
came into the game, he made a sack on his first play. It energized the crowd as well as his teammates. Both
Elijah Daniel
and
Carl Lawson
made appearances at defensive end, and juco tackle
Ben Bradley
also made a key sack for a loss of eight yards.
Three down
1. The secondary:
Auburn made three interceptions Saturday, one more than all of last season, but they surrendered 344 yards passing to Washington State. Granted, they won't have to face many offenses similar to Mike Leach's air-raid attack, but the unit still showed glimpses of last season. There were breakdowns in coverage, including one that resulted in a 53-yard reception and ultimately led to a touchdown, and too many receivers were wide open. However, it's not all on the defensive backs. Part of the blame falls on the front seven and their ability to generate a pass rush, which looked nonexistent at times in the first half.
2. Nick Marshall's first half:
The expectations were set very high, maybe too high, for Marshall coming into the season. It was obvious he wanted to show off his arm strength and make a play early in the game. Instead, he just looked nervous and out of sync in the first half. On his first play from scrimmage, he was indecisive and took a four-yard loss when he was tackled in the backfield. He was just 2 of 8 passing for 20 yards in the first half. The good news is that Marshall settled in during the second half and looked much more comfortable. Still nobody knows what to expect from the new quarterback, but with the nerves of his first game behind him, he should only improve from here.
3. Late turnover:
For three quarters, the Tigers didn't turn the ball over once. Say what you will about Marshall, but he protected the football. However, after an interception by
Robenson Therezie
that looked to seal the victory, Mason coughed the ball up while going for extra yardage. The defense came up with another key stop, but the game could have just as easily gone to overtime. Malzahn showed his trust in Mason by giving him the ball on the next drive, but Auburn has to avoid turnovers, especially late in games.
August, 28, 2013
Aug 28
11:15
PM ET
The starting quarterback was named weeks ago, but Auburn released the rest of its two-deep depth chart Wednesday in preparation for Saturday's opener against Washington State.
As expected, junior college transfer
Nick Marshall
was the first-team quarterback with returning starter
Jonathan Wallace
and true freshman
Jeremy Johnson
listed as the co-backups. Former quarterback
Kiehl Frazier
also made the depth chart, but on defense, a move he made during fall camp. He'll serve as the No. 2 boundary safety behind
Joshua Holsey
.
"I think everyday he feels more comfortable," Auburn head coach Gus Malzahn said. "It's like anything else -- the more you do, the better you'll get at it. He's a competitor. He's a smart football player. He understands offensive concepts. There's a good chance he'll be out on the field [Saturday]."
Returning starter
Jermaine Whitehead
will man the other safety position with junior
Justin Garrett
getting the nod at Star, a new position specific to Ellis Johnson's defensive scheme.
Chris Davis
and
Jonathon Mincy
will start at cornerback for the Tigers.
The defensive line will be without its top pass-rusher
Dee Ford
for Saturday's game, but
Craig Sanders
and former linebacker
LaDarius Owens
will fill in and start opposite of each other at defensive end. Inside, it will be Angelo Blackmon and either
Jeffrey Whitaker
or
Gabe Wright
at the two defensive tackle spots.
A trio of true freshmen defensive linemen --
Montravius Adams
,
Elijah Daniel
and
Carl Lawson
-- were all listed on the depth chart as well as juco defensive tackle
Ben Bradley
. Malzahn expects a majority of the freshmen to play Saturday, headlined by this group.
"Coach [Rodney] Garner, he's going to rotate a lot of guys, especially when you're playing a team that's going to throw it a lot," Malzahn said.
In all, there were eight true freshmen who made the depth chart.
As for the offensive line, the only big unknown was at right tackle where sophomore
Patrick Miller
won the starting job. Miller's backup
Avery Young
earned praise during fall camp, and although he won't start, he has the ability to back up multiple spots on the line.
"Avery's an athlete," Malzahn said. "He can play all five positions if he had to because he's very versatile and very athletic."
Greg Robinson
will start the other tackle spot opposite Miller with
Alex Kozan
and
Chad Slade
penciled in at guard. At center, it will be
Reese Dismukes
, who's started there the last two seasons for the Tigers. He made the Rimington Trophy Watch List preseason.
The skill players are highlighted by running back
Tre Mason
, who was one of the few bright spots last season for Auburn with more than a 1,000 yards rushing. He'll get the start, but Malzahn expects juco star
Cameron Artis-Payne
to make an impact.
"They're pretty much on equal ground right now going into this first game," Malzahn said. "They've both had an outstanding fall camp.
Corey Grant
's a guy you could see in the mix, too. The best thing is we feel like we've got some quality depth at the running back position going in. You can never have enough of that."
Auburn will kick off Saturday at 7 p.m ET against the Cougars.
Four Downs: Week 15