Auburn Tigers:

Mike Evans
November, 22, 2013
Nov 22
5:00
PM ET
It's time for another edition of the mailbag as we move closer toward season's end. Enjoy it while it lasts, because we're in the home stretch of the college football season. Thanks for the questions, as always.
GRIPR (@GRIPR08): Do you think this year's Iron Bowl is going to be as epic as 2010?


I certainly hope so, and based on the way the seasons have gone, but I think it might be hard to match because of everything that surrounded that game. There are some similarities: There weren't a ton of expectations for Auburn coming into this season, which was similar of the case in 2010 (though they were 8-5 in 2009 and 3-9 in 2012). There's a junior college transfer at quarterback for Auburn (Cam Newton then,
Nick Marshall
now) who can run the read-option well. And Alabama was favored going into that game, even though they had two losses and Auburn was undefeated. (I'm assuming Alabama will be favored this time around, too.) But when you think of the controversy that surrounded Newton at the time, the Tigers falling behind 24-0 and having to come back to win by a point with national championship dreams and a potential Heisman Trophy hanging in the balance, the 2010 game was one for the ages. If Auburn pulls off an upset this time, maybe it could get into the conversation, but the fashion in which the Tigers won in 2010 really made it special. Either way, it should be a great game because Auburn has a legitimate shot and Alabama has history in the balance as they try to continue marching toward a third consecutive national title.
---
Ethan Desai (@EDiddy8): Does an 10-2 A&M team go to the Sugar Bowl over a 10-2 Auburn? The Manziel factor has to play a big role for TV purposes.
If it plays out that way -- Auburn loses the Iron Bowl and Texas A&M finishes off by beating LSU and Missouri -- I do think it's very possible that A&M gets chosen for the Sugar Bowl over Auburn, even though the Tigers defeated Texas A&M earlier this season. The reason could be for the very one you stated: the
Johnny Manziel
factor. The allure of having Manziel for potentially his last college game is intriguing for a bowl game. And depending on how the BCS standings shake out, it's possible Texas A&M could finish the regular season ranked ahead of Auburn. I think both programs would be great choices because both are great stories: A&M with Manziel and
Mike Evans
and Auburn with the best turnaround of the season after going 3-9 in 2012. But I think you're intuition is correct if it plays out that way and Alabama punches its ticket into the BCS championship game.
---
Joe Losoya (@thirdcoastcoog): Is Manziel a system QB?

I don't think so. I know there have been quarterbacks who have carried that label after playing in the style of offense that Texas A&M employs (which can also be seen in variations at Texas Tech, Washington State, Houston and other places). People tried to give Case Keenum that label at Houston when Kevin Sumlin was the coach there. Does that offensive scheme make it easier to produce bigger passing numbers? Absolutely. The object is to get the ball out quickly to your good athletes in space, creating a high completion percentage and passing yardage. But if you watched Manziel at Kerrville (Texas) Tivy High School (where "Tivy Fight Never Dies" is the rallying cry) or just watched him in general throughout his A&M career, I think it's clear that he's a special talent. The Aggies actually modified their offensive scheme to fit what Manziel does well, adding designed quarterback running plays that you don't normally see in an "Air Raid"-style offense. Manziel, in my opinion, is a one-of-a-kind player at quarterback who has so many tools and incredible athleticism, it makes him almost impossible to defend. I think he'd succeed in any offensive system you put him in.
November, 7, 2013
Nov 7
12:00
PM ET
We've got football tonight. In fact, there are a couple of pretty big games. That means we're almost to what could be an important weekend in the SEC.
Here are some links from around the league:
November, 1, 2013
Nov 1
9:00
AM ET
This has been an interesting season of SEC football so far, and we're set up for what should be a magnificent finish.
The SEC East got turned upside down, with an unexpected team (Missouri) rising to the top, while the SEC West has seen Alabama do what Alabama does. There have been some epic games (like Georgia-LSU in September and Missouri-South Carolina last week), some terrific individual performances (Texas A&M receiver
Mike Evans
going for 279 and 287 receiving yards against Alabama and Auburn, respectively), lots of injuries, and compelling storylines to follow (the rise of LSU's offense, the
Jadeveon Clowney
saga, and anything involving
Johnny Manziel
).
[+] Enlarge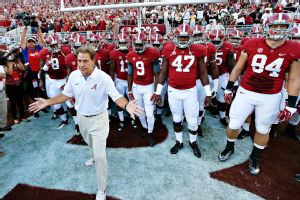 Kevin C. Cox/Getty ImagesWith games remaining against LSU and much-improved Auburn, Nick Saban and Alabama will have a tough time marching through the final month of the season.
Some new coaches (Gus Malzahn at Auburn, Butch Jones at Tennessee) have reason to smile so far, while others (Bret Bielema at Arkansas, Mark Stoops at Kentucky) have endured some mighty struggles. What's left in the coming weeks? Plenty. With six ranked teams in the conference, four of which are in the SEC West, there's still some great theater ahead in the final month of SEC football.
Teams with the most to prove:
Florida and Georgia. Those two teams meet this weekend and, at the start of the year, it appeared to be a game that would have major implications on the SEC East championship. Instead, it's a battle between two teams simply trying to stay alive in that chase. Both have been beat up by injuries quite a bit this season. Because of that and various other reasons, both teams have performed below preseason expectations. But depending on how Missouri and South Carolina finish, the Bulldogs or Gators could still find themselves in the division race if they can get on track in November.
Teams with the most to lose:
Alabama and Missouri. The Crimson Tide have kept a stranglehold on the No. 1 spot since the preseason. The final month of the season, however, won't be quite the cakewalk that October was as a battle against LSU looms, as does the Iron Bowl against a much-improved Auburn squad. With undefeated teams like Oregon and Florida State behind them in the BCS standings, there's a lot on the line for the Tide. Missouri still leads the SEC East, but last week's loss to South Carolina makes things interesting with the Tigers having four SEC games left and just a one-game lead in the loss column over South Carolina, Georgia and Florida.
Three players to keep an eye on:
Texas A&M quarterback Johnny Manziel is still in the thick of the Heisman Trophy race. Even though he's running third in some straw polls behind Oregon quarterback
Marcus Mariota
and Florida State quarterback
Jameis Winston
, a strong November will help his chances, and let's be honest, there might not be anyone as exciting or compelling to watch as Johnny Football. South Carolina running back
Mike Davis
leads the SEC in rushing yards (930) and has averaged a solid 6.2 yards per carry with 10 touchdowns; he has been a linchpin for the Gamecocks this season. But right behind him in the league rushing title chase is LSU's
Jeremy Hill
, who trails by only 8 yards (922) and has averaged a whopping 7.2 yard per carry to go with 12 touchdowns. It should be fun to see which of these two has the stronger finish.
Biggest trap game:
Missouri at Ole Miss. It's not as if the Tigers will be overlooking the Rebels when they meet in Oxford, Miss., but assuming Missouri takes care of business the next two weeks against Tennessee and Kentucky and maintains its lead in the SEC East, the final two games will be a doozy as the Tigers to try to close out the year and clinch a berth to Atlanta. Texas A&M will travel to Columbia, Mo., for the regular-season finale on Nov. 30, but traveling to Oxford and getting a win over Ole Miss isn't easy, as LSU learned last month. Missouri will be asked to do so with a lot on the line. A key question: Will
James Franklin
be healthy enough to take the snaps by then, or will it still be freshman
Maty Mauk
?
Fearless November prediction:
Auburn goes 4-0 in November, including an upset of No. 1 Alabama in the Iron Bowl, wins the SEC West title and heads to Atlanta for the SEC championship. Led by Gus Malzahn, the Tigers complete one of the best turnaround seasons in recent memory. How's that for fearless?
October, 30, 2013
Oct 30
12:30
PM ET
It's officially hump day, and as SEC teams prepare for this weekend -- or next if you're Alabama and LSU -- let's take a look around the league with today's edition of the lunch links.
October, 28, 2013
Oct 28
12:00
PM ET
We're already past the midway point, and the SEC is still very much up for grabs. Here's a look at the latest headlines from Saturday's action and what it all means.
October, 21, 2013
Oct 21
3:00
PM ET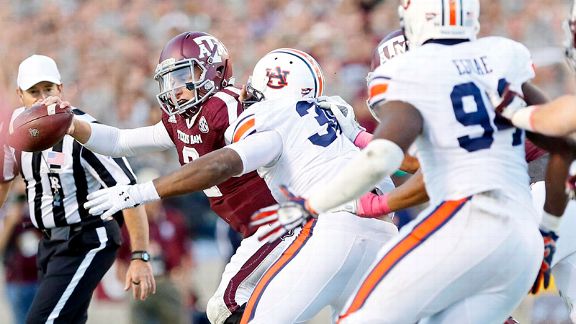 Soobum Im/USA TODAY SportsAuburn defensive end Dee Ford came up with the big play to stop Johnny Manziel at the end of the Tigers' win at Texas A&M.
When running back
Tre Mason
scored to put Auburn ahead 45-41 with 1:19 left on Saturday, most people still didn't think they were going to win. The Tigers gave too much time to
Johnny Manziel
, and despite his shoulder injury, he was going to lead Texas A&M back on yet another game-winning drive, adding to his legacy.
And why not? The reigning Heisman Trophy winner had already thrown for more than 400 yards and four touchdowns. He had just led the Aggies on a 12-play, 75-yard drive capped off by his lone rushing touchdown of the game. The writing was on the wall.
But somebody forgot to tell that to the Auburn defense.
"They were sitting there with 1:19 left, three timeouts and Johnny Manziel, then you've got all day," defensive coordinator Ellis Johnson said.
"We basically had to just play regular defenses. We couldn't get into any of our prevent stuff and just had to play what we had been taking on third down every play. They were still in a situation where they could have run the ball a few times if they wanted to."
It was an Auburn defense that had thrived in the fourth quarter through the first six games. The Tigers had only allowed 13 fourth-quarter points prior to Saturday's game, and they were giving up, on average, 67 yards in the final 15 minutes.
Manziel started that last drive just as everybody expected. He completed a pass to
Mike Evans
for 19 yards. He rushed for six yards. He connected with Evans again for 22 yards, and the Aggies were already down to the Auburn 18-yard line with 43 seconds left.
But after an incomplete pass, the Tigers finally made a play. Senior defensive end
Dee Ford
sacked Manziel for a loss of 8 yards, forcing Texas A&M to burn its first timeout.
"[Manziel] just keeps tremendous pressure on you all the time," Johnson said. "I thought our front guys worked their rear ends off trying to catch him. Occasionally they were successful, but they harassed him a lot."
On the next play, Manziel scrambled around and looked like he had room to run, but linebacker
Kris Frost
chased him down and held the Aggies quarterback to a gain of 5. It brought up a critical fourth-and-13 with 18 seconds left. Johnny Football couldn't possibly deliver again, could he?
The Tigers didn't even give him a chance. A blitz forced Manziel to try and scramble away , but Ford was waiting for him.
"I didn't really have a thought process," Ford said. "I knew they were throwing the ball, and I knew at that point I need to contain Manziel. It's a credit to the defense. It was a blitz, and I knew that I had to contain the blitz. They were going to flush it to me, and I just needed to make a play."
When everybody expected Manziel to make a play, it was Ford and this Auburn defense that came through.
"You have to try to bottle up the guy," head coach Gus Malzahn said. "He's phenomenal when things break down. In the fourth quarter, when he came back I thought we were a little bit fresher there, and we made the two big plays toward the end."
Ford had yet to record a tackle prior to the last drive, but he came up with two of the biggest plays of the game, sacking Manziel twice to preserve the victory.
"Priceless," he said. "It was priceless."
October, 20, 2013
Oct 20
9:00
AM ET
Man, this was tough. There were so many good performances on Saturday it was hard to whittle the list down to five. But here we are with our weekly helmet stickers:

Nick Marshall, QB, Auburn:
Nick Marshall did
Johnny Manziel
one better. On the road at a raucous Kyle Field, Auburn's first-year starting quarterback led a dramatic comeback, one-upping the defending Heisman Trophy winner in his own house. Marshall ran for two touchdowns and threw for two more for the Tigers' biggest win of the season. Manziel produced, throwing for 454 yards and four touchdowns, but his two interceptions doomed the Aggies.
Mike Evans, WR, Texas A&M:
It's not often a losing team finds its way into the helmet stickers post, but it's impossible to ignore the effort of Texas A&M wide receiver Mike Evans. Like his embattled quarterback, he gave Saturday's game everything he had. His team might have lost in dramatic fashion to Auburn, but it was no fault of his. Again, we saw Evans make his case to be considered the top wideout in the SEC, if not the country. There wasn't a coverage Auburn defensive coordinator Ellis Johnson could turn to. Evans totally dominated Auburn's secondary regardless of double- or triple-coverage, hauling in 11 receptions for 287 yards and four touchdowns.
Marquez North, WR, Tennessee:
If you're going to get the football, make it count. Marquez North did. Tennessee's 6-foot-4 wideout had just three catches against South Carolina, but he made the most of every opportunity, accounting for 102 yards receiving. His 39-yard reception from
Justin Worley
late in the fourth quarter set up the game-winning field goal as the Volunteers finally got the signature win they'd been looking for under first-year coach Butch Jones.
Maty Mauk, QB, Missouri:
Rust? What rust? With
James Franklin
sidelined, Maty Mauk stepped in under center for Missouri and didn't miss a beat. Coach Gary Pinkel said it was the toughest spot he'd ever put a quarterback in, but his 6-foot-1 freshman showed poise and precision leading the offense against a Florida defense that ranked among the best in the nation. Mauk completed exactly 50 percent of his passes (18-for-36) for 295 yards and a touchdown as Missouri beat the Gators to remain in the driver's seat to win the SEC East.
Bo Wallace, QB, Ole Miss:
He'd taken his fair share of tongue lashings from the Ole Miss fan base in the last few weeks. And after the way he played against Alabama, Auburn and Texas A&M in consecutive weeks, throwing three interceptions, he'd be the first to say it was deserved. But Wallace came back against LSU's defense with a vengeance. The veteran quarterback completed 30 of 39 passes for 346 yards and no turnovers as Ole Miss upset No. 6-ranked LSU at home.
October, 19, 2013
Oct 19
11:00
PM ET
COLLEGE STATION, Texas -- It's easy to say there's a new attitude, a fresh outlook and changed ways when a new coaching staff takes over. It's often true initially, but that energy only takes you so far. Results are what matter.
Auburn's
45-41 victory
over No. 7 Texas A&M on Saturday at Kyle Field very well could be something coach Gus Malzahn and the Tigers point to as a seminal moment should Auburn ride this wave to something much bigger. This program isn't a stranger to success, having won a BCS championship in 2010, but it was a wounded one last year, stumbling through a 3-9 season that included some downright embarrassing losses and a winless SEC campaign.
The No. 24 Tigers (6-1, 3-1 SEC) have their swagger back, and a road win over a top-10 team and the reigning Heisman Trophy winner to show for it.
"This win means a lot for our confidence," Auburn defensive end
Dee Ford
said. "We're fighting for different things now."
[+] Enlarge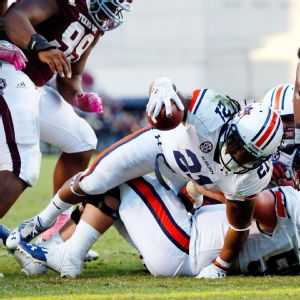 Soobum Im/USA TODAY SportsTre Mason shredded the A&M defense for 178 yards rushing as the Tigers rolled up 615 total yards.
Make no mistake, Saturday wasn't a fluke. The Tigers are a good football team and showed it. Offensively, they ran up and down the field on the Aggies (5-2, 2-2), whose defense did little to stop them in crunch time. They finished with 379 rushing yards (178 for
Tre Mason
, 100 for quarterback
Nick Marshall
), and they threw it all right, too. Marshall, a transfer from Garden City (Kan.) Community College, was masterful with the read option and made some big-time throws (236 passing yards, two touchdowns).
Defensively, they conceded quite a bit, as teams that play
Johnny Manziel
and the Aggies tend to do. That's the price of admission when playing Texas A&M. But the Tigers took advantage of opportunities when afforded them and created some of their own. They turned two first-half interceptions of Manziel into 10 valuable points. They sacked Manziel three times -- twice to help seal the victory on the Aggies' final drive -- and while he still got his, statistically, they pressured him and made him feel uncomfortable just enough.
"You have to try to bottle up the guy," Malzahn said. "He's phenomenal when things break down. In the fourth quarter, when he came back, I thought we were a little bit fresher there, and we made the two big plays toward the end."
The Tigers showed significant growth from their last tough road test at LSU on Sept. 21, which was their only loss of the year. Perhaps most encouraging, when Auburn needed a score late in the fourth quarter, it earned it. Marshall engineered a 13-play, 75-yard drive that ate up 3:46. The Tigers had three third downs and converted every one of them on the drive. There was no panic, no hesitation. Mason and Marshall set the tone with the running game, and when Marshall had to make a critical throw, he did, finding
Marcus Davis
for 27 yards to get the Tigers to the A&M 12.
It's the second game-winning drive engineered by Marshall, who also did it in a 24-20 win over Mississippi State last month.
"We were very confident going into that last drive," Marshall said. "We knew we had to get into the end zone to win this big game. That was our mindset, and we were able to execute."
[+] Enlarge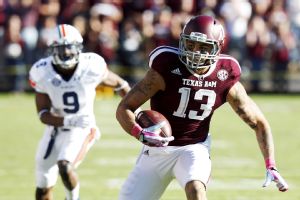 Thomas B. Shea/Getty ImagesMike Evans finished with 11 catches for 287 yards and four touchdowns, season highs in all three.
For Texas A&M, it was another magnificent performance for two of its stars -- Manziel and
Mike Evans
-- but their magic made up for a lot of flaws. The defense is still poor. Only Western Carolina allowed Auburn to gain more yardage (615) than the Aggies surrendered Saturday. The 379 rushing yards allowed was a season high, far eclipsing the 306 the Aggies allowed to Rice in the season opener, when six key players missed all or parts of that game as a result of suspensions.
In their last two games, when the Aggies needed a late stop, they got it against both Arkansas and Ole Miss. Saturday they didn't.
"Towards the end of the game, they put their big-boy pads on, and we couldn't slow them down," Aggies defensive coordinator Mark Snyder said. "They took the game and the clock from us, and we couldn't get off the field."
While the defense continues to struggle and needs work, there were other areas the Aggies made mistakes, too. Manziel's first interception went off the hands of tight end
Nehemiah Hicks
, the second one was simply forced by Manziel after he peformed a magic escape. The Aggies also were called for illegal formation in the second quarter, a penalty that nullified a third-down conversion in the red zone, which eventually forced a field-goal try rather than having a first-and-goal at the Auburn 7.
Texas A&M wasn't where it normally is on third-down conversions either, converting 5-of-13 (the Aggies came into Saturday's game converting 57 percent). And when the defense strung together four stops late in the second quarter and early in the third, the Aggies were able to put up only 10 points. But as Snyder said afterward, "When you score 41 points, you should win. End of story."
Still, Manziel and Evans were fantastic. Manziel came back from what appeared to be a right shoulder injury to try to lead the Aggies back and finished with 454 yards and four touchdowns passing plus a rushing touchdown. Evans continues to make his case as college football's best receiver, catching 11 pass for 287 yards and four touchdowns.
The Aggies would have needed help by way of a loss or two by No. 1 Alabama to have a shot at their primary goal, getting to Atlanta for the SEC championship game. This pretty much takes that off the table. How will they respond moving forward?
"What's important now is not what has just happened," Texas A&M coach Kevin Sumlin said. "At this time of year, teams go a couple different directions. We've got to get back in here Monday, be honest with ourselves, make sure that what we can fix, we're going to fix as coaches and players and move on."
But this was Auburn's day. They got a huge win, one that should be a big boost to Malzahn and his efforts to lead Auburn back to among the nation's elite. No more looking back for the Tigers, only forward.
"I was almost in tears after the game," Ford said. "Definitely seeing guys, especially younger guys, who didn't have a clue of what was going on last year -- and that was a tough time for them, and I had to kind of guide them through that process -- and to see the looks on their faces after the game, the hard work that we put in, and how we said, 'We're not going to look back, just keep moving forward,' it's definitely a powerful message that we've sent to the world."
October, 17, 2013
Oct 17
12:00
PM ET
The government shutdown is over. Now we can get back to the business of helping government workers on their lunch hours.
October, 17, 2013
Oct 17
8:00
AM ET
When it comes to scoring, the magic number for Auburn is 30. The Tigers have won 81 consecutive games when scoring 30 or more points. Their last loss where they've scored that much came to Georgia in 1996, when they lost 56-49 in quadruple overtime.
The offense knows it will probably have score at least 30 points Saturday if it wants to upset No. 9 Texas A&M.
[+] Enlarge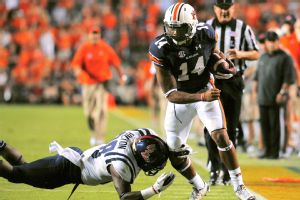 Shanna Lockwood/USA TODAY SportsNick Marshall is expected to return from injury this weekend against Texas A&M, giving Auburn a shot in the arm.
"We know it's a team game," offensive coordinator Rhett Lashlee said. "I know Coach [Ellis] Johnson and our defense will have a great plan. We're playing a Heisman Trophy winner and one of the best players in recent history in college football. There is no secret about that.
"We've got to do our part and score points and help our defense out. It goes hand-in-hand, and that's how football is. It's just like every week. We know we need to have our A game."
Auburn will have quarterback
Nick Marshall
back directing the offense Saturday. He missed the Western Carolina due to a knee injury, but he's expected to start against the Aggies.
What Auburn needs to do to win:
It starts with the offense and its ability to control the tempo. It obviously has to score points, but more importantly, it needs to be able to string together some drives and keep the defense off the field. Auburn leads the SEC in rushing, and all three running backs will have an opportunity to pick up yards against a struggling Texas A&M defense. Meanwhile, the Auburn defense knows it's not going to stop the Aggies, but it has to continue to create turnovers and hold up in the red zone.
Players to watch
RB Tre Mason:
The return of Marshall will be intriguing, but when the first-year quarterback struggled on the road at LSU, it was Mason who carried the load. The veteran back rushed for 132 yards and two touchdowns on 26 carries. If he can deliver a similar performance Saturday against Texas A&M, it will make like much easier for Marshall.
CB Chris Davis:
Despite missing two games due to injury this season, Davis has emerged as Auburn's top cornerback. That means he'll likely have to cover Texas A&M star
Mike Evans
, a matchup he says he's looking forward to. Davis is also expected to take back his role as the team's punt returner on Saturday.
Quotable
"I would say those two are probably two of the best to ever play the game in college football. We only got a chance to see Cam Newton for one year, but this guy (Manziel) is in the same element. They are different, but they are some of the best to ever play." -- Auburn coach Gus Malzahn on the comparison between Cam Newton and
Johnny Manziel
September, 24, 2013
Sep 24
10:30
AM ET
We're a quarter of the way into the college football season, and two-time defending national champion Alabama is right where it started -- No. 1 in the polls.
In fact, Alabama is the only one of the five SEC teams that opened the season in the top 10 that hasn't lost a game. So everybody's still chasing the Crimson Tide, but it's a race that could still go any number of ways, especially with some of the offensive numbers being generated. If the first four weeks taught us anything, you better be ready to score some points if you're going to win a title this season.
Here's a quick recap:
Best game:
Take your pick. There have been some dandies to this point. The very first SEC game between Ole Miss and Vanderbilt on a Thursday night produced a thrilling ending in Nashville with the Rebels pulling out a 39-35 win. Both of Georgia's first two games were incredibly entertaining, their 38-35 loss at Clemson and then their 41-30 win over South Carolina the next week. But nothing tops Alabama's wild 49-42 win at Texas A&M in Week 3. The two teams combined for 1,196 total yards and 62 first downs. The Aggies jumped out to a 14-0 lead, but the Crimson Tide answered with 35 unanswered points only to have the Aggies come roaring back with three fourth-quarter touchdowns. It was so much fun that maybe we'll see them go at it again in the VIZIO BCS National Championship Game if everything falls right. Wouldn't the rest of college football just love that?
[+] Enlarge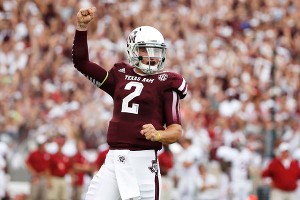 Scott Halleran/Getty ImagesAs good as Johnny Manziel was last season when he won the Heisman Trophy, he's even better this year.
Best player:
Even though he caused an uproar with some of his antics and a 15-yard taunting penalty in the opener against Rice, the real news surrounding Texas A&M quarterback
Johnny Manziel
is that he's even better than he was a year ago. All he did a year ago was win the Heisman Trophy and set the SEC record for total offense. Manziel's arm strength has improved. He's spreading the ball around, and he's still carving defenses apart with his ability to make something out of nothing. Manziel is averaging 370.8 yards of total offense per game, completing 70 percent of his passes and has already accounted for 15 touchdowns. Honorable mention goes to Georgia running back
Todd Gurley
, Vanderbilt receiver
Jordan Matthews
and LSU quarterback
Zach Mettenberger
.
Best performance:
Once again, Johnny Football takes top honors. Yes, it came in a loss, but he was brilliant in passing for five touchdowns and rolling up 562 yards of total offense (the most ever in an SEC game) in the 49-42 setback to Alabama. The guy Manziel was throwing to that day, sophomore receiver
Mike Evans
, comes in a close second with his seven catches for 279 yards. And let's also not forget about how good Alabama quarterback
AJ McCarron
was in that game. He finished 20-of-29 for 334 yards and four touchdowns, completing passes to 10 different players. Sticking with Alabama,
Christion Jones
returned a kickoff for a touchdown, returned a punt for a touchdown and also caught a touchdown pass in the season-opening win over Virginia Tech. Georgia quarterback
Aaron Murray
deserves a shout-out for his four-touchdown outing in the win over South Carolina, and the same goes for Ole Miss running back
Jeff Scott
and his 243 all-purpose yards in the win at Texas. Scott rushed for a career-high 164 yards and a touchdown and also scored on a 73-yard punt return for a touchdown.
Best surprise:
It has to be LSU's passing game and how balanced the Tigers have been offensively through four games. In the offseason, Les Miles talked about the need to throw the ball better, and that's exactly what the Tigers have done under first-year coordinator Cam Cameron. The days of loading up against LSU's running game and not worrying about the passing game are over. Mettenberger has 10 touchdown passes and only one interception. The receiving duo of
Jarvis Landry
and
Odell Beckham
has been dynamite with 11 combined touchdowns, and then there's also
Jeremy Hill
trucking everything in sight in the running game. This has the makings of Miles' best and most explosive offense since he has been in Baton Rouge.
Biggest disappointment:
Granted, the expectations were through the roof, but South Carolina defensive end
Jadeveon Clowney
has been a mere mortal in the Gamecocks' first three games. He has been solid, but hasn't been that consistent of a disruptive force so many people were anticipating to start his junior season. To be fair, he's dealing with a foot injury that sounds like it will plague him for the rest of the season, and teams have done their best to run away from him and make him chase. Clowney still has two sacks, and at this point a year ago, he had only three and finished the season with 13. The Heisman Trophy chatter may have quieted, but you can bet that No. 7 won't stay this quiet on the field all season.
September, 16, 2013
Sep 16
9:00
AM ET
We've gone through three Saturdays in the SEC, and it seems like a billion points have been scored. The times, they are a changin', and so have our Power Rankings:

1. Alabama (2-0, 1-0 SEC; last week: 1):
Every offense has looked good against Texas A&M, but seeing the Tide win that shootout in College Station, Texas, was very impressive.
AJ McCarron
is back in the Heisman race, and Alabama remains the team to beat in the SEC and nationally. However, questions still remain on a defense that gave up the most yards in school history (628) Saturday.
2. LSU (3-0, 0-0 SEC; last week: 2):
Ladies and gentlemen, this might be the SEC's most complete team. The Tigers can throw (
Zach Mettenberger
is averaging 265.7 yards per game), run (218.7 yards per game) and rank 10th nationally in total defense (267.7). Sure, the last two opponents have been of the cupcake variety, but this offense didn't look this efficient against cupcakes last season.
3. Texas A&M (2-1, 0-1 SEC; last week: 3):
Yes, this defense isn't SEC quality and might not be FBS quality right now, but when you have
Johnny Manziel
and
Mike Evans
, you're going to be able to score on anyone. Manziel threw for a school-record 464 yards with five touchdowns, while Evans caught seven passes for a school-record 279 yards and a score. This defense needs major work, but this offense won't be stopped by many.
4. Georgia (1-1, 1-0 SEC; last week: 4):
The Bulldogs were off, so the defense didn't give up any points. Georgia gets a tuneup in the form of North Texas Saturday before taking on LSU in two weeks. Expect a lot of Bulldogs points and some much-needed improvement from the Dawgs' defense.
5. South Carolina (2-1, 1-1 SEC; last week: 5):
The Gamecocks continue to put up points and pile on yards. Through three games, South Carolina has registered 406, 454 and 579 yards, respectively. The Gamecocks let Vanderbilt hang around in their 35-25 win over the Commodores, but the defense turned it up a notch after getting embarrassed by Georgia. South Carolina allowed just 268 yards, and Vandy made just two of 12 third-down conversions.
6. Ole Miss (3-0, 1-0 SEC; last week: 7):
A season ago, Bevo ran the Rebels out of the Grove. Saturday night, the Rebels chased Bevo & Co. out of Texas. Last season, the second half was almost a death sentence for the Rebels, but this season, they are outscoring opponents 56-37 and blanked Texas 27-0 in the second half of their 44-23 route of the Longhorns Saturday. As long as the read-option is still legal, the Rebels will be a very dangerous team.
7. Florida (1-1, 0-0 SEC; last week: 6):
The Gators were off, which means the staff was probably drilling ball security and execution into its players' brains. Florida is last in the SEC in red zone efficiency (50 percent), and, as a result, the Gators are last in the SEC in scoring offense (40 points in two games). However, the Gators own the SEC's best defense, which also ranks third nationally.
8. Auburn (3-0, 1-0 SEC; last week: 9):
Quarterback
Nick Marshall
really grew up in Auburn's 24-20 win over Mississippi State. He isn't quite
Cam Newton
, but he looked like a seasoned vet on that last-minute, game-winning drive. The defense still has its issues up front, though. Teams are rushing for almost 160 yards per game against the Tigers and are averaging nearly 5 yards per rush. That defensive line is in for quite the fight this weekend at LSU.
9. Vanderbilt (1-2, 0-2 SEC; last week: 8):
Yes, the Commodores have two losses, but they're losses to top-25 teams. And the Commodores were very much in both games. Still, if Vandy is going to make progress and take the next step, these close losses have to turn into wins, especially against teams like South Carolina. There are some holes on defense that have to get plugged.
10. Missouri (2-0, 0-0 SEC; last week: 10):
The offense is healthy and the Tigers even got a nice bye week before they travel to Indiana to take on the Hoosiers. The offense has been impressive through two games, averaging 539 yards and 48 points per game, but the competition has been subpar. Indiana's defense, which is allowing 410 yards and nearly 30 points a game, should keep Mizzou's offensive momentum going.
11. Arkansas (3-0, 0-0 SEC; last week: 11):
It wasn't a very pretty win over Southern Miss, but I'm sure Bret Bielema will take it. The offense had issues here and there when quarterback
Brandon Allen
left early with a bruised shoulder. He's expected to be back for Saturday's game at Rutgers. The good news is that the running game didn't suffer, as both
Jonathan Williams
and
Alex Collins
rushed for more than 100 yards for the third straight game.
12. Tennessee (2-1, 0-0 SEC; last week: 12):
We knew that cross-country trip to Eugene, Ore., would be tough, and Oregon made sure it was a very uncomfortable stay for the Vols. Before the Ducks built a 30-point first-half lead, fans were already chanting "We want Bama!" I can only imagine what Tennessee players were thinking. Things only got worse, as the Ducks registered 687 yards in their 59-14 drubbing of the Vols. Tennessee limps into its matchup with Florida looking for answers on defense.
13. Mississippi State (1-2, 0-1 SEC; last week: 13):
For the second straight week,
Dak Prescott
played pretty well in place of the injured
Tyler Russell
, but when the defense had to make a stop late against Auburn, it came up short. After two solid outings, Mississippi State's defense struggled to stop Auburn's passing game, and now people in Starkville, Miss., are getting a little antsy. The Bulldogs have lost seven of their past nine games dating back to last season.
14. Kentucky (1-2, 0-0 SEC; last week: 14):
The Wildcats put up a fight in the first half of their 27-13 loss to Louisville, but they just couldn't find any sort of consistency on offense. Quarterback
Maxwell Smith
left in the third quarter with a right shoulder injury, while turnovers and dropped passes stalled the offense whenever it made any attempt to threaten Louisville's lead. The defense gave up 242 rushing yards, but it was gassed by the fourth quarter thanks to an offense that went 0-for-13 on third down.
September, 15, 2013
Sep 15
9:00
AM ET
With another Saturday in the books, it's time to check out the best of the best from the day that was in the SEC:

AJ McCarron, QB, Alabama:
So much for being a game manager. When Texas A&M forced Alabama to throw the ball early, McCarron had no problem slinging the ball around, throwing for 251 yards and three touchdowns in the first half. McCarron had no issue throwing downfield in the second half, either, as he finished the game with 334 yards and four touchdowns on 20-of-29 passing in Alabama's 49-42 win over the Aggies. He orchestrated some superb drives late, and his beautiful play-action touchdown pass to
Jalston Fowler
proved to be the game winner.
Alex Collins/Jonathan Williams, RBs, Arkansas:
For the third straight game, each rushed for more than 100 yards. Williams ran for a game-high 116 yards and Collins followed with 115 in the 24-3 win over Southern Miss. It marked the first time in school history the Razorbacks had multiple 100-yard rushers in the first three games of the season. Each also scored a touchdown. Collins became the first freshman in SEC history to rush for 100 yards in each of his first three career games and the first true freshman in the NCAA since Adrian Peterson in 2004.
Mike Evans, WR, Texas A&M:
Sure, the Aggies lost a thriller at home, but Evans made Alabama's secondary look silly all day. He outmuscled guys for passes and showed some good speed on his 95-yard touchdown catch-and-run, which was the longest offensive play against Alabama in 10 years. Evans finished the game with seven catches for a school-record 279 yards and a touchdown.
Nick Marshall, QB, Auburn:
He grew up right in front of our eyes Saturday night, throwing for a career-high 339 yards and two touchdowns with two interceptions. The newcomer had some shaky moments, but he looked like a veteran leading the Tigers on their last-minute, game-winning drive in the fourth quarter. Down 20-17 to Mississippi State, coach Gus Malzahn put the game in Marshall's hands and asked him to drive 88 yards with less than two minutes remaining. Marshall completed six of his eight passes for 66 yards, including the 11-yard, game-winning touchdown pass to
C.J. Uzomah
with 10 seconds left. He also scrambled 11 yards for the first down on a third-and-10 at the Bulldogs' 25-yard line. It was the first SEC win for Auburn in its past 11 tries.
Jeff Scott, RB, Ole Miss:
Scott rushed for a career-high 164 yards and had a touchdown against Texas. He also sealed the Rebels' 44-23 win with a 73-yard punt return that went for a touchdown late in the third quarter to give Ole Miss a 37-23 lead. This was the ninth career 100-yard rushing game and the second of the season for Scott.
Impact Performance Nominees