Auburn Tigers:

Mark Snyder
December, 6, 2013
12/06/13
3:00
PM ET
On Saturday, Auburn and Missouri will meet in the SEC championship game. To preview the game, we spoke with Texas A&M defensive coordinator Mark Snyder, who knows the teams as well as anybody. The Aggies were one of four teams to face both division winners at some point during the season.
Snyder breaks down the game from his vantage point, looks back at Texas A&M's season and explains why he thinks the SEC will be more defensive next year:
It was Texas A&M's second year in the SEC. How'd you feel like it went?
Mark Snyder:
Obviously, we had some big standards going into the season, but we were so young defensively. We had some injuries, like a lot of teams in the SEC, but I thought as the year went, I saw our defense getting better each and every week. We played pretty decent and had our opportunities against Missouri. Give credit to those guys; they're good and they got us.
[+] Enlarge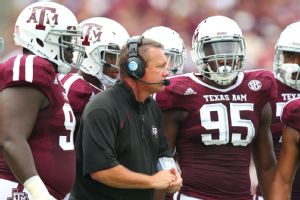 Matthew Emmons/USA TODAY SportsMark Snyder sees better times ahead for Texas A&M's young defense.
What's the mindset now heading into the bowl game?
Snyder:
Just get better. Get our younger guys better on my side of the ball. It's huge getting to a bowl game and having this extra practice time because typically you get into bowl practice and the first week or so you work your young guys to get them ready for next year. For us, those kids are all playing for us. They're starting. We're going to have to be careful about how much we do with them, but we're getting the chance to continue to get better on defense.
Auburn and Missouri will play for the SEC title Saturday. What stands out to you about both of those teams?
Snyder:
They got us at different times. Auburn got us earlier than Missouri did. Both have got really good quarterbacks. Nick's playing well. Obviously, Missouri's quarterback has played a lot. The difference in the teams I think is Missouri, they're a very veteran offense -- veteran offensive line, big, tall wide receivers, a quarterback that's played a lot, a running back that's back. It's a very veteran team where Auburn is very, very athletic. They're just speed across the board from the receiver [
Sammie
]
Coates
to
Nick Marshall
to -- I really like their tailback (
Tre Mason
), I think he's really good. If you look at the teams, one's probably a little bit more experienced, been in the system longer. The other team has tremendous athleticism.
What are your thoughts on Auburn coach Gus Malzahn?
Snyder:
He's done a good job of instilling some beliefs, him and Coach [Gary] Pinkel both. If you look at both of these teams, right now they're playing with a lot of confidence, so they're doing a great job instilling some beliefs in their system. For Coach Pinkel, it was a little easier because those guys had been with him for four years. The trick with Gus is this is his first year with some of these guys, and he's got them to buy in. You need to make a play here or there in those special seasons, and that's what they've done.
Are you surprised with Missouri's run this early in the SEC?
Snyder:
Not really. Coach Pinkel has had a culture of success everywhere he's been. They were pretty beat up last year. You look at a team like Florida, they're going through it this year, Georgia a little bit, us a little bit. You go through those. The teams with those magical seasons are staying healthy. We were able to do that last year. We didn't have much depth, but we stayed healthy. That's half the battle, and that's hard in this league. There's got to be some luck involved in there, especially on our side. If you look at the West, it's every week.
This season was all about the offense in the SEC. A lot of good quarterbacks, a lot of good offenses. Do you see the power shifting back to the defense next season?
Snyder:
I would think so. Things are cyclical, there's no doubt. LSU lost a lot of people on defense. We lost some people, and we were already young, playing with a bunch of freshmen -- Todd [Grantham] was playing with a bunch of freshmen at Georgia -- against some really good quarterbacks. A lot of those guys are moving on now, and it's not just the quarterbacks. There are going to be some tailbacks, some offensive linemen, just offense in general. And then you're going to see some of the teams I just mentioned not lose anybody (on defense) and continue to grow up. I will be surprised if you didn't see better defensive numbers come next year from a bunch of us.
October, 19, 2013
10/19/13
11:00
PM ET
COLLEGE STATION, Texas -- It's easy to say there's a new attitude, a fresh outlook and changed ways when a new coaching staff takes over. It's often true initially, but that energy only takes you so far. Results are what matter.
Auburn's
45-41 victory
over No. 7 Texas A&M on Saturday at Kyle Field very well could be something coach Gus Malzahn and the Tigers point to as a seminal moment should Auburn ride this wave to something much bigger. This program isn't a stranger to success, having won a BCS championship in 2010, but it was a wounded one last year, stumbling through a 3-9 season that included some downright embarrassing losses and a winless SEC campaign.
The No. 24 Tigers (6-1, 3-1 SEC) have their swagger back, and a road win over a top-10 team and the reigning Heisman Trophy winner to show for it.
"This win means a lot for our confidence," Auburn defensive end
Dee Ford
said. "We're fighting for different things now."
[+] Enlarge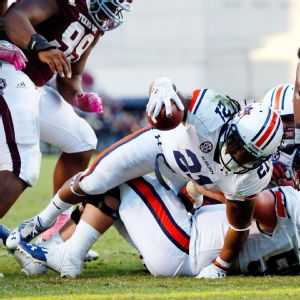 Soobum Im/USA TODAY SportsTre Mason shredded the A&M defense for 178 yards rushing as the Tigers rolled up 615 total yards.
Make no mistake, Saturday wasn't a fluke. The Tigers are a good football team and showed it. Offensively, they ran up and down the field on the Aggies (5-2, 2-2), whose defense did little to stop them in crunch time. They finished with 379 rushing yards (178 for
Tre Mason
, 100 for quarterback
Nick Marshall
), and they threw it all right, too. Marshall, a transfer from Garden City (Kan.) Community College, was masterful with the read option and made some big-time throws (236 passing yards, two touchdowns).
Defensively, they conceded quite a bit, as teams that play
Johnny Manziel
and the Aggies tend to do. That's the price of admission when playing Texas A&M. But the Tigers took advantage of opportunities when afforded them and created some of their own. They turned two first-half interceptions of Manziel into 10 valuable points. They sacked Manziel three times -- twice to help seal the victory on the Aggies' final drive -- and while he still got his, statistically, they pressured him and made him feel uncomfortable just enough.
"You have to try to bottle up the guy," Malzahn said. "He's phenomenal when things break down. In the fourth quarter, when he came back, I thought we were a little bit fresher there, and we made the two big plays toward the end."
The Tigers showed significant growth from their last tough road test at LSU on Sept. 21, which was their only loss of the year. Perhaps most encouraging, when Auburn needed a score late in the fourth quarter, it earned it. Marshall engineered a 13-play, 75-yard drive that ate up 3:46. The Tigers had three third downs and converted every one of them on the drive. There was no panic, no hesitation. Mason and Marshall set the tone with the running game, and when Marshall had to make a critical throw, he did, finding
Marcus Davis
for 27 yards to get the Tigers to the A&M 12.
It's the second game-winning drive engineered by Marshall, who also did it in a 24-20 win over Mississippi State last month.
"We were very confident going into that last drive," Marshall said. "We knew we had to get into the end zone to win this big game. That was our mindset, and we were able to execute."
[+] Enlarge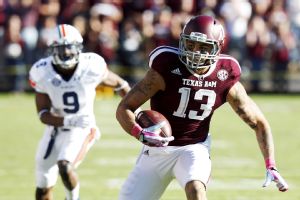 Thomas B. Shea/Getty ImagesMike Evans finished with 11 catches for 287 yards and four touchdowns, season highs in all three.
For Texas A&M, it was another magnificent performance for two of its stars -- Manziel and
Mike Evans
-- but their magic made up for a lot of flaws. The defense is still poor. Only Western Carolina allowed Auburn to gain more yardage (615) than the Aggies surrendered Saturday. The 379 rushing yards allowed was a season high, far eclipsing the 306 the Aggies allowed to Rice in the season opener, when six key players missed all or parts of that game as a result of suspensions.
In their last two games, when the Aggies needed a late stop, they got it against both Arkansas and Ole Miss. Saturday they didn't.
"Towards the end of the game, they put their big-boy pads on, and we couldn't slow them down," Aggies defensive coordinator Mark Snyder said. "They took the game and the clock from us, and we couldn't get off the field."
While the defense continues to struggle and needs work, there were other areas the Aggies made mistakes, too. Manziel's first interception went off the hands of tight end
Nehemiah Hicks
, the second one was simply forced by Manziel after he peformed a magic escape. The Aggies also were called for illegal formation in the second quarter, a penalty that nullified a third-down conversion in the red zone, which eventually forced a field-goal try rather than having a first-and-goal at the Auburn 7.
Texas A&M wasn't where it normally is on third-down conversions either, converting 5-of-13 (the Aggies came into Saturday's game converting 57 percent). And when the defense strung together four stops late in the second quarter and early in the third, the Aggies were able to put up only 10 points. But as Snyder said afterward, "When you score 41 points, you should win. End of story."
Still, Manziel and Evans were fantastic. Manziel came back from what appeared to be a right shoulder injury to try to lead the Aggies back and finished with 454 yards and four touchdowns passing plus a rushing touchdown. Evans continues to make his case as college football's best receiver, catching 11 pass for 287 yards and four touchdowns.
The Aggies would have needed help by way of a loss or two by No. 1 Alabama to have a shot at their primary goal, getting to Atlanta for the SEC championship game. This pretty much takes that off the table. How will they respond moving forward?
"What's important now is not what has just happened," Texas A&M coach Kevin Sumlin said. "At this time of year, teams go a couple different directions. We've got to get back in here Monday, be honest with ourselves, make sure that what we can fix, we're going to fix as coaches and players and move on."
But this was Auburn's day. They got a huge win, one that should be a big boost to Malzahn and his efforts to lead Auburn back to among the nation's elite. No more looking back for the Tigers, only forward.
"I was almost in tears after the game," Ford said. "Definitely seeing guys, especially younger guys, who didn't have a clue of what was going on last year -- and that was a tough time for them, and I had to kind of guide them through that process -- and to see the looks on their faces after the game, the hard work that we put in, and how we said, 'We're not going to look back, just keep moving forward,' it's definitely a powerful message that we've sent to the world."
October, 19, 2013
10/19/13
7:00
AM ET
COLLEGE STATION, Texas -- What a difference a year makes.


The Auburn team coming into Kyle Field today is much different from the one that hosted Texas A&M a year ago. Both teams are 5-1 and ranked in the top 25 (A&M is seventh, Auburn is 24th), and each has a head coach known for his innovative offensive mind (Gus Malzahn for Auburn; Kevin Sumlin for A&M), so it should be an entertaining and compelling 60 minutes in this SEC West Division clash. Here are five things to watch:
1. Auburn run game vs. A&M run D:
Auburn is one of the best rushing teams in the country (287 yards per game), and it's no fluke. The Tigers have three solid running backs (
Tre Mason
,
Cameron Artis-Payne
and
Corey Grant
), plus a starting quarterback who is a running threat, too (
Nick Marshall
). Texas A&M's run defense is 13th in the SEC (201.17 yards allowed per game) and struggled through much of the first half, though defensive coordinator Mark Snyder was encouraged by his unit's performance against Ole Miss, holding the Rebels to 133 yards on the ground. This battle will be key.
2. Defending Manziel:
No defense has really had an answer for Heisman Trophy winner
Johnny Manziel
. The only team to defeat the Aggies, which was No. 1 Alabama, benefited from two interceptions but still conceded 562 yards to the redshirt sophomore quarterback. Manziel bounced back from two turnovers last week vs. Ole Miss to lead a come-from-behind effort in a 41-38 win. How Auburn defensive coordinator Ellis Johnson attacks Manziel will be interesting to watch. A&M offensive coordinator Clarence McKinney said Auburn has one of the more talented defenses that Texas A&M will see this year.
3. Will A&M generate a pass rush?
Texas A&M has been one of the worst teams in the country when it comes to sacking opposing passers. The Aggies have just five sacks this season; Illinois is the only team in the nation that has fewer (four). Snyder stressed that his group has to be able to generate a pass rush sometimes without having to blitz. If they can't, Marshall and his Auburn teammates will have time to do what they want offensively.
4. Tempo:
Both teams like to play at a fast pace. Expect Texas A&M to continue that, as usual. Will Auburn? Malzahn noted that the Tigers are at their best at a high pace, but earlier this week, he told reporters, "Sometimes you may need to try to keep it away from [Manziel]." Ole Miss coach Hugh Freeze, who knows Malzahn well, tried to be methodical in the first half of the Rebels' game with A&M last week. Will Auburn employ a similar strategy in hopes of keeping the game close heading into the fourth quarter?
5. Wrinkles:
Auburn played freshman quarterback
Jeremy Johnson
last week in place of Marshall, who rested with a knee injury, and Johnson played well. Could he see action on Saturday? How will the Auburn defensive front attack Manziel? The Aggies have seen a variety of defensive fronts all season and at times have had to adjust pass-protection schemes on the fly. Will the Tigers mix it up? Will defensive back
Deshazor Everett
, A&M's best defensive player, play (he left Ole Miss game with an injury), and if so, will he line up at cornerback or safety (or both) now that safety Floyd Raven is healthy again? How much will Manziel run the ball on designed draw plays? Against Arkansas two weeks ago, there were no designed runs in the game plan. Last week against Ole Miss, he did it with some regularity. These two head coaches and their staffs are creative, so don't be surprised to see a few things you haven't yet this season.
Peach State: Top Tier Recruiting Ground?
SEC SCOREBOARD
Thursday, 9/3
Saturday, 9/5