Auburn Tigers:

LaDarius Owens
April, 18, 2014
Apr 18
10:00
AM ET
AUBURN, Ala. -- Auburn might have been 3-9 in 2012, but that didn't stop the fans from piling inside Jordan-Hare Stadium for last year's spring game. There was a record crowd of 83,401 who were on hand to welcome new coach Gus Malzahn, not thinking that he would eventually lead the Tigers to the BCS title game nine months later.
"I think [A-Day] is for the overall program," Malzahn said. "Like I've said before, we're all in this together -- our fans, our players, our coaches. This is one of those unique opportunities. We want to make it exciting for our fans, and at the same time, we want to get better."
The crowd could be even bigger this year with the Tigers coming off a 12-2 season and an SEC championship. Here are five things to watch in Saturday's spring finale (ESPN, 3 p.m. ET):
[+] Enlarge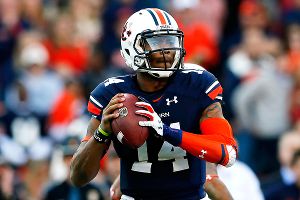 Kevin C. Cox/Getty ImagesWith his confidence sky high, expect Auburn QB Nick Marshall to be even better running the Tigers' high-powered offense.
1. Faster is better:
The proposed "10-second" rule never made it to a vote, and that means that Auburn's offense is only going to get faster. It took first-year quarterback
Nick Marshall
nearly half the season before he became comfortable in Malzahn's offense, and even then he wasn't as confident as he has looked this spring. The senior is making better reads, throwing the ball better and more importantly, he's become a leader. Expect Marshall to take the hurry-up, no-huddle offense to another gear this fall, and although the spring game won't give much away, it will give the fans a glimpse of what's to come.
2. Juco impact:
If you ask the fans, the player they most want to see Saturday would almost certainly be wide receiver
D'haquille Williams
. He was the nation's No. 1 junior college player a year ago, and there's already talk that he could be one of the top wideouts in the SEC next season. The coaches and players alike have raved about his talent this spring, and he'll make his debut in front of the fans this weekend. However, don't sleep on his juco teammate
Derrick Moncrief
. The former Prattville (Ala.) defensive back has had as good as spring as anybody on the team and could push for a starting role in the secondary.
3. Blind side battle:
Don't expect the left tackle battle to be decided during Saturday's spring game. The coaches have all but said they will wait until the fall before naming a starter. But that doesn't mean it won't be worth keeping an eye on. Sophomore
Shon Coleman
, who served as
Greg Robinson
's primary backup last year, might have a leg up in the race and will likely take the field with the first-team offense, but
Patrick Miller
, the more experienced of the two, will get his reps, too. In his first two seasons at Auburn, Miller started 14 games at right tackle, and he might see some time there depending on what the coaches do with
Avery Young
.
4. Health concerns:
There could be some familiar faces not in action Saturday. It's been a frustrating spring from a health standpoint, and while there haven't been any serious injuries, there have been enough nagging injuries to force the coaches to get creative. Defensive tackles
Montravius Adams
and
Gabe Wright
have both worked some at end, and with
LaDarius Owens
out and
Carl Lawson
questionable, the "Rhino package" could make an appearance. Earlier this week, defensive coordinator Ellis Johnson indicated that some of the starters who have been banged up might not get as many reps in the spring game.
5. The running backs:
It was this time last year when
Cameron Artis-Payne
, a junior college transfer at the time, first made his mark on the Plains. He had 164 yards of offense and a touchdown in the spring game, which earned him offensive MVP honors. He'd like to duplicate that performance in this year's game and claim the starting job, but
Corey Grant
won't go down without a fight. Grant, who primarily ran the jet sweep last year, will show what he can do as a featured back. And don't forget about redshirt freshman
Peyton Barber
, who could wind up leading the team in carries when it's all said and done.
April, 9, 2014
Apr 9
9:00
AM ET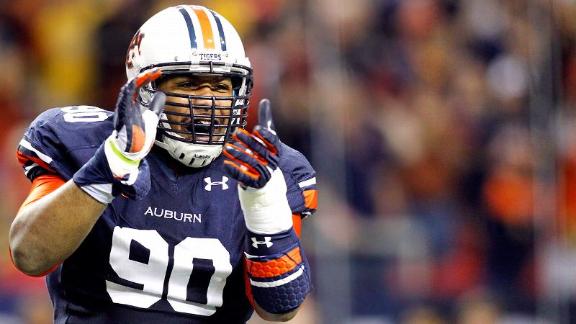 AUBURN, Ala. --
Gabe Wright
isn't a defensive end. At 6-foot-3 and 284 pounds, he simply doesn't fit the bill. He's too big, too valuable a space-eater inside at defensive tackle. Moving him to end would be like chasing a sports car with a tank. Some things just don't make sense. Some players just aren't built to play in space.
Yet there he is during practice this spring, lining up on the edge of the defensive line, pinning his ears back and rushing the passer. In doing his best
Carl Lawson
impression, Wright has gotten some fans on The Plains excited. But, as defensive coordinator Ellis Johnson cautions everyone: "I don't foresee that being permanent."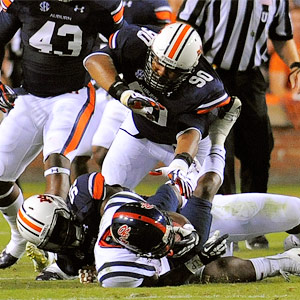 Shanna Lockwood/USA TODAY SportsAuburn's Gabe Wright believes he'd be an effective defensive end in certain situations after getting reps there this spring.
Sorry, folks. The so-called "Rhino Package" won't be an every down occurrence this fall, though the imagery in itself is something to root for -- plumes of dust, the screech of fans in the distance, the target of the hunt a helpless SEC quarterback named
Brandon Allen
or
Dak Prescott
or
Dylan Thompson
.
Wright and fellow tackle
Montravius Adams
aren't the new wave of roughly 300-pound ends, though. They're tackles through and through. Their time spent at end this spring has been only by necessity, making up for a shortened rotation of ends as
Dee Ford
and
Craig Sanders
were lost to graduation. Auburn took another hit when
LaDarius Owens
broke his foot,
Keymiya Harrell
went down with an unspecified injury and
Elijah Daniel
hurt his groin, leading to one of the more perplexing out-of-context quotes of all time from Johnson: "Groins can be funny."
When asked if Auburn was thin at end, head coach Gus Malzahn responded, "We definitely are."
On the bright side, it's making things interesting for the rest of the defensive line.
"It's a blessing for me to get on the edge," said Wright, who played some end in high school. "We had some guys go down, some depth issues this spring. So guys had to step up."
The blessing, for someone like Wright, is obvious.
"Let's see: End, you get maybe 30 percent of a double team," he explained. "When I'm inside, I get 90 percent of a double team."
Wright, who finished second on the team with 8.5 tackles for loss and third with three sacks a year ago, said that spending time at end has helped him work on his pass-rushing skills. No longer struggling for space to move in a double team, he can get off the line and either rush the edge, swim inside or go one-on-one and bull-rush an offensive lineman.
Versatility, though, might the biggest benefit to having both Wright and Adams at end this spring. When opposing offenses go into jumbo packages, expect to see a few more big bodies along the defensive line this season.
"I think it does nothing but help us moving forward," Malzahn said.
Said Wright: "The fact that we can maybe go four D-tackles at one point, that just amazes me. It's like, What do you do? We can bull-rush the tackles and we can bull-rush the ends."
When asked point blank whether he genuinely expected to play outside, Wright hedged his bets.
"When we do have teams like Arkansas, Alabama, LSU -- and this is not what coaches have told me -- I just believe it will be a factor," he said. "You've got two-, three-tight-end sets. Why not be able to put a D-tackle out there?"
Whether he's at end or tackle, one thing will remain the same: Defensive line coach Rodney Garner will be there in his ear shouting words of, say, encouragement.
"All the same," Wright said of Garner's colorful vocabulary. "It's all 'exciting', 'exquisite' and 'extraordinary.' "
And expletive?
"Expletive," he said. "Very expletive."
March, 11, 2014
Mar 11
10:00
AM ET
This is Part II of a weeklong series predicting what changes are ahead for Auburn this spring.
AUBURN, Ala. -- There have been plenty of questions surrounding Auburn's defensive line this offseason. How do you replace a guy like
Dee Ford
? Who will be the leaders now that Ford and
Nosa Eguae
are both gone? What should be expected of the rising sophomores? Will any of the newcomers make an impact?
Here's a bold prediction for the spring: The defensive line will be better in 2014 than it was in 2013.
How can that be when Auburn is losing a combined 20 tackles for loss and 12.5 sacks from Eguae and Ford? Three reasons -- star power, experience and depth. The line was the strength of the defense a year ago, and it's expected be the strength again this season.
The key will be that trio of rising sophomores --
Montravius Adams
,
Elijah Daniel
and
Carl Lawson
-- who should evolve from promising young rookies to the dominant defensive linemen that Auburn fans have grown accustomed to seeing over the years.
[+] Enlarge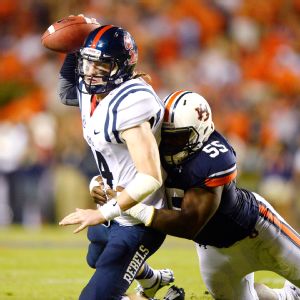 AP Photo/Todd J. Van EmstCarl Lawson showed he could be Auburn's next defensive star after a solid freshman season.
All three came to Auburn as highly ranked recruits, and though they had their moments last fall, it was clear they were still raw. As spring practice approaches, they have had a chance to play in the SEC, and they've been able to work out in a major college weight room. They're ready, both physically and mentally, to take the next step.
Lawson, in particular, could be in line for a huge spring as he looks to replace Ford at one of the defensive end spots.
"That guy is going to be a mammoth player by the time he leaves here," Eguae said of Lawson, a former five-star recruit.
The talent and star power might be in the sophomore class, but experience cannot be taught, and Auburn has plenty of it. With defensive tackle
Jeff Whitaker
expected to return for a fifth season, the Tigers will feature five scholarship seniors on their defensive line.
It's a group that includes
LaDarius Owens
and
Gabe Wright
, two starters from the BCS title game. They might not be as good as Eguae and Ford just yet, but the duo still combined for 13.5 tackles for loss and 5.5 sacks last season. Former junior college transfer
Ben Bradley
is another senior to watch. He played well early in the season but faded late.
Auburn also signed six defensive linemen in 2014 to add even more depth to an already deep unit. The three most likely to contribute next year are juco teammates
DaVonte Lambert
and
Devaroe Lawrence
and ESPN 300 defensive end
Andrew Williams
, who waited until signing day before choosing the Tigers.
"That was a strength of ours last year," head coach Gus Malzahn said of the defensive line. "We lost some seniors, but we really feel like we filled our needs there. We got some outstanding impact players that coach [Rodney] Garner is very excited about."
All four starting spots on the defensive line will be up for grabs, but Garner proved last season that just because a player isn't in the starting lineup doesn't mean he's not going to play. Early in the year, Auburn was rotating eight or nine bodies up front. Garner and defensive coordinator Ellis Johnson will have plenty of options to choose from as they put together the rotation for the season opener. It's a pool of players that's talented, experienced and deep.
March, 5, 2014
Mar 5
2:30
PM ET
Editor's note: This is part three in a week-long series looking at five position battles to watch when Auburn opens spring practice in two weeks.
AUBURN, Ala. -- On Tuesday, the Auburn coaches and players looked on as former defensive end
Dee Ford
showed off his athleticism
at the Tigers' pro day
. It was a bittersweet moment for most of them. On one hand, they want to see Ford get drafted in the first round. But it also reminded them of what they're going to be without next season.
[+] Enlarge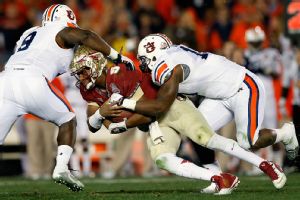 Kevin C. Cox/Getty ImagesLaDarius Owens, right, is the most experienced defensive end on Auburn's 2014 roster and recorded half a sack in the BCS title game.
Despite missing the first two games of 2013, Ford still led the team with 10.5 sacks and 14.5 tackles for loss. He had one of the quickest first steps in the SEC and provided a consistent pass rush that more than made up for deficiencies on the back end.
"We don't max blitz," defensive coordinator Ellis Johnson said prior to the VIZIO BCS National Championship. "We have to get there with four or five. ... I think our edge guys have been much more productive, and it's obvious."
So how do you replace that kind of production? That's the question Auburn will try to answer this spring. It won't be easy, but the Tigers do have a good mixture of veterans and rising stars who will vie for playing time.
The contenders
LaDarius Owens (senior):
With Ford gone, Owens becomes the veteran of the group. He has played in 31 games and started 11, including the BCS title game. As a junior, he finished with 30 tackles, including five for a loss, and 2.5 sacks. He might not be the most explosive defensive end on the roster, but he's the most experienced. And if last year was any indication, the coaches tend to lean toward experience.
Carl Lawson (sophomore):
If you're looking for the star of the group, look no further. Lawson was ranked the
nation's No. 2 overall player in the 2013 ESPN 300
coming out of high school and showed flashes of that potential last season as a freshman. His teammates raved about his talent throughout the season, and Johnson said physically Lawson was ahead of where the older guys were at that point in there careers, Ford included. Lawson still has to earn his spot, but with his work ethic and attitude, he could be in for a monster spring.
Elijah Daniel (sophomore):
Lawson stole the headlines last year, but he wasn't the only freshman defensive end to make an impact. Daniel had a strong season in his own right. The former ESPN 300 prospect didn't start any games but still finished among the team leaders with 2.5 sacks. The upcoming spring is critical for the rising sophomore. Even if he doesn't win a starting job, he can solidify his spot in the rotation before the newcomers arrive this summer.
Gimel President (sophomore):
The next-most-experienced end on the roster is President, who played in three games last year and made three tackles. He'll have an opportunity this spring to crack the two-deep depth chart and make a case for more playing time.
Keymiya Harrell (junior):
He missed most of spring practice a year ago due to a knee injury, but Harrell is healthy and hoping to make the most of his opportunity this spring. He played in just one game last season.
Note: Three freshmen defensive ends are expected to arrive this summer, including ESPN 300 recruit Andrew Williams.
Spring forecast
Owens and Lawson should be the front-runners to start next season, but there are still plenty of opportunities available for the other players. Johnson likes to rotate his defensive linemen so he can keep his starters fresh for the fourth quarter, and there's always the potential for injury, too. That's why this spring is so important for players like President and Harrell, who could be running out of time to make an impression.
February, 19, 2014
Feb 19
10:00
AM ET
Editor's note: This is Part III in a week-long series looking at Auburn's top five position groups with room to improve.
AUBURN, Ala. -- The defensive line wasn't bad in 2013. In fact, it was quite the contrary. The line was considered the strength of the defense, and the rotation of players up front was one of the reasons Auburn won 12 games and made the run it did. However, when you lose two starters and arguably the two most consistent players on the line, there's still plenty of room to improve.
It starts with defensive end
Dee Ford
. How do you replace a player who led the team in sacks (10.5) and tackles for loss (14.5)? The Tigers were without him the first two games this past season, and although they won, there was a noticeable difference when Ford returned to the lineup against Mississippi State.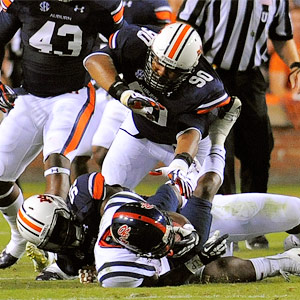 Shanna Lockwood/USA TODAY SportsGabe Wright (90) and Carl Lawson (55) figure to be major cogs in the defensive line rotation in 2014.
The other loss up front,
Nosa Eguae
, isn't as talented as Ford, but he was just as valuable in his own way. He started the season at defensive end but moved to tackle midway through the season to help the team. Eguae might not get drafted, but the intangibles and the leadership qualities he provided will be difficult to replace.
The good thing is that defensive coordinator Ellis Johnson will have plenty of options to choose from. Auburn's defensive line is as deep, if not deeper than any other position on the field. But can they sustain success, and more importantly, can they improve on last year?
Battling for No. 1:
Seniors to be
Gabe Wright
and
LaDarius Owens
were both listed as starters on the depth chart for the VIZIO BCS National Championship game, so they're obviously the favorites to crack the starting rotation in 2014. Wright led all Auburn defensive linemen with 31 tackles in the 2013 season, and Owens was right behind him with 30. Defensive tackle
Angelo Blackson
started 10 games as a sophomore in 2012 but lost his job this past season when Eguae moved inside. He'll be given every opportunity to win it back this spring. Beyond that, it's a pair of former ESPN 300 prospects who are next in line.
Carl Lawson
and
Montravius Adams
just wrapped up their freshman seasons, and they both hope to take the next step in their second seasons. Lawson, who was second on the team with four sacks, has the makings of a star.
Strength in numbers:
This is where Auburn thrived last season. The coaches were able to rotate close to seven or eight players up front each game, and the line didn't miss a beat. That not only provided valuable game experience, but it also kept the starters fresh for the fourth quarter. Junior college transfer
Ben Bradley
and freshman
Elijah Daniel
were both thrown in the mix as soon as they arrived on campus, and both responded well. Bradley, who enrolled last January, started in three games in his first season. In reality, they both belong in the above group, as they will both compete with the first group this spring. But regardless of whether or not they start, they will be counted on for depth. There's not much depth after that. The next-most experienced player,
JaBrian Niles
, has played in just seven games over the last two seasons.
New on the scene:
Auburn put together one of the top defensive line classes in the country a year ago. This year's class might not rival that, but it's still a promising group. The two most likely to compete for early playing time are junior college transfers
DaVonte Lambert
and
Devaroe Lawrence
. Unlike Bradley, they weren't able to enroll early, so they won't go through spring ball, but they should still be ahead of the other signees physically. Lambert, in particular, has a real chance to make an early impact. He was the top-rated defensive tackle in ESPN Junior College 50 rankings. The Tigers also signed three ESPN 300 defensive linemen, headlined by defensive end
Andrew Williams
, who committed to Auburn on national signing day. The line should continue to be the strength of Auburn's defense for years to come.
December, 30, 2013
12/30/13
9:00
AM ET
Editor's note: Each day this week, Florida State reporter David M. Hale and Auburn reporter Greg Ostendorf will preview a position battle in next Monday's VIZIO BCS National Championship. The first matchup is between Florida State's offensive line and Auburn's defensive line.


Florida State's offensive line:
The five starters on the line for Florida State are all NFL prospects. The group is led by senior center
Bryan Stork
, a first-team AP All-America selection. Tackle
Cameron Erving
and guard
Tre' Jackson
were first-team All-ACC selections.
The group excels at run-blocking, and Florida State topped 2,600 yards and 40 touchdowns on the ground for a second consecutive season. Factoring out yards lost to sacks, FSU is rushing for more yards per carry against FBS teams this season than Auburn.
The question — if there is one — for Floirida State is in its pass protection. The Seminoles have allowed a sack on 6.7 percent of passing attempts, which ranks 83rd nationally, and 13 of the 29 sacks allowed have came in the last five games.
While those numbers might be a cause for concern against an stout Auburn defensive front (28 sacks, tied for third in SEC), two factors mitigate any perceived struggles.
For one, teams have blitzed Florida State often in hopes of rattling quarterback
Jameis Winston
, as 36 percent of his throws come against the blitz. Occasionally they've gotten to him, with 12 sacks when rushing five or more defenders, according to ESPN Stats & Info. More often, however, he burns them. Winston is completing 71 percent of his passes against the blitz, with 20 TDs and three interceptions.
The second issue is Winston's desire to complete the deep ball. The redshirt freshman won the Heisman Trophy by being aggressive, but he admits there are times he needs to check down and get rid of the ball quicker rather than asking his line to hold blocks for a few extra seconds. The payoff to the approach, however, has been an array of big plays. Winston leads the nation in yards per attempt (10.9) and only LSU's
Zach Mettenberger
has a higher percentage of completions gain 15 yards or more than Winston (43 percent). Winston is tough against pressure, completing 62 percent of his throws when hit or hurried — nearly double the average for a quarterback from a BCS automatic-qualifying conference. Even getting him into third-and-long situations doesn't help much; he's an absurd 16-of-21 with 15 first downs on third-and-10 or longer.
Auburn's defensive line:
When Auburn last won the national championship in 2010, it had an above-average defense, but it was a defense that featured a dominant front line with All-American defensive tackle Nick Fairley and veterans Antoine Carter, Zach Clayton and Mike Blanc. The 2010 Tigers also had highly-touted freshman defensive end Corey Lemonier, who is now a rookie with the San Francisco 49ers.
[+] Enlarge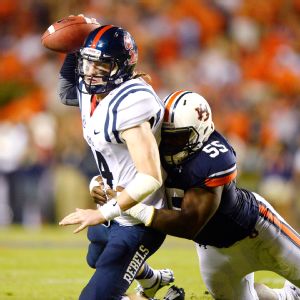 AP Photo/Todd J. Van EmstAuburn freshman Carl Lawson had four sacks this season.
This year's Auburn team is similar. The defense has struggled at times this season, but its strength is up front on the defensive line.
The star is defensive end
Dee Ford
, who leads the team with 8.5 sacks, 12.5 tackles for loss and 17 quarterback hurries. A senior, Ford missed the first two games with an injury but has since recorded a sack in seven of Auburn's last 11 games. He's a different type of animal than Fairley, but an animal nonetheless.
The rest of the line also has its share of veterans with senior
Nosa Eguae
and juniors
Gabe Wright
,
LaDarius Owens
and
Ben Bradley
. Eguae, who moved inside to tackle midway through the season, started in the 2010 BCS title game.
And then there are the freshmen. The trio of
Carl Lawson
,
Montravius Adams
and
Elijah Daniel
is as good a collection of young defensive linemen as there is in college football. Lawson, the nation's No. 2 player coming out of high school in the 2013 recruiting class, leads the group with four sacks.
Fairley was dominant in the 2010 game as Auburn's defensive line controlled the line against a smaller, quicker Oregon team. That likely won't be the case this time around against a Florida State offensive line that's much stronger and much more impressive, but the key to stopping the Seminoles will still begin and end with the front four. Auburn defensive coordinator Ellis Johnson will rely on his line to get pressure on Winston, knowing how good the Heisman Trophy winner has been against the blitz this season.
Hale:
Edge to Florida State
Ostendorf:
Toss-up
September, 13, 2013
9/13/13
9:00
AM ET
AUBURN, Ala. -- All the talk has centered around Alabama and Texas A&M this week, and rightfully so, but there's another intriguing SEC matchup taking place on the Plains this weekend. Auburn versus Mississippi State, a game that features two similar teams vying to start the conference season off on the right foot.
Both coaches know how important it is to win that first SEC game.
"I think it gives you great momentum moving forward," Auburn's Gus Malzahn said. "You don't feel like you're in an uphill battle the rest of the conference season. Of course in this conference, if you're going uphill, it's tough. So it's definitely a big game."
"It's the first SEC game of the year," Dan Mullen added. "Here at Mississippi State in the little time I've been here, I think even prior to my time, it's been against Auburn every single year, so I think it adds a little bit of a rivalry aspect to the game. I think the first game is so critical on how you start your year off in conference play."
[+] Enlarge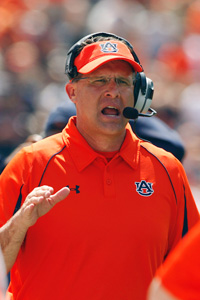 John Reed/US PresswireAuburn hasn't won an SEC game in nearly two years, when Gus Malzahn was the Tigers' offensive coordinator.
You could argue that Mississippi State needs a win on Saturday. After a 7-0 start last season, the Bulldogs have lost six of their last eight games, and a loss to Auburn could put their postseason aspirations in serious jeopardy after only Week 3.
But nobody needs a conference win more than Auburn. It's been nearly two years or exactly 685 days since the Tigers last won an SEC game. Malzahn was still the offensive coordinator at Auburn when the Tigers won their last conference game. They finished 0-8 last season, winless for the first time since 1980.
"I haven't even thought about it," Malzahn said. "I've told those guys I'm not even worried about last year. It's a new year, and it's a new season. We understand the SEC and that we're going to have to play well to win. But we've not talked about last year."
There might not be much talk of last year on Auburn's campus right now, but the players on that team didn't forget. They had to play through it. They remember how difficult it was, and that's why they understand the importance of Saturday's game. They want that elusive SEC victory, not just for their teammates and coaches, but for the fans too.
"It's very important," defensive end
LaDarius Owens
said. "We haven't had one in a while and it was a good feeling leaving the stadium. A lot of fans walking up to me saying it feels good for them. We put them and ourselves through a lot of turmoil last year, a lot of trouble. We want to get a win for us as well as for our fans. They deserve it."
But all week, the Auburn coaches have been preaching to the players that it's a different season now. The Tigers are 2-0, one win away from matching their win total from all of last year. The offense has looked much improved. The defense is keeping teams out of the end zone. There's a general buzz around the program again.
But the real season begins Saturday, and although it will be Malzahn's first SEC game as a head coach, he understands what's at stake and embraces it.
"I think you have to, especially in this league," he said. "You've got to be real with your players. I think our more experienced guys understand that. We play in the best league in college football, and any time you play an opponent you've got to have your best. We understand that."
The players will be ready, and even the newcomers will likely have an extra bounce in their step come game time.
"It will be a little extra excitement, first SEC game," first-year running back
Cameron Artis-Payne
said. "I know I've never played in an SEC game, so I'll be a little more amped. But at the end of the day, it's still just football."
So while Alabama and Texas A&M will be the center of attention on Saturday, Auburn and Mississippi State will play a game just as critical to both teams.
September, 10, 2013
9/10/13
10:00
AM ET
AUBURN, Ala. -- Through the first two games, Auburn's defense is ranked in the bottom half of the NCAA, giving up 443 yards per game. But yet, the Tigers have not allowed a touchdown since Washington State scored in the second quarter of game one. That's six straight quarters and 19 straight possessions that Auburn has kept the opponent out of its end zone.
"We've got a lot of things we can improve on, but like I told the players, any time somebody doesn't touch the end zone, you've done something right," Auburn defensive coordinator Ellis Johnson said.

During Saturday's victory, there was a point midway through the second quarter where Arkansas State had more yards and had nearly doubled the time of possession, yet trailed 14-3. The Red Wolves made it inside the AU 30 on each of their first three drives, but they were stopped on fourth down twice and had to settle for a field goal the other time.
Just like in game one, the Tigers' defense stepped up and made plays when they needed to.
"We had an edge not to let them in the end zone going into the game," linebacker
Cassanova McKinzy
said. "Like Coach Johnson says, when you face a team, you don't let them in your end zone. It has nothing to do with the play calling. It was the heart of all the guys on the field. I feel like we just had an edge. We were just playing like a brand new team."
McKinzy, in particular, had a good game. The weakside linebacker didn't play much in the opener because of personnel and schemes but finished with eight tackles and two quarterback hurries against Arkansas State.
LaDarius Owens
also recorded eight tackles for Auburn, including two for a loss and one sack. In the second quarter, he chased down the quarterback and forced an incomplete pass on fourth down, a stop that killed a 14-play, 54-yard drive for the Red Wolves.
"It's kind of a bend-not-break theorem," Owens said. "We're still in the early parts of the season, a few kinks we've got to correct, but it's all about attitude. Whether you give up a big play, it's next-play mentality. That's what the defense is all about.
"We have to stick together through the good and bad times. We were able to stay strong in short yardage, fourth-and-short and dealing with them getting in our red zone."
Auburn's first-year defensive coordinator has been around the game for a long time, but it's been awhile since he's heard the bend-don't-break philosophy.
"If somebody coaches that way anymore, I don't know," Johnson said. "I've heard all that. A lot of people like if you blitz a lot or do you not blitz a lot -- not blitzing is bend, don't break. I think I was in the third grade when that term started and as you can see, I'm pretty old.
"We certainly don't have a philosophy where each series we say, 'We want to give up 50 yards guys but don't give up a touchdown.'"
Ideally, the defense would like to get off the field in three plays or less, but for Auburn, the bend-but-don't-break philosophy has worked to this point. On the flip side, it's also helped mask some of the team's weaknesses early in the season, including missed tackles and third down stops, but the Tigers are still 2-0 through the first two games.
September, 8, 2013
9/08/13
11:30
AM ET
AUBURN, Ala. -- Auburn put away any upset talk with an impressive
38-9 victory
over Arkansas State on Saturday. Here are three things we learned:

Malzahn's offense is dangerous:
Sure, it was only a Sun Belt team -- albeit one that was on a nine-game winning streak -- but it's been a while since we've seen Auburn put up more than 35 points against an FBS opponent. The Tigers scored 20 or fewer points in eight games last season. But Gus Malzahn is back, and the offense is better because of it. Give credit to the offensive line, which has been outstanding in each of the first two games, but the scary thing is that quarterback
Nick Marshall
hasn't reached his full potential. As he continues to improve and learn the system, he could take the offense to another level.
The defense has plenty of depth:
As impressive as the offense was in Week 2, the Auburn defense played even better. They held Arkansas State -- which scored 62 points and rushed for more than 500 yards in the season opener -- without a touchdown. The key to the success was how deep the Tigers are, especially on the defensive line. They rotated players on the line all night, which kept everybody fresh and allowed for reserves such as
Carl Lawson
and
LaDarius Owens
to make plays. At linebacker,
Cassanova McKinzy
played a lot more snaps on Saturday and took full advantage. He tied for the first on the team with eight tackles.
It still wasn't perfect:
As dominant as Auburn looked at times, Saturday's victory didn't come without mistakes. Marshall gave up his first turnover of the season when he fumbled the ball while trying to elude defenders in the pocket on third and long. The turnover didn't prove too costly as the defense held Arkansas State to a field goal, but Florida's
Jeff Driskel
can tell you that that teams are not always that lucky. The other troubling stat was penalties. Auburn had nine penalties for 91 yards, including a targeting call that led to the ejection of linebacker
Kris Frost
. By rule, Frost will now have to miss the first half of Saturday's game against Mississippi State (7 p.m. ET, ESPN2).
September, 8, 2013
9/08/13
9:00
AM ET
AUBURN, Ala. -- It was a complete game played by Auburn in its 38-9 win over Arkansas State on Saturday. The offense played well, the defense played well, and even the special teams was solid. Now it's time to hand out some helmet stickers.

QB Nick Marshall:
In his first start, Marshall looked nervous and struggled through the first half. On Saturday, there was no sign of nerves. He completed his first three passes and capped the opening drive with an 18-yard touchdown pass to freshman wide receiver
Marcus Davis
, his first touchdown at Auburn. He also finally connected on a long ball. Marshall threw a beautiful ball to
Sammie Coates
on a 68-yard touchdown pass late in the first half. The Tigers' quarterback finished 10 of 17 for 147 yards and the two scores. He also looked better with the zone read and added 53 yards on the ground.
RB Cameron Artis-Payne:
Take your pick from the three-headed monster in Auburn's backfield. Last week, it was
Corey Grant
. This week, we'll go with Cameron Artis-Payne. The junior college transfer led the team with 19 carries for 102 yards. He scored his first career touchdown on a physical 12-yard run late in the game, a run that showed both his strength and his quickness. Grant added a touchdown, as did
Tre Mason
, but it was Artis-Payne who took the bulk of the carries in the fourth quarter and put the game out of reach. Between all three backs, they rushed for a combined 241 yards.
DE LaDarius Owens:
Before the game, it was announced that
Nosa Eguae
would start in place of Owens at one of the defensive end spots. The move provided extra motivation for Owens who came off the bench to lead Auburn with eight tackles, including two for a loss and one sack. He set the tone for an AU defense that was in the backfield all night, either stuffing the run or pressuring the quarterback. The Tigers finished with 13 tackles for loss and two sacks in the victory. The unit was called out after a subpar performance in Week 1, and it responded, especially the defensive line.
Honorable mention:
LB
Cassanova McKinzy
September, 8, 2013
9/08/13
9:00
AM ET
Week 2 was another wild week in the SEC that provided plenty of highlights, and now it's time to hand out the helmet stickers.

Aaron Murray, QB, Georgia:
The monkey is finally off his back. Murray delivered in a big game, in front of a national audience, and the Bulldogs came out victorious. Before Saturday, he had a reputation for losing big games. He lost to Clemson in the opener. He lost to Alabama in last year's SEC championship. He was 0-3 in his career against South Carolina. That's all changed now. Murray finished 17-of-23 for 309 yards and four touchdowns. More importantly, he didn't turn the ball over. It's just one game, and Georgia still has aspirations of winning an SEC title and then a national title, but Murray can sleep easy for now.
The Tennessee secondary:
Many pundits thought Western Kentucky would go into Knoxville and take down the Volunteers, but Tennessee's defense had other ideas. At one point in the first quarter, it forced five turnovers in a span of six snaps, including two interceptions that were taken back for touchdowns. In all, the Volunteers pulled down five interceptions and held coach Bobby Petrino's passing offense to just 222 yards through the air. Junior safety
Brian Randolph
, who missed the majority of last season with a torn ACL, finished with two picks.
Odell Beckham, WR/RS, LSU:
What didn't Beckham do? As a receiver, he had five catches for 136 yards and three touchdowns. He returned a missed field goal 100 yards for a score, and he also added a 60-yard punt return that set up another LSU touchdown. For the game, he finished with 331 all-purpose yards. The junior now has more than 100 yards receiving in both of his first two games and has emerged as a go-to target for quarterback
Zach Mettenberger
.
The Auburn defensive line:
In Week 1, Auburn failed to generate much of a pass rush from its defensive line. After a rigorous week of practice under defensive coordinator Ellis Johnson, the line responded. The Tigers had 13 tackles for loss against Arkansas State, including a pair of sacks. They held the Red Wolves to just 150 yards rushing after they had gained 500 on the ground the week before. Defensive end
LaDarius Owens
led the way up front with eight tackles, two for a loss, and a sack.
Maxwell Smith and Jalen Whitlow, QBs, Kentucky:
The Wildcats needed a win in the worst way, and the two quarterbacks delivered against Miami (Ohio). Smith, who started, finished 15-of-23 for 310 yards and three touchdowns while his counterpart Whitlow added 103 yards passing on a 10-for-12 night. Whitlow also rushed for 48 yards and a score. New coach Mark Stoops picked up his first win and has to feel good about his two signal-callers going forward.
September, 5, 2013
9/05/13
8:00
AM ET
AUBURN, Ala. -- When Arkansas State comes to Auburn on Saturday, it will bring a nine-game winning streak, second longest in college football. The Red Wolves will bring an offense that's very similar to what Auburn runs, but it's the complete opposite of what the Tigers faced last week with Washington State.


Arkansas State opened the season with a 62-11 victory over Arkansas-Pine Bluff. Although it was an inferior opponent, the Red Wolves still rushed for over 500 yards in the game and had four different players reach the 100-yard mark.
"Five-hundred yards rushing is a lot against anybody," Auburn defensive end
LaDarius Owens
said. "I don't care who they played. That's a big statement, and I'm pretty sure they're going to come in here and try to establish the run.
"[Washington State] threw it all day, and I'm pretty sure they're going to run it all day. They ran the ball like 55 times, so we're going to see a lot of that."
So while it was the Auburn secondary that was tested in Week 1, it will be the front seven, in particular the defensive line, that will need to step up this week.
Working to Auburn's advantage will be the fact that head coach Gus Malzahn was at Arkansas State last season. He knows the opponent's personnel, and defensive coordinator Ellis Johnson is using that to his advantage. Malzahn has been in the film room all week with the defense.
"We have seven coaches here who coached those guys last year, so they're very familiar with the personnel and that helps," Johnson said.
The defense is hopeful that both defensive
Dee Ford
and linebacker
Justin Garrett
will return this week after missing the opener due to injury. Despite
Robenson Therezie
's performance at the Star in Week 1, Garrett might play more, if healthy, against Arkansas State. He's the better of the two in run support.
On offense, it starts with quarterback
Nick Marshall
. In his first start for Auburn, he played conservatively, finishing 10 of 19 for 99 yards through the air. The coaches are hopeful Marshall can take the next step on Saturday.
"We are learning Nick as we go, too," Malzahn said. "We're learning what he's comfortable with, what he's not comfortable with, how he reacts to certain situations. Each game, our comfort zone will get better and better."
If the Tigers want to beat Arkansas State and end the winning streak, Marshall and the entire offense are going to have to play better. Arkansas State isn't a typical Sun Belt opponent, and Malzahn knows that.
"They are one of the hottest teams in college football," he said. "They know how to win, and they expect to win."
September, 3, 2013
9/03/13
2:30
PM ET
AUBURN, Ala. -- In 2012, the Auburn defense gave up 35 or more points in four of their last five SEC games. The Tigers were in the bottom half of the conference in most statistical categories, including total defense, sacks and interceptions. There was clearly a need for change, and the Tigers turned to some new faces, including renowned defensive coordinator Ellis Johnson, to fix it.
Through two quarters Saturday, however, it looked as if Auburn's defense still had its issues. Washington State racked up 264 yards through the air and 21 points.
[+] Enlarge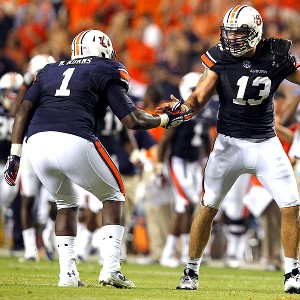 AP Photo/Butch DillFreshman Montravius Adams (right) provided a spark for Auburn's defense against Washington State.
But after halftime, the AU defense clamped down. They still gave up yards to the Cougars, but they made stops when they had to, including a late interception from
Robenson Therezie
, and they held the potent air-raid offense to just three points. The end result was a much-needed victory, specifically for the players who were on the team last year.
"It felt great," defensive end
LaDarius Owens
said. "It's been feeling great ever since the new coaching staff came in. It kind of gave us a new spirit, a new life. It felt good to see that produce us a win. It made us feel like, 'Alright, we're going at it the right way." It is something that we needed."
Johnson knows as much as anybody how important a win like that can be to start the season. He was 0-12 last year as head coach at Southern Miss. What if Auburn had made a mistake here or there and lost the game? Would this defense revert back to old form?
"That was the most important thing that happened, in my opinion the whole night, is that when we had a chance to slip, we didn't," Johnson said. "They stood right in there, played hard, finished the game and got it done. Obviously, they've had a problem doing that in the past."
On Monday, Therezie was named the SEC Defensive Player of the Week, an honor he earned with an outstanding performance, but when the Tigers needed a spark in the second quarter, they turned to true freshman
Montravius Adams
, the No. 2 defensive tackle in the country coming out of high school.
On the first play of his college career, Adams burst into the backfield and sacked the quarterback.
"I was very excited," Adams said. "I wanted to get the team together, so me making that big play helped the team. We all came together, and I think we started clicking a lot better."
Before the sack, Washington State had scored touchdowns on back-to-back drives, but after the play, they never reached the end zone again.
Adams wasn't the only freshman to make an impact for Auburn's defense on Saturday. Johnson said there were times where he saw five freshmen on the field at the same time. The most notable were the three on the defensive line -- Adams,
Elijah Daniel
and
Carl Lawson
-- who rotated in throughout the game.
The trio struggled at times with various assignments, but physically looked the part.
"When they get on the field, they look like they belong on the field," Johnson said. "They're 18-year-old freshmen playing in the SEC, but they look like they fit right in. As time goes on, they get more comfortable in our scheme and start eliminating the mental errors, I think they'll really be a lot better and be more of a contribution."
One of the keys for the freshmen is that they weren't at Auburn last year. They didn't have to go through a difficult and trying season without an SEC victory. They're all used to winning games at the high school level, so it was no different when they won this past Saturday.
"We sang the fight song when all got to the locker room," Adams said. "Everybody was just happy. It was a great way to kick off the season and set the tone for next week."
But for the players who were on last year's team, the win meant even more. The freshman might have been the spark, but now the rest of the unit has more confidence going into the rest of the season.
"A win, regardless of when it comes or how you get it, it always gives you confidence and faith for the future," Owens said.
August, 28, 2013
8/28/13
11:15
PM ET
The starting quarterback was named weeks ago, but Auburn released the rest of its two-deep depth chart Wednesday in preparation for Saturday's opener against Washington State.
As expected, junior college transfer
Nick Marshall
was the first-team quarterback with returning starter
Jonathan Wallace
and true freshman
Jeremy Johnson
listed as the co-backups. Former quarterback
Kiehl Frazier
also made the depth chart, but on defense, a move he made during fall camp. He'll serve as the No. 2 boundary safety behind
Joshua Holsey
.
"I think everyday he feels more comfortable," Auburn head coach Gus Malzahn said. "It's like anything else -- the more you do, the better you'll get at it. He's a competitor. He's a smart football player. He understands offensive concepts. There's a good chance he'll be out on the field [Saturday]."
Returning starter
Jermaine Whitehead
will man the other safety position with junior
Justin Garrett
getting the nod at Star, a new position specific to Ellis Johnson's defensive scheme.
Chris Davis
and
Jonathon Mincy
will start at cornerback for the Tigers.
The defensive line will be without its top pass-rusher
Dee Ford
for Saturday's game, but
Craig Sanders
and former linebacker
LaDarius Owens
will fill in and start opposite of each other at defensive end. Inside, it will be Angelo Blackmon and either
Jeffrey Whitaker
or
Gabe Wright
at the two defensive tackle spots.
A trio of true freshmen defensive linemen --
Montravius Adams
,
Elijah Daniel
and
Carl Lawson
-- were all listed on the depth chart as well as juco defensive tackle
Ben Bradley
. Malzahn expects a majority of the freshmen to play Saturday, headlined by this group.
"Coach [Rodney] Garner, he's going to rotate a lot of guys, especially when you're playing a team that's going to throw it a lot," Malzahn said.
In all, there were eight true freshmen who made the depth chart.
As for the offensive line, the only big unknown was at right tackle where sophomore
Patrick Miller
won the starting job. Miller's backup
Avery Young
earned praise during fall camp, and although he won't start, he has the ability to back up multiple spots on the line.
"Avery's an athlete," Malzahn said. "He can play all five positions if he had to because he's very versatile and very athletic."
Greg Robinson
will start the other tackle spot opposite Miller with
Alex Kozan
and
Chad Slade
penciled in at guard. At center, it will be
Reese Dismukes
, who's started there the last two seasons for the Tigers. He made the Rimington Trophy Watch List preseason.
The skill players are highlighted by running back
Tre Mason
, who was one of the few bright spots last season for Auburn with more than a 1,000 yards rushing. He'll get the start, but Malzahn expects juco star
Cameron Artis-Payne
to make an impact.
"They're pretty much on equal ground right now going into this first game," Malzahn said. "They've both had an outstanding fall camp.
Corey Grant
's a guy you could see in the mix, too. The best thing is we feel like we've got some quality depth at the running back position going in. You can never have enough of that."
Auburn will kick off Saturday at 7 p.m ET against the Cougars.
The Real Deal: Nick Marshall
SEC SCOREBOARD
Thursday, 8/28
Saturday, 8/30
Sunday, 8/31