Auburn Tigers:

Kris Frost
October, 3, 2014
10/03/14
9:00
AM ET
Oh, how the tables have turned since last year. Auburn is now the top-10 team favored at home against a young LSU team that's starting a new quarterback. But this is still LSU. The only time Auburn has beaten the Bayou Bengals in the last seven years is when a guy named Cam was playing quarterback. Nothing will be easy.
Key player:
WR
D'haquille Williams
Shocker, right? Well, Williams would have been on here even if he wasn't playing the school where he was one committed. With
Sammie Coates
banged up and inconsistent play from
Ricardo Louis
and
Quan Bray
, it's been Duke who has picked up the slack. Quarterback
Nick Marshall
is completing 62.5 percent of his passes when targeting Williams and just 53.1 percent when targeting any other player. The matchup is a difficult one for Williams, but expect the Louisiana native to come up with at least one big play against LSU.
Key question:
How many of Auburn's injured players will play Saturday?
Auburn might have come away with a win against Louisiana Tech last Saturday, but it didn't come without a cost. Four starters --
Montravius Adams
,
Kris Frost
,
Cassanova McKinzy
and
Patrick Miller
-- all left the game due to injury and only Adams returned. The sophomore defensive tackle looks good to go Saturday, but the other three remain day-to-day. If both Frost and McKinzy are out, it would leave the Tigers extremely thin at linebacker and force freshman
Tre Williams
into action. Auburn remains hopeful that all three will play.
Key stat:
LSU is allowing the third-most rushing yards per game in the SEC and has allowed two opponents to rush for at least 250 yards, according to ESPN Stats & Info. The Tigers did not allow any team to reach that mark in 2013.
This isn't the LSU defense we've grown accustomed to seeing. Mississippi State dominated the Tigers up front two weeks ago, rushing for more than 300 yards. That's not a good sign heading into a matchup with Auburn, the No. 1 rushing team in the country a season ago. However, through the first four games, Auburn is missing key pieces like Greg Robinson, Tre Mason and Jay Prosch more than they anticipated. The offense hasn't looked as sharp. Maybe this LSU defense will be the perfect remedy to get Auburn going on the ground.
April, 22, 2014
4/22/14
10:00
AM ET
AUBURN, Ala. -- What's the adage? Offense wins games, but defense wins championships. Well, after
Nick Marshall
and the first-team offense put up 44 points in the first half of Saturday's spring game, it's clear that Auburn has enough firepower to win games. But do the Tigers have a defense good enough to win a championship?
That answer remains unclear.
The 58-3 final score looks bad, but more than anything, it shows a lack of depth on the defense, which is understandable given the number of injuries that ravaged the Tigers this spring. Last week, defensive coordinator Ellis Johnson said he had about a dozen guys who either missed all of spring practice or a good portion of the spring. Saturday was no different.
[+] Enlarge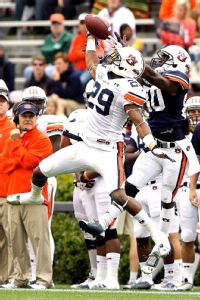 John Reed/USA TODAY SportsAuburn's Brandon King breaks up a pass intended for Marcus Davis during the spring game. The Auburn defense's lack of depth showed on Saturday.
Potential starters
Carl Lawson
,
LaDarius Owens
and
Jermaine Whitehead
did not play, and a handful of other key contributors were limited in action, making it difficult to get a read on how good this unit really is.
"I feel like the defense did good," defensive lineman
Gabe Wright
said after the game. "It's hard to say that when the team has got 50-something points, but the first-team unit, we did better. There wasn't a lot of loafs, according to the coaches. Guys were making plays, so overall I feel like it's a win for us."
Wright, who started at defensive tackle last season, played defensive end in the spring game because of all the injuries. He was one of the many players who moved around this spring, and he's another reason why the grade for the defense is incomplete.
One positive that came from all of the attrition was that it gave several younger players a chance to compete.
With
Joshua Holsey
out this spring, junior college transfer
Derrick Moncrief
stepped up and earned himself some playing time at one of the safety spots, while versatile sophomore
Johnathan Ford
played well at the other spot in place of Whitehead on Saturday.
"They looked pretty well,"
Robenson Therezie
said of the two safeties. "Those are the type of guys we can count on in a big game. They're not rookies anymore, especially Derrick Moncrief. He came in, and he just got it. He caught up with everything. We feel pretty comfortable with the secondary right now."
It was no different at linebacker, where injuries limited both
Kris Frost
and
Cassanova McKinzy
and paved the way for
Kenny Flowers
. The former junior college transfer was named defensive MVP of the spring game after he finished with seven tackles, 2.5 for loss and a sack.
"It felt great," Flowers said. "I wasn't a big factor last year, but I hope to be this year."
Ultimately, the defense that Auburn rolled out Saturday probably isn't capable of winning a conference championship, let alone a national championship, but it's going to look a lot different in the fall, when everybody is back and healthy. That's when the true test will come.
"This defense is going to be really good," Therezie said. "Probably better than last year, because we have some guys coming back. We understand the concept of what Coach Johnson is running and everything, so it's going to be really good. I can't wait to see it."
February, 21, 2014
2/21/14
10:00
AM ET
Editor's note: This is part five in a weeklong series looking at Auburn's top five position groups with room to improve.
AUBURN, Ala. -- Auburn literally ran its way to the BCS title game, rushing for 368 yards per game in the team's last five wins to close out the regular season. However, what was lost in that magical run was that while the Tigers were running all over its opponents, its opponents were also running over them.
Auburn's defense allowed over 200 yards rushing in four of those last five games. Even Arkansas and Tennessee, two non-bowl-eligible teams rushed for over 220 yards against the SEC champs.
So what's the problem or more importantly, who's to blame?
There's not one single unit at fault. Part of the blame falls on the defensive line, which was effective rushing the passer but struggled against the run. Part of the blame probably falls on the secondary for allowing good runs to become great runs. But if you're looking for a scapegoat, look no further than the linebackers.
It's a group that had its moments in 2013 but ultimately needs to play better if this Auburn defense wants to improve in Year 2 under defensive coordinator Ellis Johnson.
[+] Enlarge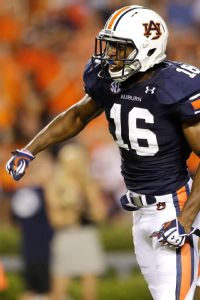 AP Photo/Dave MartinJaViere Mitchell could make a big impact for the Tigers this season.
Battling for No. 1:
Before we go and start putting all the blame on the linebackers, let's not forget that
Cassanova McKinzy
, the team's weakside linebacker, had a very solid season. The sophomore led the team with 75 tackles, including eight tackles for loss. Barring injury, he's entrenched as a starter heading into next season. At middle linebacker, last year's combination of
Jake Holland
and
Kris Frost
played well at times, but the duo was inconsistent overall. Holland graduated which leaves an opportunity for Frost to take sole possession of the job, but he'll have to earn it by fending off some of the up-and-comers. The other question mark is at the Star, a hybrid position between linebacker and defensive back.
Robenson Therezie
started every game last year, but his lack of size hurt Auburn at times against the run.
Strength in numbers:
The most experienced backup is junior-to-be
Anthony Swain
. He played in all 14 games last season and finished 13th on the team with 26 tackles. He'll likely backup McKinzy on the weakside, but he has the size to play middle, too. After Swain, there are still a number of players who could see action this year including
JaViere Mitchell
, who made two key fourth-down stops against Arkansas, and
Kenny Flowers
, a junior-college transfer who played in 11 games. The player to watch this spring is Justin Garrett. He was the team's MVP last spring and was slotted to start at the Star before a multitude of foot injuries limited him to just two games. If Auburn can get him back healthy, it could provide a huge boost for this defense.
New on the scene:
The most likely player to push Frost at middle linebacker is one that's not even on campus yet. ESPN 300 linebacker
Tre Williams
signed with Auburn in hopes of early playing time, and though he probably has the talent to start from Day 1, he knows he still has to earn it. As a senior, Williams finished with 119 tackles and was named to the all-state team. Don't be surprised if it turns into another time share between he and Frost, similar to what the Tigers used last year. Auburn also signed
Derrick Moncrief
, the nation's No. 1 junior college outside linebacker. Moncrief enrolled early, which gives him the advantage of going through spring practice, and he's expected to push for immediate playing time at the Star.
November, 5, 2013
11/05/13
4:35
PM ET
AUBURN, Ala. -- Outside of special teams, Auburn linebacker
JaViere Mitchell
didn't play until midway through the second quarter of Saturday's game at Arkansas. But when the Razorbacks drove inside the 5-yard line, the coaches called Mitchell's number, and he responded.
With help from the defensive line and fellow linebackers, Mitchell came up with back-to-back tackles at the goal line to prevent the Razorbacks from getting in the end zone. Auburn clinged to its 14-3 lead, and the momentum shifted back in the Tigers' favor.
"Boy, he made two great plays down there, the first one especially," defensive coordinator Ellis Johnson said. "The first one he came over the top, and if he didn't hit that running back, I don't know if he'd then squirt into the end zone.
[+] Enlarge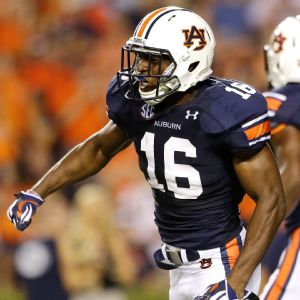 AP Photo/Dave MartinAuburn sophomore linebacker JaViere Mitchell made two big goal-line stops at Arkansas.
"Our front did a really good job creating some penetration.
Kris [Frost]
did a good job of taking on the lead, but Javi made two really good tackles there. That was really the only two plays that he got to play, and both of them were excellent."
It's been a difficult year for Mitchell. He missed a week in the spring with a concussion. He lost weight over the summer because of a stomach issue. During the season, he's moved back and forth between linebacker positions.
Johnson said Mitchell started to catch on and make progress the last three weeks, and the coach said he would feel comfortable putting the sophomore in the game.
Mitchell's emergence is the latest positive move for a group of linebackers that was thought to be a weakness. But the unit has more than held its own, and it continues to improve every week.
"I feel like there are a lot of things we can do better, but I feel like right now they're all playing very solid, making some plays a lot better than we were at the beginning of the year," Johnson said.
On Saturday, starting weakside linebacker
Cassanova McKinzy
had seven tackles, assisted on a tackle for loss and made a key interception. At middle linebacker,
Jake Holland
and Frost combined for nine tackles and a fumble recovery. The trio has played in every game, and all three have more than 30 tackles this season.
It wasn't Auburn's best performance this past weekend as the Razorbacks still rushed for 243 yards, but between the turnovers and the goal-line stand, the linebackers made the plays when it mattered.
"It wasn't a great week of practice [in preparation for Arkansas]," McKinzy said. "The first two quarters, it showed up. We weren't getting our right run fits, and they were busting runs on us because of that. There's just no excuse for it.
"What I take from it: We did decent without a good week of practice. If we have a great week of practice, I feel like it's going to be hard to get those yards that Arkansas got."
Auburn will need to start having better practices the rest of the way with three of the SEC's top rushers -- Tennessee's
Rajion Neal
, Alabama's
T.J. Yeldon
and Georgia's
Todd Gurley
-- still on the schedule. It begins with the linebackers.
October, 21, 2013
10/21/13
3:00
PM ET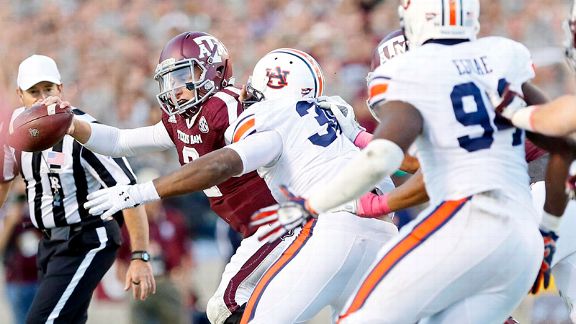 Soobum Im/USA TODAY SportsAuburn defensive end Dee Ford came up with the big play to stop Johnny Manziel at the end of the Tigers' win at Texas A&M.
When running back
Tre Mason
scored to put Auburn ahead 45-41 with 1:19 left on Saturday, most people still didn't think they were going to win. The Tigers gave too much time to
Johnny Manziel
, and despite his shoulder injury, he was going to lead Texas A&M back on yet another game-winning drive, adding to his legacy.
And why not? The reigning Heisman Trophy winner had already thrown for more than 400 yards and four touchdowns. He had just led the Aggies on a 12-play, 75-yard drive capped off by his lone rushing touchdown of the game. The writing was on the wall.
But somebody forgot to tell that to the Auburn defense.
"They were sitting there with 1:19 left, three timeouts and Johnny Manziel, then you've got all day," defensive coordinator Ellis Johnson said.
"We basically had to just play regular defenses. We couldn't get into any of our prevent stuff and just had to play what we had been taking on third down every play. They were still in a situation where they could have run the ball a few times if they wanted to."
It was an Auburn defense that had thrived in the fourth quarter through the first six games. The Tigers had only allowed 13 fourth-quarter points prior to Saturday's game, and they were giving up, on average, 67 yards in the final 15 minutes.
Manziel started that last drive just as everybody expected. He completed a pass to
Mike Evans
for 19 yards. He rushed for six yards. He connected with Evans again for 22 yards, and the Aggies were already down to the Auburn 18-yard line with 43 seconds left.
But after an incomplete pass, the Tigers finally made a play. Senior defensive end
Dee Ford
sacked Manziel for a loss of 8 yards, forcing Texas A&M to burn its first timeout.
"[Manziel] just keeps tremendous pressure on you all the time," Johnson said. "I thought our front guys worked their rear ends off trying to catch him. Occasionally they were successful, but they harassed him a lot."
On the next play, Manziel scrambled around and looked like he had room to run, but linebacker
Kris Frost
chased him down and held the Aggies quarterback to a gain of 5. It brought up a critical fourth-and-13 with 18 seconds left. Johnny Football couldn't possibly deliver again, could he?
The Tigers didn't even give him a chance. A blitz forced Manziel to try and scramble away , but Ford was waiting for him.
"I didn't really have a thought process," Ford said. "I knew they were throwing the ball, and I knew at that point I need to contain Manziel. It's a credit to the defense. It was a blitz, and I knew that I had to contain the blitz. They were going to flush it to me, and I just needed to make a play."
When everybody expected Manziel to make a play, it was Ford and this Auburn defense that came through.
"You have to try to bottle up the guy," head coach Gus Malzahn said. "He's phenomenal when things break down. In the fourth quarter, when he came back I thought we were a little bit fresher there, and we made the two big plays toward the end."
Ford had yet to record a tackle prior to the last drive, but he came up with two of the biggest plays of the game, sacking Manziel twice to preserve the victory.
"Priceless," he said. "It was priceless."
September, 26, 2013
9/26/13
4:00
PM ET
AUBURN, Ala. -- Auburn has played four games under new coach Gus Malzahn, and although the Tigers are coming off a loss to LSU, the results have been fairly positive. They started 3-0, won their first conference game in nearly two years and stayed competitive in Death Valley.
With no game this weekend, the Tigers are planning for the future.
"The open date comes at a very good time for our team," Malzahn said. "We've got four games under our belt for our coaches to evaluate our personnel, see where we're at as a team and plan moving forward for the rest of the year to put our guys in the best place to be successful."
[+] Enlarge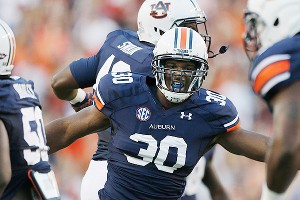 AP Photo/Dave MartinDee Ford is slowly rounding back into form after recovering from an MCL injury.
But more importantly, the week off gives Auburn a chance to get healthy.
"I don't think I've been around a team that had that many (injuries) this early and to main impact players," Malzahn said. "Defensively, we've been playing without a lot of our impact players, and even when we get them back, they're not quite 100 percent yet. But they're getting there."
Both
Dee Ford
and
Justin Garrett
missed the first two games due to injury but returned against Mississippi State. Ford, the team's top pass rusher, sprained his MCL in fall camp but is slowly working his way back. Garrett sprained his foot in camp and has since moved positions from the Star to weakside linebacker.
Against LSU, Auburn was without cornerback
Chris Davis
and defensive end
Craig Sanders
as both players suffered ankle injuries prior to the game. Davis led the Tigers with 10 tackles against Arkansas State in week two and also serves as the team's primary punt returner.
Additionally, running back
Corey Grant
, defensive back
Robenson Therezie
and linebackers
Kris Frost
and
Cassanova McKinzy
all missed time or were limited against LSU.
Needless to say, the bye week couldn't have come at a better time for Auburn.
"That may be the biggest blessing of the off week that we have a chance to get some of our guys healed up," Malzahn said. "We've got guys that weren't 100 percent that played anyway last week, so hopefully this week will help them get back to 100 percent. And the guys that haven't played, we'll have a chance to have two weeks before our next game and have a chance to get one of those guys back on the field."
Defensive tackle
Jeffrey Whitaker
is among those who have yet to play this season, but his status is a little more in question. The two-year starter suffered a knee injury in fall camp that required surgery, and the coaching staff said they plan to make a decision on his future in the coming weeks.
The team also confirmed this week that wide receiver
Jaylon Denson
would miss the remainder of the season with a knee injury.
"To lose a guy like Jaylon Denson is a huge blow, but it creates opportunities for other people," Malzahn said. "The good thing is for the future we're playing a whole bunch of young guys. That will do nothing but helps us for the future."
Next up for Auburn is a home game with Ole Miss on Saturday, Oct. 5.
September, 12, 2013
9/12/13
8:00
AM ET
AUBURN, Ala. -- When Auburn hosts Mississippi State this Saturday, it will be the 10th straight year the two teams have opened the conference season with each other. Because of that, the game has a little extra meaning for the Bulldogs and Tigers.
"It's the first SEC game of the year," MSU head coach Dan Mullen said. "Here at Mississippi State in the little time I've been here, I think even prior to my time, it's been against Auburn every single year, so I think it adds a little bit of a rivalry aspect to the game."
Since the two started playing each other in their first SEC game, Auburn has had the Bulldogs' number, winning seven of the last nine meetings. However, Mississippi State took last year's game, 28-10, in what Mullen now calls one of his top victories as head coach.
But Auburn looks much different in 2013. The coaching staff has changed. The offense has changed. And more importantly, the Tigers are 2-0. They will put that undefeated record on the line Saturday in what has become a pivotal game for both teams.
Storylines
Which quarterback will play for Mississippi State?
Starting quarterback
Tyler Russell
suffered a concussion in week 1's loss to Oklahoma State. He left in the third quarter of the first game and didn't play at all last weekend against Alcorn State. In his absence, backup signal caller
Dak Prescott
has thrown for over 250 yards and two touchdowns. The Auburn coaches expect Russell to return Saturday, but they're still preparing as if both quarterbacks will play. Russell will likely get the start if healthy, but Prescott could still play in certain packages. He adds a running threat to the offense.
What will we see from Auburn's offense?
Gus Malzahn's no-huddle offense is all about tempo. The faster the pace, the better the offense runs. There's already been a noticeable difference from last year, but the Auburn head coach says it's not fast enough. That's partly due to new quarterback
Nick Marshall
, who's still learning the offense, the schemes, the calls, everything. As he gets more comfortable with his offense, expect the Tigers to hurry up even more. There's also a good chance Malzahn and his staff will have a few tricks up their sleeves for Saturday's SEC opener.
Who will win the turnover battle?
Auburn's defense has been far from perfect. They've had to rely on turnovers and fourth-down stops to keep their opponent out of the end zone for the most part. That won't work every game, but it could be the key against Mississippi State. The Bulldogs' two quarterbacks have already thrown three interceptions through the first two games. On the flip side, Marshall has yet to throw a pick for Auburn. If the Tigers can win the turnover battle Saturday, it will go a long way in increasing their chances to win the game.
Players to watch
Auburn: LB Jake Holland
With middle linebacker
Kris Frost
suspended for the first half, it will be up to Holland to carry the weight. Holland started the opener but struggled against Washington State. He played much better in Week 2, and Auburn needs another strong performance from both Holland and fellow linebacker
Cassanova McKinzy
this week.
Mississippi State: RB LaDarius Perkins
Russell isn't the only Mississippi State player returning this week from injury. Perkins missed the Alcorn State game due to an ankle sprain, but he's expected to play Saturday. The senior proved to be one of the better backs in the SEC a season ago, rushing for over 1,000 yards and eight touchdowns.
Quotable
"We played against Oregon and Chip Kelly in 2010 and I got a chance to [again] last year. His signs were fancier than ours, so I tried to get a little competitive with that. Hopefully, we're doing a better job. I'm not that creative in all that but our players, they have some ownership in that." -- head coach Gus Malzahn, on Auburn's play cards from the sideline
September, 8, 2013
9/08/13
11:30
AM ET
AUBURN, Ala. -- Auburn put away any upset talk with an impressive
38-9 victory
over Arkansas State on Saturday. Here are three things we learned:

Malzahn's offense is dangerous:
Sure, it was only a Sun Belt team -- albeit one that was on a nine-game winning streak -- but it's been a while since we've seen Auburn put up more than 35 points against an FBS opponent. The Tigers scored 20 or fewer points in eight games last season. But Gus Malzahn is back, and the offense is better because of it. Give credit to the offensive line, which has been outstanding in each of the first two games, but the scary thing is that quarterback
Nick Marshall
hasn't reached his full potential. As he continues to improve and learn the system, he could take the offense to another level.
The defense has plenty of depth:
As impressive as the offense was in Week 2, the Auburn defense played even better. They held Arkansas State -- which scored 62 points and rushed for more than 500 yards in the season opener -- without a touchdown. The key to the success was how deep the Tigers are, especially on the defensive line. They rotated players on the line all night, which kept everybody fresh and allowed for reserves such as
Carl Lawson
and
LaDarius Owens
to make plays. At linebacker,
Cassanova McKinzy
played a lot more snaps on Saturday and took full advantage. He tied for the first on the team with eight tackles.
It still wasn't perfect:
As dominant as Auburn looked at times, Saturday's victory didn't come without mistakes. Marshall gave up his first turnover of the season when he fumbled the ball while trying to elude defenders in the pocket on third and long. The turnover didn't prove too costly as the defense held Arkansas State to a field goal, but Florida's
Jeff Driskel
can tell you that that teams are not always that lucky. The other troubling stat was penalties. Auburn had nine penalties for 91 yards, including a targeting call that led to the ejection of linebacker
Kris Frost
. By rule, Frost will now have to miss the first half of Saturday's game against Mississippi State (7 p.m. ET, ESPN2).
September, 6, 2013
9/06/13
3:30
PM ET
AUBURN, Ala. -- It will be a strange feeling for Auburn head coach Gus Malzahn when he looks across the field Saturday and sees his former team. Malzahn coached at Arkansas State last year, and this weekend, the Red Wolves will visit the Plains for a nonconference showdown with the Tigers.


In his one year at Arkansas State, his first as a college head coach, Malzahn finished 9-3 and started their current nine-game winning streak. But when the ball kicks off Saturday, the nostalgia will wear off and the Auburn coach will want nothing more than to put an end to the streak.
"Personally, I care greatly for a lot of their players," Malzahn said. "Their administration was great to me while I was there. It was a very good experience. I am very grateful for the opportunity they gave me.
"Professionally, you have got to flip the switch once the game starts, and you have to do everything in your power to help your team win. We will definitely do that."
It won't be an easy task. Arkansas State hired another bright, young offensive mind in Bryan Harsin, and the expectations are once again high for the Red Wolves. The game plan has likely changed, but the personnel remains very much the same.

Malzahn
"I was very impressed with Bryan," Malzahn said. "We shared ideas. He's one of the best in the business, one of the better offensive minds in all of college football.
"It's going to be a different offensive system. You know about personnel and you know quite a bit about the personnel, but the scheme is going to be different. You don't know what to expect. They have a lot of good football players. That's the thing I know most about it."
Storylines
What to expect from Nick Marshall, part two?
The first game was well documented. Marshall played conservatively, didn't turn the ball over, but turned in a subpar performance overall. Will he take a step forward in his second game? Malzahn hopes so. The Auburn head coach plans to open up the playbook more and more each game for Marshall, and he wants to try and pick up the pace on offense. However, he still wants to keep his quarterback out of potentially precarious situations. With the SEC schedule beginning next week, this would be the ideal time for Marshall to have a breakout game.
Will Auburn's linebackers step up to the challenge?
In the season opener against Washington State, the secondary was tested. Auburn had just one linebacker on the field for the majority of the game. That won't be the case Saturday. Starting Will linebacker
Cassanova McKinzy
will see a lot more snaps as they try to defend Arkansas State's potent rushing attack. The Red Wolves rushed for over 500 yards in the season opener against Arkansas-Pine Bluff. Auburn's middle linebacker combination of
Jake Holland
and
Kris Frost
struggled at times in the first game, but they will have to play better on Saturday.
Who will be the playmaker for the Tigers?
Last week, it was
Corey Grant
on offense and
Robenson Therezie
on defense. Both players came up huge for Auburn in the Week 1 victory. Who will it be this week? There are plenty of candidates, including any one of the three-headed monster in AU's backfield or maybe one of the freshman defensive linemen, but the Tigers need somebody to emerge this weekend. The coaches are also hopeful to find a go-to wide receiver for Marshall to throw the ball to.
Players to Watch
Auburn player to watch: DT Montravius Adams
Stopping the run will start up the middle, and it will be a team effort among Adams,
Angelo Blackson
,
Gabe Wright
and
Ben Bradley
. However, it was Adams who provided the spark last week. He energizes both the crowd and his teammates.
Arkansas State player to watch: RB David Oku
Oku started his career in the SEC with Tennessee. He transferred to Arkansas State after his freshman year, and this is his chance to prove he can still play well against teams in the nation's top conference. The Red Wolves had four different players rush for more than 100 yards last week, but Oku is the most talented of the group.
Quotable
"They've got a lot of weapons back on offense, and I know they've got some really good players back on defense. It's going to take a much better effort from us this week. We're going to have to see that Week 1-to-Week 2 improvement if we want to win the game." -- Auburn offensive coordinator Rhett Lashlee, on Arkansas State
Peach State: Top Tier Recruiting Ground?
SEC SCOREBOARD
Thursday, 9/3
Saturday, 9/5