Auburn Tigers:

Jermaine Whitehead
April, 16, 2014
Apr 16
10:30
AM ET
If the season opener was this Saturday, Auburn defensive back Joshua Holsey would be playing. It's not, though. It's only the spring game, and that's why Holsey will be held out just like he has been for the majority of spring practice.
[+] Enlarge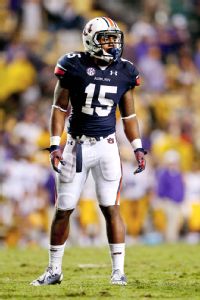 Derick E. Hingle/USA TODAY SportsJoshua Holsey has made a remarkable recovery from last season's injury.
The junior safety tore his ACL in practice just days before the Texas A&M game last fall and missed the remainder of the season. It was a tough blow for the Auburn defense at the time, but the recovery has been nothing short of remarkable to this point. Holsey was back and ready to go by the start of spring practice, just five months after the injury occurred.
"We're just erring on the side of caution," defensive coordinator Ellis Johnson said last month. "He's doing some one-on-one and out there in a little bit of pass scale. If we were getting ready to line up and play next week against Arkansas, he'd be ready to go.
"He's been playing here. He's got two years under his belt, one year under our system. We know what he can do. We're just kind of erring on the side of caution with him."
If it were up to Holsey, he'd be out there with his teammates. Fellow defensive back Jermaine Whitehead said Holsey was sneaking in and taking reps on the first day of practice, and even when he's not been out there, he's still finding ways to help his secondary mates.
"He's been one of the better guys as far as helping us with what he sees, what he thinks the offense is going to do," Whitehead said.
Once fall camp rolls around, the question won't be whether Holsey returns, it will be what position is he going to play when he does return?
As a sophomore, he started every game at boundary safety before the injury occurred. However, junior college transfer Derrick Moncrief has stepped in and found a home at the same position this spring. The newcomer has played so well that the coaches might look to move Holsey when he does return from injury.
"We feel like with Holsey coming back that we've still got a wild card," Johnson said Tuesday after practice. "We feel fine about the guys that went this spring, but in the back of your mind, you have to feel like Holsey was a legitimate starter. And who's job is he going to take?
"The four that finished the spring -- [Jonathan] Jones, [Jonathon] Mincy, Whitehead and Moncrief -- all had good springs. And then Johnathan Ford, he and some of the other guys made great progress, and we've got confidence in them right now.
"[With] all that being said, I just have to believe that Josh Holsey will come back and probably get in the fight for a starting job. Is he going to be the boundary safety? Is he going to be a boundary corner? Where are we going to need him the most?
"We've got some question marks, but they're not the type of question marks where we're not sure who can do this. It's more of who's going to win that battle and who's going to be that No. 1 guy and who's going to be that No. 2 guy."
Ultimately, that's not a bad problem to have if you're Auburn.
The secondary looked depleted at times last year, and it was never more evident than when Holsey went down midway through the season. The Tigers lost top cornerback Chris Davis and safeties Ryan Smith and Ryan White this past offseason, but when Holsey returns, they're going to be better off than they were a year ago, regardless of his position.
March, 25, 2014
Mar 25
2:00
PM ET
AUBURN, Ala. -- Who better to cover a wide receiver than a former wide receiver? That's what Auburn was thinking when the coaches moved
Trovon Reed
to cornerback this spring.
The former four-star recruit from Thibodaux, La., has spent his entire Auburn career on offense. He's played in 36 games and made four starts as a wide receiver over the last three seasons, but he's yet to ever break through like many expected when he signed with the Tigers in 2010. As a junior this past season, he finished with just nine catches for 98 yards.
[+] Enlarge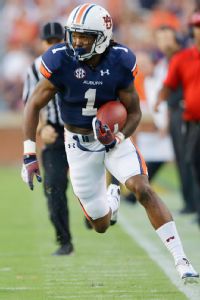 AP Photo/Dave MartinTrovon Reed has fit in well with Auburn's defensive backs after being moved to defense from wide receiver.
Now, as he heads into his fifth and final season at Auburn, Reed is moving into enemy territory. He'll join a secondary that he's competed against for the last four years, and one that knows him well.
"I've always liked Trovon's energy," safety
Jermaine Whitehead
said. "When he played offense, he was the guy who got us pumped to have a good game. Now he's on my side of the ball, so it's going to be a long year for the offense."
The move was hinted at just days after the BCS title game, when Reed posted on his Instagram that he will be "the best cornerback in the nation" in 2014, but coach Gus Malzahn refuted the rumors, calling them premature. It wasn't until the day before the Tigers opened spring practice that Malzahn confirmed the move.
For Reed, it's a new position since coming to Auburn, but it's not one he's unfamiliar with. He played some defensive back in high school. In fact, his RecruitingNation scouting report says "his feet, hips and ability to accelerate could make for a great corner prospect."
The skills were there. All he needed was an opportunity.
Through the first week, the transition has been seamless. Reed is competing with the likes of
Jonathan Jones
and
Kamryn Melton
at the field cornerback spot, and he's providing a unique perspective for his teammates.
"He's an older guy," Jones said. "He adds depth and experience. Coming from receiver, I'm always asking him, 'What do the receivers think?' He has the mindset of a receiver coming from receiver, so he definitely has knowledge that can help us."
Reed isn't the first Auburn player to shift from offense to defense under Malzahn. Former starting quarterback Kiehl Frazier moved to safety last fall, and 2013 signee
Johnathan Ford
started fall camp at running back before he switched to cornerback.
Ford, who is now at safety, played in all 14 games as a freshman and finished with five tackles and one pass break-up.
The Auburn coaches are hoping Reed can make a similar impact and provide depth at a position where the Tigers don't have much experience, but as top cornerback option
Jonathon Mincy
can attest, it's not as easy as it looks.
"Playing wide receiver, it's a lot different than playing corner," Mincy said. "Learning the role of defense, learning what the cornerback is supposed to do and just playing with his eyes ... that's going to be a big adjustment. But he's making a good transition. He's eager to learn and he's a very competitive person."
With Tuesday's practice in the books, Reed has 11 more practices this spring to learn the position and earn his spot before
Kalvaraz Bessent
and
Nicholas Ruffin
, a pair of ESPN 300 cornerbacks, arrive over the summer. The next three weeks will be vital for the former wide receiver.
It's his last shot.
February, 17, 2014
Feb 17
3:30
PM ET
Editor's note: This is the first part in a weeklong series looking at Auburn's top five position groups with room to improve.
AUBURN, Ala. -- The SEC is typically known as a defensive league, but offenses that dominated play last year. The conference featured the likes of
Johnny Manziel
,
AJ McCarron
,
Zach Mettenberger
,
Aaron Murray
and
James Franklin
at quarterback, and defenses paid the price.
[+] Enlarge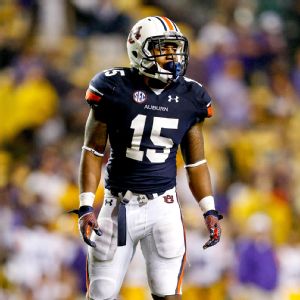 Derick E. Hingle/USA TODAY SportsA healthy return by Joshua Holsey from a mid-October ACL tear would bolster the secondary.
Auburn had to face all of the quarterbacks above and allowed 7.3 yards per game in those contests. The season stats don't do any favors to the Tigers' defense, especially the secondary, but they made enough plays on the back end to win 12 games and play for a BCS title.
"The [secondary] is really a picture of what our defense has been," defensive coordinator Ellis Johnson said before the Florida State game. "They've been inconsistent, given up cheap plays, [but] they have made some unbelievable plays. When they make the kind of plays that they made at critical times, you have to trust them."
The good news for SEC defenses is that all five of those quarterbacks have moved on. In fact, six of the eight league games on Auburn's 2014 schedule will feature teams with a first-year starter at quarterback. However, the Tigers will be without top cornerback
Chris Davis
next season, as well as safeties
Ryan Smith
and
Ryan White
.
The balance of power in the SEC is expected to shift back to the defenses, and if Auburn hopes to follow suit, it must have better play in the secondary. Who will step up?
Battling for No. 1:
With Davis no longer in the picture,
Jonathon Mincy
is expected to slide over and take his role as the No. 1 cornerback. The senior to be finished with 56 tackles last year and has started 28 games in his Auburn career. The other cornerback spot is up for grabs, and the early favorite to win the job is
Jonathan Jones
. He has made three starts in his first two seasons, and when healthy, he's one of the better defensive backs on the team. At safety, the Tigers get
Jermaine Whitehead
back, and they hope to have
Joshua Holsey
back from injury. Holsey tore his ACL in practice just days before the Texas A&M game, but he was the glue that held the secondary together before he went down. A combination of Whitehead and Holsey could make safety a strength heading into next season.
Strength in numbers:
Depth in the secondary was an issue for Auburn last year, and it could be again this year. Freshman
Johnathan Ford
came to Auburn as a running back but moved to cornerback in fall camp because of the lack of players at the position. There has been no word yet on which side of the ball Ford will be on this spring. If Holsey is still out, the team's next best option at safety is senior
Trent Fisher
. He has played in 32 games, starting two, and should get plenty of first-team reps this spring. Another candidate could be
Robenson Therezie
, who started every game at Star this past season. If the coaches go a different direction at the Star position, Therezie could make an impact in the secondary, at cornerback and/or safety. Therezie's backup,
Mackenro Alexander
, also could provide help at safety if needed.
New on the scene:
With depth a concern, Gus Malzahn and his staff made defensive back a priority in the 2014 recruiting class. They added three ESPN 300 cornerbacks, a late bloomer in
Markell Boston
and the nation's No. 1 junior college outside linebacker
Derrick Moncrief
, who could help at both the Star and safety positions. The most intriguing player of the group is
Stephen Roberts
, a former Alabama commitment. The in-state product is listed as a cornerback, but Auburn plans to use him at safety where he can contribute immediately. On signing day, Malzahn tabbed Roberts, along with fellow ESPN 300 cornerbacks Kalvarez Bessent and
Nicholas Ruffin
, as guys who have a chance to come in and contribute early.
January, 3, 2014
Jan 3
2:40
PM ET
NEWPORT BEACH, Calif. -- Florida State quarterback
Jameis Winston
was greeted by crowd of television cameras as he stepped out of the shiny black Chevy SUV that had escorted he and several of his teammates to the Newport Beach Marriott on Friday morning for the Seminoles' offensive news conference.
Sipping on his Starbucks, Winston was once again unfazed as the center of attention.
[+] Enlarge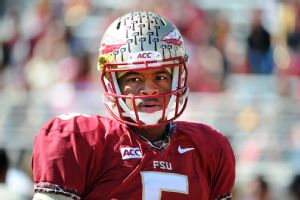 Melina Vastola/USA TODAY SportsHeisman-winning quarterback Jameis Winston threw 38 touchdown passes this season and just 10 interceptions.
After a whirlwind awards tour, which included a trip to New York to claim his Heisman Trophy, Winston was again lighting up the stage with his engaging personality. He was the focus -- not just for the media, but also for Auburn's defense. Auburn defensive coordinator Ellis Johnson conceded that the Tigers "have not been, by all standards, a really good defense this year." That's going to have to change on Monday night against the Seminoles if the Tigers hope to win the Vizio BCS National Championship, and according to Ellis, the difference in the game will be the defense's ability to pressure Winston into uncharacteristic mistakes.
"It's going to be a big factor," Ellis said. "The play in the box, they have tremendous skill out on the edges, but the pressure in the box is going to be one of the biggest keys to any defensive success that we have. There will be some other things in the game we can't control, kicking game, offense, all are going to contribute. But as far as us performing defensively and giving our football team a chance to win, there's got to be pressure on the quarterback."
Somehow, pressure doesn't seem to get to the 19-year-old first-year starter.
According to ESPN Stats & Info, on plays Winston is pressured (knocked down or hurried), he completes an AQ-high 62 percent of his passes and is averaging 11.1 yards per attempt. The AQ average for a quarterback when pressured is 35 percent and 4.7 yards per attempt.
It's a statistical mismatch in Florida State's favor, but Auburn's hybrid safety,
Robenson Therezie
, isn't deterred.
"With our game plan I feel like when we execute and do our jobs, I feel like we can keep him outside his comfort zone," Therezie said. "With our front four, I don't think he's seen the front four he's about to face on January 6th. It's a completely different front four than he's ever faced. With our secondary, I don't think he's seen the secondary that he's seen all year with our secondary. It's completely different from all the other leagues he's played in."
The good news for Auburn's defense: It has had a little experience with elite SEC quarterbacks. Now the bad news: Against the offenses of
Johnny Manziel
,
AJ McCarron
,
Aaron Murray
,
Zach Mettenberger
and
James Franklin
, Auburn allowed 7.3 yards per play.
"I think seeing those type of players, week in and week out, definitely gets you ready," defensive back
Jermaine Whitehead
said. "I mean, seeing previous Heisman winners gets you ready for a guy that just won the Heisman. Playing against those guys a couple years now, watching them grow and watching how they transpired over the years, the depth of exactly what Winston has the capacity of ...
"I think being in those situations, also, has shown us how to be resilient, not give up when they make a big play. We understand that their college football team is one of the best in the country, and they're going to have big times in the game, and how we respond is going to be the test of the game."
December, 8, 2013
12/08/13
9:00
AM ET
It was a shootout in the SEC championship, and Auburn had too much firepower for Missouri on Saturday. The Tigers won their 8th conference title in program history and first since 2010. Now it's time to hand out some helmet stickers from the game.

RB Tre Mason:
It's about time Mason is given the credit he deserves. The junior running back has done it all season, but he saved his best performance for last with 46 carries for 304 yards and four touchdowns Saturday. Mason's 304 yards are the second-most in a game in Auburn history and fifth-most in a game by an SEC player. When Auburn fell behind in the second quarter, it was Mason who put this team on his back, carrying nine times for 138 yards on back-to-back drives, capping both off with touchdowns. He scored twice more in the fourth quarter to put the game away. Mason now has 1,621 yards and 22 touchdowns on the season and likely booked a trip to New York City for the Heisman Trophy presentation.
QB Nick Marshall:
Mason took home MVP honors and deservedly so, but Marshall is still the spark plug for this Auburn offense. Outside of two fumbles in the first half, the AU quarterback played another terrific game, doing it with both his arm and his legs. Marshall went 9 of 11 through the air for 132 yards, rushed for 101 yards and scored two touchdowns. It was the fourth time this season he has reached the century mark rushing and is now over 1,000 yards on the season. He made the biggest play with his arm, though. Leading by a field goal in the fourth quarter, Auburn faced a third-and-8 from the Missouri 30-yard line. Marshall connected with
Trovon Reed
for 23 yards and a first down. The Tigers would score four plays later.
The offensive line:
Before Saturday's game, Auburn led the SEC in rushing with an average of 318 yards per game. The Tigers nearly eclipsed that by halftime. They finished with an astonishing 545 yards on the ground. It was the soxth-most rushing yards ever by an SEC team and the most for Auburn since 1973, when the Tigers ran for 565 yards against Southwestern Louisiana. Credit the offensive line. There were gaping holes all game, and it felt like the kicker could've run for 100 yards the way Auburn's line dominated up front. They wore down a Missouri defense that ranked second in the conference against the run. Marshall, Mason and the other backs might get the recognition, but it starts at the line of scrimmage.
Honorable mention:
DB
Jermaine Whitehead
November, 14, 2013
11/14/13
8:00
AM ET
AUBURN, Ala. -- In the last two games, Auburn has only completed 11 passes. Yet the Tigers have put up 90 points in two road victories at Arkansas and at Tennessee. It's because nobody can stop their rushing attack. They rushed for 233 yards against the Razorbacks and 444 yards against the Volunteers.
It could be more of the same when No. 25 Georgia comes to town Saturday.
[+] Enlarge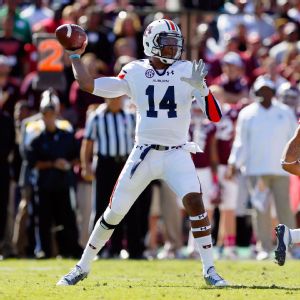 Soobum Im/USA TODAY SportsEveryone knows Nick Marshall can run the ball, but how he passes it against Georgia could be a key factor for Auburn against the Bulldogs.
"They don't have to throw the ball," Georgia coach Mark Richt said. "I think they can throw the ball, and I think they can throw it well. We're preparing for that.
"But I think they'll go into this game like a lot of the other games. They'll have a plan to do both, and if the team just cannot slow them down running the ball and they keep moving the chains and scoring points, I don't think they're necessarily going to throw it too much if they don't have to."
Auburn boasts the No. 1 rushing offense in the SEC and third nationally with 320 yards per game. However, the Bulldogs are only giving up 126 yards per game on the ground this season. Something's got to give.
What Auburn needs to do to win:
If there's an area where Georgia's defense has been susceptible, it's been through the air. Auburn will have to take some chances in the passing game, and it starts with wide receiver
Sammie Coates
who is second in the nation in yards per catch (24.92). But the Tigers still have to be careful not to turn the ball over against an opportunistic UGA defense. The more ominous task will be in front of Auburn's defense. How to stop
Aaron Murray
and
Todd Gurley
? The latter might not be 100 percent, but if he's healthy enough to play, he's healthy enough to make an impact. If the Tigers can jump out to an early lead at home, it could take Gurley out of the game and make it difficult for Georgia to come back.
Players to watch
QB Nick Marshall:
How has Marshall's name not been mentioned yet? Everybody knows by now that he's facing his former team, but all that side, he genuinely is the most important player in Saturday's game. He needs to keep his emotions in check, continue to execute the zone-read and maybe hit a few passes before it's over.
DB Jermaine Whitehead:
Defensive coordinator Ellis Johnson referred to Whitehead as the rock for this Auburn defense. He might not be flashy and he might not make all the plays, but he's been the most consistent player in the Tigers' secondary. He needs another solid performance this Saturday against Murray and a very talented Georgia offense.
Quotable
"The sky is the limit. If the sky is not the limit then there are footsteps on the moon. Elijah is as talented as they come. If you believe in the five-stars, he would be five-star. The only thing that was holding him back was mental. From a physical standpoint he's there in the SEC. I give him all the praise and the glory. He deserves it." --
Gabe Wright
on teammate
Elijah Daniel
October, 29, 2013
10/29/13
11:00
AM ET
AUBURN, Ala. -- Gus Malzahn knows a thing or two about winning.
As a high school coach, he led seven teams to the state championship game in 14 years, winning three of them. From 2006 to 2011, he was offensive coordinator at Arkansas, Tulsa and Auburn and never endured a losing season. He won the national championship with the Tigers in 2010. And last season, his first as a college head coach, he led Arkansas State to the Sun Belt championship.
[+] Enlarge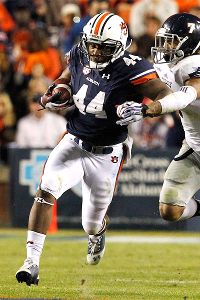 AP Photo/Butch DillExpectations are rising for Auburn, but Cameron Artis-Payne says the Tigers are focused on the next game.
The record speaks for itself, but when Malzahn returned to Auburn prior to this season, nobody expected him to turn the program around in just one year. The Tigers were 3-9 a season ago, and most thought they'd be lucky just to make a bowl game in 2013.
But after eight games, Auburn is already bowl eligible, and Malzahn's team has higher aspirations now. They're 7-1, ranked No. 11 in the latest BCS standings and four wins away from claiming the SEC West title.
"We've got some great players," safety
Jermaine Whitehead
said. "I most definitely saw us competing in a lot of games. I felt like we had one of the oldest teams coming back, and it was about time that we make our mark."
The national perception has changed, too. Auburn was the underdog in three of its four SEC games, but after wins against No. 24 Ole Miss and No. 7 Texas A&M, the Tigers are now the favorite Saturday against Arkansas and will likely remain that way until they host No. 1 Alabama in the Iron Bowl.
But the players don't care about being the favorite. They don't care that Auburn is on the verge of cracking the BCS top 10. They're taking the same approach.
"It doesn't change the mindset," first-year running back
Cameron Artis-Payne
said. "We're just going to keep moving forward. We're going to do the things that got us here. Coach Malzahn and the coaching staff definitely keep us grounded anyway, so there's no way we're going to lose what we're doing."
"You don't want to think about rankings,"
Dee Ford
added. "That got a lot of teams in trouble early on in the year. You don't think about rankings at all. You think about the task at hand. You really just want to focus on executing and playing football. At the end of the day, no matter what ranking you are, you have to play football."
Still, with every win, Auburn is a team that is growing more and more confident. Beginning on Saturday, it has back-to-back road trips to Arkansas and Tennessee before finish the season at home with Georgia and Alabama. There's not a game left on the Tigers' schedule that they don't think they can win.
"We're definitely gaining confidence," Artis-Payne said. "We feel like we can beat anybody. We're just going to keep working, and we're going to see what happens when the smoke clears at the end of the season."
It's fun to look ahead to a potential top-10 matchup in the Iron Bowl, but the Tigers are focused only on their next opponent, a mindset that stems from their head coach.
"I feel like I'm saying the same thing every week, but it's about Arkansas, and it's about going on the road," Malzahn said after Saturday's win over Florida Atlantic. "It's about trying to play our best football, and we're not worried about all the underdogs or favorites. That's our mindset.
"Any time you're winning, you're playing pretty good football. You have some things you can build upon. But every week is different."
Auburn has lost five of the past seven meetings with the Razorbacks, but the Tigers are hoping to change that Saturday and keep the wins coming for their first-year head coach.
October, 29, 2013
10/29/13
11:00
AM ET
BIRMINGHAM, Ala. -- The morning traffic in Birmingham on Saturday was unbearable. One side of the interstate was littered with cars, trucks and campers sporting some combination of crimson and white. Rows and rows of drivers were "On my way to see Bama play," according to the stickers on their vehicles. The caravan inched slowly toward Tuscaloosa, weaving on and off exits and around construction.
The Crimson Tide, the state's pride with back-to-back national championships, would demolish rival Tennessee 45-10 that afternoon to remain undefeated and firmly atop the BCS standings at No. 1 overall.
[+] Enlarge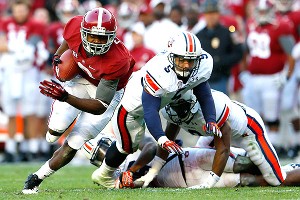 Kevin C. Cox/Getty ImagesAlabama has outscored Auburn 91-14 in the last two Iron Bowl games, including a 49-0 shutout last season.
About the same time Alabama's supporters headed west toward Tuscaloosa, another group of cars marched south toward Auburn University, their vehicles sporting the school's traditional orange and blue colors and paw print stickers. Tiger-striped tails whipped in the wind, dangling from antennas and trunks. Almost prideful, their flow of traffic moved quicker than their counterparts on the opposite side of the interstate.
The Tigers, mired in mediocrity since winning the national championship in 2010 but recently resurgent under their new coach Gus Malzahn, would dispatch Florida Atlantic with ease later than night. The 45-10 win would boost Auburn to 7-1 and a No. 11 ranking in the BCS standings.
The wins and the rankings of both schools are one thing. Seeing the line of cars siphoning through the state's largest city, though, was a visual representation of where the rivalry is today. The Iron Bowl, after two years of being so incredibly one-sided in favor of Alabama, is relevant again. The Tide and the Tigers are squarely in the title hunt and only weeks away from a matchup that will determine both programs' postseason hopes.
---
Alabama's success is taken for granted these days, and for good reason. Coach Nick Saban has built the program into the model of success with only five losses and a staggering .907 winning percentage since 2009. The Tide has won three of the last four BCS National Championships and is well positioned to compete for an unprecedented third straight should it reach Christmas undefeated.
Auburn's rise to national relevance is much more surprising. The fact that Malzahn could resurrect a program left for dead by Gene Chizik is a shock. Auburn finished 8-5 in 2011 and fell further in 2012, ending the year 3-9 and winless in the SEC. To make matters worse, the Tigers were dominated in the Iron Bowl, losing the past two contests with Alabama by a combined 77 points. Off-field problems rotted out the program and Chizik was fired two years after he and
Cam Newton
led it to a national championship.
"It's very exciting," said safety
Jermaine Whitehead
, who signed with Auburn in 2011. "It's the most live I've seen the fan base since I've been here. I think everyone has bought in, everyone believes. It kind of looks like the championship year -- the reason that I came here -- and I think we're going to have a great story to tell when it's all done."
Their story is already interesting. Two weeks ago Auburn went on the road to then-No. 7 Texas A&M and upset the Aggies in dramatic fashion. Quarterback
Nick Marshall
, a transfer, led Auburn to the come-from-behind win with a late fourth-quarter touchdown drive.
Corey Grant
, who redshirted the 2010 season at Alabama before transferring to Auburn in 2011, said that there wasn't a time last year where he would have believed this season's turnaround could have happened. Beating
Johnny Manziel
, the defending Heisman Trophy winner, and the Aggies would have been unthinkable. But when Malzahn arrived he said the players were desperate for change and "we always just kept a new mindset and it turned out good for us."
"At the beginning of the season, things started off slow, but as the season got going, and Coach Malzahn kept preaching on what he wanted, and also this coaching staff, and everybody, all the players buying in, it's going good," he added.
As they say at Auburn, it's a new day. How long it will last, though, remains to be seen.
---
The Iron Bowl will be the ultimate litmus test for both programs.
Alabama has a major hurdle in No. 13-ranked LSU in two weeks, but neither Mississippi State nor Chattanooga in the following two weeks should prove an obstacle on the way to the Iron Bowl.
Auburn, meanwhile, should be favored in its remaining three games against Arkansas, Tennessee and Georgia. The Deep South's Oldest Rivalry, as the Georgia-Auburn game is affectionately known, will be played at Auburn.
With LSU and Texas A&M currently sporting two losses, the West is either Alabama or Auburn's to steal.
Should both schools reach Nov. 30 without another loss, their matchup in the Iron Bowl would be huge, the biggest in years. It would be the first time the rivalry game comes with a trip to the SEC Championship Game on the line for both schools. The 1994 game did decide the SEC West champion, however Auburn was ineligible to play in the title game in Atlanta at the time.
Imagine the traffic in Birmingham if that happened. Post-Thanksgiving holiday shopping
and
an Iron Bowl? The roads were bad enough this weekend. Who knows if the state can handle both its teams being in the title hunt a month from now.
October, 28, 2013
10/28/13
4:30
PM ET
AUBURN, Ala. -- It was late in the first quarter. Auburn had already jumped out to a 21-0 lead over Florida Atlantic and looked well on its way to a rout. The Owls had just taken over at their own 9-yard line when
Jonathan Jones
blew up a screen and tackled the wide receiver behind the line of scrimmage on the first play.
[+] Enlarge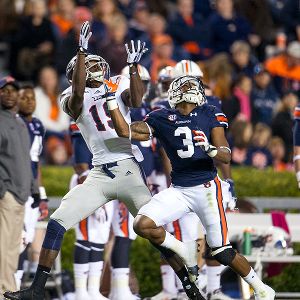 Michael Chang/Getty ImagesGetting sophomore cornerback Jonathan Jones back from injury gives Auburn another man to play in a thin secondary.
Looking back it was just another tackle for loss in Auburn's 45-10 victory, but for Jones, it was much more than that. It his first tackle in what has been a season plagued by injury.
"It felt good to get back in the groove of things, to get the rust off," he said. "Once I made that play, I was in it for the rest of the game and was able to help contribute."
The sophomore cornerback missed the first four games with a broken bone in his ankle, an injury he suffered when he slipped on some wet steps during fall camp. He returned against Ole Miss but played sparingly. He sat out the next game with a separate injury to his leg, and although he made the trip to Texas A&M, he hardly played against the Aggies.
"I was definitely frustrated," Jones said. "But I've got good teammates and good coaches that helped me stay positive, look forward and know that I'll be back soon. I just prayed with my mom, prayed through it and tried to stay positive -- motivate the teammates, try to stay involved as much as I could even though I was hurt."
Now, Jones is back and a major part of this Auburn defense.
"It's exciting," he said. "I've been waiting for the opportunity to get back out there with my teammates, just have fun and contribute."
The excitement spilled over to the field Saturday. After making the tackle for loss, Jones broke up a pass on the very next play. He later energized both his teammates and the crowd with a bone-jarring hit on a kick return.
"He's been getting a lot of reps in practice," fellow defensive back
Jermaine Whitehead
said. "They finally worked him in the rotation in the game, and he do what he always do. I expected that from him -- to be a big-time player, small guy that plays really big."
For Auburn, Jones' return couldn't have come at a better time. The Tigers recently lost starting safety
Joshua Holsey
for the season with a torn ACL. The staff moved cornerback
Ryan White
to safety to make up for the loss, but that left very little depth behind
Chris Davis
and
Jonathon Mincy
at the cornerback position.
"We're very thin back there," defensive coordinator Ellis Johnson said. "Getting [Jones] back was very important. We had to move Ryan White inside with the loss of Holsey. We lost our leading returning tackler at the beginning of the season -- never played a down.
"We keep moving guys inside, so it's very important that Rudy (
Johnathan Ford
) and Jonathan [Jones] come along and give us some quality depth at corner."
In addition to losing Holsey, the Tigers also lost starting safety Demetruce McNeal, who was dismissed from the team during fall camp. They have been without at least four other defensive backs -- Jones, Chris Davis,
T.J. Davis
and
Kamryn Melton
-- at one point or another through the first eight games. Still, the unit is holding it together.
"We're growing on it," Whitehead said. "We lost a couple of key players, but guys stepped in and made remarkable moves. It's been a great turnaround."
October, 22, 2013
10/22/13
5:30
PM ET
As expected, Auburn coach Gus Malzahn confirmed Tuesday that starting safety
Joshua Holsey
would miss the remainder of the season due to injury. Holsey tore his ACL during practice last Thursday and missed the Texas A&M game.
"That is a tough blow for our defense," Malzahn said. "It was a freak injury on Thursday towards the end of practice."
However, when one man goes down, it creates an opportunity for another. That was the case for
Ryan White
. The senior cornerback was asked to move to safety to help make up for the loss of Holsey. He had no prior experience at the position and no practice time to speak of.

"We brought him in that morning," defensive coordinator Ellis Johnson said. "Coach [Charlie] Harbison spent a few hours with him and he had a walk-through that afternoon with the unit. He knew the position mentally -- just being a defensive back, he knows what that guy does.
"The adjustments and the alignments and being in the right place and coverage leverage. I thought he did a magnificent job with no practice."
Against Texas A&M, White finished with five tackles and an interception, the first of his career. On Tuesday, Malzahn said he plans to move the 5-foot-11, 196-pound defensive back into that role -- the boundary or deep safety -- for the foreseeable future.
The move allows for
Ryan Smith
and
Jermaine Whitehead
to rotate between the other safety spot and the dime, the position filled by Holsey before the injury.
"Ryan White did a magnificent job of picking up how to play the boundary safety," Johnson said. "We moved Whitehead and Ryan Smith down to the dime and rotated them a little bit. We felt like that was the best thing to do because Whitehead and [Smith] had been working at the dime, backing up Josh, and they knew the position."
Smith also recorded an interception against
Johnny Manziel
and the Aggies on Saturday.
September, 22, 2013
9/22/13
9:00
AM ET
Auburn was handed its first loss of the season on Saturday. The Tigers couldn't overcome the nasty weather conditions, a hostile environment and a very talented LSU team,
falling 35-21
. Still, the performance wasn't all bad, and it's time to hand out some helmet stickers from the game.

Tre Mason:
After the game, all the talk was on LSU running back
Jeremy Hill
and his big night, but Mason had a very good game in his own right. The junior running back finished with 26 carries for 132 yards and two touchdowns. Whether it his experience or just the fact that he had the hot hand, Mason dominated the number of carries for Auburn and took full advantage of it.
Cameron Artis-Payne
scored a late touchdown but had just seven carries in the game while
Corey Grant
rushed the ball twice. Auburn still wants to try and utilize all three backs going forward, but Mason has looked like the most consistent of the trio. He could see his role expand when Ole Miss comes to town in two weeks.
The Auburn secondary:
It wasn't the best defensive effort from Auburn -- in fact, it's one the Tigers would like to forget -- but the secondary should be commended. The defensive backs held LSU quarterback
Zach Mettenberger
to just 229 yards passing and one touchdown. Coming into the game, Metteberger led the SEC with a Total QBR of 91.6. On Saturday, his QBR was down to 62.7, thanks in large part to the Auburn defensive backs. Safety
Jermaine Whitehead
gave the LSU signal-caller his first interception of the season when he picked him off on the first play of the second half. The defense also kept LSU's
Odell Beckham
in check for most of the game. The star wide receiver finished with only five catches for 59 yards.
Gus Malzahn:
We'll call it a visor sticker, but Auburn's head coach deserves praise for what he has been able to do in such a short amount of time. If last season's team got behind 21-0 at halftime, there's a good chance it would have given up. But not this year's team. It believed it could win all the way through the final whistle. Credit Malzahn because whatever he said to the players at halftime worked. The onside kick to start the second half went awry, but the Tigers made up for it with an interception followed by a quick touchdown. The Tigers competed against a very good LSU team, and although its difficult to swallow any loss, a 35-21 loss looks a lot better than a 35-0 loss, or worse.
Honorable mention:
WR
Sammie Coates
September, 11, 2013
9/11/13
9:00
AM ET
AUBURN, Ala. -- On Saturday, Auburn will try to win its first conference game in nearly two years. The last time the Tigers won a game in the SEC was Oct. 29, 2011, when they defeated Ole Miss, 41-23. They have have lost 10 straight since that victory.
"I'm very excited," cornerback
Jermaine Whitehead
said. "It's going to be a challenging game, a great game to open the SEC with. I just want to get an SEC win."
For Whitehead, it's more than just another conference game. There was a time when he thought he was going to play for Mississippi State, Auburn's opponent on Saturday.
[+] Enlarge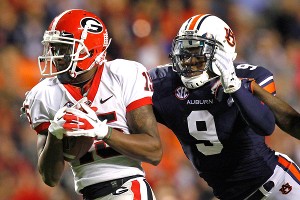 AP Photo/Butch DillJermaine Whitehead (9) would like nothing more than to end Auburn's SEC losing streak Saturday.
Whitehead grew up in Greenwood, Miss., which is just more than 90 minutes from Mississippi State's campus. He attended Amanda Elzy High School, where he was a star for the Panthers. He played quarterback, running back, wide receiver, cornerback -- wherever the team needed him.
Coach Eric House remembers one game in particular in which the four-star athlete scored four different ways. He returned a punt for a touchdown. He returned an interception for a touchdown. He threw a touchdown pass. And he caught a screen pass and took it the distance for a touchdown.
It was no surprise that he had offers from a number of the SEC schools, as well as programs like Notre Dame and Stanford.
However, in April of his junior year, he called former Mississippi State assistant coach
Melvin Smith
and committed to the Bulldogs. At the time, he felt it was the best place for him. He had friends going there. His family wanted him to go there. It just made sense.
Eventually, though, Whitehead would change his mind. But it wasn't Auburn that made him reconsider his initial decision, it was Ole Miss. As the two in-state schools fought over his services, Auburn stayed in contact with him and remained a potential option. He even made a few trips over to The Plains during their magical 2010 season.
"He had visited Auburn on his own," House said. "He went to a couple football games. He said there was just something about the family environment there. I think that's what really got his attention. He just really felt like it was a different atmosphere. He felt like the whole campus was one big family."
After the season, Whitehead set up his official visits but saved the last one for Auburn. It was the weekend right before signing day, and the trip was enough to convince the former Mississippi State commitment to sign with the Tigers. He helped push Auburn's 2011 recruiting class to No. 3 nationally in ESPN's rankings.
"I feel like it was a great place to come in and play as a freshman, which I did," he said. "I think I contributed pretty well as a freshman, and that's all I really wanted. That factor outweighed a lot of teams. I just had to make a decision and what's best for myself. I ended up at Auburn. I love it. I believe in Auburn. War Eagle."
Whitehead did see the field early. He played in all 13 games as a freshman and became the everyday starter at strong safety last season. But it hasn't been easy. He watched from home last January as Mississippi State played Northwestern in the Gator Bowl. His team failed to win a conference game, and the Bulldogs were playing in a New Years Day bowl game.
It didn't seem fair, but there were no regrets.
"Talking to him, he was just excited about the opportunity to play in the SEC," House said. "He has no regrets. There's something about saying the words 'War Eagle.' "
A lot has changed in 2013. Melvin Smith, Whitehead's former recruiting coordinator at Mississippi State, is now his position coach at Auburn. The Tigers are 2-0 and look like a team on the rise, while the Bulldogs could be headed in the opposite direction after how they played in the season opener against Oklahoma State.
There will be a lot on the line for both teams come Saturday, but Whitehead just wants to win. He's not worried about what happened in the past.
"I want to definitely win the game," he said. "I want to make as many plays as I can, help my team make as many plays as they can. It's going to be a team win. Whether I get zero tackles or a hundred tackles, I think winning the game is the ultimate outcome."
August, 28, 2013
8/28/13
11:15
PM ET
The starting quarterback was named weeks ago, but Auburn released the rest of its two-deep depth chart Wednesday in preparation for Saturday's opener against Washington State.
As expected, junior college transfer
Nick Marshall
was the first-team quarterback with returning starter
Jonathan Wallace
and true freshman
Jeremy Johnson
listed as the co-backups. Former quarterback
Kiehl Frazier
also made the depth chart, but on defense, a move he made during fall camp. He'll serve as the No. 2 boundary safety behind
Joshua Holsey
.
"I think everyday he feels more comfortable," Auburn head coach Gus Malzahn said. "It's like anything else -- the more you do, the better you'll get at it. He's a competitor. He's a smart football player. He understands offensive concepts. There's a good chance he'll be out on the field [Saturday]."
Returning starter
Jermaine Whitehead
will man the other safety position with junior
Justin Garrett
getting the nod at Star, a new position specific to Ellis Johnson's defensive scheme.
Chris Davis
and
Jonathon Mincy
will start at cornerback for the Tigers.
The defensive line will be without its top pass-rusher
Dee Ford
for Saturday's game, but
Craig Sanders
and former linebacker
LaDarius Owens
will fill in and start opposite of each other at defensive end. Inside, it will be Angelo Blackmon and either
Jeffrey Whitaker
or
Gabe Wright
at the two defensive tackle spots.
A trio of true freshmen defensive linemen --
Montravius Adams
,
Elijah Daniel
and
Carl Lawson
-- were all listed on the depth chart as well as juco defensive tackle
Ben Bradley
. Malzahn expects a majority of the freshmen to play Saturday, headlined by this group.
"Coach [Rodney] Garner, he's going to rotate a lot of guys, especially when you're playing a team that's going to throw it a lot," Malzahn said.
In all, there were eight true freshmen who made the depth chart.
As for the offensive line, the only big unknown was at right tackle where sophomore
Patrick Miller
won the starting job. Miller's backup
Avery Young
earned praise during fall camp, and although he won't start, he has the ability to back up multiple spots on the line.
"Avery's an athlete," Malzahn said. "He can play all five positions if he had to because he's very versatile and very athletic."
Greg Robinson
will start the other tackle spot opposite Miller with
Alex Kozan
and
Chad Slade
penciled in at guard. At center, it will be
Reese Dismukes
, who's started there the last two seasons for the Tigers. He made the Rimington Trophy Watch List preseason.
The skill players are highlighted by running back
Tre Mason
, who was one of the few bright spots last season for Auburn with more than a 1,000 yards rushing. He'll get the start, but Malzahn expects juco star
Cameron Artis-Payne
to make an impact.
"They're pretty much on equal ground right now going into this first game," Malzahn said. "They've both had an outstanding fall camp.
Corey Grant
's a guy you could see in the mix, too. The best thing is we feel like we've got some quality depth at the running back position going in. You can never have enough of that."
Auburn will kick off Saturday at 7 p.m ET against the Cougars.
The Real Deal: Nick Marshall
SEC SCOREBOARD
Thursday, 8/28
Saturday, 8/30
Sunday, 8/31