Auburn Tigers:

Jake Holland
November, 22, 2013
Nov 22
12:00
PM ET
It's Friday, which means only a day until game day. Thank goodness. Here's some reading from around the league to get you ready:
November, 5, 2013
Nov 5
4:35
PM ET
AUBURN, Ala. -- Outside of special teams, Auburn linebacker
JaViere Mitchell
didn't play until midway through the second quarter of Saturday's game at Arkansas. But when the Razorbacks drove inside the 5-yard line, the coaches called Mitchell's number, and he responded.
With help from the defensive line and fellow linebackers, Mitchell came up with back-to-back tackles at the goal line to prevent the Razorbacks from getting in the end zone. Auburn clinged to its 14-3 lead, and the momentum shifted back in the Tigers' favor.
"Boy, he made two great plays down there, the first one especially," defensive coordinator Ellis Johnson said. "The first one he came over the top, and if he didn't hit that running back, I don't know if he'd then squirt into the end zone.
[+] Enlarge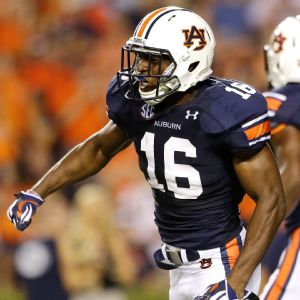 AP Photo/Dave MartinAuburn sophomore linebacker JaViere Mitchell made two big goal-line stops at Arkansas.
"Our front did a really good job creating some penetration.
Kris [Frost]
did a good job of taking on the lead, but Javi made two really good tackles there. That was really the only two plays that he got to play, and both of them were excellent."
It's been a difficult year for Mitchell. He missed a week in the spring with a concussion. He lost weight over the summer because of a stomach issue. During the season, he's moved back and forth between linebacker positions.
Johnson said Mitchell started to catch on and make progress the last three weeks, and the coach said he would feel comfortable putting the sophomore in the game.
Mitchell's emergence is the latest positive move for a group of linebackers that was thought to be a weakness. But the unit has more than held its own, and it continues to improve every week.
"I feel like there are a lot of things we can do better, but I feel like right now they're all playing very solid, making some plays a lot better than we were at the beginning of the year," Johnson said.
On Saturday, starting weakside linebacker
Cassanova McKinzy
had seven tackles, assisted on a tackle for loss and made a key interception. At middle linebacker,
Jake Holland
and Frost combined for nine tackles and a fumble recovery. The trio has played in every game, and all three have more than 30 tackles this season.
It wasn't Auburn's best performance this past weekend as the Razorbacks still rushed for 243 yards, but between the turnovers and the goal-line stand, the linebackers made the plays when it mattered.
"It wasn't a great week of practice [in preparation for Arkansas]," McKinzy said. "The first two quarters, it showed up. We weren't getting our right run fits, and they were busting runs on us because of that. There's just no excuse for it.
"What I take from it: We did decent without a good week of practice. If we have a great week of practice, I feel like it's going to be hard to get those yards that Arkansas got."
Auburn will need to start having better practices the rest of the way with three of the SEC's top rushers -- Tennessee's
Rajion Neal
, Alabama's
T.J. Yeldon
and Georgia's
Todd Gurley
-- still on the schedule. It begins with the linebackers.
September, 12, 2013
Sep 12
8:00
AM ET
AUBURN, Ala. -- When Auburn hosts Mississippi State this Saturday, it will be the 10th straight year the two teams have opened the conference season with each other. Because of that, the game has a little extra meaning for the Bulldogs and Tigers.
"It's the first SEC game of the year," MSU head coach Dan Mullen said. "Here at Mississippi State in the little time I've been here, I think even prior to my time, it's been against Auburn every single year, so I think it adds a little bit of a rivalry aspect to the game."
Since the two started playing each other in their first SEC game, Auburn has had the Bulldogs' number, winning seven of the last nine meetings. However, Mississippi State took last year's game, 28-10, in what Mullen now calls one of his top victories as head coach.
But Auburn looks much different in 2013. The coaching staff has changed. The offense has changed. And more importantly, the Tigers are 2-0. They will put that undefeated record on the line Saturday in what has become a pivotal game for both teams.
Storylines
Which quarterback will play for Mississippi State?
Starting quarterback
Tyler Russell
suffered a concussion in week 1's loss to Oklahoma State. He left in the third quarter of the first game and didn't play at all last weekend against Alcorn State. In his absence, backup signal caller
Dak Prescott
has thrown for over 250 yards and two touchdowns. The Auburn coaches expect Russell to return Saturday, but they're still preparing as if both quarterbacks will play. Russell will likely get the start if healthy, but Prescott could still play in certain packages. He adds a running threat to the offense.
What will we see from Auburn's offense?
Gus Malzahn's no-huddle offense is all about tempo. The faster the pace, the better the offense runs. There's already been a noticeable difference from last year, but the Auburn head coach says it's not fast enough. That's partly due to new quarterback
Nick Marshall
, who's still learning the offense, the schemes, the calls, everything. As he gets more comfortable with his offense, expect the Tigers to hurry up even more. There's also a good chance Malzahn and his staff will have a few tricks up their sleeves for Saturday's SEC opener.
Who will win the turnover battle?
Auburn's defense has been far from perfect. They've had to rely on turnovers and fourth-down stops to keep their opponent out of the end zone for the most part. That won't work every game, but it could be the key against Mississippi State. The Bulldogs' two quarterbacks have already thrown three interceptions through the first two games. On the flip side, Marshall has yet to throw a pick for Auburn. If the Tigers can win the turnover battle Saturday, it will go a long way in increasing their chances to win the game.
Players to watch
Auburn: LB Jake Holland
With middle linebacker
Kris Frost
suspended for the first half, it will be up to Holland to carry the weight. Holland started the opener but struggled against Washington State. He played much better in Week 2, and Auburn needs another strong performance from both Holland and fellow linebacker
Cassanova McKinzy
this week.
Mississippi State: RB LaDarius Perkins
Russell isn't the only Mississippi State player returning this week from injury. Perkins missed the Alcorn State game due to an ankle sprain, but he's expected to play Saturday. The senior proved to be one of the better backs in the SEC a season ago, rushing for over 1,000 yards and eight touchdowns.
Quotable
"We played against Oregon and Chip Kelly in 2010 and I got a chance to [again] last year. His signs were fancier than ours, so I tried to get a little competitive with that. Hopefully, we're doing a better job. I'm not that creative in all that but our players, they have some ownership in that." -- head coach Gus Malzahn, on Auburn's play cards from the sideline
September, 6, 2013
Sep 6
3:30
PM ET
AUBURN, Ala. -- It will be a strange feeling for Auburn head coach Gus Malzahn when he looks across the field Saturday and sees his former team. Malzahn coached at Arkansas State last year, and this weekend, the Red Wolves will visit the Plains for a nonconference showdown with the Tigers.


In his one year at Arkansas State, his first as a college head coach, Malzahn finished 9-3 and started their current nine-game winning streak. But when the ball kicks off Saturday, the nostalgia will wear off and the Auburn coach will want nothing more than to put an end to the streak.
"Personally, I care greatly for a lot of their players," Malzahn said. "Their administration was great to me while I was there. It was a very good experience. I am very grateful for the opportunity they gave me.
"Professionally, you have got to flip the switch once the game starts, and you have to do everything in your power to help your team win. We will definitely do that."
It won't be an easy task. Arkansas State hired another bright, young offensive mind in Bryan Harsin, and the expectations are once again high for the Red Wolves. The game plan has likely changed, but the personnel remains very much the same.

Malzahn
"I was very impressed with Bryan," Malzahn said. "We shared ideas. He's one of the best in the business, one of the better offensive minds in all of college football.
"It's going to be a different offensive system. You know about personnel and you know quite a bit about the personnel, but the scheme is going to be different. You don't know what to expect. They have a lot of good football players. That's the thing I know most about it."
Storylines
What to expect from Nick Marshall, part two?
The first game was well documented. Marshall played conservatively, didn't turn the ball over, but turned in a subpar performance overall. Will he take a step forward in his second game? Malzahn hopes so. The Auburn head coach plans to open up the playbook more and more each game for Marshall, and he wants to try and pick up the pace on offense. However, he still wants to keep his quarterback out of potentially precarious situations. With the SEC schedule beginning next week, this would be the ideal time for Marshall to have a breakout game.
Will Auburn's linebackers step up to the challenge?
In the season opener against Washington State, the secondary was tested. Auburn had just one linebacker on the field for the majority of the game. That won't be the case Saturday. Starting Will linebacker
Cassanova McKinzy
will see a lot more snaps as they try to defend Arkansas State's potent rushing attack. The Red Wolves rushed for over 500 yards in the season opener against Arkansas-Pine Bluff. Auburn's middle linebacker combination of
Jake Holland
and
Kris Frost
struggled at times in the first game, but they will have to play better on Saturday.
Who will be the playmaker for the Tigers?
Last week, it was
Corey Grant
on offense and
Robenson Therezie
on defense. Both players came up huge for Auburn in the Week 1 victory. Who will it be this week? There are plenty of candidates, including any one of the three-headed monster in AU's backfield or maybe one of the freshman defensive linemen, but the Tigers need somebody to emerge this weekend. The coaches are also hopeful to find a go-to wide receiver for Marshall to throw the ball to.
Players to Watch
Auburn player to watch: DT Montravius Adams
Stopping the run will start up the middle, and it will be a team effort among Adams,
Angelo Blackson
,
Gabe Wright
and
Ben Bradley
. However, it was Adams who provided the spark last week. He energizes both the crowd and his teammates.
Arkansas State player to watch: RB David Oku
Oku started his career in the SEC with Tennessee. He transferred to Arkansas State after his freshman year, and this is his chance to prove he can still play well against teams in the nation's top conference. The Red Wolves had four different players rush for more than 100 yards last week, but Oku is the most talented of the group.
Quotable
"They've got a lot of weapons back on offense, and I know they've got some really good players back on defense. It's going to take a much better effort from us this week. We're going to have to see that Week 1-to-Week 2 improvement if we want to win the game." -- Auburn offensive coordinator Rhett Lashlee, on Arkansas State
Matchups To Watch In BCS Title Game