Most important targets: SEC
October, 22, 2013
10/22/13
8:00
AM ET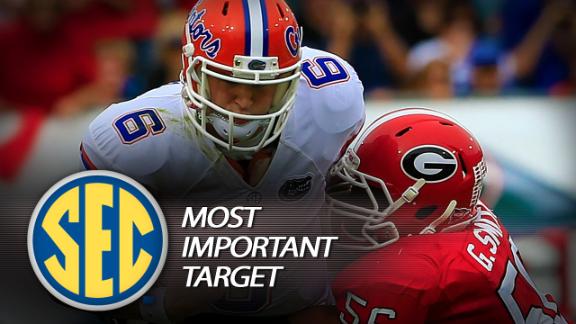 The Southeastern Conference already has two commitments from a top-10 player (
Cameron Robinson
to Alabama and
Myles Garrett
to Texas A&M), but the SEC has a real possibility of landing the final six uncommitted top-10 prospects in the country. Here is a closer look at the top remaining recruiting targets in the SEC.

Alabama
To continue reading this article you must be an Insider
Insider
Drive Through: SEC West Dominance
With four teams in the top 10, the SEC West is dominating the college football landscape early in the season. Following Mississippi State's win over LSU, we look at where the Tigers now fall in the race and who the frontrunner in the division is.
Drive Through: SEC West Dominance
VIDEO PLAYLIST
AUBURN FB RECRUITING SCORECARD
New World Graphics Men's Auburn Tigers Blue Bcs Championship Bowl Bound Invested T-shirt Shop »
wareagleextra

WarEagleExtra


@bmarcello And, it bears repeating, certain beat reporters can't drive stick shifts. @JamesCrepea
8 minutes ago

AUAthletics

Auburn Athletics


#Auburn University IT is updating TouchNet. Athletics tailgate reservation system and Weekend Events store will be available on Tuesday.
9 minutes ago

AuburnRivals

AuburnSports.com


TIGERS LEAD | JUCO DT Maurice Swain has favored Auburn for the last few months. He now has an OV set up. http://t.co/5k2SlyePiV
11 minutes ago

AuburnRivals

AuburnSports.com


TIGERS LEAD | JUCO DT Maurice Swain has favored Auburn for the last few months. He now has an OV set up. http://t.co/5k2SlyePiV
11 minutes ago

Allie_Davison

Allie Davison


TIGERS LEAD | JUCO DT Maurice Swain has favored Auburn for the last few months. He now has an OV set up. http://t.co/zunkrIKdQQ
12 minutes ago

AuburnRivals

AuburnSports.com


DEFENSE NOTEBOOK: Rudy steps up; Trovon Reed, too. Pass rush faltering, Ellis deems true. http://t.co/9RISlOJ20t http://t.co/uez7LY1pey
14 minutes ago

AuburnRivals

AuburnSports.com


DEFENSE NOTEBOOK: Rudy steps up; Trovon Reed, too. Pass rush faltering, Ellis deems true. http://t.co/9RISlOJ20t http://t.co/uez7LY1pey
15 minutes ago

JayGTate

Jay G. Tate


DEFENSE NOTEBOOK: Rudy steps up; Trovon Reed, too. Pass rush faltering, Ellis deems true. http://t.co/CRNxu2tLqZ http://t.co/ojhj9c0ntQ
15 minutes ago

JayGTate

Jay G. Tate


LSU @ AU for a night game? I'm good with that. (6 p.m. on Oct. 4.)
16 minutes ago

ESPN_SEC

ESPN_SEC


At first glance: SEC Week 5 http://t.co/4rFO4PQygR
18 minutes ago

JayGTate

Jay G. Tate


LSU @ AU for a night game? I'm good with that. (6 p.m. on Oct. 4.)
19 minutes ago

ScoutAuburn

AU Tigers


#Auburn Auburn-LSU A Night Game At Jordan-Hare - Auburn will face LSU in a night game at Jordan-Hare Stadiu... http://t.co/xnaEJHYcj0
20 minutes ago

wareagleextra

WarEagleExtra


My latest SEC Power Rankings (in photo gallery form) http://t.co/iUEMCUJfA4
23 minutes ago

SEConCBS

SEConCBS


We're heading to Vaught–Hemingway Stadium on October 4th! Alabama and Ole Miss clash in Oxford on CBS. http://t.co/0fgOXpIoxt
35 minutes ago

PMARSHONAU

Phillip Marshall


Auburn's home game against LSU slated for ESPN http://t.co/pJUR8rq9Es via @247Sports
40 minutes ago

WarBlogle

WarBlogle.com


Jonathan Wallace (#12, JR QB). WE @blakeells: @WarBlogle HOW MANY DAYS #auburn
40 minutes ago

AuburnSportsNow

Auburn Sports Now


SEC Power Rankings — Week 4 http://t.co/744fy6xVUD
42 minutes ago

AuburnSportsNow

Auburn Sports Now


Monday Morning QB Column: SEC West, SEC Least http://t.co/Y64yS6lYCa
42 minutes ago

AuburnSportsNow

Auburn Sports Now


Harrell Happy to be a Tiger http://t.co/grEF0sdAmT
42 minutes ago

AUAthletics

Auburn Athletics


#Auburn's October 4 game against LSU at Jordan-Hare Stadium will kick at 6 p.m. CT on ESPN. #WarEagle http://t.co/Oe1VGg0He9
44 minutes ago

AUGoldMine

Auburn Gold Mine


LSU's visit to Auburn will be at 6 p.m. on Oct. 4. Story: http://t.co/tMpAhxYucb http://t.co/cI5JGxXJ1G
47 minutes ago

WarBlogle

WarBlogle.com


Auburn and LSU will kickoff at 6pm on ESPN. Jordan-Hare 'bout to get turnt up. #wareagle
49 minutes ago

SEC

SEC Sports


October 4 #SEC Football TV Selections announced. Full story: http://t.co/qmqgQCHXEO
49 minutes ago

SEC

SEC Sports


#SEC Football Game Times and TV Selections for October 4 announced: http://t.co/SBeNIJr2c8
51 minutes ago

WarBlogle

WarBlogle.com


I don't mean to get anybody down or anything, but Auburn is 1/4 through their 2014 regular season. #wareagle
54 minutes ago

AUAthletics

Auburn Athletics


No. 5 #Auburn's already beaten a ranked opponent on the road. Of current Top 10 teams, remaining ranked opponents: http://t.co/viexZM9R49
about an hour ago

AuburnSportsNow

Auburn Sports Now


Monday Morning Quarterback, Game 3: The defense http://t.co/pFFZqFbocc
about an hour ago

AuburnSportsNow

Auburn Sports Now


Monday Morning Quarterback, Game 3: The offense http://t.co/p246ivFoC3
about an hour ago

ESPN_SEC

ESPN_SEC


Marshall has a 'knack' for the clutch plays http://t.co/9e7bpeESh7
about an hour ago

ScoutAuburn

AU Tigers


#Auburn Harrell Happy to be a Tiger - FARIBURN, Ga. -- Marquel Harrell has been watching Auburn closely thi... http://t.co/qV5W6pQPMI
about an hour ago

PMARSHONAU

Phillip Marshall


Grimes adjustment solved Auburn problem of batted-down passes http://t.co/auIx4wKgSr via @247Sports
about an hour ago

AschoffESPN

Edward Aschoff


Not calling for benchings but it's time for #Gators and #LSU to play freshmen quarterbacks more http://t.co/0JZCg2vbJN
about an hour ago

AuburnSportsNow

Auburn Sports Now


Inside the Numbers: Auburn needed every grueling yard against Kansas State http://t.co/RJzEBpFaZo
about an hour ago

ESPN_SEC

ESPN_SEC


Florida and LSU should play freshmen QBs http://t.co/eQrHYfV1kq
about an hour ago

SEC

SEC Sports


#SEC football television selections for games of Oct. 4, and SEC Players of the Week in football, volleyball and soccer all announced today.
about 2 hours ago

wareagleextra

WarEagleExtra


Final Sunday RT: Auburn football: Sammie Coates not 'full speed' versus Kansas State http://t.co/x1BZddM11N …
about 2 hours ago

PMARSHONAU

Phillip Marshall


Former players breakbdown Auburn's win over Kansas State http://t.co/mzv5gh7iB7 via @247Sports
about 2 hours ago

PMARSHONAU

Phillip Marshall


Former players break down Auburn's win over Kansas State http://t.co/dm8Swjgfuo via @247Sports
about 2 hours ago

AUAthletics

Auburn Athletics


Here's the map for the Homecoming Parade Friday evening in #Auburn: http://t.co/FWoy8vTvKu http://t.co/F3ejfhJlGV
about 2 hours ago

AUAthletics

Auburn Athletics


Rhett Lashlee: Offense needs to get back to playing #Auburn football: http://t.co/rY7K6MzpnR #WarEagle http://t.co/alumHxbNfv
about 2 hours ago

AuburnSportsNow

Auburn Sports Now


Football. Rhett Lashlee looking for more from Auburn's offense http://t.co/XGmbxjdeQX
about 2 hours ago

wareagleextra

WarEagleExtra


ICYMI Sunday: Auburn football: Tigers still No. 5 in AP, coaches polls http://t.co/FKOX94R2mJ
about 2 hours ago

wareagleextra

WarEagleExtra


AM RT: Ellis Johnson: Josh Holsey to remain at boundary safety with Jermaine Whitehead suspended http://t.co/6JHDWD9fw8
about 2 hours ago

wareagleextra

WarEagleExtra


To wit: Saturday marks the first time in the history of Vaught-Hemingway Stadium that a game will feature two teams in the AP top 10.
about 2 hours ago

wareagleextra

WarEagleExtra


How about another stat this morning? Oxford, Miss., has never seen a bigger game than this Saturday. Ever.
about 2 hours ago

wareagleextra

WarEagleExtra


AM RT: Nick Marshall continues to show 'knack' for coming through in clutch http://t.co/6RuRq5LWtg …
about 3 hours ago

AUGoldMine

Auburn Gold Mine


Rhett Lashlee's message: Offense needs to get back to playing Auburn football. The story: http://t.co/nrwLz5Pgnk http://t.co/FPqAn0pfgk
about 3 hours ago

JayGTate

Jay G. Tate


Seems like a small number. RT @willcollier: AU is allowing slightly more that 10 rushing yards a quarter since halftime of the ARK game.
about 3 hours ago

ESPN_SEC

ESPN_SEC


Tale of the tape: Cooper vs. Hargreaves http://t.co/U8UA4PbAUr
about 3 hours ago

PMARSHONAU

Phillip Marshall


Auburn's Fulse 'really good and physical at the point of attack' http://t.co/ojU6o4yjg5 via @247Sports
about 3 hours ago

PMARSHONAU

Phillip Marshall


Auburn's Holsey does 'a good, solid job' at safety http://t.co/2JMCKhyG7F via @247Sports
about 3 hours ago

PMARSHONAU

Phillip Marshall


Auburn's Fulse 'really good and physical at the point of attack' http://t.co/VQ9w148NF4. via @247Sports
about 3 hours ago

PMARSHONAU

Phillip Marshall


Auburn's Coates 'eager to get back to Sammie form' http://t.co/yUJANyWra6 via @247Sports
about 3 hours ago

wareagleextra

WarEagleExtra


Just came across this stat from Saturday night: Mississippi State gained 310 yards (!!!!) between the tackles against LSU. Wow.
about 3 hours ago

SEC

SEC Sports


A look at the poster exhibition from last night at the #SECSymposium: http://t.co/kq4Cepwd9I
about 3 hours ago

AUAthletics

Auburn Athletics


It's Homecoming at #Auburn: http://t.co/FWoy8vTvKu Your No. 5 Tigers host La Tech Saturday at 3 p.m. CT. #WarEagle http://t.co/nwcb9iRAxE
about 3 hours ago

AUGoldMine

Auburn Gold Mine


Ellis Johnson likes mix of young guys and veterans in his Auburn secondary. From last night: http://t.co/Cdd9nVcfU8 http://t.co/yYfapwCebp
about 4 hours ago

PMARSHONAU

Phillip Marshall


Auburn's Lashlee: 'We didn't play Auburn football' http://t.co/tSTG6YPmco via @247Sports
about 4 hours ago

PMARSHONAU

Phillip Marshall


Auburn defense gets tough against the run http://t.co/PLRY3MkzWY via @247Sports
about 4 hours ago

PMARSHONAU

Phillip Marshall


My column: An unprecedented gauntlet http://t.co/cKjYlEgMcP via @247Sports
about 4 hours ago

PMARSHONAU

Phillip Marshall


Hokanson joins AuburnUndercover staff http://t.co/2FlOpuKkMI via @247Sports
about 4 hours ago

wareagleextra

WarEagleExtra


And remember: Saturday isn't in College Station. It's a neutral site game at AT&T Stadium in Arlington. Hmm ... #theplotthickens
about 4 hours ago

TheSECU

SECU


Dr. Mike Lauer opens day two of the #SECSymposium with his keynote address http://t.co/UvHs7JLVdl
about 4 hours ago

wareagleextra

WarEagleExtra


And call me crazy -- and I think a lot of folks will -- but I think Arkansas is going to push Texas A&M to the brink Saturday.
about 4 hours ago

wareagleextra

WarEagleExtra


Point being, the better Arkansas continues to play this season, the more impressive Auburn's victory looks.
about 4 hours ago

wareagleextra

WarEagleExtra


More stats: Since Auburn shut out Arkansas in the second half of the opener, the Razorbacks have scored 174 points in three games.
about 4 hours ago

rivalsmike

Mike Farrell


A moment of silence please for Eric the Actor. Re-tweet if you love or hated him, but RIP. #HowardStern
about 4 hours ago

wareagleextra

WarEagleExtra


Fun with numbers: Since gaining only 2 rushing yards in the second half vs. Auburn, Arkansas has run for 1,145 yards the past three weeks.
about 4 hours ago

ESPN_SEC

ESPN_SEC


SEC morning links http://t.co/FqsKlTpfkB
about 4 hours ago

AuburnSportsNow

Auburn Sports Now


Despite best performance in 3 years, Auburn defensive coordinator Ellis Johnson not satisfied http://t.co/l8DJJb0dJ7
about 4 hours ago

Yahoo

Yahoo


#2022WorldCup won't be held in Qatar, top FIFA official says: http://t.co/tgTJRo5Jpm http://t.co/DJofgOWW9k
about 4 hours ago

AuburnSportsNow

Auburn Sports Now


#PMARSHONAU: An unprecedented gauntlet http://t.co/F75dMWVIFU
about 8 hours ago

AuburnSportsNow

Auburn Sports Now


ITAT Radio: Monday Podcast http://t.co/maQGQTqnD5
about 8 hours ago

PMARSHONAU

Phillip Marshall


#PMARSHONAU: An unprecedented gauntlet http://t.co/cKjYlEgMcP via @247Sports
about 9 hours ago

AuburnSportsNow

Auburn Sports Now


Hokanson joins AuburnUndercover staff http://t.co/h5f4d2dk4F
about 9 hours ago

AuburnSportsNow

Auburn Sports Now


Podcast: Recruiting with Hokanson & Niebuhr http://t.co/eI1r7jpFY8
about 10 hours ago

ScoutAuburn

AU Tigers


#Auburn ITAT Radio: Monday Podcast - Looking back at Auburn-Kansas State with comments from Rhett Lashlee a... http://t.co/b5OxBYm3R2
about 10 hours ago

PMARSHONAU

Phillip Marshall


Hokanson joins AuburnUndercover staff http://t.co/2FlOpuKkMI via @247Sports
about 10 hours ago

AuburnSportsNow

Auburn Sports Now


'We didn't execute worth a crap,' Auburn offensive coordinator Rhett Lashlee says http://t.co/hXMHN7ueXX
about 11 hours ago

AuburnSportsNow

Auburn Sports Now


Auburn football: Tigers still No. 5 in AP, coaches polls http://t.co/hqQMLhpH6b
about 11 hours ago

AuburnSportsNow

Auburn Sports Now


Watch Auburn coordinators express frustration with execution as they reflect on Kansas State http://t.co/vt9upyoRdg
about 11 hours ago

AubietheTiger01

Aubie the Tiger


Here are some of my favorites! #CapitalOneAubie http://t.co/71bBPfc9hY
about 11 hours ago

AubietheTiger01

Aubie the Tiger


This is going to be my favorite week. Love seeing all the pet Auburn fans out there! Tweet your pics using #CapitalOneAubie for 100pts!
about 11 hours ago

JRodriguez1027

Jessica Rutherford


@AubietheTiger01 my daughter loves you we are big Auburn fans! Can you please retweet! http://t.co/V4mUasvmCO #WDE http://t.co/KPDtBXaBrI
about 11 hours ago

Lexi_Louuu

Lexi Hunter


Charlie loves Auburn! #CapitalOneAubie @AubietheTiger01 http://t.co/C33vcbkEkY
about 11 hours ago

AubietheTiger01

Aubie the Tiger


I had a pet baby tiger one time, but he kept beating me up! #CapitalOneAubie https://t.co/7VHwKOrwzx
about 12 hours ago

AUAthletics

Auburn Athletics


Dennis Dodd of CBS has #Auburn No. 2 in Power Poll: http://t.co/8frAQXvKWL #WarEagle
about 12 hours ago

AubietheTiger01

Aubie the Tiger


I would love a pet bulldog! #CapitalOneAubie
about 12 hours ago

AubietheTiger01

Aubie the Tiger


I would also love a pet eagle! #CapitalOneAubie
about 12 hours ago

AubietheTiger01

Aubie the Tiger


Other examples of pets I might own...A pet elephant! #CapitalOneAubie
about 12 hours ago

AubietheTiger01

Aubie the Tiger


You can also post pics of your pet in AU gear and get me 100 points! Use #CapitalOneAubie and vote on the website at http://t.co/yWfnLLQAyM
about 12 hours ago

AubietheTiger01

Aubie the Tiger


This weeks question: If I owned a pet, what would it be? I've always wanted a pet fish! Use #CapitalOneAubie and get me 50 points!
about 12 hours ago

AuburnSportsNow

Auburn Sports Now


Auburn defense gets tough against the run http://t.co/50opxUygD0
about 12 hours ago

AuburnSportsNow

Auburn Sports Now


Auburn football: Sammie Coates not 'full speed' versus Kansas State http://t.co/hza186zr6o
about 12 hours ago

AuburnSportsNow

Auburn Sports Now


Ellis Johnson: Josh Holsey to remain at boundary safety with Jermaine Whitehead suspended http://t.co/QPaRawNqWH
about 13 hours ago

AUBlog

David Morrison


AUBURN FOOTBALL: DC Ellis Johnson still sees room for improvement in Tigers' defense http://t.co/g7cwCX90Bu
about 13 hours ago

wareagleextra

WarEagleExtra


Auburn football: Sammie Coates not 'full speed' versus Kansas State http://t.co/ZHiUnAveK9
about 13 hours ago

AUBlog

David Morrison


WATCH: Auburn DC Ellis Johnson discusses his concern about the Tigers' lack of pass rush vs. Kansas State. http://t.co/MpxnW8KVVw
about 13 hours ago

AschoffESPN

Edward Aschoff


It's not a comedy of errors it's a Carolina of errors. This is embarrassing
about 13 hours ago

AUBlog

David Morrison


WATCH: Auburn offensive coordinator Rhett Lashlee evaluates QB Nick Marshall & the Tigers' "crap" offense vs. KSU. http://t.co/7MTP8QO1gu
about 13 hours ago
SEC SCOREBOARD
Thursday, 9/18
Saturday, 9/20
BLOG ARCHIVE:
CATEGORIES: