Most important targets: SEC
October, 22, 2013
10/22/13
8:00
AM ET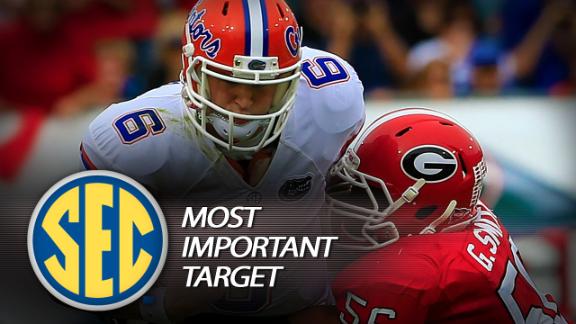 The Southeastern Conference already has two commitments from a top-10 player (
Cameron Robinson
to Alabama and
Myles Garrett
to Texas A&M), but the SEC has a real possibility of landing the final six uncommitted top-10 prospects in the country. Here is a closer look at the top remaining recruiting targets in the SEC.

Alabama
To continue reading this article you must be an Insider
Insider
Coach Chiz's Film Room: Week 1
Gene Chizik reviews film from the season openers for LSU, Georgia, Auburn and Arkansas.
Coach Chiz's Film Room: Week 1
VIDEO PLAYLIST
AUBURN FB RECRUITING SCORECARD
New World Graphics Men's Auburn Tigers Blue Bcs Championship Bowl Bound Invested T-shirt Shop »
SEC

SEC Sports


VIDEO - @VandyFootball coach @CoachDerekMason talks about who has inspired him the most in coaching: http://t.co/H4an5tprCZ #SEC
15 minutes ago

ESPN_SEC

ESPN_SEC


Planning for success: Texas A&M http://t.co/zVoHU3WWkr
34 minutes ago

AUGoldMine

Auburn Gold Mine


Cameron Artis-Payne keeps Auburn's running game on track. Roc Thomas ready to join the fun. http://t.co/qshOHe58Ck http://t.co/4Bgrkz5Haq
34 minutes ago

AUAthletics

Auburn Athletics


#Auburn's Rhett Lashlee likes the QB play: http://t.co/qsUlO2s0sQ #WarEagle #AllforAuburn http://t.co/PPsVMEqYFJ
39 minutes ago

PMARSHONAU

Phillip Marshall


Lashlee: Johnson 'played like a kid out there having a blast' http://t.co/ZHE7opC8QY via @247Sports
40 minutes ago

PMARSHONAU

Phillip Marshall


Johnson: Adjustments and a challenge turn Auburn's defense http://t.co/OejKYGJ7kg via @247Sports
41 minutes ago

PMARSHONAU

Phillip Marshall


Competition goes on as Auburn's running game picks up speed http://t.co/YOazc7Tuw3 via @247Sports
42 minutes ago

PMARSHONAU

Phillip Marshall


Therezie, Garrett light up Auburn's star http://t.co/VN4fURvHPu via @247Sports
42 minutes ago

PMARSHONAU

Phillip Marshall


Auburn's new safeties improve as game goes on; cornerbacks solid http://t.co/B75DWk9BUs via @247Sports
43 minutes ago

AuburnSportsNow

Auburn Sports Now


Auburn quarterback Jeremy Johnson is 'too good a player' to keep on sideline http://t.co/jsFMxrIkiz
about an hour ago

AuburnSportsNow

Auburn Sports Now


Auburn's defense 'a little bit soft early', has to fix mistakes, Ellis Johnson says http://t.co/VVnU82PSuP
about an hour ago

AUAthletics

Auburn Athletics


#Auburn will honor the undefeated 2004 Tigers during Saturday night's game vs. SJSU. #WarEagle http://t.co/tvhyecm7pT
about an hour ago

JayGTate

Jay G. Tate


These Louisville people think they've accomplished something by beating Miami. It's not 2001 anymore, people.
about an hour ago

ESPN_SEC

ESPN_SEC


SEC morning links http://t.co/QVdomEQp2B
about an hour ago

SEC

SEC Sports


Kentucky's Max Godby Named #SEC Football Community Service Team Player of the Week: http://t.co/4Wb5UbFTab #SEC
about an hour ago

FootballAU

Auburn Football


Happy #WarEagle Birthday to #9 Roc Thomas!
about an hour ago

PMARSHONAU

Phillip Marshall


Auburn's new safeties improve as game goes on; cornerbacks solid http://t.co/jZtgSjymgc. via @247Sports
about 7 hours ago

PMARSHONAU

Phillip Marshall


Lashlee: Johnson 'played like a kid out there having a blast' http://t.co/9bl2wk5cga. via @247Sports
about 7 hours ago

AuburnSportsNow

Auburn Sports Now


Auburn beat writers examine Tigers' offense against Arkansas http://t.co/vbmCf3uqn5
about 7 hours ago

AuburnSportsNow

Auburn Sports Now


Auburn looking to get freshmen like Roc Thomas, Tre' Williams more playing time soon http://t.co/P3HRS3NDDt
about 7 hours ago

AuburnSportsNow

Auburn Sports Now


Auburn football: Specialist Daniel Carlson named SEC's freshman of the week http://t.co/jARAdPRVfH
about 7 hours ago

AuburnSportsNow

Auburn Sports Now


Big Play Melvin Ray Could See Expanded Role http://t.co/jBS9FCqoSZ
about 8 hours ago

PMARSHONAU

Phillip Marshall


Therezie, Garrett light up Auburn's star http://t.co/VN4fURvHPu via @247Sports
about 8 hours ago

AuburnSportsNow

Auburn Sports Now


Auburn OC Rhett Lashlee grades offense 'a little above average' following victory against Arkansas http://t.co/DnQQPNmElT
about 9 hours ago

wareagleextra

WarEagleExtra


ICYMI: Auburn football: Specialist Daniel Carlson named SEC's freshman of the week http://t.co/Qaz6b8s0EF
about 9 hours ago

wareaglereader

The War Eagle Reader


Yes! RT @AuburnElvis: .@StatTiger @wareaglereader The Game-Within-the-Game: Diagrammed. http://t.co/EghS7PAqAJ
about 9 hours ago

AuburnSportsNow

Auburn Sports Now


Auburn quick hits: Arkansas had 'new wrinkles,' praise for freshman Daniel Carlson http://t.co/48xPghUBU7
about 9 hours ago

AuburnSportsNow

Auburn Sports Now


Football. Auburn's Rhett Lashlee likes play of his quarterbacks http://t.co/TXY5CdQKzG
about 9 hours ago

AUBlog

David Morrison


AUBURN FOOTBALL: OC Rhett Lashless wants to see more from Tigers' offense, quarterbacks http://t.co/ZltVMJNxHv
about 9 hours ago

WarBlogle

WarBlogle.com


Gene Chizik just said "Clinton Haha-Dix" on @SECNetwork. I still love him. #auburn
about 10 hours ago

AUGoldMine

Auburn Gold Mine


Auburn's Rhett Lashlee likes play of Jeremy Johnson and Nick Marshall... and, really, why not? http://t.co/8BQMVdRAnN http://t.co/WRjM933NqE
about 10 hours ago

AschoffESPN

Edward Aschoff


Whoa Miami. Even more whoa Louisville
about 10 hours ago

AUBlog

David Morrison


AUBURN FOOTBALL: 'Professional' WR Melvin Ray could see role expand http://t.co/Z9UY1ioMMs
about 10 hours ago

AuburnSportsNow

Auburn Sports Now


Auburn football: Tigers 'ready for everything' from San Jose State offense http://t.co/k7RBlilEi0
about 10 hours ago

AuburnSportsNow

Auburn Sports Now


Gus Malzahn: 'Handful' of freshmen will have chance to play Saturday http://t.co/10CdAupScC
about 10 hours ago

WarBlogle

WarBlogle.com


Away in '17, Home in '22. WE @lzbth_814: @WarBlogle any chance you might know when Auburn is playing Missouri in a regular season game?
about 10 hours ago

AUBlog

David Morrison


AUBURN FOOTBALL: Freshman RB Roc Thomas could see field vs. San Jose State http://t.co/xcD1aWfDdF
about 10 hours ago

wareagleextra

WarEagleExtra


Auburn quick hits: Arkansas had 'new wrinkles,' praise for freshman Daniel Carlson http://t.co/7RgCpM03F8
about 10 hours ago

AuburnRivals

AuburnSports.com


NAMEDROPPER: Johnson impresses | Jeremy Johnson is really good, but now isn't his time. http://t.co/SKxw4GUqhF http://t.co/pXmN6t0N4A
about 10 hours ago

JayGTate

Jay G. Tate


NAMEDROPPER: Johnson impresses | Jeremy Johnson is really good, but now isn't his time. http://t.co/5T50KYg0OX http://t.co/eyo4vvLjvy
about 10 hours ago

AuburnRivals

AuburnSports.com


NAMEDROPPER: Johnson impresses | Jeremy Johnson is really good, but now isn't his time. http://t.co/SKxw4GUqhF http://t.co/pXmN6t0N4A
about 10 hours ago

PMARSHONAU

Phillip Marshall


Competition goes on as Auburn's running game picks up speed http://t.co/YOazc7Tuw3 via @247Sports
about 10 hours ago

PMARSHONAU

Phillip Marshall


Competiton goes on as Auburn's running game picks up speed http://t.co/hZW5prUS1N via @247Sports
about 10 hours ago

wareagleextra

WarEagleExtra


Auburn football: Tigers 'ready for everything' from San Jose State offense http://t.co/d86ySlGUtE
about 10 hours ago

WarBlogle

WarBlogle.com


Auburn-Arkansas observation: Cassanova McKinzy was wearing a straight doo-rag under his helmet. And the ladies loved it. #wareagle
about 10 hours ago

AuburnVB

Auburn Volleyball


.@CoachRickNold and @VoiceofAUTigers looking back at last weekend's action and previewing #Auburn's next road trip. http://t.co/RdS1paPRxy
about 10 hours ago

AuburnMGolf

Auburn Men's Golf


The team is excited to be on the road in 2 days, kicking off the elite 2014-15 schedule in Ga! War Eagle! http://t.co/5JhW0Y5RUd
about 10 hours ago

WarBlogle

WarBlogle.com


Y'all aren't getting on this Bruce Pearl video enough. He's, like, semi-straddling Aubie and pummeling him. http://t.co/CzYXZkQWXo #auburn
about 11 hours ago

wareagleextra

WarEagleExtra


Gus Malzahn: 'Handful' of freshmen will have chance to play Saturday http://t.co/05nQ0YxNZ0
about 11 hours ago

AuburnSportsNow

Auburn Sports Now


Tigers Focusing On Corrections for Game Two http://t.co/POuu23b2sQ
about 11 hours ago

AuburnSportsNow

Auburn Sports Now


ITAT HD: Johnson Sees Good And Bad In Opener http://t.co/5LdvUiHzms
about 11 hours ago

AuburnSportsNow

Auburn Sports Now


Confident in himself, Auburn RB Cameron Artis-Payne not surprised by career-best performance http://t.co/JmeIoXTJg7
about 11 hours ago

wareagleextra

WarEagleExtra


RT @AyeyoKEJO: Lou Holtz sound like my granddad
about 11 hours ago

wareagleextra

WarEagleExtra


#boom RT @2Ruly_Blessed89: @JustinGarrett26 lol! Maybe it's the coaching
about 11 hours ago

AUBlog

David Morrison


RT @JustinGarrett26: Coaching Auburn sorority girls to play football right now lol these girls aren't the brightest crayon in the color box.
about 11 hours ago

wareagleextra

WarEagleExtra


RT @JustinGarrett26: Coaching Auburn sorority girls to play football right now lol these girls aren't the brightest crayon in the color box.
about 11 hours ago

PMARSHONAU

Phillip Marshall


Johnson: Adjustments and a challenge turn Auburn's defense http://t.co/OejKYGJ7kg via @247Sports
about 12 hours ago

AschoffESPN

Edward Aschoff


That kid is still running
about 12 hours ago

BMattAU

Bryan Matthews


TALKIN' TIGERS | What player is like a rock, who does the dirty work & a lot of Roc Thomas questions http://t.co/xJpEEDQ8N6
about 12 hours ago

wareagleextra

WarEagleExtra


Confident in himself, Auburn RB Cameron Artis-Payne not surprised by career-best performance http://t.co/DnA3HpLZOI
about 12 hours ago

AuburnSportsNow

Auburn Sports Now


Live updates: Malzahn recaps Arkansas win, previews San Jose State on Tiger Talk http://t.co/FWzZJ6D2S8
about 12 hours ago

AuburnSportsNow

Auburn Sports Now


Auburn coordinators Ellis Johnson, Rhett Lashlee reflect on breakout stars, preview SJSU http://t.co/zdbywDsTSH
about 12 hours ago

wareagleextra

WarEagleExtra


RT @JFergusonAU: Malzahn on Shon Coleman: "He graded out really well. We ran behind him a lot. He'll get better each game."
about 12 hours ago

JFergusonAU

Justin Ferguson


Malzahn asked about Roc Thomas and Peyton Barber's chances to play on Saturday: "Both of those guys will definitely be in the mix."
about 12 hours ago

wareagleextra

WarEagleExtra


RT @JFergusonAU: Malzahn said Arkansas' offense "had some new wrinkles...they broke out of their huddles quicker and had a new 'wham' play."
about 12 hours ago

AUGoldMine

Auburn Gold Mine


Auburn's Gus Malzahn on kicker/punter Daniel Carlson, your SEC freshman of week: "He handled himself like a champ. We're very proud of him."
about 12 hours ago

JFergusonAU

Justin Ferguson


Malzahn on Jeremy Johnson: "To come in there in his first SEC start...he handled himself like a champion. He got us out a great start."
about 12 hours ago

JFergusonAU

Justin Ferguson


And now we have a ball boy question. "I was real impressed with that. I didn't know he was that fast. Pretty proud of him for that."
about 12 hours ago

AUGoldMine

Auburn Gold Mine


Auburn's Gus Malzahn on Shon Coleman: "Shon graded out very well. We ran behind him a lot. He'll get nothing but better each game."
about 12 hours ago

wareagleextra

WarEagleExtra


Johnson on San Jose State's pass-catchers: "You literally have to throw it out of reach for them to miss balls."
about 13 hours ago

AUBlog

David Morrison


Johnson on San Jose State: "It's that time of the year you have so many unknowns, … we really have to be prepared for the unexpected."
about 13 hours ago

wareagleextra

WarEagleExtra


Johnson on San Jose State: "You see a lot of changing personnel. ... They've got two linemen and a tight end back."
about 13 hours ago

AUBlog

David Morrison


Johnson on return of Robenson Therezie: "I thought he did some really flashy things."
about 13 hours ago

wareagleextra

WarEagleExtra


Johnson on Robenson Therezie: "He had a lot of flashy plays. ... Where he could have really helped us was on third down."
about 13 hours ago

AUBlog

David Morrison


Johnson on mistakes on defense vs Arkansas: "It was a lot of self inflicted stuff."
about 13 hours ago

wareagleextra

WarEagleExtra


Johnson: "Arkansas kept a tight end in early and kept chipping (our ends) early. ... They did a good job keeping our edge pressure off."
about 13 hours ago

AUBlog

David Morrison


Johnson: "(We) didn't get a lot of pass rush, we've really got to look at that ... I think we have to improve in that area."
about 13 hours ago

auwegal

Christa Salter


@AubietheTiger01 @AUTigerPaws Please Share @OHOHKayla An inspiration living her dream AU Freshman & fighting 2 Live https://t.co/JpA3lX936k
about 13 hours ago

wareagleextra

WarEagleExtra


Johnson on the first-half struggles: "Most of the issues were misalignments by the young kids."
about 13 hours ago

AUBlog

David Morrison


DC Ellis Johnson on 1H struggles: "I thought we were a little bit soft early, … most of the issues were mis-alignments by the young kids."
about 13 hours ago

AUGoldMine

Auburn Gold Mine


Auburn defensive coordinator Ellis Johnson: "I thought we were a little soft early. Most of the issues were misalignments by the young kids"
about 13 hours ago

wareagleextra

WarEagleExtra


Defensive coordinator Ellis Johnson now here. "We had some mistakes. ... That was to be expected. I thought we were soft early."
about 13 hours ago

JayGTate

Jay G. Tate


Rhett Lashlee had good things to say about Duke Williams' blocking. That's big … and wasn't his strong suit in JUCO.
about 13 hours ago

AUGoldMine

Auburn Gold Mine


Auburn's Rhett Lashlee says there's a plan to play freshman tailback Roc Thomas, probably this week. He didn't play against Arkansas.
about 13 hours ago

AUBlog

David Morrison


Lashlee said there could be a plan to play talented freshman RB Roc Thomas this week vs. San Jose State.
about 13 hours ago

AUBlog

David Morrison


Lashlee jokes about Melvin Ray: "Melvin's old, right? … he's a quiet leader for us."
about 13 hours ago

wareagleextra

WarEagleExtra


Lashlee said he felt that Brandon Fulse "graded out pretty well." Says the biggest thing to work on is "sustaining his blocks."
about 13 hours ago

AUBlog

David Morrison


Lashlee on WR Melvin Ray: "The thing about Melvin, he was probably our most consistent in camp, … way he played without the ball stood out."
about 13 hours ago

wareagleextra

WarEagleExtra


Lashlee says Melvin Ray, not Duke Williams, was the "most impressive" wideout Saturday (to him).
about 13 hours ago

AUGoldMine

Auburn Gold Mine


Auburn's Rhett Lashlee on Melvin Ray: "Probably our most consistent receiver all fall camp….wouldn't be shocked if his role is expanded."
about 13 hours ago

wareagleextra

WarEagleExtra


Overall, Lashlee said the offense was a "little above average" Saturday, deeming it as a C+ or maybe a B-.
about 13 hours ago

AUBlog

David Morrison


Lashlee graded Auburn's offensive performance as C+, B-.
about 13 hours ago

AUBlog

David Morrison


Lashlee on QB Jeremy Johnson vs. Arkansas: "He played like a kid out there having a blast. … He played like i expected him to."
about 13 hours ago

AuburnSportsNow

Auburn Sports Now


Auburn specialist Daniel Carlson picks up SEC Freshman of the Week award http://t.co/kHGdJlil2a
about 13 hours ago

AUGoldMine

Auburn Gold Mine


Auburn's Rhett Lashlee: QB Jeremy Johnson "had great poise… he played really well. He just played like a kid out there having a blast."
about 13 hours ago

WarBlogle

WarBlogle.com


Here's video and gif of Bruce Pearl literally beating Aubie over a game of ***** this past Saturday. http://t.co/zJ8vjalD1a #auburn
about 13 hours ago

AUGoldMine

Auburn Gold Mine


Auburn offensive coordinator Rhett Lashlee: Cameron Artis-Payne "got stronger as the game went on" and Corey Grant averaged 8.5 yards carry
about 13 hours ago

AUBlog

David Morrison


OC Rhett Lashlee on RB Cam Artis-Payne: "I thought Cameron did a good job the other day, I thought he got stronger as the game went on."
about 13 hours ago

AUGoldMine

Auburn Gold Mine


Auburn offensive coordinator Rhett Lashlee: "Overall, it was a solid effort" against Arkansas, but 2 penalties, third-and-short negatives
about 13 hours ago

wareagleextra

WarEagleExtra


Offensive coordinator Rhett Lashlee is now here. "Overall it was a solid effort (Saturday)."
about 13 hours ago
BLOG ARCHIVE:
CATEGORIES: