QBs getting snapped up quickly
May, 2, 2014
5/02/14
7:30
PM ET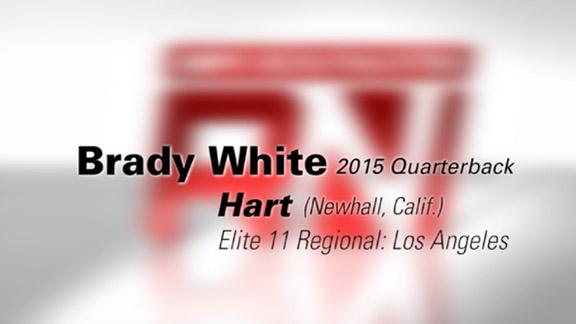 Schools looking to still land an elite quarterback in the Class of 2015 had better get on the ball. That's because the list of top-flight uncommitted quarterbacks continues to get shorter and shorter.
With
Brady White
's commitment to Arizona State on Friday evening, more than 60 percent of the nation's top 30 quarterbacks have already made up their minds. There's even less inventory if you're looking for a good pocket-passing quarterback, as 11 of the top 15 and four of the top five have committed.
To continue reading this article you must be an Insider
Insider
Ranking the new SEC defensive coordinators
Greg McElroy ranks the best new defensive coordinator hires in the SEC.
Ranking the new SEC defensive coordinators
VIDEO PLAYLIST
AUBURN FB RECRUITING SCORECARD
AuburnSportsNow

Auburn Sports Now


Auburn's Hasina Muhammad dismissed from basketball team following fight suspension http://t.co/u3FYUPCwjs
5 minutes ago

AuburnSportsNow

Auburn Sports Now


Auburn and Miami 'neck and neck' for Norton http://t.co/DCaTWKUtm9
5 minutes ago

AuburnSportsNow

Auburn Sports Now


Mike Horton could be Auburn's offensive tackle solution if Tigers miss on Martez Ivey http://t.co/8jHS0uqHfA
5 minutes ago

AuburnSportsNow

Auburn Sports Now


Florida Commitment Makes Late Visit to Auburn http://t.co/RcTKIYp3Mm
5 minutes ago

AuburnSportsNow

Auburn Sports Now


Auburn in the mix http://t.co/SY6n95LzfP
5 minutes ago

wareaglereader

The War Eagle Reader


VIDEO: Joe Fluffo graduated from Paw-Burn University. http://t.co/h5V2oyKXvg #KittenBowl http://t.co/YtqACrYWW9
11 minutes ago

AUBlog

David Morrison


Wait! Hold up, now there's fantasy football for the #PuppyBowl?? Why am I just learning about this?
11 minutes ago

AUBlog

David Morrison


The timing of Muhammad's dismissal — right before tip at Texas A&M — is certainly peculiar. Auburn is in the midst of 0-8 start to SEC play.
19 minutes ago

AUBlog

David Morrison


Muhammad, who led .@AuburnWBB w/ 13.7 ppg in SEC play, was scheduled to return today vs. A&M after serving 2-game suspension for fighting.
23 minutes ago

AUBlog

David Morrison


WOMEN'S BASKETBALL: Senior guard Hasina Muhammad dismissed from team for 'violation of team rules' http://t.co/Ip0KxqGhB0
27 minutes ago

AUGoldMine

Auburn Gold Mine


The Big Game is here... Puppy Bowl is on Animal Planet now (and for the next 10 hours). http://t.co/udAo11RwmD
45 minutes ago

AUBlog

David Morrison


Auburn WBB coach Terri Williams-Flournoy said in a statement that sr. G Hasina Muhammad was dismissed for a "violation of team rules."
46 minutes ago

AUBlog

David Morrison


BREAKING: Auburn senior guard Hasina Muhammad has been dismissed from the women's basketball team, per release. Muhammad was leading scorer.
47 minutes ago

PMARSHONAU

Phillip Marshall


Hasina Muhammad dismissed from Auburn women's basketball team http://t.co/XiEOceIKbw via @247Sports
49 minutes ago

AuburnTigers

Auburn Tigers


Excellent school, passionate support, winning tradition & one of the best college towns in America. #Auburn #WarEagle http://t.co/JHZE5Yidx0
about an hour ago

Keith247Sports

Keith Niebuhr


Sunday visitor updates at #Auburn, going back to about 7:30 a.m. (FREE) http://t.co/JEJlYczcIU
about an hour ago

AuburnRivals

AuburnSports.com


NSD SCHEDULE | Here is a list of the confirmed announcement times including 5* Byron Cowart and 4* Carlton Davis: http://t.co/gNoaU1IesW
about an hour ago

AuburnWBB

Auburn W Basketball


Aggies going with a "Frozen" theme for today's game. It feels like summer today in College Station and Olaf loves it. http://t.co/y90tBZI5XK
about an hour ago

AuburnTigers

Auburn Tigers


Excellent school, passionate support, winning tradition & one of the best college towns in America. #Auburn #WarEagle http://t.co/JHZE5Yidx0
about an hour ago

AuburnSportsNow

Auburn Sports Now


Hoops Blog: Auburn vs. Georgia http://t.co/A6wnwrl5wz
about an hour ago

AuburnSportsNow

Auburn Sports Now


Florida commit 'thinking' about Auburn http://t.co/pcZhBwtpjD
about an hour ago

AuburnSportsNow

Auburn Sports Now


Horton remains committed to Florida, thinking about Auburn http://t.co/aweeEGSViV
about an hour ago

AuburnTigers

Auburn Tigers


Check out @AuburnWBB at Texas A&M at 2 p.m. CT on SEC Network+. http://t.co/v4HqFnId3i #WarEagle http://t.co/KgxwTxpAg0
about an hour ago

AUBlog

David Morrison


ICYMI yesterday ... Auburn HC Bruce Pearl embraces emotional experience in return to Tennessee http://t.co/uPeXDATHBB http://t.co/8E9HT6fNhs
about an hour ago

AyeyoKEJO

Kerryon Johnson


Sure hope Auburn wins the Super Bowl today
about an hour ago

SEC

SEC Sports


VIDEO - Interview with South Carolina men's basketball coach Frank Martin: http://t.co/QeaLkaAzAZ #SEC
about an hour ago

AUBlog

David Morrison


#Crootin' in 2015 RT @GeorgeSchroeder: Tweeting while they work, CFB coaches embrace social media on recruiting trail http://t.co/fp7SqaQQN4
about an hour ago

AuburnSportsNow

Auburn Sports Now


Auburn commit: D'Afernee McGriff http://t.co/B93LGSoK86
about an hour ago

JLeeAU21

Jeffrey Lee


UF OL commit Michael Horton just left official visit to Auburn. Said he would have a final decision on Signing Day. http://t.co/hSba3vbzuX
about 2 hours ago

Allie_Davison

Allie Davison


JUCO WR Dominique Reed has left his official visit to #Auburn: http://t.co/DD11QOznXY
about 2 hours ago

ScoutAuburn

AU Tigers


Super Bowl and Star Rankings: A response to all the hoopla over Super Bowl starters & rankings http://t.co/pMddgawT8J http://t.co/AnvKsSJggH
about 2 hours ago

wareagleextra

WarEagleExtra


And ICYMI Saturday: Auburn football: Tigers pick up commit from 2016 DL Quinnen Williams http://t.co/NLLVRKSVAo …
about 2 hours ago

wareagleextra

WarEagleExtra


RT from Saturday: Bruce Pearl assumes Trayvon Reed ejection 'the right call' http://t.co/wPBH6lhtJ0 …
about 2 hours ago

SEC

SEC Sports


Twenty-five former #SEC players on Super Bowl rosters. http://t.co/Ml45A9yLmX
about 2 hours ago

wareagleextra

WarEagleExtra


RT from Saturday: Video: Bruce Pearl disappointed Tigers 'didn't finish the job' versus Vols http://t.co/QlXqeNZYcV …
about 2 hours ago

wareagleextra

WarEagleExtra


RT from Saturday: Rocky topped: Volunteers best Tigers in Bruce Pearl's return to Tennessee http://t.co/Y1JDOMBcFt …
about 2 hours ago

LaurenSisler

LaurenSisler


Remember kid, there's heroes and there's legends. Heroes get remembered but legends never die."-The Babe, The Sandlot
about 2 hours ago

SEC

SEC Sports


Today's #SEC Women's Legends Spotlight is Kentucky's (@UKHoopCats) Victoria Dunlap: http://t.co/zATeQCgEGp http://t.co/5ITcIJWbSo
about 2 hours ago

AuburnSportsNow

Auburn Sports Now


Auburn's Sammie Coates wins Rare Disease Champion award http://t.co/KI7B1L9NR7
about 2 hours ago

AuburnSportsNow

Auburn Sports Now


Auburn 'is for me' http://t.co/1uMUI3h5zx
about 2 hours ago

AuburnSportsNow

Auburn Sports Now


"Amazing" Visit Ends With Offer For Williams http://t.co/fppNvMwQ5Y
about 2 hours ago

AuburnSportsNow

Auburn Sports Now


Football. Auburn's Sammie Coates wins Uplifting Athletes Award http://t.co/0hwRgDXhmF
about 2 hours ago

AuburnTigers

Auburn Tigers


Great job Sammie! #Auburn's Coates earns Uplifting Athletes Award: http://t.co/5G2gYNooWP #WarEagle http://t.co/v2CTYOglw5
about 2 hours ago

MistaAlderman

Blake Alderman


Well after telling me he won't commit till NSD Luke Antrum has committed to #UF
about 2 hours ago

SEC

SEC Sports


This edition of #SEC One on One features Mississippi State women's basketball coach Vic Schaefer: http://t.co/IVDDB3Duv5
about 3 hours ago

SEC

SEC Sports


Here is your #SEC women's basketball schedule for today: http://t.co/mQBpJR64D3
about 3 hours ago

lutzie43

Lutzie 43 Foundation


"Character is how you treat those who can do nothing for you." Start this week off by treating everyone w/ kindness! http://t.co/mY83rZFpHE
about 3 hours ago

AUGoldMine

Auburn Gold Mine


Auburn's Sammie Coates wins Uplifting Athletes Rare Disease Champion Award. His good work: http://t.co/R90UR7J8hD http://t.co/1XqIcQw5Ha
about 3 hours ago

AuburnSportsNow

Auburn Sports Now


McBryde spends final weekend in Auburn http://t.co/hd5BlLxqlC
about 3 hours ago

PMARSHONAU

Phillip Marshall


McBryde spends final weekend in Auburn http://t.co/hjZvhO22Ct via @247Sports
about 3 hours ago

BMattAU

Bryan Matthews


Auburn has offered Jonah Williams. Here's our story on the 2016 OL from yesterday http://t.co/3PX8UqaWkS
about 4 hours ago

UpliftingAth

Uplifting Athletes


Congratulations to @sammiecoates11 for winning the 2015 Rare Disease Champion Award: http://t.co/2cbPfLwyJ8 http://t.co/AQQgUuRQ4R
about 4 hours ago

UpliftingAth

Uplifting Athletes


Congratulations to @sammiecoates11 for winning the 2015 Rare Disease Champion Award: http://t.co/2cbPfLwyJ8 http://t.co/AQQgUuRQ4R
about 4 hours ago

BoJackson

Bo Jackson


Who is coming to Auburn, AL for @bobikesbama May 2, to ride w/ me? Registration is now open! http://t.co/O8rqYKLKiq http://t.co/zXEbmdIk8Q
about 5 hours ago

ESPN_SEC

ESPN_SEC


Best of the visits: SEC http://t.co/u7M75mAnmP
about 5 hours ago

AuburnTigers

Auburn Tigers


Excellent school, passionate support, winning tradition & one of the best college towns in America. #Auburn #WarEagle http://t.co/JHZE5Yidx0
about 5 hours ago

libby141

olivia


@TerryGodwin_4 & @CoachDCraig plus Coach Malzahn hanging with the family. http://t.co/eGgsr0D72l
about 6 hours ago

AuburnSportsNow

Auburn Sports Now


Today in Auburn athletics, 2/1: Tigers try to end skid today http://t.co/oWbIKujWtN
about 12 hours ago

PMARSHONAU

Phillip Marshall


http://t.co/Z7jduKAhhA via @247Sports
about 12 hours ago

AuburnSportsNow

Auburn Sports Now


#PMARSHONAU: Decision time at hand http://t.co/F53mwdhnNo
about 12 hours ago

AuburnSportsNow

Auburn Sports Now


Williams Enjoys "Amazing" Auburn Visit http://t.co/imL4s7fjBs
about 14 hours ago

FootballAU

Auburn Football


A beautiful night in the loveliest village on the plains! #AuburnFast #WarEagle http://t.co/FFUrOEa5WO
about 14 hours ago

AuburnSportsNow

Auburn Sports Now


Mens Tennis: Auburn vs. Mercer http://t.co/PDNEYHj1nq
about 14 hours ago

AUBlog

David Morrison


ICYMI, here's my 2013 story on the bond b/w @sammiecoates11 & @buggie0620 for which he won the @UpliftingAth award: http://t.co/xlEWY4a6ls
about 15 hours ago

UpliftingAth

Uplifting Athletes


It was a tight race, but @buggie0620 did a great job inspiring @AuburnTigers fans to vote for @sammiecoates11. #TogetherWeAreStronger
about 15 hours ago

sammiecoates11

sammie coates


Thanks to everyone who voted for me!! Wde !! I love you Kenzie!!
about 15 hours ago

UpliftingAth

Uplifting Athletes


Congratulations to @sammiecoates11 for winning the 2015 Rare Disease Champion Award: http://t.co/2cbPfLwyJ8 http://t.co/AQQgUuRQ4R
about 15 hours ago

AUBlog

David Morrison


Congrats to Auburn's @sammiecoates11 for winning the @UpliftingAth's 2015 #RareDiseaseChampion: http://t.co/LrqcUXWVFx (h/t @Kray93)
about 15 hours ago

AuburnSportsNow

Auburn Sports Now


Robert Muschamp 'loves it here' at Auburn http://t.co/mX6AeEtFrI
about 15 hours ago

AuburnSportsNow

Auburn Sports Now


W. Tennis. No. 28 Auburn splits with No. 28 Texas Tech, Wyoming http://t.co/n42mCtVUA9
about 15 hours ago

SEC

SEC Sports


Get scores and recaps from Saturday's #SEC men's basketball action here: http://t.co/hArKgs7LUU
about 15 hours ago

SEC

SEC Sports


No. 1 Kentucky men's basketball completes season sweep of Alabama. Recap/Highlights: http://t.co/4Enit9O6ks #SEC
about 15 hours ago

AuburnSportsNow

Auburn Sports Now


'Amazing' visit http://t.co/Rv2YENriMs
about 16 hours ago

SportsCenter

SportsCenter


Sir Charles is at the UFC!! - @danawhite http://t.co/vk3Rtmprt6
about 16 hours ago

AuburnSportsNow

Auburn Sports Now


Countdown to Signing Day: Alabama, Auburn host multiple visitors http://t.co/hT8pAw0oZ1
about 16 hours ago

AuburnSportsNow

Auburn Sports Now


Pro Football Hall of Fame selectors bypass Kevin Greene again, see which 8 are among the Class of 2015 http://t.co/OUCx74ClHG
about 16 hours ago

FootballAU

Auburn Football


A beautiful night in the loveliest village on the plains! #AuburnFast #WarEagle http://t.co/FFUrOEa5WO
about 17 hours ago

FootballAU

Auburn Football


A beautiful night in the loveliest village on the plains! #AuburnFast #WarEagle http://t.co/FFUrOEa5WO
about 17 hours ago

AuburnSportsNow

Auburn Sports Now


Dream come true http://t.co/muyrPl3XqC
about 17 hours ago

AuburnSportsNow

Auburn Sports Now


Inability to finish http://t.co/05RnhhtkWw
about 17 hours ago

AuburnSportsNow

Auburn Sports Now


2016 DL commits http://t.co/y8TuZdYe7m
about 17 hours ago

BMattAU

Bryan Matthews


'AMAZING' VISIT | 2016 4-star OL Jonah Williams made the trip from California to Auburn this weekend http://t.co/bsnhOjIsRF
about 17 hours ago

WarEagleTales

War Eagle Tales


Malzahn, Craig attend Godwin's basketball game #Auburn #wareagle http://t.co/BvK2a7pNdG http://t.co/AHHfwlFqea
about 17 hours ago

Kray93

keisha ray


Yall the @UpliftingAth page is flooded with votes for our Sammie! There's only 2 1/2 hrs left to vote! Let's Do this! #RareDiseaseChampion
about 18 hours ago

fototodd

Todd Van Emst


Hudson Family Foundation Benefit Concert paid tribute to the Lutzie 43 Foundation @HudsonFamilyFdn @lutzie43 @oanow http://t.co/M7h2bpzHLX
about 18 hours ago

AuburnSportsNow

Auburn Sports Now


Auburn football: Tigers pick up commit from 2016 DL Quinnen Williams http://t.co/8EBb3aXQ8o
about 18 hours ago

AuburnSportsNow

Auburn Sports Now


Bruce Pearl assumes Trayvon Reed ejection 'the right call' http://t.co/iVafD2iED3
about 18 hours ago

MonicaBham

Monica\u00AE


😂"@libby141: @TerryGodwin_4 @CoachDCraig Coach Malzahn relaxing at the Godwin's 😊 something about this recliner😂😂 http://t.co/MdcPSFh6wR"
about 18 hours ago

AUBlog

David Morrison


MT @UpliftingAth: Greg Stevens leads Auburn's @sammiecoates11 w/ less than 5 hrs to go. Vote: http://t.co/wzyv0Yi3S6 http://t.co/b7UeSHMQiB
about 19 hours ago

wareagleextra

WarEagleExtra


Saw one of these leaving Knoxville and couldn't avoid the siren call. (Learning from the best -- @AUGoldMine) http://t.co/iUT0c9c9Il
about 19 hours ago

PaulStrelowTI

Paul Strelow


BREAKING: #Rivals100 WR T.J. Chase @tjchase3 tells @TIinClemson he has committed to #Clemson http://t.co/5PbZROF13n http://t.co/b0AnZYmUlX
about 19 hours ago

AUBlog

David Morrison


MEN'S BASKETBALL: Bruce Pearl embraces emotional experience in return to UT http://t.co/uPeXDATHBB
about 19 hours ago

AuburnVideo

WarEagle Productions


Prep has already begun for the big Signing Day 6-hour simulcast @AuburnTigers #WarEagle http://t.co/8RVKqetdDN
about 20 hours ago

AuburnTigers

Auburn Tigers


This is Coach Pearl on return flight to #Auburn after an emotional game at Tennessee. Glad to have you home Coach! http://t.co/djfCLHKV6M
about 20 hours ago

wareagleextra

WarEagleExtra


Auburn football: Tigers pick up commit from 2016 DL Quinnen Williams (First reported by @Keith247Sports) http://t.co/NLLVRKSVAo
about 20 hours ago

wareagleextra

WarEagleExtra


Bruce Pearl assumes Trayvon Reed ejection 'the right call' http://t.co/wPBH6lhtJ0 http://t.co/8R47k6TRJ0
about 20 hours ago

AuburnSportsNow

Auburn Sports Now


Auburn Basketball Highlights at Tennessee http://t.co/UqnGWk31we
about 20 hours ago

AuburnSportsNow

Auburn Sports Now


Scenes from Bruce Pearl's emotional return to Tennessee http://t.co/VrgsqOGVs1
about 20 hours ago

AuburnSportsNow

Auburn Sports Now


Video: Bruce Pearl disappointed Tigers 'didn't finish the job' Saturday http://t.co/qYDLcu88Gx
about 20 hours ago

CameronNewton

Cameron Newton


#c1assicN1GHTS http://t.co/PkfSFtVq2q
about 20 hours ago
BLOG ARCHIVE:
CATEGORIES: