Getting to know Kevin Toliver II
March, 25, 2014
Mar 25
9:30
AM ET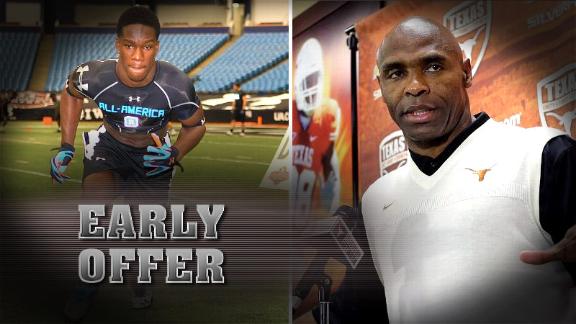 Throughout this recruiting cycle, Recruiting Nation will profile several ESPN 300 prospects in the 2015 class, including an inside look at the prospect, his recruitment, a scouting report and what college program could benefit when he ultimately makes his decision.
ROSWELL, Ga. -- One of the top juniors in the nation,
Kevin Toliver II
, made the trip from his hometown of Jacksonville, Fla., to Atlanta to compete against some of the best athletes in the country at the
Atlanta Nike Football Training Camp
this past Sunday.
To continue reading this article you must be an Insider
Insider
Harvey Updyke Agrees To Dunk Tank For Charity
ESPN college football writer Mark Schlabach breaks down Harvey Updyke's agreeing to appear at a charity event Sept. 29 in Mobile, Alabama, in which fans will be allowed to either dunk him in a dunking booth or throw pies at his face.
Harvey Updyke Agrees To Dunk Tank For Charity
VIDEO PLAYLIST
Harvey Updyke Agrees To Dunk Tank For Charity

Harvey Updyke Agrees To Dunk Tank For Charity

ESPN college football writer Mark Schlabach breaks down Harvey Updyke's agreeing to appear at a charity event Sept. 29 in Mobile, Alabama, in which fans will be allowed to either dunk him in a dunking booth or throw pies at his face.

SEC Storied: Bo, Barkley and The Big Hurt - Director Statement

SEC Storied: Bo, Barkley and The Big Hurt - Director Statement

Director Larry Weitzman talks about how Bo Jackson, Charles Barkley and Frank Thomas changed Auburn athletics. SEC Storied: Bo, Barkley and The Big Hurt premieres August 21st 9 PM ET on the SEC Network.

SEC Storied: Bo, Barkley and The Big Hurt - The Vault

SEC Storied: Bo, Barkley and The Big Hurt - The Vault

Alabama Head Coach Nick Saban talks about how much respect he has for Bo Jackson, Charles Barkley and Frank Thomas. SEC Storied: Bo, Barkley and The Big Hurt premieres August 21st 9 PM ET on the SEC Network
AUBURN FB RECRUITING SCORECARD
WarBlogle

WarBlogle.com


Cam Newton goes back to Blinn College for the first time since 2009 on the 3rd episode of @UnderArmour's documentary. http://t.co/TyzshN1pdq
about a minute ago

Kendall_P_87

Kendall Parker


The RUNDOWN w/ @JayGTate @BMattAU & former AU player @wherring54 was terrific! Love listening to it! Keep up the good work! #WarEagle
7 minutes ago

DanWolken

Dan Wolken


Former Auburn coach Gene Chizik to join SEC Network as analyst, he tells @USATODAYSports http://t.co/SQx1CmKni3
9 minutes ago

BMattAU

Bryan Matthews


UNFINISHED BUSINESS | A trimmed down Gabe Wright preparing for big senior season http://t.co/dZNS2p8Oi1
11 minutes ago

DanWolken

Dan Wolken


Gene Chizik tells @USATODAYSports he's joining the SEC Network as an analyst http://t.co/SQx1CmKni3 via @usatoday
23 minutes ago

DanWolken

Dan Wolken


Gene Chizik tells @USATODAYSports he's joining the SEC Network as an analyst http://t.co/SQx1CmKni3 via @usatoday
25 minutes ago

ESPN_SEC

ESPN_SEC


Key losses up front won't deter Auburn OL http://t.co/ujJMki99SF
27 minutes ago

AUphoto

AU Photo Services


AU Marching Band performing the Donkey Serenade 50 years ago. This photo is from the 1964 Glomerata. #auphoto #tbt http://t.co/pq8k1azSgn
31 minutes ago

AuburnVB

Auburn Volleyball


Mix of newcomers and returners look to make an impact for #Auburn on the outside http://t.co/c1pI5p4iUm #WarEagle http://t.co/O62IKI0whm
32 minutes ago

AuburnSportsNow

Auburn Sports Now


W. Volleyball. Volleyball Position Preview: Outside Hitter http://t.co/tDnaE448uC
32 minutes ago

AuburnMGolf

Auburn Men's Golf


"@CoachMaggard: First 6am day for @AuburnMGolf with Coach D! http://t.co/OcZ19g7AUp"War Eagle!
37 minutes ago

AuburnSportsNow

Auburn Sports Now


Auburn Podcast: Optimism running high for Tigers as fall camp wraps up http://t.co/Qgu5KI6M2O
48 minutes ago

AuburnSportsNow

Auburn Sports Now


Where to watch the A-List play this weekend http://t.co/416MqayMoO
48 minutes ago

AuburnSportsNow

Auburn Sports Now


Jennie Finch brings love of softball, youth sports, family to Hoover for National Pro Fastpitch event http://t.co/GHi5BfMNlt
48 minutes ago

AUGoldMine

Auburn Gold Mine


Bo still keeping an eye on things at Jordan-Hare this Thursday... http://t.co/lYylee9cCk
50 minutes ago

cperson45

Chuck Person


Great seeing @coachbrucepearl w/ @RickKarle talk @AuburnMBB on Fox 6 on several segments this AM #WarEagle http://t.co/LC5sanqdWS
52 minutes ago

AuburnMBB

Auburn Basketball


#PearlFacts - @coachbrucepearl had an average year-end RPI of 17 & 3 top-5 seeds in the NCAA Tournament at Tennessee http://t.co/Q4oTExzyip
53 minutes ago

jayjacobsauad

Jay Jacobs


Looking forward to filming "Ask the AD" Tuesday for our website. Got a question? Email me at athldir@auburn.edu and it might get selected.
53 minutes ago

TigerNutrition

AU Tiger Nutrition


LOVING the new @Gatorade ads with Peyton & #2. #truth http://t.co/g7b2SThdAs
54 minutes ago

JGerardBrown

Jason Brown


Only one more week before @ClowESPN and @AschoffESPN renew their weekly football pick 'em rivalry. Cannot wait for analysis guys! #CFB2014
about an hour ago

WarBlogle

WarBlogle.com


9: the number of days to kickoff, but also the number of hotdogs #BERT will consume at lunch today. #BEATARK
about an hour ago

SEC

SEC Sports


#SEC soccer season opens tomorrow with @SECNetwork broadcast of @UGAWomensSoccer vs. @OleMissSoccer. Preview: http://t.co/yCcoSyvBB5
about an hour ago

MattScalici

Matt Scalici


The @aldotcom Auburn Podcast got back together! Listen to @WarBlogle & @blakeells talk fall camp & more #reunited http://t.co/YI54MkxOgv
about an hour ago

wareagleextra

WarEagleExtra


RT from Wednesday: (From @JFergusonAU) What's in a (nick)name: Braden Smith a marvel to coaches and teammates http://t.co/0x5fCol1wh …
about an hour ago

JayGTate

Jay G. Tate


Here's a #TBT shot: Jeffrey Lee and @BMattAU from August 2006. http://t.co/SxbRR87rSP
about an hour ago

STLouisRams

St. Louis Rams


Listen in as @DB_5trey and the #Rams take on the @Packers in the latest episode of #Wired: http://t.co/O7OvgdflLI http://t.co/IqXI0eItOo
about an hour ago

AuburnSportsNow

Auburn Sports Now


THE RUNDOWN http://t.co/1wiWgh2TCX
about an hour ago

AuburnSportsNow

Auburn Sports Now


Moncrief Ready To Get On The Field http://t.co/EziTJ06hfV
about an hour ago

AuburnSportsNow

Auburn Sports Now


4-star 2016 DE Marlon Davidson has Auburn, Alabama offers but not showing any favoritism http://t.co/0wLQ6jvyKR
about an hour ago

AuburnRivals

AuburnSports.com


Football season is 9 days away. Get the best info and analysis from AuburnSports FREE for 30 days! http://t.co/rC9Vzca3Ue Code: GUSBUS
about an hour ago

JayGTate

Jay G. Tate


Football season is 9 days away. Get the best info and analysis from AuburnSports FREE for 30 days! http://t.co/OL4vHeDthj Code: GUSBUS
about an hour ago

AuburnRivals

AuburnSports.com


Football season is 9 days away. Get the best info and analysis from AuburnSports FREE for 30 days! http://t.co/rC9Vzca3Ue Code: GUSBUS
about an hour ago

WarBlogle

WarBlogle.com


Shoulda used this picture for Jermaine Whitehead days to kickoff. #auburn #wareagle http://t.co/FP4WaTXwrl
about an hour ago

JayGTate

Jay G. Tate


I must give a shout-out to @BanditChesngton for his help last night with the BIG SHOW at @augolfclub. A real star in the radio biz!
about an hour ago

JayGTate

Jay G. Tate


I must give a shout-out to @BanditChesngton for his help last night with the BIG SHOW at @augolfclub. A real star in the radio biz!
about an hour ago

jayjacobsauad

Jay Jacobs


Looking forward to filming "Ask the AD" Tuesday for our website. Got a question? Email me at athldir@auburn.edu and it might get selected.
about an hour ago

ESPN_SEC

ESPN_SEC


Vanderbilt Commodores season preview http://t.co/6kUJMN785y
about an hour ago

AuburnRivals

AuburnSports.com


THE RUNDOWN (free): @wherring54 joins us for 30 good minutes live from the @augolfclub. http://t.co/zg6IvHC6Sq http://t.co/rez8NbPUUl
about 2 hours ago

AuburnRivals

AuburnSports.com


THE RUNDOWN (free): @wherring54 joins us for 30 good minutes live from the @augolfclub. http://t.co/zg6IvHC6Sq http://t.co/rez8NbPUUl
about 2 hours ago

JayGTate

Jay G. Tate


THE RUNDOWN (free): @wherring54 joins us for 30 good minutes live from the @augolfclub. http://t.co/HoRhJWImHQ http://t.co/4a7pu1oUOS
about 2 hours ago

ESPN_SEC

ESPN_SEC


SEC preseason recruiting report card http://t.co/SFRzPjoIPv
about 2 hours ago

PMARSHONAU

Phillip Marshall


#PMARSHONAU: Tell Harvey Updyke he doesn't matter http://t.co/7eFqb7vSXL via @247Sports
about 2 hours ago

PMARSHONAU

Phillip Marshall


Gus vs. Bret, Part II: A different kind of rivalry http://t.co/jrO6U5wZzs via @247Sports
about 2 hours ago

WarBlogle

WarBlogle.com


Days to kickoff: Jermaine Whitehead (#9, SR DB) & Roc Thomas (#9, FR RB) #auburn #wareagle http://t.co/xEIbOCS4Db
about 3 hours ago

PMARSHONAU

Phillip Marshall


AUC podcast: Talking team with Phillip Marshall http://t.co/IvYTSJTiro via @247Sports
about 3 hours ago

ESPN_SEC

ESPN_SEC


LSU freshmen could become instant stars http://t.co/16InRVGM1N
about 3 hours ago

ESPN_SEC

ESPN_SEC


Preseason All-SEC team http://t.co/J74OTUFo3k
about 3 hours ago

PMARSHONAU

Phillip Marshall


Memory of his father drives Auburn's Tony Jones http://t.co/6c6TPrHGHF via @247Sports
about 3 hours ago

AUAthletics

Auburn Athletics


You can now listen to live #Auburn games for free on our Gameday app: http://t.co/biCMB0koOd #WarEagle http://t.co/2aLNrXO4Qv
about 3 hours ago

aucheerleading

Auburn Cheerleading


#TBT #WarEagle #BeatArkansas http://t.co/SUDf9YLfVE
about 3 hours ago

ESPN_SEC

ESPN_SEC


SEC morning links http://t.co/ES2nVeMAym
about 4 hours ago

AUGoldMine

Auburn Gold Mine


"A time and era that changed our university..." Bo, Barkley and The Big Hurt debuts tonight: http://t.co/KjiXLhyUd5 http://t.co/pF7EmchADw
about 4 hours ago

AuburnSportsNow

Auburn Sports Now


Gus takes ALS Ice Bucket Challenge http://t.co/5F4vYsHcBj
about 8 hours ago

PMARSHONAU

Phillip Marshall


Gus vs. Bret, Part II: A different kind of rivalry http://t.co/jrO6U5wZzs via @247Sports
about 10 hours ago

AuburnSportsNow

Auburn Sports Now


Young Tigers To Watch: Freshmen On Offense http://t.co/ZoDLV2rqFb
about 10 hours ago

WarBlogle

WarBlogle.com


Danzig or Rage Against the Machine. WE @JonSirico: What songs do you want to hear at Jordan-Hare Stadium this season? http://t.co/FZKAIzTV1x
about 11 hours ago

AuburnSportsNow

Auburn Sports Now


Gus Malzahn accepts Ice Bucket Challenge (w/video) http://t.co/Tn5t5IU80N
about 12 hours ago

wareagleextra

WarEagleExtra


Gus Malzahn accepts Ice Bucket Challenge (w/video) http://t.co/YSbhUy1coZ
about 13 hours ago

PMARSHONAU

Phillip Marshall


My column: Tell Harvey Updyke he doesn't matter http://t.co/7eFqb7vSXL via @247Sports
about 13 hours ago

slmandel

Stewart Mandel


RT @ByBerkowitz: NCAA files formal notice that it is appealing O'Bannon case to 9th Circuit
about 13 hours ago

PMARSHONAU

Phillip Marshall


Video: Auburn's Malzahn accepts the Ice Bucket Challenge http://t.co/DbU1KiGBo1 via @247Sports
about 14 hours ago

WarBlogle

WarBlogle.com


No. https://t.co/k724oYRANx
about 14 hours ago

AuburnSportsNow

Auburn Sports Now


Watch Gus Malzahn take ALS Ice Bucket Challenge; Cam Newton, Jason Dufner on clock http://t.co/NZmnmD538y
about 14 hours ago

PMARSHONAU

Phillip Marshall


Video: Auburn's Malzahn accepts the Ice Bucket Challenge http://t.co/33HQBR0XRn via @247Sports
about 14 hours ago

ESPN_SEC

ESPN_SEC


Harvey Updyke agrees to dunk tank http://t.co/pUWEjzjvb3
about 14 hours ago

WarBlogle

WarBlogle.com


Gus Malzahn's entire #IceBucketChallenge video is 18 seconds long. That's #AuburnFast https://t.co/r7QisP1Gvb
about 14 hours ago

AUBlog

David Morrison


AUBURN FOOTBALL BLOG: @CoachGusMalzahn accepts #ALS #IceBucketChallenge, then challenges Jason Dufner & Cam Newton. http://t.co/clbhGTKh11
about 15 hours ago

FootballAU

Auburn Football


.@CoachGusMalzahn completes the #ALSIceBucketChallenge. http://t.co/5b8OFd0hPv
about 15 hours ago

AUGoldMine

Auburn Gold Mine


RT @FootballAU: .@CoachGusMalzahn completes the #ALSIceBucketChallenge. http://t.co/tsMXkp041z
about 15 hours ago

FootballAU

Auburn Football


.@CoachGusMalzahn completes the #ALSIceBucketChallenge. http://t.co/5b8OFd0hPv
about 15 hours ago

CoachGusMalzahn

Coach Gus Malzahn


I accepted the #ALSIceBucketChallenge and challenge my brother Brooks Ruhman @JasonDufner @CameronNewton http://t.co/TeVwezQ47K
about 15 hours ago

wareagleextra

WarEagleExtra


RT @CoachGusMalzahn Accepted #ALSIceBucketChallenge and challenge brother Brooks Ruhman, @JasonDufner @CameronNewton http://t.co/mjG4rINfKb
about 15 hours ago

AUGoldMine

Auburn Gold Mine


RT @CoachGusMalzahn Accepted #ALSIceBucketChallenge and challenge brother Brooks Ruhman, @JasonDufner @CameronNewton http://t.co/V5cIKv5jNK
about 15 hours ago

AUBlog

David Morrison


Auburn's @CoachGusMalzahn got a cold shower after practice today for the #ALSIceBucketChallenge. WATCH it here: http://t.co/ZkUKiTXm5x
about 15 hours ago

CoachGusMalzahn

Coach Gus Malzahn


I accepted the #ALSIceBucketChallenge and challenge my brother Brooks Ruhman @JasonDufner @CameronNewton http://t.co/TeVwezQ47K
about 15 hours ago

CoachGusMalzahn

Coach Gus Malzahn


I accepted the #ALSIceBucketChallenge and challenge my brother Brooks Ruhman @JasonDufner @CameronNewton http://t.co/TeVwezQ47K
about 15 hours ago

CoachWoodsAU

Casey Woods


That's an Auburn sky standing guard over Jordan-Hare this evenin. #10 Days http://t.co/A5I6c5C9lM
about 15 hours ago

AuburnSportsNow

Auburn Sports Now


Offers still coming http://t.co/f9ik5rvCyo
about 16 hours ago

AuburnSportsNow

Auburn Sports Now


The RUNDOWN http://t.co/Md2DnZziJx
about 16 hours ago

AUGoldMine

Auburn Gold Mine


Premiere: 'Bo, Barkley and The Big Hurt' is of Auburn legends. Story, video, TV times: http://t.co/KjiXLhyUd5 http://t.co/dqLaBMLnca
about 16 hours ago

WarBlogle

WarBlogle.com


His name is Harvey Updyke, and oh it's just so funny! But for charity tho, right? That Harv! http://t.co/Pe0klzltFb
about 16 hours ago

AUAthletics

Auburn Athletics


"Bo, Barkley and the Big Hurt" focuses on #Auburn legends: http://t.co/I5V1XsVoP5 #WarEagle http://t.co/ZOAqbgj7JW
about 16 hours ago

AUBlog

David Morrison


AUBURN ATHLETICS: SEC Network's 'Bo, Barkley and The Big Hurt' chronicles prosperous decade in program history http://t.co/WhiL6dz6y3
about 16 hours ago

AuburnSportsNow

Auburn Sports Now


Football. Premiere: 'Bo, Barkley, The Big Hurt' is of Auburn legends http://t.co/Pn0Ik33F11
about 16 hours ago

NWARobbie

Robbie Neiswanger


Arkansas offensive coordinator Jim Chaney on Auburn: "They've got a big 'S' on their chests down there ... and it's warranted."
about 16 hours ago

wareagleextra

WarEagleExtra


MT @NWARobbie: Arkansas OC Jim Chaney on Auburn: "They've got a big 'S' on their chests down there ... and it's warranted."
about 17 hours ago

AUBlog

David Morrison


RT @NWARobbie: Arkansas offensive coordinator Jim Chaney on Auburn: "They've got a big 'S' on their chests down there ... & it's warranted."
about 17 hours ago

AschoffESPN

Edward Aschoff


Just remember @ClowESPN that revenge is a dish best served cold :) Well played sir ... Wellllllll played
about 17 hours ago

AschoffESPN

Edward Aschoff


Hmmmmm tempting RT @lancetrip: I'd go Dallas' D. No doubt first rounder
about 17 hours ago

AschoffESPN

Edward Aschoff


Ninth pick in a PPR league. Gotta go kicker. Just gotta
about 17 hours ago

AUGoldMine

Auburn Gold Mine


Premiere: 'Bo, Barkley and The Big Hurt' is of Auburn legends. Story, video, TV times: http://t.co/KjiXLhyUd5 http://t.co/dqLaBMLnca
about 17 hours ago

AschoffESPN

Edward Aschoff


First fantasy football draft of the year tonight. Thinking of taking a kicker in the first round to reeeeeeeeally shake things up
about 17 hours ago

PMARSHONAU

Phillip Marshall


Malzahn says seniors up front will 'go a long way' for Auburn http://t.co/BWht0ZNP3c via @247Sports
about 17 hours ago

SEC

SEC Sports


Director Larry Weitzman talks SEC Storied: Bo, Barkley and The Big Hurt. Debuts Thursday 9 PM ET on @SECNetwork http://t.co/acJvovSUNl
about 17 hours ago

AuburnSportsNow

Auburn Sports Now


Several Auburn, Alabama players on Senior Bowl watch list; South Alabama represented too http://t.co/yo2v0ZPTc1
about 17 hours ago

AuburnSportsNow

Auburn Sports Now


Greg Schiano has 'faith' Arkansas defense can keep game 'tight' with Auburn http://t.co/r11w0qqlXI
about 17 hours ago

ESPN_SEC

ESPN_SEC


"We breed D-tackles around here." Can LSU's new group reach the lofty heights of its predecessors? http://t.co/HCRFsi0PB2
about 18 hours ago

AuburnMBB

Auburn Basketball


Wake up with @coachbrucepearl tomorrow morning on @GoodDayAlabama and @RickKarle. He will be on at 7:30, 8, 8:30 and 8:45 am CT
about 18 hours ago

PMARSHONAU

Phillip Marshall


Eleven Auburn players on Senior Bowl's initial watch list http://t.co/urJ5jbCz5V via @247Sports
about 18 hours ago

ESPN_SEC

ESPN_SEC


13 SEC teams remain in the updated recruiting class rankings. And one team makes a move into the top five http://t.co/ezyAG2qLit
about 18 hours ago
SEC SCOREBOARD
Thursday, 8/28
Saturday, 8/30
Sunday, 8/31
BLOG ARCHIVE:
CATEGORIES: