Most important targets: SEC
January, 28, 2014
1/28/14
8:00
AM ET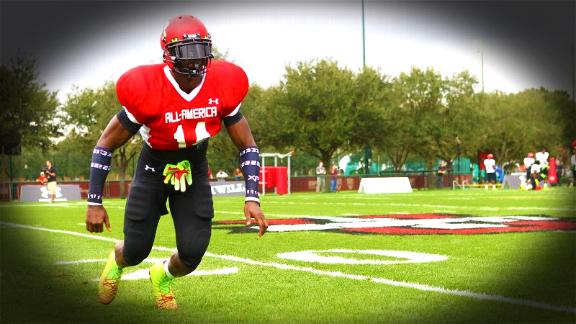 The Southeastern Conference already has commitments from six of the top 10 players in the country and has a real possibility of landing two more before signing day. With several key targets still remaining, here's a look at the top remaining targets in the SEC.

Alabama
CB Marlon Humphrey (Hoover, Ala./Hoover)
6-foot-0, 180 pounds
ESPN 300 rank: 15
Humphrey is a big, athletic cornerback with great size and would be a natural fit in Nick Saban's system. FSU is also very much in the picture for the five-star defensive back, but with the Seminoles losing defensive coordinator Jeremy Pruitt to Georgia, the Crimson Tide might have a slight advantage. Alabama will have to fight to keep this dynamic defensive back from leaving the state. With his skill set, Humphrey has a chance to play early in his college career.
To continue reading this article you must be an Insider
Insider
Peach State: Top Tier Recruiting Ground?
California, Florida and Texas are largely considered the "Big Three" in college football recruiting. But national recruiting analyst Gerry Hamilton joins ESPN's Phil Murphy to explain why Georgia deserves to be in the top tier and has numbers to prove it.
Peach State: Top Tier Recruiting Ground?
VIDEO PLAYLIST
AUBURN FB RECRUITING SCORECARD
SEC

SEC Sports


.@KentuckyMBB marches into #NCAA Regional Finals with resounding win against West Virginia. http://t.co/qZ4LNYLQkL #SEC
less than a minute ago

WarBlogle

WarBlogle.com


A reminder that Auburn will travel to Xavier next season to determine the leader in the storied series. Currently tied at 4-4. #wareagle
43 minutes ago

SEC_Craig

Craig Pinkerton


.@KentuckyMBB doubles up West Virginia 78-39, will meet Notre Dame in Elite Eight at 8:49 pm Saturday on TBS
about an hour ago

AuburnSwimming

Auburn Swim & Dive


All-Americans in the 400 medley relay: Joe Patching, Michael Duderstadt, Hugo Morris and Kyle Darmody. #WarEagle http://t.co/8AsJwD7CkN
about an hour ago

WarBlogle

WarBlogle.com


Kentucky beat Auburn by 35, then by 24. Kentucky just beat Sweet 16, 5-seed West Virginia by 39. I demand re-selection. #wareagle
about an hour ago

wareagleextra

WarEagleExtra


Daxter Miles Jr: "Nah, nah, nah. My quote was taken out of context. The 'one' I was referring to meant the number of rebounds I'd have."
about an hour ago

AschoffESPN

Edward Aschoff


Kentucky couldn't win by 40? SMH
about an hour ago

wareagleextra

WarEagleExtra


ELBERTON. MT @Allie_Davison: #Rivals100 WR Mecole Hardman tells me that he will be visiting #Auburn next Tuesday. http://t.co/qS6ENzre4D
about an hour ago

BDawsonRivals

Brett Dawson


Ha. RT @seth_rosenthal: http://t.co/3WymwtnrTo
about an hour ago

AuburnSwimming

Auburn Swim & Dive


All-Americans in the 400 medley relay: Joe Patching, Michael Duderstadt, Hugo Morris and Kyle Darmody. #WarEagle http://t.co/8AsJwD7CkN
about an hour ago

AuburnSportsNow

Auburn Sports Now


Swimming & Diving. Auburn men in eighth after day one of NCAA Championships http://t.co/ks7D6My9vP
about an hour ago

AuburnSportsNow

Auburn Sports Now


Former Auburn tackle Patrick Miller looks like Day 3 draft pick, Mel Kiper says http://t.co/iHMgL6Wik5
about an hour ago

AUBlog

Tom Green


AU ROUNDUP: Auburn men in eighth after day one of NCAA Championships http://t.co/mDHp2DlLTU
about an hour ago

wareagleextra

WarEagleExtra


Greg Gumbel, with UK up by 31 and 11 minutes to go: "It's looking very likely they'll move on to play Notre Dame on Saturday." Ya think?
about 2 hours ago

MarkEnnis

Mark Ennis


Ya know who is desperately hoping Rick Barnes won't budge and gets fired? Gregg Marshall's agent.
about 2 hours ago

AschoffESPN

Edward Aschoff


I believe that horn signaled the official end to this Kentucky practice
about 2 hours ago

wareagleextra

WarEagleExtra


It warms my heart to search Twitter and see how many other people hate the Allstate commercial. "Collective hate. That's Allstate's stand."
about 2 hours ago

AuburnSportsNow

Auburn Sports Now


Never Quit: The Bri Guy Story http://t.co/YLH0r3Al8E
about 2 hours ago

AuburnSportsNow

Auburn Sports Now


Men's Tennis Highlights vs Jacksonville State http://t.co/F60esR7mSH
about 2 hours ago

Allie_Davison

Allie Davison


#Rivals100 WR Mecole Hardman tells me that he will be visiting #Auburn next Tuesday. One of my favorite prospects: http://t.co/i1E6KZLfDU
about 2 hours ago

Allie_Davison

Allie Davison


#Rivals100 WR Mecole Hardman tells me that he will be visiting #Auburn next Tuesday. One of my favorite prospects: http://t.co/i1E6KZLfDU
about 2 hours ago

wareagleextra

WarEagleExtra


BELICHICK DA GOD. RT @timcottrell7782: FredEx will always hold a special place in my heart for inspiring this quote http://t.co/JKvq5rWFEA
about 2 hours ago

timcottrell7782

Tim Cottrell


@wareagleextra FredEx will always hold a special place in my heart for inspiring this quote from the hoodie http://t.co/NOkS7g9GVv
about 2 hours ago

wareagleextra

WarEagleExtra


I like this alteration. Nicely done. RT @hchrismiller: It's an invisible championship belt, not an award.
about 2 hours ago

wareagleextra

WarEagleExtra


So can the NCAA implement a running clock for the second half of Kentucky/West Virginia or nah?
about 2 hours ago

wareagleextra

WarEagleExtra


How could they remember him? RT @Tyler_Hargrove: how can people forget FredEx?
about 2 hours ago

wareagleextra

WarEagleExtra


Thinking my Freddie Mitchell tweet only came 10 years too late. Worried too many people didn't get the reference.
about 2 hours ago

AschoffESPN

Edward Aschoff


When does Kentucky's practice end tonight?
about 2 hours ago

McMurphyESPN

Brett McMurphy


RT @USATGerryAhern: Other notable Daxter Miles predictions: Sun rises in West, Dewey defeats Truman, Cubs to win World Series
about 3 hours ago

AschoffESPN

Edward Aschoff


36-1 RT @JShankerESPN: Two points? Everyone on the Kentucky bench is looking at Daxter like http://t.co/pUQu3Z8ltK
about 3 hours ago

AschoffESPN

Edward Aschoff


YES RT @osmattmurschel: West Virginia-Kentucky right now. http://t.co/3n9G5NG6Cb
about 3 hours ago

wareagleextra

WarEagleExtra


"And the 2015 winner of the 'Freddie Mitchell Award for 'Talking a Big Game and Not Backing It Up' is ... Daxter Miles Jr.!! Come on down!!"
about 3 hours ago

AschoffESPN

Edward Aschoff


36-1 RT @Marq_Burnett: Kentucky guy just dunked on another Kentucky guy. That's how out of hand this is getting.
about 3 hours ago

AschoffESPN

Edward Aschoff


Allllllllllllllllll right. Running clock in this Kentucky game
about 3 hours ago

wareagleextra

WarEagleExtra


It will be a joyous day when Allstate stops showing those awful "safe driving bonus check" commercials with the guy/gal at a restaurant.
about 3 hours ago

AschoffESPN

Edward Aschoff


This can't be West Virginia's plan to beat Kentucky right? This isn't golf
about 3 hours ago

wareagleextra

WarEagleExtra


Wisconsin be like ... https://t.co/yKDSkdJJBH
about 3 hours ago

STLouisRams

St. Louis Rams


Big @GregRobinson79 with u-13, u-12 & u-11 basketball teams from Gene Slay's Boys' Club at Dave & Buster's. http://t.co/QCAJ4wS3nV
about 3 hours ago

wareagleextra

WarEagleExtra


Good eye. Salient observation. RT @WDEAUB also appears to get extremely shaken up. #hotandflatcokesucks
about 4 hours ago

AUBlog

Tom Green


SOFTBALL: No. 8 Auburn heads to No. 20 Missouri for three-game series http://t.co/xMcUxhXzZR
about 4 hours ago

AveryYoung56

Avery Young


Me and My brother helped a nice family out of the mud today. Feels great to help people!!! http://t.co/856oge22Qn
about 5 hours ago

vicenews

VICE News


The future of America's solar industry could be very bright: http://t.co/uNuWsYOlPN http://t.co/d2fpKqhjtg
about 5 hours ago

rgottley

Robbie Ottley


@wareagleextra Paraphrasing, but I'm pretty sure it was Robert Woodruff who said he wanted to put a Coke "within arm's reach of the world."
about 5 hours ago

rgottley

Robbie Ottley


@wareagleextra Also, a limited supply of Coke seems to be against the long-time ethos of the company.
about 5 hours ago

rgottley

Robbie Ottley


@wareagleextra Wouldn't a better advertisement show them all getting Cokes?
about 5 hours ago

AuburnSwimming

Auburn Swim & Dive


#Auburn's going for its 10th NCAA title in the 200 freestyle relay. The Tigers are tied with Stanford for the most in NCAA history.
about 5 hours ago

AuburnPix

AuburnPix


.@AuburnMTennis blanks Jax State in a doubleheader, 4-0, 4-0. #WarEagle Gallery: http://t.co/alzxCx8KTj http://t.co/1wPeXuqylS
about 5 hours ago

AuburnMTennis

Auburn Men\'s Tennis


#Auburn takes two from @JSU_MensTennis. http://t.co/DeJ6CBqJaI #WarEagle http://t.co/NMIAg9Bp6s
about 5 hours ago

AuburnSwimming

Auburn Swim & Dive


RECAP | #Auburn relays earn spots in championship finals Thursday to begin #ncaaswim http://t.co/u9USwiv7Nd #WarEagle http://t.co/7G0l6v28ZT
about 5 hours ago

wareagleextra

WarEagleExtra


By the time someone gets a taste of the Coke that keeps getting passed around after each ensuing disaster, it's not going to be cold anymore
about 5 hours ago

AUBlog

Tom Green


BASEBALL: Tigers try to get back to winning ways vs. Mississippi State http://t.co/BbutBd4ylI
about 5 hours ago

Allie_Davison

Allie Davison


Lets play a game -- Who do you think will be Auburn's next commitment? Lots of options.
about 7 hours ago

AuburnSportsNow

Auburn Sports Now


2017 Intro: Zachary Carter http://t.co/TTSSJMfjbT
about 7 hours ago

AuburnSportsNow

Auburn Sports Now


Swimming & Diving. NCAA Men's Championships: Day 1 Prelims http://t.co/sAmJ0hWtMM
about 7 hours ago

ScoutAuburn

AU Tigers


#WarEagle 2017 Intro: Zachary Carter - Zachary Carter, a 6-foot-5, 235-pound defensive lineman out of Tampa... http://t.co/b1X6dZtoND
about 7 hours ago

AuburnSwimming

Auburn Swim & Dive


RECAP | #Auburn relays earn spots in championship finals Thursday to begin #ncaaswim http://t.co/u9USwiv7Nd #WarEagle http://t.co/7G0l6v28ZT
about 7 hours ago

AUBlog

Tom Green


FOOTBALL: Tray Matthews impressing coaches, teammates following redshirt season http://t.co/wkFuixI2JX
about 7 hours ago

AuburnSportsNow

Auburn Sports Now


4-star WR communicating with Tigers a lot http://t.co/7DDstoKC0s
about 7 hours ago

AuburnSportsNow

Auburn Sports Now


Pat Sims returning to original NFL team after 2 seasons with Oakland Raiders http://t.co/mTt72QdyQy
about 7 hours ago

AuburnSportsNow

Auburn Sports Now


W. Equestrian. No. 6 Auburn preps for SEC Championships http://t.co/XysSPmOJx4
about 7 hours ago

AuburnEQ

Auburn Equestrian


#Auburn heads to College Station for the SEC Equestrian Championships. http://t.co/wsULwmabaf #WarEagle #SECEQ http://t.co/m2fSQaSrzF
about 7 hours ago

Auburn_Softball

Auburn Softball


On the road again. We've landed in St. Louis and are driving to Columbia. A little colder here than we expected! http://t.co/jg1YNt7Yu5
about 7 hours ago

ClubhouseAuburn

Clubhouse Restaurant


Pan Seared Mexican Sea Bass w Asparagus Pesto, New Potato Snow Pea Salad,& Dijon-Lemon Aioli. @AuburnPulse http://t.co/fxvP6Mc1QZ
about 8 hours ago

AuburnSportsNow

Auburn Sports Now


Tests like a one http://t.co/3DdadGGLYV
about 8 hours ago

AuburnSportsNow

Auburn Sports Now


ESPN's Mel Kiper thinks Sammie Coates will be picked lower than physical qualifications suggest http://t.co/7ASuFzaF1n
about 8 hours ago

wareagleextra

WarEagleExtra


Auburn OC Rhett Lashlee: "I think it's overlooked that we lost eight starters." http://t.co/2c7tqCKtAG http://t.co/57IjyNwI0i
about 8 hours ago

wareagleextra

WarEagleExtra


Sponsorship lasted one year. One. RT @McMurphyESPN:Duck Commander is no longer naming sponsor for Independence Bowl
about 8 hours ago

AyeyoKEJO

Kerryon Johnson


If your significant other went to PCB and you didn't......................goodluck
about 8 hours ago

AuburnSwimming

Auburn Swim & Dive


PHOTOS | Prelims for day one in the books at #ncaaswim. Take a look back: http://t.co/vtM3Qbjpii #WarEagle http://t.co/0wUKSCVikl
about 9 hours ago

TyusFlakes

?


Blessed to received my 3rd offer today from Appalachian State 🔥🔥 http://t.co/ipSPn0ebC0
about 9 hours ago

Antoine_Mason

$onic


TBT It's Simple I Loved Him & He Loved Me. Our bond will never break #Westillonourmission http://t.co/70UUOcd1cd
about 9 hours ago

AuburnWTennis

Auburn Womens Tennis


#Auburn's glad to be back home this weekend as the Tigers host Vanderbilt and Kentucky http://t.co/XxYdI1EYsP http://t.co/Tyi1peyVRy
about 9 hours ago

AuburnWGolf

Auburn Women\'s Golf


No. 22 #Auburn back in action this weekend at the Liz Murphey Collegiate Classic in Athens -- http://t.co/g9ckg61MOR http://t.co/Ndfn64JIHw
about 10 hours ago

AuburnSportsNow

Auburn Sports Now


Coates possesses first-round 'physical tools' http://t.co/zxcXr5tX29
about 10 hours ago

AuburnSportsNow

Auburn Sports Now


W. Tennis. Auburn returns home to host Vanderbilt, Kentucky http://t.co/GsGIDqdORy
about 10 hours ago

AuburnSportsNow

Auburn Sports Now


W. Golf. No. 22 Auburn set for Liz Murphey Collegiate Classic http://t.co/e7GdLHF5ck
about 10 hours ago

AuburnSportsNow

Auburn Sports Now


2016 Intro: Tyler King http://t.co/BIQBT5IrMy
about 10 hours ago

BMattAU

Bryan Matthews


TESTS LIKE A ONE | ESPN's Mel Kiper on Sammie Coates and Auburn's draft prospects (FREE) http://t.co/lBeLOKAST2
about 10 hours ago

AuburnSportsNow

Auburn Sports Now


Dual-threat QB Jawon Pass committing this summer, Alabama and Auburn 'equal' in top 5 http://t.co/ZjgAUvb7Rj
about 10 hours ago

AuburnSportsNow

Auburn Sports Now


Wright 'will play in this league' http://t.co/90i53OjEjA
about 10 hours ago

AuburnSportsNow

Auburn Sports Now


Auburn football: Tigers expect offense to keep humming along in 2015 http://t.co/hRgBjSayoA
about 10 hours ago

wareagleextra

WarEagleExtra


Would you argue w/Carl Lawson? RT @carllawson14: Don't listen to the hype until it's proven. I'm just here to get better and help my team.
about 10 hours ago

AschoffESPN

Edward Aschoff


Jake Coker is more comfortable, but #Bama QB battle is wide open ... You trying out @AlexS_ESPN? xhttp://es.pn/1GZMTCP
about 10 hours ago

KT_Harrell1

KT Harrell


The only difference between being good and being great is a choice...choose to be great.
about 10 hours ago

AuburnMTennis

Auburn Men\'s Tennis


#Auburn takes the match 4-0 over @JSU_MensTennis. The next match has been moved up to 3 p.m. #WarEagle http://t.co/w9WmqbkwCr
about 11 hours ago

Auburn_Gym

Auburn Gymnastics


Congrats @CoachJeffGraba @SEC Coach of Year, @LexusAriel @MeganWalkerAU @abbymilliet All-SEC http://t.co/H4dGmCTHhg http://t.co/Mp0HTVz3J0
about 11 hours ago

ScoutAuburn

AU Tigers


#WarEagle 2016 Intro: Tyler King - Fort Meade (Fla.) junior running back Tyler King is a prospect on the ri... http://t.co/UeCRbIqu7W
about 11 hours ago

AuburnSportsNow

Auburn Sports Now


Video: Opening Regionals OL/DL one-on-ones http://t.co/dkzY1XuJwQ
about 11 hours ago

AuburnSportsNow

Auburn Sports Now


Lawson: 'I'm just here to help my team and get better' http://t.co/c1hycLo7vs
about 11 hours ago

AuburnSportsNow

Auburn Sports Now


Auburn's Tray Matthews impresses Will Muschamp with physicality on field, maturity off it http://t.co/AFLaoDBdp5
about 11 hours ago

AuburnSportsNow

Auburn Sports Now


Auburn commit Nate Craig, nation's top receiver, returns to action after breaking fibula http://t.co/xVZJCXiQLW
about 11 hours ago

AuburnSportsNow

Auburn Sports Now


Auburn's Jeff Graba named SEC Gymnastics Coach of the Year for third time http://t.co/KhSol3Zal5
about 11 hours ago

ESPN_SEC

ESPN_SEC


LSU defenders adjusting to new defensive coordinator Kevin Steele http://t.co/bRoJyYSxIm
about 11 hours ago

BoBikesBama

Bo Bikes Bama


The #BoBikesBama Silent Auction is May 1 at @HotelAtAuburn. Tickets are now on sale! Join us. http://t.co/bc5ecBXHbP http://t.co/RsrFcSK9Wc
about 11 hours ago

wareagleextra

WarEagleExtra


Auburn football: Tigers expect offense to keep humming along in 2015 http://t.co/2c7tqCKtAG http://t.co/HVguZdZ8HU
about 11 hours ago

WarBlogle

WarBlogle.com


The remaining toilet paper from the rolling following Auburn's wins in the SEC Basketball Tournament.… https://t.co/c68fEWBMQt
about 11 hours ago

BMattAU

Bryan Matthews


Mel Kiper said former Auburn WR Sammie Coates test like a 1 but probably projects as a 2nd or 3rd round pick.
about 11 hours ago

AschoffESPN

Edward Aschoff


Talking a little #SEC football, Head Ball Coach and OU fraternity situation w/college football with @ESPNRittenberg http://t.co/Hb8H9OywAg
about 11 hours ago

si_vault

SI Vault


So graceful RT @Christiancp_88: what about Shaq at LSU? http://t.co/TAl3XakdmZ
about 12 hours ago

ESPN_SEC

ESPN_SEC


LSU's D.J. Chark growing this spring http://t.co/UvXu1isHdN
about 12 hours ago
SEC SCOREBOARD
Thursday, 9/3
Saturday, 9/5
BLOG ARCHIVE:
CATEGORIES: