How Missouri and Auburn were built
December, 4, 2013
12/04/13
10:00
AM ET
After losing 16 games combined last season, Missouri and Auburn have come a long ways as they prepare to face off Saturday in the SEC championship game. How, exactly, did both of these schools get here?
Their success on the field this season -- just two losses combined -- is more impressive considering Auburn is in Gus Malzahn's first season as coach and Missouri moved over from the Big 12 to the SEC before last season. Recruiting is tough enough as it is, but going through such a major transition for both programs can be detrimental to a school's recruiting class.
[+] Enlarge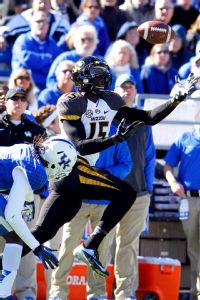 Mark Zerof/USA TODAY SportsFormer No. 1 overall recruit Dorial Green-Beckham has caught 49 passes for 686 yards and 10 touchdowns this season.
If games were determined by recruiting rankings, Missouri would be at a big disadvantage. Over the past five years, Missouri has never finished inside the top 25 in the team recruiting rankings. In that same time period, the Tigers have landed only five recruits ranked in the ESPN 300.
To continue reading this article you must be an Insider
Insider
Spears to cover Auburn Pro Day
Paul Finebaum and Marcus Spears discuss expectations at Auburn Pro Day airing on SEC Network.
Spears to cover Auburn Pro Day
VIDEO PLAYLIST
AUBURN FB RECRUITING SCORECARD
NFL_CFB

CollegeFootball 24/7


Full Tuesday #proday recap ...Including a blazing 4.28 40 --> http://t.co/dr0AcDlwbg http://t.co/dLxu624tRu
4 minutes ago

AuburnSportsNow

Auburn Sports Now


Take 5: The QB board http://t.co/GF5NsQ9p8Z
8 minutes ago

AuburnTigers

Auburn Tigers


WATCH: Highlights as @Auburn_Baseball beats Alabama 5-3 in Montgomery: https://t.co/ct6LX2VVg7 #WarEagle
20 minutes ago

AUGoldMine

Auburn Gold Mine


"KT was phenomenal..." But Auburn can't hold off Missouri. Bruce Pearl talks in this story: http://t.co/3yhEV6UqBJ http://t.co/BoYN4xZH37
34 minutes ago

AuburnSportsNow

Auburn Sports Now


#PMARSHONAU: Grant 'one of the best guys' http://t.co/La85iY2kej
about 4 hours ago

AuburnSportsNow

Auburn Sports Now


Auburn Baseball Capital City Classic Highlights http://t.co/62o38iuFsg
about 5 hours ago

AuburnSportsNow

Auburn Sports Now


Miller comfortable with decision http://t.co/504REoGTQB
about 5 hours ago

PMARSHONAU

Phillip Marshall


#PMARSHONAU: Auburn's Corey Grant 'one of the best guys' http://t.co/7jNRQscC5L via @247Sports
about 5 hours ago

wareagleextra

WarEagleExtra


LRT: Pretty sure that's the first thing I've ever retweeted that didn't contain a single letter. But such is life in 2015.
about 5 hours ago

wareagleextra

WarEagleExtra


Just goin' with it. RT @AyeyoKEJO: 📷📹
about 5 hours ago

MarkEnnis

Mark Ennis


I love The Score app, but, it sorta mailed it in on the team logos last night. http://t.co/7xQXWxalc1
about 5 hours ago

PMARSHONAU

Phillip Marshall


Miller comfortable with decision http://t.co/pZnrv65Rjf via @247Sports
about 6 hours ago

AuburnSportsNow

Auburn Sports Now


Auburn Pro Day Report http://t.co/Q1OLcBFMa0
about 6 hours ago

AuburnSportsNow

Auburn Sports Now


Slipped away http://t.co/iJ9MGEXgfC
about 6 hours ago

AuburnSportsNow

Auburn Sports Now


Tigers down Tide http://t.co/TZfEyWwNA7
about 6 hours ago

PMARSHONAU

Phillip Marshall


Pro Day Report http://t.co/Sllv4EmKIh via @247Sports
about 6 hours ago

AuburnSportsNow

Auburn Sports Now


Auburn's Thompson dazzles Tide http://t.co/M07Gba0jaY
about 6 hours ago

AuburnSportsNow

Auburn Sports Now


Hoops heartbreak at Missouri http://t.co/rnUApm7DGU
about 6 hours ago

AuburnSportsNow

Auburn Sports Now


Thompson Leads Tigers Past Tide http://t.co/bYOE3eHLSM
about 6 hours ago

AuburnSportsNow

Auburn Sports Now


AU Falters Late In Mizzou Comeback Win http://t.co/CLXIzAoLtQ
about 6 hours ago

AuburnSportsNow

Auburn Sports Now


Baseball. Auburn's Keegan Thompson stops Alabama in Capital City http://t.co/pRUjlsxoHJ
about 6 hours ago

AuburnSportsNow

Auburn Sports Now


Keegan Thompson dominates as Auburn holds off Alabama in Capital City Classic http://t.co/ASa61BunXn
about 6 hours ago

AuburnSportsNow

Auburn Sports Now


Bruce Pearl apologizes to fans after Auburn falters late at Missouri for 5th consecutive loss http://t.co/GSqRySPG7J
about 6 hours ago

Allie_Davison

Allie Davison


TIGERS DOWN TIDE | Another outing for Keegan Thompson, another win for Auburn. This time it was a 5-3 W over Alabama: http://t.co/KJc9S2xEJr
about 7 hours ago

PMARSHONAU

Phillip Marshall


Auburn's Thompson dazzles Tide http://t.co/6QdNEfUdQD via @247Sports
about 7 hours ago

AuburnTigers

Auburn Tigers


Keegan Thompson stellar in win over Alabama in Classic: http://t.co/Pn3qUbfmC9 #WarEagle http://t.co/3CzMsiTIrg
about 7 hours ago

AUBlog

David Morrison


BASEBALL: Keegan Thompson leads Auburn past Alabama in Capital City Classic http://t.co/rqglbQGhZQ
about 7 hours ago

AUGoldMine

Auburn Gold Mine


Keegan Thompson pitches Auburn past Alabama in Capital City Classic. Here's the story: http://t.co/93c49GeN92 http://t.co/wp5L7ng0qP
about 7 hours ago

AuburnSportsNow

Auburn Sports Now


Shamburger leads Missouri to 63-61 win over Auburn http://t.co/3Ebc0eNCpz
about 7 hours ago

Auburn_Baseball

Auburn Baseball


Great win tonight as the Tigers win the Capital City Classic tonight 5-3 over Alabama. #WarEagle http://t.co/RLneM7p5Gg
about 8 hours ago

AuburnPix

AuburnPix


Tigers win! @Auburn_Baseball beats Alabama, 5-3, in the Capital City Classic in Montgomery! #WarEagle http://t.co/OnEivEOOcv
about 8 hours ago

AuburnRivals

AuburnSports.com


TIGERS DOWN TIDE | Another outing for Keegan Thompson, another win for Auburn. This time it was a 5-3 W over Alabama: http://t.co/KakMeD21KE
about 8 hours ago

PMARSHONAU

Phillip Marshall


Hoops heartbreak at Missouri for Auburn http://t.co/XD0ddAvjfS http://t.co/3r4ZV1bMoI
about 8 hours ago

JayGTate

Jay G. Tate


SLIPPED AWAY: Auburn did a lot of good things Tuesday night at Mizzou. Some very bad things ruined the Tigers ... http://t.co/njcvXhw4tD
about 8 hours ago

AuburnTigers

Auburn Tigers


An #Auburn win and fireworks. A great night at the ballpark. #WarEagle @BiscuitBaseball @Auburn_Baseball http://t.co/2CLOz55woD
about 8 hours ago

jayjacobsauad

Jay Jacobs


Congrats @Auburn_Baseball on their win over Alabama tonight in the Capital City Classic! #WarEagle
about 8 hours ago

SECNetwork

SEC Network


Big Blue Nation. STILL PERFECT! Kentucky is 30-0 after a 72-64 win over Georgia in Athens. #UKvsUGA http://t.co/Ol0b1Yd0Qh
about 8 hours ago

rhettlashlee

Rhett Lashlee


Congrats to @WDE_CoachG29 and @Auburn_Baseball on beating Alabama in Montgomery tonight! #WarEagle
about 8 hours ago

JayGTate

Jay G. Tate


Interesting comment from Pearl after the game: "I don't know if and when Antoine is coming back. I don't think anything's been decided."
about 8 hours ago

AuburnTigers

Auburn Tigers


An #Auburn win and fireworks. A great night at the ballpark. #WarEagle @BiscuitBaseball @Auburn_Baseball http://t.co/2CLOz55woD
about 8 hours ago

WarBlogle

WarBlogle.com


Listening on the radio, you can hear fireworks shooting after Auburn's win in the Capital City Classic. I hope. #wareagle
about 8 hours ago

SEC_Craig

Craig Pinkerton


The Road To Nashville - How the bracket looks if the SEC Tournament started tomorrowhttp://t.co/L1Mn3ZFCtL
about 8 hours ago

WarBlogle

WarBlogle.com


Auburn's new blue digital camo hats are 1-0, and that 1 is against Alabama. Every game. EVERY GAME. (not really) #wareagle
about 9 hours ago

AuburnTigers

Auburn Tigers


#Auburn wins! #WarEagle @Auburn_Baseball http://t.co/HuBie94xct
about 9 hours ago

_EB_Games

Edward Bailey


@oanowsports Auburn wins, 5-3. Tigers now 10-1 on the year while Alabama falls to 7-5.
about 9 hours ago

Auburn_Baseball

Auburn Baseball


Final: #Auburn defeats No. 28 Alabama, 5-3. Keegan Thompson named MVP of Capital City Classic. #WarEagle
about 9 hours ago

BMattAU

Bryan Matthews


Good win for Auburn, 5-3 over Alabama. Keegan Thompson with the W and Trey Wingenter dominates final 1.2 innings for save
about 9 hours ago

PMARSHONAU

Phillip Marshall


Auburn beats Alabama 5-3 to win Capital City Classic. Keegan Thompson is MVP. http://t.co/xMbnr1Qef4
about 9 hours ago

WarBlogle

WarBlogle.com


Yeah, that's a double eagle. Basketball or not. #auburn #wareagle
about 9 hours ago

AUGoldMine

Auburn Gold Mine


Auburn beats Alabama 5-3 in the Capital City Classic. Pitcher Keegan Thompson is MVP http://t.co/YuVeWJnu1j
about 9 hours ago

WarBlogle

WarBlogle.com


Auburn baseball beats Alabama 5-3, now 6-1 in the MAX Capital City Classic. #wareagle
about 9 hours ago

AuburnRivals

AuburnSports.com


FINAL | #Auburn defeats #Alabama 5-3 in the Capital City Classic. http://t.co/vcUF6BO9Qx
about 9 hours ago

AUGoldMine

Auburn Gold Mine


Auburn's Bruce Pearl says he's not sure if Antoine Mason will return to the team this season
about 9 hours ago

wareagleextra

WarEagleExtra


#MissedOpportunity: After tweeting out the #nodaysoff photo w/Bill Belichick earlier, I should have followed it up with #back2ballin. #wale
about 9 hours ago

JayGTate

Jay G. Tate


Pearl: "The support's been great. I apologize to our fans about the record. I do want them to know how much I appreciate the support."
about 9 hours ago

BMattAU

Bryan Matthews


Final numbers for Keegan Thompson: 7.1 IP, 7 H, 3 R, 12 K's, 1 BB
about 9 hours ago

AUGoldMine

Auburn Gold Mine


RT @TreMasonJust posted a photo http://t.co/RoE7wBqoUU
about 9 hours ago

wareagleextra

WarEagleExtra


If you mean this millennium, yes. All-time? No. Number of SEC/national titles decidedly in UK's favor. RT @FletchTopper not even florida?
about 9 hours ago

Allie_Davison

Allie Davison


ANNND Wingenter gets the Tigers out of a potentially awful scenario. Pop out and K. Auburn heads to the T9 up 5-3. http://t.co/NuWfVhVqUp
about 9 hours ago

wareagleextra

WarEagleExtra


Kentucky doesn't have a true rival in SEC basketball. RT @UnlimitedTide: No different than @ESPN saying the Barn and Kentucky were rivals.
about 9 hours ago

Allie_Davison

Allie Davison


ANNND Wingenter gets the Tigers out of a potentially awful scenario. Pop out and K. Auburn heads to the T9 up 5-3. http://t.co/NuWfVhVqUp
about 9 hours ago

AuburnSportsNow

Auburn Sports Now


Watch Auburn's fastest 40-yard dashes at Pro Day http://t.co/7ba0yDu7FZ
about 9 hours ago

AUGoldMine

Auburn Gold Mine


It's Auburn 5, Alabama 3 through eight innings in the Capital City Classic
about 9 hours ago

AuburnRivals

AuburnSports.com


ANNND Wingenter gets the Tigers out of a potentially awful scenario. Pop out and K. Auburn heads to the T9 up 5-3. http://t.co/vcUF6BO9Qx
about 9 hours ago

AUGoldMine

Auburn Gold Mine


KT Harrell scores 24, but Missouri beats Auburn late. The quick story: http://t.co/3yhEV6CPKb http://t.co/NsnWAsGOri
about 9 hours ago

BMattAU

Bryan Matthews


Correction. It's the bottom of the 8th
about 9 hours ago

BMattAU

Bryan Matthews


Keegan Thompson is done after throwing 119 pitches. He struck out 12 and leaves runners on 2B and 3B, 1 out in B9. Auburn leads Bama 5-3
about 9 hours ago

wareagleextra

WarEagleExtra


For some reason, Brad Nessler just compared the Duke/North Carolina basketball rivalry to the Georgia/Kentucky basketball "rivalry." #wut
about 9 hours ago

BMattAU

Bryan Matthews


Keegan Thompson, who has thrown 113 pitches, it out for the 9th inning. Auburn leads Alabama 5-2
about 9 hours ago

wareagleextra

WarEagleExtra


Another pro day video: DL Ben Bradley http://t.co/Vnz2gu4mV3
about 9 hours ago

WarBlogle

WarBlogle.com


Basically an uncontested turnover, a stripped rebound with two hands on the ball, and a desperation shot after 10 seconds. Stupid.
about 9 hours ago

_EB_Games

Edward Bailey


@oanowsports Thompson now up to 12 Ks as the 7th ends with AU up 5-2. No pitcher had more than 8 strikeouts in Capital City Classic history
about 9 hours ago

AUBlog

David Morrison


FINAL: Auburn hoops falls to Missouri, 63-61, on the road.
about 9 hours ago

BMattAU

Bryan Matthews


Tough loss for Auburn, 63-61 at Missouri. AU had two turnovers inside final minute
about 9 hours ago

AUGoldMine

Auburn Gold Mine


Missouri uses 9-0 run to finish the game to beat Auburn 63-61 in Columbia. KT Harrell leads Auburn with 24
about 9 hours ago

JayGTate

Jay G. Tate


Mizzou ends the game on a 9-0 run.
about 9 hours ago

JayGTate

Jay G. Tate


FINAL: Missouri 63, Auburn 61.
about 9 hours ago

AUGoldMine

Auburn Gold Mine


Down to the wire... Auburn 61, Missouri 61 with 48 seconds remaining in Columbia
about 9 hours ago

PMARSHONAU

Phillip Marshall


Auburn leads Mizzou 61-57 with 2:01 left. Mizzou at the line. http://t.co/AcBwZVplYZ via @247Sports
about 9 hours ago

PMARSHONAU

Phillip Marshall


Missouri hits three straight 3s and Auburn leads 61-57 with 2:38 left. http://t.co/zhLewKM9Co via @247Sports
about 9 hours ago

WarBlogle

WarBlogle.com


DO LANG, DO LANG, DO LANG! #auburn #wareagle
about 9 hours ago

AuburnSportsNow

Auburn Sports Now


2015 Auburn Football Pro Day http://t.co/rjKdfhHMie
about 9 hours ago

JayGTate

Jay G. Tate


KT Harrell's big night has Auburn leading late at Mizzou: http://t.co/KHnFxHNvcB
about 9 hours ago

PMARSHONAU

Phillip Marshall


Harrell has 24 and Auburn leads 56-48 with 3:58 left http://t.co/k0V9AkwGo9 via @247Sports
about 9 hours ago

AUGoldMine

Auburn Gold Mine


It's Auburn 5, Alabama 2 through 6½ innings in the Capital City Classic http://t.co/bnh3BCaQvj
about 9 hours ago

AUGoldMine

Auburn Gold Mine


Auburn 52, Missouri 46 with 5:31 left
about 10 hours ago

WarBlogle

WarBlogle.com


Yep, still over here live-threading this Auburn-Missouri basketball game (by myself basically). http://t.co/KD4DTBvbeh #wareagle
about 10 hours ago

PMARSHONAU

Phillip Marshall


Auburn leads Missouri 49-46 with 6:24 left. http://t.co/oGnlbsxNFV via @247Sports
about 10 hours ago

JayGTate

Jay G. Tate


Auburn's second-half lead dissipating at Mizzou: http://t.co/KHnFxHNvcB
about 10 hours ago

JayGTate

Jay G. Tate


Auburn's second-half lead dissipating at Mizzou: http://t.co/KHnFxHNvcB
about 10 hours ago

PMARSHONAU

Phillip Marshall


Auburn leads Missouri 47-46 with 7:46 left. Timeout, Auburn. http://t.co/rVcrg3lhTk via @247Sports
about 10 hours ago

WarBlogle

WarBlogle.com


That was an amazing steal by Bowers. That was an amazingly bad pass by Bowers. #bowers #auburn
about 10 hours ago

WarBlogle

WarBlogle.com


He's so fire. (do Lang, do Lang, do Lang) #auburn #wareagle
about 10 hours ago

AUGoldMine

Auburn Gold Mine


KT Harrell up to 17 points and Auburn leads Missouri 44-41 with 11:29 remaining
about 10 hours ago

WARTIGER6

WARTIGER6


@JayGTate @Allie_Davison 65 85 interchange closed in Montgomery. Tanker on it's side.
about 10 hours ago

JayGTate

Jay G. Tate


ATTN CAP CITY CLASSIC PEOPLE … RT @wsfa12news: BREAKING: I-65 from Northern Blvd to Fairview & interchange at I-85 is all blocked.
about 10 hours ago

Allie_Davison

Allie Davison


#Rivals250 RB set to visit #Auburn Friday-Saturday: http://t.co/T4pmvmTRmb (Via @SmallwoodTrent)
about 10 hours ago

AuburnSportsNow

Auburn Sports Now


No. 1 prospect in Florida for '17 plans to visit Auburn http://t.co/9AmHGrMzW7
about 10 hours ago

AuburnSportsNow

Auburn Sports Now


Recapping Auburn's 2015 Pro Day with notes, video highlights, photos, links http://t.co/byTtYduejP
about 10 hours ago

AuburnSportsNow

Auburn Sports Now


Auburn football: LB Anthony Swain, P Jimmy Hutchinson no longer with program http://t.co/M3Pc4yA9KV
about 10 hours ago
SEC SCOREBOARD
Thursday, 9/3
Saturday, 9/5
BLOG ARCHIVE:
CATEGORIES: