Auburn Tigers:

Texas Longhorns
June, 3, 2014
6/03/14
10:30
AM ET
It's
Take Two Tuesday
, when we give takes on a burning topic related to the Big 12.
Tuesday's topic: Which nonconference matchup featuring a Big 12 team will be the best nonconference game in 2014?


Take 1: Max Olson -- Texas vs. UCLA
I can't pick Oklahoma State-Florida State or West Virginia-Alabama simply because I don't think either underdog stands a chance in those games. But this third neutral-site game should be a doozy.
By the time it faces Texas on Sept. 13 at AT&T Stadium in Arlington, Texas, UCLA will almost undoubtedly be a top-10 team with an elite quarterback in
Brett Hundley
, the nation's top two-way playmaker in
Myles Jack
and legitimate playoff hopes.
That's a real credit to Jim Mora, who in two years has done a fantastic job reviving this program and taking over the city of Los Angeles. Texas fans know this well by now -- after all, Mora was reportedly a front-runner for the Longhorns head coaching job this offseason.
What Texas doesn't know is what to expect from Charlie Strong's debut year, especially when meetings with likely top-10 teams UCLA, Baylor and Oklahoma all come in the first half of the season.
The Longhorns will have to survive a home game against BYU first, but regardless of the result of that game, a night game against UCLA on national TV will provide a huge platform for Strong to send a message about the defense he's bringing to Texas. A win might do wonders for Texas' momentum entering Big 12 play.
The opposite would be true, as well: If UCLA romps, it's a convincing statement that the Bruins should be in the national title picture.


Take 2: Brandon Chatmon -- Auburn at Kansas State
The Big 12 has a bunch of terrific nonconference matchups -- Oklahoma State-Florida State, Alabama-West Virginia, Oklahoma-Tennessee, Iowa State-Iowa, Texas Tech-Arkansas -- the list goes on and on.
None of those matchups intrigue me as much as the Wildcats' home battle with the national runner-up.
Gus Malzahn has made Auburn a fun team to watch and quarterback
Nick Marshall
should continue to build on an exceptional junior season, which saw him account for 3,044 total yards (passing and rushing).
I'm more interested, however, in seeing how K-State and Bill Snyder handle the speed and athletes that Auburn will bring to Manhattan, Kan. Receiver
Tyler Lockett
can make plays against anyone and
Jake Waters
finished the 2013 season playing as well as any quarterback in the Big 12. The Wildcats also feature an underrated defensive line that could develop into one of the Big 12's best and deepest defensive fronts this fall.
Add a hostile Thursday night environment in a nonconference game that will be Auburn's first road test of the season and things could get real, real interesting at Bill Snyder Stadium on Sept. 18.
May, 15, 2014
5/15/14
9:00
AM ET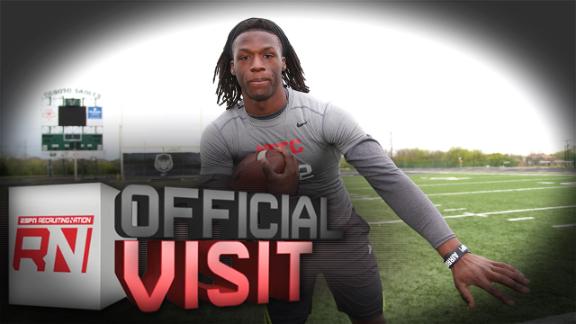 When it comes to running backs, the state of Texas is loaded. Ten running backs represent the Lone Star State in the ESPN 300. Of those 10, five are committed. A total of seven running backs in the state have reported FBS commitments.
ESPN 300 RBs from the state
:
No. 50
Ronald Jones II:
Ranked the nation's No. 3 running back, Jones is an explosive, game-changing back who -- as scary as it might sound -- will only get better. Jones committed to Oklahoma State on April 6 and finished his junior season with more than 2,400 rushing yards and 39 touchdowns.
April, 29, 2014
4/29/14
9:00
AM ET
Florida has Florida State. Georgia has Georgia Tech. Kentucky has Louisville. And, of course, South Carolina has Clemson.
When it comes to the
new SEC scheduling format starting in 2016
, those four schools are already on board. Their annual rivalry games fulfill the league's forthcoming requirement for a yearly nonconference game against an ACC, Big 12, Big Ten or Pac-12 school.
But for the rest of the teams around the league, there's a void.
Sure, they can go year to year and rotate in nonconference opponents. But where's the fun in that? Let's create some new rivalries, and in the case of some programs, reignite old ones.
[+] Enlarge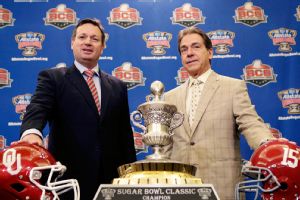 AP Photo/Gerald HerbertThe spectacular salaries of college football coaches such as Bob Stoops, left, and Nick Saban are generated mostly by the labor of unpaid workers.
Alabama-Oklahoma:
If FSU wasn't already taken, the Noles would have been a perfect fit. The physical and philosophical proximity between programs is obvious. But looking elsewhere, Oklahoma might be a fun matchup. The Sugar Bowl has already created tons of tension on both sides with
Sooners coaches delighting in calling out Nick Saban
and the SEC.
Arkansas-Baylor:
Call it a throwback to the old Southwest Conference. Arkansas, which didn't join the SEC until 1992, has played more games against Baylor (69) than any school in its current conference. On top of that, the differences between Bret Bielema's physical style and Art Briles' free-flowing offensive scheme would be a joy to watch.
Auburn-Oregon:
Recent history and playing styles dictates this matchup. Not only do we get a rematch of the 2010 BCS National Championship Game, but it pits offenses that live to go fast. Maybe it could be a two-hand touch game in which whoever reaches 100 points first wins.
LSU-Notre Dame:
We couldn't make a list of nonconference matchups and leave Notre Dame off, could we? Pitting the Golden Domers against an SEC program would be appointment viewing. Make that program LSU and the opposing coach Les Miles, and television networks will scratch each other's eyes out to get the game.
Mississippi State-Texas Tech:
The Bulldogs have shied away from high profile nonconference games in the past, loading up on the likes of Memphis, UAB and South Alabama. Well, it's time to infuse a little spice into the schedule. Kliff Kingsbury is too cool to keep out of the SEC. His Red Raiders would be a good matchup with Mississippi State, which faced Texas Tech seven times from 1953-70.
Missouri-Kansas:
Does this one really need to be explained? The Border War should have never gone away in the first place. Now is the perfect opportunity to save face and bring back a rivalry that goes all the way back to 1891.
Ole Miss-Miami:
We've got to get 'The U' involved. Miami and Ole Miss have already played a few times in their history, with the Rebs holding a 2-1 series lead. But bigger than that, it would get the SEC back into South Florida on a permanent basis because
Miami and Florida don't have the common sense to do that
already.
Tennessee-North Carolina:
Even if most people don't remember it, there's history there. Tennessee and UNC have played 29 times, with the Vols holding a 20-8-1 advantage. Plus, even if your memory is short, you should recall the double overtime
Music City Bowl from 2010
between the schools. If they can re-create that just once, it would make the rivalry worth it.
Texas A&M-Texas:
See Missouri-Kansas. Don't let conference affiliations ruin great rivalries. Texas A&M-Texas should have never been shelved in the first place. And while the
UT administration
might not see a reason to bring it back -- nor
Texas A&M's leadership,
for that matter -- surely both fan bases do.
Vanderbilt-Duke:
Call it a private school showdown. The proximity is reasonable, the fan bases similar, and the rivalry could easily extend to the hard court. Plus, have you seen Derek Mason's nonconference schedule this year? It needs help.
March, 30, 2014
3/30/14
10:30
PM ET
HOOVER, Ala. -- The state of Alabama is home to four of the last five national championships, and there was no shortage of talent on hand Sunday as the Nike Football Training Camp made a stop in the Yellowhammer State. By the end of the day, seven players from four different states earned their invite to The Opening.
New offers pique Payne's interest
The top-ranked player at the event was defensive tackle
Daron Payne
, a local product, ranked No. 23 overall in the ESPN 300. He didn't make the list of players invited to The Opening, but based on the media coverage, he was still the center of attention, both on and off the field.
To continue reading this article you must be an Insider
March, 20, 2014
3/20/14
5:00
AM ET
1. Alabama head coach Nick Saban and Michigan State basketball coach Tom Izzo coached as young assistants at Michigan State in the 1980s. They both became head coaches there in 1995. They remain good friends. Saban this week on Izzo: "He believes in all the same stuff that a football coach believes in: toughness, discipline, relentless competitor, the intangible things that we pride ourselves (on having) as football players and football coaches, because it's a tough game. That's how he coaches basketball. I think it reflects how his team plays."
2. Texas coach Charlie Strong said Tuesday that assistants Shawn Watson and Joe Wickline will be able to work together "because those two guys have been around too long for the egos." I expect Strong is right. But the whole business of job titles in coaching is nothing if not a reflection of ego. Watson is assistant head coach of the offense, which is different, somehow, from Wickline's position as offensive coordinator. Is that really necessary?
3. Coaches love spring practice because they get to teach without having to prepare the team for Saturday. Players don't feel the love. Younger ones endure the drudgery until they figure out it's the time to learn and sharpen skills. By then, they are upperclassmen who know not to look ahead. "If you sit here and think the spring game is on Apr. 19, it will kill you," Auburn senior defensive tackle
Gabe Wright
said. "You just go into it , 'O.K., 13 more (practices). Let's see what I can get better on.' And there is so much we can get better on."
January, 3, 2014
1/03/14
5:30
AM ET
The Early Offer is RecruitingNation's regular feature, giving you a daily dose of recruiting in the mornings. Today's Early Offering is coming to you from the Under Armour Combine in St. Petersburg, Fla. Here's a look at who stood out among the 150-plus competitors.
Campbell steals the show
George Campbell
(Tarpon Springs, Fla./East Lake) showed why he is ranked as the No. 2 player in the ESPN Junior 300. The 6-foot-4, 185-pound Campbell tested off the charts with a 4.36-second time in the 40-yard dash and a 4.06 shuttle. He then backed it up with a strong performance in the one-on-one and seven-on-seven portion of the combine. Defensive backs lined up to face him and, in most cases, he burned them with either his speed or his ability to go up get the ball at its highest point. "I felt good about what I did today," Campbell said. "I wanted to test myself against the best-of-the-best." Consider the test passed. On the recruiting front, Campbell recently backed away from his commitment to Michigan and said at Wednesday's registration he's
slowing down the process
.
To continue reading this article you must be an Insider
December, 29, 2013
12/29/13
10:30
AM ET
ORLANDO, Fla. -- There are many topics of conversation among prospects playing in the 2014 Under Armour All-America Game. One of them centers around the past two Heisman Trophy winners.
On Saturday, upon checking in for the prestigious game, a number of prospects weighed in on a hot topic involving Texas A&M's
Johnny Manziel
and Florida State's
Jameis Winston
.
If they had to choose between the two, who would the players take as their college quarterback? Here are their responses:
[+] Enlarge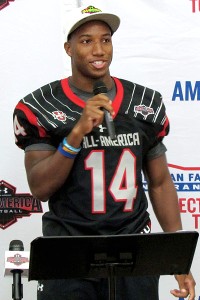 Courtesy of IntersportNo. 9 overall prospect Marlon Humphrey likes how Johnny Manziel makes others around him better.
Five-star cornerback Marlon Humphrey (Hoover, Al./Hoover High)
: Ah man, I think I'm going to have to go with Johnny Manziel. I just feel like he kind of made a team out of nothing. Jameis Winston is a great quarterback too, but he doesn't have the scrambling skills that Manziel has. This year, you could tell that his teams defense wasn't that good, the players around him weren't as good, but he kept making his team better. He's has the fight in him I would want on my team.
Florida commit and No. 20-ranked Dalvin Cook (Miami/Central High)
: I would say Jameis Winston. He's really a pure quarterback, and I think he sets up things more for a running back than Johnny Manziel does.
Auburn running back commit Racean Thomas (Oxford, Al./Oxford High)
: I would probably pick Jameis Winston. The reason behind that is because he is more of a leader for a young quarterback, and I think he can make his team a more mature team. I really think he would be a great quarterback to play with.
Florida wide receiver commit and No. 28 Ermon Lane (Homestead, Fla./Homestead Senior High)
: Whew, I don't know. I think Jameis Winston. I look at how both of them played as a freshman, and I like how Jameis Winston leads his team. He is also more pro-ready than Manziel.
Texas defensive end commit and No. 78-overall Derick Roberson (San Antonio, Texas/William J. Brennan High)
: I guess I would say Johnny Manziel. I like how he plays with his swagger and confidence the most, so I would probably say him.
Notre Dame commit and No. 76-ranked Tyler Luatua (la Mirada, Calif./La Mirada High)
: I would take Manziel just because of the way he plays. If he doesn't have a wide receiver open, he can make plays himself. He can get the ball to his players if and when he wants to, but can also do it on his own when he needs to.
No. 38 overall John Smith (Long Beach, Calif./Long Beach Polytechnic High School)
: That's a hard one. As of right now, I would go with Jameis Winston. Overall, he's a great player. I think Winston has an awesome football IQ. Johnny had his year too, but I think Winston is just a great player. Outstanding.
Dylan Sumner-Gardner
: Jameis Winston, man. I feel comfortable with Jameis Winston as my quarterback because he's smart and accurate. Johnny is accurate too, but Johnny is Johnny. How he runs around, people may get nervous. I would just feel more comfortable with Jameis as my quarterback.
No. 22 overall Laurence Jones (Monroe, La./Neville High)
: That's a hard one right there. Let me think ... maybe Johnny Manziel because I don't think I've ever seen a white boy get down like that. It would have to be Johnny Manziel.
Penn State wide receiver commit Chris Godwin (Middletown, De./Middletown High)
: I think Jameis Winston. I think overall he's a better passer. I want a quarterback back there that can get me the ball on a consistent basis, but Johnny Manziel is a great player, too. I'm actually a big fan of both of them.
Five-star and Virginia defensive tackle commit Andrew Brown (Chesapeake, VA
Oscar Frommel Smith High)
: Dang, that's a good question, man. I would go with Jameis Winston. His leadership qualities, coming in as a freshman and doing the things he is doing is definitely uncommon. It just foreshadows what he is going to do in the future, too. He's already established a great foundation for himself, and I would definitely take him in the future.
Maryland commit Will Ulmer (Washington, D.C./Saint John's High)
: I'm going with Johnny Manziel. I think he's more dynamic, and more of a game-changer. Jameis Winston is a great quarterback too, but you have to think about all the dudes he has around him at FSU -- all the great receivers and good running backs. I would go with Manziel because if you put him on the Florida State team, or a stacked team like that, it would be a scary sight.
December, 22, 2013
12/22/13
3:40
PM ET
By
ESPN.com staff
| ESPN.com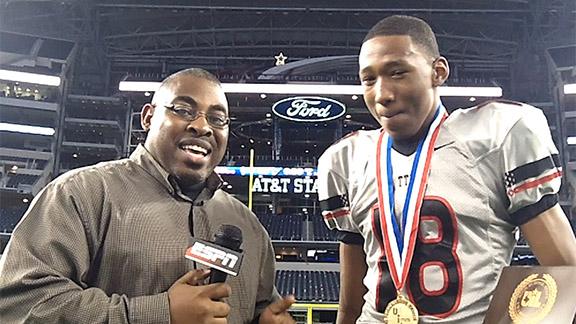 Big 12 recruiting reporter Damon Sayles interviews ESPN Junior 300 wide receiver
DaMarkus Lodge
after Cedar Hill beat Katy to win the Texas 5A Division 2 state championship.
October, 1, 2013
10/01/13
5:30
AM ET
The Early Offer is RecruitingNation's regular feature, giving you a daily dose of recruiting in the mornings. Today's offerings: Lost in the shuffle of the news at USC was that Ohio State made a major impression with key targets visiting for the Wisconsin game; whoever is hired at UConn will inherit a difficult situation but with upside possibilities; junior college receiver
D'haquille Williams
remains committed to Auburn but is looking at others.
Just watched Lebron James give a pre-game speech in the team room, so sick. #buckeyes This is the real deal

— MG (@mikegesicki) September 28, 2013
To continue reading this article you must be an Insider
September, 21, 2013
9/21/13
7:00
PM ET
By
ESPN.com staff
| ESPN.com
Can Texas right the ship against K-State? Will Michigan avoid another upset scare? Can Auburn-LSU produce another close one? And what about that Arizona State-Stanford showdown in the Pac-12?
We'll be watching these games and many more on Saturday night and we'd like you to join in on the conversation. Head on over to
Campus Connection
at 8 ET and follow the action along with our eight reporters. Post your comments and questions and we'll include as many of them as possible.
Peach State: Top Tier Recruiting Ground?
SEC SCOREBOARD
Thursday, 9/3
Saturday, 9/5