June, 25, 2014
6/25/14
5:30
AM ET
The Early Offer is RecruitingNation's regular feature, giving you a dose of recruiting in the mornings. Today's offerings: Make no mistake about it, Oregon's bread and butter is the West Coast, but the Ducks' brand is so strong on the national level that they can go into virtually anybody's backyard and secure top talent. And No. 42
Alex Ofodile
is the latest example of that. Plus, Auburn is putting together one of the nation's best offensive line classes.
Oregon a true national recruiting program
June, 23, 2014
6/23/14
2:45
PM ET
BRADENTON, Fla. — There were as many as 10 games going on at the same time at the IMG 7v7 National Championship over the weekend, and at times it was difficult to determine just who the top performers were. After all, there were more than 30 prospects in the ESPN 300 who participated. Here's a closer look at several seniors who stood out during the two-day event.
ATH Deon Cain
Committed to Clemson
ESPN 300 rank: 25
Cain helped lead his team, Unsigned Preps from Tampa, to the championship game with several acrobatic catches. The trio of Cain,
Ray Ray McCloud III
and junior-to-be wide receiver
Nate Craig
proved to be too much for teams to handle. Cain is solidly committed to Clemson and said he is not considering any other schools at this time.
#Clemson commit Deon Cain was certainly one or the top performers from the #IMG7v7 pic.twitter.com/Ylsje1TMSW

— Derek Tyson (@DerekTysonESPN) June 23, 2014
S Derwin James
Committed to Florida State
ESPN 300 rank: 26
James is known for his physical play, but he showed he is more than just a big hitter. James broke up several passes and just always seemed to be around the ball. Like Cain, he is solid with his commitment, but in this case to the Seminoles.
Derwin James has been sensational as usual at the #IMG7v7 pic.twitter.com/lxXlauwFRm

— Derek Tyson (@DerekTysonESPN) June 22, 2014
CB Iman Marshall
Uncommitted
ESPN 300 rank: 20
Marshall played wide receiver and defensive back for his team, B2G, and excelled at both. The four-star prospect teamed with another ESPN 300 receiver,
Trent Irwin
, to form a dangerous pass-catching combo. Marshall is still narrowing his choices but knows he will take visits in the fall to Florida State and Notre Dame.



To continue reading this article you must be an Insider
June, 23, 2014
6/23/14
10:00
AM ET
BRADENTON, Fla. -- The IMG 7v7 National Championship held at IMG Academy over the weekend featured some of the top 7-on-7 teams from all over the country and even a few teams from Canada. The event, which included 12 prospects ranked in the top 50 of the ESPN 300, showcased some of the best talent you will find in a single tournament. Led by Alabama verbal commits
Calvin Ridley
and
Shawn Burgess-Becker
, the Florida Fire from South Florida defeated Tampa's Unsigned Preps 20-18 in the championship game to take home the title.
Quarterbacks shine
There were several high-profile quarterbacks in attendance, and they lived up to the hype for the most part.
Deondre Francois
, who recently transferred to IMG Academy, made numerous impressive throws. The 6-foot-2, 188-pound signal-caller has a top three of Oregon, Auburn and Florida State and is planning to make his decision at the end of July.
To continue reading this article you must be an Insider
March, 25, 2014
3/25/14
9:30
AM ET
Throughout this recruiting cycle, Recruiting Nation will profile several ESPN 300 prospects in the 2015 class, including an inside look at the prospect, his recruitment, a scouting report and what college program could benefit when he ultimately makes his decision.
ROSWELL, Ga. -- One of the top juniors in the nation,
Kevin Toliver II
, made the trip from his hometown of Jacksonville, Fla., to Atlanta to compete against some of the best athletes in the country at the
Atlanta Nike Football Training Camp
this past Sunday.
To continue reading this article you must be an Insider
March, 19, 2014
3/19/14
9:00
AM ET
Throughout this recruiting cycle, RecruitingNation will profile a number of ESPN 300 prospects in the 2015 class, including an inside look at the prospect, his recruitment, a scouting report and what college program could benefit when he ultimately makes his decision.
ORLANDO, Fla. -- For most highly-rated defensive line prospects coming out of high school, the word "technique" is rarely used. Not because the prospects don't want to learn, but because proper technique is something that is seldom taught or even required at the high school level. Top defensive line prospects generally rely on brute strength or superior speed to beat the offensive linemen they face. But for ESPN Junior 300 defensive end
Byron Cowart
, who is the No. 68-ranked prospect in the country, technique has been his sole focus during the offseason.
To continue reading this article you must be an Insider
February, 5, 2014
2/05/14
5:30
AM ET
The Early Offer is RecruitingNation's regular feature, giving you a daily dose of recruiting in the mornings. Today's offerings: The Class of 2014 will go down as one of the wildest recruiting rides in recent memory. With so many players switching commitments and some elite prospects still left on the board, here are five things to keep an eye on heading into recruiting's biggest day.
Does Bama have the best class ever?
To continue reading this article you must be an Insider
January, 13, 2014
1/13/14
10:30
AM ET
By
Brett Perrotta, ESPN Stats & Info
| ESPN.com
With the door closed on the 16-year reign of the BCS, we dove into the 72 BCS bowl games to find the 10 most memorable moments of the BCS era.
10. Utah's hook-and-ladder:
The first team ever dubbed a "BCS Buster" was the Urban Meyer-coached and
Alex Smith
-led Utah Utes in 2004. In the 2005 Fiesta Bowl, Utah led Pittsburgh 28-7 late in the third quarter and lined up at the Panthers' 18-yard line. Smith swung it left to Steven Savoy, who lateraled to
Paris Warren
, who ran it in for the score as the Utes completed a 12-0 season.
9. Peerless Price down the sideline:
Tennessee led Florida State 14-9 with 9:29 remaining in the fourth quarter in the 1999 Fiesta Bowl with the first BCS Championship on the line. UT quarterback
Tee Martin
found Price down the right sideline, and Price took it the distance for a 79-yard score. Price had 199 receiving yards for the winning Vols, the most ever in the BCS title game.
8. Ginn's costly return:
Ohio State received the opening kickoff from Florida in the 2007 BCS Championship game, and
Ted Ginn
Jr. wasted no time in getting the game's first score on a 93-yard return. What will always be remembered, however, is that Ginn suffered a foot injury on the ensuing celebration and was out for the rest of the Buckeyes' 41-14 loss.
7. Warrick's juggling score:
Though the championship of the 1999 season was marked by Virginia Tech freshman QB
Michael Vick
, it was Florida State's
Peter Warrick
who was named the most outstanding player. He had a punt return for a touchdown in the second quarter, and his juggling catch on a 43-yard score midway through the fourth served as the dagger.
6. Vince Young, Part I:
Facing Michigan in the 2005 Rose Bowl, Young was responsible for all five Texas touchdowns in a 38-37 win. Though he had runs of 60, 23 and 20 yards, the most impressive was a 10-yard run in which Young escaped the tackle of Michigan lineman Pat Massey before scampering to the right pylon.
5. Dyer isn't down:
Tied at 19 with Oregon with just more than two minutes remaining in the 2011 BCS Championship Game, Auburn running back
Michael Dyer
appeared to be tackled for a short gain at the Auburn 45-yard line. Having rolled over the defender, Dyer was never ruled down, and ended up gaining 37 yards on the play before he was taken down at the Oregon 23-yard line. Auburn would win on a field goal as time expired.
[+] Enlarge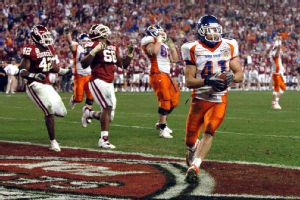 Steve Grayson/WireImageIan Johnson's two-point conversion run in overtime propelled Boise State over heavily favored Oklahoma in the 2007 Fiesta Bowl.
4. Winston to Benjamin:
Trailing Auburn 31-27 in the final BCS Championship Game, Heisman Trophy winner
Jameis Winston
drove the Noles 78 yards in less than a minute to the Auburn 2-yard line. Receiving the snap with 17 seconds left in a wild fourth quarter, Winston threw a perfect pass to
Kelvin Benjamin
, who brought it down for the game-winning score to complete an undefeated season.
3. Was it pass interference?
Some will remember Maurice Clarett's game-saving strip of
Sean Taylor
, but the lasting legacy of the game is the dubious pass interference call in overtime. Miami led 24-17 and Ohio State faced fourth-and-3 from the 5-yard line.
Glenn Sharpe
was called for pass interference, giving the Buckeyes new life in a game they would win 31-24.
2. Boise State's trick plays:
In the 2007 Fiesta Bowl, Boise State trailed heavily favored Oklahoma 35-28 with 18 seconds left and facing fourth-and-18 from the 50-yard line. Jared Zabransky completed a pass to Drisan James just short of the first down, but he lateraled it to Jerard Rabb, who took it the rest of the way for the tying touchdown. In overtime, down 42-35 on fourth down, wide receiver Vinny Perretta completed a 3-yard pass to
Derek Schouman
for a touchdown. Chris Petersen elected to go for two, and Zabransky faked a throw to his right before handing it behind his back to Ian Johnson on the Statue of Liberty play for the winning two-point conversion. Johnson would propose to his girlfriend, a Boise State cheerleader, on the sideline after the game.
1. Vince Young, Part II:
After a Longhorns touchdown and key fourth-down stop, undefeated Texas trailed undefeated USC 38-33 with 26 seconds remaining and faced fourth-and-5 from the 9-yard line, with the 2005 BCS championship on the line. Vince Young dropped back to pass but saw nobody open, and immediately sprinted for the right pylon for the title-winning score in the marquee game of the BCS era.
September, 21, 2013
9/21/13
7:00
PM ET
By
ESPN.com staff
| ESPN.com
Can Texas right the ship against K-State? Will Michigan avoid another upset scare? Can Auburn-LSU produce another close one? And what about that Arizona State-Stanford showdown in the Pac-12?
We'll be watching these games and many more on Saturday night and we'd like you to join in on the conversation. Head on over to
Campus Connection
at 8 ET and follow the action along with our eight reporters. Post your comments and questions and we'll include as many of them as possible.
Peach State: Top Tier Recruiting Ground?
SEC SCOREBOARD
Thursday, 9/3
Saturday, 9/5