Auburn Tigers:

Michigan Wolverines
March, 31, 2014
Mar 31
10:30
AM ET
BRADENTON, Fla. -- South Florida has always been known for producing top talent and elite seven-on-seven teams but it was two teams from Jacksonville (Fla.) that battled in the finals of the IMG 7v7 Southeast Regional Championships on Sunday.
The Pro Impact team, led by LSU commit and the No. 3-ranked player in the ESPN Junior 300
Kevin Toliver II
and defensive back
Derwin James Jr
., a Florida State commit, upset River City, which featured FSU quarterback commit
De'Andre Johnson
and South Carolina commit
Sherrod Pittman
, 23-14.
To continue reading this article you must be an Insider
February, 6, 2014
Feb 6
10:35
PM ET
The nation's top-ranked dual-threat quarterback in the Class of 2015 has a top 10.
ESPN Junior 300 quarterback
Jarrett Stidham
(Stephenville, Texas/Stephenville) announced his early list via Twitter and confirmed the list via phone. Stidham's list includes Texas A&M, Auburn, Alabama, Oregon, Michigan, Ohio State, Tennessee and Big 12 schools Baylor, Oklahoma and Texas Tech.
Ranked No. 24 in the ESPN Junior 300 and the No. 3 player in the state of Texas, Stidham said all 10 of the schools have a lot in common, but he is hoping to make spring visits to separate them.
TOP 10 pic.twitter.com/OIZLELpedn

— Jarrett Stidham (@Jarrett_Stidham) February 7, 2014
To continue reading this article you must be an Insider
January, 3, 2014
Jan 3
5:30
AM ET
The Early Offer is RecruitingNation's regular feature, giving you a daily dose of recruiting in the mornings. Today's Early Offering is coming to you from the Under Armour Combine in St. Petersburg, Fla. Here's a look at who stood out among the 150-plus competitors.
Campbell steals the show
George Campbell
(Tarpon Springs, Fla./East Lake) showed why he is ranked as the No. 2 player in the ESPN Junior 300. The 6-foot-4, 185-pound Campbell tested off the charts with a 4.36-second time in the 40-yard dash and a 4.06 shuttle. He then backed it up with a strong performance in the one-on-one and seven-on-seven portion of the combine. Defensive backs lined up to face him and, in most cases, he burned them with either his speed or his ability to go up get the ball at its highest point. "I felt good about what I did today," Campbell said. "I wanted to test myself against the best-of-the-best." Consider the test passed. On the recruiting front, Campbell recently backed away from his commitment to Michigan and said at Wednesday's registration he's
slowing down the process
.
To continue reading this article you must be an Insider
December, 31, 2013
12/31/13
10:47
PM ET
Three days of practice are now in the books and overall execution was sharper as the players begin to move into final preparations for the Under Armour All-America Game on Thursday. The productivity of the players picked up as did the speed of the play, and they're continuing to think less and display their natural ability more. It was a physical day, with the pads popping and some big hits throughout the practice. Here are some of the highlights.
Top performers
To continue reading this article you must be an Insider
December, 30, 2013
12/30/13
5:26
PM ET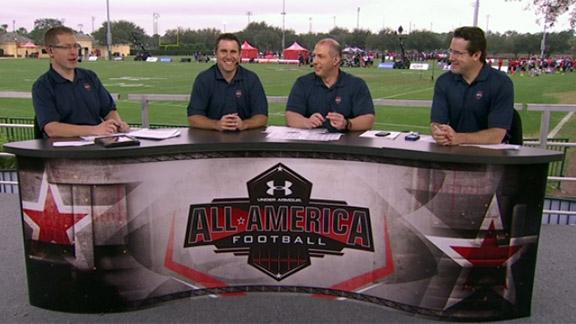 As expected, Day 2 at the Under Armour All-America practices were smoother, more concise and much more productive. The players are now starting to think less and play more. Natural ability is starting to come to the forefront, which allows for them to be more productive. There have been fewer dropped passes, fewer misses by the QBs and the offensive lines are starting to jell quicker than expected. Perhaps the most impressive thing about this group is there have not been any true letdowns. They have stepped up and been as advertised almost top to bottom for both squads. Let's hit the highlights of the day:
Top performers
WR Cameron Sims (Monroe, La./Ouachita Parish):
Sims might not wow anyone with his 40-yard dash time, but it may not matter. Sims is so similar to
Mike Evans
at Texas A&M. He just makes plays. He has extremely long arms and is outstanding when in contested matchups. The ball will look like it is uncatchable and then next thing you know he jumps out of nowhere, extends and makes a play and the defender is left scratching his head. When it comes down to it, the QBs for Team Highlight can trust that if they need to throw it up, Sims will make a play. The most basic thing about the position is catching the football and Sims has no problem doing that.
To continue reading this article you must be an Insider
December, 29, 2013
12/29/13
4:45
PM ET
LAKE BUENA VISTA, Fla. -- One thing is for sure for all the 2014 Under Armour All-Americans: This isn't high school anymore. Day 1 is about gauging the competition. Some guys dive right in and some test the waters with their big toe, but by the end of the first day of practice, all those in attendance have a pretty good idea of where they stand and what they need to do to compete and get better.
Given that it is Day 1, the playbook is introduced (Team Nitro is going no huddle with wrist bands and limited plays), and there can be sloppy moments of indecision and uncertainty. With each rep, most, if not all, prospects began to get a better feel for what is expected. Most importantly, the center-quarterback exchanges were very good for the most part, which is generally the biggest worry. Upon completion of the first practice, here are some observations and things to look for over the week:
Top Performers
To continue reading this article you must be an Insider
December, 3, 2013
12/03/13
11:00
AM ET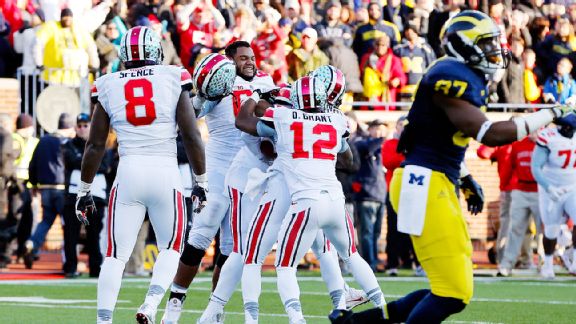 Gregory Shamus/Getty ImagesOhio State players celebrate stopping Michigan's fourth-quarter two-point conversion attempt.
For four months, ESPN The Magazine will follow the march to the Vizio BCS National Championship, moment by moment, culminating in our "Story of the Season" double issue Dec. 27. Every Tuesday, Mag senior writer Ryan McGee will pick the previous week's biggest moments and tell you why they'll have the most impact on potential BCS title matchups. If you disagree, send a tweet to @ESPNMag and tell us why your moment matters more, using the hashtag #StoryoftheSeason. Who knows? Your moment (and tweet) might just end up in our issue.
"We play the game to win ..."
Brady Hoke's vocal cords sounded even more tired than usual as the Michigan coach stood at the podium on Saturday afternoon, moments after losing to archrival Ohio State 42-41. His answer was a response to the first question he faced -- and the one he'll keep hearing as his Wolverines trudge through their mid-tier bowl and into a cold Ann Arbor winter.
Going for two instead of kicking the PAT and likely heading to overtime? At home? In the Big House? With your offense performing at a season-best clip? With a chance to shoot down the Buckeyes' chances at a BCS title?
That's the scenario Hoke had presented to his seniors on the Michigan Stadium sideline. He'd left it up to them, though he was quick to absorb all the criticism after the final outcome. They wanted to go for it. So did he. Besides, they had the go-to, two-point play already dialed up. Always did.
From the moment quarterback
Devin Gardner
stepped into the shotgun position, the play -- like so many others during his amazing 451-yard passing and five-touchdown day -- had looked perfect. In reality, it looked too perfect. On both sides of the football.
Michigan initially lined up with two receivers stacked on the right side, led by 6-foot-5
Devin Funchess
, who had just hauled in the touchdown pass that set up the situation. On the left side was the sneaky Wes Welker-like possession artist, 5-10
Drew Dileo
. But before the snap, Dileo went into motion and jogged over to take his place behind Funchess and
Jeremy Gallon
, who already had 175 yards receiving on the day.
The moment Dileo took his position, Ohio State corner
Tyvis Powell
had to catch himself. He didn't want to reveal what had just popped into his mind, like some sort of heavenly transmission from Woody Hayes ... or at the very least a current OSU position coach.
"It's all thanks to Coach Coombs," said Powell, referring to the Buckeyes' demonstrative secondary coach, Kerry Coombs. Head coach Urban Meyer had let Michigan get set for the two-point try and called a timeout to discuss what the coaches had just seen. Coombs approached Powell, a redshirt freshman, and told him that there was no doubt the Wolverines would run one of two plays. It would either be a speed option, which had already led to a pair of Michigan touchdowns. Or the play would come out of a triple stack ... with Dileo, Powell's man, hiding in the third slot ... as the primary receiver ... running something short ... likely a pivot ... at the goal line ...
"It all started happening just like we'd seen on film and how the coaches said it would," recalled Powell, still sounding a little stunned by it all. But he didn't believe that's how the actual play would go down. It was too obvious, right? Wrong.
Even though Ohio State had four defensive backs guarding three receivers, it was a designed mismatch by Michigan. At the snap, Funchess made contact with Powell and was supposed to either screen him out or draw him into the back of the end zone to help the waiting safety. But Powell didn't bite. His eyes never left Gardner, whose eyes never left Dileo. Funchess had a size mismatch in the back of the end zone, and if Gallon had run a true out instead of a halfhearted block attempt on OSU corner
Doran Grant
, he would've had room to work on the outside half of the end zone.
But Gardner fired the ball into unexpected double coverage, where Powell stepped in at the goal line and made the interception. (Had he not, Grant was also waiting in front of Dileo, having slipped Gallon's shove.)
"He really threw the ball," said Powell, admitting he was "shocked" to see it come his way. "That's their bread-and-butter play on two-point conversions. All week that's what we practiced."
Michigan, too.
A couple of hours later, Powell was still gripping the Michigan football in his arms on the team bus. He was still grinning. But now he was watching Alabama play at Auburn on the bus TV. Like the game he'd just played in, this one seemed destined for overtime.
"There was a shot ... we had the wind behind us ..."
If Hoke's voice was hoarse, then Nick Saban's was like the inside of a gravel truck. Like Hoke, the Alabama coach had rolled the dice. Unlike Hoke, Saban's situation -- a 57-yard field goal with no time remaining -- seemed risk-free. Miss and go to overtime.
But what happened next --
Chris Davis
' impromptu 109-yard kick return for the game-winning touchdown -- has sparked college football conversations in every corner of America, from stuffed-shirt academia to Barbara Walters and Whoopi Goldberg on Monday morning's "The View."
It should be no surprise that perfection-obsessed Saban routinely addresses that very situation in practice, despite the fact that Saturday night's Miracle on the Plains was, according to the NCAA, only the fourth time a game has ended on a similar play. It should also be no surprise that Saban reminded his team as they took the field (like the Michigan two-pointer, after a timeout) to keep an eye on Davis, who was lining up in the end zone, more than half a field away from the line of scrimmage.
Of course, Auburn practices that play, too. No matter how rare it might be. That was made obvious by the beautiful wall of blockers that lined the left sideline to plow the road for Davis. At least three pancake blocks took place in Davis' line of sight. But while all that was going on, we all should have been paying more attention to the cornerback's left foot, which came within inches of stepping over the line and out of bounds at the 35 ... the 40 ... the 45 ... and pretty much every yard in between.
It was so close that a group of bitter Tide fans posted what they believe is photographic evidence that he did step out of bounds, along with a
petition to have overtime played.
"It was closer than I thought," admitted Davis, who carried his game-winning football all the way home, just like Powell. "But I knew I was in."
Davis' white-line ballet was reminiscent of so many other moments in so many games this season that came down to inches. (Remember that missed Missouri field goal against South Carolina in double-OT? How much more interesting would the SEC title game be had it gone the other way?)
But as Lou Holtz reminds us each weekend on "College Football Final," every team that wins a national championship has to have one game in which they're lucky. Auburn now has two. Ohio State, on the other hand, hasn't needed much this year, at least not until Michigan.
Still, for these two teams to meet in Pasadena, Calif., in January, it will require ... lots more luck. They'll need Duke (perhaps second only to Auburn when it comes to 2013's out-of-nowhere teams) to work some magic in Charlotte, N.C., against Florida State. And they'll both need to make sure they aren't on the wrong side of luck in their respective conference title games.
But regardless of what happens this weekend, Tyvis Powell and Chris Davis will never have to buy another lunch in their home states. And Powell will always have his football. Davis is still searching for his.
He dropped it after crossing the goal line during the celebration. The last time anyone saw it, it was at the feet of fellow defensive back
Robenson Therezie
, one of Davis' escorts into the end zone, who stood over it signaling for a touchdown as the crowd started flooding the field. At one point it was thought that it had been retrieved and Davis was even handed a football that was believed to be the one. But it was not.
A crystal football in January would be a nice substitute.
Why we love college football. #StoryOfTheSeason pic.twitter.com/qqqidLG1Op

— ESPN The Magazine (@ESPNMag) December 1, 2013
November, 27, 2013
11/27/13
9:49
AM ET
By
ESPN.com staff
| ESPN.com
To watch on your smart phone click here
SEC reporter Edward Aschoff, Big Ten reporter Austin Ward and Pac-12 reporter Kevin Gemmell join host Chantel Jennings to discuss the biggest and most storied rivalries taking place this weekend.
October, 31, 2013
10/31/13
12:30
PM ET
Want to ask ESPN RecruitingNation senior analyst Tom Luginbill a question about your team? Tweet it to @TomLuginbill using the hashtag #AskLoogs.
Which team will get the most instant impact from its recruits next season, like Ole Miss this season? #AskLoogs @TomLuginbill

— Mackenzie K (@MackNova) October 23, 2013
Hmm. This is a tough question to answer without the finality of the 2014 class signing day to give me some concrete options to choose from. I'll take a stab at a few teams that might fit the bill.
I'd argue that Auburn's true freshmen have been as impactful as Ole Miss. RB
Racean Thomas
could continue this trend. Michigan could get significant production from WR
Drake Harris
, ATH
Jabrill Peppers
and DT
Bryan Mone
, and if they get
Da'Shawn Hand
, that could be big for them. All guys are need positions. Texas A&M, with DE
Myles Garrett
, QB
Kyle Allen
, ATH
Nick Harvey
-- and they could also end up with ATH
Speedy Noil
, too. If they stay committed, Florida could see a lot of offensive impact with the likes of RB
Dalvin Cook
(huge need) and WR
Ermon Lane
, too. Miami could be another on both sides of the ball.
However, if we were sitting here in February and assuming LSU closed like some are expecting with in-state talent, including RB
Leonard Fournette
, then I think you could see a lot of freshmen making an impact for the Tigers.
October, 29, 2013
10/29/13
9:00
PM ET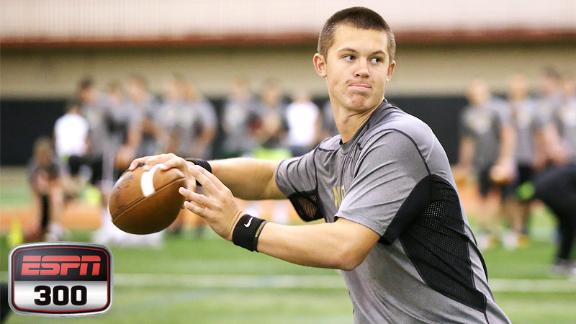 The Class of 2014 has had two months to show what it's made of on the field. How are the nation's elite prospects faring as we approach signing day? Here's a look at the biggest names and notes from the most recent update of the
ESPN 300
:
The Big Movers
No. 37
Clifton Garrett
(Plainfield, Ill./Plainfield South), ILB
Prior ranking: No. 59
The 6-foot-2, 224-pound Garrett jumped more than 20 spots in the rankings as he has added bulk to his frame, and at the same time retaining quickness and his fast-filling, downhill ability. Garrett has impact-type ability with a blend of lateral quickness, discipline and a nose for the ball.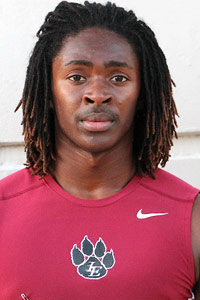 Max Olson/ESPNAthlete Davion Hall, who is committed to Baylor, jumped 30 spots in the latest update of the ESPN 300.
No. 45
Davion Hall
(Texarkana, Texas/Liberty-Eylau), ATH
Prior ranking: No. 75
The 6-2, 194-pound Hall is one of the most impressive athletes in the class. He has a long, stoutly-built frame, is explosive, has physicality filling the alley at safety and very good ball skills at receiver. When he settles into one position at the next level, his upside is very high.
No. 64
Nick Chubb
(Cedartown, Ga./Cedartown), RB
Prior ranking: No. 106
The Georgia commit is putting together a sensational senior campaign with more than 2,000 yards and 29 touchdowns through eight games. The 5-11, 217-pound tailback continues to add strength to his compact body structure while maintaining his speed, overall athleticism and ability to bend.
No. 70
Chad Thomas
(Miami/Booker T. Washington), DE
Prior ranking: No. 125
The Miami commit has flashed his high-ceiling ability, even though he is playing inside more than half the snaps as a senior. His combination of first-step quickness, arm length and the ability to play with low pad level sets him apart from most ends in the class.
No. 84
Rashaan Evans
(Auburn Ala./Auburn), OLB
Prior ranking: No. 150
The 6-3, 217-pound Evans has filled out physically, and displays the quick-twitch burst and speed combination to be a factor off the edge. Evans has been dominant off the edge as a senior with double-digit sacks.
No. 92
Markell Pack
(Purvis, Miss./Purvis), WR
Prior ranking: No. 144
The Florida State commit continues to flash the initial quickness, ability to get to top-end speed quickly, ability to play the ball in the air and elusiveness that makes the 6-2, 180-pound wideout one of the top playmakers in the class.
No. 128
Brad Kaaya
(Hollywood, Calif./Chaminade College Prep)
Prior ranking: No. 171
The 6-4, 213-pound Miami commit is one the fastest rising quarterbacks in the class. Has added bulk to his tall frame, and continues to show the foot quickness, foot work and quick release that will be demanded of him at the next level.
Other Big Movers
WR
Josh Malone
(Gallatin, Tenn./Station Camp): From No. 99 to 49.
Texas A&M ATH commit
Nick Harvey
(Richmond, Texas/William B. Travis): From No. 101 to 60.
RB
Joe Mixon
(Berkeley, Calif./Freedom): From No. 100 to 72.
Georgia QB-DT commit
Jacob Park
(Goose Creek, S.C./Stratford): From No. 157 to 94.
Oregon RB commit
Royce Freeman
(Imperial, Calif./Imperial): From No. 154 to 99.
RB
Derrell Scott
(Havelock, N.C./Havelock): From No. 176 to 108.
Ole Miss S commit
C.J. Hampton
(Meridian, Miss./Meridian): From No. 201 to 134.
Alabama C commit
J.C. Hassenauer
(Woodbury, Minn./East Ridge): From No. 246 to 188.
Georgia DT commit
Dontavius Russell
(Carrollton, Ga./Carrollton): From No. 266 to 201
ESPN 300 debuts
No. 89
Frank Iheanacho
(Houston/Westbury), WR
The 6-6, 215-pound pass catcher returned to the football field as a senior after playing only basketball as a junior, and has quickly become one of the most coveted uncommitted prospects in the country featuring deceptive initial quickness, and the high-point timing and size to win 50-50 balls in the air.
No. 287
Darrion Owens
(Orange Park, Fla./Oakleaf), OLB
The 6-3, 220-pound Owens has transitioned from safety to outside linebacker as a senior without skipping a beat. Long, rangy and with edge-rush ability, the Miami commit is a top senior riser.
No. 295
Shakenneth Williams
(Macon, Ga./Rutland), WR
The 6-1, 196-pound Georgia commit was a standout at Mark Richt Camp in June. Williams is blessed with straight-line speed, change-of-direction ability, strong hands and the physicality and strength to play through contact.
[+] Enlarge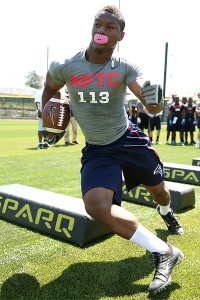 Tom Hauck for Student SportsTailback Joe Mixon is ranked No. 72 in the latest update of the ESPN 300.
More Who Moved Into The ESPN 300
Ohio State ATH commit
Curtis Samuel
(Brooklyn, N.Y./Erasmus Hall): No. 148.
LSU DE commit
Deondre Clark
(Oklahoma City/Douglass): No. 298.
Baylor WR commit
Ishmael Zamora
(Alief, Texas/Elsik): No. 245
Alabama OLB commit
Keith Holcombe
(Tuscaloosa, Ala./Hillcrest): No. 284.
DT
Derrick Nnadi
(Virginia Beach, Va./Ocean Lakes): No. 257.
DT
Matt Elam
(Elizabethtown, Ky./John Hardin): No. 292.
Minnesota RB commit
Jeff Jones
(Minneapolis/Washburn): No. 181.
Virginia Tech DT commit
Ricky Walker
(Hampton, Va./Bethel): No. 299.
Injured Reserve
David Cornwell
(Norman, Okla./Norman North), QB
The Alabama commit suffered a season-ending knee injury. The 6-5, 241-pound Under Armour All-American is No. 44 after being 32nd previously.
Jalen Hurd
(Hendersonville, Tenn./Beech), RB
The Tennessee commit suffered a season-ending shoulder injury in the opener, requiring a second shoulder operation in less than a year. The 6-4, 222-pound Hurd is now No. 62 after being 39th.
Drake Harris
(Grand Rapids, Mich./Grand Rapids Christian), WR
The 6-3, 172-pound Harris hasn't played this season due to a lingering hamstring issue. The Michigan commit checks in at No. 85 after previously being 72nd.
Elisha Shaw
(Tucker, Ga./Tucker), DT
The 6-6, 295-pound Shaw has been sidelined with a neck injury this season. He checks in at No. 186 after a prior ranking of 82nd.
Sharieff Rhaheed
(Fort Pierce, Fla./Fort Pierce Central), OLB
The 6-2, 202-pound Rhaheed missed the first six games of the season before returning to the field in late October. The former LSU commit is No. 260 after being ranked 133rd previously.
Kyle Berger
(Cleveland/Saint Ignatius), OLB
The Ohio State commit was sidelined his senior season with an ACL tear. He dropped out of the ESPN 300 after being ranked No. 281.
Treyvon Paulk
(Milton, Ga./Milton High), RB
The Tennessee running back commitment recently suffered a season-ending knee injury. He dropped out of the ESPN 300 after previously being ranked No. 294.
September, 21, 2013
9/21/13
7:00
PM ET
By
ESPN.com staff
| ESPN.com
Can Texas right the ship against K-State? Will Michigan avoid another upset scare? Can Auburn-LSU produce another close one? And what about that Arizona State-Stanford showdown in the Pac-12?
We'll be watching these games and many more on Saturday night and we'd like you to join in on the conversation. Head on over to
Campus Connection
at 8 ET and follow the action along with our eight reporters. Post your comments and questions and we'll include as many of them as possible.
The Real Deal: Nick Marshall
SEC SCOREBOARD
Thursday, 8/28
Saturday, 8/30
Sunday, 8/31