June, 26, 2014
6/26/14
9:00
AM ET
If the SEC has plenty of one thing, it's athletes.
Every year we see running backs and wide receivers that can make one move and go the distance. They're explosive in every sense of the word. They're quick, fast and utterly elusive.
In 2013, Henry Josey and Tre Mason were home run hitters at running back. Odell Beckham Jr., Mike Evans and Jordan Matthews routinely burned defenses deep at receiver. Heck, who can forget Johnny Manziel's big-play antics at quarterback?
But all of those playmakers have moved on. Now it's time for a new group of explosive athletes to emerge on offense in the SEC.
Here's a rundown of each team's most dangerous weapons:
June, 23, 2014
6/23/14
11:45
AM ET
Don't worry Jurgen Klinsmann, Nick Saban feels your pain.
In fact, a lot of SEC coaches can sympathize.
Whether it's the World Cup or the Iron Bowl, last-minute failures happen. It's part of the beauty of sports. It isn't over until it's over. The fat lady sings and suddenly you can't hear the words. There's a buzzing in your ears, the earth is spinning, and the scoreboard is playing tricks on your eyes.
But no, it's true. The second you think you've won is the second it's over.
At least the U.S. Men's National Soccer Team has a chance at redemption. College football usually doesn't work that way.
With that in mind, here are a few last-second losses that come to mind (or wins, depending how you look at it) in the SEC since 2000:
[+] Enlarge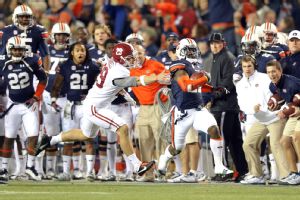 John David Mercer/USA TODAY SportsThe expression on Tre Mason (21) best captures the feeling of Chris Davis' TD return in last season's unforgettable Iron Bowl.
The Kick-6:
You could've just knelt on it. You could have kept your rookie field goal kicker -- I repeat:
a rookie!
-- off the field and played for overtime. That's what you do on the road, remember. Maybe you still lose in OT, but at least you don't go down like that. You wouldn't have to battle Chris Davis' 109-yard path to the end zone in recruiting from now until eternity. I was outside of Alabama's locker room after that game ended, and it's the most deflated scene I've ever witnessed covering college football. On the other side, it was pure bliss.
Prayer at Jordan-Hare:
These things just don't happen. Looking back at Auburn's two-week stretch against Georgia and Alabama, maybe you have to agree that it was a team of destiny. Because divine intervention would be the only way to describe
Nick Marshall
's Hail Mary touchdown pass to
Ricardo Louis
. The game was over. Louis was triple-covered, and Marshall threw it anyway. Both
Tray Matthews
and Josh Harvey-Clemons overplayed the ball, eventually tipping it to Louis for the game-winning score.
Rocky Block:
See, it's not all bad, Tide fans. Nick Saban's first national championship at Alabama doesn't happen without a miracle of your own. Remember the feeling when, up 12-10, Daniel Lincoln lined up a potential 44-yard game-winning field goal for Tennessee with 4 seconds left? The dream was almost over. The perfect season was nearly dashed. Terrence Cody couldn't block two kicks in one game, could he? Well, yes he could. The 365-pound tackle had just enough burst to break through the line, get a hand up and keep the dream alive. The coach on the other sideline that day: Lane Kiffin. How's that for things coming full circle?
Flynn to Byrd:
It can't all be gravy, Auburn. We had to remind you of the game that almost was. With under a minute remaining, Les Miles looked like he was going to have another Les Miles moment. Down 24-23, with a makable field goal in sight, Miles instead went for the jugular. Matt Flynn took the snap, took five steps back and let it rip to Demetrius Byrd in the end zone. Auburn cornerback Jerraud Powers didn't turn for the ball in time -- he would have easily knocked it down if he had -- and Byrd was able to snag it for the game-winning score with 1 second remaining. LSU would lose once more that year, but ultimately won the SEC title and the BCS national championship.
Florida-South Carolina, 2006:
Jarvis Moss had no finer moment than when he timed his jump perfectly and blocked Ryan Succop's would be 49-yard game-winning kick in 2006. Florida hung on to win 17-16 and former Gators coach Steve Spurrier was denied yet another win in The Swamp, his first as coach at South Carolina. From then on, Florida would roll all the way to the BCS national championship, beating Arkansas by double-digits in Atlanta before throttling Ohio State in Arizona.
The Catch:
The SEC as a whole was let down with this one. LSU had Iowa beat in the Capital One Bowl in 2005 before the Hawkeyes got a play off on their own 44-yard line, down 25-24. Drew Tate hurried the snap, dropped back, bounced around for a few seconds and hurled a pass down the right sideline. LSU's safeties were caught napping, defending the middle of the field and not the three receivers racing down the right sideline, and Warren Halloway came down with the pass cleanly, sprinting to the end zone for the game-winning score with no time left on the clock. And for an added dash of history, that was Saban's final game as LSU's head coach.
The Bluegrass Miracle:
How could we forget? Saban wasn't going to get dumped on twice in this post without reliving one of the craziest (positive) finishes of his career. LSU, ranked in the top 15 at the time, should have gone to unranked Kentucky and rolled. Instead, the Wildcats racked up 30 points on the Tigers and stood 75 yards away from a monumental upset. Players even gave coach Guy Morriss a Gatorade bath sensing the imminent victory. There was no way Marcus Randall, a quarterback with average arm strength, could throw the ball that far. Except he did. He launched it from LSU's 25-yard line to around Kentucky's 25, the ball was tipped, and Devery Henderson came down with the pass for the game-winning touchdown. Fireworks shot off from Kentucky's sideline, but it was LSU's win for the ages.
April, 22, 2014
4/22/14
12:15
PM ET
November, 12, 2013
11/12/13
12:00
PM ET
Hungry for football already? Remember that Ohio takes on Bowling Green and Buffalo goes toe-to-toe with Toledo tonight.
November, 8, 2013
11/08/13
10:00
AM ET
Did you know it's already Week 11 of the college football season? Of course you did.
But were you aware that Saturday might be the last time
Johnny Manziel
plays in front of the home crowd in College Station, Texas? If you didn't, don't worry. That's what we're here for.
Here's a look at some notes from ESPN Stats & Info to get you ready for Week 11:
Since allowing 42 points and 628 yards to Texas A&M on Sept. 14, Alabama has allowed just 4.3 points per game and two offensive touchdowns in its last six games.
The SEC West race could become a lot more clear depending upon the winner of LSU-Alabama. The Tide has a one-game lead on Auburn in the standings and a win Saturday could set up a monumental Iron Bowl on November 30.
Don't read too much into both teams having a bye entering this game. Alabama has lost three games under Saban when coming off regular season bye week -- all vs. LSU, though LSU also had bye weeks in those matchups.
Zach Mettenberger has gone one direction of late and AJ McCarron has gone another. Mettenberger has seen his completion percentage and QBR drop noticeably in his last two games. He threw for 15 touchdowns and two interceptions in his first two games, but four touchdowns and five interceptions in his last two contests. McCarron, meanwhile, has improved his completion percentage and QBR in his last four games. He threw six touchdowns and three interceptions in his first four games, but 10 touchdowns and no picks in his last four contests.
Something's got to give. Missouri leads the SEC in turnovers forced (24) and turnover margin plus-15. Missouri also has a streak of 39 straight games with a takeaway, the longest active streak in FBS. Kentucky, however, has turned the ball over just six times all season, fewest among AQ teams.
Missouri also leads the SEC in sacks with 27. Defensive end Michael Sam is tied for the FBS lead with 10 sacks and is second in tackles for loss (16).
Kentucky has lost 14 straight games against AP-ranked opponents, including all four matchups this season. Its last victory over an AP-ranked team came over No. 10 South Carolina in 2010.
Auburn hasn't been good at avoiding turnovers, but they have been excellent at preventing opponents from scoring points off turnovers. Auburn has committed 13 turnovers this season and is plus-2 in turnover margin, both middle of the pack in the SEC. But Auburn has only allowed just 10 points off turnover all season, tied with Washington for fewest in the FBS.
Auburn leads the SEC in rushing yards per game and yards per rush. They are tied for first in rushing touchdowns and, through nine games, they already have 20 more runs of 10 yards or more and 12 more rushing touchdowns than they had all of last season.
This is the fourth ranked opponent in four weeks for Tennessee and the seventh ranked opponent in an eight-game stretch. Tennessee snapped its 19-game losing streak against AP-ranked teams three weeks ago by beating then-No. 11 South Carolina. But the Vols are now 1-21 in their last 22 games against AP-ranked opponents.
Hard to believe, but this could be Johnny Manziel's last home game. After this week, Texas A&M has an idle week before finishing with LSU and at Missouri. Manziel is only a sophomore but since he redshirted, he will be three years removed from high school and eligible for the NFL.
Texas A&M has reeled off eight straight games with 500 yards of total offense. It would be nine straight, but the Aggies finished with just 486 yards in a season-opening win against Rice. Among all FBS teams in the last 10 seasons, Texas A&M's streak is tied for the fourth-longest and is the longest by an SEC team.
Dan Mullen is in his fifth season with Mississippi State and has a winning record overall (33-26) but has struggled in games against ranked opponents. Mississippi State is 2-19 vs. AP-ranked opponents under Mullen. The last ranked win came in 2010 against Florida and Mississippi State is 0-13 vs. ranked opponent since.
Florida has won the last 22 meetings against Vanderbilt. The Commodore's last win came in 1988.
With a loss Florida would be below .500 for the first time since it started 1-2 in 1992. Florida has not been below .500 this late in the season (as of Nov. 9) since 1979, when the Gators finished winless. A loss would also give Florida its first four-game losing streak since 2011.
Florida's offense is last in the SEC in both yards per game (334.6) and yards per play (4.9). During Florida's three-game losing streak, it has averaged just 236.7 yards per game and managed just three offensive touchdowns.
Vanderbilt is one of the slowest starting teams in FBS, being outscored 85-24 in the first quarter. That's the second-worst point differential among BCS-AQ teams. Of the eight worst teams in first-quarter point differential, Vanderbilt is the only school with more than one win. In SEC games, Vanderbilt has been outscored 82-7 in the first quarter.
October, 15, 2013
10/15/13
12:00
PM ET
The artist
renderings and graphics
of what the "Battle at Bristol" between Virginia Tech and Tennessee will look like are spectacular. The idea of hosting the largest crowd in the history of college football is definitely something to get excited about.
But the view? Maybe not so much. As a reporter, I've avoided buying binoculars for years. Those who know me would say "frugal" is too kind of a descriptor for my thriftiness. But if I covered that game, I might have to finally give in and purchase a pair to see the field.
October, 14, 2013
10/14/13
12:00
PM ET
What a wild weekend of college football it was. Now that it's Monday, it's time to start the process all over again.
October, 14, 2013
10/14/13
11:00
AM ET
We've reached the midway point of the season. And, well, some teams are hot while others are certainly not. Let's take a look.
GLOWING EMBERS
Missouri:
Who knew? Prognosticators, both professional and amateur, are surely coming out of the woodwork by now, telling anyone who will listen how they had Missouri atop the SEC East before the start of the season. But tell those people to politely remove their tinfoil hats and drift slowly back to earth. No one had Missouri competing for a chance at the SEC championship.
James Franklin
hadn't even won the starting quarterback job entering fall camp. And the defense, without its best player in Sheldon Richardson, looked like a significant question mark. Sure, Gary Pinkel's bunch had to get better after all the injuries a year ago, but this? Pinkel's bunch is playing great football and we're only now starting to take notice after the way the Tigers throttled Georgia on the road 41-26. Missouri is in the top three in the SEC in scoring, passing and rushing offense, and most importantly the Tigers are leading the league in turnover margin.
[+] Enlarge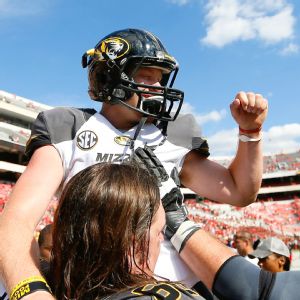 Kevin C. Cox/Getty ImagesMissouri is riding high after beating Georgia to remain unbeaten and climb to No. 14 in the AP poll.
HOT
SEC in the polls:
The SEC set a record on Sunday for the most schools (eight) in The Associated Press college football poll. Though just Alabama remains in the top five, having so many teams scattered throughout the poll says something about the depth of the league. LSU and Texas A&M are both title contenders despite having one loss, and South Carolina isn't far behind at all. Florida, despite losing its starting quarterback, has maintained course, and Georgia, while seriously decimated by injuries, should remain in the top 25 this season. The surprises, though, are what make the league so special. No one had Missouri in the top 15 and very few thought Gus Malzahn could turn around Auburn so quickly, getting it back into the top 25 for the first time since November 2011.
NOT
Ole Miss:
One team that would have made nine SEC schools in the AP Top 25, Ole Miss, dropped from the rankings two weeks ago when it lost to Auburn on the road. That defeat was bad enough. Losing at home to Texas A&M on a last-minute field Saturday night made it even worse. Sure, Ole Miss wasn't favored to win the game, but that didn't dull the sting of seeing another win slip away. Hugh Freeze told anyone who'd listen this offseason to expect some bumps in the road, that his team couldn't live up to the sky-high expectations being forced upon it. But Freeze couldn't help going 3-0 and beating Vanderbilt and Texas on the road. Now his team has come down from its early-season high and the holes we all expected -- offensive line, depth on defense, etc. -- are once again glaring. And with No. 6 LSU up next, things aren't getting any easier for the Rebels.
HOT
The Mad Hatter:
Was Florida's defense that good? Was LSU's offense that bad? Did any of that matter? Nitpick all you want at LSU's 17-6 win at home over Florida, but the fact remains Les Miles' bunch won the game, improved to 6-1 on the season and remains right in the thick of the championship race. Yes, we all expected
Zach Mettenberger
,
Odell Beckham
Jr. and
Jarvis Landry
to do more through the air, but like a pitcher on the mound without his best stuff, LSU found a way to survive the day with a W.
Jeremy Hill
proved once again why he's one of the best running backs in the country, and we may have seen LSU's embattled young defense take an important step forward.
NOT
Clowney the villain:
I'm reminded of the Jay-Z song "Can I Live," and no, it's not because of the rumor that the rap mogul tried to sign
Jadeveon Clowney
before the start of the season. Instead, you have to look at South Carolina's embattled defensive end as a point of over-speculation. Let's just let the man live. No, he's not having the Heisman Trophy campaign many hoped for, but so what? How many defensive players win the trophy, anyway? Forget the missed snaps and missed practices and all of the talk that surrounds Clowney and just appreciate his talent. Remember, he'll be gone to the NFL soon. Maybe after weeks and weeks of harping on the negative with very little to show for it, we can just let him play the game and watch him like we would any other player.
[+] Enlarge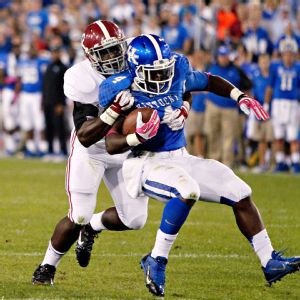 AP Photo/Garry JonesThe Alabama defense had a streak of 14 quarters without yielding a touchdown snapped at Kentucky.
HOT
Alabama's defense:
It took two defenders literally running into each other for Alabama to finally surrender an offensive touchdown. Against Kentucky, cornerbacks
John Fulton
and
Jarrick Williams
collided in coverage and both fell to the turf. UK wideout
Javess Blue
gladly caught the wide-open pass and trotted untouched into the end zone. And thus ended Alabama's streak of 14 quarters without allowing a single offensive touchdown. Alabama's defense, which garnered its fair share of criticism after being lit up by Texas A&M -- what defense hasn't? -- has played lights out since.
NOT
Kentucky's offense:
The Air Raid 2.0 didn't get an inch off the ground Saturday in Lexington. Kentucky's young offense was dominated by Alabama, held to under 200 yards. It took a fluke play for the Wildcats to even score (see above). Converting on 2 of 12 third downs is bad no matter how you slice it. And to make matters worse, UK starting quarterback
Jalen Whitlow
looks like he'll miss some time after injuring his ankle. The good news is nothing was broken, but for a player who relies heavily on his mobility, coming back early isn't an option. Give Mark Stoops credit for what he has done on defense, but he has some work to do on the other side of the ball. You're not going to score many points in this league when you're starting a walk-on at wide receiver as UK did on Saturday night.
FREEZER BURN
Homecoming disaster:
Steve Spurrier's words after the game said it all. "I do feel badly for Arkansas," the South Carolina coach explained. "That's not fun getting your butt beat at home, homecoming and all." Why Arkansas scheduled the Gamecocks for its homecoming game is anyone's guess. But whoever did it should be second-guessing himself or herself today. In front of alumni and fans, the Hogs jumped out to a 7-0 lead, only to see South Carolina score 52 unanswered points and win going away. The Gamecocks threw for 260 yards to Arkansas' 30 and held the football 43:25 to Arkansas' 16:35. Watching, it felt like there was barely enough time to throw a parade, let alone name a homecoming queen.
September, 27, 2013
9/27/13
3:00
PM ET
From Zachary (@ZacharySMT): In the hierarchy of the SEC, where do you see the South Carolina program after the Ole Ball Coach retires?

Alex Scarborough: I'd tell you it all depends on who would be hired as his replacement, but you already know that. Steve Spurrier has built a solid program in his time at South Carolina, and I don't see it as one that would fall apart dramatically should he leave. There's plenty of talent on both sides of the football, especially in terms of skill players on offense and big front-seven guys on defense. Whoever the South Carolina administration hires will have an enormous task ahead of them, though, and I'd prepare for a slight dip in the early going as things are settled. People have to remember where that program was before Spurrier, with 12 sub-.500 finishes since 1980 and not a single division title. He basically built it from nothing. Competing against North Carolina and the rest of the SEC for recruits isn't easy, and the SEC East only continues to improve.


---
From Press Thornton (@thornton_press): Your prediction on Bama-Ole Miss?

Alex Scarborough: Ah, I knew someone would ask this. And here I'd gone the whole week without making an official prediction. Well, I guess that streak ends here. While I'd like to say with certainty either way, I can't get behind either team completely. That said, I expect that if Alabama sorts out some of the kinks and plays to its standard, the home team will win and remain undefeated. But Ole Miss has a real shot to knock off the Tide in Tuscaloosa. If Hugh Freeze can get the tempo going and pressure Alabama's lackluster, thin secondary, the Rebels could pull off the upset. And with the receivers he has at his disposal, I think they're entirely capable of doing it. I see it as a high-scoring game either way and I give Ole Miss a 33 percent chance of winning the shootout.


---
From Joe Piccoli (@joepic8049): Missouri's three-man running back rotation a little overlooked right now?

Alex Scarborough: I'm looking at Missouri's rushing statistics now, and I'd have to say so. The Tigers are 33rd nationally in rushing yards (810), 17th in rushing yards per game (270) and 17th in rushing touchdowns (17). Russell Hansborough, Henry Josey and Marcus Murphy are doing an excellent job. But -- and here's where I'll counter those numbers -- I don't think I'm ready to say they're overlooked to a large extent. Frankly, Missouri hasn't faced anyone of consequence. The Tigers haven't played an SEC game and let's face it, Murray State, Toledo and Indiana aren't exactly stalwarts when it comes to stopping the run. Since I'm in a stats mood, Toledo and Indiana are ranked 67th and 117th nationally in rushing yards per game, and Murray State doesn't even show up on my readout. (Further inspection shows the Racers are allowing 173.5 yards per game on the ground.) While I like what I've seen from Missouri's running game so far, I want to see it continue past Arkansas State and on into Vanderbilt, Georgia, Florida and South Carolina in October.


---
From Fake Ned (@FakeNed): Is the SEC West stronger than last year with the improvement of Mississippi?

Alex Scarborough: That's a tough thing to say based on how good it was last year, when Alabama won the national championship, Texas A&M took the world by storm and LSU continued to do its thing. But I don't see any of those teams as being significantly better than a year ago. Alabama has shown it's flawed on defense and up front on the offensive line, Texas A&M's defense can leak like a sieve at times and LSU is so young that I don't know what to expect from them. LSU's offense is certainly improved, but the second half against Auburn gave me pause. That said, I see improvement at the back end of the West with Ole Miss continuing its surge, Auburn rebuilding in a hurry and Arkansas looking much improved. If the division is better or worse than a year ago, it's not by a wide margin.
September, 18, 2013
9/18/13
12:00
PM ET
It's Hump Day, and, no, I'm not going to shout it like an overly eager camel in a crowded office. Instead, I'll just note that we're halfway to another exciting week of college football and only a day away from No. 3 Clemson going up against North Carolina State.
September, 16, 2013
9/16/13
12:00
PM ET
What a wild weekend of football it was. But now, we turn the page to Week 4 of the college football season and look forward to a new slate of games in the SEC.
September, 6, 2013
9/06/13
10:00
AM ET
We're in the swing of things now. With Week 1 in the books, it's time to take a look at some notes from the SEC and ESPN Stats & Info to get you prepared for the second full week of college football:
A total of 10 players from the SEC rushed for 100 yards or more in their opening games, including both Jonathan Williams and Alex Collins of Arkansas.
Since 2006, the SEC has posted the highest nonconference winning percentage (regular season & bowls) of any conference. The league has a 333-74 record (81.8 winning percentage).
With the start of the NFL season upon us, a quick look around the league reveals that the SEC has had more of its former players on NFL rosters in the last five seasons than any other conference. Since 2006, the SEC has averaged 266.1 players per year on NFL opening weekend rosters. The league had a high of 257 players on NFL rosters last year, compared to the second highest ACC with 226.
Florida is now 13-0 under coach Will Muschamp when rushing for 150 or more yards.
The Gators have allowed two rushes of 50 yards or longer in the last 10 seasons combined, three fewer than any other FBS team. Last week, the Gators allowed a total of 50 yards on the ground and just one rush of 10 yards or longer.
Jadeveon Clowney recorded only three tackles in South Carolina's season opener against North Carolina, but he still had an impact on the game. He had three total pressures, which brings his total number to 31 over the last two seasons, tying him with former Georgia linebacker Jarvis Jones for tops in the SEC.
Georgia quarterback Aaron Murray is going to miss his top target, wide receiver Malcolm Mitchell, who's out for the rest of the season with a torn ACL. Murray completed 72 percent of his passes thrown to Mitchell, compared to 59 percent when targeting his other receivers.
It's been pointed out time and again, and we're going to continue bringing it up until it changes: Murray is 3-11 against ranked opponents in his career. He's 0-3 all-time against South Carolina. Murray's 46.0 QBR against the Gamecocks is the lowest of any team in the SEC East.
Your SEC leaders in Raw QBR aren't what you might expect as Arkansas' Brandon Allen led the charge with a 91.6 rating, followed by Missouri's James Franklin, Texas A&M's Matt Joeckel and LSU's Zach Mettenberger. Last season Mettenberger ranked 12th out of 13 SEC quarterbacks in QBR.
Mettenberger's numbers could improve again versus UAB, which allowed 319 yards passing from Troy quarterback Corey Robinson, who set a NCAA record completing 93.8 percent of his passes (30-for-32).
Auburn is now 194-1 all-time when scoring 30 points or more against non-SEC opponents. The Tigers defeated Arkansas State in both previous matchups, with each victory coming by at least 26 points.
Ole Miss is 149-82-7 (.641 winning pct.) all-time during the month of September, including a 3-2 record last year.
Arkansas hosts Samford in its home away from home, War Memorial Stadium in Little Rock, where the Razorbacks are 166-67-4 (.709) all-time.
Hogs coach Bret Bielema wanted to cut down on penalties during his first offseason, and the Razorbacks' did just that on Saturday, accounting for all of four penalties vs. Louisiana -- the fewest in a season opener since 2008.
UK had 11 first-time starters in its season-opening loss to the Hilltoppers, which is a school record for first-time starters in a game according to records kept back to the 1993 season. A total of 10 newcomers (six true freshmen) saw action.
Tennessee is 7-0 all-time vs. current Sun Belt schools, including two wins last season (51-13 over Georgia State, 55-48 over Troy).
The Vols offensive line has a total of 129 career starts, led by Ja'Wuan James with 38 and Zach Fulton with 29.
Tennessee's 45-0 win in Week 1 marked the first shutout for UT since a 27-0 win over Middle Tennessee on Nov. 5, 2011.
The Aggies gained 486 total yards against Rice last week, which marked the 13th straight game that the offense has surpassed the 400-yard plateau, which is easily the longest streak in school history. Only Baylor has a longer streak of 400-yard offensive game among FBS teams. Since head coach Kevin Sumlin's arrival in College Station, the Aggies have surpassed 400 in 13-of-14 games, including 500-plus yards eight times.
Missouri's Gary Pinkel coached Toledo's through the 2000 season, and left for Columbia as the Rockets' winningest coach in school history, with a 73-37-3 record in 10 seasons. Pinkel, who was inducted into Toledo's Athletic Hall of Fame in 2009, led the Rockets to a MAC title and claimed three other MAC West Division championships.
It took 659 days, but Missouri junior running back Henry Josey, returning from a knee injury, picked up where he left off at Faurot Field this past weekend, rushing for 113 yards and a touchdown on 13 carries in Mizzou's 58-14 victory over Murray State.
Vanderbilt saw Austin Carta-Samuels become just the second quarterback in Vanderbilt history to pass for 300 yards or more in a season opener on Saturday. The last time a Commordores quarterback hit that mark was when Greg Zolman threw for 300 yards in the 2001 opener against Middle Tennessee.
Jordan Matthews' 178-yard effort versus Ole Miss was the most by a Vanderbilt receiver since Earl Bennett amassed 223 receiving yards against Richmond in 2007.
August, 29, 2013
8/29/13
10:15
AM ET
Ready or not, it's here. The start of the college football season is upon us with all of its promise and potential.
Throughout the SEC, there's a sense of new beginnings, of hope, of the fresh start so many programs have been longing for. Gus Malzahn will lead Auburn for the first time as its head coach, Bret Bielema and Butch Jones will coach their first games in the SEC at Arkansas and Tennessee, respectively, and Mark Stoops will take the first steps in rebuilding a Kentucky program that's struggled historically.
Everyone is on an even keel today, but that all changes when the lines are painted and the football is teed up for the start of the season. So as you get ready for all that Week 1 has to offer, keep an eye on these few things:
1. Return of the champs:
Alabama has all the ingredients to make another run at a national title.
AJ McCarron
and
T.J. Yeldon
are Heisman Trophy contenders, and the defense is once again littered with potential All-Americans. With a league-best 16 players chosen to the Coaches' Preseason All-SEC Team, there's no doubting the talent assembled in Tuscaloosa, Ala. But can Nick Saban fend off complacency again and help his team meet its full potential? That remains to be seen, though a season opener against Virginia Tech is a good place to start. The Hokies are a three-touchdown underdog that Alabama could easily overlook with a bye week and Texas A&M to follow. Will overconfidence get the best of the Tide? If UA comes out with anything less than 100 percent effort, that could signal trouble for the road ahead.
[+] Enlarge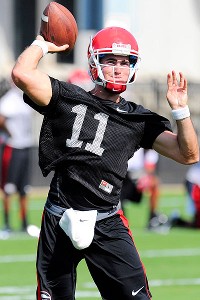 Dale Zanine/USA TODAY SportsAaron Murray will aim to lead Georgia past Clemson in the Bulldogs' opener.
2. An early title test for Georgia:
Mark Richt's Bulldogs won't get a chance to test the waters before jumping in headlong this season, as Clemson awaits in Game 1. Never mind letting
Aaron Murray
and his talented tandem of tailbacks get their bearings, and never mind allowing the revamped defense to find its stride; Georgia will encounter its first obstacle on the road to the national championship right away.
Tajh Boyd
and the Tigers offense are prolific -- and dangerous -- averaging 512 yards per game a season ago, which was good enough for ninth in the country. And while there's no doubting Georgia's ability on offense, there are some serious questions on the other side of the ball. After all, 10 of the 22 players listed on Georgia's two-deep depth chart have never played a down of FBS football.
3. Can LSU's offense turn the corner?:
There have been glimpses of potential, but LSU's offense has never reached its full potential under Les Miles. The defense has been great, sure, but when it's come to scoring points, the Tigers left something to be desired. Not having the right quarterback had something to do with that, though, but this season, that excuse and all others won't be enough as
Zach Mettenberger
enters his senior season under center and new offensive coordinator Cam Cameron takes control. LSU will still line up and play power football, which it has always done well. The passing game, though, could use some spark, and Miles hopes Cameron is the guy to light that fire, starting with the season opener against TCU. Just because the Horned Frogs come from the defensively challenged Big 12 doesn't mean coach Gary Patterson's squad can't play ball. TCU has long been SEC-like on defense with playmakers like defensive lineman
Devonte Fields
and cornerback
Jason Verrett
. They'll get after Mettenberger and give LSU fans an early look at what the Tigers' offense is truly capable of.
4. Florida seeking playmakers:
The Gators' woes on offense have been well documented. After all, Florida hasn't had a 1,000-yard receiver in almost a decade. Since
Tim Tebow
left, there hasn't been a lot of chomp to the Gators' bite. For all of
Jeff Driskel
's faults as a young quarterback, it was hard to figure out exactly who he was supposed to get the football to last season. There was no
Percy Harvin
to be found. While there doesn't appear to be an All-American brewing at wide receiver now, this season should be better. Losing
Matt Jones
for the season opener hurts, but it should give other players a chance to step up and make plays. With a date with in-state rival Miami looming, coming out with a bang against Toledo could serve as the springboard to bigger and better things in 2013.
5. Which Johnny Football will it be?:
It's only Rice, but
Johnny Manziel
needs to come out and set the tone right away for what kind of season he hopes to have. The Aggies' success depends on it. After an offseason filled with turmoil, it's time for all of College Station to turn the page. We've heard time and time again that it will get better when Manziel can put aside the distractions and focus solely on football. Now, he has to prove it. If he really is tired of the college life and ready to move on to the NFL, he'll have to show he's capable of handling the spotlight and performing on the football field. Veterans like Luke
Luke Joeckel
, Ryan Swope and
Damontre Moore
are gone. For better or worse, it's Manziel's team, and the pressure is on him now more than ever.
Peach State: Top Tier Recruiting Ground?
SEC SCOREBOARD
Thursday, 9/3
Saturday, 9/5