November, 30, 2013
Nov 30
9:39
PM ET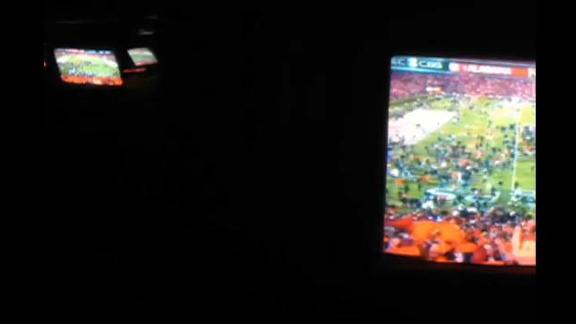 COLUMBUS, Ohio -- The passengers on the southbound bus were already in a celebratory mood.
Another perfect regular season was in the books, a spot in the Big Ten championship had already been secured for next week and, of course, Ohio State had just beaten archrival Michigan a few hours earlier Saturday.
But about 10 miles north of Delaware, Ohio, the party really started.
The five buses in the caravan all started to shake and the No. 3 Buckeyes suddenly had a lot more to smile about as the help they've been waiting on in the BCS standings finally arrived in improbable fashion as they watched
Auburn spring an upset over Alabama
while rolling down the highway.
"We were all just huddled around the TVs," junior cornerback
Bradley Roby
said after greeting around 25 fans who waited for the team to return to campus Saturday night. "And I think
Christian Bryant
or
Ryan Shazier
, they were like, 'Watch, they're going to return this field goal for a touchdown.' Sure enough, it happened.
"Everybody was jumping around, it was crazy, pandemonium."
The finish for the Buckeyes earlier in the afternoon was wild enough, a game that featured 83 points, three ejections and a two-point conversion attempt in the final minute before the
42-41 score
was settled. But another rivalry game might have even trumped that shootout for drama, with the Tigers delivering on Shazier's and Bryant's long-shot prediction, turning a missed field goal into the decisive touchdown with no time left on the clock.
That victory for No. 4 Auburn will stir more debate about which teams should play for the national title, but with the Tigers knocking off No. 1 Alabama and finally opening up a spot ahead of Ohio State, the Buckeyes figure to be the biggest beneficiary of a wild weekend when the new BCS standings are released Sunday.
And while the team found out about it while on a bus, Ohio State fan Chris Wasch was at least able to find a broadcast of the closing moments at Gallo's Tap Room, just a short drive north of the Horseshoe, after originally deciding to head out for some shopping instead of watching the rest of the Iron Bowl.
"I heard it on the radio and I thought, 'Damn, I've got to find a bar,'" said Wasch, decked out in a
Braxton Miller
jersey and Ohio State hat. "I pulled in here figuring I was going to get a chance to watch overtime, but it was awesome. As soon as the guy made the block at the 25[-yard line], the place went nuts. It was awesome.
"We had to sweat it out two, three times throughout the Michigan game, then everybody was sitting around watching Auburn, hoping and praying. Looks like it worked."
The job isn't quite done for the Buckeyes, who still have a huge test looming against No. 11 Michigan State next week in Indianapolis with the Big Ten title on the line.
But for the first time this season, it appears Ohio State will control its own destiny in the chase for the national title.
"It's a really good feeling, but we can only worry about what we're doing," Roby said. "It was very good to see Alabama go down, and we were really hoping they would.
"At the same time, we're not thinking too far ahead, we've got to focus on this week, the opponent we've got this week, because if you overlook things like that, that's how you lose."
The Buckeyes avoided their first loss on the field in the afternoon. Later, they added another win on the bus ride home.
September, 21, 2013
Sep 21
7:00
PM ET
By
ESPN.com staff
| ESPN.com
Can Texas right the ship against K-State? Will Michigan avoid another upset scare? Can Auburn-LSU produce another close one? And what about that Arizona State-Stanford showdown in the Pac-12?
We'll be watching these games and many more on Saturday night and we'd like you to join in on the conversation. Head on over to
Campus Connection
at 8 ET and follow the action along with our eight reporters. Post your comments and questions and we'll include as many of them as possible.
Unfinished Iron Bowl?