Alabama Crimson Tide:

Urban Meyer
January, 13, 2014
1/13/14
9:30
AM ET
There are coaches with more BCS appearances than Nick Saban. There are coaches with better BCS winning percentages than Nick Saban.
But there is nobody with more BCS national championships than Saban.
That is why he is the best coach in the BCS era.
[+] Enlarge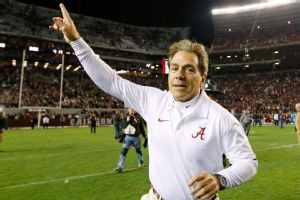 Kevin C. Cox/Getty ImagesNick Saban has re-established Alabama as a football dynasty.
Winning championships trumps any other BCS coaching statistic out there. None of this diminishes how many times Bob Stoops has taken Oklahoma to BCS games (nine, with a win over Saban in the Allstate Sugar Bowl two weeks ago). Or how impressive it is that Urban Meyer took three different programs to BCS games, going 4-1 with two national championships at Florida.
But Saban took two different schools to national championships, starting with LSU. He has four championships in all, having never lost a title game and has re-established Alabama as a football dynasty with three BCS championships over the past five years.
While there are probably folks in Baton Rouge and Miami still smirking over the way Saban left their programs, college football has been almost re-energized since Alabama re-emerged as a force, allowing fans outside Tuscaloosa and the SEC to pool their collective animosity together at both the program and the coach. Everybody loves a winner. But everybody also loves to root against a winner that wins too much, too.
Saban has not won many fans along the way to greatness for a host of well-documented reasons, but you do not have to like him to respect what he has accomplished. He is a coach who generally thrives when pressure is at its greatest. His ability to win at an iconic program with an iconic former coach speaks to that. His 4-0 mark in BCS national championship games speaks to that, most especially the 21-0 retribution victory over LSU in 2012. So does his 0-2 mark in BCS games when there are no championships on the line (losses to Utah and Oklahoma).
Those BCS victories have served Saban well for obvious reasons. But they have also had an impact on the entire college coaching fraternity. As Saban has continued to win, his contract has grown, ballooning to jaw-dropping values. When Saban was first hired at LSU in 1999, he received a five-year deal worth $6 million total.
Eight years later, Alabama hired him from the Miami Dolphins at an unprecedented $4 million per season. In the recently concluded 2013 season, seven more coaches joined him in the $4 million club. Of those seven, six have gone to BCS games and four have won the national championship. Only one coach among the seven -- Stoops -- won a national title before Saban did.
Next season, Saban is set to earn in the $7 million neighborhood, outdistancing himself from his coaching peers once again. With the BCS chapter now closed, Saban must get to work on making himself the best coach in the playoff era, too.
Honorable mention
Urban Meyer:
Meyer has taken Utah, Florida and Ohio State to BCS games, going 4-1 in his five appearances with two national championships. His Utah team was the first BCS buster from outside the automatic qualifying conferences, taking down Pitt in the 2005 Fiesta Bowl.
Bob Stoops:
Stoops has the most BCS appearances of any coach, with nine, though he is probably known most for failing to win on the big stage. His teams played for four national championships but won only one, in the 2001 Orange Bowl over Florida State. His overall BCS record is 4-5.
October, 21, 2013
10/21/13
5:30
AM ET
The Early Offer is RecruitingNation's regular feature, giving you a daily dose of recruiting in the mornings. Today's offerings: With the first edition of this year's
BCS rankings released Sunday
, we take a look at how the top five teams in are faring on the college football recruiting trail.
August, 30, 2013
8/30/13
5:30
AM ET
The Early Offer is RecruitingNation's latest feature, giving you a daily dose of recruiting in the mornings. Today's offerings: Bob Stoops and Urban Meyer join Twitter, demonstrating the power the social media vehicle has on recruits; Cameron Robinson's decision is pushed back to next week, and one team is feeling better about its chances; and former four-star athlete
Chase Abbington
is making a big splash in the junior college ranks.
Pursuing #9 and bigger case! #boomer pic.twitter.com/gX2mruqHTc

— Bob Stoops (@OU_CoachStoops) August 28, 2013
Welcome to Twitter Bob Stoops, Urban Meyer
Twitter has become one of the biggest recruiting tools for college football coaches. Not only do they use it for communication with prospects, since the rules on electronic communication are more lax than phone calls. Tweets are also a great way to share recruiting propaganda and are more likely to be read compared to letters that pile up in a recruit's mailbox. The latest coaches to embrace the new recruiting world order are Oklahoma coach Bob Stoops and Ohio State's Urban Meyer. "My good friend Bob Stoops talked me into this Twitter stuff -- let's see how it goes," Meyer tweeted Tuesday after opening an account and quickly gaining 30,000 followers. Stoops has had his own Twitter account for about a year but it had always been set to private -- until Wednesday. One of his first tweets was about going after national championship No. 9. It was recruiting through social media at its finest.
Robinson pushes back announcement date
To continue reading this article you must be an Insider
August, 12, 2013
8/12/13
10:53
AM ET
GAINESVILLE, Fla. -- The SEC is full of colorful and tradition-rich rivalries. And nasty ones, too.
Not all the time, though. Rivalries are like the tide (not Alabama). They ebb and flow. Sometimes they're fierce and sometimes they're just another game. We took that into consideration when ranking the top five rivalries in the SEC. We went with the ones that are the hottest right now.


Alabama-LSU
It's hard to top a game that has national championship implications every year. Plus two of the best coaches in the country. And loads of NFL talent. The teams have met annually since 1964, but the game became even more important in 1992, when both were slotted into the Western Division. The winner of the regular-season meeting has gone on to win the division title eight times in the last 12 seasons, including four of the last five. LSU has won seven of the last 11 meetings, but Bama won the biggest meeting between the two: the 2012 BCS National Championship Game.


Florida-Georgia
This had become a pretty boring rivalry, with the Gators going 18-3 from 1990 to 2010 in the annual meeting in Jacksonville, Fla. But the Bulldogs have won back-to-back games for the first time since 1987-89 and there have been a series of events that have brought an edge back to the rivalry: the Gator Stomp (2007), Urban Meyer's timeouts (2008), Brandon Spikes' eye gouge (2009), and Todd Grantham's choke sign (2010). Plus, the past two meetings have been pretty entertaining.
Aaron Murray
threw a pair of fourth-down TD passes to rally the Bulldogs from a 17-3 deficit in 2011 and Georgia forced six turnovers last season.


The Iron Bowl
Even though Alabama has won four of the last five meetings and Auburn has posted one winning conference record in the past five seasons, this game still resonates around the conference because of its tradition. Oh, yeah, there also was that Alabama fan who poisoned the trees at Toomer's Corner. On the field, the Crimson Tide have won four of the last five. The only Auburn victory in that span came in 2010, and it was one that's going to sting Bama fans for a long time. Cam Newton rallied the Tigers from a 24-0 deficit and led them to a 27-24 victory in Tuscaloosa. Auburn went on to win the national title.


Georgia-South Carolina
What rivalry wouldn't be juiced by the addition of Steve Spurrier? Georgia has dominated the series (46-17-2) and had won five in a row from 2002 to '06, but South Carolina has won four of the last six games -- including two in Athens. Spurrier arrived in Columbia in 2005 and has gone 4-4 against the Bulldogs despite having some inferior teams. Spurrier hated the Bulldogs from his playing days at Florida, and he carried that over into his coaching career with the Gators and now with the Gamecocks. That's why his career record against Georgia is 15-5.


The Egg Bowl
A national championship berth or a Western Division title isn't on the line when these teams meet on Thanksgiving weekend (Thanksgiving night this season), but to the people in Mississippi, this game is just as important. And to the coaches trying to woo the talent throughout the state, it's a must-win. Mississippi State coach Dan Mullen injected a bit of life into the rivalry when he was hired in 2009, stealing a bit from former boss Meyer by referring to Ole Miss as "the other school in the state." Mullen had been undefeated against Ole Miss until the Rebels' surprising 41-24 rout last season in coach Hugh Freeze's first year.


A rising rivalry
Even though Alabama and Texas A&M have met only five times, this is a series that could get pretty interesting pretty quickly now that the teams will be meeting every year. Last season's meeting, the first since 1988, was an instant classic and pretty much won
Johnny Manziel
the Heisman Trophy. He led the Aggies to a 29-24 victory in Tuscaloosa, the only game the Crimson Tide would lose en route to the national title. Bama fans are eagerly awaiting the rematch in College Station on Sept. 14.


A falling rivalry
Florida-Tennessee used to be one of the biggest matchups of the season in the 1990s, with the winner having a leg up in the Eastern Division race. Now it carries no more cachet than a Vanderbilt-Kentucky matchup. The Gators have won eight in a row and the Vols haven't been closer than 10 points in the past six meetings.
June, 6, 2013
6/06/13
9:00
AM ET
COLUMBUS, Ohio -- The explosion of offers and attention was overwhelming enough for
Brandon Harris
when spread over four months.
But it was nothing compared to the 72-hour window a week ago that essentially offered confirmation that the four-star quarterback (Bossier City, La./Parkway) has arrived on the national scene and isn't going away.
To continue reading this article you must be an Insider
May, 10, 2013
5/10/13
1:15
PM ET
The team I wanted to see face Alabama last season in the BCS National Championship was Oregon. It's the matchup the entire country wanted to see.
No offense, Notre Dame fans, but seeing that high-octane Oregon offense go up against Alabama's defense would have made for much better theater than what we ended up getting in South Florida in January.

Wouldn't it be great if you could play college football matchmaker and turn some of these dream match-ups into realities during the season?
We've come up with five such matchups and want you to select which one would be the most attractive by voting in our SportsNation poll.
Alabama versus Oregon is one of the choices. Who knows? Maybe we'll finally get to see the Ducks and Tide square off in the final BCS National Championship before we go to a playoff in 2014.
Think Florida versus Ohio State would stir a few emotions with Urban Meyer taking on his old team? It would be the battle of Meyer's two dream jobs. Come to think of it, is it possible to have two dream jobs? In Meyer's world, you can.
I realize that Texas athletic director DeLoss Dodds, in all of his arrogance, said recently that Texas gets to decide when Texas and Texas A&M play again. Ask anybody in that state, and it can't be soon enough. Surely we'll see those two old rivals playing again sooner rather than later.
Here's one for you: South Carolina and Steve Spurrier going up against Lane Kiffin and the West Coast version of USC. Spurrier's not the biggest Kiffin fan. Then again, who in the SEC is? Something says the buildup to that game could be as entertaining as the game itself.
Finally, LSU and Notre Dame played 10 times between 1970 and 2006 and are all knotted up, 5-5. It's time to break the tie. Talk about two of the best fight songs in all of college sports and two programs steeped in tradition.
Well, you have the rundown. Tell us which matchup you'd most like to see, and we'll go over results next week.
April, 1, 2013
4/01/13
1:30
PM ET
Remember Bret Bielema's comments when he was still Wisconsin's coach about what he suggested were illegal recruiting tactics by new Ohio State coach Urban Meyer?
"I can tell you this," Bielema said at the time. "We at the Big Ten don't want to be like the SEC ... in any way, shape or form."
Well, Bielema is in the SEC now as Arkansas' new coach, and it's clear that he's not bashful when it comes to speaking his mind.
At an
Arkansas booster club function
last week in Benton, Ark., Bielema didn't tread lightly.
Here's what he was quoted as saying when asked about the challenges of playing in the rugged Western Division: "I came to the SEC for a variety of reasons, but the major one in my mind was to win an SEC championship."
[+] Enlarge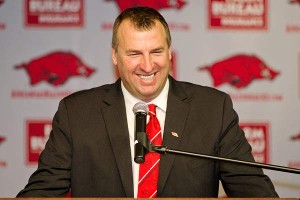 Beth Hall/USA TODAY SportsWill Arkansas' Bret Bielema be smiling after a brutal stretch of games during the SEC season?
On the topic of two-time defending national champion Alabama and Nick Saban, Bielema was quoted as saying: "The reason the SEC is talked about all the time is one team, because of their dominance. But I didn't come here to play Alabama. I came here to beat Alabama.
"You can take Saban's record when he was at Michigan State and when he was a coach in the Big Ten and put it against mine, and he can't compare."
For the record, a spokesperson at Arkansas -- when asked about the context of Bielema's comments -- said he was making a light-hearted joke and didn't mean it as a shot at Alabama or Saban.
Ultimately, something says the Alabama fans (and Saban) will be the judge of that. Arkansas travels to Bryant-Denny Stadium on Oct. 19 next season to face Alabama. It's the final game of a grueling four-week stretch for Arkansas which starts with Texas A&M at home, Florida on the road, South Carolina at home and then the trip to Tuscaloosa.
Bielema's not the first new coach or fairly new coach in the SEC to set his sights on Saban. Vanderbilt's James Franklin called Saban "Nicky Satan" while speaking in Macon, Ga., back in January and boasted that he was going to outwork Saban. Franklin later called Saban to apologize and said he was merely making a joke and had tremendous respect for Saban and his work ethic.
The first thing that's obvious regarding both of these instances is that everybody is shooting for Alabama and Saban. That's what happens when a team wins three national titles in four years.
The other thing at play here is that new coaches in this league are looking to make a splash with their fans and recruits (remember that Lane Kiffin guy?), and sometimes they say things at outside speaking engagements they might not normally say at a news conference or while speaking to a group of reporters after practice.
That's OK, because we in the media complain all the time about coaches being robots and rarely saying what's on their mind.
Steve Spurrier is the exception, and it's refreshing any time you get an audience with the Head Ball Coach.
In Bielema's case, he'll get plenty of chances to "beat" Alabama and Saban. The two teams play every year, and the Crimson Tide have won six in a row in the series. Three of the past four games haven't been close.
Before everybody beats up too much on Bielema, the last thing Arkansas fans want to hear at a Razorback Club function is their new coach talking about how wide the gap is right now between Alabama and Arkansas. But I would also contend that Bielema might have sold the rest of the SEC a little short with his comments about "one team" being the reason the SEC is talked about all the time.
Four different schools have won national championships during the SEC's streak of seven in a row. Five SEC schools were ranked in the top 10 in the final polls last season, and six were in the top 15. There could be as many as 12 former SEC players taken in the first round of the upcoming NFL draft.
Make no mistake. Everybody's chasing Alabama right now, but there are still a ton of thoroughbreds in the race.
And simply getting to a point where you're consistently running up front in this league is the most daunting grind in college football.
February, 8, 2013
2/08/13
11:49
AM ET
Let's face it. Nobody ever has a bad signing class.
Can you imagine a coach standing up at his post-signing day news conference and proclaiming that that particular class simply didn't measure up?
However, according to the ESPN Recruiting team, none of the 14 SEC schools finished with lower than a B- this year. Not only that, but seven schools received an A or A-.
So, somebody's doing something right in this league.
Here's a look back at a few superlatives from signing day:
Biggest winner:
Six SEC schools finished in the top 10 of ESPN's class rankings, but right there at the top was Alabama … again. The rich keep getting richer. The Crimson Tide have now finished with a top-3 class nationally in each of the past six years. They reeled in several coveted prospects early in the process, then closed like you'd expect a program that's won three of the past four national championships to close. Getting linebacker
Reuben Foster
, the state's top player and No. 1 inside linebacker in the country, punctuated what was another talent-laden class for Nick Saban and Co.
Best closer:
When is the last time anybody has closed the way Hugh Freeze and Ole Miss did this year? The Rebels haven't won an SEC championship since 1963, but they went out and recruited this year like they plan on winning one in the near future. The big catch was defensive end
Robert Nkemdiche
, the No. 1 overall prospect in the country, but the Rebels were just getting started after he announced Wednesday morning. They also landed
Laremy Tunsil
, the No. 1 offensive tackle in the country, and
Antonio Conner
, the No. 2 safety in the country, later in the day. All told, the Rebels got the No. 1 defensive end, the No. 1 receiver, two of the top three offensive tackles and the No. 2 safety.
Biggest surprise:
It's hard to knock Georgia's recruiting when you look at the caliber of prospects the Bulldogs have consistently brought in under Mark Richt. But what was surprising this year was to see Georgia strike out on so many of the top in-state players. Only one of the top 10 prospects in the state, according to ESPN's rankings, signed with the Bulldogs -- cornerback
Shaq Wiggins
of Tyrone, Ga. Don't feel too badly for the Dawgs, though. They're still ranked No. 10 nationally in ESPN's class rankings.
Who flipped/biggest loss:
There were a couple that stood out. Defensive end
Tashawn Bower
of Somerville, N.J., initially committed to Auburn, then looked like he was going to flip to Florida at the last minute before eventually signing with LSU. Auburn did a little flipping of its own by getting defensive end
Elijah Daniel
of Avon, Ind., away from Ole Miss on signing day. Losing Tunsil to Ole Miss was a blow for both Alabama and Georgia, while Tennessee couldn't keep safety
Vonn Bell
(who lives in Chattanooga, Tenn.) at home. The Vols' first-year coach, Butch Jones, recruited Bell hard, but former Tennessee coach Derek Dooley had dropped the ball with Bell, and Ohio State's Urban Meyer was able to swoop in and get the No. 4 safety in the country.
October, 3, 2012
10/03/12
9:29
PM ET
TUSCALOOSA, Ala. -- Alabama head coach Nick Saban made waves on Wednesday morning when he asked whether college football was moving in the right direction with so many up-tempo spread offenses putting up video game numbers.
[+] Enlarge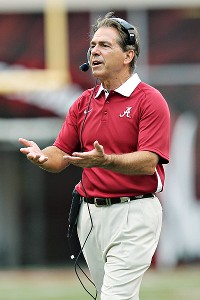 Nelson Chenault/US PresswireNick Saban feels that the trend of up-tempo offenses puts defensive players at greater injury risk.
He said the prevention of substitutions on defense was a player safety concern that the league should look into, possibly reining in the pace of games.
"If a team gets in the same formation group you can't substitute players," he said on the SEC coaches teleconference. "For a 14, 16, 18-play drive, and they're snapping the ball as fast as you can go and you look out there and all your players are walking around and can't get lined up. Guys have a much greater chance of getting hurt when they're not ready to play.
"It's obviously created a tremendous advantage for the offense when teams are scoring 70 points and we're averaging 49.5 points per game with people who do those kinds of things, so more and more people are going to do it. I just think there has to be some sense of fairness, in terms of asking is this what we want football to be?"
Saban's reaction comes on the heels of facing an up-tempo, no-huddle offense in Ole Miss on Saturday night. The Rebels were the first team to lead Alabama all season after scoring on a drive that took 13 plays and lasted less than 5 minutes. Ole Miss' second touchdown took 16 plays and lasted just 5:01. In both instances, UA's defense couldn't substitute or get the play call in every time like its become accustomed to.
Ohio State coach Urban Meyer, who ran a similar spread offense at Florida, responded to Saban's comments to a group of reporters later in the day, voicing his fondness for the different offenses.
"I think it's great for college football," he said.
UA senior defensive end
Damion Square
understandably isn't in the same camp as Meyer. Facing offenses that go without huddling and force the tempo is something he deals with but isn't a fan of.
"It's football. Guys are going to come and try to get an advantage to win," Square said. "This game has changed a lot. That's what you're seeing nowadays. Everybody wants to come and run the no-huddle so that the defense can't get the perfect play in.
"But as a football player, you have to be out there and you have to play. You have to get around the ball and realize you're not going to get to play that play, put your hand on the ground and play football the way it's supposed to be play."
Square continued: "You can't really worry about the tempo. If they makes rules and regulations to that, then that would be a plus to the defense."
July, 10, 2012
7/10/12
11:54
AM ET
The SEC has the reputation of being the toughest conference to play/coach in. But what is it like to be in charge of one of these high-profile programs?
That's where we come in. As we take a deeper look into programs around the country this week, we're looking at how each program stacks up in every conference. In the SEC, there's always a fierce arms race going on, and getting left behind can be dangerous.

Today, we're ranking each coaching job in the SEC. We considered a lot of factors, including location, tradition, support, fan bases, facilities and recruiting access.
Here's how we ranked all 14 SEC jobs.
1. Florida:
For starters, Florida is all about location, location, location. It's in a state that produces some of the country's top talent and it's a state that players around the country will flock to. Thanks to Steve Spurrier and Urban Meyer, Florida has become a national brand like Ohio State, USC, Notre Dame and Texas. Recent significant facility upgrades and a tremendous fan base have only helped this be the top job in the SEC.
2. LSU:
It's one of just a handful of schools around the country that's considered
the
school in the state. Every football player in Louisiana grows up wanting to play in Tiger Stadium. Louisiana is also extremely bountiful when it comes to producing football players, and Texas is right around the corner. The facilities are top notch and the program has great tradition and a tremendous fan base.
3. Alabama:
Talk about extraordinary tradition. Though there were some down years before Nick Saban took over, there's no escaping the success this program has had. Prospects from all over are drawn to Alabama. There's tremendous support inside and outside for the program, and the facilities are some of the best in the nation. This is also a school that didn't hesitate to pay Saban the big bucks when the opportunity arose.
4. UGA:
There is so much talent around Athens that it's hard for Georgia not to have a top recruiting class year in and year out. Georgia's facilities are near the top of the conference, and the campus is gorgeous. The tradition and game-day atmosphere would draw anyone in.
5. Auburn:
While it's constantly knocking heads with Alabama, Auburn has plenty going for it. The campus is gorgeous, the stadium is one of the best game-day venues in the league and the fan base is extremely passionate. Auburn is in the heart of recruiting central in the Southeast, and the recently updated facilities are a major plus.
6. Tennessee:
While the Vols have struggled with consistency on the field lately, this is still an attractive job. Nearly $50 million was spent to build a brand-new football complex, Neyland Stadium has been spruced up over the years and the program does have a rich tradition. Though with the state not being so talent-rich, coaches are forced to target other areas in the Southeast to recruit.
7. Texas A&M:
The Aggies' tradition is well-known in college football. The game-day atmosphere is one of the best in the country, there is a great alumni base, their home state is filled with elite talent and the school is huge. Now Texas A&M can sell playing in the SEC to Texas athletes. But one thing that does hang over the program is that it's still playing second to the Longhorns.
Alabama Dismisses Jonathan Taylor
SEC SCOREBOARD
Thursday, 9/3
Saturday, 9/5