Alabama Crimson Tide:

Texas A&M Aggies
March, 13, 2014
3/13/14
12:30
PM ET
The new College Football Playoff is supposed to encourage schools to schedule better nonconference games, as teams try to beef up their schedule strength to earn one of the playoff's coveted four spots at season's end.
On Thursday, Texas A&M and UCLA
announced that they'll play each other
during the 2016 and 2017 seasons.
Other schools have announced future marquee nonconference opponents, including Texas A&M vs. USC, Notre Dame vs. Texas, Alabama vs. Michigan State and LSU vs. Oklahoma.
Here are five other nonconference games I'd like to see in the future:
[+] Enlarge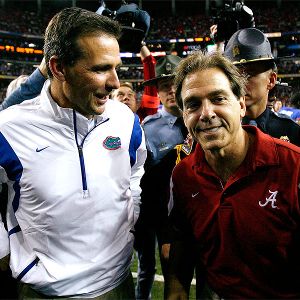 Kevin C. Cox/Getty ImagesUrban Meyer and Nick Saban have faced off for SEC titles, but their current teams, Ohio State and Alabama, have played only three times in history.
1. Alabama vs. Ohio State
: Alabama's Nick Saban and OSU's Urban Meyer dominated the SEC when Meyer was coaching at Florida, combining to win five BCS national championships from 2006 to 2012.
When Meyer was still coaching at Florida, the Crimson Tide and Gators played in two of the most anticipated SEC championship games. The No. 2 Gators beat the No. 1 Tide 31-20 in 2008, and then the Tide turned the tables on No. 1 UF with a 32-13 win in 2009.
Alabama and Ohio State have played only three times in history, with the Tide winning each time, most recently in a 24-17 victory in the 1995 Citrus Bowl.
2. Texas vs. Texas A&M
: Perhaps the biggest casualty in conference realignment, Texas and Texas A&M haven't played each other since the Aggies bolted the Big 12 for the SEC after the 2011 season. Sadly, there are no plans for the in-state rivals to play again in future regular seasons.
The Aggies and Longhorns played each other 118 times from 1894 to 2011, with their annual meeting traditionally being played on Thanksgiving Day. UT won nearly twice as many games as the Aggies (76-37-5), including nine of the last 12 meetings.
With former Louisville coach Charlie Strong taking over at Texas, and Kevin Sumlin building the Aggies into an SEC powerhouse, the game would also pit two of the sport's best African-American coaches against each other.
3. Oregon vs. Baylor
: Two of the game's most explosive offenses -- and two of its best-dressed teams -- would undoubtedly light up the scoreboard if they ever played. In fact, the contest would probably look more like a track meet.
Under coach Art Briles, the Bears have become the Ducks of the Southwest, with their hurry-up, spread offense and myriad flashy uniforms closely resembling what Chip Kelly and then Mark Helfrich built at Oregon. The Bears and Ducks follow the same blueprint on offense: play fast and score fast.
We hoped to see this matchup in the Tostitos Fiesta Bowl last season, but alas, it didn't happen. Oregon and Baylor have never met on the gridiron.
4. Michigan vs. USC
: Two of the sport's traditional heavyweights have faced each other eight times in the Rose Bowl Game Presented by Vizio, but only twice during the regular season -- in 1957 and 1958.
The Trojans won the last three meetings in the Rose Bowl, 32-18 in 2007, 28-14 in 2004 and 17-10 in 1990. USC has won six of the past seven meetings overall and holds a 6-4 advantage all-time.
We might have seen this matchup during the regular season if a Big Ten/Pac-12 scheduling partnership hadn't fallen apart in 2012.
5. Georgia vs. Florida State
: UGA coach Mark Richt was a longtime assistant under legendary FSU coach Bobby Bowden before taking over the Bulldogs, and he recently poached defensive coordinator Jeremy Pruitt off the Seminoles' staff.
The Bulldogs and Seminoles go head-to-head for a lot of recruits every year, and Florida State coach Jimbo Fisher upgraded his roster by effectively recruiting South Georgia and Atlanta.
The Bulldogs and Seminoles have played 11 times and only once since 1984 -- UGA defeated FSU 26-13 in the 2003 Sugar Bowl. Georgia leads the all-time series, 6-4-1.
August, 6, 2013
8/06/13
7:00
AM ET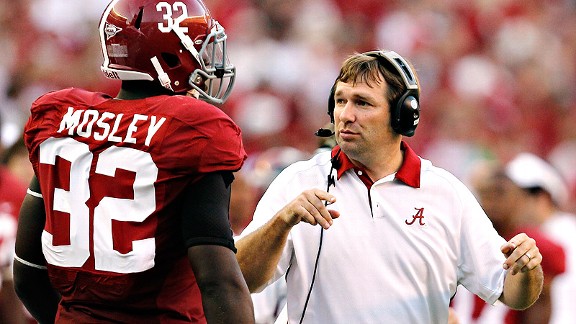 AP Photo/Butch DillKirby Smart and C.J. Mosley have a matter-of-fact approach to stopping uptempo offenses.
TUSCALOOSA, Ala. -- Uptempo offenses have been written about and agonized over at length this offseason. It sometimes felt like SEC Media Days was devoted entirely to answering the question Nick Saban posed more than six months ago: "Is this what we want football to be?"
Gus Malzahn answered in the affirmative, saying he thought the issue of player safety was a joke. Bret Bielema fired back, saying he's no comedian and that player safety is no laughing matter. Between barbs, there actually was very little talk of how coaches planned on actually slowing down no-huddle offenses.
Well, Kirby Smart isn't biting. Alabama's 37-year-old defensive coordinator is young by coaching standards, but he's taking the long view on the subject. He's watched tape of hurry-up offenses since before many of his players were in middle school. It isn't new to him. In fact, it's what he grew up on.
"You guys have made a big deal about this uptempo," he said on Sunday. "I was coaching my first year in 2000 with coach Muschamp at Valdosta State. Chris Hatcher was going no-huddle, fast pace every play, throwing the ball, running the ball."
Smart was matter-of-fact on the topic in an interview session that will be his only time speaking with the media during the regular season. "You've got to deal with the cards you're dealt," he said.
Teams such as Texas A&M, Ole Miss and Auburn have made a living pushing the tempo in recent years, never stopping to huddle in an attempt to get defenses on their heels and out of position. Smart concedes that Alabama needs to get better at stopping such schemes, saying that he's never experienced a game like the one against the Aggies last season.
Johnny Manziel
threw his defense for a loop as Texas A&M jumped out to a 20-0 lead that the Tide never recovered from.
The loss was tough, Smart said. He said he wasn't sure whether it was a symptom of not playing them before or simply not being prepared.
"They obviously did a great job against us," Smart said.
Players such as former linebacker Nico Johnson said it was a wake-up call, a jolt that helped the defense return the focus to the field and away from the distractions of the media.
Smart, for his part, wouldn't speak to his players' mindset after the loss. What he would say was that while he's eager to do better this season, he's not ready to overreact to fast-paced offenses, almost dismissing their effect by labeling them a "trend."
"Every year, things kind of go in cycles," Smart said. "For us the new cycle is uptempo, fast-paced offenses, which you have to adjust; you have to adapt to it. We've studied a lot of teams in the offseason. A lot of NFL teams have come here to study fast tempo and running quarterbacks, which is kind of the new trend going forward. So we've been able to study with those guys for any ideas. Try to create ways to give them negative plays.
"There's an upside and a downside to fast tempo. Because when teams go fast tempo, there's a lot of things they can't do at the line. We try to create an advantage for us by being able to give them negative plays, and I think if we can do that, it can hurt them with their uptempo."
It's no secret that the best way to slow a tempo offense is to stop it altogether. Make it go three-and-out and you need not worry about the next play. But what happens when teams such as Ole Miss move the chains is scary to defensive coordinators such as Smart: Everything speeds up. Players get tired, play calls get fumbled and mistakes are inevitably made. Suddenly
Bo Wallace
has the football and before your secondary knows if they're in cover-2 or man-to-man, he's found
Donte Moncrief
in the open field for another big gain. The chains move and one of oldest cliches in sports hits you over the head -- momentum.
There's no stopping momentum, but Smart would like to see referees play a role in slowing it down. He called for referees to do a better job of catching when the offense substitutes players.
"If they don't substitute, obviously we cannot substitute," he said. "We'll get caught with 12 on the field, which happened to us once last year. ... If they exchange receivers, one guy runs on one guy runs off, that allows us -- we can change 11 people if we wanted to. But again, that's not always caught by the official."
The issue of substitutions is key to Alabama's success on defense. Though Saban has scoffed at describing his defense as complex in the past, players and recruits consistently say how difficult it is to master. Ask opposing coaches and they'll agree: It's the complicated nature of Alabama's defense that makes it so difficult to succeed against. The coverage is usually disguised, as are blitzes. Watch the 2011 BCS National Championship and you'll see just how confused
Jordan Jefferson
is under center. At one point he flees the pocket and flips the ball underhanded to linebacker
C.J. Mosley
for an easy interception.
Now a senior, Mosley's focus has turned to creating a similar sense of confusion for no-huddle offenses. Preparation, he said, will be vital.
"The only thing a fast-paced offense does is simplify the defense," he said.
But if simplicity is the enemy of complexity, won't that take away what makes Alabama's defense so special?
"That's why we have Coach Saban and Coach Smart," Mosley answered matter-of-factly. "If they want to get fast-paced, we'll make certain calls where we aren't as technical as we usually would [be]."
Confidence is in no shortage in Tuscaloosa, which makes sense given Alabama's historic string of top-five defenses that goes back to 2008. Last season Alabama finished No. 1 in the country in defense, giving up 250 yards per game.
Big or small, Smart said Alabama is going to do what it's always done on defense.
"You can't lose sight of defeating blocks," he said, "whether it's in space or not, tackling people, which we have to do every game. So certainly we've tried to become athletic, but we'll never leave our true motto, which is [to] be bigger and more physical than everybody we play and try to out-physical them at the point of attack. Because at every play there is a point of attack. It may be wider, it may be tighter, but there is a point of attack."
February, 22, 2013
2/22/13
10:14
AM ET
Several of RecruitingNation's SEC sites took a look this week at the players headed to the NFL combine, which begins today in Indianapolis, and other predraft camps. Click here to read
the entire predraft series
.
Today: Defensive backs and special teams.
It's hard to imagine that the Alabama secondary in 2011 yielded five NFL prospects.
Mark Barron
,
Dre Kirkpatrick
and De'Quan Menzie were all drafted a year ago. Dee Milliner and Robert Lester stuck around and won one more ring before hanging it up in 2013.
November, 16, 2012
11/16/12
3:21
PM ET
Before this season, Houston Lamar safety
John Bonney
already possessed an offer from his father's alma mater, Houston. This week, the 2014 prospect received one from his mother's, LSU.
[+] Enlarge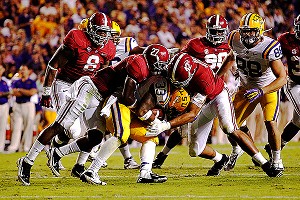 AP Photo/Bill Haber2014 safety John Bonney enjoyed his visit to LSU for the Alabama game.
The six-foot, 175-pound rising star got the news of the LSU offer on Thursday from his head coach at Lamar, Tom Nolen. It was met with excitement from Bonney, who came into the season with offers from Baylor, Houston and SMU.
"I was kind of surprised at first," Bonney said. "I didn't expect anything coming but it was pretty good and I was happy. It's great."
November, 12, 2012
11/12/12
8:33
AM ET
An analysis of three key plays in Alabama's 29-25 loss Saturday to Texas A&M:
Johnny Football's first foray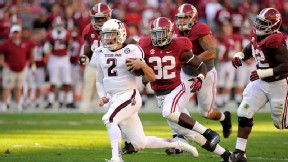 John David Mercer/US PresswireTexas A&M quarterback Johnny Manziel was able to break containment far too often in the first half.
The score:
No score, 12:12 remaining in the first quarter
The situation:
Second-and-7 from the Alabama 43-yard line
To continue reading this article you must be an Insider
November, 11, 2012
11/11/12
9:00
AM ET
TUSCALOOSA, Ala. -- A look at the good and the bad from No. 1 Alabama's 29-24 loss to No. 15 Texas A&M at home on Saturday night.
THREE UP

1. Rushing attack:
When Alabama needed it most, the running game came through. With Texas A&M ahead big in the first quarter and the Alabama offense seemingly lost, coach Nick Saban and offensive coordinator turned to the running game. Alabama pounded the ball one play after another with
Eddie Lacy
and
T.J. Yeldon
to get its first touchdown of the game and continued to work off the run to score again before halftime.
To continue reading this article you must be an Insider
November, 10, 2012
11/10/12
8:00
PM ET
Down goes No. 1.
The defending BCS champions and the nation's top-ranked team, the
Alabama Crimson Tide
were upset by No. 15 Texas A&M
29-24
on Saturday at Bryant-Denny Stadium.


The Aggies jumped out to a 20-0 lead behind their high-powered, up-tempo offense and a strong defensive start and hung on in the second half, never relinquishing the lead even when it appeared the Crimson Tide were on the verge of going ahead. Let's take a look at the high points from the thriller:
It was over when:
Alabama linebacker
Tyler Hayes
committed a neutral-zone infraction when the Aggies were lining up to punt it away to the Crimson Tide with 40 seconds left. The penalty gave Texas A&M a first down and the Aggies took a knee to seal the win, as the Crimson Tide had no timeouts to stop the clock.
Game ball goes to:
Johnny Manziel
. Really, you could give it to a lot of guys (the Aggies' offensive line, senior receiver
Ryan Swope
and the defense made some big plays) but Manziel is the straw that stirred Texas A&M's drink -- and has all season. He finished 24-of-31 passing for 253 yards, 2 touchdowns and, most importantly, zero interceptions. He also made plays with his feet, rushing for 92 yards on 18 carries (he has now surpassed 1,000 rushing yards on the season). He took care of the ball, made good throws, extended plays and played about as well as you can expect a redshirt freshman to in that environment.
Key stat: 3-0.
The turnover margin. Alabama quarterback
AJ McCarron
threw two interceptions, including one on the Crimson Tide's final offensive drive, and the Tide also fumbled once when
T.J. Yeldon
coughed it up at the Aggies' 38, killing a potential scoring drive. The Aggies scored on the ensuing drive to take a 29-17 lead. The Aggies' loss to LSU on Oct. 29 was marred by five turnovers. This time, they flipped the script.
Key play:
Sophomore cornerback
Deshazor Everett
's interception with 1:36 to go. On fourth-and-goal from the 2 and needing a touchdown, McCarron tried to hit receiver
Kenny Bell
on a short out route near the pylon, but Everett stepped in front of Bell and intercepted the pass to get the ball back for the Aggies and kill the Crimson Tide's drive.
What it means:
The Crimson Tide's (9-1, 6-1 SEC) BCS Championship Game hopes took a huge hit with this loss. Three teams -- Oregon, Kansas State and Notre Dame -- could remain undefeated after their games on Saturday night and jump Alabama in the BCS standings. And on the flip side: Welcome to the SEC, Texas A&M. Many wondered whether the Aggies could compete in the SEC when they made the move to the country's premier football league. Not only have the Aggies (8-2, 5-2) shown they can compete, they've shown they can beat the best teams the league has to offer. Kevin Sumlin has this team peaking, and it could jump into the top 10 with this win. It's definitely a new era in College Station, Texas.
And this could also be a formal introduction into the Heisman Trophy race for Manziel.
November, 8, 2012
11/08/12
9:17
AM ET
TUSCALOOSA, Ala. -- No. 1 Alabama returns home Saturday afternoon to Bryant-Denny Stadium to face No. 15 Texas A&M. The Tide (9-0, 6-0 SEC) lead in their series with the Aggies 3-1, the last game a 33-10 win by UA in 1988 in College Station, Texas.
Here are five storylines for the game ...
1. Deflate Johnny Football:
Johnny Manziel
is the key to Texas A&M's high-powered offense. Whether it's his arm or his legs, the Aggies go with him. His ability to prolong plays with his feet and get the ball into the hands of his playmakers are key to his team's success. The freshman is No. 2 in the country in total offense, accounting for 383 yards per game.
To continue reading this article you must be an Insider
November, 8, 2012
11/08/12
8:46
AM ET
In advance of Saturday's game between the No. 1-ranked Crimson Tide and the No. 15-Aggies, Texas A&M beat writer Sam Kahn Jr. spoke to TideNation about the matchup and what Kevin Sumlin's team will have to do to be successful in Bryant-Denny Stadium:
Scarborough:
Texas A&M has made the transition to the SEC look easy despite a complete overhaul of the coaching staff and a rookie quarterback under center. How has Kevin Sumlin gotten the Aggies to this point and how much of that success is credited to
Johnny Manziel
?
Kahn:
The early success I think is helped in part by the fact that while the coaching staff is completely new, a large chunk of the staff is familiar with each other. Sumlin hired most of the offensive staff he had at Houston over at Texas A&M, strength coach Larry Jackson, as well as a few other staff members that worked with him there, so that continuity has helped. Offensive coordinator Kliff Kingsbury is a rising star in the coaching ranks and I think there's little doubt that he'll be a head coach of his own in the future. The hire of Mark Snyder as the defensive coordinator has paid huge dividends as Snyder and his staff have done a really good job getting that side of the ball to play above expectations, despite limited depth in a few areas. Manziel no doubt has been a big part of the success. If he was playing like you might expect a redshirt freshman to play, I don't think there's any way they're 7-2 right now. But he has taken care of the ball (mostly), made some amazing plays and the confidence that has combined with his ablity and the personality fit with Kingsbury has been huge for the offense. And I don't think it can be overlooked that the strength of the team, personnel-wise, is the offensive line, which is critical in SEC play. That unit has been stellar for most of the season.
October, 19, 2012
10/19/12
3:05
PM ET
ROSENBERG, Texas -- ESPN 150 tight end
Derrick Griffin
wasn't too busy on Thursday night as he and his Rosenberg (Texas) Terry teammates cruised to a 30-0 win over Bay City (Texas) High School. Griffin, who caught three passes, made them count, as two of them were for touchdowns.
[+] Enlarge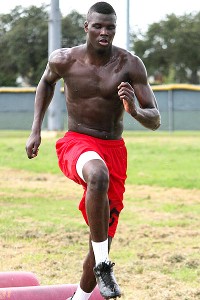 Sam Khan Jr./ESPN.comTexas A&M commit Derrick Griffin, the top 2013 TE prospect, said he's still looking at other schools.
Lining up at receiver for the Rangers, Griffin works hard to stay focused and stay involved for his team, which operates in a run-heavy offense and was playing its third-string quarterback Thursday because of injuries to the first two sustained early in the season.
But when his time comes, Griffin is ready to deliver.
To continue reading this article you must be an Insider
August, 2, 2012
8/02/12
1:35
PM ET
The impact that Texas A&M's membership in the SEC has had on recruiting is noticeable. The Aggies currently have a whopping 27 commitments in their 2013 recruiting class even though fall practice hasn't even started for Texas high schools. Many of the Aggies' commitments have said that the SEC membership is among the top reasons they chose Texas A&M.
To continue reading this article you must be an Insider
Scout's Take: Atlanta Opening Regional
SEC SCOREBOARD
Thursday, 9/3
Saturday, 9/5