Alabama Crimson Tide:

Phillip Ely
May, 5, 2014
5/05/14
12:00
PM ET
A look at what's happening around the SEC:
June, 7, 2013
6/07/13
8:00
AM ET
MOBILE, Ala. --
Phillip Ely
was never really in the race to become the starting quarterback for the
Alabama Crimson Tide
in 2014. If he had, he never would have transferred to Toledo in the offseason.
UA coach Nick Saban's comments indicated as much at an event in Mobile, Ala., last week. Though he called Ely a "good player" on and off the field and a good clubhouse guy, it was clear that he wasn't the type of athlete who could take over for
AJ McCarron
and start in the SEC. As the co-No. 2 quarterback with
Blake Sims
last season, Ely attempted just four passes in six games.
March, 8, 2013
3/08/13
7:00
AM ET
Editor's note: From now until the start of spring camp on March 16, TideNation will count down the 12 most intriguing players to watch on the Alabama football roster. Today we look at quarterback Alec Morris.
TUSCALOOSA, Ala. -- When spring practice begins next Saturday and six scholarship quarterbacks trot out to the center of the football field, the competition will officially begin. Only starting quarterback
AJ McCarron
knows where he'll be Week 1 of the season against Virginia Tech. The rest of the depth chart is a mystery.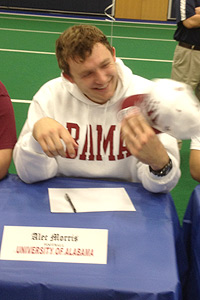 Jeff Andrews/ESPNDallas.com Alec Morris might be the favorite to take over for AJ McCarron as Alabama's quarterback in 2014.
Phillip Ely
and
Blake Sims
backed up McCarron during the 2012-13 season, but whatever returns they delivered were mixed at best. Head coach Nick Saban and offensive coordinator Doug Nussmeier seemed reluctant to turn to the pair. When Alabama led Notre Dame by four touchdowns in the national championship game and the outcome was a virtual lock, McCarron stayed under center rather than yield to his backups and avoid injury.
Ely, a traditional drop-back passer in his second season at Alabama, attempted just four passes in three games. Sims, a threat almost primarily as a runner in the read-option game, threw only 10 times. Experienced, the two are not. And there were many opportunities for them to come on late in games. Alabama averaged a 23.3-point lead after halftime in its 13 victories. The average score by the fourth quarter was Alabama 30, Opponent 7.
On signing day, Saban made it clear the battle to become Alabama's next quarterback after McCarron leaves is already underway. Seniority is no matter, he said. The best indication of who it might be will come this season, when a backup is named.
February, 21, 2013
2/21/13
6:00
AM ET
TUSCALOOSA, Ala. --
AJ McCarron
has turned into a bit of an elusive figure on the University of Alabama campus. He's everywhere to be seen and nowhere to be reached.
"I've seen him around," said early enrollee
Parker McLeod
, one of three freshman quarterbacks Alabama welcomed in January. "I haven't really gotten a chance to talk to him. He's been busy."
Winning back-to-back national championships and developing into one of college football's best quarterbacks will do that. Publicly dating a supermodel pushes McCarron well into the threshold of celebrity, past the occasional television spot into the realm of obscure media reports on his parking habits.
[+] Enlarge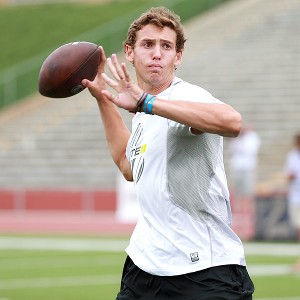 Tom Hauck for ESPN.comCooper Bateman (above) is looking forward to learning from AJ McCarron.
Cooper Bateman
, the former No. 3-ranked passer in the 2013 class, said he hasn't had the opportunity to talk with McCarron much since arriving on campus. When he did, he got a taste of what it was like to be the quarterback at Alabama.
"AJ's on a whole other level," Bateman explained. "He's a celebrity around here.
"But I had the chance during the [championship celebration] parade, we were walking down University and everyone, I mean everyone, is yelling his name over everything. I just asked him if he ever gets used to it. And he said, 'If you have the opportunity you're going to love it. It's the best four or five years of his life.' "
Alabama head coach Nick Saban told Bateman what it would be like to be the quarterback of the Crimson Tide -- on the field.
"When Saban recruited me from the very start, he said we're looking for someone to come in here, learn the offense, know it inside and out so you can manage the game out there on the field," Bateman said. "When you get out there, you don't even need coaches, because you're so well prepared and knowing what you need to do out there."
Bateman, McLeod and preferred walk-on Luke Del Rio might have to wait a few more weeks to get an audience with McCarron, but the time is coming. Spring practice is right around the corner.
McLeod, a former three-star prospect from Georgia, said he's anxious to begin learning under the All-American and All-SEC quarterback.
"He's an outstanding quarterback, one of the best in the country," McLeod said of McCarron. "So I'm really looking forward to spring practice to pick his mind a little bit."
January, 22, 2013
1/22/13
5:45
AM ET
Editor's note: Every Tuesday and Thursday between now and national signing day, TideNation will review each position and look at who figures to start, who could rise up the depth chart and who might be on the way. Today we'll look at the quarterbacks.
TUSCALOOSA, Ala. --
AJ McCarron
could have said he'd had enough. The junior quarterback for the Alabama Crimson Tide could have looked back on a mesmerizing season in which he set school records, led the country in passing efficiency and won the national championship, and said he'd done all he could. He could have declared for the NFL draft and left nothing unfinished in Tuscaloosa. Back-to-back titles would leave little for fans to gripe about.
To continue reading this article you must be an Insider
January, 18, 2013
1/18/13
7:00
AM ET
Editor's note: The season is over and the Alabama Crimson Tide are national champions yet again. But what happens next? TideNation examines the most pressing storylines of the offseason as the Tide gear up for another title defense.
TUSCALOOSA, Ala. -- Spring practice is roughly two months away. The start of another Alabama title defense is right around the corner.
Nine early enrollees are already on campus. The offseason conditioning program is in full swing. Rest assured Scott Cochran, the Crimson Tide's raucous strength and conditioning coach, has put the 2012-13 championship to bed. Inside the football offices, the page has been turned. The time for competition is now.
With that in mind, let's break down the four most intriguing position battles set to unfold over the coming months.
To continue reading this article you must be an Insider
January, 12, 2013
1/12/13
6:00
AM ET
Editor's note: The season is over and the Alabama Crimson Tide are national champions yet again. But what happens next? TideNation examines the most pressing storylines of the offseason as the Tide gear up for another title defense.
TUSCALOOSA, Ala. -- It's the "What if?" no Alabama fan wants to consider: What if
AJ McCarron
went down with a serious injury? What if he was gone for two or three games? What if the injury were so egregious he had to be sidelined for an entire season? Who would be the starting quarterback then?
To continue reading this article you must be an Insider
September, 12, 2012
9/12/12
12:23
PM ET
University of Alabama coach Nick Saban took to the SEC teleconference Wednesday morning to talk about facing an Arkansas team looking to recover from last weekend's loss to unranked Louisiana Monroe. He spoke about the Razorbacks' quarterback situation and what the Tide should prepare for to come away from Fayetteville, Ark., with a a win:
[+] Enlarge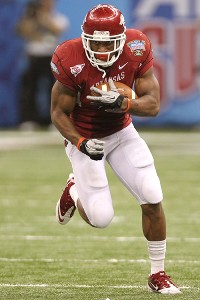 Matthew Emmons/US PresswireNick Saban said his team respects Arkansas' run game, which is led by Knile Davis.
Opening statement:
"It's always exciting to start SEC play. I think our players were really looking forward to it. We have a tremendous amount of respect for Arkansas' team. They're probably one of the best teams in our league, one of the best teams in the country. We're certainly going to have to play up to our abilities to have a chance to be successful, especially on the road."
On AJ McCarron unhappiness with his own performance:
"AJ is somewhat of a perfectionist, but most good players are because they're never really satisfied with their performance. They know they've never really arrived. They know there's something they can do better. I think in our case AJ is probably pointing to the fact that there are things we need to improve on in every aspect of our team."
Why he kept McCarron in so long against WKU and why Blake Sims came in, not Phillip Ely:
"We do have a competition at the backup quarterback position and Blake is making a lot of progress and doing a good job and going to continue to try to develop both those guys. ... There was 8 or 9 minutes to go in the game and we're ahead 28-0 and not really playing really well on offense, so I think that's the reason we were trying to put a drive together and get some continuity coming out of the game."
August, 21, 2012
8/21/12
12:59
PM ET
When Phillip Sims transferred from the University of Alabama at the conclusion of spring practice,
Alec Morris
was still finishing high school and preparing for his graduation at Allen High School in Texas.
Morris, a three-star recruit who signed with the Crimson Tide in February, knew he had an opportunity to compete for the No. 2 quarterback job at Alabama as a true freshman.
"I think there was an initial excitement and then an initial, 'Oh crap,'" Allen offensive coordinator Jeff Fleener said. "Alec is an extremely mature kid for his age, and he really just took it all in stride. He's very confident in what he can do. There's no doubt that he has the physical skills and the physical stature to do it. He just has to do the homework now."
To continue reading this article you must be an Insider
August, 18, 2012
8/18/12
2:48
PM ET
TUSCALOOSA, Ala. -- The University of Alabama got in full pads and headed to Bryant-Denny Stadium for the second scrimmage of fall practice on Saturday afternoon.
Despite threatening conditions, the Crimson Tide will stay in the stadium for the roughly two-hour scrimmage.
Here are some notes and observations from the media viewing period of practice:
Freshman wide receiver Chris Black was in shorts, a T-shirt and a sling on Saturday. The Florida native had shoulder surgery and will be out for 3-4 months. He walked stairs during the media viewing period.
For the second consecutive day, Amari Cooper was nowhere to be found at practice. The standout freshman wide receiver didn't participate in drills on Friday. There has been no explanation given for his absence.
To continue reading this article you must be an Insider
May, 9, 2012
5/09/12
11:38
AM ET
BIRMINGHAM, Ala. -- While the news of
Phillip Sims
' departure from the University of Alabama football program two weeks ago wasn't exactly earth shattering with whispers of his transferring for some time, it did leave the cupboard somewhat bare at quarterback for the Crimson Tide.
[+] Enlarge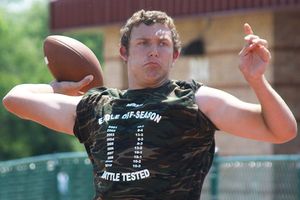 Travis L. Brown/ESPNDallas.com Freshman Alec Morris will be in the mix for the No. 2 quarterback job in 2012.
Sims, who competed with
AJ McCarron
throughout the fall for the starting spot and later succumbed to a backup role, saw action in eight games in 2011 and provided a firm safety net if McCarron ever were to go down. The 6-foot-2, 211-pound righty had all the tools coaches look for in a quarterback -- tall and sturdy in stature with a strong throwing arm -- coming out of high school in Chesapeake, Va., ranked as the No. 1 quarterback in the ESPN 150.
"Phillip Sims did a wonderful job for us," UA coach Nick Saban said at a speaking engagement in Birmingham on Tuesday afternoon. "He's a fine young man. He did a great job in our program. We hate to see him go, but at the same time I understand there's a lot of personal things, illnesses in his family. ... We're going to be very supportive of him in his future and hope he does extremely well."
April, 5, 2012
4/05/12
3:40
PM ET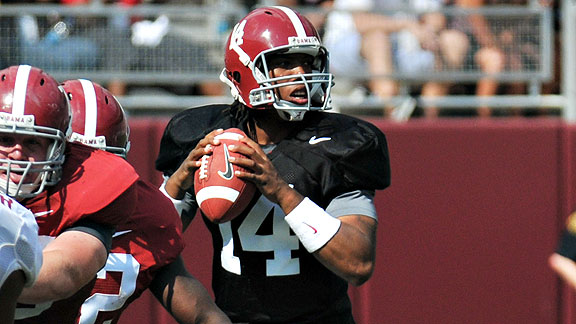 David Brown/Icon SMIIf Tide quarterback Phillip Sims gets healthy, he might be the backup to AJ McCarron.
TUSCALOOSA, Ala. -- Over the course of 13 games and four months,
AJ McCarron
went from climbing a depth chart to climbing a podium to lift up the BCS Championship game trophy.
Of the Crimson Tide starters, McCarron was one of the few without experience heading into the 2011 season. By the time all was said and done, though, he gained experienced and a reputation as a leader beyond his underclassman status.
To continue reading this article you must be an Insider
Tessitore assesses candidates in SEC West
SEC SCOREBOARD
Thursday, 9/3
Saturday, 9/5