Alabama Crimson Tide:

Missouri Football
October, 13, 2012
10/13/12
5:55
PM ET
COLUMBIA, Mo. -- No. 1 Alabama made itself at home in its first trip to Columbia in more than 30 years, jumping out to a 28-7 lead by halftime at a rain-soaked Faurot Field.


Stat of the half:
The only thing that could halt Alabama's romp of Missouri in the first half? The weather. Lightning delayed the game 40 minutes.
Player of the half:
Bama's junior tailback took the handoff on the second play from scrimmaged and went 73 yards for the score. He ended the half with 143 yards and two touchdowns on 10 carries.
What's working for Alabama:
The Tide have beat Missouri at the point of attack from the opening snap. The running game has been punishing and the UA defense has been brutal, knocking Missouri quarterback
Corbin Berkstresser
to the ground time and time again.
What's not working for Alabama:
The weather got the best of the Crimson Tide as
AJ McCarron
,
Eddie Lacy
and
Cody Mandell
fumbled the ball. McCarron's fumble on the Missouri 19-yard line was his first turnover inside the red zone in his career.
October, 11, 2012
10/11/12
10:00
AM ET
TUSCALOOSA, Ala. -- The break is over. It's back to SEC action for the No. 1-ranked Alabama Crimson Tide on Saturday when they travel to Columbia, Mo., to face the league upstart Missouri Tigers.

The Tigers are still looking for their first SEC win after dropping a close one to Vanderbilt last weekend. Welcoming Alabama to Faurot Field won't be the easiest way to accomplish that. On Wednesday, coach Gary Pinkel had nothing but praise for the Crimson Tide, calling Alabama a team with "no weaknesses."

At 2:30 p.m. CT on Saturday, Pinkel and his staff will try to find something to exploit, but the search could be difficult.
October, 11, 2012
10/11/12
8:00
AM ET
E.J. Gaines
is sick of the questions about playing in the SEC. Missouri's standout defensive back has heard enough. It's been 103 days since the Tigers officially became full-fledged members of the conference and the transition hasn't occurred without scrutiny.
"I am tired of that question," Gaines said with a laugh. "But it is what I expected. It's fun. It's intense. You play great teams each week."
[+] Enlarge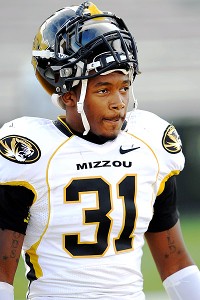 Jerome Miron/US PresswireMissouri cornerback E.J. Gaines expects his Tigers to give Alabama a tough challenge on Saturday.
The Tigers are 0-3 in their inaugural season as SEC members, losing games to South Carolina, Georgia and Vanderbilt. The SEC has seven ranked teams, while Missouri's former conference, the Big 12, has just four.
To continue reading this article you must be an Insider
October, 10, 2012
10/10/12
9:39
PM ET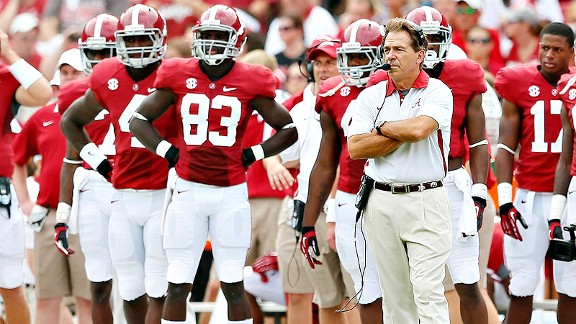 Kevin C. Cox/Getty ImagesMissouri's no-huddle offense is going to make it important for Alabama coaches and players on the sideline to relay plays and personnel into the game quickly.
TUSCALOOSA, Ala. -- Playing against no-huddle offenses has become almost the norm in college football, much to the chagrin of Alabama coach Nick Saban, who wondered aloud last week whether the NCAA should consider legislation to slow down the pace of the game.
The inability to substitute, he said, caused issues for the defense and could lead to injuries.
"It's obviously created a tremendous advantage for the offense when teams are scoring 70 points and we're averaging 49.5 points per game with people who do those kinds of things, so more and more people are going to do it," he said. "I just think there has to be some sense of fairness, in terms of asking is this what we want football to be?"
The comments came on the heels of a 33-14 win over Ole Miss. It was the first game since the season opener where the Alabama defense gave up two touchdowns, both on drives where the Rebels pushed the tempo and got the Tide out of position in key moments.
This week, Alabama gets more of the same. Missouri comes calling on Saturday with its no-huddle spread attack.
"You know we play against no-huddle all the time, and I think it's just a part of the world that we live in now," Saban said. "I think the more you play against it the more your players sort of develop a conscious awareness of how they need to focus and what they need to do to play that pace in the game."
October, 10, 2012
10/10/12
1:06
PM ET
Alabama coach Nick Saban took to the SEC's weekly teleconference on Wednesday morning to talk about how his team is handling the return from the bye week. He touched on preparing for Missouri, his ties to coach Gary Pinkel and the random nature of college football.
[+] Enlarge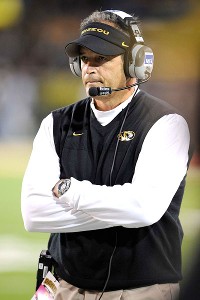 Jerome Miron/US PresswireMissouri coach Gary Pinkel and Nick Saban have known each other since their playing days.
1. Challenging Tigers
Coming back from a bye week is never easy. For the players, it amounts to a short vacation. For coaches, that means reining the players back in and reminding them of the challenge ahead.
So far, Saban said he's been pleased with his team's focus heading into a road test against Missouri on Saturday.
"Missouri is certainly a very challenging team to prepare for," Saban said. "They do a great job defensively with the pressures, stunts. Offensively, they're one the most different teams we play against, in terms of their style of offense.
"This a very well coached team and this is going to be a challenging game for us on the road."
2. Ties with Gary Pinkel
The relationship between Saban and Missouri coach Gary Pinkel has been well documented. Both played at Kent State together and both coached alongside one another as graduate assistants. In fact, it was Saban who recommended Pinkel for the head coach's position at Toledo, where he coached from 1991-2000.
"Gary was always a really smart guy, a great person, had great character, a really good competitor," Saban said. "When we both became GAs, it became evident to me that he could be a really good coach, so it's no surprise to me he's been an outstanding coach for a number of years."
Saban said he and Pinkel were fortunate to play and coach under Kent State's Don James. There are imprints of James' coaching style at both Alabama and Missouri.
"It certainly helped me in our systematic approach to how we do every part of our program," Saban said.
3. Unpredictability of college football
LSU lost in The Swamp. Georgia fell in startling fashion to the Gamecocks. Missouri let its first SEC victory slip away to a one-win Vanderbilt team.
For a team that Saban said doesn't remember losing to South Carolina, Auburn and LSU in 2010, weekly upsets around college football serve as a reminder that anything can happen.
"They don't play their best football, anybody is capable of beating you on any day," Saban said. "You control that. You control your accountability to doing things the right way."
Like any ranked team, the test is how you battle expectations.
"It's always a challenge for all of us to focus on the things they can control, which is basically what they do on the field," he said. "… It's sort of don't let the external factors effect who you are.
"It's human nature to be effected by that so you have to fight it a little."
October, 9, 2012
10/09/12
9:41
PM ET
TUSCALOOSA, Ala. --
Sheldon Richardson
got the attention of the college football world when he called Georgia's style of play, "Old-man football."
Missouri's star defensive lineman continued: "If we execute, nobody in this league can touch us. Period."
That was before Missouri got its first taste of SEC play and Richardson was forced to eat his words. The Tigers were blown out by Georgia 41-20 and haven't won either of their two league games since, losing by three touchdowns to South Carolina and a 19-15 heartbreaker to Vanderbilt last weekend.
Richardson, for his part, apologized to Mark Richt and has been mum on the subject since. But what the 6-foot-4, 295-pound junior has done on the field has spoken volumes to Alabama quarterback
AJ McCarron
, who pointed him out as a player to watch when the two teams meet on Saturday afternoon in Columbia, Mo.
"They've got some good guys," said McCarron, sizing up the Missouri defense that's totaled 15 sacks and 53 tackles for loss this season. Richardson is tied for second on the team with three sacks. "[Richardson] is a pretty good ball player. But I think they play very good, sound defense as a whole. I think everybody knows what they're supposed to do. They do it well. Force you to make plays to beat them. They're not gonna beat themselves."
McCarron said the defense is "sound in what they do" and, "they make you move the ball down the field.
"They're a good defense."
Opponents have tried to slow down Alabama's offense in recent games by putting eight men in the box to try to stop the running game and pressure McCarron when he drops back to pass. In turn, Alabama has attempted more short passes, and subsequently fewer deep shots down the field.
Alabama didn't complete a single pass of more than 20 yards against Ole Miss two weeks ago, but it's not anything that has McCarron worried.
October, 8, 2012
10/08/12
3:32
PM ET
TUSCALOOSA, Ala. -- As he's done all season, Nick Saban continued to guard his Alabama Crimson Tide against an upset. He could have stepped to the podium on Monday and not said a word and gotten his point across.
But that's not his style.
[+] Enlarge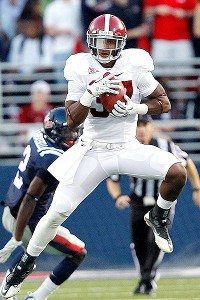 Butch Dill/Getty ImagesRobert Lester believes the bye week came at a perfect time for the Tide.
With the weekend off, Saban spent Saturday taking notes. No. 4 LSU lost to No. 10 Florida in dramatic fashion. No. 5 UGA was exposed No. 6 South Carolina. Even Missouri got tripped up on the road by the previously 1-3 Vanderbilt Commodores. No one was safe.
"The teams that most of you in this room make head and shoulders above other teams, obviously showed you this last weekend how badly you can be mistaken," Saban said in his opening remarks. "I know I can be mistaken and get criticized, but you guys are badly mistaken when you make teams that are like so much better than everybody else. This weekend kind of proved that your predictability is not very good.
"What it proved is the only thing predictable about college football is its unpredictability."
It wasn't quite the tirade of a month ago when Saban criticized the media for overlooking Western Kentucky -- a team the Tide beat 35-0 -- but the message was the same.
"The key to the whole thing is consistency in performance, having a group of players that are committed to doing the things they need to do to play the game at a high standard and a high level all the time regardless of the circumstance or situation," Saban said.
No one need go on radio or television to put the No. 1-ranked Crimson Tide on upset alert. Saban and the coaching staff have that job covered.
"This bye week was perfect timing," said senior safety
Robert Lester
. "It gave the younger guys a chance to look at other teams and other great teams and them not bringing their A game to the game and actually lose a game, maybe they learn a lesson while not actually going out there and learning a lesson and it costing us."
October, 7, 2012
10/07/12
11:37
AM ET
TUSCALOOSA, Ala. -- In the wake of No. 1 Alabama's bye week, a look at the good and bad from Alabama's six remaining conference opponents.
THREE UP
1. Mississippi State:
Who would have thought that Mississippi State would be tied atop the SEC West with Alabama through five games, and not LSU? Those who paid attention to the Bulldogs' schedule might have considered it.
To continue reading this article you must be an Insider
June, 26, 2012
6/26/12
7:40
AM ET
Each week at TideNation we will speak with a writer who covers one of Alabama's 2012 opponents. Today we spoke with Dave Matter, who covers all things Missouri for the Columbia Daily Tribune. He's the co-author of The Mizzou Fan's Survival Guide to the SEC.
Question: It's the place everyone starts and I'll be no different: How do you see Missouri's transition to the SEC going in Year 1?
[+] Enlarge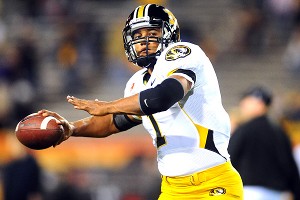 Mark J. Rebilas/US PresswireIf Missouri QB James Franklin gets fully healthy, SEC defenses will be challenged.
Matter:
Missouri has the roster to compete in 2012, especially in the Eastern Division. Having a returning starting quarterback is crucial assuming
James Franklin
will be fully recovered from shoulder surgery he underwent in March. The Tigers return enough first-team talent and experience on both sides of the ball to compete with the best teams in the SEC East, —but I''m not convinced they have the depth to win the division while going through the grind of the SEC schedule. There will be some adjustments against the typical style of offense in the league, but Missouri has historically played better against physical, run-first, pro-style offenses, on the rare occasion it faced that kind of attack in the Big 12. Texas would be the best example of late, and MU had its best defensive game of the year last season against Texas.
To continue reading this article you must be an Insider
June, 26, 2012
6/26/12
7:30
AM ET
The rundown
2011 record:
8-5
2011 conference record:
5-4
All-time against Alabama:
2-1
To continue reading this article you must be an Insider
Alabama Dismisses Jonathan Taylor
SEC SCOREBOARD
Thursday, 9/3
Saturday, 9/5