February, 27, 2014
2/27/14
9:00
AM ET
TUSCALOOSA, Ala. -- When Nick Saban was introduced as the head football coach at Alabama on Jan. 4, 2007, he mentioned recruiting some 10 times. Building the program from the ground up, Saban told reporters at the news conference that, "First of all, you got to have good players. You got to recruit well."
And ever since, Alabama has been the pre-eminent recruiting powerhouse in college football. Saban's first signing class wasn't spectacular -- he had only weeks to work with -- but from 2008 on, he's never had a group of signees that didn't rank among the top three in the country, according to ESPN.
On Feb. 5, Saban and his staff wrapped up their third consecutive No. 1-ranked recruiting class, signing one-third of all five-star prospects and 19 ESPN 300 recruits. Depending on how it plays out, the 27-man class could go down as the best in Alabama history.
But that's a matter for another day. This week, we're counting down the three most impactful recruiting classes of Saban's tenure at Alabama, not including the Tide's most recent class.
[+] Enlarge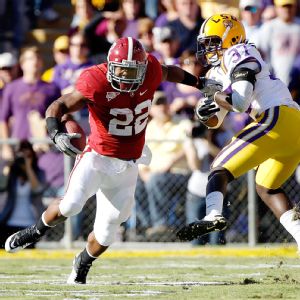 Chris Graythen/Getty Images2009 Heisman Trophy winner Mark Ingram was part of a 2008 class that helped make Alabama a top destination for high school recruits.
No. 2 on our list wasn't the highest ranked class in Alabama history. It wasn't even the No. 1- or 2-ranked class in the country that year. But to Saban, the 2008 signing class remains the most special.
"They had great team success here, won a national championship and came here when this was not the sexy place to be," Saban said. "We were 7-6. So I guess that class is the one that's closest to my heart because those guys bought in when they just believed that we were going to be able to be successful and they could make a great contribution to helping us be successful."
The stars:
Alabama wasn't "sexy" in 2008. But it was about to be. By signing players such as
Courtney Upshaw
,
Mark Ingram
,
Julio Jones
,
Barrett Jones
,
Marcell Dareus
and
Mark Barron
, Saban brought the sizzle back to Tuscaloosa. Julio Jones was, by far, the star of the class as ESPN's No. 2 overall player. The 6-foot-4, 215-pound athletic dynamo became an All-American receiver and first-round NFL draft pick with the Tide.
The contributors:
Robert Lester
was supposed to be the throw-in to land the commitment of Julio Jones. But the forgotten high school teammate developed into a three-year starter at safety for Alabama and even had significant playing time with the
Carolina Panthers
as a rookie in the NFL this past season. In addition to Lester,
Michael Williams
was a longtime starter at tight end and
Damion Square
was an unheralded anchor on the defensive line that won the national championship in 2011 and 2012.
The letdowns:
Tyler Love, all 6-foot-7 and 280 pounds of him, had all the earmarks of a future NFL offensive tackle. But the top-50 prospect never panned out at Alabama, leaving the program in 2010 without ever breaking into the starting lineup. Love wasn't the only miss, though, as uber-athlete Burton Scott transferred to South Alabama after appearing in just 15 games and heralded quarterback Star Jackson left for Georgia State after playing in five games as a redshirt freshman in 2009.
The results:
More than 10 players from Alabama's 2008 signing class went on to careers in the NFL. Four such signees were taken in the first round. But the lasting impact of the class, as noted by Saban earlier in this post, was the precedent they set. By choosing Alabama before the championships and before the nationwide fame, the class laid the foundation for years to come. Without the likes of Julio Jones and Ingram, Alabama might not have the reputation it has today. Saban needed to start with a bang in the 2008 class, and he did just that.
Alabama Dismisses Jonathan Taylor
SEC SCOREBOARD
Thursday, 9/3
Saturday, 9/5