Alabama Crimson Tide:

Mal Moore
April, 1, 2013
4/01/13
8:27
AM ET
We at the SEC blog want to express our deepest condolences to the Mal Moore family and everybody at Alabama over
Moore's passing Saturday
at age 73.
Moore was so much a part of that football program and athletic department and, really, one of the few remaining links at the university to Paul "Bear" Bryant.
His role in Nick Saban's hiring and jump-starting the Alabama football program back on track will forever be remembered by Crimson Tide fans.
On a personal note, two of my most enduring memories of Moore came right after Alabama won its first national championship under Saban, in 2009, and last season after Alabama won its third title in four seasons under Saban.
We were standing just outside the Alabama locker room at the Rose Bowl following the Tide's 37-21 victory over Texas, and somebody asked Moore if he felt like the $4 million a year contract that the university had given Saban was a good investment.
Moore beamed. "Hell yeah!" he said in his familiar drawl.
He then giddily offered that a statue of Saban would be going up on Alabama's famed Walk of Champions, just adjacent to Bryant-Denny Stadium.
Last season, an emotional Moore stood on the field at Sun Life Stadium in Miami following the Tide's 42-14 dismantling of Notre Dame and struggled to find the right words for what it meant to him and the entire Alabama family to be along for such a historic ride.
"It never gets old, and the best part is seeing all these great Alabama people soaking it all up," said Moore, his smile as wide as the gaping holes the Alabama offensive line punched in the Irish defense that night.
Seeing the immense pride draped across Moore's face in both of those instances is something I'll never forget.
His love for Alabama was legendary. The same goes for the way he so selflessly and humbly served his beloved alma mater for more than 50 years.
March, 30, 2013
3/30/13
4:18
PM ET
Reaction from Twitter on the
death of former Alabama athletic director Mal Moore
at age 73:
Coach Mal Moore will be missed so much. I love you coach & know you will be watching over us from above. We will always remember you #loveU

— AJ McCarron (@10AJMcCarron) March 30, 2013
I'm heartbroken about the loss of Mal Moore. Incredibly disappointing news.#RIPMal

— Greg McElroy (@GVMcElroy) March 30, 2013
Coach Moore was an ordinary man that accomplished extraordinary things… He was a great leader, a great person and a man of great character

— Carson Tinker (@carsontink) March 30, 2013
March, 21, 2013
3/21/13
2:34
PM ET

Not surprisingly, Alabama is bringing back one of its own to run the athletic department.

Not only that, but the Crimson Tide have turned to a former football coach to call the shots.

Why mess with a successful blueprint, right?

It certainly worked well with Mal Moore, who retired Wednesday to deal with health issues. Moore, 73, has a pulmonary condition and has been hospitalized at Duke University Medical Center since last week. On his watch, the Crimson Tide have put together an historic run in football with three national championships in the past four years.

Moore now turns over the keys to his beloved athletic department to one of his oldest friends and colleagues.

Alabama president Judy Bonner has recommended that Bill Battle, who played with Moore at Alabama under Paul "Bear" Bryant, replace Moore as Alabama's athletic director. The Alabama board of trustees will meet on Friday to finalize Battle's hiring.

Moore personally endorsed Battle, who was a three-year starter for the Tide from 1960-62.

There's also a bit of irony here. Battle was the head coach for seven seasons at one of Alabama's fiercest rivals -- Tennessee. Battle was only 28 when he landed the Tennessee gig and beat Bryant and Alabama in his first season with the Vols in 1970, but lost the next six. Four of those losses were by 17 points or more, and that losing streak to Alabama was a factor in Battle's ouster following the 1976 season.


March, 21, 2013
3/21/13
10:38
AM ET
TUSCALOOSA, Ala. -- The outpouring of support following Mal Moore's decision to step down as director of athletics at the University of Alabama on Wednesday told the story of his impact and reach in 50 years spent in and around college sports. Coaches at the university showed their support for the man who hired them and fellow athletic directors from SEC institutions said how important Moore was to their lives.
"I looked at Mal as the 'Rock of Gibraltar'. He was always even keel and very rarely did he get flustered," Texas A&M athletics director Eric Hyman said. "Mal always did what was right for University of Alabama, but he never lost sight that Alabama was in the SEC, therefore he constantly championed the importance of a strong conference."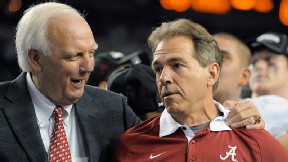 John David Mercer/USA TODAY SportsMal Moore, pictured here with Bama football coach Nick Saban after the SEC title game last year, has been a part of 10 national championship football teams as a player, a coach and an athletic director at the school.
Said Arkansas athletic director Jeff Long: "Mal Moore has left an indelible mark on the University of Alabama, much like Frank Broyles has done here at Arkansas, and the Crimson Tide Athletic Program has achieved tremendous success under Mal's leadership. I have enjoyed getting to know him and working with him over the past five years and appreciate the manner in which he welcomed me to the circle of SEC athletic directors."
The outpouring of praise even extended to Alabama's biggest rival.
"I have always had tremendous admiration and respect for Mal Moore both professionally and personally," Auburn AD Jay Jacobs said in a statement. "... Mal is a terrific leader and an even better man, and I am fortunate to call him a friend."
The loudest sentiments came, of course, from those Moore hired and nurtured at Alabama, many of whom have been responsible for building a legacy that spans five decades and 15 national championships.
"I cannot describe the positive impact that Coach Moore has had on my life and my coaching career," Alabama women's tennis coach Jenny Mainz said. "I respect Coach Moore for his successes as the Director of Athletics at the Capstone but more importantly for the character that he has demonstrated in his tenure while leading Alabama these past 10 years. His character, integrity and class are unmatched."
Said men's golf coach Jay Seawell: "I'm at the University of Alabama because of Coach Moore. I think Coach Moore is the heartbeat of Crimson Tide athletics. You can look at our athletics department as a whole, not just football, it has probably never been in better shape, from facilities to what has been accomplished on the field of play."
"Mal's biggest strength throughout his career as both a coach and an administrator has always been his love of Alabama," gymnastics coach Sarah Patterson said. "He has attracted great coaches to the Capstone and given them the tools to bring championships back to our campus."
Moore's biggest move was luring Nick Saban away from the Miami Dolphins. The Tide had a tumultuous string of football coaches prior to the hire, but Saban saw his vision.
"Coach Moore is somebody that I have a tremendous amount of respect for," Saban said. "First, for giving us the opportunity to come to the University of Alabama and the great job he did on selling us on this University and what could be done here."
And in the end, it was Moore's dedication that resonated with his colleagues at UA.
"He's a guy you can trust and he's been very supportive of our program," baseball coach Mitch Gaspard said. "He's been able to put his fingerprints all over this athletic department and the University of Alabama, not only through its success, but in how that success has been created."
"You don't meet many true giants in your life, but Coach Moore is a giant and a legend," head track and field coach Dan Waters said. "Maybe most importantly he is just such a good friend to everyone. He understood what we are trying to do and he always had your back. You could go to him with any issue or problem and he had usually been through it and could help you with it. A true coach's AD."
May, 8, 2012
5/08/12
12:06
AM ET
Mal Moore, who has presided over national and league titles in nearly every sport at the University of Alabama, will be inducted into the Alabama Sports Hall of Fame on Saturday. As a player and coach, he was part of seven national championships, 14 Southeastern Conference championships and 28 bowl games. He began his career as athletic director at UA in 1999.
[+] Enlarge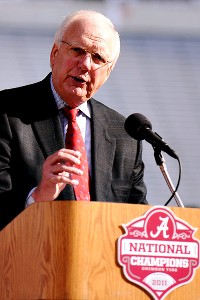 Kelly Lambert/US PresswireAlabama AD Mal Moore will be inducted into the Alabama Sports Hall of Fame on Saturday.
As athletic director, Moore was responsible for the hiring of current head football coach Nick Saban in 2007. The hire proved to be a watershed moment for the football program which has taken home two BCS titles in the past three seasons. Moore is the only individual connected with Alabama with the distinction of being a part of nine national championship teams (1961, 1964, 1965, 1973, 1978, 1979, 1992, 2009 and 2011) with the first coming as a player, the next six as a coach and the two most recent during his tenure as director of athletics.
"I'm very proud of where we are," Moore said in an interview with TideNation in late April. "I think we've represented the university in a very positive way. We have a lot of teams that are having success: both men's and women's golf are in the top five in that nation; softball is second in the nation right now; our women's tennis is seventh in the nation, the first time in our history they've been in the top 10; what Anthony Grant has done with the basketball team making the NCAAs I'm very proud; gymnastics with Sarah (Patterson), she consistently performs year in and year out; coach Saban an the football program have done a remarkable job."
Whether the past five years are the most successful in the school's history is up for debate as far as Moore's concerned.
Alabama Dismisses Jonathan Taylor
SEC SCOREBOARD
Thursday, 9/3
Saturday, 9/5