Alabama Crimson Tide:

Laquon Treadwell
October, 1, 2013
Oct 1
12:00
PM ET
TUSCALOOSA, Ala. -- It's safe to assume that
Eddie Jackson
understands the opportunity ahead of him at Alabama. He can't say as much publicly because of the school's policy prohibiting freshmen from speaking to the media. But given all he's already gone through, it would be a wonder if he didn't look back on his road to Tuscaloosa and comprehend the enormous turnaround it took for him to get there.
It's a wonder he's wearing Alabama's signature crimson helmet in the first place. The fact that he's starting at cornerback for the defending national champions is something even more implausible considering where he was at this time last year.
Jackson needed a change of scenery before any of the chips fell into place. He likely learned the value of a fresh start from his brother, Demar Dorsey, a former blue-chip defensive back prospect who signed a letter of intent to play for Michigan in 2010 but never made it to Ann Arbor. Dorsey's past included poor grades and three felony charges that robbed him of the opportunity to play at a BCS-level football program. He failed to meet Michigan's standard for admission, announced he would transfer to Louisville, failed to make it there because of more issues and eventually landed at Grand Rapids Community College. Dorsey was supposed to transfer to Hawaii in 2012, but he never reached the Big Island and today is not listed on Hawaii's roster.
[+] Enlarge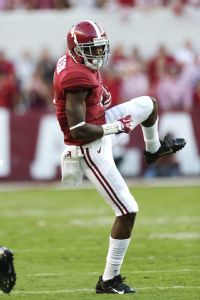 AP Photo/Dave MartinEddie Jackson was a virtual unknown in recruiting at this point last year. Now he's a key piece on defense for the No. 1 team in the country.
Wayne Blair knew of Dorsey's story when Jackson walked into his office at Boyd Anderson High in Lauderdale Lakes, Fla., looking to transfer after becoming academically ineligible at his previous school. Blair saw Dorsey's "pitfalls" up close at nearby University School, where he was an assistant in 2009. He took a chance on Jackson, who was then a junior with serious eligibility issues. His grades were "way below normal standards," said Blair, who helped get Jackson eligible just in time for spring football.
Blair's investment and Jackson's hard work paid off instantly.
"He played free safety for us at the time," Blair said of the spring game against University School, a national powerhouse. "He had an interception, he returned one for a touchdown and then had another interception. And I realized then that I had something really, really special on my hands."
Jackson, though, had no college offers at the start of his senior season. Blair worked the phones, calling contacts at all the major conferences looking for someone to take a flier on his wide receiver/defensive back, a tall kid with enormous raw potential. Blair said he told them, "I got a guy that if I can get him NCAA eligible, you might want to go ahead and put your vested interest into him." Of course, no one took him seriously.
What Jackson did on the football field as a senior caught their attention, though, making him an increasingly rare sight in college recruiting: a late-blossoming prospect.
"Every game he either did something extraordinary offensively or completely excellent defensively or on special teams," Blair said. "And the buzz started growing as we had ourselves a good year. We went into the playoffs and he went off."
Jackson's grandmother passed away early in Boyd Anderson's postseason run. Blair said that's when "he went from good to great within a two-week span."
Blair had to chuckle when he retold his "folklore of Eddie Jackson" by telephone this week. He remembered how Florida State offered Jackson as a wide receiver, LSU wanted him as a defensive back and Miami looked at him as a wide receiver. Alabama had him strictly as a cornerback, though, drawn to his raw athleticism and 6-foot-1 frame.
"We thought Eddie was a good player," Alabama coach Nick Saban said Monday. "There were some academic questions and some of those things. We're always looking for longer corners, guys that have got a little bit more size. We had
Maurice [Smith]
, who had committed to us. We were still looking for somebody else and we found Eddie. We'd known about Eddie, but we weren't sure we were going to be able to recruit him. As soon as we found out that he would be qualified and all that, we really jumped on him."
Being able to work closely with Saban, who coaches cornerbacks one-on-one at Alabama, was part of what swayed Jackson to sign with the Tide. The other factor was timing. With last season's top corner for Alabama, Dee Milliner, likely to enter the NFL draft and not much behind him in terms of depth, Jackson and Blair saw an opportunity to play right away.
"I knew he'd probably be jumping into the starting lineup; I just didn't know when," Blair said. "I was thinking by Week 6. Low and behold, here we are."
Blair's prediction was off by two weeks. Jackson accomplished the improbable, learning enough of Alabama's complicated defensive scheme by Week 4 that he was inserted into the starting lineup against Colorado State.
A week later he proved that his first start wasn't a fluke opportunity against a cupcake opponent, starting again against No. 21 Ole Miss. On Saturday, Jackson was fourth on the team in tackles, had two pass breakups and a key interception against the Rebels, prompting senior cornerback
Deion Belue
after the game to say, "We finally found a piece to our secondary so that we all can come together."
"He fit in perfectly," said safety
Vinnie Sunseri
. "Having
Jarrick [Williams]
and Deion [Belue] back was a huge part of it, too, but Eddie in there, and him getting comfortable and getting that one pick, kind of gave him that confidence booster that he needed. He played unbelievable. I was so proud of him."
Jackson's first-half interception was a defining moment. The rookie corner whiffed on
Donte Moncrief
, Ole Miss' veteran wideout, on the previous play, allowing a 36-yard gain and a first down. Coach Hugh Freeze then reached into his bag of tricks, calling for a backward pass to
Laquon Treadwell
, who looked toward Jackson's side of the field for a pass. But Jackson didn't bite on the fake, stuck to his assignment and secured the ball for the takeaway.
"He did everything perfect," Sunseri said. "He jammed the guy off the line, stayed, stepped in the divider, and he threw one right to him and he got the pick. It was a great momentum swing for us."
Saban, who covets long, aggressive corners such as Jackson, was pleased. He and his staff had been searching for an answer at the position after
John Fulton
and
Cyrus Jones
were torched by Texas A&M and
Mike Evans
, and in Jackson it appears they've found someone to work with. He's still just a freshman, but he's already done more in one game than all but Belue, Alabama's top on-ball defender.
"He played well," Saban said of Jackson. "Made a couple of mistakes, but I thought that most of those were because of communication, which is one of the things that we emphasize, where he wasn't sure about what the call was. But when it came to just his technique and what he was supposed to do and the way he competed in the game, I thought he did a really good job."
Blair, who talks to Jackson regularly, said it's now "his position to lose."
"Before it's all said and done, he could end up being the prototype defensive back like that guy over at Seattle, Richard Sherman," he said. "You have a tall, smart kid with good range, good hips. He can end up being the prototype Coach Saban has been looking for."
Reading into Blair's comments, it's clear he thinks that development could happen quickly. And why shouldn't it? It might seem improbable, but everything about Jackson's journey, going from academically ineligible with no college offers to a top prospect signing a letter of intent with Alabama, has been just that.
Jackson turned it around in a hurry in high school. What's to say he can't take the next step in just as timely a fashion? He's certainly showed he's no stranger to making the most of an opportunity.
September, 28, 2013
Sep 28
7:00
AM ET
TUSCALOOSA, Ala. -- Get through this next game and regroup. That's the idea for Alabama after a shaky start to the season against Virginia Tech, Texas A&M and Colorado State. Should the undefeated Crimson Tide clear the final September hurdle and beat Ole Miss, the month of October will set up nicely with unranked Georgia State, Kentucky, Arkansas and Tennessee all in a row.
Here's what we'll be watching when the top-ranked Crimson Tide get back to SEC play against the 21st-ranked Rebels.


Think positive:
Nick Saban wants everyone to think happy thoughts. Alabama's coach has seen the frustration of the fan base permeate the locker room, and he doesn't like it. "The big thing we need, everyone needs," he said Wednesday, "is a lot of positive energy and to be excited about the challenges this team has." That is, the challenge of living up to its championship expectations. "They need to be supported and everybody doesn't need to sit around and say, 'Ah, what's wrong with these guys?'" Saban added. With that in mind, pay attention to the Crimson Tide's body language and the attitude. If expectations really are getting to these players and this program, it will inevitably show on the football field.
Shore up the secondary:
Nick Perry
wasn't the be-all and end-all to the Alabama secondary, but the senior safety was one of the most veteran contributors and a calming force on the back end of the defense. Perry stands to miss the rest of the season after undergoing surgery, robbing Saban of a piece of the defense he could sorely afford to lose. Thankfully for the coach, though,
Deion Belue
appears to be ready to go after sitting out last week's game, which gives the Tide back its top on-ball defender. Now Alabama must find some complementary parts.
John Fulton
, who was manhandled by
Mike Evans
and Texas A&M a few weeks ago, didn't start until the second half against CSU. He's a question mark. So is
Cyrus Jones
, who continues to show some growing pains after transitioning from offense this offseason. Saban said a freshman would have started had Belue not been able to go.
Maurice Smith
and
Eddie Jackson
, the two likeliest rookies to play, learned a lot against CSU, but they're nonetheless shaky with such little experience. They likely will be leaned on regardless, as Ole Miss likes to spread out on offense with
Donte Moncrief
and
Ja-Mes Logan
on the outside,
Laquon Treadwell
in the slot, and
Evan Engram
split out at tight end.
Establish the running game:
Sixty-six yards isn't going to cut it, not in Alabama's offense, which is still predicated on the ability to run the football. The Crimson Tide mustered just 66 yards rushing against a Colorado State team that came into the game allowing an average of 160 yards on the ground per game.
AJ McCarron
said earlier this week how this year's team is different, how it might not be a run-first team. Although that appears to be true, Alabama still must have some measure of success running the football. Too much of offensive coordinator Doug Nussmeier's scheme is dependent on working off of play-action. If the Tide offense isn't balanced, it simply won't work. Against an Ole Miss team that gives up just 114.3 yards per game on the ground (29th nationally) and 3.09 yards per carry (21st nationally), it should be even tougher sledding for Alabama.
T.J. Yeldon
& Co. don't necessarily have to run for last season's average of 227.5 yards per game, but getting over the 100-yard plateau would do wonders for the success and consistency of the offense as a whole.
Win third down:
Because of that lackluster running game, third down has become increasingly difficult for Alabama. Second-and-long has led to third-and-long, which has led to a lot of punts. UA ranks 98th nationally and next to last in the SEC by converting one of every three third-down attempts. That number shrinks even further when it's third-and-7 or more to go. Although it's hard for any team to convert on third-and-long, Alabama can do itself some favors and pick up positive yards on first down and stay ahead of the sticks.
Tempo, tempo, tempo:
It's the biggest thing that can take defensive players out of their rhythm, according to Saban, who said that communication and a sense of urgency are important against teams such as Ole Miss that like to push the tempo on offense. "When they go speed ball or hurry up and run a play really fast in 8 seconds," Saban said, "you barely have time to get lined up." Basically, it gets a defense out of whack by getting players out of position and making it difficult for the right play to get called in and relayed to everyone on the field. And Ole Miss does as good a job as anyone at creating that confusion with
Bo Wallace
upping the pace at quarterback whenever possible. He and running back
Jeff Scott
can go read-option and shake up the defense effectively. Alabama got a good dose of tempo against Texas A&M a few weeks ago, which should prepare the defense for what it will see Saturday, but, until the bullets start flying, it's hard to tell what the response will be.
September, 26, 2013
Sep 26
8:00
AM ET
TUSCALOOSA, Ala. -- It's time to turn the page, if you haven't done so already. No. 1 Alabama had its cupcake game against Colorado State last weekend, but now comes the main course with No. 21 Ole Miss coming to Tuscaloosa on Saturday.
The Crimson Tide will win if …
[+] Enlarge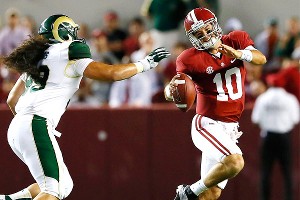 Kevin C. Cox/Getty ImagesAJ McCarron and Alabama knows they have to play better against Ole Miss on Saturday than they did against Colorado State last week.
After the way Alabama played against Colorado State, this team needed a talking to. The defense had too many missed assignments and the offensive line did a poor job of communicating. All around, it wasn't a pretty effort. And veteran linebacker
C.J. Mosley
recognized that, stepping up to talk to his teammates after the game in an effort to make sure the Tide's championship aspirations don't fall by the wayside. The little things that Alabama did so poorly against Colorado State, Mosley told his team, will get them beat, and beat badly by a team like Ole Miss.
Should Alabama play its game -- sound, fundamental football -- it should win. But there are serious questions about the play of the offensive line and the secondary. If either of those two areas do doesn't get turned around, Ole Miss could expose Alabama, whether it's by forcing turnovers on defense or throwing the ball deep for big gains.
The Rebels will win if …
Meanwhile, Ole Miss comes into this game riding high, undefeated with something to prove. Year 2 of the Hugh Freeze experiment has been better than advertised with big wins over Vanderbilt and Texas. The Rebels have had immediate dividends on its spectacular 2013 signing class. True freshmen
Robert Nkemdiche
,
Laquon Treadwell
and
Tony Conner
are all contributing.
But this team has yet to face anyone like Alabama. Going on the road in a tough environment in Tuscaloosa could either make or break Freeze's young squad. That said, Ole Miss does have some veterans to rely on in quarterback
Bo Wallace
, running back
Jeff Scott
and wideout
Donte Moncrief
. And that's just on the offensive side of the football. Much of the same nucleus that gave UA trouble at home a year ago returns to see if it can't learn its lesson and pull off the upset this time.
Ole Miss players to watch
QB Bo Wallace:
Much of the talk about his offseason shoulder injury has been put to bed. Wallace, the orchestrator of Ole Miss' up-tempo attack, has looked good throwing the football, spreading it out to all of his receivers, especially his freshman tight end
Evan Ingram
, who is a nightmare matchup when he's split out.
S Tony Conner:
Ole Miss has one glaring deficiency, and that's at cornerback where its starters come in at 5-foot-8 and 5-9, respectively. Alabama's wide receivers aren't giants, but they're bigger than that.
Amari Cooper
is much taller at 6-1 and true freshman
Raheem Falkins
would tower over them at 6-4. Instead, look for Ole Miss to pull down the 6-1 Conner from his safety position to get a better size matchup.
LB Denzel Nkemdiche:
He says he'll play but his coach isn't committing to anything. Denzel Nkemdiche, older brother of Robert, injured his knee in the season opener and has been pushing to see the field against Alabama. Freeze, though, is taking it day by day. But you have believe Nkemdiche, who was the heart of Ole Miss' defense a year ago with a team-leading 82 tackles. He had a big game against the Tide a year ago, making 11 tackles, a sack and two stops behind the line of scrimmage.
Alabama players to watch
CB Deion Belue:
It seems as if Alabama's best on-ball defender will be ready to go, but after sitting out last week's game with a nagging injury, you never know. Should he be sidelined, the secondary will be in big trouble. And even if he isn't, either
John Fulton
,
Cyrus Jones
or some other defensive back must step up to match Ole Miss' ability to spread the field, especially in the slot with Treadwell, who leads the Rebels in catches and receiving yards.
OLB Adrian Hubbard:
Alabama's leading sack getter a season ago has been conspicuously quiet since skipping the NFL to return to school. Adrian Hubbard, the lanky pass rusher at Sam linebacker, has no sacks and just two tackles for loss this season. Against Ole Miss' spread, his ability to hold the edge and pressure the pocket will be huge.
O-line:
Week 1 meant panic. Week 2 was relief. And Week 3 was a giant step back. It looked as if Alabama's offensive line has solved its problems against Texas A&M two weeks ago, moving the line of scrimmage almost at will, but against CSU this past weekend the sloppy play returned. Poor communication and bad technique are to blame, so say players, but however you define it 66 yards rushing, the number Alabama got against the lowly Rams, will not be enough against an SEC foe like Ole Miss.
Key Stats
3:
Sometimes we go really in depth in the stats department, but we'll keep this number simple. Ole Miss shot itself in the foot last year with three turnovers, two from Wallace. The veteran quarterback led the league in interceptions last season (17) but he seems to have turned it around this year with zero picks through three games.
33.3:
A year ago, Alabama had little trouble moving the football and converting on third downs. Not so this season as the Tide has slipped to 98th nationally and next to last in the SEC in third-down conversion percentage, moving the sticks one every three attempts, on average.
8:
Alabama has owned the first half of games, outscoring teams 73-24. Those leads, though, have been harder to come by in the second half where that scoring differential slips to just eight points.
September, 2, 2013
Sep 2
4:20
PM ET
The SEC league office has announced its top performers for Week 1:

OFFENSIVE PLAYER OF THE WEEK
DEFENSIVE PLAYER OF THE WEEK
SPECIAL TEAMS PLAYER OF THE WEEK
OFFENSIVE LINEMAN OF THE WEEK
DEFENSIVE LINEMAN OF THE WEEK
FRESHMAN OF THE WEEK
September, 2, 2013
Sep 2
11:10
AM ET
Yep, it's back for another season, our "Hot and Not" stroll around the SEC.
Week 1 is in our rearview mirrors, and some temperatures are already rising. Others ... not so much.
Here's a taste:
GLOWING EMBERS
[+] Enlarge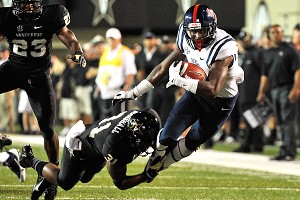 Frederick Breedon/Getty ImagesTrue freshman WR Laquon Treadwell had nine receptions for 82 yards against Vanderbilt.
Ole Miss' future:
It didn't take long for Ole Miss fans to see some of the Rebels' most prized members of their heralded 2013 signing class in action. They played a key role in Ole Miss' thrilling 39-35 win over Vanderbilt in Thursday's opener, and what was already a bright future for the Rebels just got a lot brighter. Receiver
Laquon Treadwell
looks physically like you'd expect a pro to look. He's a big target, gets open and catches it if it's anywhere close to him. Defensive end
Robert Nkemdiche
is scary good. He's 290-plus pounds, powerful and brings it on every down. Safety
Tony Conner
had a big interception early and is a perfect fit for the Rebels in that "Husky" position. He's physical enough at 6-foot-1 and 210 pounds to play the run but also can cover. Offensive linemen
Laremy Tunsil
and
Austin Golson
played extensively and played well. They were on the field a lot in the second half, and that's when the Rebels' offensive line found its groove. With
Aaron Morris
out for the season, their roles will only increase, and tight end
Evan Engram
caught five passes for 61 yards with three of those catches coming in the third quarter, when Ole Miss made its move. It's hard not to be giddy about the future if you're of the Hotty Toddy persuasion.
HOT
Georgia running back Todd Gurley:
If Gurley's not the best running back in college football, I want to see the back who is. Even with a quad injury, Gurley was electric and finished with 174 yards on 12 carries in the Bulldogs' 38-35 loss to Clemson. He had touchdown runs of 80 and 12 yards, showing off both his speed and tackle-breaking ability.
NOT
Mississippi State's offense:
The Bulldogs' 21-3 loss to No. 13 Oklahoma State marked their lowest scoring output since a 31-3 loss to Alabama in 2009 during Dan Mullen's first season. Unfortunately for the Bulldogs, they've made a habit of not showing up offensively in games against nationally ranked foes. In their last eight games against ranked teams (going back to the 2011 season), they've averaged just 10.3 points per game and have been held to 17 points or fewer in all eight games. In six of those eight contests, Mississippi State has been held to 13 points or fewer.
HOT
Tennessee's fans:
Never mind that Tennessee was facing a team (Austin Peay) that had zero chance to even make it close. And never mind that the Vols entered the game on the heels of three consecutive losing seasons. Neyland Stadium was rocking, and an announced crowd of 97,169 showed up to see the Butch Jones era kick off. A year ago, the Vols drew just 87,821 for their opener against Georgia State and averaged 89,965 for home games, their lowest since 1979. Jones has his work cut out on the field, but he has them believing on Rocky Top.
NOT
Georgia's pass protection:
The Bulldogs had better figure it out in hurry on their offensive line before South Carolina and
Jadeveon Clowney
get to town this weekend. Rarely did
Aaron Murray
have time to throw in the loss to Clemson, and the Tigers' defensive front isn't going to be confused anytime soon with the Gamecocks' defensive front.
HOT
Alabama's defensive front seven:
So much for Alabama's offense maybe being a little bit ahead of the defense this season. The Crimson Tide are as menacing, swarming and suffocating as ever in their front seven, and senior end
Ed Stinson
was especially active. Alabama just keeps replacing great players with other great players.
NOT
Restless Georgia fans:
Enough with the Mark Richt must-go nonsense. Let's see what happens this weekend when South Carolina visits Sanford Stadium. Richt has proved in the past how resilient his teams are, and a win over the Gamecocks would ease a lot of the pain right now in Dawg Land. Remember, it's a looooong season.
HOT
South Carolina's defense:
OK, maybe Clowney didn't have six sacks and send somebody's helmet flying off in South Carolina's opener, but the Gamecocks are still a load on defense. They had 12 tackles for loss (in one game) in their 27-10 win over North Carolina -- with 11 different players getting into the act. They held the Tar Heels to 293 total yards and limited them to just 7.5 yards per completion on 43 pass attempts. There's a lot more to this defense than just Clowney.
NOT
Mark Stoops' debut:
It's never a good thing when Kentucky loses for a second consecutive season to Western Kentucky. But there was so much excitement surrounding Stoops and the way he has recruited, making the season-opening loss in Nashville even more disappointing. It also underscores what kind of challenge awaits Stoops.
FREEZER BURN
Johnny Football:
If you're tired of hearing about
Johnny Manziel
, you might want to get used to it. Here's a news flash: He ain't changing, nor does he care what anybody else thinks about him. What he should care about is whether he does anything to hurt his team on the field or anything that would reflect poorly on his teammates and coaches who have to be growing weary of the whole Johnny Manziel circus. It's obvious they love the way Manziel competes and the fire he plays with. In the time he was on the field Saturday in the second half against Rice, he looked even more comfortable in the pocket than he did a year ago and was extremely sharp throwing the ball. But he can't cost his team foolish (Kevin Sumlin's words) penalties, and he's too good a player to continue serving as a distraction with the juvenile antics. It's obvious Manziel revels in being college football's so-called bad boy and would like to tell everybody to go stick it. But there's a fine line sometimes between doing that and sticking it to your teammates.
January, 3, 2013
Jan 3
5:47
PM ET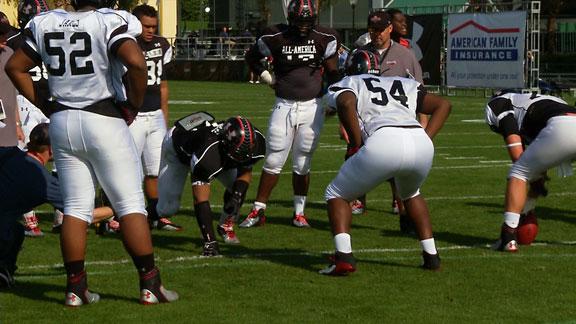 LAKE BUENA VISTA, Fla. -- With just a player walk-through Thursday, things were relatively easy in Day 4 of practice at Disney's ESPN Wide World of Sports. A four-star defensive tackle gave further explanation about his decision to decommit from an SEC school, several players talked about who impressed them the most, and an ESPN 150 safety changed his decision date.
To continue reading this article you must be an Insider
January, 3, 2013
Jan 3
5:35
PM ET
By
RecruitingNation staff
| ESPN.com
Black Team offense
Quarterback:
Christian Hackenberg
(Penn State)
Running back:
Alvin Kamara
Receiver:
Alvin Bailey
(Florida),
Robert Foster
(Alabama),
Damore'ea Stringfellow
(Washington)
Tight end:
O.J. Howard
(Alabama)
Offensive tackle:
Darius James
(Texas),
Denver Kirkland
Offensive guard:
Grant Hill
(Alabama),
Joas Aguilar
(Texas A&M)
Center:
Hunter Bivin
(Notre Dame)
Captains:
Kelvin Taylor, Hunter Bivin, Robert Nkemdiche, Ben Boulware
Black Team defense
Defensive end:
Robert Nkemdiche
,
Elijah Daniel
Defensive tackle:
Greg Gilgmore
(LSU),
Kennedy Tulimasealii
(Hawaii)
Inside linebacker:
Ben Boulware
(Clemson)
Outside linebacker:
Alex Anzalone
(Notre Dame),
Matthew Thomas
Safety:
Keanu Neal
(Florida),
Leon McQuay III
Cornerback:
Vernon Hargreaves III
(Florida),
Tarean Folston
(Notre Dame)
Black Team special teams
Long snapper:
Tyler Kluver
(Iowa)
Kicker/punter:
Sean Covington
(UCLA)
December, 21, 2012
12/21/12
5:29
PM ET
By
RecruitingNation staff
| ESPN.com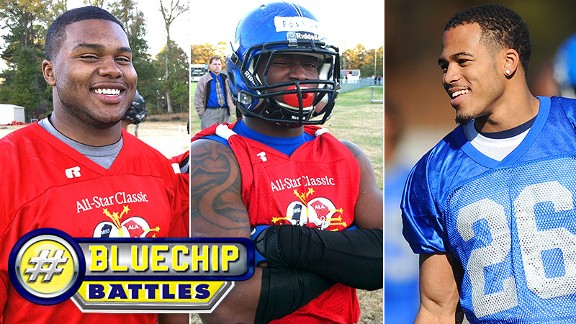 ESPN.comReuben Foster (center) is torn between good friends Dee Liner (left) and Tray Matthews (right).
No. 1 ILB Reuben Foster has voiced his desire to play with at least one of his SEC-bound friends next season. But will he follow Tray Matthews to Georgia or hook up with Dee Liner wherever the ESPN 150 DL settles? It remains to be seen, but the mystery surrounding his recruitment keeps Foster at the top of our #BlueChipBattles.
Each week, RecruitingNation summons its writers from around the country to compile a list of the top 10 battles for elite football recruits leading up to February's signing day.
Here are
this week's top battles

, and you can take a shot at
ranking the top 10 recruiting battles
on SportsNation.
November, 30, 2012
11/30/12
2:19
PM ET
By
RecruitingNation staff
| ESPN.com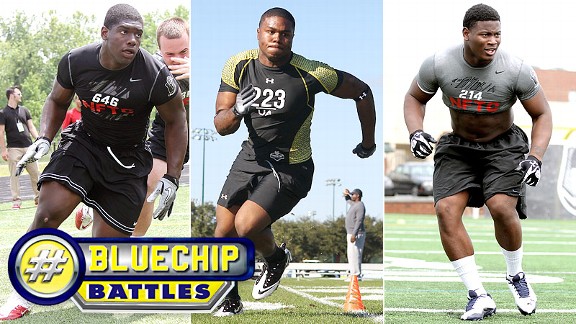 ESPN.comCarl Lawson, Dee Linerand Reuben Foster are still committed to Auburn, but the Tigers' coaching situation could change things for the three ESPN 150 recruits.
Auburn bid farewell to head coach Gene Chizik on Sunday. Could the Tigers also be saying goodbye to a trio of ESPN 150 recruits who could take their talents elsewhere?
Each week, RecruitingNation summons its writers from around the country to compile a list of the top 10 battles for elite football recruits leading up to February's signing day.
Here are
this week's top battles

, and you can take a shot at
ranking the top 10 recruiting battles
on SportsNation.
November, 16, 2012
11/16/12
12:13
PM ET
By
RecruitingNation staff
| ESPN.com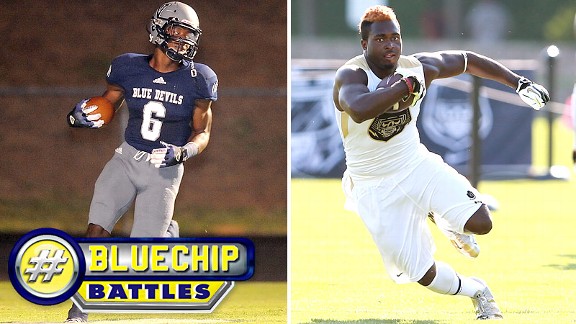 ESPN.comUncommitted 2013 running backs Alvin Kamara and Derrick Green.
ESPN 100 running backs
Alvin Kamara
and
Derrick Green
can score from anywhere on the field thanks to their breakaway speed, an attribute that makes them very attractive recruits to the Oregon Ducks. Oregon's pursuit of the duo headlines
this week's #BlueChipBattles.

Click through for our list to
rank the top 10 recruiting battles

.
November, 2, 2012
11/02/12
1:42
PM ET
By
RecruitingNation staff
| ESPN.com
RecruitingNation has summoned its writers from around the country to compile
a list of the top 10 battles for elite football recruits

leading up to February's signing day. We'll update our rankings periodically to reflect a change in a player's status (i.e., new offers, trimmed-down list or a positive/negative official visit).
Our writers have debated the list for weeks, but we value your input as well. Voice your opinion on Twitter (
@RecruitingESPN
) using
#BlueChipBattles
or vote for which player should hold the No. 1 spot on
Facebook
.
October, 26, 2012
10/26/12
1:12
PM ET
By
RecruitingNation staff
| ESPN.com
Pitt doesn't want WR
Robert Foster
to leave the Keystone State and USC hopes to keep CB
Max Redfield
in Cali. The local programs' bid to keep those two stars in-state highlights
this week's #BlueChipBattles

.
#BlueChipBattles
is the Twitter hashtag to use if you want to voice your opinion on our list or to view other fans' reactions as the commitments begin to roll in. Get recruiting updates on the players above as well as the nation's other top football prospects here:
@RecruitingESPN
.
October, 19, 2012
10/19/12
12:07
PM ET
By
RecruitingNation staff
| ESPN.com
David Dawson
decommited from Michigan and
Justin Manning
delayed his decision date, and that had a big-time ripple effect in
this week's #BlueChipBattles

, as more than half of the top 10 spots have new occupants.
Raekwon McMillan discusses recruitment