Alabama Crimson Tide:

Kerry Stevenson
February, 14, 2013
2/14/13
5:37
PM ET
TUSCALOOSA, Ala. -- The University of Alabama filled two support staff vacancies Thursday when it announced the hirings of former Clemson defensive coordinator Kevin Steele as director of player personnel and former Vigor (Ala.) High coach Kerry Stevenson as director of player development.
[+] Enlarge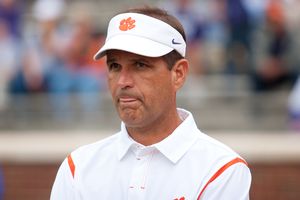 Jeremy Brevard/Icon SMIAfter serving as defensive coordinator at Clemson for three years, Kevin Steele returns to Alabama.
For Steele, it was a welcome home after having spent the 2007 and 2008 seasons as the Crimson Tide's defensive coordinator under head coach Nick Saban. He most recently held the same position at Clemson.
Steele, 54, will be responsible for directing Alabama's recruiting efforts and will assist in other football-related activities. Clemson finished 19th in the ESPN class rankings in 2010 and eighth in 2011. He was fired by Clemson following the 2011 season after the Tigers gave up 70 points to West Virginia in the Orange Bowl. He did not coach in 2012.
"We are excited to have Kevin back on our staff," Saban said in a statement. "He did an excellent job here previously, and he knows our program from a recruiting standpoint as well as anyone. His organizational skills and people skills make him a perfect fit for this role. As recruiting in college football has evolved through the years, this position is one of the most important on our staff."
Steele said in a statement released through the University that he's looking forward to the challenges of the position.
Alabama Dismisses Jonathan Taylor
Alex Scarborough discusses the Crimson Tide's decision to dismiss defensive lineman Jonathan Taylor after he was arrested on domestic violence charges in Tuscaloosa, Alabama.
Alabama Dismisses Jonathan Taylor
VIDEO PLAYLIST
ALABAMA FB RECRUITING SCORECARD
Nike Men's Alabama Crimson Tide Grey Football Practice Legend T-shirt Shop »
BamaSportsNow

Alabama Sports Now


Nick Saban unapologetic for signing Jonathan Taylor http://t.co/84Aeoq8DXI
about a minute ago

BamaSportsNow

Alabama Sports Now


Paul Finebaum blasts Nick Saban after Jonathan Taylor press conference: 'I think he blew it' http://t.co/CCcJ2Uw5rf
about a minute ago

AndrewJBone

Andrew Bone


Five-star LB @bendavis_1 talks Monday visit to #Alabama, looking up to players like @reggieragland http://t.co/TyRoYyaVSN @TideSports
4 minutes ago

bangulo

Blair Angulo


2017 QB Caleb Taylor talks #Alabama visit, including an interesting tidbit on Lane Kiffin: http://t.co/DDwxO2GUvZ http://t.co/zIc7yAZxX1
17 minutes ago

AndrewJBone

Andrew Bone


Five-star LB @bendavis_1 let me know he will join five-stars @Iam__MW3 and @marlondavidson7 on a visit to #FSU on April 11. @MichaelWarchant
30 minutes ago

BamaSportsNow

Alabama Sports Now


Saban: We're not apologizing for what we did http://t.co/NmfSTIfS2B
34 minutes ago

DHx34

Damien Harris


Just waiting on my moment.. @ Learning from the best 🅰 https://t.co/4V4PqUmfJD
54 minutes ago

BamaSportsNow

Alabama Sports Now


VIDEO: Alabama head coach Nick Saban addresses Jonathan Taylor dismissal http://t.co/8HNIMhaoRy
about an hour ago

BamaSportsNow

Alabama Sports Now


Transcript of Nick Saban's comments on Jonathan Taylor http://t.co/XPiskFJWzo
about an hour ago

BamaSportsNow

Alabama Sports Now


PHOTOS: 3/30 Spring Practice http://t.co/10hoodVeKA
about an hour ago

BamaSportsNow

Alabama Sports Now


Video: Nick Saban press conference (3/30/15) http://t.co/zmv1IHMcEF
about an hour ago

BamaSportsNow

Alabama Sports Now


Alabama's Geno Smith will have tasks to complete before returning to field http://t.co/WC8w6g7UUO
about an hour ago

BamaSportsNow

Alabama Sports Now


Nick Saban discusses Jonathan Taylor's dismissal http://t.co/UI9OoTAFd9
about an hour ago

BamaSportsNow

Alabama Sports Now


Nick Saban passionately defends Jonathan Taylor's second chance after arrest, dismissal http://t.co/R5ric92cpy
about an hour ago

BamaSportsNow

Alabama Sports Now


Nick Saban gives updates on Cam Sims, Geno Smith http://t.co/RBk2iwCXz6
about an hour ago

BamaSportsNow

Alabama Sports Now


Nick Saban confirms serious knee injury for Alabama wide receiver Cam Sims http://t.co/2xdw76cppc
about an hour ago

shawndgohard24

UNO1???


Picked up the Memphis offer today ! #gotigers 🐯
about an hour ago

SECfootball

SEC Football News


Introducing the SDS All-SEC Coaching Staff http://t.co/qcPfiWISb0
about an hour ago

dawnstaley

dawnstaley


Good luck to our @SEC family @LadyVol_Hoops tonite against Maryland, we are waiting for you in Tampa. @HollyWarlick @LawLaw08 @CoachLZ
about an hour ago

rollbamaroll

Roll Bama Roll


And that worth is exactly 💩💩💩, BTW.
about an hour ago

rollbamaroll

Roll Bama Roll


Gregg Marshall is not with Bill Battle on the return flight. Take that for what it's worth.
about an hour ago

SECfootball

SEC Football News


Saban on Smith, Taylor and Sims after Monday's practice http://t.co/cVCjh8Bl89
about an hour ago

AschoffESPN

Edward Aschoff


A QBs best friend? Help from guys who can catch the ball and those three will be crucial to QB development as well at UF #Gators
about an hour ago

AschoffESPN

Edward Aschoff


If TE Jake McGee and WR Brandon Powell stay healthy Florida will have two really nice receiving options to help Demarcus Robinson
about an hour ago

bangulo

Blair Angulo


Plain City (Utah) 2017 QB Caleb Taylor, a top performer at #RivalsChallenge in LA, visited #Alabama today. http://t.co/2suz6az12c
about an hour ago

ChaseGoodbread

Chase Goodbread


.@SeanLDurham Personally, I think the kid is responsible for what happened. But I think Saban is responsible for where it happened.
about 2 hours ago

Rivals_Singer

Mike Singer


ICYMI: Louisville added a commitment from an Alabama TE on Saturday night. Story: https://t.co/sEEHmw6CJ6 @AndrewJBone @howielindsey
about 2 hours ago

BamaSportsNow

Alabama Sports Now


Highlights from March 30 Alabama spring practice http://t.co/7Z1CNo63KN
about 2 hours ago

AlexS_ESPN

Alex Scarborough


Ryan Kelly says of Jonathan Taylor that "That's something we don't stand for."
about 2 hours ago

AschoffESPN

Edward Aschoff


The good news for Gators is that they're only halfway through spring and still have fall. Lots of holes but guys are at least hungry
about 2 hours ago

rollbamaroll

Roll Bama Roll


I feel Marshall has already been hired & the last few hours were him shouting "TELL ME I'M PRETTY! TELL ME YOU LOVE ME" in a Wichita HoJo.
about 2 hours ago

AschoffESPN

Edward Aschoff


McElwain knows the QB position is incredibly important but he needs freshmen OL, RBs and WRs to come in this fall and immediately help
about 2 hours ago

AschoffESPN

Edward Aschoff


Good checking in at UF today. McElwain knows he has an uphill battle with this current roster but he's staying optimistic
about 2 hours ago

ChaseGoodbread

Chase Goodbread


Biggest disconnect in Saban remarks: A) Not sorry for admitting the kid, but B) we will learn from this. ... What's to learn if not sorry?
about 2 hours ago

khowieee

Kayla Howard


Saban on Geno: "I don't know if you have kids, but you don't throw them out after they make a mistake."
about 2 hours ago

AaronSuttles

Aaron Suttles


Clarification....Nick Saban said Jonathan Taylor did everything that was asked of him prior to enrolling at Alabama.
about 2 hours ago

AaronSuttles

Aaron Suttles


For the first time in more than a year, I didn't get a question into Nick Saban. I'm sure it's a coincidence.
about 2 hours ago

CrimsonWalsh

Christopher Walsh


Saban's press conference ends without a question about anyone playing. ESPN immediate shows Alabama arrests graphic.
about 2 hours ago

AlexS_ESPN

Alex Scarborough


The final word from Saban was on all Jonathan Taylor was asked to do off the field at Alabama: "It didn't work."
about 2 hours ago

_DCReeves

D.C. Reeves


Saban: I've never gotten rid of a guy after a second incident with drug and alcohol issues.
about 2 hours ago

_DCReeves

D.C. Reeves


"We spoke to everybody that could give us an idea of who that young man was. And is."
about 2 hours ago

CrimsonWalsh

Christopher Walsh


Saban takes 4-5 questions on Taylor, says it's time to move on. Next question is on Geno Smith.
about 2 hours ago

khowieee

Kayla Howard


Saban on Geno: "I don't know if you have kids, but you don't throw them out after they make a mistake."
about 2 hours ago

_DCReeves

D.C. Reeves


Saban: I've never gotten rid of a guy after a second incident with drug and alcohol issues.
about 2 hours ago

AlexS_ESPN

Alex Scarborough


Saban: "I'm not sorry for giving him an opportunity. I'm sorry for how things worked out."
about 2 hours ago

LandrySean

Sean Landry


Saban: "I still think he's a good person. I think he has a problem and a circumstance that is not acceptable."
about 2 hours ago

_DCReeves

D.C. Reeves


"We spoke to everybody that could give us an idea of who that young man was. And is."
about 2 hours ago

LandrySean

Sean Landry


Saban - Taylor had psychological counseling, never missed a session.
about 2 hours ago

BamaSportsNow

Alabama Sports Now


Live updates: Alabama coach Nick Saban addresses two player arrests http://t.co/qG7Q2lkLlE
about 2 hours ago

BamaSportsNow

Alabama Sports Now


Watch Nick Saban speak live after the sixth spring practice http://t.co/qM3Y9uxDqO
about 2 hours ago

AlexS_ESPN

Alex Scarborough


Saban: "We have 125 players on our team that are doing well. … It's time to move on."
about 2 hours ago

AaronSuttles

Aaron Suttles


Saban: Jonathan Taylor did everything we asked him to do.
about 2 hours ago

_DCReeves

D.C. Reeves


Saban said the team and school will examine its evaluation process moving forward but stresses that second chances have worked out before.
about 2 hours ago

AlexS_ESPN

Alex Scarborough


Saban says Jonathan Taylor did "everything we asked him to do," cites psychological profiling, counseling.
about 2 hours ago

_DCReeves

D.C. Reeves


Saban: "I'm not sorry for giving him an opportunity, I'm sorry for the way things worked out."
about 2 hours ago

AaronSuttles

Aaron Suttles


Saban: I think as an institution we'll look at how we do things in the future.
about 2 hours ago

CrimsonWalsh

Christopher Walsh


Saban asked if he made a mistake with Taylor: "I'm not sorry for giving him an opportunity. I'm sorry for the way things worked out."
about 2 hours ago

_DCReeves

D.C. Reeves


Saban: "I'm not sorry for giving him an opportunity, I'm sorry for the way things worked out."
about 2 hours ago

AlexS_ESPN

Alex Scarborough


Saban: "We're not apologizing for what we did."
about 2 hours ago

AaronSuttles

Aaron Suttles


Saban: You learn from every experience and we certainly learned some things from (Jonathan Taylor) this situation.
about 2 hours ago

AlexS_ESPN

Alex Scarborough


Saban: "I'm not sorry for giving him an opportunity. I'm sorry for how things worked out."
about 2 hours ago

AaronSuttles

Aaron Suttles


Saban: You learn from every experience and we certainly learned some things from (Jonathan Taylor) this situation.
about 2 hours ago

AaronSuttles

Aaron Suttles


Saban: Although I'm very very sorry about the way this worked out, we'll continue to create opportunities for players.
about 2 hours ago

AaronSuttles

Aaron Suttles


Saban: Sometimes these things work out, this time it didn't.
about 2 hours ago

AaronSuttles

Aaron Suttles


Saban on Jonathan Taylor: Everyone got the statement yesterday. I think it's very unfortunate. He came here with specific guidelines.
about 2 hours ago

CrimsonWalsh

Christopher Walsh


Saban on Taylor: "We all take responsibility for that" but then basically says it won't change Alabama's approach.
about 3 hours ago

AlexS_ESPN

Alex Scarborough


Nick Saban says that Geno Smith (DUI) will have "quite a bit of things he has to do in the future" to get back on the field.
about 3 hours ago

AaronSuttles

Aaron Suttles


Saban: Although I'm very very sorry about the way this worked out, we'll continue to create opportunities for players.
about 3 hours ago

AlexS_ESPN

Alex Scarborough


Saban: "I'm very, very sorry about the way this worked out."
about 3 hours ago

AlexS_ESPN

Alex Scarborough


Nick Saban on Jonathan Taylor: The guy came here with some specific guidelines and zero tolerance and didn't live up to that.
about 3 hours ago

AaronSuttles

Aaron Suttles


Saban: Sometimes these things work out, this time it didn't.
about 3 hours ago

AlexS_ESPN

Alex Scarborough


Saban on Taylor: We all take responsibility for that.
about 3 hours ago

_DCReeves

D.C. Reeves


Saban on Taylor: "The guy came here with some very specific timelines and zero tolerance."
about 3 hours ago

AlexS_ESPN

Alex Scarborough


Nick Saban on Jonathan Taylor: The guy came here with some specific guidelines and zero tolerance and didn't live up to that.
about 3 hours ago

rollbamaroll

Roll Bama Roll


You THINK we're going to cover highlights of Saban's first post-Taylor press conference. You would be 100% incorrect.
about 3 hours ago

AaronSuttles

Aaron Suttles


Saban said Cam Sims needs surgery to repair injured ACL.
about 3 hours ago

AlexS_ESPN

Alex Scarborough


Alabama WR Cam Sims was injured Saturday (ACL) that will require surgery, Saban says. Will be out for "a while."
about 3 hours ago

CrimsonWalsh

Christopher Walsh


ESPN2 picks up the press conference with Saban saying: "Jake seems to be pretty comfortable with the quarterback position."
about 3 hours ago

AlexS_ESPN

Alex Scarborough


Alabama WR Cam Sims was injured Saturday (ACL) that will require surgery, Saban says. Will be out for "a while."
about 3 hours ago

GregO_ESPN

Greg Ostendorf


Follow for updates --->RT @AlexS_ESPN: Nick Saban's press conference is about to begin. Buckle up, everybody.
about 3 hours ago

CrimsonWalsh

Christopher Walsh


ESPN is showing women's basketball right now, SportsCenter is on ESPN2 for the next hour.
about 3 hours ago

AlexS_ESPN

Alex Scarborough


Nick Saban's press conference is about to begin. Buckle up, everybody.
about 3 hours ago

BamaSportsNow

Alabama Sports Now


Live updates from Nick Saban's presser (3/30/15) http://t.co/jcxfm5BuLF
about 3 hours ago

BamaSportsNow

Alabama Sports Now


Photos: Alabama spring practice (Day 6) http://t.co/h0ZkpMUznP
about 3 hours ago

BamaSportsNow

Alabama Sports Now


Alabama Spring Football Day 6 (photos) http://t.co/RqWYN7PUKf
about 3 hours ago

BamaSportsNow

Alabama Sports Now


Practice report: QB works at new position http://t.co/gYkWPq1r1m
about 3 hours ago

BamaSportsNow

Alabama Sports Now


Alabama practice report: QB now catching passes, working with WRs http://t.co/eHdtCtYkTA
about 3 hours ago

BamaSportsNow

Alabama Sports Now


Baseball. Baseball Set for Midweek Contest with UAB at Regions Field http://t.co/BY8Nigi0DV
about 3 hours ago

BamaSportsNow

Alabama Sports Now


Softball. Softball to Host Mississippi Valley State and Southern Miss in Midweek Action http://t.co/Xcxn7jPasi
about 3 hours ago

ChaseGoodbread

Chase Goodbread


Saban about to address Jonathan Taylor. https://t.co/bsqg7s6Ggu
about 3 hours ago

NolanImsande

Nolan Imsande


Sportscenter is going live from Nick Saban's press conference whenever it begins.
about 3 hours ago

AaronSuttles

Aaron Suttles


Nick Saban tweets coming at you soon, and there's much to discuss.
about 3 hours ago

CrimsonWalsh

Christopher Walsh


If Bill Battle pulls this off my suggested headline is: Marshall, Marshall, Marshall!
about 3 hours ago

SECfootball

SEC Football News


Bear Bryant's coaching tree http://t.co/QBCFo0rbE0
about 3 hours ago

SECfootball

SEC Football News


Florida shuts down WR Brandon Powell for the rest of spring http://t.co/xLlg24OLLq
about 3 hours ago

TDAlabama

Touchdown Alabama


S/O to our own @alp2345 for getting the #SightsAndSounds of Alabama practice today. @ESPN_Future will return Wednesday.
about 3 hours ago

CStewartSports

Chris Stewart


"@Phil_provost92: @CStewartSports how do you sign up to play?" Thx for asking. Call Mary @BGCWA for info. 205-553-3879 or MaryBGCWA@aol.com
about 3 hours ago

_DCReeves

D.C. Reeves


Expected to get an update on the health of WR Cam Sims today. Ranked 3rd among returning WR's in targets with 12. (Black 19/Stewart 18).
about 3 hours ago

UACoachDana

Dana Duckworth


5 days till @bamagymnastics in Auburn for NCAA Regionals. Top 2 teams - 6 regions qualify to NCAA's. Free bus click http://t.co/eSpVKrjMhT
about 3 hours ago

CStewartSports

Chris Stewart


He passed away 2 yrs ago today, but his legacy of helping others lives on thru the Mal Moore Memorial Golf Tourney. http://t.co/Ouucr57UPo
about 3 hours ago
SEC SCOREBOARD
Thursday, 9/3
Saturday, 9/5
BLOG ARCHIVE:
CATEGORIES: