Alabama Crimson Tide:

Josh Chapman
January, 22, 2013
1/22/13
6:00
AM ET
Recruiting is an imperfect science. Sometimes scouts can see a player's potential right away. With others it takes some seasoning. Alabama coach Nick Saban has hauled in more than his fair share of blue chip prospects, but he has also made hay with some lesser known quantities. With signing day only days away, we'll take a look back at some of the undervalued prospects that performed beyond their recruiting rankings at Alabama since 2006.


July, 5, 2012
7/05/12
7:00
AM ET
From now until kickoff in Arlington, Texas, we'll be counting down the days before Alabama and Michigan get the season started. Today, we move to No. 58 and what it means to UA football. See all the previous editions here.
For every championship team there are a few players that fly under the radar, making significant contributions without necessarily making a name for themselves. Last season, when the University of Alabama beat LSU for its second title in three years, one of those understated athletes was No. 58
Nick Gentry
.
Gentry wasn't the biggest, the fastest or the strongest player on the roster. He wasn't an NFL draft pick and didn't garner any All-American votes. In fact, he didn't even start for the Crimson Tide. But what he did do, he did well.
The native of Prattville, Ala., switched his game completely his senior season, going from a run-stopper to a pass-rusher. Gentry backed up
Josh Chapman
at nose tackle, and usually entered the game on third down. Despite being slightly under sized for the position, Gentry wreaked havoc in the middle of the line. He finished second on the team in sacks (4.5), fifth in tackles for loss (6), third in quarterback hurries (4) and even recovered one of the seven fumbles the UA defense picked up all season.
In the end, it was Gentry on the podium, smiling alongside the crystal football trophy.
Who will be this season's role players to make an impact? Vote inside
The Tusk
.
May, 30, 2012
5/30/12
6:14
PM ET
DESTIN, Fla. -- Nick Saban isn't looking to compare his 2012 football team to past ones, but he'd like to take one key ingredient from 2011 and sprinkle it around his team right now, especially on defense.
What Saban hopes to see more of from his defense when the players and coaches get back together shortly before fall camp is leadership. This defense can be as hungry as it wants, but Saban knows it won't go very far without a few chiefs stepping up.

He saw progress this spring, but it wasn't enough.
"I'm never satisfied," Saban said at the 2012 SEC spring meetings. "That's an area of our team that we need to continue to develop and mature."
Gone are upperclassmen leaders like Dont'a Hightower, Courtney Upshaw, Mark Barron and Josh Chapman. In are seniors
Nico Johnson
(linebacker) and
Jesse Williams
(defensive tackle) and linebackers
C.J. Mosley
(junior) and
Adrian Hubbard
(sophomore). All seemed to make strides this spring, but there's still a lot of room for them and others to grow, Saban said.
This defense isn't on the same level as the historic one in 2011, but it's still pretty talented. But so was the 2010 defense and its slow start hurt Alabama's chance to repeat as SEC champs. Though this unit is older than the 2010 defense, Saban made it clear that leadership and maturity can take a team further than talent and experience.
There's still plenty of time for all the leadership kinks to be worked out and there's no doubt that Saban will take a different approach in helping that growth after what transpired in 2010.
"I've been pleased with the leadership on this team so far," he said," but it's a work in progress and it's developing. It's going to have to continue to develop for them to be what we need them to be successful on a consistent basis."
April, 5, 2012
4/05/12
10:41
AM ET
SEC bloggers Chris Low and Edward Aschoff will occasionally give their takes on a question facing the league or certain teams in the league. We'll both have strong opinions, but not necessarily the same opinions. We'll let you decide who's right.
Today's Take Two topic:
Other than obvious stars such as
Barrett Jones
and
AJ McCarron
, who's the player that needs to come through for Alabama next season if the Crimson Tide are going to become the first team since Nebraska in 1994 and 1995 to win outright national championships in back-to-back seasons?
Take 1: Edward Aschoff
Jesse Williams
is a guy who I think has to have a big season in 2012 in order for Alabama to try and repeat this fall. Now that
Josh Chapman
is gone at nose guard, Williams is moving over from defensive end to follow in Chapman's big footsteps. It won't be easy when you consider how effective Chapman was last season, even while basically playing on one knee. He absolutely clogged the middle of Alabama's line and was a key cog in the Crimson Tide's suffocating run defense.
[+] Enlarge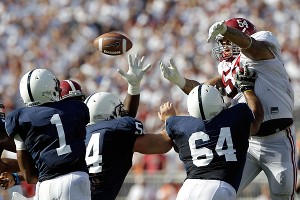 Rob Carr/Getty ImagesAlabama needs Jesse Williams, right, to stuff the run and get to the QB from his new spot at nose guard.
Chapman was a big reason why Alabama ranked first nationally in rush defense last season, giving up only 72 yards a game and 2.4 yards per rush. Alabama's defense will go through some growing pains this season. But if the Tide can control things up front, it will go a long way toward protecting that younger secondary. While Williams isn't built like Chapman, he's big enough -- and mean enough -- to clog up the middle just like Chapman. He's 6-foot-4 and weighs 320 pounds, but he's also very athletic, so he won't just be relied on against the run. He'll also be asked to get after the quarterback.
Remember, Williams played tackle when Alabama went to a four-man front last year, so playing inside isn't unfamiliar territory for him. He's likely to get time on the edge again as well, so his versatility will really help Alabama. Getting pressure on opposing backfields will be key for this Tide defense, so the coaches are expecting a lot from Williams. Everything starts up front in the SEC, and Williams' performance could determine a lot for Alabama's defense this fall.
Take 2: Chris Low
The interior of the defensive line is always a good place to start when you're retooling a defense, and there's no doubt that Josh Chapman will be sorely missed. The guy was an absolute rock in the middle and played more than half the season with a torn ACL in his left knee. So I understand, Edward, how you could go with Jesse Williams, especially with Williams sliding over from end to nose guard this spring in the Crimson Tide's 3-4 scheme. But I'm picking sophomore
Adrian Hubbard
as that under-the-radar guy who needs to come through because I think he has everything it takes to become a premier playmaker on defense next season.
Let's face it. When you're losing the likes of
Courtney Upshaw
, Dont'a Hightower,
Mark Barron
,
Dre Kirkpatrick
,
DeQuan Menzie
and Chapman on defense, new playmakers don't just magically appear – even for a team that has recruited as well as Alabama has. The 6-6 Hubbard, who looked more like a basketball player when he arrived at Alabama, is now pushing 250 pounds. He was listed at 237 last season. Upshaw was that finisher for the Tide from his Jack linebacker position. He was the guy who made most of the game-changing plays on Alabama's defense. Hubbard is poised to be that guy in 2012, and the Crimson Tide could be relying on him to harass the opposing quarterback more than ever before.
Much like 2010, Alabama's going to be inexperienced in the secondary next season with three of the four starters departing. It remains to be seen if the Crimson Tide can match up at cornerback the way they did a year ago. Moreover, when you're plugging new players into the defensive backfield, there are always going to be growing pains. Remember the mental errors that plagued the Tide in the secondary in 2010? The best way to cover up those errors and help a secondary find its way while players learn on the job is to keep the opposing quarterback running for his life. That's where Hubbard comes in. He's had an excellent spring and will be counted on to fill Upshaw's role next season. According to Upshaw, Hubbard will do more than just fill it. Upshaw as much as guaranteed last season that Hubbard would be a dominant player before his time was up at Alabama. That time is now.
January, 7, 2012
1/07/12
11:30
AM ET
NEW ORLEANS -- When Alabama's defensive players think about Round 1 with LSU, all those blown assignments in the running game stand out.
LSU was one of only two FBS teams to rush for more than 100 yards against Alabama's defense. The Tigers rushed for 148 yards on 41 carries and wore down one of the best front sevens in the nation.
No matter how good or gritty the defense is, it's tough to stop a running game that throws fresh legs out there like LSU does. The Tigers can have four to five backs carry the ball on any given drive. It keeps the Tigers' legs fresh and defenders exhausted.
"It's hard for teams to prepare for us because they don't know who they're going to get or what they're going to get," said LSU running back
Michael Ford
, who led the Tigers with 72 rushing yards against Alabama in November.
[+] Enlarge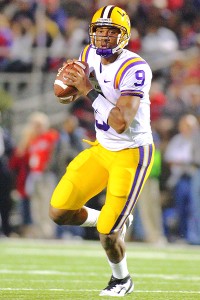 Spruce Derden/US PresswireOne of the Crimson Tide's biggest challenges will be containing Jordan Jefferson, who thrives at escaping pressure and breaking big plays.
Tide players are certainly giving LSU's backs their due. They understand that those guys can play. But they feel some of their own mistakes definitely helped get the Tigers rolling.
Players were out of position. Running gaps weren't filled. Jobs didn't get done.
"We had guys in the right spot, but then we'd have another guy who's not," Alabama linebacker Courtney Upshaw said. "It's on all 11 players on defense to get to the ball and be in the right spot."
The most frustrating part for players is that stopping the run is what Alabama does. Alabama leads the nation in rushing defense and is giving up just 2.5 yards per carry.
Defensive tackle Josh Chapman said the key is to own the big uglies up front and force LSU to throw. The more teams try to beat Alabama through the air, the more mistakes are made.
"We have to go out and create a new line of scrimmage," Chapman said. "One thing we do try to do is make teams one-dimensional, and that's by throwing the ball. Once you throw the ball, our DBs have a mindset that once it's in the air, it's ours."
But that won't be so easy with this LSU team. The Tigers have yet another running threat that creates a supreme multiheaded backfield monster.
When asked what Alabama's defense had to account for most during Monday's Allstate BCS National Championship Game, linebacker Dont'a Hightower emphatically said two words:
Jordan Jefferson
.
"He's their MVP," Hightower said. "He's the reason why they're doing so good right now."
He's become such a weapon because he has the ability to run. He can squirm his way out of tough situations when the pocket collapses, opening up running lanes and passing plays.
Defensive breakdowns helped Jefferson be successful on designed runs, options and wild scrambles. Tide players are particularly worried about the option because it brings the element of Jefferson running AND one of the many running backs right back into the picture.
For Alabama's defense to be successful in stopping LSU's rushing attack, which led the SEC with 220.4 yards against league opponents, Hightower said it comes down to closing in on rushing lanes, filling gaps and throwing in some tricky defensive looks to confuse Jefferson.
When Jefferson keeps the ball, it's all about containment.
"I feel like once you keep a dual-threat quarterback inside the pocket, I feel like he's kind of done," Hightower said.
LSU's ground game can hurt Alabama in so many different ways. From Jefferson's legs, to runners that average well over 220 pounds, LSU's backfield is a physical force that overpowered Alabama the first time.
Well, Hightower says bring it. Hightower is excited for his shot at redemption and wants to prove that Alabama is just as tough.
Hightower wants that robust running game to come right at this defense.
"I like power guys," he said. "I don't like chasing the guys who run the 4.23s. I don't like that. I'd rather them line up in the I-formation and just run at me."
Scout's Take: Atlanta Opening Regional
SEC SCOREBOARD
Thursday, 9/3
Saturday, 9/5