Alabama Crimson Tide:

John L. Smith
December, 5, 2012
12/05/12
9:00
AM ET
Here we are again talking about another potential national championship for the SEC.
Weren't we having this same conversation last year, the year before that and the year before that?
In fact, does anybody really remember the last time we weren't having this conversation?

The BCS Championship Game festivities will again include an SEC team this season, and once again, it's Alabama carrying the banner for the league.
October, 11, 2012
10/11/12
10:15
AM ET
We have a few exciting matchups in the SEC this weekend, so let's check out what to watch in Week 7:
1. Mettenberger's poise:
LSU quarterback
Zach Mettenberger
just hasn't looked comfortable in his two SEC starts. Granted, they were on the road, but we all expected a lot more from him. But in two SEC starts, Mettenberger has averaged 163.5 passing yards and has completed 50 percent of his passes with no touchdowns and an interception. It appears his confidence has been shot, and he has to get it back or this offense will be in trouble against such a talented South Carolina defense. Expect that Gamecocks front to put a ton of pressure on Mettenberger, which is something he's struggled against all year. If LSU can't balance its offense with the run and pass, it won't beat South Carolina.
[+] Enlarge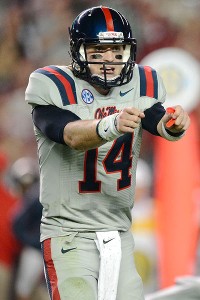 John David Mercer/US PresswireCan quarterback Bo Wallace get the Rebels a win against conference rival Auburn this week?
2. Chaney's patience:
Tennessee is in must-win mode against Mississippi State, but it has the tall task of putting its offense up against the Bulldogs' vaunted secondary. If Tennessee is going to best Mississippi State's defense, it has to be able to run the ball consistently. Offensive coordinator Jim Chaney said this week that balance is the key and he has to be more patient with his running game.
Rajion Neal
has been very impressive during the Vols' last two games, but he'll have to be on top of his game again in order to take some of the pressure off of quarterback
Tyler Bray
. Chaney wants to run the ball more, but he has a tendency to get too pass-heavy at times when things get rough. His patience in the running game will be important.
3. Ending an embarrassing streak:
Could this be the weekend Ole Miss finally gets over the SEC hump? The Rebels haven't won an SEC game in 16 tries and are fresh off a heartbreaking loss to Texas A&M. But the Rebels host an Auburn team that has struggled in every phase of the game this year. If Ole Miss is going to turn things around in SEC play, this is the weekend to do it. Auburn is giving up 409.8 yards of offense a game and is last in the SEC in total offense, generating a little more than 300 yards a game. The Rebels have one of the league's best offenses and shouldn't have an issue scoring.
4. Slowing down Marcus Lattimore:
South Carolina's running back appears to be getting stronger and healthier each week. He has rushed for 314 yards and five touchdowns in three SEC games and has to be salivating at the thought of facing an LSU defense that surrendered 146 rushing yards and two touchdowns to Florida's
Mike Gillislee
last week. Gillislee absolutely wore down the Tigers' front, and that's something Lattimore knows a thing or two about. LSU's offense kept its defense on the field and tired in the Swamp, and South Carolina's defense is capable of doing the same thing to the Tigers, so Lattimore could get plenty of chances to exhaust this unit with his pounding style.
5. South Carolina taking another step:
The Gamecocks are all the rage in college football. Steve Spurrier has this team ranked in the top five, and a win Saturday might propel South Carolina into the No. 2 spot. But with all the attention on the Gamecocks, can they keep their composure? Atlanta has been the goal all along, but even this team probably didn't expect to receive the attention it has this early in the year. LSU might be wounded, but this is South Carolina's first true road test. This team will be ready for South Carolina, and the Tigers haven't lost back-to-back games since 2008. If South Carolina is going to take the next step in its SEC journey this year, it has to beat LSU in hostile Tiger Stadium.
6. Scoreboard outage in Shreveport:
We know that Texas A&M can score points. The Aggies have averaged 51.5 points in four games since their opening loss to Florida.
Johnny Manziel
and his explosive crew have crippled defenses this year, but they might send Louisiana Tech's defense running. The Bulldogs rank 123rd nationally in total defense, giving up 531 yards a game. They are also giving up 35.8 points per game. Texas A&M has the ability to really light the scoreboard up against this team, but Louisiana Tech has a very talented offense as well. The Bulldogs actually average more yards than the Aggies and are scoring 53.2 points per game. We could have a Big 12 game on our hands.
7. Florida's focus:
The Gators are riding high off that emotional win over LSU last week. Coach Will Muschamp was celebrating like a little kid, violently pumping his fists and
crowd surfing
in the locker room. This was a huge win for him and his team, but now it's time to get back to playing football. But this group of Gators isn't used to success. Florida is ranked No. 4 nationally and is starting to get BCS love, but all that would come to a screeching halt with a loss to Vanderbilt on Saturday. The Commodores are feeling good after that road win against Missouri and are fighting for a bowl berth. Florida is on the road, and with South Carolina up next, the Gators can't get caught looking ahead this weekend.
8. Mississippi State's secondary vs Tennessee's passing game:
You have the SEC's top passing offense taking on one of the top secondary units around with arguably the best cornerback duo in
Johnthan Banks
and
Darius Slay
. Bray has an impressive set of receiving toys to play with, but he'll have his hands full against Banks and Slay, who have combined for seven interceptions and haven't allowed any touchdowns. As a whole, Mississippi State has allowed just three passing touchdowns, while Bray has tossed 14 touchdowns. He has six interceptions on the year, and has had an issue with pressing. He can't afford to force things against this secondary because it will make him pay.
9. Alabama's offensive attack:
There aren't a lot of glaring issues with No. 1 Alabama, but it will be interesting to see what the offense looks like this weekend against Missouri. Injuries have Alabama down to three scholarship running backs, while the Tide is looking for another deep threat with
DeAndrew White
going down with a season-ending knee injury. Players have said that execution issues have hurt the offense at times, and now that this team is down some bodies, the little things have to get cleaned up. The good news for Alabama is that Nick Saban got an extra week to prep and get this offense ready with the bye.
10. An Arkansas revival:
Don't look now, but Arkansas is slowly crawling out of the canyon it created with a terrible September. Bowl hopes were dashed, but last week's win over Auburn has given this team new life. You still don't know what you're going to get from coach John L. Smith, but his players showed a lot of pride last week. The Razorbacks are dealing with a ton of injuries, but face a Kentucky team riddled with injuries as well. A win for the Razorbacks would really put them right back in the bowl hunt.
September, 15, 2012
9/15/12
9:52
PM ET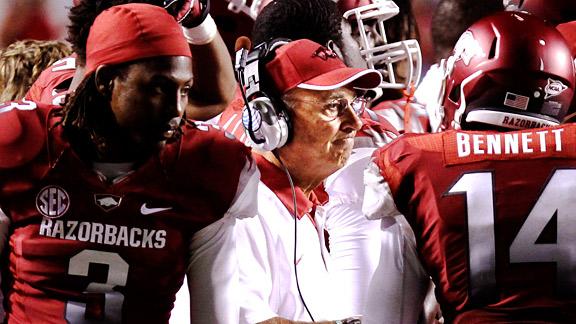 FAYETTEVILLE, Ark. – The wet, gloomy scene preceding Arkansas' game with No. 1 Alabama was a classic case of foreshadowing for the Razorbacks.
Rain washed away any really furious tailgating plans, while last week's overtime loss to Louisiana-Monroe expunged most of the excitement and enthusiasm revolving around a program once thought of as a national championship contender.
Adding on to the grim setting in and around the stadium was the fact that starting quarterback
Tyler Wilson
wasn't playing, even though he tossed out minute hope that he'd play by warming up in full pads.
That was about the high point, as Alabama routed Arkansas
52-0
, handing Arkansas its first shutout in Fayetteville since losing to Baylor 7-0 on Oct. 8, 1966.
It left a fan base despondent and a coach speechless.
"It's kind of hard to say anything at this point," John L. Smith said. "That's about as bad as I can every remember as a football team goes."
Even with the Crimson Tide not playing close to its best game, Alabama dominated every phase.
And I mean dominated.
With 11:32 remaining in the game,
AJ McCarron
had long since departed, Bama had 45 points and the Hogs had just 93 yards of offense and four turnovers. By that time, Alabama's backups' backups were in -- and scoring -- against Arkansas' horrendous defense.
A team that had so much promise and real championship aspirations limped out of its own stadium as a squad that has been outscored 79-10 in its past seven quarters -- and one with hardly any confidence.
[+] Enlarge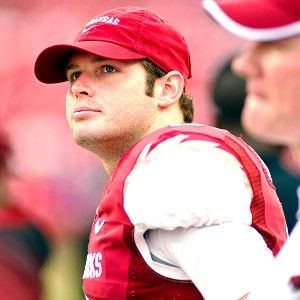 Beth Hall/US Presswire"As a leader it sucks to see people not do their jobs and things go wrong," said Arkansas QB Tyler Wilson, who didn't play against Alabama.
This team has been through so much drama, starting with Bobby Petrino's embarrassing exit, and when it had a chance to stand up and show some guts, it fell flat. Yes, it ran into a battering ram named "Alabama," but this team looked dazed from the moment
Will Coleman
tossed his snap over punter
Dylan Breeding
's head, leading to Alabama's first touchdown.
Smith blamed himself for the loss, but Arkansas' players didn't do much to help him.
Calling an impromptu news conference after the game, Wilson spoke from the heart and expressed those exact feelings.
Players who don't play rarely speak to the media, but Wilson approached members of Arkansas' staff late in the game and told them he wanted to.
Boy, did he.
"First of all, it wasn't very pretty to watch," said Wilson, who spoke for almost a minute and a half.
"Do I feel that we, at times, gave up out there? Yeah, absolutely. As a leader it sucks to see people not do their jobs and things go wrong. There have been a lot of people jump off of the bandwagon and it is my responsibility as a leader to keep everyone in this organization, in this team in that locker room together."
Defensive coordinator Paul Haynes, who has seen his defense surrender 1,310 yards through three games, agreed with Wilson's assessment.
"When you give up big plays at the end and nobody's around him at all, then you sit there and you may question that," Haynes said.
Wilson's words resembled Tim Tebow's famous speech after Florida's 2008 loss to Ole Miss. The Gators went on to win 10 straight and a national championship, and Wilson hopes he sparks a similar run.
Arkansas likely won't match Florida, but an SEC title still isn't out of sight. Still, this team has to band together and fight for something.
When asked if he worried about players hanging their heads or pointing fingers, defensive tackle
Alfred Davis
was emphatic in his response.
"No, because I know I'm not going to stop working and I'm not going to let the man beside me stop working, regardless of what the outcome of this football game was," he said.
"We have to get into a place where we're not quitting in football games, win, lose or draw."
Getting over Saturday's beatdown won't be easy, but it's all Arkansas can do. The loss of Petrino started this collapse, and the past two weeks have just piled on. If this team is going to rally, it has to grow up and it has to really stand by its coach.
It better do it now, because it didn't Saturday.
"They're going to hang together," Smith said. "They're going to come in ready to work. They know how to work. I have total confidence in these guys and the seniors are going to pull us together and the rest of the team is going to pull together."
September, 14, 2012
9/14/12
8:30
AM ET
TUSCALOOSA, Ala. -- The fun is over.
Better yet, it's just beginning.
The time for SEC play has arrived for the No. 1 ranked Crimson Tide. On Saturday, Alabama will travel to Fayetteville, Ark., to begin league play against an opponent with something to prove.
"This is a game that we are really looking forward to," Alabama coach Nick Saban said of facing the
Arkansas Razorbacks
. "This is a great opportunity. It is always great to play in the league. These guys certainly have a very, very good team and one that presents a lot of challenges for us."
Arkansas endured a humiliating defeat at the hands of the pesky Louisiana Monroe Warhawks a week ago, one that had many questioning just how good John L. Smith's Razorbacks really were. The Hogs slipped from No. 8 in the polls to "others receiving votes" in no time.
It's was a familiar scene to some players at Alabama, recalling when the Tide lost to Louisiana Monroe in 2007. Bama linebacker
Nico Johnson
said simply, "It happens" when asked about the defeat and added that he's sure the Razorbacks will bring their best on Saturday.
"We know they're at home, they're looking to bounce back," he explained. "So, we've got to be on our P's and Q's this week."
Three storylines
Who starts under center? The will he or won't he game surrounding Tyler Wilson has yet to run its course. Having not participated in any contact drills, it's still unclear whether one of the best quarterbacks in the country will be available to play, let alone start. If Arkansas loses the heart and soul of its offense, it could be a long day for the Razorback faithful.
Protecting McCarron: Alabama's offensive line was, at times, lost against Western Kentucky. The six sacks on AJ McCarron tell the story of missed assignments and poor execution. If there's one player Alabama can't afford to lose, it has to be its starting quarterback. There are only so many games he can win from his backside.
Secondary schooling: Whether it's Tyler Wilson, Brandon Allen or Betty White under center for the Razorbacks, their offense is still dangerous. With players like Chris Gragg, Cobi Hamilton and Brandon Mitchell to throw the ball to, the Alabama secondary will have to be on its toes. This will be, by far, the biggest test of the year for a young group of defensive backs.
Alabama players to watch
RT D.J. Fluker: Whether he's tipping his protection or not, Fluker needs to do better against the Arkansas pass rush than he did against WKU. He looked slow and out of place at times this past weekend, and it's safe to assume the Razorbacks will attempt to exploit that once again.
RB Eddie Lacy: The time for Lacy to get back to 100 percent is here as SEC play begins. The junior running back hasn't looked the same as he did a year ago, and with Jalston Fowler lost for the year, it's imperative he take ownership of the tailback position. If he doesn't, freshman T.J. Yeldon might just do it for him.
OLB Adrian Hubbard: The sophomore linebacker got to Tyler Wilson last year, delivering a highlight reel hit to the Razorbacks' quarterback in Bryant-Denny Stadium. The hope for he and his teammates is that he can do it again, this time on the road and as a starter.
Arkansas players to watch
QB Tyler Wilson/Brandon Allen: The drop off between starter and quarterback is significant. All one needs to do is what the tape of last weekend's game to see that. But whoever is under center for Arkansas has a number of weapons to throw to on offense, which makes him dangerous.
TE Chris Gragg: He may not be a household name in the SEC, but Gragg's performance in his senior season has been impressive. The tall, athletic receiving threat already has 193 yards and two touchdowns this season.
RB Knile Davis: Whether he's the Knile Davis of old is still up for debate, but even if he's half of what he was, he's still the best running back the Tide have faced this season.
Key matchup
C.J. Mosley
versus the underneath passing game: The WKU offense was shut out on the scoreboard this past weekend, but the Hilltoppers didn't have much trouble moving the chains against Alabama. WKU completed 16 of 20 passes to tight ends and tailbacks. C.J. Mosley, the Tide's most affective linebacker in pass coverage, will have his hands full against Arkansas defending the underneath and intermediate passing game.
By the numbers
550: The Razorbacks defense was nonexistent against Louisiana Monroe, surrendering a whopping 550 yards of total offense to the Warhawks.
5-0: In recent years, the Alabama-Arkansas series has been quite lopsided. with the Crimson Tide taking the last five contests, losing just three times since 2000.
5 of 6: Alabama has been lethal inside the red zone this year, scoring touchdowns on five of six drives inside the 20-yard line.
September, 13, 2012
9/13/12
10:13
AM ET
TUSCALOOSA, Ala. -- At this point, we were supposed to be discussing two top-10 teams going into a Saturday matchup with SEC- and national-championship implications. We were supposed to be talking about two undefeated teams putting those records on the line to start league play. The hype machine was bound to be similar to that of Alabama-Michigan almost three weeks ago.
But what was supposed to be, never was. Thanks to Louisiana Monroe, the Alabama-Arkansas matchup that was so highly anticipated just a week ago was brought down to earth. And thanks to an injured
Tyler Wilson
, what the game will turn out to be is anyone's guess.
While it's no longer two ranked teams going head-to-head, it doesn't mean there won't be a lot to lose on both sidelines, especially for No. 1 Alabama. Both schools have the opportunity to build, or rebuild, their resumes starting Saturday afternoon.
September, 10, 2012
9/10/12
3:46
PM ET
TUSCALOOSA, Ala. -- It happened to Alabama during Nick Saban's first season in Tuscaloosa. The heavily favored Crimson Tide became the laughing stock of college football in 2007 after losing to Louisiana Monroe at home 21-14.

After the game, quarterback John Parker Wilson told reporters it was "embarrassing" and that "We're Alabama. We're supposed to win."

Maybe that's why coach Nick Saban spent all of last week lecturing reporters about the quality of another Sun Belt opponent -- the Western Kentucky Hilltoppers. Alabama dispatched WKU after Saban's tirade about overlooking opponents, winning 35-0, but the other pesky team from the Sun Belt wasn't so easily slain in Little Rock, Ark., on Saturday.

Then-No. 10-ranked Arkansas was upended by Louisiana Monroe in overtime at what was essentially a home game for the Hogs. The loss was a potential deathknell for a team with national championship aspirations.


July, 20, 2012
7/20/12
11:11
AM ET
HOOVER, Ala. -- Now that another year of SEC media days are through, it's time to take a look back at the best moments from this year's three days in the Wynfrey Hotel:
Best interview:
Yes, Missouri wide receiver
T.J. Moe
had a pretty good time with the media in Hoover and Arkansas coach John L. Smith seemed to win over the main ballroom during his press conference, but the best interview of the week had to go to Alabama offensive lineman
Barrett Jones
. The veteran strolled right into our interview room munching on pecan pie bites without a care in the world. But the real magic came during his video interview where he playfully crushed his best friend and former teammate William Vlachos and gave fellow SEC blogger Chris Low a shout out during his hit. Jones came prepared and knew how to have fun.
[+] Enlarge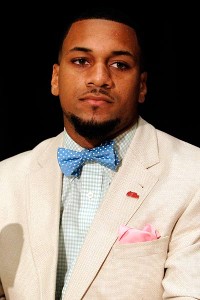 Butch Dill/AP PhotoOle Miss WR Donte Moncrief dresses to the nines for his appearance at SEC media days.
Best quote:
There were so many good one-liners from Moe that we're giving you our top three from the week:
Moe on what's different about the SEC: "They say girls are prettier here, air's fresher and toilet paper is thicker." -- Offensive lineman Elvis Fisher later told us that this line was planned after a conversation during the trip over.
But Moe wasn't done there: "Apparently Ryan Swope is a god because he can come in and get first-team all-SEC. But that's fine."
And this one really got to Arkansas running back Knile Davis: "In the Big 12, we put our best athletes on offense. [In the SEC], they put their best athletes on defense."
Best outfit:
The players came out and dressed well this week, like Auburn's
Corey Lemonier
and bow tie and red-striped socks and Vanderbilt's
Trey Wilson
in his slick charcoal suit with the black checkered shirt and red tie. But Ole Miss wide receiver
Donte Moncrief
stole the show with his colorful outfit. He rocked a light beige jacket over a checkered mint shirt and a blue bow tie. He was also equipped with salmon pants and a bright pink pocket square. The man dresses with confidence.
July, 19, 2012
7/19/12
8:32
AM ET
HOOVER, Ala. -- Day 2 of SEC media days sent some media members in to a frenzy, as 24 combined representatives from six teams paraded through The Wynfrey Hotel in Hoover, Ala.
Arkansas tried to steal the show Wednesday, as
Knile Davis
anointed himself as the conference's best running back for the second straight year and interim coach John L. Smith sent a barrage of one-liners through the main ballroom.
But get ready for the crowd Friday. That's when Alabama comes to town, meaning a cluster of Crimson Tide faithful will be packing into the Wynfrey and drowning out every bit of noise with a never-ending series of "Roll Tide."
Joining Alabama is Tennessee, Ole Miss and Georgia.
Here are some things to look out for:
Nick Saban hates comparisons, but expect him to receive a few questions about comparing his current defense to the one he had in 2010. He'll certainly love those.
He and his players will also get a plenty of questions about the offense, especially with quarterback AJ McCarron returning and Eddie Lacy taking over at running back. Unfortunately, neither will be in attendance.
It's no secret that Tennessee coach Derek Dooley's seat is pretty hot in Knoxville, so he should expect to receive questions surrounding his job security. But has he really had enough time to right a ship that was sinking when he arrived and is just now patching up the hole?
Tyler Bray will be in the house. He's one of the league's best quarterbacks and he's confident in his ability, but let's see just how much maturing he's done heading into Year 3.
Georgia has dealt with a handful of offseason distractions thus far, including losing starting running back Isaiah Crowell. Mark Richt and his players should be prepared to answer questions about moving on and where the running game goes from here.
Jarvis Jones and his pursuit to be the nation's best linebacker should be a fun subject to tackle.
Ole Miss coach Hugh Freeze is at SEC media days for the first time. He's asked Rebel Nation for patience and is dealing with a roster that has a lot of holes on it. Can he convince people here that the Rebels are ready to turn things around?
June, 5, 2012
6/05/12
6:05
AM ET
The rundown
2011 record:
11-2
2011 conference record:
6-2
All-time against Alabama:
8-12
To continue reading this article you must be an Insider
May, 18, 2012
5/18/12
11:30
AM ET
We're putting spring behind us and looking toward the fall with our post-spring power rankings:
1. LSU:
The Tigers had one of the best springs around. Things were quiet off the field, and the offense rallied behind quarterback
Zach Mettenberger
. Coach Les Miles was very impressed with Mettenberger's play and maturity, and expects LSU's offense to be more balanced with him under center. LSU can still use four or five running backs as well. Defensively, the Tigers are stacked once again, especially up front with two potential first-rounders in ends
Sam Montgomery
and
Barkevious Mingo
. Questions surround the inexperienced linebackers, but
Kevin Minter
had a tremendous spring in the middle. On paper, LSU is equipped with the talent to make another title run, and gets Alabama at home this year.

2. Alabama:
The defending national champs saw a lot of "new" faces on defense this spring, but coach Nick Saban left happy with where his players were -- but not satisfied. There is still work to be done, especially in the secondary, where the Tide must replace three starters. Dont'a Hightower and Courtney Upshaw are gone at linebacker, but the coaches were impressed with how
Nico Johnson
,
C.J. Mosley
and
Adrian Hubbard
played this spring. Some think Hubbard, a redshirt sophomore, could be Bama's top pass-rusher. Offensively, quarterback
AJ McCarron
is back, more mature and surrounded by a very veteran line. He has a group of younger receivers to throw to, but has at least four quality running backs. Alabama's road to repeating is tougher, with games at Arkansas and LSU.
3. South Carolina:
A healthy
Marcus Lattimore
(knee) makes South Carolina an even better contender for the SEC East crown. His status is uncertain, but the pieces around him are pretty impressive. Quarterback
Connor Shaw
had an impressive spring, and looks ready to be the passer coach Steve Spurrier wants him to be. The defense is once again stacked, especially up front with ends
Jadeveon Clowney
and
Devin Taylor
. There are questions in the secondary, with two new, young starters in
Victor Hampton
(cornerback) and
Brison Williams
(safety), and senior
Akeem Auguste
coming back after missing all of last season with a foot injury. Still, Spurrier is chirping about his SEC counterparts, so you know he thinks he's got a good team this year.
Scout's Take: Atlanta Opening Regional
SEC SCOREBOARD
Thursday, 9/3
Saturday, 9/5