Alabama Crimson Tide:

John Fulton
April, 13, 2013
Apr 13
6:50
PM ET
TUSCALOOSA, Ala. -- Depending on which way you look at it, Alabama's scrimmage on Saturday was either good or bad for the future of the football team. Good because the offense scored 11 touchdowns and didn't cough the ball up once, and bad because the defense failed to make many stops and didn't generate a single turnover.

Ah, the joy of spring football. When you play against yourself no one really wins. The players simply get to hit one another, and that's a pleasant enough experience.

"Defensively, I guess it's good and bad news," Alabama coach Nick Saban said. "We didn't create any turnovers but the good news is we didn't turn it over on offense, so that's probably a good thing. But we practiced a lot of different situations out there, which is great exposure for our players."

Saturday marked the 12th practice and second scrimmage of the spring for the Crimson Tide. The next scrimmage will be the last when the doors to Bryant-Denny Stadium are swung open on April 20 for A-Day.

And even then, the result of the game-like practice will be the same: either the offense will look spectacular and the defense horrendous, or vice versa.


March, 6, 2013
Mar 6
6:00
AM ET
Editor's note: From now until the start of spring camp on March 16, TideNation will count down the 12 most intriguing players to watch on the Alabama football roster. Today we look at safety Landon Collins.
TUSCALOOSA, Ala. -- The training wheels are set to come off of
Landon Collins
in a few weeks when spring practice begins at the University of Alabama. No longer a rookie, it's the former five-star safety's time to prove he belongs in the SEC.
Robert Lester
is gone and there's a vacancy in the secondary with his name on it. Now, all he has to do is win the job.
[+] Enlarge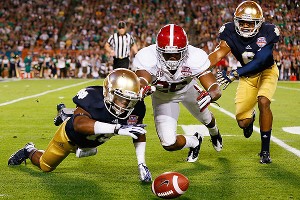 Kevin C. Cox/Getty ImagesFormer five-star recruit Landon Collins excelled on special teams as a freshman for the Crimson Tide, but his role is sure to expand in 2013.
Ha'Sean Clinton-Dix
,
Nick Perry
,
Vinnie Sunseri
and
Jarrick Williams
will all compete with Collins to fill the two safety positions. And in all likelihood, Cinton-Dix, who started 10 of 14 games, already has one of the spots filled up, leaving four men and one position to do battle over.
There's little doubt Collins is the most talented option. According to ESPN, the former Under Armour All-American was the No. 1-ranked safety in the 2012 class, the top-rated player Alabama signed and the sixth best prospect in the country. He runs a sub-4.4 second 40-yard dash at 6-foot and 202 pounds.
His above-average athleticism showed up mainly on special teams last season, where he finished with 17 total tackles. He also blocked a kick late in the season, no doubt earning him brownie points with a coaching staff that values the small things more than most. He was one of four players to win the Special Teams Award at the end of the the year team banquet.
Rather than use Collins all over the field, Alabama coach Nick Saban opted to keep him on special teams and use him sparingly on defense. In other words, he brought him along slowly rather than burden him with too many responsibilities at once.
Sunseri, who starred on special teams in 2011 before seeing his role expand, said he saw Collins progress as the year went along. When it was Collins' turn to come on for mop up duty, Sunseri said he saw him, "not make any mental errors and play with tenacity."
With Lester gone along with top cornerback
Dee Milliner
, the secondary will need all the help it can get. The cornerback position could be thin with an up-and-down
Deion Belue
returning and a young but talented option in rising sophomore
Geno Smith
.
Bradley Sylve
could play a role and rising senior
John Fulton
has a shot at significant reps if he can recover from a nagging turf toe injury. With so much up in the air, the safety position becomes that much more important.
For Alabama to be successful, the back end of the defense has to hold up its end of the bargain. If Collins develops into the ballhawking safety some expect, it would go a long way to shoring up the entire secondary.
March, 4, 2013
Mar 4
6:00
AM ET
Editor's note: From now until the start of spring camp on March 16, TideNation will count down the 12 most intriguing players to watch on the Alabama football roster. Today we look at cornerback Deion Belue.
TUSCALOOSA, Ala. -- Ever since
Javier Arenas
became a starter in 2008, Alabama has had a lockdown cornerback to anchor the secondary. When Arenas graduated, the job fell to
Dre Kirkpatrick
. When Kirkpatrick left,
Dee Milliner
took over. It's part of what's made the Crimson Tide's defense so dominating. When a quarterback no longer has his top receiving target to throw the ball to, generating offense becomes an uphill battle.
Now that Milliner is gone, the question of who will be next to lead the charge at cornerback lingers. The heir to the throne, rising senior
Deion Belue
, has shown at times that he's capable of being the on-ball defender UA needs, but those flashes of execution have been fleeting at best. For every spectacular pass defended (see Notre Dame) there's an instance of him being either out of position or late on his break (see Georgia).
Belue's stat sheet tells the story of his up-and-down season. Both of his interceptions came in the first five games -- one against Western Kentucky and the other against Ole Miss. There were eight games Belue failed to register a single pass breakup, and it wasn't for lack of teams throwing on him. With Milliner leading the country in passes defended (breakups plus interceptions) for most of the season, it was often Belue who was targeted most by opposing quarterbacks. Of Belue's nine total passes defended, just one came in the final six games of the season.
January, 30, 2013
Jan 30
6:00
AM ET
Editor's note: From now until signing day, TideNation will examine the remaining uncommitted prospects still considering the University of Alabama. Today, we look at ESPN 150 safety Vonn Bell.
TUSCALOOSA, Ala. -- For talented safety
Vonn Bell
, Alabama is simply Alabama. The championships, the draft picks and the defense need no further explanation.
"Alabama speaks for itself," he said.
To continue reading this article you must be an Insider
January, 14, 2013
Jan 14
6:00
AM ET
Editor's note: The season is over and the Alabama Crimson Tide are national champions yet again. But what happens next? TideNation examines the most pressing storylines of the offseason as the Tide gear up for another title defense.
TUSCALOOSA, Ala. -- The departing junior offered some insight.
Dee Milliner
, another in a long line of Alabama underclassmen to bolt for the NFL, knows a thing or two about being the man on deck. He played the part of understudy to
Dre Kirkpatrick
a year ago. Before that, Kirkpatrick was the heir to
Javier Arenas
. Year over year under coach Nick Saban, the factory of defensive backs has continued churning along without fail.
"You've got to be prepared and ready at any time," Milliner, a potential first-round pick in April's draft, said. "It's just buying into what you're supposed to do and trying to be your best. We always talk about that. You're competing with yourself, because you're competing to be the best within yourself. We try to do that each day we get on the field, and I think that plays a role in high draft picks each year."
Alabama will have a new crop of defensive backs to incorporate next season as both Milliner and safety
Robert Lester
step away to the NFL.
To continue reading this article you must be an Insider
January, 1, 2013
Jan 1
6:00
AM ET
Editor's note:
Every Tuesday and Thursday between now and national signing day, TideNation will review each position and look at who figures to start, who could rise up the depth chart and who might be on the way. Today we'll look at the cornerbacks.
TUSCALOOSA, Ala. -- Every practice Nick Saban is there, tossing the football to every one of the cornerbacks as they run down the sideline. Once one turn is finished, he sprints to the other end of the field and does it all over again. The 61-year-old head coach of the Crimson Tide never fails to work with his position.
Jeremy Pruitt gets the safeties, Kirby Smart gets the inside linebackers, Lance Thompson gets the outside linebackers and Chris Rumph gets the defensive linemen. The cornerbacks are all Saban's at the start. So if there's a position that better get things right, it's them. You don't want to upset the man who recruited you to Tuscaloosa in the first place.
To continue reading this article you must be an Insider
October, 8, 2012
10/08/12
3:32
PM ET
TUSCALOOSA, Ala. -- As he's done all season, Nick Saban continued to guard his Alabama Crimson Tide against an upset. He could have stepped to the podium on Monday and not said a word and gotten his point across.
But that's not his style.
[+] Enlarge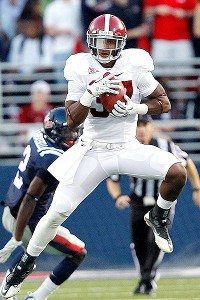 Butch Dill/Getty ImagesRobert Lester believes the bye week came at a perfect time for the Tide.
With the weekend off, Saban spent Saturday taking notes. No. 4 LSU lost to No. 10 Florida in dramatic fashion. No. 5 UGA was exposed No. 6 South Carolina. Even Missouri got tripped up on the road by the previously 1-3 Vanderbilt Commodores. No one was safe.
"The teams that most of you in this room make head and shoulders above other teams, obviously showed you this last weekend how badly you can be mistaken," Saban said in his opening remarks. "I know I can be mistaken and get criticized, but you guys are badly mistaken when you make teams that are like so much better than everybody else. This weekend kind of proved that your predictability is not very good.
"What it proved is the only thing predictable about college football is its unpredictability."
It wasn't quite the tirade of a month ago when Saban criticized the media for overlooking Western Kentucky -- a team the Tide beat 35-0 -- but the message was the same.
"The key to the whole thing is consistency in performance, having a group of players that are committed to doing the things they need to do to play the game at a high standard and a high level all the time regardless of the circumstance or situation," Saban said.
No one need go on radio or television to put the No. 1-ranked Crimson Tide on upset alert. Saban and the coaching staff have that job covered.
"This bye week was perfect timing," said senior safety
Robert Lester
. "It gave the younger guys a chance to look at other teams and other great teams and them not bringing their A game to the game and actually lose a game, maybe they learn a lesson while not actually going out there and learning a lesson and it costing us."
September, 9, 2012
9/09/12
4:18
PM ET
TUSCALOOSA, Ala. -- After nearly 24 hours of digestion, analysis of No. 1 Alabama's 35-0 win over Western Kentucky in the home opener at Bryant-Denny Stadium in Tuscaloosa:
Alabama's offensive line was shaky. There were several negative plays on offense. They continue to get very good push in the running game, but pass protection is an issue. The pocket was poor all game. Of the six sacks on AJ McCarron, two were the quarterback's fault, one of which he held the ball just a split-second too long.
Give the WKU defense credit, though. The Hilltoppers pressured the backfield with blitzes and misdirection all game.
To continue reading this article you must be an Insider
September, 8, 2012
9/08/12
8:48
PM ET
TUSCALOOSA, Ala. -- The University of Alabama's 35-0 win over Western Kentucky will look good on paper -- that is, unless you scroll down to the injury and participation report.
[+] Enlarge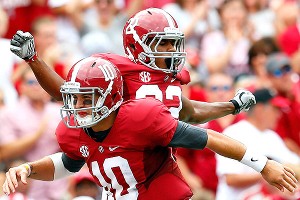 Kevin C. Cox/Getty ImagesAlabama had plenty to celebrate against WKU, but the injury bug bit again.
No. 1 Alabama didn't escape its home debut Saturday without a few players getting dinged up. Junior running back
Jalston Fowler
had a scare late in the fourth quarter, injuring his knee. The Tide's No. 2 tailback had to be helped off the field and sat in pain on the trainer's table for several minutes. Players crowded around him and offered their support after seeing how serious the injury looked.
After the game, coach Nick Saban had no update on Fowler's knee and said he would get an MRI in the morning. Fowler left the game on a stretcher, emotionally distraught.
"It's really tough when you see a player, no matter what it is or who it is, go down," said receiver
Christion Jones
. "But one thing you have to do, is figure out what you can do to get him back right."
Sophomore linebacker/H-back
Brent Calloway
had to leave the game after injuring his shoulder. True freshman linebacker
Reggie Ragland
didn't dress out after injuring himself during last Saturday's game against Michigan.
August, 28, 2012
8/28/12
1:20
PM ET
TUSCALOOSA, Ala. -- The picture of the Crimson Tide, circa 2012, is coming into full view. On Tuesday afternoon, Alabama released its depth chart.
There were a couple surprises on the list, including
Jalston Fowler
and
T.J. Yeldon
sharing duties as the No. 2 tailback and
Ed Stinson
winning the second defensive end spot. True freshmen
Denzel Devall
and
Geno Smith
also won coveted backup roles at Jack and cornerback, respectively.
Quarterback
AJ McCarron
, Jr.
Phillip Ely
, RS Fr.
Running back
Eddie Lacy
, Jr.
Jalston Folwer, Jr. -- OR -- T.J. Yeldon Fr.
Dee Hart
, RS Fr.
Tight end/H
Michael Williams
, RS Sr.
Brian Vogler
, Soph.
August, 16, 2012
8/16/12
4:33
PM ET
TUSCALOOSA Ala. -- The University of Alabama began practice on the Thomas-Drew Practice Fields outdoors on Thursday afternoon, but quickly shuffled indoors when a strong thunderstorm moved into Tuscaloosa.
It was the 13th day of fall practice and the 18th practice overall.
Here are some notes and observations from the media viewing period:
Jalston Fowler began the practice at H-Back, but switched to running back after the first period. It's interesting to note that we have not seen Fowler work in passing drills with the H-Backs. He might be in a role more closely associated with fullbacks rather than tight ends.
Adrian Hubbard continues to practice with a brace on his left elbow. It has varied from a heavy wrap to a sleeve, but today it was a metallic/plastic brace.
To continue reading this article you must be an Insider