Alabama Crimson Tide:

Gary Pinkel
April, 30, 2013
Apr 30
1:57
PM ET
The adage has always been that if something ain't broke, don't fix it. By all accounts, that mantra has worked just fine for the SEC.
Just look at the seven straight BCS titles.
But changes to scheduling is being talked about in college football's most successful conference, especially with the new College Football Playoff on the horizon.

Currently, SEC teams play eight conference games, but that number could move to nine. Talk of SEC teams playing nine conference games isn't anything new, but with two more teams in the conference and strength of schedule becoming a very important factor in how the playoff committee chooses its four playoff teams, nine-game talk has increased.
SEC coaches fielded questions about increasing the number of conference games during last week's SEC coaches teleconference, and league commissioner Mike Slive addressed a nine-game conference schedule Monday.
"Obviously the playoff impacts how we think about scheduling," Slive said. "Strength of scheduling will be a significant component in the committee's analysis. As far as I am concerned, I am open-minded about how we should schedule, and I anticipate continued discussions about how we schedule in the future."
Nine games is a tricky subject when it comes to the SEC. Coaches have made the argument that the league is tough enough, and adding another conference game makes the road to Atlanta -- and the national championship -- that much harder. Also, SEC championship teams would have to play 10 conference games. That's a lot of wear and tear before heading into a four-team playoff.
Then, you have a schools like Florida, Georgia, Kentucky and South Carolina who annually play nonconference rivals. Those certainly aren't gimmie games, so think about adding another conference game to the slate.
"We're not for nine conference games because of our instate rival Florida State," Florida coach Wil Muschamp said.
While the selfish part of me wants to see all SEC teams playing tougher nonconference games more consistently, I understand why coaches and athletic directors would be against that. Again, scheduling formulas have worked to this point.
Here's what Missouri's Gary Pinkel had to say about moving to nine conference games:
"Most coaches like eight games, and one of the reasons is because it's such a tough league as it is. It would have a huge effect on your nonconference (schedule) going down to three games. There's a lot of aspects to it. And I think TV will have maybe something to say about that also, in terms of what they would like."
But there are arguments for moving to nine games. With a nine-game SEC schedule players would have the chance to play every SEC school during their careers. It would also help bolster teams' strength of schedule for the upcoming playoff. You'd certainly get a much more entertaining game than Alabama taking on a directional school or an FCS opponent.
Strength of schedule is certainly going to be an issue the SEC has to tackle, whether it has eight or nine conference games, but as long as the SEC stays as strong as it is, chances are its champion will continuously sit at the playoff table.
So why alter a working product?
Plus, the SEC still has to figure out its rotation issues with scheduling first. Does the conference stay with a permanent cross-division opponent, regardless of how many conference games teams play?
Like last year's SEC spring meetings, which begin at the end of May, coaches and administors will discuss all things under the scheduling sun, but another thing to consider when it comes to nine conference games is that teams would be giving up a home game every year in order to play another league game. That means a loss of revenue, folks.
There are pluses and minuses to nine conference games, and while the Big Ten is taking on the challenge, the SEC doesn't have to be so fast to copy its northern cousins.
October, 11, 2012
10/11/12
10:00
AM ET
TUSCALOOSA, Ala. -- The break is over. It's back to SEC action for the No. 1-ranked Alabama Crimson Tide on Saturday when they travel to Columbia, Mo., to face the league upstart Missouri Tigers.
The Tigers are still looking for their first SEC win after dropping a close one to Vanderbilt last weekend. Welcoming Alabama to Faurot Field won't be the easiest way to accomplish that. On Wednesday, coach Gary Pinkel had nothing but praise for the Crimson Tide, calling Alabama a team with "no weaknesses."
At 2:30 p.m. CT on Saturday, Pinkel and his staff will try to find something to exploit, but the search could be difficult.
To continue reading this article you must be an Insider
October, 10, 2012
10/10/12
1:06
PM ET
Alabama coach Nick Saban took to the SEC's weekly teleconference on Wednesday morning to talk about how his team is handling the return from the bye week. He touched on preparing for Missouri, his ties to coach Gary Pinkel and the random nature of college football.
[+] Enlarge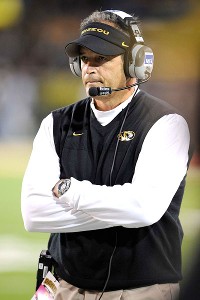 Jerome Miron/US PresswireMissouri coach Gary Pinkel and Nick Saban have known each other since their playing days.
1. Challenging Tigers
Coming back from a bye week is never easy. For the players, it amounts to a short vacation. For coaches, that means reining the players back in and reminding them of the challenge ahead.
So far, Saban said he's been pleased with his team's focus heading into a road test against Missouri on Saturday.
"Missouri is certainly a very challenging team to prepare for," Saban said. "They do a great job defensively with the pressures, stunts. Offensively, they're one the most different teams we play against, in terms of their style of offense.
"This a very well coached team and this is going to be a challenging game for us on the road."
2. Ties with Gary Pinkel
The relationship between Saban and Missouri coach Gary Pinkel has been well documented. Both played at Kent State together and both coached alongside one another as graduate assistants. In fact, it was Saban who recommended Pinkel for the head coach's position at Toledo, where he coached from 1991-2000.
"Gary was always a really smart guy, a great person, had great character, a really good competitor," Saban said. "When we both became GAs, it became evident to me that he could be a really good coach, so it's no surprise to me he's been an outstanding coach for a number of years."
Saban said he and Pinkel were fortunate to play and coach under Kent State's Don James. There are imprints of James' coaching style at both Alabama and Missouri.
"It certainly helped me in our systematic approach to how we do every part of our program," Saban said.
3. Unpredictability of college football
LSU lost in The Swamp. Georgia fell in startling fashion to the Gamecocks. Missouri let its first SEC victory slip away to a one-win Vanderbilt team.
For a team that Saban said doesn't remember losing to South Carolina, Auburn and LSU in 2010, weekly upsets around college football serve as a reminder that anything can happen.
"They don't play their best football, anybody is capable of beating you on any day," Saban said. "You control that. You control your accountability to doing things the right way."
Like any ranked team, the test is how you battle expectations.
"It's always a challenge for all of us to focus on the things they can control, which is basically what they do on the field," he said. "… It's sort of don't let the external factors effect who you are.
"It's human nature to be effected by that so you have to fight it a little."
September, 17, 2012
9/17/12
2:50
PM ET
Looking back at Week 3 in the SEC through our trusty Hot and Not lens:
GLOWING EMBERS
SEC power:
It hasn't all been good. See Arkansas' tumble from elite status. See Tennessee's collapse in the second half last Saturday, and see Auburn's defense. But a quick scan of the latest Associated Press Top 25 poll shows four SEC teams ranked in the top 7 nationally, including No. 1 Alabama and No. 2 LSU. Georgia is No. 5 this week and South Carolina No. 7. Florida has also moved into the top 15 and checks in at No. 14. For the rest of the country, seeing Alabama and LSU at the top of the polls is probably nauseating. After all, this was supposed to be the year that the SEC's reign ended, and maybe that will be the case. There's that vaunted USC team out West that was gunning for the SEC's big boys this season. The Trojans, though, might want to figure out how to beat Stanford first before moving up to the varsity.
HOT
Joker Phillips' seat:
Losing to both Louisville and Western Kentucky was bad enough for the low morale that surrounds the Kentucky program. But, now, the Wildcats need to somehow find four SEC wins to avoid their third straight losing season. It doesn't look good for Phillips despite the fact that he's playing a ton of younger players.
NOT
[+] Enlarge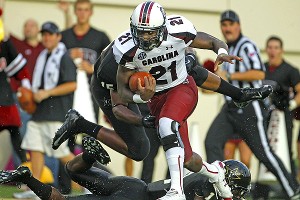 Zuma Press/Icon SMIStar South Carolina RB Marcus Lattimore has been slowed in his past two games.
South Carolina's run blocking:
The Gamecocks struggled to run the ball much of the night in their 49-6 win over UAB. Star running back
Marcus Lattimore
has been held under 100 rushing yards in each of his past two games. But, then, he hasn't had a lot of holes to run through. Offensive line coach Shawn Elliott is thinking about shaking up the offensive line for this week's game against Missouri.
HOT
Alabama quarterback AJ McCarron:
He's thrown 152 passes without an interception this season and is third nationally in passing efficiency with a 196.6 rating. McCarron has thrown seven touchdown passes in his first three games and is in total command of that Alabama offense right now.
NOT
Missouri's quarterback situation:
Who's the quarterback for the Tigers this coming Saturday against South Carolina? Moreover, who do the Tigers want to be their quarterback? The whole deal with Missouri coach Gary Pinkel coming out and saying that
James Franklin
refused a painkiller injection was bizarre. Franklin's shoulder was hurting and he didn't play in the win over Arizona State. Backup
Corbin Berkstresser
stepped in and led Missouri to the victory. It will be interesting to see how it plays out from here and whether or not there's any division on the team.
HOT
Florida in the fourth quarter:
What a difference a year makes for the Gators, who have outscored their first three opponents this season 27-0 in the fourth quarter. A year ago, they were outscored 72-22 in the fourth quarter of SEC games. Finishing games was a huge emphasis over the offseason in Gainesville, and Will Muschamp's club has shown some serious mettle in the second half of games this season.
NOT
Tennessee quarterback Tyler Bray:
Not only was he 1-of-10 in the fourth quarter against Florida, but Bray's body language and his lack of leadership were just as disturbing. He's a super talent and can really throw the football, but he still has a ways to go before he can ever be considered an elite quarterback. He may get there, but he's not going to do it by piling up numbers against lesser opponents and then disappearing in the big games when his team gets down in the second half.
HOT
Texas A&M defensive end Damontre Moore:
Georgia's
Jarvis Jones
currently holds the unofficial title as the SEC's best pass-rusher, but don't sleep on Moore. The Aggies' junior had two more sacks last Saturday in the rout of SMU and already has five in two games. He's been pretty much unblockable to this point.
NOT
Ole Miss' defense:
Even in an Xbox game, you don't give up 66 points and 676 yards of total offense. The Rebels were obliterated by a Texas team that scored on seven straight possessions, including six touchdowns.
FREEZER BURN
Arkansas' start to the season:
Could it get any worse? The 52-0 drubbing by Alabama was Arkansas' first shutout in Fayetteville since a 7-0 loss to Baylor in 1966. This is a team that had talked openly about winning a national championship in the preseason, but it's also a team that quit in the second half of the game last Saturday. Senior quarterback
Tyler Wilson
obviously means a lot to that team, and not having him in the game was a huge blow. There's no guarantee that he's going to be out there against Rutgers this coming weekend. So the Hogs might want to find some resolve and also rediscover their pride and do something about salvaging this season before it's too late. A 1-2 start is terribly disappointing. But it would pale in comparison if the Hogs totally tank and end up with a losing season.
August, 2, 2012
8/02/12
1:35
PM ET
The impact that Texas A&M's membership in the SEC has had on recruiting is noticeable. The Aggies currently have a whopping 27 commitments in their 2013 recruiting class even though fall practice hasn't even started for Texas high schools. Many of the Aggies' commitments have said that the SEC membership is among the top reasons they chose Texas A&M.
Coach Kevin Sumlin has acknowledged that impact, noting that Texas A&M has "probably gotten a few more visits" and his coaches have had a few more "return phone calls" from recruits who might not otherwise have considered the Aggies if they weren't in what's widely considered to be the nation's premier football conference.
To continue reading this article you must be an Insider
July, 19, 2012
7/19/12
7:54
PM ET
HOOVER, Ala. --
Eddie Lacy
missed the entirety of spring practice due to an injury, but don't expect that to slow his ascension to No. 1 on the running backs depth chart.
Alabama
coach Nick Saban said Lacy's recovery from offseason surgery has gone well, and the coach expects him to be ready when fall camp begins in August.
Saban added that Lacy and the rest of the formerly injured players would be "cleared for practice if we started practice today."
Lacy's absence during spring practice had a positive effect, though. It left room for fellow running backs
Jalston Fowler
,
Dee Hart
and freshman
T.J. Yeldon
to make their case for extended playing time in backup roles. Given that Alabama has used two running backs since Saban arrived, the competition for the lead backup has been heated.
July, 10, 2012
7/10/12
11:54
AM ET
The SEC has the reputation of being the toughest conference to play/coach in. But what is it like to be in charge of one of these high-profile programs?
That's where we come in. As we take a deeper look into programs around the country this week, we're looking at how each program stacks up in every conference. In the SEC, there's always a fierce arms race going on, and getting left behind can be dangerous.

Today, we're ranking each coaching job in the SEC. We considered a lot of factors, including location, tradition, support, fan bases, facilities and recruiting access.
Here's how we ranked all 14 SEC jobs.
1. Florida:
For starters, Florida is all about location, location, location. It's in a state that produces some of the country's top talent and it's a state that players around the country will flock to. Thanks to Steve Spurrier and Urban Meyer, Florida has become a national brand like Ohio State, USC, Notre Dame and Texas. Recent significant facility upgrades and a tremendous fan base have only helped this be the top job in the SEC.
2. LSU:
It's one of just a handful of schools around the country that's considered
the
school in the state. Every football player in Louisiana grows up wanting to play in Tiger Stadium. Louisiana is also extremely bountiful when it comes to producing football players, and Texas is right around the corner. The facilities are top notch and the program has great tradition and a tremendous fan base.
3. Alabama:
Talk about extraordinary tradition. Though there were some down years before Nick Saban took over, there's no escaping the success this program has had. Prospects from all over are drawn to Alabama. There's tremendous support inside and outside for the program, and the facilities are some of the best in the nation. This is also a school that didn't hesitate to pay Saban the big bucks when the opportunity arose.
4. UGA:
There is so much talent around Athens that it's hard for Georgia not to have a top recruiting class year in and year out. Georgia's facilities are near the top of the conference, and the campus is gorgeous. The tradition and game-day atmosphere would draw anyone in.
5. Auburn:
While it's constantly knocking heads with Alabama, Auburn has plenty going for it. The campus is gorgeous, the stadium is one of the best game-day venues in the league and the fan base is extremely passionate. Auburn is in the heart of recruiting central in the Southeast, and the recently updated facilities are a major plus.
6. Tennessee:
While the Vols have struggled with consistency on the field lately, this is still an attractive job. Nearly $50 million was spent to build a brand-new football complex, Neyland Stadium has been spruced up over the years and the program does have a rich tradition. Though with the state not being so talent-rich, coaches are forced to target other areas in the Southeast to recruit.
7. Texas A&M:
The Aggies' tradition is well-known in college football. The game-day atmosphere is one of the best in the country, there is a great alumni base, their home state is filled with elite talent and the school is huge. Now Texas A&M can sell playing in the SEC to Texas athletes. But one thing that does hang over the program is that it's still playing second to the Longhorns.
June, 26, 2012
6/26/12
7:40
AM ET
Each week at TideNation we will speak with a writer who covers one of Alabama's 2012 opponents. Today we spoke with Dave Matter, who covers all things Missouri for the Columbia Daily Tribune. He's the co-author of The Mizzou Fan's Survival Guide to the SEC.
Question: It's the place everyone starts and I'll be no different: How do you see Missouri's transition to the SEC going in Year 1?
Matter:
Missouri has the roster to compete in 2012, especially in the Eastern Division. Having a returning starting quarterback is crucial assuming
James Franklin
will be fully recovered from shoulder surgery he underwent in March. The Tigers return enough first-team talent and experience on both sides of the ball to compete with the best teams in the SEC East, —but I''m not convinced they have the depth to win the division while going through the grind of the SEC schedule. There will be some adjustments against the typical style of offense in the league, but Missouri has historically played better against physical, run-first, pro-style offenses, on the rare occasion it faced that kind of attack in the Big 12. Texas would be the best example of late, and MU had its best defensive game of the year last season against Texas.
To continue reading this article you must be an Insider
May, 30, 2012
5/30/12
1:12
PM ET
DESTIN, Fla. -- When SEC commissioner Mike Slive and the rest of the SEC elites leave the 2012 SEC spring meetings later this week the hope is that there will be a concrete scheduling format for the 2013 football season and possibly beyond.
The addition of Missouri and Texas A&M means teams will have to play six divisional games instead of five, making things a little complicated.
Right now, it looks like the most likely format, which could be set as early as Friday, will be a 6-1-1 model. That gives teams six divisional games, one permanent crossover game and rotating crossover. The rotating crossover would no longer be a traditional two-year home and home series. It would simply be a one-year rotation. It's the same model that will be used for the 2012 season.

LSU coach Les Miles said he'd like the structure of future SEC schedules to be "definable," and wouldn't mind if the league re-examined how it chose permanent crossovers.
"Legitimately tell me about how you're picking crossover games," Miles said at the spring meetings Tuesday. "Is it the best team in the East, the best team in the West, top three and top three? OK, if you guys want to do that let's do that. It might change the matches, but if you want to say, 'Well, we really are going to seed the best teams verses the lesser teams,' well, OK, let's do that, but define the structure and let's stay with it.
May, 18, 2012
5/18/12
11:30
AM ET
We're putting spring behind us and looking toward the fall with our post-spring power rankings:
1. LSU:
The Tigers had one of the best springs around. Things were quiet off the field, and the offense rallied behind quarterback
Zach Mettenberger
. Coach Les Miles was very impressed with Mettenberger's play and maturity, and expects LSU's offense to be more balanced with him under center. LSU can still use four or five running backs as well. Defensively, the Tigers are stacked once again, especially up front with two potential first-rounders in ends
Sam Montgomery
and
Barkevious Mingo
. Questions surround the inexperienced linebackers, but
Kevin Minter
had a tremendous spring in the middle. On paper, LSU is equipped with the talent to make another title run, and gets Alabama at home this year.

2. Alabama:
The defending national champs saw a lot of "new" faces on defense this spring, but coach Nick Saban left happy with where his players were -- but not satisfied. There is still work to be done, especially in the secondary, where the Tide must replace three starters. Dont'a Hightower and Courtney Upshaw are gone at linebacker, but the coaches were impressed with how
Nico Johnson
,
C.J. Mosley
and
Adrian Hubbard
played this spring. Some think Hubbard, a redshirt sophomore, could be Bama's top pass-rusher. Offensively, quarterback
AJ McCarron
is back, more mature and surrounded by a very veteran line. He has a group of younger receivers to throw to, but has at least four quality running backs. Alabama's road to repeating is tougher, with games at Arkansas and LSU.
3. South Carolina:
A healthy
Marcus Lattimore
(knee) makes South Carolina an even better contender for the SEC East crown. His status is uncertain, but the pieces around him are pretty impressive. Quarterback
Connor Shaw
had an impressive spring, and looks ready to be the passer coach Steve Spurrier wants him to be. The defense is once again stacked, especially up front with ends
Jadeveon Clowney
and
Devin Taylor
. There are questions in the secondary, with two new, young starters in
Victor Hampton
(cornerback) and
Brison Williams
(safety), and senior
Akeem Auguste
coming back after missing all of last season with a foot injury. Still, Spurrier is chirping about his SEC counterparts, so you know he thinks he's got a good team this year.