Alabama Crimson Tide:

Everett Golson
January, 4, 2013
1/04/13
3:00
PM ET
We started this off last week. Here are some more nuggets courtesy of our friends at ESPN Stats and Info.
Notre Dame and Alabama have the most poll national championships since the Associated Press began its weekly poll in 1936. ESPN has made a policy of recognizing only poll-era national championships (since 1936). Both programs claim other national titles in the pre-AP era, but those are more difficult to legitimize, since there were several groups naming national champions back then, and hardly anyone watched teams from other regions of the country. The two teams have also met in bowl games that had national championship implications. Notre Dame beat Alabama in the 1973 Sugar Bowl to win the AP National Title. However, Alabama still won the UPI National title since it crowned its champion before bowl games were played. The next season, Notre Dame beat Alabama in the Orange Bowl to prevent Alabama for winning another national title. In all, Notre Dame and Alabama have played six times with the Irish holding a 5-1 edge. The two teams haven't met since 1987.
Having already won in 2009 and 2011, Alabama is trying to win its third national championship in four years, which has been accomplished only twice in the poll era. Nebraska did it under Tom Osborne in 1994, 1995 and 1997, but the last of those titles was only in the coaches' poll. The lone team to win three AP national championships in a four-year span was Notre Dame under Frank Leahy in 1946, '47 and '49. In addition, AJ McCarron and the Crimson Tide are trying to become the first program to win back-to-back BCS championships. Three previous reigning champs have returned to the title game, but all three lost in their quest to repeat. McCarron will also try to become the first quarterback to win consecutive BCS national championships, something that Chris Weinke (Florida State), Ken Dorsey (Miami FL), and Matt Leinart (USC) failed to do.
Alabama is trying to win the SEC's seventh consecutive national championship. Prior to this stretch, no conference had ever won more than three in a row. It would be the ninth BCS title won by the SEC. All the other conferences have six combined and no other conference has more than two.
Alabama's Nick Saban is the only coach with more than two BCS titles and is one of just 10 coaches with three or more national championships in the poll era. A win on Jan. 7 will put him in some very elite company, as only three coaches have won at least four national titles. The names: Bear Bryant, Frank Leahy and John McKay. Because Nick Saban spent the 2005 and 2006 seasons with the Miami Dolphins, he is trying to win his fourth national title in his past eight seasons as a college head coach. Only Frank Leahy has managed to win four in even a 10-year span.
Four different coaches have been responsible for Notre Dame's eight national championships in the poll era (since 1936). All four of those coaches captured their first national title in their third season at Notre Dame. Brian Kelly is currently in his third season in South Bend.
Notre Dame is third all-time in wins with 865 while Alabama is seventh with 826. Both teams also rank in the top seven in win percentage. The two teams met head-to-head six times with Notre Dame winning five of them. However, they haven't met since 1987, a 37-6 Notre Dame win in South Bend.
The last time an SEC team lost a national championship game to a team from outside the conference was when Nebraska beat Florida in the Fiesta Bowl to end the 1995 season ('96 Fiesta Bowl). Since that time, the SEC has won eight straight bowl games against "outsiders" with a national championship on the line. (doesn't count Alabama's win over LSU last year)
This will be Saban's ninth championship game as a head coach. He is 7-1 in the previous eight (3-0 in BCS title games, 4-1 in SEC title games). The only loss was to Florida in the 2008 SEC Championship.
Notre Dame is 6-0 in road/neutral games this season with the closest one being a nine-point win over USC. Even though the Irish were also 6-0 at home, five of those six games were decided by seven points or fewer. Alabama has only two losses over the last two years, and both were in Tuscaloosa. The Tide have won 13 consecutive games away from home, which is the longest such streak in the FBS.
The BCS championship games have been split seven apiece between the No. 1 and No. 2 teams in the final standings, but No. 2 has won seven of the last 10.
These are the nation's top two scoring defenses, with Notre Dame allowing 10.3 points per game, and Alabama allowing 10.7. Last year's national championship game was also a matchup of the top two scoring defenses, as Bama beat LSU, 21-0. Prior to that, there hadn't been such a meeting in the postseason since the 1994 season.
The Tide have scored 21 points or more in 44 of their last 45 games. That's three more than any other team in the FBS over this span.
No sophomore or freshman starting QB had ever won the BCS National Championship until Alabama's McCarron did it last year as a sophomore. Now, Notre Dame redshirt freshman Everett Golson has his chance.
In 2007, Alabama went 7-6 in Saban's first season, while Notre Dame sunk to a historic low, finishing 3-9. In 2008, Saban took the Tide to the SEC title game, while the Irish continued their mediocrity, going 7-6. Entering the 2012 season, these two teams couldn't have been more opposite in terms of success over the previous four years.
This will be the first time since 2006 that Notre Dame finishes a season in the AP Top 25, so it's not surprising that the Irish weren't ranked in this year's preseason AP poll. They are the first preseason unranked team to reach a BCS championship game, and they are the first preseason unranked team to finish the regular season as AP No. 1 since BYU in 1984.
The last preseason unranked team to win a national championship was Georgia Tech in the coaches' poll in 1990. The last team to do it in the AP poll (as Notre Dame can only do this season) was BYU in 1984.
December, 31, 2012
12/31/12
6:00
AM ET
Editor's note:
Every day from now until kickoff in Miami, TideNation will break down the matchups position-by-position. Today we'll look at the battle of the running backs.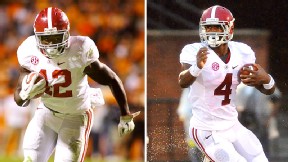 Icon SMI, US PresswireEddie Lacy and T.J. Yeldon became the first tailbacks in Alabama history to both go over 1,000 yards rushing in a season.
Alabama:
Those who looked for a drop-off in production from the running back position at Alabama were sorely mistaken. A Heisman Trophy contender left, and a fabulous freshman talent replaced him. Everyone knew
Eddie Lacy
would be the man at tailback, but few expected
T.J. Yeldon
, just a few months removed from high school graduation, would come to Tuscaloosa and earn what amounted to 1A status at the position. The former four-star recruit flipped from Auburn to Alabama after then-offensive coordinator Gus Malzahn bolted for Arkansas State.
The Lacy-Yeldon tandem has proved as effective as the many before it:
Trent Richardson
and Lacy in 2011, Richardson and
Mark Ingram
in 2010, Glenn Coffee and Ingram in 2008.
"We have always had two backs -- it's sort of a philosophical thing that we like," Saban explained. "Durability is such a critical factor in running backs that if you play one guy all the time it enhances his chances of not being able to continue to play at the same level. It's always been our goal to play two guys -- not always equally, but fairly equally to where both guys have a better chance to sustain the season at a high level and are productive throughout."
Lacy and Yeldon have combined for 2,182 total rushing yards and 29 total touchdowns. They became the first running backs at Alabama to both break the 1,000-yard rushing mark.
Notre Dame:
Like Alabama, the Fighting Irish employ a two-back system, not to mention the production they get on the ground from quarterback
Everett Golson
. Unlike Alabama, the pair of senior tailbacks don't get the same publicity.
Theo Riddick
and
Cierre Wood
have combined for 1,620 rushing yards, nine touchdowns and 39 receptions this season, helping Notre Dame to the 28th-ranked rushing attack in the country, just nine spots behind the Crimson Tide.
December, 30, 2012
12/30/12
6:00
AM ET
Editor's note:
Every day from now until kickoff in Miami, TideNation will break down the match-ups position-by-position. Today we'll look at the battle of the quarterbacks.
AJ McCarron:
The strong-armed junior from South Alabama took his game to another level this season, going from a steward of the offense to a creator and orchestrator under center. He's shown the ability to make all the throws: the dump off, the intermediate pass and the deep ball. But more importantly, he's exhibited a willingness to take whatever the defense gives him. He's not forcing anything this year, leading to his No. 1 passer rating in all of college football.
McCarron has become a leader in addition to his progress as a passer. He's been a calming force to an offense that was almost completely overhauled at wide receiver. It's hard to believe he's just a junior given the number of big games he's already been a part of. He led Alabama back against LSU and made the game-winning pass to Amari Cooper in the SEC championship. Facing Notre Dame will just be the next challenge.
"This one game is for everything, everything we play for," he said. If you're not ready to come out and practice every day, or not wanting to, to finish strong, then I don't know what you play the game for."
McCarron will go against arguably the best defense he's faced all season in Notre Dame. The Fighting Irish, who rank No. 1 in points allowed, are young in the secondary but dominant up front. Brian Kelly's squad will likely try to replicate the pressure Georgia put on McCarron in the conference title game, a tactic that led Alabama to nearly abandon the passing game at points in Atlanta. How he stands up to the pass rush and avoids negative plays will be key to his success in Miami.
Everett Golson:
Alabama coach Nick Saban put it best. The sixth-year coach has spent weeks watching film on Notre Dame's quarterback and had a message for anyone who doubted his abilities as a passer.
"The guy's a really good player," he said. "He's a very good athlete, first of all. He can extend plays. He can run. He can scramble. He's not typically a guy that just wants to take off. He's a very effective passer. So anybody that thinks he's not capable as a passer is totally missing the boat."
December, 28, 2012
12/28/12
1:08
PM ET
ESPN Stats and Info has put together plenty of nuggets about these two teams. Here's an early batch of them as we approach the one-week mark before the Discover BCS National Championship.
Notre Dame and Alabama rank 1-2 in the nation in scoring defense. The Irish have given up the fewest touchdowns (10) and allowed the lowest percentage of opponents' possessions to end in touchdowns (6.9). The Tide have allowed the fewest yards per game (246.0) and plays that have gained 10 yards or more (105).
The 6.9 percent of Irish opponents' possessions ending in touchdowns is the lowest percentage for any FBS defense in the past eight seasons. The second-lowest percentage was last season's Alabama defense that produced six players selected in the 2012 NFL draft.
Notre Dame has allowed a touchdown on 24.2 percent of its opponents' red zone drives, the lowest percentage for any FBS team in the past eight years. Irish opponents have eight touchdowns and five turnovers in 33 red zone possessions.
The Irish have allowed minus-5 total yards on 39 goal-to-go plays, the fewest yards and average in the nation.
Alabama leads the SEC with 124 rush yards and 24 rush touchdowns in goal-to-go situations. The Tide also have six touchdowns in 13 pass attempts in such situations, though two of AJ McCarron's three picks this season were in goal-to-go.
Everett Golson has completed at least two-thirds of his passes from inside the pocket in each of his past three games, the longest such streak of his young career. He has four touchdowns and no interceptions during the three games. That matches his touchdown total from the pocket in his first eight games of the season.
Golson completed 10 of 16 passes thrown 10 yards or longer against USC, his third straight game completing at least 60 percent of such passes. Before, he had never completed 60 percent of his 10-yard throws in two consecutive games.
Aaron Murray completed 7 of 14 passes thrown 15 yards or longer against Alabama in the SEC title game. The seven completions were the most such passes completed against the Tide in the past three seasons. Georgia was the third straight FBS team and the fourth in the past five games to complete at least half of its passes thrown 15 yards or longer against Alabama. Before, no team had completed half of such passes in a game against Alabama since Cam Newton in the 2010 Iron Bowl.
Alabama has allowed the fewest yards per game (246.0) and rush yards per game (79.8) in the nation. The Tide have allowed the fewest plays (105) and rushes (27) of 10 yards or more.
Alabama has scored 160 points off turnovers, the most in the SEC and the fourth-most in the nation. The Tide have given up 23 points off turnovers, tied with South Carolina for the fewest in the SEC and the third-fewest in FBS.
Alabama averages 6.2 yards per carry on designed running plays, leading the SEC. On such runs, the Tide average an SEC-best 4.2 yards before contact. They have made it at least five yards past the line of scrimmage without being touched on 35.1 percent of their designed runs.
Alabama runs downhill with 67.4 percent of its designed running plays coming between the tackles. The Tide average 6.6 yards per carry on such running plays with about one in every five attempts going for at least 10 yards.
On designed runs, Alabama averaged 9 yards per rush inside the tackles against Georgia, its second-highest average in a game this season. The Tide have averaged more than 7 yards per attempt on such plays since the loss to Texas A&M. Alabama finished that game against the Aggies with a season-low 66 yards on designed runs inside the tackles.
Against Georgia, Alabama ran 36 times for a season-best 298 yards with two or more tight ends in the formation. The Tide ran out of this package on 26 of their 34 second-half plays, gaining 199 yards and two scores. Alabama averaged a season-best 5.5 yards before contact out of this formation.
McCarron has completed 70.8 percent of his passes this season with two or more tight ends in the formation, including eight of nine against Georgia. With this personnel grouping, McCarron has five touchdowns, including his 45-yard touchdown pass to Amari Cooper against Georgia, and no picks.
McCarron has 11 touchdown passes off play-action this season. That is six more than he had last season. He has not thrown a pick off play-action since the loss to LSU last November. That was the only game in McCarron's career that he had more interceptions than touchdowns off play-action. He has attempted 56.6 percent of his first-down passes off play-action this season. Nine of his 11 play-action touchdowns have come on first down.
McCarron is completing more than 60 percent of his passes thrown 20 yards or more this season, up more than 25 percent from last season. He is completing 76.2 percent of such passes off play-action this season, including eight of his 11 touchdowns.
December, 6, 2012
12/06/12
12:36
PM ET
Notre Dame and Alabama are squaring off Jan. 7 in the Discover BCS National Championship, in case you haven't heard. With the matchup more than a month away, TideNation's Alex Scarborough and Notre Dame blogger Matt Fortuna go back and forth on a number of topics between the Tide and Irish.
AS
: The other day Nick Saban called Notre Dame's front seven possibly the best in college football. How do you think it stacks up and what is it about the Irish defense that makes it special?


MF
: One of the most overlooked pieces of Notre Dame's defense has been nose guard
Louis Nix
. He is a junior who came in overweight two years ago, dropped roughly 40 pounds, and then was told last year that he might not see 20 snaps a game. Injuries turned him into nearly a full-time starter last year, and he has taken his game to another level this year. His numbers -- five tackles for loss, two sacks and one forced fumble -- simply do not do him justice. He regularly takes on two blockers at a time, freeing up athletic end
Stephon Tuitt
(12 sacks) and allowing the Irish linebackers to make more plays. The biggest question for me -- especially after the SEC title game -- is how much pressure can these guys get on
AJ McCarron
? Is this offensive line invincible?
AS:
The offensive line is about as invincible as it gets in one respect -- the running game. When Alabama commits to handing the ball off the
Eddie Lacy
and
T.J. Yeldon
, there's not much a defense can do. The job
Chance Warmack
,
Barrett Jones
and Co. do pushing the line of scrimmage is remarkable. But in another respect, the line is somewhat vulnerable. Georgia showed it's not very difficult to get pressure on the backfield. It's why Alabama committed to the running game like it did in Atlanta. There wasn't much of a choice with
Jarvis Jones
harassing McCarron.
If there's a spot to attack Alabama's defense, it's the passing game. Georgia hit the Tide up for big play after big play on Saturday. Does Notre Dame have enough with
Everett Golson
to stretch the field and keep the defense honest?
December, 2, 2012
12/02/12
8:42
PM ET
Notre Dame Fighting Irish (12-0) vs. Alabama Crimson Tide (12-1)
Jan. 7, 8:30 p.m. ET, Miami (ESPN)
Notre Dame take from Notre Dame blogger Matt Fortuna:
Haven't you heard? Notre Dame is back. No, not BCS-bowl back. BCS national title game back.

The No. 1 Irish ran the table in the regular season and are the only bowl-eligible team left that is spotless in the loss column. They navigated a tough stretch featuring opponents from five BCS conferences and two independents. And now they will get one more chance to prove this was no fluke on Jan. 7, when they take on a team from the one conference they have yet to face in 2012: the SEC, winners of the past six national titles.
The key for Notre Dame all season has been the defense, which gives up just 10.33 points per game and has surrendered just 10 touchdowns all season long, with one of those scores coming from the opposing team's defense (Stanford). The Irish showed their toughness in the trenches by utilizing goal-line stands to hold off a pair of Pac-12 opponents in Stanford and USC, and their offense has started to come along after some early-season missteps.
Redshirt freshman
Everett Golson
went the final three games without getting yanked for performance issues, and he has turned the ball over just once during that stretch. He has been aided by a ground game averaging 202.5 yards per game, and he has flashed his ability to run much more as the season has progressed. He has rushed for 316 yards in his last seven games after netting negative-11 yards on the ground through his first four outings, in which he was benched twice in favor of
Tommy Rees
.
Speaking of rushing … good luck moving the ball on the ground against this defense. Notre Dame ranks fifth nationally against the run, surrendering just 92.42 yards per game. The Irish did not give up a rushing touchdown until the eighth game of the season, against Oklahoma's
Blake Bell
. Heisman candidate
Manti Te'o
gets much of the attention, and he deserves every bit of it, but don't overlook future early-round draft picks
Louis Nix
and
Stephon Tuitt
up front.
For all the national talk about the SEC, America probably won't see something much further from last year's title game, as the Irish fit the blueprint of a successful SEC team this season.
---
Alabama take by TideNation's Alex Scarborough:
Believe it or not, the Crimson Tide are finishing the season right where they started. Despite losing eight starters to the NFL draft in April -- including three first-rounders and one Heisman Trophy finalist -- the expectation for Nick Saban's squad remained "BCS or bust" with a preseason No. 2 ranking. After beating Georgia to win the SEC championship on Saturday night, No. 2 is where Alabama will finish in the final BCS Standings of the season.

The talent in Tuscaloosa, Ala., was never in question. Five straight top-3 recruiting classes filled the coffers, and the coaching staff used their young players wisely, incorporating a pair of potential Freshmen All-Americans in running back
T.J. Yeldon
and wide receiver
Amari Cooper
. With junior
AJ McCarron
under center again, the offense has gone to new heights.
The defense rallied around a handful of veterans to maintain its top-dog status. Alabama led the country in total defense for the second straight season after losing stars like Mark Barron, Dre Kirkpatrick , Courtney Upshaw and Dont'a Hightower. A fresh set of leaders emerged to reinvent the Alabama defense as something possibly less dominant, but more stingy. The Tide created more takeaways and sacks than a year ago, and practiced a bend-but-don't-break mindset in the biggest games.
Like last season, Alabama's path to the national championship game was not without a speed bump, and this time it wasn't LSU blocking the Tide's way. A week after surviving Death Valley and the
LSU Tigers
, Alabama was shocked at home by freshman phenom
Johnny Manziel
and the
Texas A&M Aggies
, dropping the Tide out of the title race from No. 1 to No. 4 in the BCS Standings. A week later, No. 1 Kansas State and No. 2 Oregon fell on the same night, paving Alabama's way back to Miami.
Alabama assured itself a berth in the title game by beating No. 3 Georgia in remarkable fashion, surviving an SEC-title record five lead changes. It was the Tide's fourth win against a ranked team this season. Net up is a chance for a fifth, against No. 1 Notre Dame. Alabama will be the seventh consecutive SEC team to compete in the BCS National Championship Game. It's Alabama's third trip to the title game in four years.
Scout's Take: Atlanta Opening Regional
SEC SCOREBOARD
Thursday, 9/3
Saturday, 9/5