Alabama Crimson Tide:

Dakota Ball
April, 3, 2014
4/03/14
9:00
AM ET
TUSCALOOSA, Ala. -- It started out innocently enough as Alabama coach Nick Saban ribbed the media on Monday about returning from spring break. He acted surprised when one reporter said she didn't take the time off, noting sarcastically how, "You really appreciate them when you work hard."
The jab was obvious as he gave a sly look around the room as if to say that hard work was a foreign concept to the press. One writer quipped, "Why are you looking down here?"
A smirk from Saban: "I don't know. I'm wondering."
The playful mood lasted a hiccup longer and then it was back to business as Saban said how his players were starting to worry too much about the depth chart, followed by a news flash: "We really don't have a depth chart."
[+] Enlarge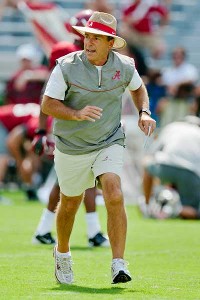 Kevin Liles/USA TODAY SportsFighting expectations and speculation during spring practice is nothing new to Nick Saban.
Later on came the question that really set him off.
Saban can talk about X's and O's all day. The problem is there's hardly anything concrete about spring practice. There's no game film, no stat book, no players of the week. Without a depth chart, there's only who's getting better and who's getting worse. And without results, that's a matter of opinion.
But Saban isn't fond of conjecture. He's even less fond of appearances, apparently.
"What does appear mean?" Saban said, responding to a question about the perceived depth of his defensive line. "It just means you've dreamed about it and it's there?"
A quick clarification before he fired back: "What it looks like on paper? We've never seen these guys play or seen them take on an SEC lineman. But it appears."
He continued, putting a point on the matter: "That's how we form public opinion because something appears to be that way and everyone believes it."
Such was a sneak peek into the mind of Saban. There's no room in there for what could be. There's a standard he's trying to uphold and anything that takes him away from that -- say, speculation -- isn't tolerated.
It's an odd conundrum to have a program that loathes appearances while at the same time being such an object of speculation. It's like a celebrity shunning the paparazzi. You want to avoid them but they're always there.
Alabama is nonetheless wrought with pressure from the outside. Inside the bubble of the football offices it's all business, but everywhere around there's immense expectations and boundless conjecture about wins, losses, championships and future stars.
Saban might claim to not have a depth chart, but every day is a constant battle for fans to determine who the starters will be on a team that loses two starting offensive linemen, two veteran receivers, two high-profile linebackers and three key contributors in the secondary. Oh, and there's also the small matter of
AJ McCarron
leaving a vacancy at starting quarterback -- just don't ask Saban about that race because he'll tell you to hold your horses and be patient.
Take for instance the question about the defensive line. Saban might not see his group in a good light today, but when you look at the depth Alabama has up front on defense, it's scary.
A'Shawn Robinson
was one of the most impressive rookies in the SEC last season. He's joined by
Jonathan Allen
, another true freshman who was promising off the bench.
Brandon Ivory
is back at nose guard,
Darren Lake
returns as his backup and there are a number of options to bring in the rotation around them.
Dalvin Tomlinson
, when healthy, has the potential to be a game changer. And we haven't even mentioned the return of former Freshman All-SEC choice
D.J. Pettway
and the eventual arrival of five-star
Da'Shawn Hand
.
List those names all you want, just don't expect Saban to sing their praise. It's simply not his way to buy into the hype.
"I'm not satisfied with the way any of them are playing, if you want to know the truth about it," Saban said of his D-line. "They've got to be more aggressive, physical, play with better leverage, hold the point better, rush the passer better. I didn't think that last year was one of our best years up front, and even though we have a couple new players competing and Dalvin Tomlinson back, I think all of them have a ways to go. A'Shawn Robinson has a lot of ability, but I think we need to get him in shape and he's got to play with better focus and intensity down in and down out to be more consistent.
"So defensively we have a ways to go to improve to get back to the level and our standard of what we like to play here."
Though sometimes it feels like Saban is constantly fighting with reporters, he's not. The speculation extends far beyond the walls of the media room and the pages of newspapers. It's all the talk that drives Saban nuts because it has a way of reaching his players, inflating their egos long before they've earned their stripes. Remember Saban's comment about the depth chart? That came unsolicited, a direct shot at his team one floor below in the locker room.
What Saban is fighting is the standard. While others are taking time off, he's busy worrying about the next move, not the next question about how things appear.
How it looks on paper? He'd rather see how it looks with his eyes, and then he'll get back to you.
March, 4, 2014
3/04/14
11:00
AM ET
TUSCALOOSA, Ala. -- With the start of spring practice only a few weeks away, we're spending this week discussing five players to keep an eye on when Alabama opens camp on March 15.
Because they're unpredictable, we'll avoid first-year players like five-star offensive tackle
Cameron Robinson
. If you want an idea of who could make an instant impact in 2014,
we wrote about that
shortly after signing day.
On Monday we wrote about sophomore running back
Derrick Henry
, and today we're focusing on another second-year player -- this time on defense.
[+] Enlarge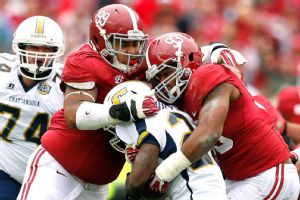 Kevin C. Cox/Getty ImagesJonathan Allen (right) has a chance to make a big impact for the Crimson Tide in 2014.
DE Jonathan Allen
Sophomore
6-foot-3, 264 pounds
Credentials:
There are places on the football field where a freshman can make an immediate impact and not necessarily raise an eyebrow. But most of those positions that allow for inexperience come on offense where a player can force the action rather than react to it. And in Nick Saban's defense, getting on the field early is a chore. Some cornerbacks have done it, and even a few linebackers. But playing from Day 1 as a true freshman defensive lineman is rare. Last season Alabama had two such rookies, one who already looks like a contributor for years to come in
A'Shawn Robinson
, and another who took a little more time to mature and fits a more pure pass-rusher's mold. Allen, the former four-star prospect from Virginia, played all but one game last season, racking up three tackles for loss and a half a sack. While those numbers won't blow you away (Robinson had eight tackles for loss and 5.5 sacks), Allen did show promise by getting on the field and playing well enough to stay there throughout the season as a freshman.
How he fits:
Considering that
Ed Stinson
graduated and
Jeoffrey Pagan
declared for the NFL draft a year ahead of time, there's an opportunity for Allen to insert himself into the starting lineup in 2014. Clearly Allen did a good job of grasping the defense to stay on the field so much as a rookie -- one that didn't enroll early, no less. But he'll have to do more than hold his own as a sophomore. Allen was brought to Alabama to provide more of what Saban calls "quick-twitch" defenders. In other words, someone who has the speed and athleticism to chase the quarterback and play in space in a league that's increasingly gone more toward mobile quarterbacks and hurry-up, no-huddle offenses. Early on in Allen's ESPN recruiting scouting report it states that he "displays very nice first-step quickness and can be a quick penetrator." To beat out the competition and develop into an All-SEC defensive linemen, Allen will have to use those tools and get in the quarterback's face more in 2014.
Best case/worst case:
It's easy to see Allen and Robinson forming a good nucleus on the defensive line for years to come. Both possess the skills to flourish in the new pass-happy SEC. Allen has the size, speed and athleticism to become the kind of edge rusher the Tide has been missing of late. But nothing is guaranteed. Not in Tuscaloosa where Saban and his staff are stockpiling defensive linemen who fit the very same billing as Allen.
Dalvin Tomlinson
, for instance, is the kind of athlete who won state wrestling titles and played soccer in high school. After back-to-back leg surgeries, he'll return this spring, hopefully at 100 percent.
D.J. Pettway
,
Korren Kirven
and
Dakota Ball
are a few other veterans Saban could turn to. And if experience isn't a factor, there's
Dee Liner
, a former four-star prospect coming off a redshirt season, and
Da'Shawn Hand
, who was one of 15 five-star prospects in this year's ESPN 300. Allen has something of a head start and all of them by playing so much in 2013, but he'll have plenty of competition on his hands this spring if he does want to develop into a full-time starter.
February, 20, 2014
2/20/14
9:00
AM ET
Editor's note: This is Part IV in a weeklong series looking at Alabama's top five position groups with room to improve.
TUSCALOOSA, Ala. -- With a new position coach, maybe it's time for new expectations. Alabama's defensive line always has been solid, but when was the last time it was impressive? When was the last time it created the type of pressure that routinely moved quarterbacks off their spot and into bad situations?
Bo Davis' return to Tuscaloosa as defensive line coach represents an opportunity for Alabama. With starters
Jeoffrey Pagan
and
Ed Stinson
off to the NFL, there's room for both a shakeup in personnel and philosophy.
Granted, Nick Saban is never going to be the type of head coach who chases sacks, or any stat for that matter, but there's no doubt Alabama could stand to get better at rushing the passer up front.
With more hurry-up offenses and mobile quarterbacks taking over in the SEC and college football, simply getting in the face of the passer won't do it anymore -- the ball is out too quickly or the quarterback will too often scramble out of pressure.
[+] Enlarge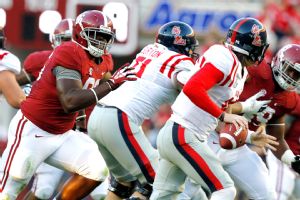 AP Photo/Butch DillA'Shawn Robinson made an immediate impact as a freshman.
Davis, though, has more than a passing familiarity with uptempo offenses and speedy quarterbacks. After three seasons in the pass-happy Big 12, he understands the demands of pressuring the quarterback in today's game.
Battling for No. 1:
Based on last season, the writing might already be on the wall for who replaces Pagan and Stinson in the starting lineup.
Brandon Ivory
and
Darren Lake
should continue to hold down at nose guard, and the way true freshman
A'Shawn Robinson
played, leading the team with 5.5 sacks, he's a lock to start. At 6-foot-4 and 320 pounds with surprising athleticism, he's the kind of "quick-twitch" down lineman Saban has been looking for. The same can be said of fellow rookie
Jonathan Allen
, who played in all but one game last season. His 16 tackles and half a sack won't knock your socks off, but considering he played so much as a true freshman without the benefit of spring practice, it's nonetheless impressive.
Strength in numbers:
The return of
D.J. Pettway
from junior college could push the presumptive starters, however. You'll recall that Pettway was a Freshman All-SEC selection in 2012 and only left the team after being arrested in an on-campus altercation. Should he remain out of trouble and regain the confidence of coaches on the field, he could make an immediate impact. He'll be joined by a handful of solid reserves:
Dalvin Tomlinson
,
Dee Liner
,
Korren Kirven
and
Dakota Ball
. Tomlinson is an intriguing prospect; coaches and players have raved about his potential, but knee injuries in successive years have forced him out of the lineup.
New on the scene:
Alabama won't be hurting for depth as it welcomes in four defensive linemen, not counting Pettway. Junior college transfer
Jarran Reed
is one to watch. At 6-4 and 315 pounds, he could compete for time at nose guard. Four-star prospects
O.J. Smith
,
Johnny Dwight
and
Joshua Frazier
are big bodies who could fill roles as interior linemen. And don't forget the most high-profile recruit of them all:
Da'Shawn Hand
. The five-star defensive end from Virginia is a physical marvel at 6-4 and 262 pounds with a sub-5.0 40-yard dash. He could easily trim down and play outside linebacker, but coaches will get a better look when he enrolls this summer.
August, 12, 2013
8/12/13
7:00
AM ET
TUSCALOOSA, Ala. -- For some members of Alabama's 2012 signing class, success came swiftly.
T.J. Yeldon
burst onto the scene in the season opener against Michigan, becoming the first player in school history to rush for 100 yards in his debut.
Amari Cooper
had his first career reception in the same game, but waited until Week 6 to get his first start at wide receiver. And what did he do? The former four-star prospect set nearly every rookie receiving record at Alabama, passing former Freshman of the Year Julio Jones on his way to 59 catches for 1,000 yards and 11 touchdowns.
Deion Belue
,
Denzel Devall
and
Geno Smith
all found their way onto the field as freshman, too. Belue, a junior college transfer, started opposite Dee Milliner at cornerback, and Devall and Smith played in reserve roles at linebacker and cornerback, respectively, on Kirby Smart's defense.
"First of all, opportunity is important, to have an opportunity to do that," Smart, Alabama's 37-year-old defensive coordinator, said during Alabama's media day a week ago. "[It takes a] very conscientious kid to understand, 'Hey, I got to know this defense inside and out, I got to know all the checks, I got to know all the motions and checks, I got to know all the adjustments.' You've got to be very conscientious to do that, but you've got to have some ability.
"It's very easy for us to find those guys out there. When we recruit good players, they usually stick out as freshmen. We find ways to get them on the field and always have in some kind of role."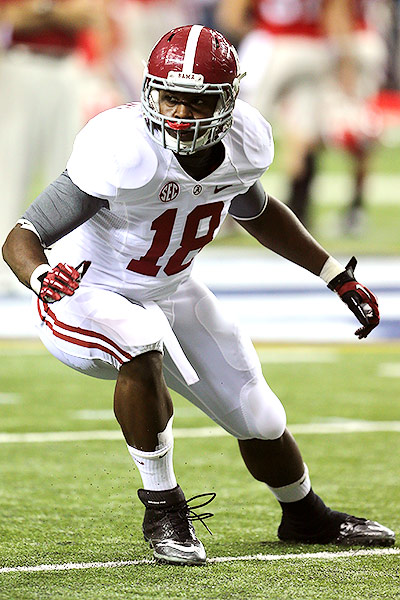 Jim Dedmon/Icon SMIKnowledge of the defense is key for Alabama sophomore linebacker Reggie Ragland, one of the top prospects in the 2012 recruiting class.
But as head coach Nick Saban has explained in the past, the ascent is not always swift. His defense takes about a year to get a handle on, he says, and until the light comes on, it's hard to play with the speed necessary to make an impact.
Junior linebacker
Trey DePriest
told reporters that he's been impressed with the way true sophomore
Reggie Ragland
has improved in his second year.
"Reggie is doing really well," he said. "He's picking up the defense a lot more. He's able to run around and make plays because he knows a little more about the defense."
Ragland is one of several players from Alabama's No. 1-ranked 2012 signing class looking to step up. The former No. 2 inside linebacker prospect spent last season learning behind Nico Johnson. And now that Johnson is in camp with the Kansas City Chiefs, Ragland and fellow linebackers
Dillon Lee
and
Ryan Anderson
are poised to move up the depth chart.
While it's unlikely any of the three sophomores will break into the starting lineup, each will have their opportunity to contribute this season. Ragland, at a hefty 259 pounds, is a big body who could come off the bench and stop the run at inside linebacker. Lee, who brings more athleticism to the table, could play either inside or out. And Anderson, a former four-star defensive end prospect, is a tweener who could help boost the Tide's pass rush.
Up front, defensive linemen
Dakota Ball
and
Dalvin Tomlinson
could do the same. Both redshirted last season -- Ball rode the bench because of a lack of opportunity while Tomlinson was sidelined while he recovered from a torn ACL. But now that Alabama is looking for more "quick-twitch" linemen to rush the passer, both are ideal candidates to fill that void. Tomlinson, in particular, has drawn high praise from coaches and teammates. Saban indicated last season that the former state wrestling champ would have played as a rookie, if not for his injury.
Getting to the quarterback will be key this season as Saban and Smart bring along an overhauled secondary that could feature two sophomores. Smith, who started his first game against Western Kentucky in Week 10, and
Landon Collins
, who played primarily on special teams a year ago, could get expanded roles. Smith is positioned to be the nickel corner while Collins, the former No. 1 safety prospect in the country, will battle it out with veterans
Vinnie Sunseri
and
Nick Perry
for reps opposite
Ha Ha Clinton-Dix
at safety.
"Landon is doing excellent," Clinton-Dix said toward the beginning of fall camp, telling reporters that the competition at safety has been cutthroat. "He's a great safety. He's fast, dominant and he's doing a great job right now."
On offense,
Kenyan Drake
,
Chris Black
and
Alec Morris
all have the chance to do more this year.
Drake is the frontrunner to back up Yeldon
at tailback, Black is competing for reps in a
crowded receiving corps
and Morris is neck and neck with
Blake Sims
to become the second-string quarterback.
Though Morris might never see the field in a meaningful way this season, he's nonetheless a vital part of Alabama's title hopes. If
AJ McCarron
were to go down, it's unclear who would start: Would it be the read-option choice (Sims) or the prototypical drop-back passer (Morris)?
"Very different style of players, obviously," Alabama offensive coordinator Doug Nussmeier said. "As you watch the film from when Blake played for us last season, we become a little different in how we approach the game. His ability to run the football and create plays with his feet is different than a good majority of the quarterbacks on our roster. Alec is more of your prototypical drop-back guy. He's a big, physical guy with a very strong arm. Both those guys need to continue to develop read progression, understanding of the game. But they're doing a really good job, work extremely hard."
July, 30, 2013
7/30/13
11:00
AM ET
During the summer, TideNation will analyze each of the scholarship players on the Alabama roster -- excluding the Tide's 2013 recruiting class -- in our Crimson Countdown series. Starting with No. 1 Dee Hart, we will go through the roster numerically, finishing with No. 99 Brandon Ivory.
No. 94 Dakota Ball
Redshirt freshman defensive lineman
May, 17, 2013
5/17/13
7:00
AM ET
TUSCALOOSA, Ala. -- Not every tree sprouts overnight. Some roots take time to grab hold.
Alabama signed a total 26 prospects in 2012, and not everyone made an impact right away. Some didn't make it at all, as
Eddie Williams
,
Tyler Hayes
and
Travell Dixon
flamed out. Still, UA saw plenty of return on its investment, as two signees made the SEC All-Freshman team. Here's how we see the rest of the class shaping up.
Top of the class
To continue reading this article you must be an Insider
April, 23, 2013
4/23/13
7:00
AM ET
Forty-eight hours offered enough time to digest Saturday's A-Day scrimmage. TideNation's film review returns with a second look at the finale of spring practice.
To continue reading this article you must be an Insider
January, 18, 2013
1/18/13
7:00
AM ET
Editor's note: The season is over and the Alabama Crimson Tide are national champions yet again. But what happens next? TideNation examines the most pressing storylines of the offseason as the Tide gear up for another title defense.
TUSCALOOSA, Ala. -- Spring practice is roughly two months away. The start of another Alabama title defense is right around the corner.
Nine early enrollees are already on campus. The offseason conditioning program is in full swing. Rest assured Scott Cochran, the Crimson Tide's raucous strength and conditioning coach, has put the 2012-13 championship to bed. Inside the football offices, the page has been turned. The time for competition is now.
With that in mind, let's break down the four most intriguing position battles set to unfold over the coming months.
To continue reading this article you must be an Insider
January, 11, 2013
1/11/13
8:00
AM ET
Editor's note: The season is over and the Alabama Crimson Tide are national champions yet again. But what happens next? TideNation examines the most pressing storylines of the offseason as the Tide gear up for another title defense.
TUSCALOOSA, Ala. -- The heart of the defensive line is gone. So is its vocal leader. Its best backup is leaving, too. Three of the top four defensive linemen played their final game with the Alabama Crimson Tide on Monday night in South Florida.
This week marked the beginning of a new era on the defensive front at Alabama. Nose guard
Jesse Williams
and defensive ends
Damion Square
and
Quinton Dial
are all awaiting their heirs. The unit that garners little of the credit yet bears the brunt of the responsibility on defense is getting a makeover.
To continue reading this article you must be an Insider
December, 20, 2012
12/20/12
6:00
AM ET
Editor's note:
Every Tuesday and Thursday between now and national signing day, TideNation will review each position and look at who figures to start, who could rise up the depth chart and who might be on the way. Today we'll look at the nose guards.
TUSCALOOSA, Ala. -- The position is a thankless one, all responsibility and little payoff. Nose guards are asked to take a beating and let others make the plays at the University of Alabama. In coach Nick Saban's 3-4 system, the men in the middle of the defensive line don't show up in the stat book but they are arguably the key to the defense. Take away the building block and the structure crumbles.
Alabama fans have seen the position's importance the past few years, starting with the mammoth
Terrence Cody
who ate space like none other, followed by
Josh Chapman
and then
Jesse Williams
. All three have had minor spins on how they play nose guard. Williams tried to add a pass-rush flavor to the recipe and found some success.
To continue reading this article you must be an Insider
December, 14, 2012
12/14/12
6:00
AM ET
Editor's note:
Each day between now and Alabama's date with Notre Dame in the BCS National Championship, we will review the season for a key Crimson Tide player or coach and attempt to project what's next for him. Today we'll look at nose guard Jesse Williams.
No. 54 Jesse Williams
Nose guard
36 tackles, 2.5 tackles for loss, 1 sack
[+] Enlarge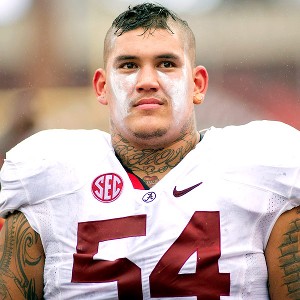 Beth Hall/US PresswireJesse Williams anchored the defensive line for the Tide this season.
Role in 2012:
Williams was the anchor to the defensive line at nose guard.
The good:
The senior made the transition from defensive end to nose guard look relatively painless this season. He was able to take up two and three blockers at a time and free up others to make plays. Because of that, he didn't accumulate the individual statistics fans focus in on. Instead, you can point to the overall success of the defense (No. 1 in yards allowed, No. 1 in rushing defense, No. 6 in passing defense) as a result of Williams' play.
The bad:
Williams began the season saying he'd like to bring a twist to the nose guard position and rush the passer more than his predecessors had. For better or worse, he wasn't able to accomplish that goal as he finished with just one sack and four quarterback hurries. The defense as a whole struggled to get consistent pressure on the passer.
Crystal ball:
Williams has a high grade for the upcoming NFL draft, but he might not end up playing nose guard at the next level. His size (6-foot-3, 320-pounds) and athleticism makes him an attractive option as a run-stuffing defensive end on Sundays. Alabama will likely look to freshman
Darren Lake
and sophomore
Brandon Ivory
to fill Williams' shoes. Redshirt
Dakota Ball
could play the position in a role similar to Nick Gentry's a year ago as a third-down interior defensive lineman.
October, 1, 2012
10/01/12
2:23
PM ET
TUSCALOOSA, Ala. -- Alabama's true freshmen have wasted no time getting on the field and contributing in 2012. All told, a dozen first-year players have seen action through five games.
Given the news of starting wide receiver
DeAndrew White
's season-ending knee injury, coupled with the loss of backup running back
Dee Hart
to the same fate, prepare to hear more from the teenagers on campus.
Amari Cooper
had already begun to take on more of a role at receiver, as have
T.J. Yeldon
and
Kenyan Drake
at running back. The losses of White and Hart make their rise on the depth chart official.
To continue reading this article you must be an Insider
SEC players featured on Kiper's Big Board
SEC SCOREBOARD
Thursday, 9/3
Saturday, 9/5