Alabama Crimson Tide:

College Football
January, 19, 2014
1/19/14
5:25
PM ET
ESPN 300 outside linebacker
Rashaan Evans
(Auburn, Ala./Auburn) took an official visit to Alabama this weekend.
The No. 52-ranked player in the county came away impressed with what he saw from the Crimson Tide.
June, 27, 2013
6/27/13
3:30
PM ET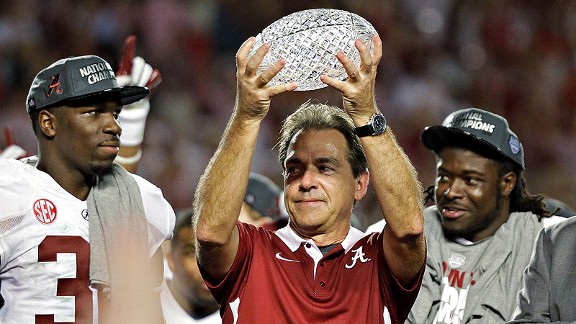 AP Photo/Chris O'MearaNick Saban is a major reason the SEC has hoisted the crystal football for seven years in a row.
So you think your team has a chance to reach the national championship game this season. You think this could be the year.
Hold up a second.
While there are always questions of timing and scheduling and the human element to winning college football games and reaching the national championship, there are some surprising similarities between teams that have been able to lift a crystal football at the end of the season and those who have come close.
Some, like talent, coaching and, at least for the past seven years, residing in the SEC, are obvious. But what about what takes place on the field?
Since 2006, when the Southeastern Conference began dominating college football, there have been specific criteria which have fit all of the champions plus three other teams (Florida in 2009, Penn State in 2008 and Ohio State in 2006), all of whom reached the Bowl Championship Series.
The criteria would have even been more streamlined, except Auburn's defense in 2010 was a statistical tire fire and Florida found a bunch of ways to not score or rush too well in 2006. Had they been better in those areas, almost every statistical category measured by the NCAA would have had a strong baseline ranking for a champion.
While this isn't foolproof -- again, see Auburn and Florida -- the following criteria could give you an idea as the season goes along how much of a chance your school really has at winning it all.
Rank 38th or better in rushing offense
: Every national champion averaged more than 160 yards rushing during its national championship season and all save that 2006 Florida team gained more than 214.4 yards a game on the ground and ranked in the top 16.
Rank 23rd or better in scoring offense:
National champions have been able to score a lot, which is even more impressive considering every national title winner since the 2006 season has been in the defense-oriented SEC. Every title team averaged at least 29.7 points a game and only 2006 Florida was under 32 points.
Rank 37th or better in passing efficiency:
The national title winners have all been in the upper third when it comes to passing the ball -- again, a mild surprise considering the level of defenses in the SEC. Every national champion had a passer efficiency rating of 133.61 or better and was ranked 37th or better.
[+] Enlarge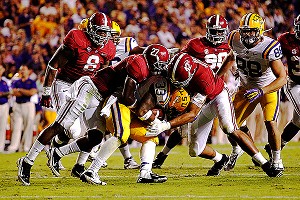 AP Photo/Bill HaberThe past seven national champs have been particularly adept at stopping the run.
Have a top 15 run defense:
For all the prior criticism of Auburn's defense in 2010, the Tigers actually fared well here, ranking ninth in rushing defense that season. They did give up the most yards per game of any of the national champions, though, with 109.07. All, too, were ranked in the Top 15. Interestingly, Alabama has been the top rushing defense in the country the past two seasons when it won national titles. Of the seven national champions, four held opponents under 80 yards rushing a game.
Rank in the top 40 in sacks (but don't rank too high):
Surprisingly, none of the national title winners was in the top 10 in sacks, either, but all landed in the Top 40, somewhere between 2.29 and 2.64 sacks a game and somewhere between No. 24 and No. 40. So putting some pressure on an opponent's quarterbacks -- but not too much? -- should be at a premium when it comes to fielding a title contender.
Have at least one player selected in the first round of the NFL draft following the national title game:
This, actually, should not be much of a surprise considering the national champion should have at least some NFL-caliber talent on it to survive the season. Defending national champion Alabama did a good job of this in this past draft with three players in the top 11. The total first-rounders for the Crimson Tide actually dropped from the 2012 draft, which saw four players taken from the school. Every title winner, though, has had at least one the following April.
Have a player score at least 10 touchdowns rushing and/or receiving:
Again, this seems like a no-brainer, especially considering how many points a game the national champion teams are averaging. But it also shows if a team spreads it around too much, there might not be that gamebreaker type of player to get a team a score when it was absolutely necessary.
Did not lose a non-conference game in the regular season:
Again, not a stunner here. The national champions over the past seven years which have lost games have all lost them within the confines of the SEC. This, though, actually blows up the theory that losing early is better than losing late when it comes to the national polls and winning a national championship considering most non-conference games are played in September and early October. So as you get ready to dig in to conference play, know if your team dropped a game, it could be in real trouble to win a title. And/or if it has a difficult non-conference game (see Georgia vs. Clemson in August and Michigan vs. Notre Dame in September), that game might loom even larger.
February, 7, 2013
2/07/13
11:36
AM ET
By
Mackenzie Kraemer
| ESPN.com
1
– Alabama's class rank. Every year that head coach Nick Saban has had a full season to recruit (since 2008), the
Crimson Tide
have had a top-three class. No other school has even had a top-10 class each of the past six years. Alabama received commitments from three of the top-10 running backs, plus
Derrick Henry
(No. 9 in ESPN 300, No. 1 Athlete), the leading rusher in high school football history.
3
– Number of Ole Miss's recruits ranked in the top 20 of the ESPN 300. Since ESPN recruiting rankings were introduced in 2006,
Ole Miss
had never had a single top-20 recruit. Head coach Hugh Freeze received letters of intent from two of the top five recruits, including the top ranked player in the ESPN 300, DE
Robert Nkemdiche
.
7
– Number of players since November who have decommitted from
USC
, and all were in the ESPN 300. USC's class was ranked No. 1 for more than three months between July and November, but now it's ranked 14th. Two of those decommits,
Eldridge Massington
(No. 172 in ESPN 300, No. 21 WR) and
Kylie Fitts
(No. 86 in ESPN 300, No. 8 DE) flipped their commitments to rival UCLA. The Bruins finished the day with the 12th-ranked class, the first time since 2006 they finished ahead of their crosstown rival.
August, 15, 2012
8/15/12
3:57
PM ET
By
Toby Petitpas, ESPN Stats & Information
| ESPN.com
Marvin Gentry/US PresswireNick Saban and Alabama rode a dominant defense to the 2011 BCS National Championship.
We have all heard the cliché that defense wins championships. Nowhere is this saying more exemplified than at the
University of Alabama
. The Crimson Tide ranked in the top three in scoring defense and top five in yards allowed during each of the last three seasons. During that time, they won two of the three BCS National Championships.

In fact, the only season that Alabama did not rank in the top seven in both scoring and total defense under Nick Saban was 2007, Saban's first season in Tuscaloosa. It was also the only season that the Tide did not win 10 games under their two-time national coach of the year.
Since the start of the 2008 season, Alabama is 48-6 with all six loses coming against opponents ranked in the top 20. Three of the six eventually played in the BCS National Championship Game.
With all of the great defenses that Alabama has had under Nick Saban, last season might have been the gold standard. The Tide held opponents to 8.2 points per game, the best scoring FBS defense since
Auburn
in 1988 (7.2). Georgia Southern was the only opponent that scored more than 14 points against Alabama in 2011.
The Tide allowed 12 touchdowns last season in 158 possessions, which is the lowest touchdown percentage (7.6) of any team in the last eight seasons. Three of those 12 touchdowns were scored when the defense was not on the field.
It was virtually impossible to move the ball against Alabama last season. The Tide held opponents to 3.3 yards per play, the lowest average of any team since 2000 and they allowed just 75 plays of 10 yards or more. That is 47 fewer than any other FBS team and it was the lowest percentage (10.4) of such plays allowed by any team in the last eight seasons.
Alabama ultimately forced a "3 & out" on 61 of its opponents' 158 possessions (38.6 percent), the most total possessions and the highest percentage in the FBS. In the last eight seasons, only
Ohio State
in 2007 (40.1) and
TCU
in 2009 (39.0) forced "3 & outs" at a higher rate.
Everyone involved seemed to contribute, but the most impressive part of the Alabama defense might have been the play of the secondary.
The Tide's opponents had a combined pass efficiency of 83.7, lowest in the FBS since the 2001
Miami Hurricanes
. Alabama allowed 15 completions that gained 20 yards or more--10 fewer than any other FBS team--and on throws that traveled 20 yards or more downfield, the Tide had the same number of interceptions (seven) as their opponents had completions.
Alabama returns just four starters from last season's dominating defense according to ESPN's Chris Low. If Nick Saban and the Tide are able to replace the other seven, Alabama could roll toward its third national championship in the last four seasons.
Scout's Take: Atlanta Opening Regional
SEC SCOREBOARD
Thursday, 9/3
Saturday, 9/5