Alabama Crimson Tide:

Brandon Williams
June, 20, 2014
6/20/14
10:00
AM ET
Editor's note: We're taking steps to get you ready for every one of Alabama's regular season opponents. Every Friday we'll go through each week of the schedule, starting with the season-opener against West Virginia and closing with the finale against Auburn.
The rundown
2013 overall record:
9-4
2013 SEC record:
4-4, third in the Western Division
Record all time against Alabama:
2-4
Last meeting:
Lost 49-42 in 2013
Starters returning

Offense: 6; Defense: 10; Kicker/punter: 2
[+] Enlarge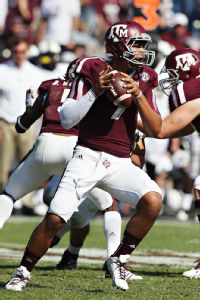 Bob Levey/Getty ImagesKenny Hill, or whomever takes over as the Aggies QB, will have plenty of weapons available.
Top returners

OT
Cedric Ogbuehi
, C
Mike Matthews
, WR
Malcome Kennedy
, CB
Deshazor Everett
, S Floyd Raven
Key losses

QB Johnny Manziel, WR
Mike Evans
, OT
Jake Matthews
, RB Ben Malena, WR Travis Labhart, NG
Kirby Ennis
, LB Nate Askew, CB Toney Hurd
2013 statistical leaders (* returners)
Rushing:
Johnny Manziel (923 yards)
Passing:
Johnny Manziel (4,114 yards, 37 TD, 12 INT)
Receiving:
Mike Evans (1,394 yards)
Tackles:
Steven Jenkins* (96)
Sacks:
Shaan Washington
*,
Gavin Stansbury
(3)
Interceptions:
Howard Matthews
*, Nate Askew (3)
What they're saying
"No doubt, our safety play has got to improve and our D-line play has got to improve. We will have more depth up front, but we'll have more pieces. We just have to get the right pieces in place and get them ready to go," said Texas A&M coach Kevin Sumlin
Three things to watch:
1. Johnny ain't the problem:
Forget Johnny Manziel for a moment. Believe me, we'll have time for him later. Finding his successor at quarterback isn't the biggest problem Sumlin faces in 2014. Instead, it's the defense, the one that looked utterly lost against Duke in the Chick-fil-A Bowl and finished 109th in the country in total defense (behind four other Lone Star State schools: North Texas, Texas State, Texas and Texas Tech). There were injuries, sure, and there were a lot of young players on the field, but there's no excuse for giving up 32 points per game. The secondary was porous, the tackling terrible and the pass-rush non-existent. But this year is supposed to be better, right? Well, maybe not. Offseason troubles have thrown a huge wrench into a defense that was supposed to be a year wiser and more matured. Two starters (Darian Claiborne and Isaiah Golden) were dismissed from the team, and a third starter, defensive end Gavin Stansbury, got himself arrested on assault charges.
2. Back to Johnny:
We weren't going to make you wait that long to discuss the loss of Manziel. A lot of Alabama fans should be relieved to know he's gone. His theatrics won't stress the Crimson Tide any longer. But even as his Heisman Trophy and 5,037 total yards of offense head to Cleveland, the offense he leaves behind in College Station shouldn't be overlooked. Even with starting wideouts Mike Evans and Travis Labhart gone, there is more than enough talent on campus for Sumlin to cobble together a formidable offense, whether the starting QB is sophomore
Kenny Hill
or the freshman Kyle Allen. The Aggies are loaded at running back with three talented options there (
Tra Carson
,
Trey Williams
and
Brandon Williams
). And at receiver, it's an embarrassment of riches. Veterans Malcome Kennedy and
Edward Pope
are just the tip of the iceberg. Freshmen
Ricky Seals-Jones
and Speedy Noil are the real weapons. Seals-Jones is a clone of Evans, a 6-foot-5 giant who will tower over defensive backs. Noil, the No. 1-rated athlete in the ESPN 300, looks like the SEC's next Percy Harvin, a terror with the ball in his hands. Johnny is gone but with so many weapons and a strong offensive line (thanks to Cedric Ogbuehi's return), the Aggies shouldn't miss a beat.
3. How to break through:
There's an argument to be made that Texas A&M is the most overhyped program in the SEC. Yes, Manziel was a revelation. And, yes, the Aggies were competitive the minute they joined the league. But nonetheless, the wins simply haven't been there. You've got to finish higher than third in your own division before you start becoming a power in the conference -- or nationally, for that matter. It's Year 3 under Sumlin, which means it's time to start capitalizing on potential and turn it into production. Sumlin realizes this. This spring he told ESPN, "It's kind of hard to have a target on your back when you finished third in your own division. I think the reason people would say that [we've got a target on us] is because we had unexpected success. But we're trying to go from third to first." Sumlin knows, "We haven't arrived in this league." But they could soon. With the shadow of Johnny Football no longer looming, it will be interesting to see where the program goes next. The offense should be more balanced and run-oriented, a fact that should help the defense stay off the field. If Mark Snyder can turn things around on that side of the ball, then things could get really interesting. The West will still be an uphill battle for the Aggies, but it might be enough to bridge the difference between potential and production.
September, 13, 2013
9/13/13
4:30
PM ET
From Matt Freeman (@Onearmbird):
How slow will Tennessee look this [Saturday] at Oregon?
I'm afraid the Vols will look a little sluggish in Eugene, and not just because of the jet lag from the cross-country trip. Oregon runs a play every 17 seconds or so. I get lightheaded just watching it. While I applaud the job Butch Jones has done in Knoxville thus far, injecting life into what was a downtrodden program, I just don't see him having the bodies on defense to keep up with Oregon's attack. Keeping the Ducks under 50 could be seen as a victory. In this case, Tennessee's 2-0 start may be misleading. Austin Peay was a pushover, and Western Kentucky all but gave last week's game away with five turnovers in a span of six plays. The Vols defense gave up almost 400 yards that game, and I don't see
Marcus Mariota
and Co. giving the ball away and failing to capitalize like that.
---
From Jeremy Garcia (@theFAKEJeremyG): How would you rank Texas A&M's depth at RB, compared to the rest of the conference?
It's among the best in the conference with
Ben Malena
,
Trey Williams
and
Brandon Williams
. Oh yeah, and
Tra Carson
is no slouch either. All four backs have the skill to start at other programs, and playing alongside
Johnny Manziel
, they're made even more lethal. I came across an interesting stat on Malena while researching Saturday's game against Alabama: Malena is 10th nationally (minimum 20 carries) with 61.9 percent of his carries going for 5 or more yards. Compare that to All-ACC tailback
Duke Johnson
, who came in at 47.5 percent.
---
From Matt Siggelow (@CFBPOexpert): How is it possible that [Alabama] never travels outside of their region or the U.S. to play BCS programs in their stadiums?
Simply put, they don't have to. The sudden rise in popularity of neutral-site games have allowed Alabama to stay away from nonconference games in road environments. Traveling to Texas last year was big, but it was a mostly 50-50 crowd against Michigan. And against Virginia Tech this year, the crowd wasn't too far in Alabama's favor even though Atlanta is much closer to Tuscaloosa than it is Blacksburg. I think it's hard to blame Alabama for the lack of road nonconference games, though. I don't see schools wanting to schedule more than a one-off neutral-site game much these days, whether that's against Alabama or another school. That said, there is a home-and-home scheduled between Alabama and Michigan State in 2016 and 2017 to look forward to.
---
From Ryan W. Tyler (@ryanwtyler):
O
ne-loss [Georgia] that beat undefeated Alabama in SEC champ over either undefeated Oregon or OSU?
Based on Georgia's schedule, it would be hard to keep them out of the championship game. Beating ranked opponents South Carolina, LSU and Florida is more than enough on a one-loss résumé, especially when that one loss came on the road in a close game against a ranked opponent in Clemson. That said, I can see conference fatigue setting in, and the two teams you brought up might be the only ones who could come in ahead of a one-loss SEC team like Georgia. While their schedules aren't spectacular, Ohio State and Oregon will have high profile games to showcase themselves to national voters: the Buckeyes play Michigan, and the Ducks face Stanford.
---
From Levi Weeks (@Weemsy_1): How do you think Alabama's defense will contain the multi-threat QB Johnny Manziel this Saturday?
Playing gap assignment football will be the key for Alabama's defense. That means the the defensive line must avoid going after the sack and instead maintain its lanes in order to not give Manziel too much room to run when the pocket does break down.
C.J. Mosley
is a good spy to keep on Manziel at Mike linebacker, but he'll need help up front. Alabama doesn't have a dominant pass-rusher, but in this game it doesn't need one. Pressure is important, but it's even more important that the defense not get out of position and allow the big play. As we all have seen over the past year or so, Manziel is his best when the play breaks down and he can improvise in space.
---
From Jeremy Davis (@JT_Dav):
Which Arkansas team will show up for SEC play? Week 1 or Week 2?
I may be skirting the question a little here, but I think the Razorbacks team that show up for SEC play will be the once that plays Southern Miss this weekend. Back-to-back wins were a nice way to kick off a new era in Arkansas football -- however uninspiring last week's win against Samford might have been -- but we'll see what kind of team Bret Beilema has assembled this weekend against a program that mimics a lot of the size and speed of the SEC. Southern Miss averages right around 300 yards through the air per game, which could be a problem for an Arkansas defense that's had trouble in pass coverage. Having a good game defensively and continuing to establish the running game with
Alex Collins
and
Jonathan Williams
would be a good way to work toward the start of SEC play in a few weeks.
---
From Brandon Truett (@do_it_truett89): Do you think the latest allegations are true about Alabama? Also who wins #BAMAvsTAMU?
It's not my place to comment on another story, but I will give my game prediction since this is the last question of the post. Alabama wins by two scores -- I'm thinking 34-21 -- if the offensive line plays better than it did Week 1 against Virginia Tech and limits the pressure in the backfield. Getting the running game going early will be huge for Nick Saban and the coaching staff. Moving the sticks with
T.J. Yeldon
and Co. will help control the tempo of the game and allow
AJ McCarron
to do what he does best -- work off play-action. With an entire offseason to prepare, I think Alabama's defense builds off last year's game, in which it held the Aggies to nine points over the final three quarters, and keeps Manziel in check, for the most part.
August, 15, 2013
8/15/13
4:15
PM ET
A year ago, three newcomers earned either first- or second-team All-SEC honors from the coaches.
Leading the way was Texas A&M's
Johnny Manziel
, who as a redshirt freshman burst onto the scene with an SEC-record 5,116 yards of total offense and captured the Heisman Trophy. Manziel was the first-team quarterback along with junior college transfer Cordarrelle Patterson, who was the first-team all-purpose player in his only season at Tennessee. Georgia true freshman
Todd Gurley
earned second-team honors at running back.
Who are the new faces this season most likely to earn All-SEC honors?

We'll let you tell us by voting in our SportsNation poll.
It's always an educated guess at this point. After all, Manziel didn't even win the Aggies' starting quarterback job until last preseason when he beat out
Jameill Showers
.
We've come up with five choices (And, yes, there are others who could have easily been on the list), but we're counting on you to tell us which newcomer will make the most profound impact this season.
Four of the five will be true freshmen. Of the true freshmen, Alabama running back
Derrick Henry
and Georgia safety
Tray Matthews
enrolled early and both went through spring practice, although Henry is coming off a broken fibula in the spring. The reports this preseason, though, are that the 6-foot-3, 242-pound Henry is still as tough as ever to get on the ground. Matthews was one of the stars of the spring on Georgia's defense and is a big-time hitter.
Ole Miss defensive end
Robert Nkemdiche
, the No. 1 high school prospect in the country last year, and Arkansas running back
Alex Collins
both arrived on their respective campuses this summer. They both had a lot of hype coming in and haven't disappointed during preseason practices.
Texas A&M running back
Brandon Williams
is a transfer. He sat out last season after playing as a freshman at Oklahoma. The 6-foot, 192-pound Williams has some serious acceleration and is an absolute blur when he gets into the open field. The Aggies are hoping for more than a few big plays from Williams.
Get your votes in and we'll review the results next week.
June, 14, 2013
6/14/13
3:00
PM ET
College football prognosticator Phil Steele continues his look at the top depth charts around the country. Today, we're looking at his
top running back depth charts

.
Steele has three SEC teams on his list, with Georgia taking his top spot. Alabama is No. 2, while Texas A&M is 14th.
It's hard to argue against having Georgia No. 1. The Bulldogs bring back the top one-two rushing punch in
Todd Gurley
, who led SEC running backs with 1,385 yards and 17 touchdowns, and slasher
Keith Marshall
. The duo combined for 2,144 yards and averaged 6.3 yards per carry. There isn't much behind these two, but they did just fine with the majority of the carries last year.
[+] Enlarge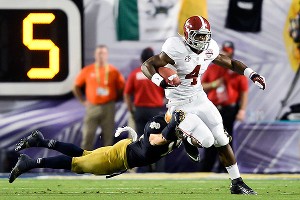 AP Photo/Romeo GuzmanT.J. Yeldon returns to lead a deep backfield for the Crimson Tide this season.
Alabama has a very deep backfield that's led by sophomore
T.J. Yeldon
, who rushed for more than 1,000 yards last year. He should compete to be one of the top players at his position this fall as both a slasher and a pounder. The Tide will get back the beastly
Jalston Fowler
, who is coming off of knee surgery, and scat back
Dee Hart
, who is also returning from a knee injury. Sophomore
Kenyan Drake
is back and true freshman Derrick Henry should help out as both a running back and H-back this fall.
As for the Aggies, they're also very deep at running back. Leading rusher
Ben Malena
(808 yards) is back, and he'll be working with some younger but very talented teammates.
Brandon Williams
, who transferred from Oklahoma, has the potential to be very special. Then you have Oregon transfer
Tra Carson
and sophomore
Trey Williams
. There is a lot of speed and athleticism in Texas A&M's running back stable.
I'd also keep an eye on Florida, LSU and Ole Miss this fall. The Gators will be led by sophomore
Matt Jones
, who had a very good spring and should pick up right where Mike Gillislee left off. He'll also get help from redshirt junior
Mack Brown
, who left spring as the No. 2 back, and freshmen Kelvin Taylor and Adam Lane. Taylor had a good spring and Lane should come in and help right away.
LSU might have made Steele's list if
Jeremy Hill
wasn't suspended from the team. Hill's recent arrest has his future at LSU in doubt, but if he plays this fall he'll be one of the league's best.
Kenny Hilliard
and
Alfred Blue
are nothing to sneeze at. Both have shown flashes in the past and Blue should be healed from a knee injury that cost him most of his 2012 season. Losing Hill will really hurt, but the Tigers have a solid duo in Hilliard and Blue to work with.
Ole Miss returns rushing leader
Jeff Scott
and a talented bunch of youngsters. Scott is a solid all-purpose-type back, while sophomores
I'Tavius Mathers
and
Jaylen Walton
came on strong late last year and this spring. True freshman Mark Dodson will get his chance to see the field as well after a strong spring.
February, 26, 2013
2/26/13
3:05
PM ET
Here are a few storylines to watch this spring in the Western Division. Edward took a look at the Eastern Division on Monday.
ALABAMA CRIMSON TIDE

Start date:
March 16
Spring game:
April 20
What to watch:
Battling complacency: Alabama is gearing up for yet another title defense. Will complacency finally rear its ugly head? Not if Nick Saban has anything to do with it. The head coach will no doubt remind players of the targets on their backs and what little they've accomplished as presently constituted.
Opening up the passing game: The return of AJ McCarron, coupled with a talented, deep crop of receivers, could mean a more wide-open passing game in Tuscaloosa. If true freshman tight end O.J. Howard develops as some expect, the offense could become even more dynamic.
Offensive line makeover: Barrett Jones, Chance Warmack and D.J. Fluker are gone. And with them the best offensive line in college football has vanished. Veterans Cyrus Kouandjio and Anthony Steen return, but few experienced players are waiting in the wings for Alabama.
-- Alex Scarborough, TideNation
ARKANSAS RAZORBACKS

Start date:
March 10
Spring game:
April 20
What to watch:
Bielema's stamp: They won't remember 2012 very fondly in Arkansas. It started with Bobby Petrino's embarrassing ouster last spring and ended with a forgettable 4-8 season. The Hogs are starting all over with Bret Bielema, who led Wisconsin to three straight Rose Bowl appearances. This spring will be Bielema's first real chance to put his stamp on the program and introduce the Hogs to his brand of power football.
Offensive overhaul: Bielema was known at Wisconsin for running the football behind big, physical offensive lines. His offensive coordinator, Jim Chaney, has more of a passing pedigree. It will be interesting to see how it all comes together offensively for the Hogs, who are losing their top passer, top two rushers and top three receivers from last season. Brandon Allen and Brandon Mitchell will vie for the starting quarterback job.
Defense takes the lead: The Hogs won under Petrino thanks to their high-scoring offense, and at times, in spite of their defense. But in 2013, the defense may have to carry a lot more of the load. First-year coordinator Chris Ash inherits a veteran front, some young talent at linebacker and a secondary that also should be much improved. It's a unit that will need to mesh quickly, and that starts this spring.
July, 17, 2012
7/17/12
3:40
PM ET
Transfers can often times be the great equalizer, both junior college transfers and major college transfers.
It's safe to say that Cam Newton made a difference on Auburn's 2010 national championship team. And for that matter, so did Nick Fairley. Both were junior college transfers.
A year ago, cornerback DeQuan Menzie was a stabilizing force in Alabama's defensive secondary and one of the Crimson Tide's most dependable players on their 2011 national championship team. Menzie was also a junior college transfer.
Terrence Cody, yet another junior college transfer, was a major part of Alabama's 2009 national championship defense.
Who will be those impact transfers in 2012 that make a difference? Here are 10 to watch in the SEC. They're listed alphabetically:
[+] Enlarge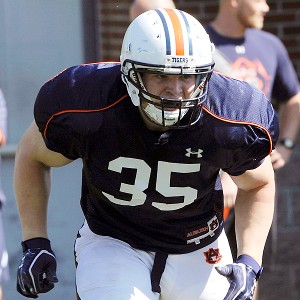 AP Photo/Todd J. Van EmstIllinois transfer Jay Prosch will be eligible to take the field for Auburn this season.
Denico Autry, DE, Mississippi State:
One of the most heralded junior college prospects in the country, the 6-foot-5, 255-pound Autry made quite an impression this spring. He's an explosive pass-rusher the Bulldogs hope will give them the edge pressure they lacked last season.
Deion Belue, CB, Alabama:
It didn't take Belue long to make his presence felt this spring. He took an interception back 97 yards for a touchdown in the Crimson Tide's first scrimmage. Belue's a quick learner and one of the favorites to start at the other cornerback opposite
Dee Milliner
.
Pierce Burton, OT, Ole Miss:
He started his career at San Jose State and then transferred to City College of San Francisco. It looked like Burton would continue his career at Florida, but Hugh Freeze was able to sway him to Ole Miss. Burton was good enough this spring that he'll go into the season as the Rebels' starting right tackle.
Austin Flynn, DE, Arkansas:
The Hogs already needed some pass-rushing help at end with Jake Bequette departing. That need was only magnified after
Tenarius Wright
moved to linebacker this spring. The 6-foot-5, 265-pound Flynn was a big get out of junior college and showed the kind of strength and power this spring that could make him an immediate starter.
Damien Jacobs, DT, Florida:
Originally committed to Tennessee out of East Mississippi Community College, Jacobs changed his mind and signed with the Gators. Florida coach Will Muschamp liked what he saw this spring and thinks the 6-foot-3, 310-pound Jacobs will be a big part of the rotation at tackle this fall.
Alabama Dismisses Jonathan Taylor
SEC SCOREBOARD
Thursday, 9/3
Saturday, 9/5