Alabama Crimson Tide:

Bill Battle
March, 22, 2013
Mar 22
3:12
PM ET
TUSCALOOSA, Ala. -- Bill Battle won't begin the task of replacing former Alabama athletic director Mal Moore with a splash. By the looks of it, he's not one to rock the boat.

The 71-year-old former player, coach and businessman said he's not determined to make his presence felt in the athletic department right away. For now, he's content following the blueprint Moore laid out, the one that has yielded eight national championships since 2002.
"How do you improve on success?" he asked, mirroring a reporter's question on Friday. "You don't. You try to keep going the way you're going."
That means giving his coaches the resources to continue operating at a high level. Before he ever took the job, Battle said he met with football coach Nick Saban.
"The relationship of anybody at the University of Alabama and Coach Saban is important because coach Saban is important," he said. "What he's done in football, not many people have done in college sports. He's gotten ahead of the field.
March, 21, 2013
Mar 21
2:34
PM ET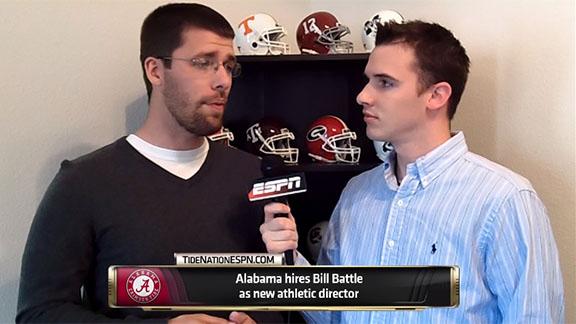 Not surprisingly, Alabama is bringing back one of its own to run the athletic department.
Not only that, but the Crimson Tide have turned to a former football coach to call the shots.
Why mess with a successful blueprint, right?
It certainly worked well with Mal Moore, who retired Wednesday to deal with health issues. Moore, 73, has a pulmonary condition and has been hospitalized at Duke University Medical Center since last week. On his watch, the Crimson Tide have put together an historic run in football with three national championships in the past four years.
Moore now turns over the keys to his beloved athletic department to one of his oldest friends and colleagues.
Alabama president Judy Bonner has recommended that Bill Battle, who played with Moore at Alabama under Paul "Bear" Bryant, replace Moore as Alabama's athletic director. The Alabama board of trustees will meet on Friday to finalize Battle's hiring.
Moore personally endorsed Battle, who was a three-year starter for the Tide from 1960-62.
There's also a bit of irony here. Battle was the head coach for seven seasons at one of Alabama's fiercest rivals -- Tennessee. Battle was only 28 when he landed the Tennessee gig and beat Bryant and Alabama in his first season with the Vols in 1970, but lost the next six. Four of those losses were by 17 points or more, and that losing streak to Alabama was a factor in Battle's ouster following the 1976 season.
Saban's Future At Alabama
Saban's Future At Alabama
VIDEO PLAYLIST
Saban's Future At Alabama

Saban's Future At Alabama

Alabama Offers Saban New Deal

Alabama Offers Saban New Deal

Who Would Be In A Four-Team Playoff?

Who Would Be In A Four-Team Playoff?
TIDENATION RECRUITING NEWS
ALABAMA FB RECRUITING SCORECARD
Andrew_Gribble

Andrew Gribble


Oklahoma was once 'the hot school' to Alabama quarterback AJ McCarron http://t.co/JjX0FtapN3
about a minute ago

Bama

Bama Football


Ten questions to ponder regarding Nick Saban and his job status http://t.co/A66Up3jV3n via @SDS
26 minutes ago

AndrewJBone

Andrew Bone


2015 four-star DE from Freedom HS in Tampa. RT @scott_patchan: Alabama stopped by today
30 minutes ago

Bama

Bama Football


#SEC on @SDS - Final regular season SEC Power Rankings: The Big 14 http://t.co/Ay92tEEcxA
31 minutes ago

ESPN_SEC

ESPN_SEC


Controversy will not leave with BCS http://t.co/c6RaodoCP4
32 minutes ago

SECfootball

SEC Football News


Ten questions to ponder regarding Nick Saban and his job status http://t.co/4Bg6gfa9w3
39 minutes ago

AndrewJBone

Andrew Bone


Auburn CB Antreal Allen says that he has "opened things up" regarding his recruitment but is still committed to #UCLA.
47 minutes ago

ChaseGoodbread

Chase Goodbread


Welcoming @BFeldmanCBS to the @NFL_CFB podcast house today. Great reporter - check out his segment later today at http://t.co/BP1BrqS5g9
about an hour ago

SECfootball

SEC Football News


Final regular season #SEC Power Rankings: The Big 14 http://t.co/I7K7JUVcFE
about an hour ago

AndrewJBone

Andrew Bone


Auburn CB Antreal Allen has decommitted from #UCLA. He informed me that he decided to reopen his recruitment. @UCLARivals
about an hour ago

ChaseGoodbread

Chase Goodbread


RT @NFL_CFB: #Tennesse fans, at least one coach giving #Vols LB A.J. Johnson a strong nudge -- stay in school http://t.co/9U7YGx0bx5
about an hour ago

BamaSportsNow

Alabama Sports Now


Four-star safety CJ Hampton discusses his interest in Alabama (video) http://t.co/r9o2abGkIN
about an hour ago

BamaSportsNow

Alabama Sports Now


Live at 9 with Kevin Scarbinsky: Nick Saban needs to reaffirm his commitment to Alabama http://t.co/2iQTa9jRTa
about an hour ago

AndrewJBone

Andrew Bone


Good places to eat in Montgomery for lunch and dinner? I know my followers can help me out.
about an hour ago

tommydeas

Tommy Deas


RT @AndrewJBone: Just overheard Coach Woodrow Lowe say, "that no.42 (Keith Holcombe) has surprised me. He is a ball player." This LB group…
about an hour ago

tommydeas

Tommy Deas


RT @AndrewJBone: #TeamAlabama defenders Marlon Humphrey, Shaun Dion Hamilton, Keith Holcombe, Ronnie Clark http://t.co/Vcce58zyyD
about an hour ago

ESPN_SEC

ESPN_SEC


SEC lunchtime links http://t.co/2bqrS0BJs7
about an hour ago

SECfootball

SEC Football News


Big-time Gators target Sharpe to announce Thursday morning http://t.co/cuyXCvc8s8 via @SECrecruiting
about an hour ago

AndrewJBone

Andrew Bone


#TeamAlabama defenders Marlon Humphrey, Shaun Dion Hamilton, Keith Holcombe, Ronnie Clark http://t.co/Vcce58zyyD
about 2 hours ago

ChaseGoodbread

Chase Goodbread


RT @38Godfrey: Scott blames media for idea that players are "getting screwed," moderator responds "That might come from the waterfalls in t…
about 2 hours ago

GregO_ESPN

Greg Ostendorf


RT @SportsCenter: Alabama offered Nick Saban a new contract extension last Friday. Officials growing nervous the longer it goes unsigned. (…
about 2 hours ago

Bama

Bama Football


#SEC on @SDS - Fan launches petition over CBS Sports' SEC Championship broadcast http://t.co/SRX9CyKgs8
about 2 hours ago

ESPN_SEC

ESPN_SEC


Malzahn named Coach of the Year http://t.co/aHzca9jbVW
about 2 hours ago

AndrewJBone

Andrew Bone


Imressed with Murphy athlete Kam Maye these first two days. He's making plays at WR. Maye and Will Young have been very consistent.
about 2 hours ago

AndrewJBone

Andrew Bone


Just overheard Coach Woodrow Lowe say, "that no.42 (Keith Holcombe) has surprised me. He is a ball player." This LB group is special.
about 2 hours ago

ESPN_SEC

ESPN_SEC


Sugar Bowl glance: Alabama-Oklahoma http://t.co/vdy14v18wx
about 2 hours ago

Andrew_Gribble

Andrew Gribble


Five-star CB Marlon Humphrey truly does it all. http://t.co/wRQp3daZoE
about 2 hours ago

AndrewJBone

Andrew Bone


RT @RivalsFriedman: Lance Thompson and Kirby Smart in the DC area. Just stopped by Washington (D.C.) Gonzaga. Lots of talent there @AndrewJ…
about 2 hours ago

BOLWalsh

Christopher Walsh


RT @AlabamaFTBL: C.J. at the MD Anderson Cancer Hospital with the Lombardi Award. @ The University of Texas MD Anderson… http://t.co/oxP9hQ…
about 2 hours ago

AlabamaFTBL

Alabama Football


C.J. at the MD Anderson Cancer Hospital with the Lombardi Award. @ The University of Texas MD Anderson… http://t.co/oxP9hQxeC3
about 2 hours ago

AndrewJBone

Andrew Bone


Five-star Marlon Humphrey with a pass break up at the Ala/Miss All-Star practice. https://t.co/WCHJWbjmAB
about 2 hours ago

BamaSportsNow

Alabama Sports Now


The Jumbo Package | 12.11.13 http://t.co/n9MPEn4rTF
about 2 hours ago

SECfootball

SEC Football News


Fan launches petition over CBS Sports' #SEC Championship broadcast http://t.co/jRrnTrNm2Y
about 3 hours ago

AndrewJBone

Andrew Bone


RT @Rivals: ICYMI: Our first 2015 #Rivals250 Rankings Pres. By @UnderArmour are out! http://t.co/NaUzQCny2w Full Ranks: http://t.co/BBo2Ytt…
about 3 hours ago

rollbamaroll

Roll Bama Roll


RT @SolidVerbal: Awww yeah RT @TravHaneyESPN: Source told me that Mack Brown "isn't going to make it easy. He's told people he's not going …
about 3 hours ago

ESPN_SEC

ESPN_SEC


Alabama offers Nick Saban a new deal http://t.co/9MaK3I8X8J
about 3 hours ago

tommydeas

Tommy Deas


RT @AshleyAWaters: Happy birthday to one of my all time favorites, @chadhaynie !!!! Have a great day!! We will celebrate soon!!!!
about 3 hours ago

AlabamaFTBL

Alabama Football


The Lombardi finalists at Radio Lollipop at Texas Children's in Houston. #RollTide http://t.co/XmGa8yF4Vr
about 3 hours ago

Andrew_Gribble

Andrew Gribble


RT @KevinScarbinsky: Live at 9: Nick Saban needs to reaffirm his commitment to Alabama. http://t.co/fsjtKxBwqf
about 3 hours ago

SECfootball

SEC Football News


LSU loses running back, then gains a higher-rated one–all this week http://t.co/EsX08qjRYy via @SECrecruiting
about 3 hours ago

AndrewJBone

Andrew Bone


#Alabama recruiting notes from the Ala/Miss All-Star Classic http://t.co/QnhJkkDCdj
about 4 hours ago

rollbamaroll

Roll Bama Roll


The Jumbo Package | 12.11.13 http://t.co/yQ45eAAo0j
about 4 hours ago

AlabamaFTBL

Alabama Football


C.J. with fellow Lombardi finalist Anthony Barr of UCLA at Texas Children's. http://t.co/PVuRn8g3r2
about 4 hours ago

AndrewJBone

Andrew Bone


#TeamMississippi Day 1 top performers in the Ala/Miss All-Star Classic http://t.co/RuOE1TCSKO C.J. Hampton (@_Hamp4dEM) among the best.
about 4 hours ago

SEC

SEC Sports


Auburn's Gus Malzahn Named Home Depot National Coach of the Year: http://t.co/fxm3DVwqIK #SEC
about 4 hours ago

AndrewJBone

Andrew Bone


ICYMI- #TeamAlabama Day 1 top performers at the Ala/Miss All-Star Classic http://t.co/K51OZdMCrV
about 4 hours ago

rollbamaroll

Roll Bama Roll


.@geauxcrimson They are actually handling it okay. No one is excited about the rumors but no one is jumping off a cliff.... Yet.
about 4 hours ago

GregO_ESPN

Greg Ostendorf


And yet another Arkansas State coach is on the move ... RT @schadjoe: Bryan Harsin will be the next Boise State head coach
about 4 hours ago

GregO_ESPN

Greg Ostendorf


Gus Malzahn named Home Depot Coach of the Year. He's only the third coach in SEC history to win an SEC title in his first year.
about 4 hours ago

UA_Athletics

Alabama Athletics


Get your Sugar Bowl gear right here! Look great as the Alabama Crimson Tide take on the Sooners in New Orleans: http://t.co/baoI2PHvLi
about 4 hours ago

BamaSportsNow

Alabama Sports Now


Random Thoughts From Around the Country: Post-Season Chaos http://t.co/nSQpC4thl2
about 4 hours ago

AndrewJBone

Andrew Bone


Four-star safety Erick Smith (@RestUpBoog) talks Nick Saban in-home visit http://t.co/htxpOspBEf #Alabama
about 4 hours ago

BamaSportsNow

Alabama Sports Now


SECond Look video: After losing recruits to Auburn, landing Marlon Humphrey 'essential' for Alabama http://t.co/IlGFyf63pv
about 4 hours ago

BamaSportsNow

Alabama Sports Now


Alabama Football: Could 2013 Iron Bowl Fuel Another Title Run Like 2010? http://t.co/dkNQfrqmFj
about 4 hours ago

BamaSportsNow

Alabama Sports Now


Alabama Football: 4 Things We Need to See in Sugar Bowl http://t.co/4mroKPo8ur
about 4 hours ago

AlexS_ESPN

Alex Scarborough


From 3-9 to 12-1 and a date in Pasadena, Auburn's Gus Malzahn is the Home Depot Coach of the Year. http://t.co/03CdhsouKV
about 4 hours ago

ESPN_SEC

ESPN_SEC


SEC Power Rankings: Week 15 http://t.co/QXWCFC94fi
about 5 hours ago

rollbamaroll

Roll Bama Roll


My gut says he stays. That's all I have to say about that.
about 5 hours ago

rollbamaroll

Roll Bama Roll


If he stays he may put an end to the "Saban will leave Bama" rumors every year but if he goes.....The media will crucify him.
about 5 hours ago

rollbamaroll

Roll Bama Roll


When you say one thing and do another, people won't trust your "word". He has an opportunity to confirm the negative or affirm the positive
about 5 hours ago

rollbamaroll

Roll Bama Roll


General un-sourced thoughts on the latest round of Saban to Texas rumors...Hate to say it, and Saban may not like it, but he created this
about 5 hours ago

SECfootball

SEC Football News


Auburn JUCO commits impressed with the Tigers … again http://t.co/ZHYMyadIfp via @SECrecruiting
about 5 hours ago

rollbamaroll

Roll Bama Roll


Please note the last two RT's from Pat Forde. Rumors of 100 mill deal with Texas is from 2011.
about 5 hours ago

rollbamaroll

Roll Bama Roll


RT @YahooForde: Note the date RT @UTSMC 21 Nov 11 RUMOR: Nick Saban to Texas for 10 years $100 million. Anyone else hear this?
about 5 hours ago

rollbamaroll

Roll Bama Roll


RT @YahooForde: So latest rumor is Saban 10 years, $100 million to Texas? I found that mentioned on Twitter Nov. 21 ... of 2011. Remain Cal…
about 5 hours ago

tommydeas

Tommy Deas


RT @RecruitingAJC: NEW: Update on 5-star Lorenzo Carter --> http://t.co/qRSbVfZmWl ... #Bama #UGA #Gators
about 5 hours ago

rollbamaroll

Roll Bama Roll


.@donaldeandrews Well I was tweeting that so people would see it's not true. That 100 mill deal is a rumor from 2011.
about 5 hours ago

rollbamaroll

Roll Bama Roll


Random Thoughts From Around the Country: Post-Season Chaos #CFB #Bedlam #MackBrown http://t.co/zRq8wFkpWh
about 5 hours ago

rollbamaroll

Roll Bama Roll


RT @IzzyGould: Oklahoma players on facing Alabama in Sugar Bowl: 'We comin for Bama' http://t.co/jpmNV8U0U2
about 6 hours ago

rollbamaroll

Roll Bama Roll


RT @ChipBrownOB: I'm not hearing this at all. ..RT @DeanBlevins: Texas source tells me:"Saban sitting on 10-yr deal worth $100M & 1% of #L…
about 6 hours ago

BamaSportsNow

Alabama Sports Now


NCAA audit: Every football conference made money on 2012-13 bowls http://t.co/vvoonsa1xB
about 7 hours ago

BamaSportsNow

Alabama Sports Now


Alabama football: Sugar Bowl couldn't resist pairing up Tide, Sooners http://t.co/qnPOAPY79h
about 8 hours ago

BamaSportsNow

Alabama Sports Now


ESPN and Yahoo rank bowls; See where Auburn's BCS title game, Alabama's Sugar Bowl stand http://t.co/eiF8trpe3C
about 10 hours ago

BamaSportsNow

Alabama Sports Now


Oklahoma players on facing Alabama in Sugar Bowl: 'We comin for Bama' http://t.co/391tqZfzYY
about 10 hours ago

BamaSportsNow

Alabama Sports Now


Charles Barkley on LSU, Alabama: 'At least they both know they're the worst two fan bases in the SEC' (audio) http://t.co/5K6S6C66vH
about 11 hours ago

BamaSportsNow

Alabama Sports Now


Saban visits four-star http://t.co/OVihRvNED3
about 13 hours ago

AndrewJBone

Andrew Bone


#Cincinnati commitment Hayden Moore (@HMoore2014) at the Ala/Miss All-Star Classic http://t.co/8aExSalgfD
about 13 hours ago

BOLWalsh

Christopher Walsh


RT @BamaOnline247: Nick Saban expected to see several top prospects tomorrow (VIP) http://t.co/0GwRW0BIAR via @247Sports
about 13 hours ago

tommydeas

Tommy Deas


RT @Rivals: Is Marlon Humphrey ready to give any clues on his recruitment? Get the latest from the AL-MS All-Star Classic: http://t.co/raQZ…
about 13 hours ago

tommydeas

Tommy Deas


RT @AndrewJBone: #TeamAlabama top performers from Day 1 at the Ala/Miss All-Star Classic http://t.co/82ae3I0RuM
about 13 hours ago

BamaSportsNow

Alabama Sports Now


Prankster pages Alabama coach Nick Saban at Austin, Texas, airport http://t.co/sKAURTQtK1
about 13 hours ago

AndrewJBone

Andrew Bone


#Auburn commitment Stephen Roberts (@stephenisland_4) at Ala/Miss All-Star practice @JHokanson http://t.co/ylT9KeEGIm
about 14 hours ago

AndrewJBone

Andrew Bone


#Auburn commitment Stephen Roberts at Ala/Miss All-Star practice http://t.co/kiSDLShPD9
about 14 hours ago

ChaseGoodbread

Chase Goodbread


RT @fayghost: @ChaseGoodbread @Steelersdepot as a cop I can truly say I wouldn't drive 142 mph to catch a car with hitler, bin laden, and p…
about 14 hours ago

AndrewJBone

Andrew Bone


#TeamAlabama top performers from Day 1 at the Ala/Miss All-Star Classic http://t.co/82ae3I0RuM
about 14 hours ago

SEC

SEC Sports


Get scores and recaps from Tuesday's SEC men's basketball action here: http://t.co/o0VBLIZ7vk #SEC
about 15 hours ago

tommydeas

Tommy Deas


RT @_DCReeves: Nick Saban has an in-home visit scheduled with a Rivals100 LB from the Houston area tomorrow because why not: http://t.co/KL…
about 15 hours ago

rollbamaroll

Roll Bama Roll


A Really Futile & Stupid Gesture #ROLLTIDE #Alabama http://t.co/6uWhKhlbaB
about 15 hours ago

AndrewJBone

Andrew Bone


RT @GoPittFootball: Two of the nation's finest: #Pitt DT Aaron Donald & @AlabamaFTBL LB CJ Mosley. @LombardiAward finalists http://t.co/TdU…
about 15 hours ago

BamaSportsNow

Alabama Sports Now


McCarron Adamant He Earn Way To NY http://t.co/uGBex9hcSN
about 15 hours ago

tommydeas

Tommy Deas


RT @_DCReeves: I'm trying to work and watch the Victoria's Secret Fashion show. One of those things is happening.
about 15 hours ago

tommydeas

Tommy Deas


RT @Andrew_TNews: Girls high school basketball final score: Paul W. Bryant 45, Tuscaloosa County 33. Paul W. Bryant is 11-0.
about 15 hours ago

tommydeas

Tommy Deas


RT @emilypitek: @AaronSuttles I just read your profile...and now I'm craving fried okra. Thanks for that.
about 15 hours ago

rollbamaroll

Roll Bama Roll


RT @AaronSuttles: Lot of Nick Saban rumors coming a mile a minute, but tweets with no story linked to back it up is a good indication to ig…
about 15 hours ago

rollbamaroll

Roll Bama Roll


RT @kleph: @Natesaturday protip. ignore the salary. watch the bonuses. and keep very careful track on assistants.
about 15 hours ago

tommydeas

Tommy Deas


RT @achiappazzi: Seriously, Texas & 'Bama fans. Follow @ChipBrownOB for Texas news & @TideSports for latest on 'Bama. The @Rivals net will …
about 16 hours ago

BamaSportsNow

Alabama Sports Now


Time for Alabama to re-invest in Nick Saban (Kevin Scarbinsky) http://t.co/YrlSSAX8ce
about 16 hours ago

Andrew_Gribble

Andrew Gribble


RT @KevinScarbinsky With the smoke rising in Texas, time for Alabama to re-invest in Nick Saban http://t.co/OEvMRRWoQR
about 16 hours ago

AlexS_ESPN

Alex Scarborough


Alabama's backup QB having a little fun. RT @alecmorris_2: A lot of people have been asking and yes it's true... I'm gonna coach Texas
about 16 hours ago

ChaseGoodbread

Chase Goodbread


Video: Police release dashboard cam of Clowney traffic stop ... cop reached 142mph to catch up >> http://t.co/2a0WMXR0gS
about 16 hours ago
BLOG ARCHIVE:
CATEGORIES: