Alabama Crimson Tide:

Bill Battle
June, 3, 2014
6/03/14
4:30
PM ET
During a sit-down interview with ESPN three weeks ago, Alabama athletic director Bill Battle was kind enough to retrace the how and why of Nick Saban's new contract,
which became official Tuesday afternoon
.
It was, as it turns out, a tedious process.
Battle and the administration came to the decision to rework Saban's deal midway through last season. Looking over the past three or four years, Battle said, "We wanted to reward him and make him want to finish his career here." But when Battle went to Saban the week before the Iron Bowl, he was thrown the stop sign:
I'm busy. Talk to my agent.
[+] Enlarge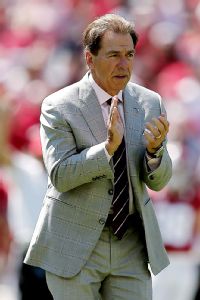 Stacy Revere/Getty ImagesNick Saban is compensated well, but that probably won't stop future suitors from trying to pry him away from Alabama.
"So I talked to Jimmy [Sexton], and he said, 'He doesn't want to talk about it. He's focused,'" Battle recalled. "And he is. He's focused on coaching football and recruiting, which is what he loves to do.
"So it went on ..."
Then Alabama lost in the final second to Auburn, simultaneously ruining a perfect season and any realistic shot at the BCS National Championship. Then there was the recruiting game to consider. Then there was the Sugar Bowl and Oklahoma. As Battle described it, "It was just a function of time." Saban had said all along that he wanted to stay put, but the clock was ticking while other jobs were coming open -- namely Texas.
Finally, on Dec. 13, Alabama sent out a news release confirming that Saban and the university had agreed to a long-term deal. A few days later, Mack Brown stepped down as Texas' head coach.
The six months since have been all about cutting through the bureaucratic red tape and sorting out legal jargon, Battle said.
"It just took a while to get done, and the rest has been a lot of people getting involved and blessing [the contract] and however it gets done," he said. "I quit worrying about it a long time ago."
He was worried at one point.
"There was nervousness," he said. "They said what was said, and I believed what was said. But I read what everyone else was saying too. I can't say I wasn't anxious about it, but that got solved in a relatively short period of time. It was an intense period of time because of what all was going on with the Auburn game and then the recruiting and then the Oklahoma game, and all that was happening all at the same time, which added to the difficulty to think clearly on his part -- or focus."
But what's to keep those same circumstances from happening again? No contract, no matter how enormous, will keep Saban's potential suitors at bay. After all, it was only 14 months ago that Alabama increased Saban's pay to $5.62 million per year through 2020. He was the highest-paid coach in college football then, just as he is now.
What was wrong with that contract? Nothing, except it left room for doubt when other programs started calling Saban's agent.
"There wasn't anything wrong with his contract," Battle said. "It wasn't necessarily that we wanted to redo the contract; we just wanted to reward him."
Asked specifically if the new deal was a result of the need to outrace potential bidders, Battle said the university "wanted to do what was fair and what was right and what we thought he deserved."
Does Saban deserve an eight-year contract worth more than $50 million? Probably, when you look at the marketplace.
But there's the rub: A marketplace fluctuates based on demand. So as long as demand for Saban rises, so will his contract. Should he keep winning, these scenarios likely won't stop happening. He will continue to insist that he's happy at Alabama, but rumors will persist. Battle and the university will have to answer those concerns, and the merry-go-round will keep on spinning.
It's complicated, but it's a fact of life in big-time college athletics. Alabama employs one of the best coaches in the business. The trouble is it can never stop rewarding him as such.
May, 16, 2014
5/16/14
12:00
PM ET
The weekend is almost here. Before you take off, take a minute to peruse the news and notes from around the league in Friday's links, which include some Nick Saban video, early signing period and playoff talk, transfer news and more.
April, 28, 2014
4/28/14
1:33
PM ET
The SEC traditionalists can take solace.
The
eight-game league schedule will remain in place
, as well as the permanent cross-divisional foes. That means Alabama and Tennessee will continue to play every year along with Auburn and Georgia, two of the SEC's most tradition-rich rivalries.
For those of us who've been entrenched in this league for decades or more, saving those rivalries certainly makes sense.
But not at the cost of creating competitive disadvantages and denying players and fans the opportunity to face (or see) every team in the league at least once in a four-year span.
[+] Enlarge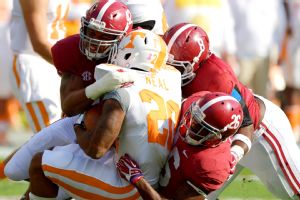 John David Mercer/USA TODAY SportsThe Alabama-Tennessee cross-divisional rivalry will remain a yearly fixture in the SEC.
In that regard, the presidents and chancellors got it wrong.
It's a fact that whatever scheduling format the SEC settled on wasn't going to please everyone. A few wanted a nine-game league schedule, others weren't crazy about permanent foes, and there were some who liked it exactly the way it is.
Ultimately, a nine-game league schedule would allow for the most flexibility, the most balance and still give teams a chance to go out and play a marquee nonconference game.
Alabama athletic director Bill Battle said it best at the SEC spring meetings in May 2013.
"I think we need to play 10 quality games because our fans are going to get tired [of going to games with lesser opponents]," Battle said.
When's the last time the fans really mattered?
As SEC commissioner Mike Slive noted Sunday, tradition matters in this league. And he's right. It does.
But the landscape has also changed dramatically in this league over the last 20 years.
Since the days of Herschel Walker, Bo Jackson and Archie Manning, the SEC has added four new teams. South Carolina-Missouri is now a conference game. So is Arkansas-Texas A&M.
The league has been split into two divisions with a title game between the two divisional winners determining the champion. Teams wear gray jerseys, black jerseys ... even specially themed jerseys.
And occasionally, a team that doesn't even win its division has been known to win the national championship.
College football has changed, and if Alabama and Tennessee don't play every year, it's not going to ruin everything that is sacred about the SEC.
Alabama and Florida, two of the heavyweights in this league, have played all of six times in the regular season since the league split and expanded in 1992. What about Auburn and Tennessee? That game was once a fixture. It would be nice to see Georgia and Alabama play more often in the regular season than once every blue moon. The same goes for Auburn and Florida.
[+] Enlarge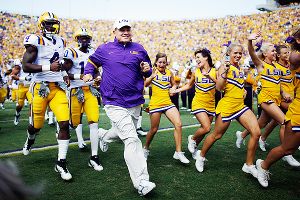 Chris Graythen/Getty ImagesLes Miles and LSU will continue to play Florida every year, a fact that could create scheduling imbalance within the SEC.
Beat up on Les Miles all you want. But given the way Tennessee has struggled much of the last decade, Alabama playing Tennessee every year isn't quite the same as LSU playing Florida every year.
This league has always been cyclical, and at some point, it's reasonable to think that cycle will turn back. But LSU athletic director Joe Alleva has a point, no matter who he might have ticked off with his comments Sunday night.
"I'm disappointed that the leadership of our conference doesn't understand the competitive advantage permanent partners give to certain institutions," Alleva told the New Orleans Times-Picayune. "I tried to bring that up very strongly at the meeting. In our league, we share the money and expenses equally, but we don't share our opponents equally."
It's worth noting that LSU's opposition to playing Florida every year has been much more boisterous than Florida's in having to face LSU every year. In fact, Florida athletic director Jeremy Foley likes having a big-gate opponent such as LSU coming to the Swamp every other year.
So, again, different strokes for different folks.
Alleva's assertion that schools voted for their own "self-interest" over "competitive balance" can't be argued. Sure, Ole Miss and Vanderbilt are content with playing each other every year. The same goes for Kentucky and Mississippi State. Why trade one of those schools for an Alabama, Georgia or LSU every couple of years if you don't have to?
Something says there's also a tinge of self-interest in Alleva's concerns. Just a smidge, maybe.
At the end of the day, if the league was determined to stick with eight conference games, the fairest way to have structured it would have been to adopt a 6-0-2 format -- six divisional opponents and two rotating cross-divisional opponents.
But as that wise (young) sage, Steve Spurrier, said, "There's nothing fair about college football."
December, 11, 2013
12/11/13
7:49
PM ET
TUSCALOOSA, Ala. -- The road to the interstate hasn't yet been blocked. Flights still leave the airport daily. Gas stations regularly pump unleaded for around $3 a gallon. And the grocery stores here remained stocked with canned goods and water.
If a disaster is about to occur at the University of Alabama -- and Nick Saban leaving for Texas would qualify -- you wouldn't know it in the sober expression of the town the school inhabits.
The campus is quiet. The most noticeable buzz comes from libraries and coffeehouses, where a growing number of students twitch and hurriedly whisper to one another with a book in one hand and caffeine in another. The only audible plea for an extension is directed at professors as finals are being administered here this week.
Make no mistake, if Saban left, the school and the city of Tuscaloosa would be devastated. He's the largest and most important figure here, without question. His meaning to the community cannot be understated.
It goes beyond coaching a handful of games each fall. This is a town that has always identified with coaches. Paul W. Bryant Drive cuts through the center of UA's campus and runs alongside Paul W. Bryant Museum, and a street over you'll find a statue of Paul W. Bryant standing only a few yards from a bronzed statue of Nicholas L. Saban.
There hasn't yet been a real threat to the statue and the promise it holds. Saban's feet remained entrenched at Alabama amid the swirl of rumors and speculation. As Bill Battle, the school's athletic director, said on Wednesday, "It's business as usual," as the recruiting season kicks into high gear and bowl practice remains a week or so away.
But
until Saban signs an extension to stay at Alabama
, the level of anxiety will grow here and abroad. The more days that pass until a deal is reached, the more frenzied the rumor mill will become.
The fact remains that Tuscaloosa has been Saban's longest stop as a head coach, and even after seven years, there are many who wonder what kind of loyalty to Alabama exists in him. Would a 62-year-old man -- a man who's "too damn old" by his own estimation -- embark on a rebuilding project at Texas? Would he leave a finely tuned dynasty he's built in Tuscaloosa for a giant question mark in Austin?
Until everything is said and done, there's no way of knowing. There are those here who scoff at the idea that an extension would do anything to stamp out the Saban-to-Texas speculation. Until the Longhorns have a replacement for Mack Brown, the talk will likely continue.
But the truth is this is nothing new. People here are used to Saban's name coming up for coaching jobs, whether it's in college or pros. It was only some eight months ago that he signed an extension through 2020, and even then it wasn't enough to keep his name out of coaching searches.
Frankly, what's happening now is the price of doing business in college football. Alabama and its fans understand that. There won't be any mad dash for supplies around Tuscaloosa between now and the end of this saga. There hasn't been a single bonfire or couch burned in protest.
This is the rumor mill at work, and until it's over we'll all find a way to survive.
March, 22, 2013
3/22/13
3:12
PM ET
TUSCALOOSA, Ala. -- Bill Battle won't begin the task of replacing former Alabama athletic director Mal Moore with a splash. By the looks of it, he's not one to rock the boat.

The 71-year-old former player, coach and businessman said he's not determined to make his presence felt in the athletic department right away. For now, he's content following the blueprint Moore laid out, the one that has yielded eight national championships since 2002.
"How do you improve on success?" he asked, mirroring a reporter's question on Friday. "You don't. You try to keep going the way you're going."
That means giving his coaches the resources to continue operating at a high level. Before he ever took the job, Battle said he met with football coach Nick Saban.
"The relationship of anybody at the University of Alabama and Coach Saban is important because coach Saban is important," he said. "What he's done in football, not many people have done in college sports. He's gotten ahead of the field.
March, 21, 2013
3/21/13
2:34
PM ET

Not surprisingly, Alabama is bringing back one of its own to run the athletic department.

Not only that, but the Crimson Tide have turned to a former football coach to call the shots.

Why mess with a successful blueprint, right?

It certainly worked well with Mal Moore, who retired Wednesday to deal with health issues. Moore, 73, has a pulmonary condition and has been hospitalized at Duke University Medical Center since last week. On his watch, the Crimson Tide have put together an historic run in football with three national championships in the past four years.

Moore now turns over the keys to his beloved athletic department to one of his oldest friends and colleagues.

Alabama president Judy Bonner has recommended that Bill Battle, who played with Moore at Alabama under Paul "Bear" Bryant, replace Moore as Alabama's athletic director. The Alabama board of trustees will meet on Friday to finalize Battle's hiring.

Moore personally endorsed Battle, who was a three-year starter for the Tide from 1960-62.

There's also a bit of irony here. Battle was the head coach for seven seasons at one of Alabama's fiercest rivals -- Tennessee. Battle was only 28 when he landed the Tennessee gig and beat Bryant and Alabama in his first season with the Vols in 1970, but lost the next six. Four of those losses were by 17 points or more, and that losing streak to Alabama was a factor in Battle's ouster following the 1976 season.


Alabama Dismisses Jonathan Taylor
SEC SCOREBOARD
Thursday, 9/3
Saturday, 9/5