Alabama Crimson Tide:

Bear Bryant
April, 10, 2014
4/10/14
12:00
PM ET
Plenty going on as spring practices continue in the SEC. We have pro days, coaching talk, players adapting to new positions and even reality TV news in today's lunch links:
November, 25, 2013
11/25/13
2:00
PM ET
Good luck finding a rivalry in college football as deep-rooted, passion-filled and polarizing in one state as the Iron Bowl.
Alabama and Auburn get it on every year in late November, and they spend the remaining 364 days in that state reliving the game.
It's not just football. It's life.
And while it's a rivalry that has spawned scores of legendary names, games, moments and memories, it has been a while since an Iron Bowl has meant more for both sides going into the game than the one that will be played Saturday afternoon on the Plains.
[+] Enlarge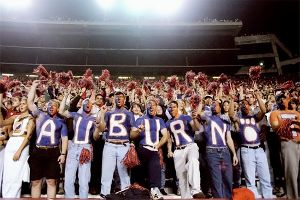 Elsa Hasch/Getty ImagesThe anticipation for Saturday's Iron Bowl on The Plains is palpable.
It's only the second time in Iron Bowl history that both teams have been ranked in the top five nationally. Alabama is No. 1 and Auburn No. 4 in the latest BCS standings.
The only other time came in 1971, when Alabama entered the game No. 3 in the Associated Press poll and Auburn was No. 5. The Crimson Tide rolled the Tigers and Heisman Trophy winner Pat Sullivan 31-7 that day to capture the SEC championship.
The buildup to that game was obviously huge, especially with both teams being unbeaten and Sullivan being announced as the Heisman winner on Thanksgiving night, two days before the game.
The same goes for the 1989 game, which was the first Iron Bowl to be played at Auburn. Previously, the game had always been played in Birmingham at Legion Field, and there are a lot of Auburn people who will tell you that there will never be a more important game in the series for them than that 1989 affair.
Of course, it helped that the Tigers beat the No. 2 Crimson Tide 30-20 in Auburn's Jordan-Hare Stadium to earn a share of the SEC championship along with Alabama and Tennessee.
One of the strangest Iron Bowls was played in 1993, when Auburn was on probation after being hit with NCAA sanctions. The game couldn't be shown on television. So other than those at Jordan-Hare Stadium that day, the only people who saw Auburn's 22-14 win were the 40,000 or so fans who watched the game on closed-circuit television at Bryant-Denny Stadium on Alabama's campus. Auburn's victory completed an 11-0 season under first-year coach Terry Bowden.
The game in 2010 will go down as the most electrifying comeback in the series. Cam Newton and Auburn rallied from 24 points down to win 28-27 in Tuscaloosa and save the Tigers' national championship season.
Legendary names on both sides have left their mark in this series.
Ken Stabler's Run in the Mud in 1967 will never be forgotten, nor will Bo Jackson's going over the top in 1982 to beat Alabama in what was Bear Bryant's last Iron Bowl.
Perhaps the most stunning finish came in the 1972 Punt, Bama, Punt game. Auburn's Bill Newton blocked a pair of punts in the fourth quarter and both were returned for touchdowns by David Langner to give Auburn a 17-16 win over No. 2 Alabama.
It's hard to find a more thrilling game than the 1985 classic. Van Tiffin booted a 52-yard field goal in the closing seconds to give Alabama a 25-23 win. There were four lead changes in the fourth quarter alone.
So as we try to put into perspective where Saturday's game ranks in the annals of this storied rivalry, we could go on endlessly talking about the memorable players, plays and games that the Iron Bowl has provided.
But in terms of stakes for both teams, I'm not sure we've seen anything quite like this.
Alabama is chasing history and looking for a third straight national championship, something that hasn't happened in the modern era.
Imagine the thrill for Auburn to be able to end the Crimson Tide's historic run right there on the Plains, especially when you consider the way Auburn was reeling this time a year ago.
The Tigers were putting a miserable 3-9 season to bed in which they closed out their SEC schedule with a 38-0 blowout loss to Georgia and an even more lopsided 49-0 loss to Alabama.
Now, a year later, here they are going toe-to-toe with Alabama, with the SEC's Western Division title on the line. Not only that, but Auburn could thrust itself right into the middle of the national championship picture with a win, especially if Florida State or Ohio State stumbles in these next two weeks.
For a rivalry that has given college football junkies just about everything we could ask for over the years (and then some), this game Saturday might be the most anticipated yet because of what it means to both sides.
Let's hope the game can match the stakes.
September, 11, 2013
9/11/13
1:00
PM ET
By
ESPN.com staff
| ESPN.com
TUSCALOOSA, Ala. -- A little more than half an hour before kickoff of every Alabama home game, the leathery visage of the legendary coach of the Crimson Tide, the late Paul W. "Bear" Bryant, appears on the video boards at either end of Bryant-Denny Stadium and begins to speak. And before all of those games when the university has played the video, no one has ever heard what Bryant says. The minute the 101,000 fans see him, they begin roaring.
"Well, the older people are," said Paul W. Bryant Jr., "and the younger ones don't know quite what the rest of them are talking about."
Time silences our heroes, robs us of them and then steals the witnesses who can tell the hero's story, and the day comes when all we have left are statues and houndstooth beach balls. Stories can be handed down, books can be written, movies produced. But the emotions that connect player to coach, or fan to hero, are not easily handed down from one generation to the next. Legends may not be kept in a cedar chest in the attic.
The flesh-and-blood Bear, the all-too-human man who inspired the fealty and worship of thousands, who coaxed and bullied and demanded that his players and his assistants meet a standard they didn't know they could meet, is disappearing. He has been dead for three decades, and as those who stood witness to him die, we are losing Bryant again.
Forgive the personal nature of this story. For those of us who grew up in Alabama in a time when our state was viewed as a cauldron of hatred, Bryant told the rest of the nation that we could produce success and character. He inspired a level of loyalty unlike any coach before or since in any state in any sport.
I can tell you where I was the day he died, and not just because it was my 23rd birthday. I know where I was because that was the first time a death ever made me cry. The notion that he is just a football coach to the 80 million millennials estimated to live in the United States makes me want to cry again.
Gene Stallings played for Bryant, coached for him, coached against him, and eventually became the first coach after Bryant to lead Alabama to a national championship.
"One of the reasons of his great success over an extended period of time was, we all wanted to please Coach Bryant," Stallings said. "The players wanted to please him. The assistant coaches wanted to please him. The alumni wanted to please him. The administration wanted to please him. The president of the university -- Coach Bryant just had that little something about him that people wanted to please. We'll do anything just to hear Coach Bryant say, 'You did a good job.' He didn't say it too often. But we wanted him to say it.
"You know, there was a little fear factor, and I don't think there's anything wrong with fear factor….whether or not you were doing your job well enough to please Coach Bryant."
Stallings is 78 years old. Bryant's players are just as likely to be grandfathers as fathers. His youngest players, the freshmen on that 1982 team, are getting solicitations from AARP.
"Some of my teammates and I were talking about this two or three weeks ago," said Ronny Robertson, who played for Bryant in the mid-1970s and is the senior associate athletic director for development at his alma mater. "When we were at Alabama and playing for Coach Bryant, there was this guy at Notre Dame that coached a long time ago named Knute Rockne, and he was a real good football coach. That's about the way I think the kids today look at Coach Bryant."
Bryant died suddenly, four weeks after he coached the final game of his 25-year career at his alma mater. Bryant was 69 years old, according to the calendar, and much older than that according to a body worn down by stress and illness, by late hours and lifestyle.
Today, on what would have been Bryant's 100th birthday, the university will hold a ceremony at the Paul W. Bryant Museum on campus. Alabama also commissioned a documentary, "Mama Called," and a book, "Inside the Vault: The Paul W. Bryant Collection," that will make their debuts today, too. Bryant's centennial falls during the week in which No. 6 Texas A&M, where Bryant coached for four seasons, will play host to his alma mater, the No. 1 Crimson Tide. On Friday night in College Station, players he coached at both schools will gather to celebrate his memory.
To read more of Ivan Maisel's legacy of Bear Bryant,
click here
.
Bryant's life in pictures

.
A look at Bryant's legacy living on in
Houndstooth fashion
.
September, 11, 2013
9/11/13
12:20
PM ET
July, 31, 2013
7/31/13
9:00
AM ET
If you're consistently getting to double-digit wins in the SEC, that's some pretty rarified air.
How rarified? Here's a number to chew on as we continue to count down the days to the 2013 season:
11
.
Only two schools in the SEC -- Alabama and South Carolina -- have won 11 or more games each of the last two seasons. In fact, nationally, only five FBS teams can make that claim. Boise State, Oregon and Stanford are the other three. The last school in the SEC to win 11 or more games in three straight seasons was LSU in 2005-07 -- Les Miles' first three seasons as the Tigers' coach. Miles has won 11 or more games in five of his eight seasons in Baton Rouge. Alabama hasn't had three straight seasons of 11 or more wins since the Bear Bryant era. The Crimson Tide won 11 games in 1977 and in 1978 and then won 12 games in 1979. They captured the national championship in both 1978 and 1979. The Gamecocks had never won 11 games in a season until 2011, and had only won more than eight games in a season twice in school history prior to Steve Spurrier's arrival in 2005. Mississippi State, Ole Miss and Vanderbilt are the only three schools in the SEC that have never won 11 or more games in a season.
April, 1, 2013
4/01/13
12:00
PM ET
In honor of Florida Gulf Coast's stunning run in the NCAA basketball tournament, I started thinking back to some of the biggest SEC football upsets of my lifetime.
The mid- to late-1970s is about as far back as I go, but I've gone back and picked out some of the more memorable ones over the past 30 or 35 years.
These are all SEC vs. SEC matchups, and I'll rank the top 5 as well as five more that just missed the cut. I'll come back later Thursday with a few more, including some upsets in non-conference and bowl games.
Here goes:
1. Mississippi State 6, Alabama 3 (1980):
The No. 1-ranked Crimson Tide had won 28 straight (and an SEC-record 27 straight conference games) and were heavily favored against the unranked Bulldogs. But Mississippi State played suffocating defense that day in Jackson, Miss., and snuffed out a late Alabama drive. The Crimson Tide had moved to the Bulldogs' 4, but were out of timeouts. Alabama quarterback Don Jacobs took the snap and started down the line of scrimmage to the right side. Mississippi State's Tyrone Keys shot through and tackled Jacobs, forcing a fumble that Billy Jackson recovered to seal one of the greatest wins in Mississippi State history. Alabama's wishbone attack, which had been averaging more than 300 yards per game, mustered just 116 rushing yards against the Mississippi State defense. The Crimson Tide lost four fumbles in the game. And in a classy gesture afterward, Alabama coach Paul "Bear" Bryant visited the Mississippi State locker room to congratulate the Bulldogs on the win.
2. LSU 17, Alabama 13 (1993):
The No. 5 Crimson Tide had gone 31 straight games without a loss and were coming off an unbeaten national championship season. Inexplicably, they lost at home to an unranked LSU team that had lost five of its first seven games that season and finished 5-6. The Tigers were a 24-point underdog that day and in the midst of their fifth straight losing season. Alabama starting quarterback Jay Barker was out with an injured shoulder, and the Tide -- using three different quarterbacks -- threw four second-half interceptions. Coach Gene Stallings finally went to David Palmer at quarterback late in the third quarter, and "The Deuce" directed the Tide on a pair of scoring drives. But LSU held on for the win, and Stallings said afterward that he waited too long to go to Palmer, who was normally a receiver.
[+] Enlarge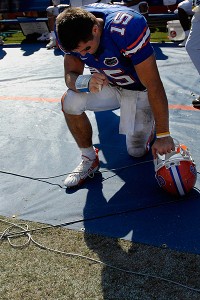 AP Photo/Phil SandlinTim Tebow bows his head in dejection after his No. 4 Gators lost 31-30 at home against Mississippi on Sept. 27, 2008.
3. Ole Miss 31, Florida 30 (2008):
The Rebels would go on to have a very good season, but ventured into the Swamp that day as a 22-point underdog with losses to Wake Forest and Vanderbilt during the first month of the season. Nobody gave them a chance. The Gators were ranked No. 4 and riding high with Tim Tebow running the show. But the Rebels stuffed him on fourth-and-short late to pull off an improbable road win. The game is best remembered for Tebow's emotional speech afterward, when he promised that nobody would work harder than him and his teammates the rest of the season. The Gators would go on to win their next 22 games in a row, including the 2008 national championship.
4. Auburn 23, Georgia 23 (1994):
Even though it wasn't a loss, it sure felt like one for No. 3 Auburn, which had its 20-game winning streak under Terry Bowden stopped. The Bulldogs were unranked and had lost at home to Vanderbilt a few weeks earlier. But they rallied from 14 points down on the road thanks to a couple of Eric Zeier touchdown passes and survived a missed 44-yard field goal attempt by Auburn's Matt Hawkins with 13 seconds to play. That was Ray Goff's next-to-last season at Georgia, which finished 6-4-1 and didn't play in a bowl game. It didn't get any better the next week for Auburn. The Tigers, who were on NCAA probation, lost to Alabama.
5. Alabama 9, Tennessee 6 (1990):
The Vols were ranked No. 3, coming off a 45-3 demolition of Florida and very much in the national title picture. Alabama had started the season with three straight losses, the first season with Stallings as coach, and was unranked entering the game. But Alabama's defense stole the show that day before a stunned crowd at Neyland Stadium and shut down Tennessee's high-powered offense. With the game tied at 6-6, the Vols were able to get into a position for a 50-yard field goal attempt with 1:35 to play, but Alabama's Stacy Harrison blocked it. The ball scooted more than 20 yards the other way to the Tennessee 37, and Phillip Doyle won it for the Crimson Tide with a 47-yard field goal on the last play of the game to make it five in a row against the Vols.
The five that just missed the cut:
Ole Miss 22, Alabama 12 (1988):
Yep, it's the infamous brick through the window game. An irate fan tossed a brick through the office window of Alabama coach Bill Curry after the Rebels stunned the No. 12-ranked Tide in Tuscaloosa. It was Ole Miss' first win ever against Alabama in the state of Alabama, and spoiled the dedication of the new Paul "Bear" Bryant Museum. Alabama didn't complete a pass that day.
Alabama 17, Auburn 15 (1984):
The Alabama fans refer to it as the "Wrong Way Bo" Iron Bowl. Auburn coach Pat Dye elected to go for it on fourth-and-goal from the 1 late in the fourth quarter, but Bo Jackson went the wrong way on the play. Alabama's Rory Turner forced Brent Fullwood out of bounds on the sweep, and the Tide held on to beat the No. 11-ranked Tigers and knock them out of the Sugar Bowl. It was a sweet end for Alabama to its first losing season since 1957.
LSU 31, Tennessee 20 (2001):
The No. 2-ranked Vols were coming off a huge win at Florida and poised to go to the Rose Bowl to face Miami for the national championship, but backup quarterback Matt Mauck rallied the Tigers in the second half after filling in for the injured Rohan Davey and gave Nick Saban his first of two SEC titles in Baton Rouge.
Georgia 24, Florida 3 (1985):
The Bulldogs romped past the No. 1-ranked Gators with freshman running back backs Keith Henderson and Tim Worley both rushing for 100 yards. It was the only game Florida lost all season. The Gators were ineligible to play in the Sugar Bowl because of NCAA sanctions, but finished No. 5 in the final Associated Press poll.
Arkansas 25, Tennessee 24 (1992):
The Vols were ranked No. 4 and had already beaten Florida, Georgia and LSU. The Hogs opened that season, their first in the SEC, by losing to The Citadel, resulting in the firing of Jack Crowe as coach. Joe Kines took over as interim coach and guided a 1-4 Arkansas team to a stunning comeback win against the heavily favored Vols in Knoxville. Todd Wright won it for the Hogs with a 41-yard field goal with two seconds left.
April, 1, 2013
4/01/13
8:27
AM ET
We at the SEC blog want to express our deepest condolences to the Mal Moore family and everybody at Alabama over
Moore's passing Saturday
at age 73.
Moore was so much a part of that football program and athletic department and, really, one of the few remaining links at the university to Paul "Bear" Bryant.
His role in Nick Saban's hiring and jump-starting the Alabama football program back on track will forever be remembered by Crimson Tide fans.
On a personal note, two of my most enduring memories of Moore came right after Alabama won its first national championship under Saban, in 2009, and last season after Alabama won its third title in four seasons under Saban.
We were standing just outside the Alabama locker room at the Rose Bowl following the Tide's 37-21 victory over Texas, and somebody asked Moore if he felt like the $4 million a year contract that the university had given Saban was a good investment.
Moore beamed. "Hell yeah!" he said in his familiar drawl.
He then giddily offered that a statue of Saban would be going up on Alabama's famed Walk of Champions, just adjacent to Bryant-Denny Stadium.
Last season, an emotional Moore stood on the field at Sun Life Stadium in Miami following the Tide's 42-14 dismantling of Notre Dame and struggled to find the right words for what it meant to him and the entire Alabama family to be along for such a historic ride.
"It never gets old, and the best part is seeing all these great Alabama people soaking it all up," said Moore, his smile as wide as the gaping holes the Alabama offensive line punched in the Irish defense that night.
Seeing the immense pride draped across Moore's face in both of those instances is something I'll never forget.
His love for Alabama was legendary. The same goes for the way he so selflessly and humbly served his beloved alma mater for more than 50 years.
January, 4, 2013
1/04/13
3:00
PM ET
We started this off last week. Here are some more nuggets courtesy of our friends at ESPN Stats and Info.
Notre Dame and Alabama have the most poll national championships since the Associated Press began its weekly poll in 1936. ESPN has made a policy of recognizing only poll-era national championships (since 1936). Both programs claim other national titles in the pre-AP era, but those are more difficult to legitimize, since there were several groups naming national champions back then, and hardly anyone watched teams from other regions of the country. The two teams have also met in bowl games that had national championship implications. Notre Dame beat Alabama in the 1973 Sugar Bowl to win the AP National Title. However, Alabama still won the UPI National title since it crowned its champion before bowl games were played. The next season, Notre Dame beat Alabama in the Orange Bowl to prevent Alabama for winning another national title. In all, Notre Dame and Alabama have played six times with the Irish holding a 5-1 edge. The two teams haven't met since 1987.
Having already won in 2009 and 2011, Alabama is trying to win its third national championship in four years, which has been accomplished only twice in the poll era. Nebraska did it under Tom Osborne in 1994, 1995 and 1997, but the last of those titles was only in the coaches' poll. The lone team to win three AP national championships in a four-year span was Notre Dame under Frank Leahy in 1946, '47 and '49. In addition, AJ McCarron and the Crimson Tide are trying to become the first program to win back-to-back BCS championships. Three previous reigning champs have returned to the title game, but all three lost in their quest to repeat. McCarron will also try to become the first quarterback to win consecutive BCS national championships, something that Chris Weinke (Florida State), Ken Dorsey (Miami FL), and Matt Leinart (USC) failed to do.
Alabama is trying to win the SEC's seventh consecutive national championship. Prior to this stretch, no conference had ever won more than three in a row. It would be the ninth BCS title won by the SEC. All the other conferences have six combined and no other conference has more than two.
Alabama's Nick Saban is the only coach with more than two BCS titles and is one of just 10 coaches with three or more national championships in the poll era. A win on Jan. 7 will put him in some very elite company, as only three coaches have won at least four national titles. The names: Bear Bryant, Frank Leahy and John McKay. Because Nick Saban spent the 2005 and 2006 seasons with the Miami Dolphins, he is trying to win his fourth national title in his past eight seasons as a college head coach. Only Frank Leahy has managed to win four in even a 10-year span.
Four different coaches have been responsible for Notre Dame's eight national championships in the poll era (since 1936). All four of those coaches captured their first national title in their third season at Notre Dame. Brian Kelly is currently in his third season in South Bend.
Notre Dame is third all-time in wins with 865 while Alabama is seventh with 826. Both teams also rank in the top seven in win percentage. The two teams met head-to-head six times with Notre Dame winning five of them. However, they haven't met since 1987, a 37-6 Notre Dame win in South Bend.
The last time an SEC team lost a national championship game to a team from outside the conference was when Nebraska beat Florida in the Fiesta Bowl to end the 1995 season ('96 Fiesta Bowl). Since that time, the SEC has won eight straight bowl games against "outsiders" with a national championship on the line. (doesn't count Alabama's win over LSU last year)
This will be Saban's ninth championship game as a head coach. He is 7-1 in the previous eight (3-0 in BCS title games, 4-1 in SEC title games). The only loss was to Florida in the 2008 SEC Championship.
Notre Dame is 6-0 in road/neutral games this season with the closest one being a nine-point win over USC. Even though the Irish were also 6-0 at home, five of those six games were decided by seven points or fewer. Alabama has only two losses over the last two years, and both were in Tuscaloosa. The Tide have won 13 consecutive games away from home, which is the longest such streak in the FBS.
The BCS championship games have been split seven apiece between the No. 1 and No. 2 teams in the final standings, but No. 2 has won seven of the last 10.
These are the nation's top two scoring defenses, with Notre Dame allowing 10.3 points per game, and Alabama allowing 10.7. Last year's national championship game was also a matchup of the top two scoring defenses, as Bama beat LSU, 21-0. Prior to that, there hadn't been such a meeting in the postseason since the 1994 season.
The Tide have scored 21 points or more in 44 of their last 45 games. That's three more than any other team in the FBS over this span.
No sophomore or freshman starting QB had ever won the BCS National Championship until Alabama's McCarron did it last year as a sophomore. Now, Notre Dame redshirt freshman Everett Golson has his chance.
In 2007, Alabama went 7-6 in Saban's first season, while Notre Dame sunk to a historic low, finishing 3-9. In 2008, Saban took the Tide to the SEC title game, while the Irish continued their mediocrity, going 7-6. Entering the 2012 season, these two teams couldn't have been more opposite in terms of success over the previous four years.
This will be the first time since 2006 that Notre Dame finishes a season in the AP Top 25, so it's not surprising that the Irish weren't ranked in this year's preseason AP poll. They are the first preseason unranked team to reach a BCS championship game, and they are the first preseason unranked team to finish the regular season as AP No. 1 since BYU in 1984.
The last preseason unranked team to win a national championship was Georgia Tech in the coaches' poll in 1990. The last team to do it in the AP poll (as Notre Dame can only do this season) was BYU in 1984.
December, 21, 2012
12/21/12
8:25
AM ET
TUSCALOOSA, Ala. -- Take a moment to look away from the fire raining down outside your windows. Try to focus over the howling of your pets. Turn off the utter meltdown on the 24-hour-news networks and enjoy the final moments of the apocalypse.
The Mayans were right. The reckoning is upon us and all that's left to do is read this lousy obituary. We're all goners: you, your neighbors, that guy at the supermarket who remembered your preference of paper over plastic. Even Alabama football is gone. It's a shame really, with the national championship just 17 days away. Would there have been a better place to ride out the end of days than Miami?
That's what we're here to document. We've got the Crimson Tide. Leave the rest to the vultures.
[+] Enlarge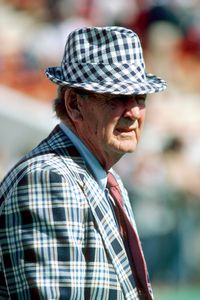 Malcolm Emmons/US PresswireIf we're all going down today, why not go out wearing some Houndstooth like the Bear would have wanted.
How will Alabama be remembered when the seedlings of life sprout from our scorched Earth and the next wave of mankind takes to recording history? What will the prognosticators remember of the school with the most championships in all of college football? The argument will likely land somewhere between the discussion of the best president not named Lincoln and whether or not high fructose corn syrup was a real thing.
Was Paul "Bear" Bryant the best college football coach of all time? He was third on the wins list, but had a higher winning percentage than the two coaches ahead of him.
Was Nick Saban the best active coach? He was poised to win a fourth national championship after all. Some argue he was a machine anyway. Maybe he'll survive all this and hit the recruiting trail after the NCAA's dead period ends.
Who was the best player of all time? The best running back? The best quarterback? Was
Trent Richardson
better than
Mark Ingram
? What about
Shaun Alexander
? Would
T.J. Yeldon
have gotten the better of them all if he had four years to do it? Would Kirby Smart ever have become a head coach?
October, 2, 2012
10/02/12
2:57
PM ET
By
Recruiting Nation staff
| ESPN.com
Billy Varner, the man who among other things was coach Paul "Bear" Bryant's driver, passed away Monday following lengthy health issues, al.com reported.
[+] Enlarge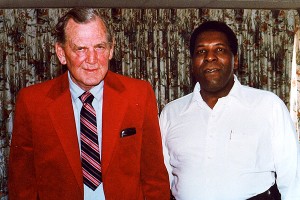 Courtesy Paul W. Bryant MuseumPaul "Bear" Bryant and Billy Varner.
Varner was profiled earlier this year by ESPN Outside The Lines reporter Wright Thompson.
Bear Bryant surrounded himself with people he could trust, and he trusted nobody more than Billy Varner, a tough, barrel-chested African-American. Billy was always just around, in the office, on the road, on the sidelines. Over the years, various accounts have given him different titles, but essentially, he was a fixer. He took care of business, and he kept everything to himself, even after Bryant died.

"We knew he'd been offered a lot of money to write a book or help make a movie," says Linda Knowles, Bryant's longtime secretary, "and he would have none of that. And no one knew Coach Bryant better than Billy. Even Mrs. Bryant didn't know him as well as Billy did. He was with him almost 24 hours a day."

Billy picked him up in the morning. He dropped him off at night. Sometimes they talked. Sometimes they didn't. Often, Coach read the paper aloud. Once, when a state trooper clocked Varner speeding, Bryant stuck his houndstooth hat in the back window. The patrolman understood and backed off. Billy saw him weak and insecure. He drove him to Birmingham one year before Christmas because Bryant got a letter from a sick girl and he wanted to surprise her. He saw him cry. When Paul took his grandson fishing, Billy came along.

Varner never felt comfortable enough to strike up conversations with Bryant, but he could poke at the Legend of The Bear. Driving through Mississippi one night, they stopped at a catfish house. Bryant bought seafood dinners for everyone there, and Billy cracked later, "It was like you were handing out loaves and fishes." At the end, when Bryant was sicker than anyone knew, Billy heard the private coughs.
Read Thompson's full story at
ESPN's Outside The Lines
. Read the obituary at
al.com
.
July, 9, 2012
7/09/12
12:18
PM ET
Everybody can recite who's the all-time winningest coach in the SEC.
Bear Bryant won 232 career games at Alabama and became one of the most iconic figures in college football along the way.
To this day, Bryant's name is mentioned with reverence around the Capstone.
But even if you take his 232 career wins out of the equation, the Crimson Tide would still have 582 wins.
[+] Enlarge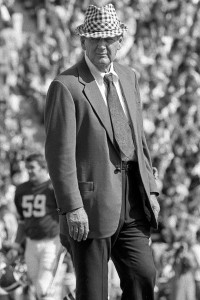 Bernard Troncale/US PresswireBear Bryant won 232 career games at Alabama.
So while the guy with the Houndstooth hat carved out a legendary career at Alabama, the Crimson Tide's success on the football field hasn't been defined solely by the Bryant years.
Frank Thomas won 115 games. Gene Stallings won 62 games. Wallace Wade won 61 games. Nick Saban -- in just five seasons -- has already won 55 games.
All five men, including Bryant, have also won national championships at Alabama.
In surveying the winningest coaches at all 14 SEC schools, some of what you find, especially when you take away each school's all-time wins leader, is telling.
For instance, Bryant is actually the winningest coach at two different SEC schools. He was 60-23-5 at Kentucky from 1946-53, and led the Wildcats to eight consecutive winning seasons.
Since Bryant's departure from the Bluegrass following the 1953 season, the Wildcats have had 10 other head coaches, but only one of them compiled better than a .500 record, Blanton Collier, who succeeded Bryant, was 41-36-3 in eight seasons.
Steve Spurrier could join Bryant this coming season as the second coach to earn the distinction of being the winningest coach at two different SEC schools.
July, 3, 2012
7/03/12
6:30
AM ET
From now until kickoff in Arlington, Texas, we'll be counting down from 100 until Alabama and Michigan get the season started. Today, we move to No. 61 and what it means to UA football. See all the previous editions here.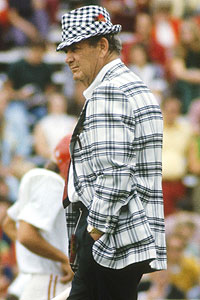 Focus on Sport/Getty ImagesBear Bryant changed the face of college football while at Alabama.
The 1960s were kind to the University of Alabama. The Crimson Tide lost just 16 games, won 88, claimed four conference titles and took home three national championships. In 1966, UA didn't finish No. 1 despite going undefeated. Either way, the Crimson Tide won the decade and returned to prominence in a big way.
The reason for the turnaround after a subpar decade earlier? Paul 'Bear' Bryant. In 1958, Alabama's most legendary football coach heard Mama's call and went from Texas A&M to Tuscaloosa, and changed the history of college football in doing so.
In his first two seasons leading the Tide, Bryant won five and seven games. But in 1960, the light came on. UA went 8-1-2 and played in a bowl game. The next season, Bryant had the Tide undefeated and won the first of his six national championships at Alabama.
The 1960s produced legends like Billy Neighbors, Joe Namath, Ray Perkins and Kenny Stabler. Alabama won five bowl games and lost to Auburn just twice. The Tide finished outside of the Associated Press Top 25 just once, and two years later went 11-1 and won the SEC title.
Only the 1970s rival the success Alabama had in Bryant's first decade coaching in Tuscaloosa. The Tide won all but one conference title from 1970-79 and claimed three more national titles.
Scout's Take: Atlanta Opening Regional
SEC SCOREBOARD
Thursday, 9/3
Saturday, 9/5