Alabama Crimson Tide:

Austin Shepherd
May, 8, 2013
May 8
11:30
AM ET
Editor's note: TideNation will use this week to look at the four major positions on the football field and how their outlook has changed after spring practice. Today we examine the offensive line:
Who's leading?
Remember when there wasn't a conversation about Alabama's championship prospects without mention of the soon-to-be rebuilt offensive line? It shouldn't be too difficult to recall as it was only a few months ago. But my oh my, how time changed that. Like the new $9 million weight room that was built in an astonishing five months, a new offensive line was arranged almost overnight. A superb spring seems to have quelled the concerns on the line of head coach Nick Saban, and the entire fan base can breathe easily.
To continue reading this article you must be an Insider
April, 23, 2013
Apr 23
7:00
AM ET
Forty-eight hours offered enough time to digest Saturday's A-Day scrimmage. TideNation's film review returns with a second look at the finale of spring practice.
To continue reading this article you must be an Insider
April, 20, 2013
Apr 20
8:34
PM ET
TUSCALOOSA, Ala. -- As with any intrasquad scrimmage, there are two sides to the coin. On the one hand, the offense can look spectacular and the defense maligned. Saturday was the opposite, as more than 78,000 fans watched Alabama's defense dominate, forcing a whopping six interceptions and four fumbles.
And while coach Nick Saban argued that the turnovers were a result of poor offensive execution, one must also tip the cap to a secondary, which began the game as arguably the biggest source of discontent. In fact, before kickoff, Saban was asked by a television reporter what one area concerned him most. The defensive backfield was his answer.
But
Nick Perry
and a host of other defensive backs answered the bell Saturday afternoon. Perry had two interceptions, and together as a defense the Crimson Tide held its quarterbacks to a paltry 102.8 quarterback rating, compared to the 174.3 rating it posted last season.
To continue reading this article you must be an Insider
April, 12, 2013
Apr 12
6:00
AM ET
TUSCALOOSA, Ala. -- They never took a snap that meant much, but it didn't keep Alabama's second-team offensive line from taking pride in its work last season. The "Touchdown Twos" they'd call themselves, a hungry group of reserves eager to make the most out of the garbage time at the end of games.
Alabama had no trouble getting out to a big lead last season -- the Tide averaged a two-touchdown lead at the half and won games by an average of nearly 28 points -- which meant plenty of playing time for offensive linemen like
Ryan Kelly
,
Austin Shepherd
and
Arie Kouandjio
. The fourth-quarter reps they'd receive would add up to nearly two full games by the time the season was over.
[+] Enlarge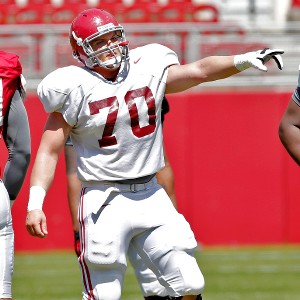 University of AlabamaTaking mental reps as a backup last season helped Ryan Kelly transition into a starting job this spring.
The snaps would also prove invaluable as all three reserves are now projected starters on a line that will also feature
Anthony Steen
and
Cyrus Kouandjio
.
"That was awesome," said Kelly, who is tasked with replacing
Barrett Jones
at center. "I remember the first game going in against Michigan. There's five minutes left in the fourth quarter and I hadn't played in a game since my senior year in high school. It was my second year and I was so nervous. I didn't know what we were supposed to do, got in there, messed everything up. Arkansas (Week 3) came around and we're beating them pretty good at halftime and come into the third quarter, they asked us to play the third, the rest of the fourth and from there you just feel more comfortable as the games go on.
"I give all the credit to the ones for making that happen. That's only going to spark our careers and every rep you get in a college game is more valuable than you can imagine."
Kelly and Co. made the most of their opportunity, not just sustaining leads in the fourth quarter, but building upon them. After a few late scores, the Touchdown Twos were born.
"That was something we joked around about when we went in because that was our chance to shine because we couldn't get the playing time," Shepherd, the projected starter at right tackle, said. "Touchdown Twos, try to score, have fun with it. It was just kind of a joke."
Looking back, though, Kelly said it was more than a joke. The twos were learning a lesson. They were learning how to be starters.
"Being a one is a little more serious," Kelly said. "Being a two you still need to be ready but at the same time mentally it's kind of hard. You don't know if you're going to play so you get ready mentally, but at the same time you might not play. That's the best you can ask for, to go out and have fun with it."
Kouandjio, who is battling for the starting job at left guard, said the fourth-quarter experience was just the beginning, he explained.
"We're going to keep building," he said, "keep stacking those bricks."
As Alabama hits the homestretch of spring practice, a picture of the offensive line is emerging. The area once viewed as the biggest question mark this offseason is suddenly one of the team's most promising units.
"I like the way the offensive line is progressing," UA coach Nick Saban said on Wednesday. "They obviously need to continue to improve, but Arie has really had a good spring and done a nice job at left guard.
Kellen Williams
continues to make improvement, and he's playing center and guard. Austin Shepherd and (
Leon Brown
) both are making good progress at right tackle. Some of the other younger players are making progress as well. Ryan Kelly has really done a good job at center.
"That part of it, I feel like is taking shape. I think we have some other parts of our team that we really have to be concerned about, trying to get some depth created, but I kind of like the way the offensive line is coming along."
February, 12, 2013
Feb 12
7:00
AM ET
TUSCALOOSA, Ala. -- The practice fields on the University of Alabama campus will be a much quieter place in a few months when spring practice begins.
[+] Enlarge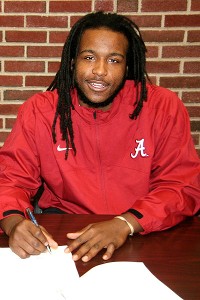 Courtesy of Lamar CarterLeon Brown will have a chance to battle for the right tackle spot in 2013.
Former right tackle
D.J. Fluker
has left for NFL riches, leaving a crater where he once stood tall on the offensive line. The jovial big man from South Alabama was the vocal leader of the Crimson Tide offense, a constant source of motivation as he hooted and hollered in practice and during games. If Fluker was jumping up and down, that meant the Tide were rolling.
Now, the voice and the jersey are gone, and two rookies are poised to compete for the spot he vacated when the redshirt junior decided to leave school early and enter the NFL draft. In his place are two newcomers,
Leon Brown
and
Brandon Hill
. Neither are your typical rookies. Brown came to Alabama after spending two years at a junior college in New York and Hill arrived by way of Hargrave Military Academy, a well known preparatory school.
Both offensive tackle prospects called their experience prior to signing with Alabama necessary.
"Brooklyn was very, you know, needed," Brown said last week. "I needed to get the experience of getting a higher level of college football in. It prepared me very well to be here right now."
Said Hill, who wasn't cleared by the NCAA to enroll last year: "The military part was tough, but the football part was the same. You just worked out, and I had set things planned in and we were practicing every day. We made it each other better, but going up north, it was kind of hard to adjust to people, and it prepares you for college and being around a different culture.
"Now I'm back south where I'm home again."
January, 24, 2013
Jan 24
7:00
AM ET
Editor's note: Every Tuesday and Thursday between now and national signing day, TideNation will review each position and look at who figures to start, who could rise up the depth chart and who might be on the way. Today we'll look at the offensive line.
TUSCALOOSA, Ala. -- It was never a secret that
D.J. Fluker
would forgo his senior season and enter the NFL draft. Alabama's hulking right tackle put his four years in and decided it was time to go. Coach Nick Saban even said way back in November on his weekly radio show that Fluker was a "a guy who is probably going to go out for the draft."
But Fluker is just one loss on an offensive line many considered the best in all of college football. Center
Barrett Jones
is leaving the Capstone as one the most decorated football players in the school's history. His three national championships playing three different positions on the offensive line is unprecedented. Winning the Outland Trophy as a junior and then switching to center and winning the Rimington Trophy is mind boggling.
To continue reading this article you must be an Insider
January, 17, 2013
Jan 17
8:35
PM ET
TUSCALOOSA, Ala. -- Alabama's Nick Saban and Kirby Smart toured through the state of Georgia on Wednesday. When they stopped at North Gwinnett High School to see ESPN Watch List defensive end
Dante Sawyer
, they informed his coach that he had a scholarship offer from the Crimson Tide.
"I was excited because I wasn't expecting them to come in that day and tell Coach [Hayden] Sphire that I did have that offer," Sawyer said. "It was pretty cool. [Saban] came all the way out to Suwanee, Ga., just to check on me and what not."
The UA coaching staff likes Sawyer -- who's listed at 6-foot-3, 250 pounds -- as a rush linebacker. They say he can play a similar role to current Tide starter
Adrian Hubbard
, who also hails from the Peach State.
To continue reading this article you must be an Insider
January, 9, 2013
Jan 9
6:00
AM ET
Editor's note: The season is over and the Alabama Crimson Tide are national champions yet again. But what happens next? TideNation examines the most pressing storylines of the offseason as the Tide gear up for another title defense.
TUSCALOOSA, Ala. -- There was no more dominant an offensive line in college football than Alabama's. In fact, it's hard to recall a line in recent memory that performed as well. But what made the Crimson Tide's front five so solid -- its talent and experience -- will take a serious hit next season as center
Barrett Jones
and left guard
Chance Warmack
graduate to lives in the NFL and junior right tackle
D.J. Fluker
likely follows their lead and strikes while the iron is hot.
With three-fifths of the offensive line gone, where does coach Nick Saban turn? Who will offensive line coach Jeff Stoutland prepare as their replacements? Will it be an incumbent or a rookie who wins the jobs of tackle, center and guard?
To continue reading this article you must be an Insider
December, 21, 2012
12/21/12
6:00
AM ET
Editor's note: Each day between now and Alabama's date with Notre Dame in the BCS National Championship, we will review the season for a key Crimson Tide player or coach and attempt to project what's next for him. Today we'll look at right tackle D.J. Fluker.
No. 76 D.J. Fluker
Right tackle
Second team All-SEC selection
Role in 2012:
Fluker was a mainstay at right tackle this season. Alabama ran behind the 6-foot-6 junior for many of its record 350 rushing yards in the SEC championship game against Georgia.
The good:
The Foley, Ala., native was a force in the running game. When he got all of his 335 pounds going in the right direction, he created lanes as wide as the interstate. Fluker allowed just four sacks and missed on 11 assignments this season, according to Alabama. The University also cited his 30 pancake blocks and two penalties as a case for his All-America candidacy.
The bad:
Fluker improved in pass protection as the season went on, but it was still the biggest and most glaring weakness of his game. He lumbered and looked heavy-footed against more athletic defenders. Georgia's
Jarvis Jones
and others had success getting Fluker on his heels and running right by him. It's part of the reason Alabama's offensive line, while being hailed as one of the best in the country, ranked a mediocre 53rd nationally in sacks allowed.
Crystal ball:
It's likely we'll see Fluker selected somewhere in the first three rounds of the NFL draft this April. One report already claims the junior will turn pro a year early, and coach Nick Saban said earlier in the year that his right tackle was "a guy who's probably going to go out for the draft." He has the ideal height and weight to play tackle at the next level, but quickness could be an issue. Look for either sophomore
Austin Shepherd
or junior college commitment
Leon Brown
to be in the mix to take over for Fluker next year.
Laremy Tunsil
, an uncommitted five-star prospect from Georgia, could figure into the equation if he chooses to come to Alabama.
November, 19, 2012
11/19/12
8:00
AM ET
An analysis of three key plays in Alabama's 49-0 win over Western Carolina on Saturday at home -- and what those plays mean moving forward for the Crimson Tide: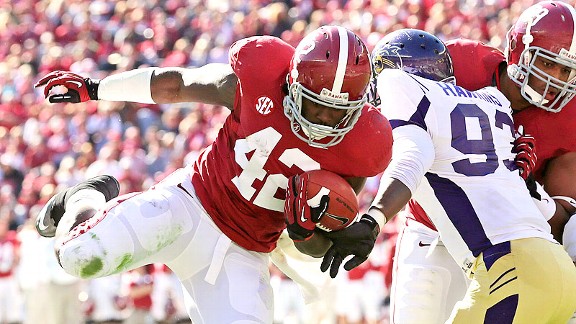 Dave Martin/Associated Press
To continue reading this article you must be an Insider
September, 23, 2012
9/23/12
2:44
PM ET
TUSCALOOSA, Ala. -- After 24 hours of digestion, analysis of No. 1 Alabama's 40-7 win over Florida Atlantic:
On offense ...
Doug Nussmeier absolutely gouged the FAU defense with crossing routes. The UA receivers showed their speed and ability to get yards after the catch on Saturday.
To continue reading this article you must be an Insider
August, 28, 2012
8/28/12
1:20
PM ET
TUSCALOOSA, Ala. -- The picture of the Crimson Tide, circa 2012, is coming into full view. On Tuesday afternoon, Alabama released its depth chart.
There were a couple surprises on the list, including
Jalston Fowler
and
T.J. Yeldon
sharing duties as the No. 2 tailback and
Ed Stinson
winning the second defensive end spot. True freshmen
Denzel Devall
and
Geno Smith
also won coveted backup roles at Jack and cornerback, respectively.
Quarterback
AJ McCarron
, Jr.
Phillip Ely
, RS Fr.
Running back
Eddie Lacy
, Jr.
Jalston Folwer, Jr. -- OR -- T.J. Yeldon Fr.
Dee Hart
, RS Fr.
Tight end/H
Michael Williams
, RS Sr.
Brian Vogler
, Soph.
April, 10, 2012
4/10/12
5:44
PM ET
TUSCALOOSA, Ala. -- The University of Alabama began the final week of spring practice Tuesday, taking to the field under partly cloudy skies, and just for good measure, a few drops of rain.
The Crimson Tide will practice Thursday before heading into Bryant-Denny Stadium for the annual A-Day scrimmage on Saturday.
Here are a few notes and observations from Tuesday's media viewing period of today's practice:
Brent Calloway remains at H-back this week. The former running back turned linebacker was switched to H-back last week and the move has seemed to stick -- for now.
Alphonse Taylor also remains at his new spot on the offensive line after switching there from nose guard. It's been fun watching Taylor learn the position. He certainly has the size and strength to move the pile as a true freshman, but he's still getting a hang of the technique.
To continue reading this article you must be an Insider