Alabama Crimson Tide:

A.J. McCarron
January, 4, 2013
Jan 4
4:30
PM ET
By
Tobin Petipas, ESPN Stats & Info
| ESPN.com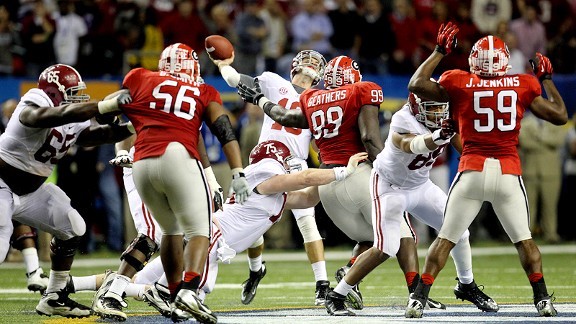 Daniel Shirey/USA TODAY SportsIt was appropriate that this throw was the decisive one for Alabama in its SEC-title win.
AJ McCarron
and his
Alabama Crimson Tide
teammates broke the huddle with a fresh set of downs after
T.J. Yeldon
's 5-yard run on third-and-5 kept the drive alive against the
Georgia Bulldogs
in the SEC Championship.
With 3:40 remaining and facing a 3-point deficit, Alabama lined up at Georgia's 45 with two tight ends on the line and two wide receivers set to the same side. It was the same formation the Crimson Tide had used on 20 of their 22 plays after Georgia took an 11-point lead with 6:31 remaining in the third quarter.
Twenty of those 22 plays were runs that gained 167 yards and two touchdowns, including Yeldon's drive-sustaining run.
Georgia lined up defensively with one deep safety on this play, leaving one-on-one coverage on the outside for
Amari Cooper
.
When McCarron took the snap, he faked a handoff to Yeldon, looked left and threw the ball 43 yards in the air to Cooper, who went untouched into the end zone for the game-winning touchdown.
It was McCarron's 11th touchdown pass off play-action this season and his ninth such touchdown on first down. In 2011, McCarron had a total of five touchdowns off play-action.
Alabama's running game has set up McCarron all season. He leads FBS in pass efficiency (173.1), and play action has been the key.
McCarron completes nearly 70 percent of his passes thrown after a run fake and is averaging an SEC-best 11.9 yards per attempt. He has not thrown an interception off play-action in 130 attempts, with his last one coming in last season's loss to LSU.
McCarron's average throw after a run fake travels 11.7 yards downfield, and he completes 76 percent of his deep throws that are set up by play-action. On such passes, he has eight touchdowns and no interceptions in 21 attempts.
As he was against Georgia, Cooper has been McCarron's favorite target on those downfield throws, catching 11 of 14 passes thrown 20 yards or longer when he was the target. Eight of those receptions were off play-action, including four touchdowns.
McCarron will face a
Notre Dame Fighting Irish
team in the BCS Championship Game that leads the nation in scoring defense (10.3 PPG).
The Irish have given up two touchdown passes on play-action all season, tied for third fewest against an AQ team, and one touchdown on a pass thrown 20 yards or more.
On paper, it will be the biggest test that McCarron has faced this season. A passing grade could give McCarron his second straight BCS Championship, something no quarterback has accomplished.
December, 2, 2012
12/02/12
12:43
AM ET
By
ESPN Stats & Information
| ESPN.com
John David Mercer/USA TODAY SportsEddie Lacy ran for 181 yards for Alabama.
Alabama won its first SEC championship since 2009, handing Georgia an SEC championship game loss for the second straight season.
The Tide got it done on the ground. They ran for 350 rushing yards, the most in SEC championship game history.
Eddie Lacy
and
T.J. Yeldon
became the first teammates to each run for 100 yards in SEC championship game history. Lacy's 181 rushing yards are the third-most in the history of the SEC title game.
The Tide were committed to the run, as they ran the ball 51 times, two shy of the SEC championship game record of 53.
Two tight ends, too much
Alabama ran 36 times for a season-high 298 yards with two or more tight ends in the formation. The Tide ran out of this personnel package on 26 of their 34 second-half plays, gaining 199 yards and two touchdowns. Alabama averaged a season-high 5.5 yards before contact out of this formation.
AJ McCarron
completed 8 of 9 passes for 114 yards and a touchdown with two or more tight ends in the formation.
Getting it done inside the tackles
Alabama outrushed Georgia 304-72 inside the tackles. The Tide averaged 8.0 yards per carry on such runs, including a season-high 13 that gained 10 yards or more. Lacy (172) and Yeldon (125) led the way for Alabama, with both running backs gaining over 100 yards inside the tackles for the second time this season. They also did it against Missouri.
Strong run game leads to play action
McCarron completed 5 of 7 passes off play action for 116 yards and a touchdown. McCarron has 11 touchdown passes off a run fake this season, six more than he had all of last season. Eight of the 11 touchdowns have been on passes thrown 20 yards or longer, including Cooper's 45-yard touchdown against Georgia.
Georgia's defense allowed a season-high 512 total yards, just the second time the Bulldogs allowed 500 yards in the past seven seasons. For the first time since at least 2000, they've allowed 300 rushing yards in three straight games.
Alabama will most assuredly face Notre Dame in the BCS National Championship Game on January 7, as the SEC goes for its seventh straight BCS National Championship.
November, 10, 2012
11/10/12
8:00
PM ET
Down goes No. 1.
The defending BCS champions and the nation's top-ranked team, the
Alabama Crimson Tide
were upset by No. 15 Texas A&M
29-24
on Saturday at Bryant-Denny Stadium.


The Aggies jumped out to a 20-0 lead behind their high-powered, up-tempo offense and a strong defensive start and hung on in the second half, never relinquishing the lead even when it appeared the Crimson Tide were on the verge of going ahead. Let's take a look at the high points from the thriller:
It was over when:
Alabama linebacker
Tyler Hayes
committed a neutral-zone infraction when the Aggies were lining up to punt it away to the Crimson Tide with 40 seconds left. The penalty gave Texas A&M a first down and the Aggies took a knee to seal the win, as the Crimson Tide had no timeouts to stop the clock.
Game ball goes to:
Johnny Manziel
. Really, you could give it to a lot of guys (the Aggies' offensive line, senior receiver
Ryan Swope
and the defense made some big plays) but Manziel is the straw that stirred Texas A&M's drink -- and has all season. He finished 24-of-31 passing for 253 yards, 2 touchdowns and, most importantly, zero interceptions. He also made plays with his feet, rushing for 92 yards on 18 carries (he has now surpassed 1,000 rushing yards on the season). He took care of the ball, made good throws, extended plays and played about as well as you can expect a redshirt freshman to in that environment.
Key stat: 3-0.
The turnover margin. Alabama quarterback
AJ McCarron
threw two interceptions, including one on the Crimson Tide's final offensive drive, and the Tide also fumbled once when
T.J. Yeldon
coughed it up at the Aggies' 38, killing a potential scoring drive. The Aggies scored on the ensuing drive to take a 29-17 lead. The Aggies' loss to LSU on Oct. 29 was marred by five turnovers. This time, they flipped the script.
Key play:
Sophomore cornerback
Deshazor Everett
's interception with 1:36 to go. On fourth-and-goal from the 2 and needing a touchdown, McCarron tried to hit receiver
Kenny Bell
on a short out route near the pylon, but Everett stepped in front of Bell and intercepted the pass to get the ball back for the Aggies and kill the Crimson Tide's drive.
What it means:
The Crimson Tide's (9-1, 6-1 SEC) BCS Championship Game hopes took a huge hit with this loss. Three teams -- Oregon, Kansas State and Notre Dame -- could remain undefeated after their games on Saturday night and jump Alabama in the BCS standings. And on the flip side: Welcome to the SEC, Texas A&M. Many wondered whether the Aggies could compete in the SEC when they made the move to the country's premier football league. Not only have the Aggies (8-2, 5-2) shown they can compete, they've shown they can beat the best teams the league has to offer. Kevin Sumlin has this team peaking, and it could jump into the top 10 with this win. It's definitely a new era in College Station, Texas.
And this could also be a formal introduction into the Heisman Trophy race for Manziel.
October, 19, 2012
10/19/12
11:17
AM ET
By
ESPN Stats & Information
| ESPN.com
(The Tennessee Volunteers host No. 1 Alabama Crimson Tide on Saturday at 7 ET on ESPN.)
The
Alabama Crimson Tide
are 43-0 since the start of the 2008 season when they run for at least 150 yards in a game. On Saturday, the Crimson Tide will play the
Tennessee Volunteers
, who rank last in the SEC in rushing.
This season, Alabama is averaging 6.2 yards per carry on designed run plays. That happens to be the same amount the Tennessee Volunteers allow per carry, which ranks last in the SEC.


Why is Alabama averaging so many yards per carry? On those designed run plays the Tide average 4.6 yards before contact with a defender. They have made it at least five yards past the line of scrimmage without being touched on 38.8 percent of their designed runs, including on 20-of-42 runs last week against Missouri.
When head coach Nick Saban's team isn't gaining yards by the bunches on the ground, quarterback A.J. McCarron is more than holding his own under center.
McCarron ranks fourth in FBS in third-down passing efficiency this season (minimum 20 attempts). One reason for McCarron's success is his improvement when opponents send five or more pass rushers. He's completing 70.6 percent of his passes against the blitz on third down this season, up from 46.7 in 2011.
When Alabama sends five or more pass rushers, opponents are completing 42.9 percent of their passes with more combined sacks and interceptions (13) than first downs (12). On Saturday, Missouri completed 1-of-9 passes and was sacked twice when Alabama blitzed, the third time in the last four games that Alabama had more sacks than its opponent had completions.
Tennessee QB
Tyler Bray
this season has completed a similar number of attempts when being blitzed by SEC opponents (43.3 percent). While Bray put up good numbers in non-conference play, he's been average at best in Tennessee's three SEC games, all losses. He's completed just over 52.2 percent of his passes and has thrown just as many touchdowns as interceptions (6) in losses to Florida, Georgia and Mississippi State.
April, 13, 2012
4/13/12
3:38
PM ET
By
Jon T. Stewart, ESPN Stats & Info
| ESPN.com
Derick E. Hingle/US Presswire
Quarterback A.J. McCarron is one of eight offensive starters returning in 2012.
Spring is a time for renewal. In college football, spring is also the time to look ahead to fall and the upcoming season. Saturday,
Alabama
holds its annual Golden Flake A-Day Game (ESPN3, 3 ET), which will give its fans a first look at the defending national champions.
Alabama captured its record-breaking ninth national championship of the major poll era in January. Once again, the Crimson Tide are expected to be one of the best teams in the country in 2012. But the Tide have been here before. Will history repeat?
In 2010, Alabama was preseason No. 1 in both The Associated Press and Coaches polls with 11 combined offensive and defensive starters returning from the team that had won the 2009 national title. The problem was the retention breakdown. Bama lost eight starters from a defense that allowed the second-fewest yards (244.1) and points (11.7) per game in the bowl subdivision. With QB Greg McElroy, the RB tandem of Heisman Trophy winner Mark Ingram and
Trent Richardson
and WR Julio Jones, the belief was that the Tide would score points and win games through their offense while buying enough time for their defense to jell.
January, 8, 2012
1/08/12
8:06
PM ET
NEW ORLEANS -- There has been no shortage of complaining since the Allstate BCS National Championship Game teams were announced.


It's understandable when you consider that No. 1 LSU (13-0, 8-0) and No. 2 Alabama (11-1, 7-1) have already played. But most of the protests stemmed from the fact neither team scored a touchdown when they played in November.
Something called "defense" was played in Tuscaloosa, Ala., but apparently there was too much.
Monday, you won't see PlayStation-like numbers that have been the norm during bowl season, but both teams promise things will be different when they have the ball.
"We're going to have a better game plan this time and hopefully put some more points on the board," LSU wide receiver
Rueben Randle
said.
"I don't think anyone's going to be able to come out 9-6 and win this game."
For Monday's rematch to look different, some things need to change on both sides. Here's a look at why things will be different inside the Mercedes-Benz Superdome:
[+] Enlarge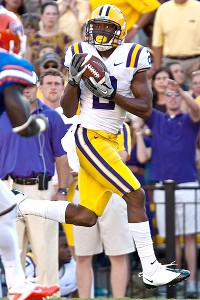 Rob Foldy/Icon SMI"Our passing game is going to have to loosen some things up in order to get our running game started," LSU receiver Rueben Randle said.
LSU's passing game will be more vertical
In November, LSU's passing game was ineffective.
Jordan Jefferson
and
Jarrett Lee
combined to throw under the century mark and just four passes for double-digit yardage.
Now, the talk from LSU's side is how vertical the Tigers want to get against Alabama's defense. LSU ran for 148 yards last time, so Alabama will be keying in on the run.
LSU will want to start on the ground but wants Jefferson to air it out a little more.
"Our passing game is going to have to loosen some things up in order to get our running game started," Randle said. "They're going to fill that box to stop the run, so we need to be ready as receivers to make those plays down field."
Alabama's wide receivers want to prove themselves
Alabama might have had 100 more passing yards than LSU in November, but it never looked great. Quarterback
AJ McCarron
made some mistakes, but wide receiver
Darius Hanks
said the ones who catch the ball need to step up.
Alabama got two catches from tight ends and eight from receivers. Hanks, who caught two, said that should improve Monday.
"Our tight ends and our receivers will be the difference-makers in this game," he said. "They think that if they stop our run game, then they're going to win the game, but I feel differently.
"We can see a lot of their weaknesses, so we're going to attack those areas, go strong and put the ball in the air this time."
He also expects to spearhead Alabama's passing game because he feels he can beat All-American cornerbacks Morris Claiborne and Tyrann Mathieu.
"I definitely feel like those guys, they can't cover me," he said.
P.J. Lonergan is 100 percent
Last time, LSU's starting center wasn't at full speed. He was hobbled by an ankle injury and played sparingly against Alabama.
While LSU was able to run the ball well without Lonergan, he should bolster LSU's pass blocking, which will give Jefferson more time to look downfield.
"It's definitely good that he's back healthy," LSU offensive guard Will Blackwell said.
"A healthy P.J. now will definitely be better than the P.J. that played Nov. 5."
Alabama is prepared for the option
The Tide's defense wasn't as ready for Jefferson and the option in November. The team was prepared to see more of Lee, so when Jefferson came in, holes opened up in Alabama's rush defense.
Now, Alabama knows that Jefferson will be LSU's guy and the defense knows that Jefferson likes the option. LSU might want to throw more, but the running game is the heart of the offense.
Tide defensive tackle Josh Chapman said the key will be locking up the run gaps that were open too often when Jefferson ran the ball. Players were out of position because they weren't ready.
"If we keep our running lanes right and affect him," he said, "we'll have a great ballgame."
[+] Enlarge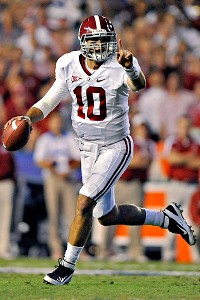 AP Photo/Rick Wilson"I definitely gotta come out and play with emotion in this game like I always do," Alabama quarterback AJ McCarron said.
McCarron will have more confidence and emotion
McCarron didn't play his game last time. He toned down the emotion and that sucked away his confidence.
His teammates had nothing to feed off of, and that hurt Alabama. McCarron has been given the green light to ramp up those emotions, and that should keep his spirits up against LSU's defense.
"I definitely gotta come out and play with emotion in this game like I always do," McCarron said. "Just play my game."
If McCarron can get going, it will help Alabama in the red zone. The Tide moved the ball well between the 30s against LSU but reached the red zone just once.
Alabama's secondary is nicked up
LSU could move the ball through the air better this time because Alabama's secondary is banged up. Safety Mark Barron injured his ribs against Auburn, while cornerbacks DeQuan Menzie and Dee Milliner have leg injuries.
Menzie has a hamstring injury that bothered him all season, while Milliner suffered a thigh injury against Auburn. They say they're fine, but they're called "nagging" for a reason.
Backup safety Will Lowery is also out with a season-ending knee injury he suffered against Georgia Southern.
On the flip side, LSU is healthier.
"The most important thing about this break is we're fresh," LSU linebacker Ryan Baker said. "Going into Nov. 5, guys were nicked up. … The game plan is pretty much the same, it's just those guys [who weren't healthy] will be making plays."
Most of the focus will be on points, but these teams are too old school for this to be a track meet. Defense will continue to be the constant for both teams.
"I'd expect it to be big-boy football," LSU coach Les Miles said. "And I'd expect it to be very, very physical and that it would be a game that would be representative of two quality football teams."