Alabama Crimson Tide:

Travis Swanson
May, 9, 2014
5/09/14
12:00
PM ET
Thursday night's draft was pretty entertaining, but let's not forget that the
real
entertainment starts next week when the
greatest superhero ever returns
!
October, 17, 2013
10/17/13
8:00
AM ET
TUSCALOOSA, Ala. -- It's about that time. No. 1 Alabama is in the final stages of preparing for its showdown with Arkansas at home on Saturday.
The Crimson Tide will win if …
[+] Enlarge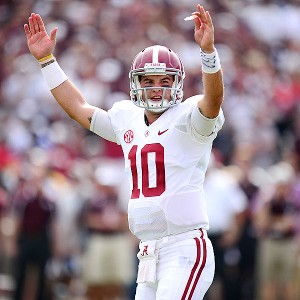 Phil Ellsworth/ESPN ImagesAJ McCarron and Co. figure to make this signal with frequency against an Arkansas defense that yielded 52 points on Saturday.
For the time being, winning is simply a matter of showing up and continuing to make progress. Though things looked shaky at first against Kentucky this past weekend, we saw Alabama steadily improving. Coach Nick Saban said he was proud of the way his team controlled the line of scrimmage on both sides of the ball and how the offense was able to move the chains effectively in Lexington. He might pull his hair out if he sees the same number of turnovers, but past history says not to expect
T.J. Yeldon
and
Kenyan Drake
to cough up the football again.
Though Arkansas presents a different set of challenges on Saturday, what it really comes down to for Alabama is staying the course. After all, Arkansas allowed 52 points to South Carolina in its last game. It's safe to say Alabama's offense is capable of the same type of success. The front seven will be tested with the Razorbacks' running game, but the Tide know the drill. Day after day in practice it goes up against an offense that similarly prides itself on a physical style of play. As long as
Brandon Ivory
holds down the middle and
C.J. Mosley
,
Trey DePriest
and Co. wrap up and don't allow many broken tackles, Alabama should be fine.
The Razorbacks will win if ...
Arkansas' best shot of coming out of Tuscaloosa with the upset victory rests in the hands of its two talented running backs.
Jonathan Williams
, who was a third-string back a year ago, is among the top 10 rushers in the SEC today. And he's essentially a sidekick to
Alex Collins
, who has put up monster numbers his freshman year, ranking 11th nationally in rushing yards. If those two can move the chains, control the clock and find the end zone a few times, they'll have half the recipe for a win. That is, of course, if
Brandon Allen
can give Arkansas some production at quarterback.
The other half of the equation involves Arkansas' defense. There are some good parts there with
Chris Smith
rushing off the edge and Tevin Mitchell at cornerback, but there are also some major holes. South Carolina nearly exposed them all when it hung 52 points on the Razorbacks this past weekend. It doesn't get any easier as they'll have their hands full again on Saturday with
AJ McCarron
and his group of talented wide receivers. If Arkansas can't slow down Alabama's offense and create a few turnovers, it won't matter what Collins and Williams do.
Arkansas players to watch
[+] Enlarge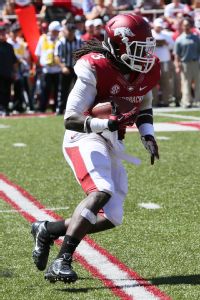 Nelson Chenault/USA TODAY SportsFreshman Alex Collins leads a potent Hogs running game.
RB Alex Collins:
When Bielema took the job at Arkansas, we knew he was going to put a major emphasis on running the football. What we didn't know was who would be the one to shoulder the load. Well lo and behold it was a true freshman. Collins, a former four-star recruit from Florida, who stepped in and was an immediate success, setting an NCAA record by becoming the first freshman to rush for 100 yards or more in his first three games.
C Travis Swanson:
Bielema didn't hesitate when he named Swanson as one of his top two players at SEC Media Days a few months ago. The senior isn't a household name because of his position, but he's a Rimington Trophy candidate for a reason. A team captain for the third straight season, he's the heartbeat of the Arkansas offense.
DE Chris Smith:
Alabama hasn't faced an elite pass rusher like Smith yet this season. The 6-foot-3, 268-pound end was an honorable mention choice on the All-SEC team a year ago with 13 tackles for loss and 9.5 sacks. Now a senior, he has picked up where he left off, leading the team with six sacks and eight tackles for loss.
Alabama players to watch
LB C.J. Mosley:
This is the type of game Mosley returned to school for. He has shown how dominant a force he can be against spread teams, but the question mark has always been how he holds up against traditional offenses that run between the tackles. Well, Arkansas is as old school as they come.
OT Grant Hill:
Boy, Hill got quite the tongue-lashing from Saban for his penalty against Kentucky this past weekend. But really it has been the one noticeable hiccup since the true freshman has come on at right tackle the past few games. As he continues to develop, one has to ask whether
Austin Shepherd
is in danger of losing his job starting at right tackle.
CB Bradley Sylve:
It looked like
Eddie Jackson
had the starting job to himself after back-to-back solid performances against Colorado State and Ole Miss. But an injury and a setback in his development thrust Sylve, a third-year sophomore, into the starting lineup against Kentucky. He played well and could start again this week.
Key stats
10:
Arkansas freshman running back Alex Collins runs hard. Thirty-seven percent of his rushing yards have come after contact and he leads the SEC in broken tackles with 10.
216.3:
It will be a significant change of pace for the Alabama defense against Arkansas. The Tide's previous six opponents have averaged 28.6 carries and 86.7 rushing yards per game, compared to Arkansas' per game average of 39.6 carries and 216.3 rushing yards.
5:
The streak of quarters without allowing a touchdown ended for Alabama's defense at 14. But another impressive stat remains as the Tide extended its number of games allowing 10 or fewer points to five.
October, 15, 2013
10/15/13
1:00
PM ET
TUSCALOOSA, Ala. -- When something old is new again, you know you've come a long way. Suddenly half-shirts and slouch socks are in stores across the country once more. The 1980s style buddy comedy has returned to theaters and cars like the Dodge Charger have brought back a timeless feel to today's streets with their classic designs. Even the price of gas is floating mercifully back to $3 a gallon.
There's comfort in the familiar returning from extinction.
The last time Alabama saw an I-formation is anyone's guess. If it's happened at all this season, it's been sparingly. Power running teams have gone the way of the Dodo. Every weekend the top-ranked Crimson Tide goes up against the likes of Texas A&M and Ole Miss, offenses that have adopted newfangled designs that spread the field and push the tempo like a young driver blowing through traffic stops. Dual-threat quarterbacks such as
Johnny Manziel
would have been indecipherable to coaches in decades past. The term HUNH (hurry up, no huddle) would have sounded like an offshoot of the NASA program to grizzly men like Paul "Bear" Bryant.
[+] Enlarge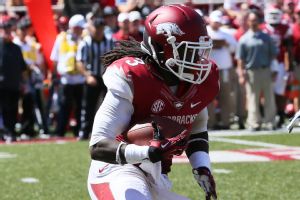 Nelson Chenault/USA TODAY SportsArkansas and running back Alex Collins will pose a different challenge on Saturday for Alabama's defense.
So when Alabama safety
Vinnie Sunseri
was asked what he thought of seeing something resembling a traditional offense with Arkansas coming to town, he had to smirk. Sunseri, though not old enough to rent a car, could have called the Razorbacks schemes an offense of his youth and no one would have batted an eye. The HUNH has zapped ground-and-pound offenses such as theirs into hiding with increasingly few exceptions.
"It will be a little bit different because we have played these spread teams that like to sling it around a little bit," Sunseri said. His versatility to play at the line of scrimmage and in coverage has become coveted with the rise of the HUNH, but he's still a masher at heart, the son of a defensive line coach who values grit. "It will be fun to play the run a little bit more," he added.
Arkansas is exactly what you'd expect from a former defensive lineman from the Midwest. Bret Bielema built a reputation agonizing over the line of scrimmage. A barrel-chested, close-cropped man's man, he took the head coach's job at Wisconsin in 2006 and went to six consecutive bowl games largely on that philosophy. One of his tailbacks, Montee Ball, had more carries from 2010-12 (826) than any other player in college football over that time.
When Bielema came to Arkansas last December, he insisted on running the same physical style of offense. At SEC Media Days, he ignored his skill players and instead touted his center,
Travis Swanson
, and his fullback,
Kiero Small
, as his two best players.
Though the results haven't been what he wanted -- Arkansas is 3-4 and winless in league play -- Bielema has stayed the course. His team has the only pair of backs in the top 10 of the SEC in rushing.
Jonathan Williams
was the third back a year ago. Now he's sixth in the league in carries (87) and eighth in rushing yards (564). But he's still second on his team in both categories.
Bielema has fed freshman
Alex Collins
the football from his first step on campus. The 206-pound machine ran it 21 times for 131 yards in the season opener. He followed that up by running for more than 100 yards in each of his next two games, becoming the first freshman in NCAA history to reach the century mark in his first three games. Today he ranks 10th nationally in carries (123) and 11th in rushing yards (720). According to ESPN Stats & Information, he leads the SEC with 10 broken tackles. A whopping 37.2 percent of his total yards have come after contact.
Collins and Williams have done it all despite having an underwhelming passing game to keep safeties like Sunseri honest. Arkansas, by design as much as a lack of playmakers at quarterback and wide receiver, is dead last in the conference in passing yards. Compared to what Alabama's seen of late with teams throwing the ball incessantly, the change of pace will be as startling as much as it is challenging. The Tide's previous six opponents averaged 28.6 carries and 86.7 rushing yards per game, compared to Arkansas' per-game average of 39.6 carries and 216.3 rushing yards.
"They can run the ball really well," Sunseri said. "The freshman is really strong and explosive, can break it any point. We have to bring our A-game to stop them up front."
Alabama coach Nick Saban, whose team Bielema praised as "second to none," had only flattering things to say of Bielema in turn, saying, "Bret has really done a good job of getting his guys to play hard and compete and play with a lot of toughness." Saban sounded refreshed when he talked about how much of a change of pace Arkansas' offense will be.
Saban has been forced to evolve on defense to match HUNH offenses in recent years, trading the size he covets for speed.
C.J. Mosley
, for instance, isn't what Saban typically recruits in a middle linebacker at about 230 pounds. But Alabama still has bulk up front with 300-pounders
Brandon Ivory
and
Darren Lake
to clog the middle.
"It's going to take a very good effort," Saban said, "because this is really different than anything that we've played against so far this year in terms of how they run the ball and the sort of formations, the heavy formations, they get in to do it."
It will look different at first, but familiarity will sink in eventually. When it does, relish it. Arkansas is only one of a few programs still clinging to the old school. How Saturday plays out could help determine whether traditional power offenses like the Razorbacks will make a comeback or go the way of parachute pants and fly away for good.
October, 2, 2013
10/02/13
12:40
PM ET
It's Wednesday which means the SEC coaches and players have turned their attention to Saturday's opponent. See what's being said, who's going to play or not play and how teams are preparing in a sampling of news across the league.
September, 1, 2013
9/01/13
9:00
AM ET
The first week of the season is in the books in the SEC, and it's time to pass out some helmet stickers:

Arkansas' offensive line:
There were several candidates on Arkansas' offense in the Hogs' 34-14 win over Louisiana-Lafayette. Running backs
Jonathan Williams
and
Alex Collins
each rushed for more than 100 yards. Quarterback
Brandon Allen
passed for 230 yards and three touchdowns and was sacked only once. When you're putting up those kinds of numbers on offense and creating that kind of balance, then you're obviously getting it done on the offensive line. The Hogs finished with 292 rushing yards, their most since churning out 326 yards against UTEP in 2010. First-year coach Bret Bielema is all about a physical running game and was especially complimentary of center
Travis Swanson
and the way he was able to pull on some plays.
James Franklin, QB, Missouri:
Looking healthy and very much in command, Franklin rolled up 362 yards of total offense in leading Missouri to a 58-14 rout of Murray State. Franklin, who struggled through an injury-plagued junior season, finished 26-of-38 for 318 passing yards, three touchdowns and no interceptions. He also rushed six times for 44 yards. It was the most yards he's accounted for in a game since racking up 392 yards against Baylor in 2011. The best news for Mizzou fans is that Franklin looked a lot more like the 2011 version of himself than he did the 2012 version.
Christion Jones, WR/RS, Alabama:
Jones became the first Alabama player in history to score two special teams touchdowns in one game. The junior receiver returned a kickoff 94 yards and a punt 72 yards for touchdowns. He also got into the act on offense by catching a 38-yard touchdown pass. Jones became the first major college football player to score a touchdown on a punt return, kickoff return and pass reception in the same game since Kentucky's Derek Abney in 2002.
Jeff Scott, RB, Ole Miss:
He might be small in stature (5-foot-7 and 167 pounds), but Scott delivered a mammoth play Thursday in the Rebels' 39-35 win over Vanderbilt. The senior running back left everybody in his wake on an electrifying 75-yard touchdown run with 1:07 to play, answering a Vanderbilt touchdown only seconds earlier. Scott finished with 138 rushing yards on 12 carries and averaged 11.5 yards per rush. He also caught four passes for 25 yards.
Robenson Therezie, S, Auburn:
Starting in place of the injured
Justin Garrett
at the hybrid "star" position in the Tigers' 4-2-5 defense, Therezie intercepted two passes and had seven total tackles in Auburn's 31-24 win over Washington State. Therezie's final interception was a leaping grab in the end zone with Washington State driving for the potential game-tying score in the final five minutes. He returned his first interception 24 yards to the Washington State 28 to set up Auburn's first touchdown. Therezie's two interceptions in the opener matched Auburn's total from all of last season.
August, 27, 2013
8/27/13
3:00
PM ET
Now that our annual preseason
countdown of the SEC's best 25 players
is complete, I think we can all agree that there were no glaring omissions and that no deserving players were left off the list.
Yeah, right, and Texas A&M will be selling autographed
Johnny Manziel
jerseys at games this fall.
The truth is that it's impossible to pick just 25 players in the SEC. After all, there were a record-63 players from the SEC taken in the 2013 NFL draft. So, yes, there are plenty of great players in this league who didn't make our list. There were in 2012, and there will be again next season.
There's always a little projection with the preseason list, and when you're doing one of these, it's hard not to give priority to quarterbacks and offensive and defensive linemen. That's why eight of the top 12 spots were occupied by players from those three positions.
Five of the top 11 players were from two-time defending national champion Alabama, which led the way with six players total on the list. Georgia was second with four players, while Florida and Texas A&M each had three. The most popular positions were offensive line -- three tackles (
Jake Matthews
,
Cyrus Kouandjio
and
Antonio Richardson
) and one guard (
Gabe Jackson
) -- as well as wide receiver (
Amari Cooper
,
Jordan Matthews
,
Donte Moncrief
and
Mike Evans
).
And as a testament to the younger talent in the league, seven sophomores were selected, and three of those were in the top 10.
There were so many tough decisions on who to leave out, but below are five players who just missed the cut. They're listed alphabetically.

Dante Fowler, Jr., DE/OLB, Florida, So.:
The Gators' defensive front should be scary good this season, and Fowler is a big reason why. He's in much better shape than he was a year ago and will be a force getting to the quarterback from his hybrid "Buck" position.

Adrian Hubbard, OLB, Alabama, Jr.:
The Crimson Tide want to generate a more consistent pass-rush this season, and Hubbard has all the skills to go from a good player to a great player. He's potentially a 10-sack player if he stays healthy.

A.J. Johnson, LB, Tennessee, Jr.:
Johnson led the SEC with 138 total tackles last season and also pulled some double duty as a short-yardage specialist at running back. The challenge for him this season is to make more plays to help get Tennessee off the field on third down.

Denzel Nkemdiche, LB, Ole Miss, So.:
There are a pair of Nkemdiches on the Ole Miss campus now, and while everybody in Oxford can't wait to see what kind of impact Robert has in his freshman season, Denzel has already proven that he's a big-time playmaker with 13 tackles for loss and four forced fumbles last season.

Travis Swanson, C, Arkansas, Sr.:
One of the premier centers in America, Swanson should be an excellent fit for Bret Bielema's power running game. He's athletic enough to get out and pull, but he also more than holds his own in pass protection.
July, 13, 2012
7/13/12
7:01
AM ET
The SEC has a nation-leading 19 players on the 2012 preseason watch list for the Bronko Nagurski Trophy, which is awarded annually to the nation's best defensive player. Alabama leads the SEC with five players on the list, while LSU is second with four.
Here are all 19 SEC players on the Nagurski Trophy list:
For the complete Nagurski Trophy watch list,
go here
.
The SEC also leads the country with 19 players on the 2012 preseason watch list for the Outland Trophy, which is presented annually to the nation's top interior lineman. Alabama leads the SEC with four players on the list, including reigning Outland Trophy winner
Barrett Jones
.
Here are all 19 SEC players on the Outland Trophy watch list:
Alvin Bailey, OG, Arkansas
Josh Boyd, DT, Mississippi State
Chris Faulk, OT, LSU
Sharrif Floyd, DT, Florida
D.J. Fluker, OT, Alabama
Alex Hurst, OT, LSU
Gabe Jackson, OG, Mississippi State
John Jenkins, DT, Georgia
Luke Joeckel, OT, Texas A&M
T.J. Johnson, C, South Carolina
Wesley Johnson, OT, Vanderbilt
Barrett Jones, C, Alabama
Bennie Logan, DT, LSU
Jake Matthews, OT, Texas A&M
Travis Swanson, C, Arkansas
Dallas Thomas, OG, Tennessee
Larry Warford, OG, Kentucky
Chance Warmack, OG, Alabama
Jesse Williams, DT, Alabama
For the full Outland Trophy watch list,
go here
.
July, 10, 2012
7/10/12
3:10
PM ET
The SEC has seven players on the 2012 preseason watch list for the John Mackey Award, which is presented annually to the nation's most outstanding tight end.
Here are the seven SEC players who made the Mackey watch list:
For the full Mackey watch list,
go here
.
The SEC leads the nation with 10 players on the 2012 preseason watch list for the Rimington Trophy, which is presented annually to the nation's most outstanding center.
Here are the 10 SEC players:
For the full Rimington watch list,
go here
.
Scout's Take: Atlanta Opening Regional
SEC SCOREBOARD
Thursday, 9/3
Saturday, 9/5